Professional, easy-to-use WordPress themes so you can present your business in style.
Why choose WordPress Themes from Create and Code?
Crafting the best Business WordPress themes
We're focused on doing one thing really well – making the best WordPress themes for businesses. We spend more time than anyone else understanding what it takes to make the best website for the industries we make themes for.
World class design and user experience
We've been making websites for decades. We've worked with some really big global brands. We've won awards. We've bottled everything we've learned for you in our beautiful WordPress themes, that just work for you – and your customers.
Includes industry leading 5 star theme support
You'll love our awesome support team. Our customers constantly tell us they've never experienced support this good. We're not happy until you are. It results in delivering a website you'll be proud to showcase and your users will love.
Get setup in minutes with all of our themes.
You can quickly recreate a website similar to our demo site in minutes using our one click installer. Don't waste hours reading manuals to get up and running – get your website built faster so you can start promoting your business today.
Featured WordPress Themes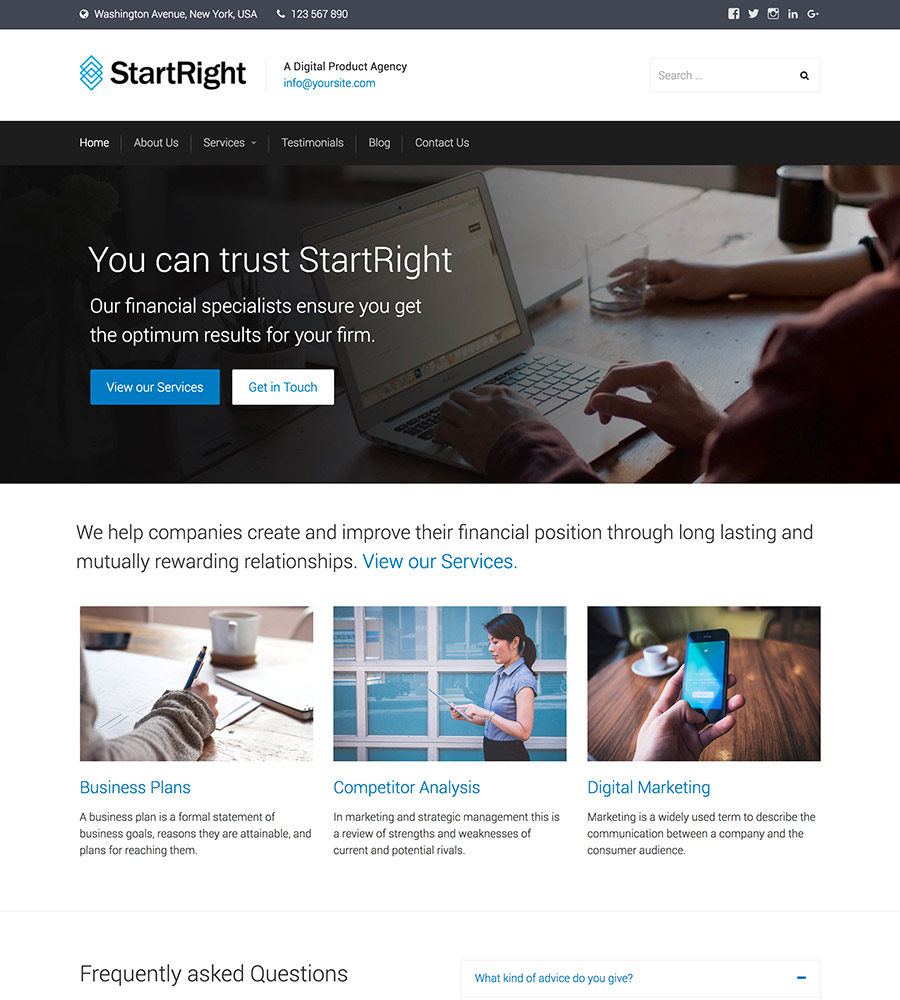 StartRight
-
Try our superb business theme StartRight for free and see how you can have a top notch presence for your startup to present to the world.

StartRight Pro
-
Our flagship theme, StartRight Pro, is a beautiful theme for small businesses and startups. Avoid headaches and start the right way with StartRight.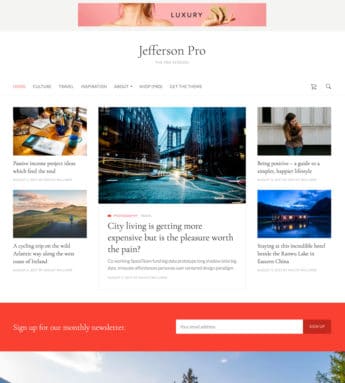 Jefferson Pro
-
A news WordPress blogging theme focused on elegant typography, Jefferson Pro is designed to ensure that you have a professional look with advanced functionality.
Featured Posts from our Blog
We're here to help when needed
I have purchased many, and this one is the most bug free, well designed, easy to work with, and intuitive theme I have found.
Top notch design and support. Wish all authors took the time to do this level of work and back it up with stellar support.
Great design and quality but the support these guys offer is by far the best! Highly recommended to anyone out there!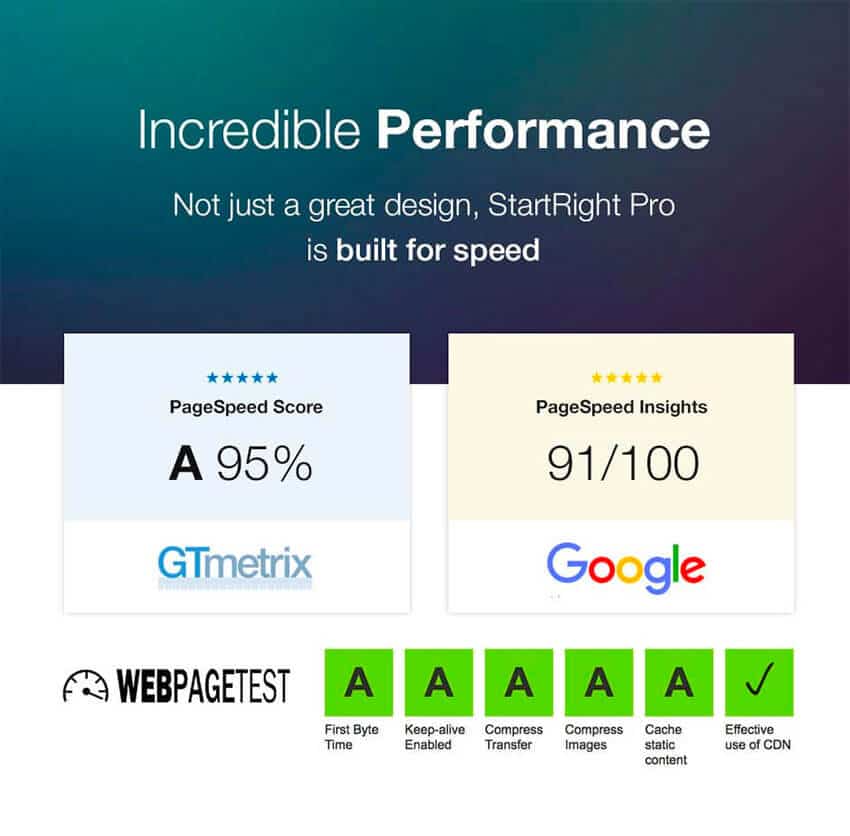 Our Themes are Built for Speed
The speed of your website is incredibly important. Study after study clearly shows that users hate slow websites. In this era of information overload where our attention is being demanded from an almost infinite number of sources, we simply don't have the patience to wait for a slow website to load.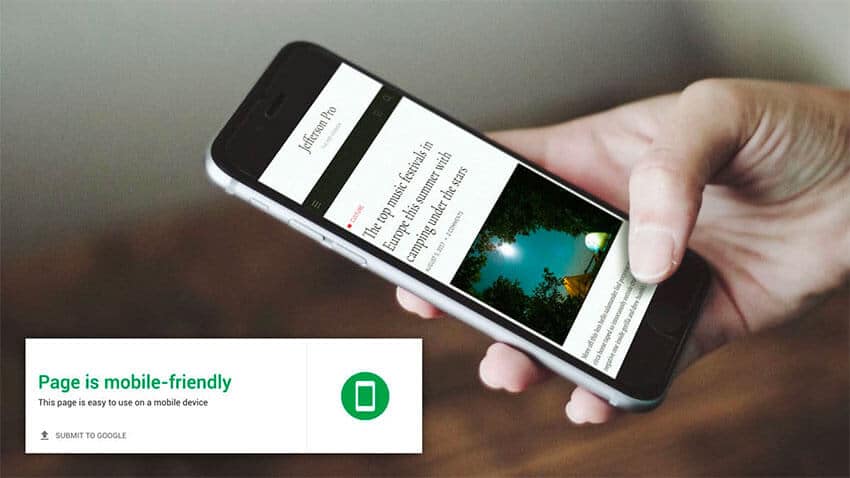 Mobile Ready and Optimized for SEO
With mobile search surpassing desktop in 2016 and destined to grow further in 2017 and beyond, a mobile-first approach is crucial. All of our themes render perfectly on mobile devices and passing Google's mobile testing suite results in a better SEO ranking for your business in search results.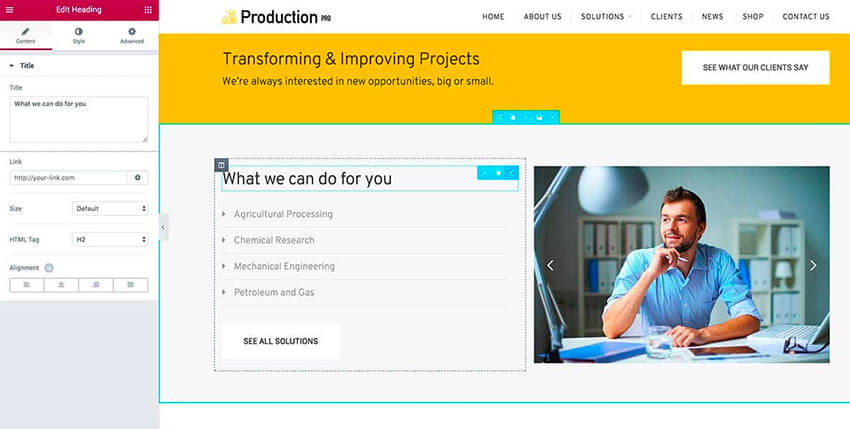 Drag and Drop Page Builder
No more drag, drop and wait. Our page builder lets you design on the frontend with instant, real time results for easy customization of any element on every page. Edit the structure with powerful controls so it's just how you want it.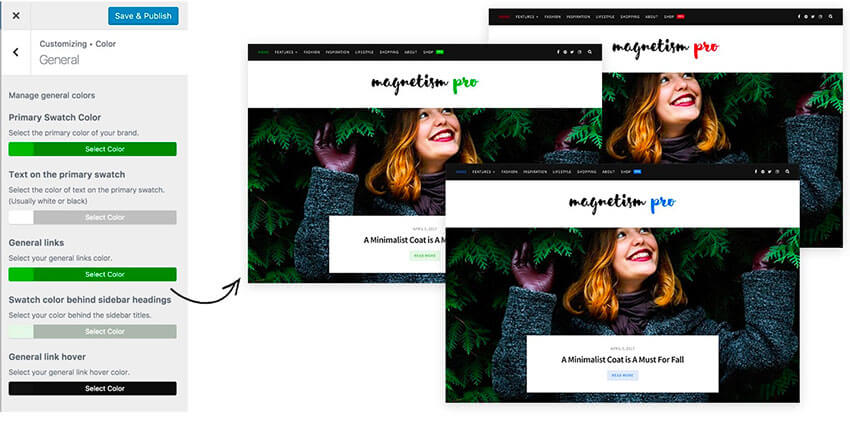 Match your brand quickly and easily with our fast color customizer controls, get a distinct look without any fuss. See how your changes will look immediately so you can keep tweaking until it looks just right!
Why you'll love our WordPress Themes
All of our themes use built-in WordPress features and functions. Change your theme in real-time with the WordPress Theme Customizer.
We have been designing websites professionally for over 15 years. We understand clean, modern design and bring it to each theme we create.
All our customers receive access to our excellent theme documentation and customer support from the actual people who have built the themes.
Our themes are lean, super fast and are designed with an SEO ready structure, fully compatible with Yoast so Google will love your site.
You can use our themes on an unlimited number of websites. Updates and support are included for the lifetime of your membership.
Free Access to New Themes
While a member of the theme club you'll get free access to any new themes we release. Get immediate access to downloads of stunning new releases.
With the Create and Code Theme Club you can access all of our WordPress themes and get new themes free as they're released. Includes regular updates, unlimited usage, and our excellent support.