If you want to keep your WordPress site running smoothly, there are some routine WordPress maintenance tasks you'll need to undertake.
But…what are those tasks? Which tasks are actually important, and which are a waste of time? How often do you need to perform them?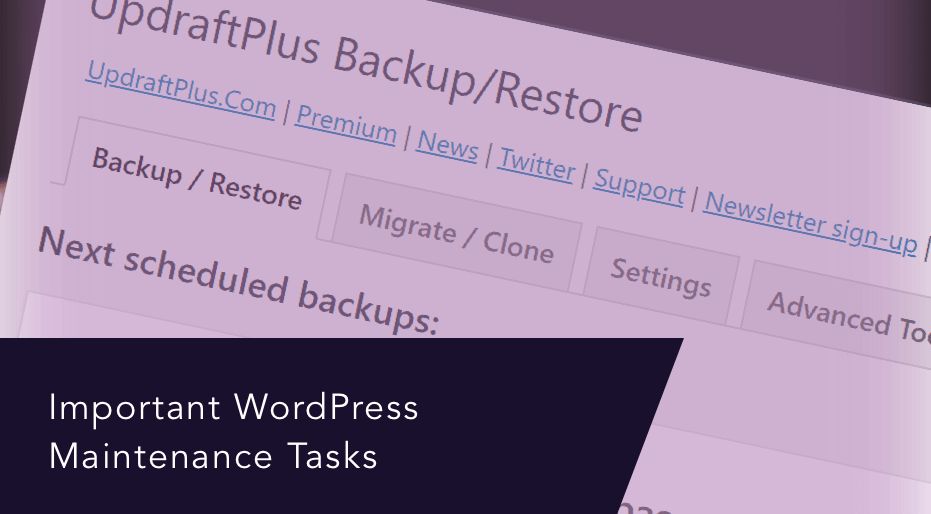 To help you better understand how to effectively maintain your WordPress site, we're going to take a deep dive into WordPress maintenance tasks and also break them down by the frequency you should perform them.
You'll learn what you should do:
Daily
Weekly
Monthly
Quarterly
Yearly
And that knowledge should help you keep your WordPress site healthy without wasting time on tasks that don't matter.
Ready to go? Let's start maintaining things!
Daily WordPress Maintenance Tasks
For this first bucket of maintenance tasks, you'll likely want to check in daily. It's not time-consuming – just a few minutes per day. But performing them will ensure your site is humming along smoothly.
Check Key Analytics
Your analytics give you a quick glance at your site's health and will tell you if anything is wrong. For example, if you suddenly see your site's traffic cut in half, you know there might be a bigger issue that needs to be investigated.
Or, if you see a warning in Google Search Console, that's probably also a sign of a bigger issue.
So, every day, consider checking in with:
Google Analytics
Google Search Console
…any other important analytics tools you use. For example, if you have a membership site, you'll want to check out your membership analytics dashboard to make sure everything's going normally.
Note – this does not mean you should compulsively check your stats. That's a whole 'nother problem! But quickly checking in each day is a great idea.
To streamline the process, you can even set up custom dashboards so that you can get the most important information from a single screen (Google Analytics makes this easy, and even includes pre-made dashboards).
Moderate Comments
Unless you automatically approve all new comments, you should make sure to check in every day to moderate any comments that are held for moderation or marked as spam.
Creating a lively comments section requires that people's comments can be seen quickly – so don't dawdle when it comes to approving legitimate comments.
If you want, you can even enable new comment notifications so that you know exactly when there's a new comment that needs to be approved:

Back Up Your Site
Backing up your site is essential, but the exact frequency depends on how often you're posting new content (or otherwise updating your site).
So while I put this in the daily section, you don't necessarily need to back up your site every day if you aren't making changes every day.
For example, if you post a new blog post four times per week and get lots of comments, you'll probably want to back up daily. On the other hand, if you only post once a week and your site doesn't get very many comments, you can probably stick to a weekly backup schedule because not that much changes day-to-day.
Another trick to save space is to back up your site's database every day, but only back up the other files once per week (a good quality backup plugin should let you distinguish between the two).
If your host doesn't already offer an automatic backup feature, you can use the free UpdraftPlus plugin to set up automatic backups on your own set schedule, and even offload those backups to cloud storage services like Google Drive or Dropbox:

Run Security Scans
Malware doesn't wait around for you to find it, so you'll want to keep your site secure by running daily malware scans. This isn't necessarily something you need to do manually – many security plugins will let you automate daily scans.
Additionally, you should try to schedule your scans for an off-peak time if possible because, if your security tool scans the live version of your site, this lessens the performance hit on your site.
Or, you can consider using a security tool that scans the backup version of your site on its own servers. Two good options with this approach are MalCare or VaultPress.
Weekly WordPress Maintenance Tasks
Next, let's get into the stuff that you should still check regularly, but that doesn't require a look every single day. Here are your weekly WordPress maintenance tasks…
Check for Plugin or Core Updates
Keeping your WordPress site updated is one of the best things you can do to keep it secure and functioning.
What's more, you also want to apply these updates promptly, especially when they deal with security fixes (rather than just adding new features).
However, you also want to be safe with updates, to make sure they don't cause any issues with your site.
To balance these two forces (speed and safety), the best approach is to use a WordPress staging site. That way, you can apply updates right away on the staging site, give them a quick test, and then apply them to your live site once you know there aren't any issues.
If your host doesn't offer a built-in WordPress staging feature, you can consider plugins like WP Stagecoach or WP Staging.
To stay on top of when new updates are available, look for the red update notifier in your WordPress dashboard:

Or, you can also use a free plugin like WP Updates Notifier to receive email notifications whenever there's a new update for one of your plugins.
Run Performance Tests
At some point, you probably optimized your WordPress site for speed and ran some performance checks to make sure it loaded quickly.
However, that was then, and just because your site loaded quickly at that point in time, that doesn't necessarily mean it will keep doing so forever. You could install a new plugin, a rogue script could be putting a strain on your server, or any number of other things could be slowing down your site.
If that happens, you want to know about it.
Long story short – performance tests aren't a one-time thing – they're something you should check in on every single week.
So – pick a tool like WebPageTest, GTmetrix, or Pingdom, and just pop in every week and make sure your load times are still looking good.
Test Your Forms or Other Key Functionality
When I was a new freelancer, I noticed that I suddenly had a few months where I got far fewer work inquiries than I normally did. I chalked it up to "slow business"…but do you know what the real issue was?
Well, you can probably guess it from the heading of this section, but here's what happened:
My contact form was having issues. Because of some weird caching issue, it wasn't reliably submitting, and I was missing out on important messages as a result.
So – don't let that be you! If you have an important form on your site – like a contact form, email opt-in form, registration form, etc. – test it every week or so to make sure it's performing as it should be. The same is true for any other important functionality.
Also, remember to test these forms as an anonymous visitor would experience them.
Going back to my story, it took me a while to find the problem because I tested my contact form while logged in to my WordPress administrator account. Because my caching plugin excluded logged-in users from being served cached content, the form always worked for me.
However, it didn't reliably work for anonymous visitors who received the cached version of the page.
Long story short – open an Incognito tab in your browser and test that way!
Monthly WordPress Maintenance Tasks
Now, here are the tasks that you'll want to check in on monthly…
Check for Theme Updates
With core and plugin updates, you'll want to check weekly. However, theme updates are usually not as dire and are something you can do every month or so.
As with plugin and core updates, this is something you'll want to test on a staging site before doing it on your live site.
Also, remember that updating your theme will overwrite any changes that you've made if you didn't use a child theme. So if you made changes without using a child theme, you'll want to move those into a child theme before updating the parent theme.
Check for Broken Links or 404 Errors
Broken links and 404 errors can have a negative effect on both SEO and user experience. Essentially, they're wasted space – either wasting a visitor's click, or wasting Google's crawl equity.
For that reason, you'll want to do your best to eliminate them so that you give the best experience possible to human visitors and Google.
I've previously detailed how to find broken links in WordPress, so you can follow the steps in that post. And to suss out 404 pages, you can use Google Analytics or Google Search Console.
Monitor SEO Rankings
Monitoring your site's SEO rankings is important for a couple of reasons:
It lets you know how you successful your SEO efforts are
It can help you pinpoint issues (for example, if your rankings suddenly tank, you know there's some type of problem)
In terms of checking for issues, this is something you might want to check more frequently (so I could've just as easily put this in the weekly section).
However, in terms of seeing how your marketing efforts are going, checking monthly is often more accurate to rule out temporary SERP changes.
To automatically monitor your search rankings, there are a bunch of quality tools that you can use, with some of our favorites being:
Ahrefs (pricier, but also helpful for keyword research/competitor analysis)
Optimize Your Database
Over time, your WordPress site's database will pick up lots "junk" in the form of post revisions, spam comments, transients, etc.
To optimize your WordPress site's performance, you'll want to periodically clean out this junk so that it doesn't get in the way.
If you're using a performance plugin like WP Rocket, you can set this up automatically from your WP Rocket dashboard. If not, there are also good free alternatives like WP-Optimize, which comes from the same developer as the UpdraftPlus plugin I mentioned above:

Quarterly WordPress Maintenance Tasks
You'll want to check in on these WordPress maintenance tasks every ~three months or so…
Improve Internal Linking Structure
When you create content on your site, you should be trying to include as many contextual internal links as possible to improve your SEO and keep people engaged with your site.
For example, when I talked about checking for broken links, did you notice how I linked to our existing blog post on how to find broken links in WordPress?
But here's the thing:
As your site ages, you'll publish new content that connects to older content. However, because you published this content after that older content, there won't be any internal links from the older content to the newer content.
So for best results, you'll want to go back and edit this older content to include the links to your newer content.
Audit Your Content
In addition to strengthening your internal linking structure, you'll also just generally want to audit your existing content every quarter or so.
Essentially, you're looking to find any pages that aren't ranking as well as you'd like.
If a piece of content isn't ranking, you have a few options:
If it's ranking close to the first page, you can consider beefing it up to try and push it over the edge and get Google to move it up a few spots.
If it's a thin piece of content that's nowhere to be found, consider just removing it and using a 301 redirect to send any traffic to a relevant piece of content that is ranking.
Since Google's Panda update, having thin content can actually be worse than no content at all. That's why it's better to just jettison thin content that's not performing rather than keeping it around.
Annual WordPress Maintenance Tasks
Finally, there are the tasks that don't require day-to-day attention, but which you should think about every year or so.
Reconsider Your Hosting Needs
As your site's traffic and requirements grow, web hosting that might've worked before could now be pushed to its limits.
So rather than blindly signing up for another year of hosting when your renewal date comes up, make sure to consider whether or not your host is still performing at the level that you'd expect.
If it's not, this might be the time to upgrade to a higher plan or migrate to a new host.
Reconsider Your Theme
Don't worry – we're not saying that you should change your WordPress theme every year. But every year or so, it's not a bad idea to make sure your theme is still optimized and performing well.
For example, maybe there's a new popular device with a new viewport width. Does your theme still look great on that device? Or do you need to tweak things? Give it a check every year or so just to make sure.
Change Your Password
Periodically changing your password is a good practice for any important account, including your WordPress administrator account.
Every year or so, consider updating your password, and also make sure that you're using a unique password for your account.
To guarantee this, I recommend a password manager. I like the open-source Bitwarden tool, but LastPass is another popular option.
If you have other registered users with high-level access, you can use the Password Policy Manager for WordPress plugin to force them to choose a new password after a certain amount of time.
Too Much Work? Try a WordPress Maintenance Service
That wraps up our thoughts on important WordPress maintenance tasks, but we'll leave you with one final thought before we check out:
If the thought of this maintenance overwhelms you, you might want to consider hiring a WordPress maintenance service to do it for you.
While such services won't be able to complete every single item on this list, they can take much of the work off your plate so that you can focus on the more fun parts of running a WordPress site.
Any questions about routine WordPress maintenance? Ask away in the comments!