Looking for podcast hosting to share your content with listeners everywhere?
Podcast hosting can feel like this complicated thing, but it doesn't have to be…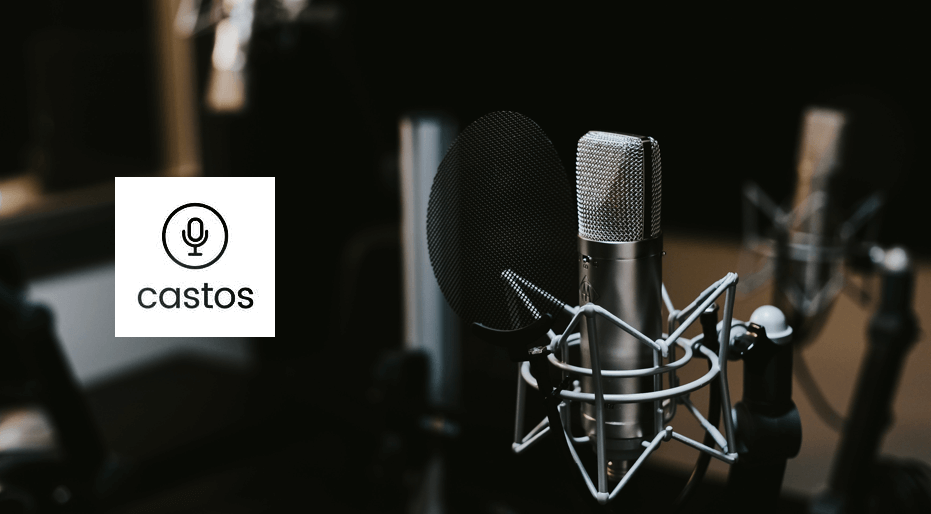 With the right tool in hand, creating and managing a podcast is just as simple as writing a WordPress blog post.
To that end, I'm going to show you how to create your own hosted podcast via WordPress using a tool called Castos. Then, after I show you how Castos works, I'll also share some other options that you can use to get started with your podcast.
Castos Review: What Kind of Podcast Hosting Is It?

I call Castos "podcast hosting for WordPress" because I think that's one of this tool's big differentiators, but there's actually not anything that forces you to use WordPress, and you can just as easily use it as a standalone tool.
There are kind of two parts to this puzzle:
1. Podcast Hosting
First, there's the Castos podcast hosting service itself. This platform-independent service lets you host and analyze both audio and video podcasts (depending on your plan).
If you're already hosting somewhere else, you can import all your podcasts with the click of a button.
Then, you'll get your own customizable player, along with detailed analytics for:
The location of your listeners
Device types
Playback duration for each episode
If you want, Castos can even automatically republish your podcast to YouTube to take advantage of the audience there. And you also get advanced publishing options, like a Premium Podcasting feature that lets you create exclusive content for premium subscribers.
Rather than creating one general RSS feed for all subscribers like you'd do for your public episodes, this lets you create a unique feed for each paying subscriber so that only they get access to your premium content.
And the nice part is that visitors will still be able to subscribe to the premium content through their podcast app of choice.
2. Seriously Simple Podcasting Plugin
The second part of the puzzle is Castos' Seriously Simple Podcasting WordPress plugin, which is built to integrate with the Castos podcast hosting service.
This is a big part of what makes Castos unique.
With Seriously Simple Podcasting, you can work exclusively from your WordPress dashboard to manage your podcast and upload new episodes.
Of course, you'll still benefit from the underlying Castos hosting infrastructure…it's just all done through WordPress.
Seriously Simple Podcasting will also handle displaying your episodes on the frontend of your WordPress site, which makes it easy to create your own self-hosted podcast site to go along with the feeds that you can submit to iTunes and Co.
Beyond that, there are tons of free extensions that add support for:
Transcripts
Speakers (e.g. the people in the episode)
Stats in WordPress
Hands-On With Castos: How it Works
Next, let's go hands-on and I'll show you how it actually works to create and host a podcast with Castos. To demo this, I've set up the new Create and Code WordPress Wizardry show.
This is not a real show, and you definitely don't want to listen to me ramble about WordPress – but it should give you the idea of how easy it is to manage your podcast with Castos/Seriously Simple Podcasting.
To get started, you'll head to Castos and create your account.
From there, you can enter your show's details and decide whether you want to manage things from the Castos dashboard or your WordPress site:

Then, assuming you're running on WordPress like I am, you'll grab the API key from your Castos account to sync things up with the WordPress plugin:

And then you're all ready to go!
Configuring Basic Settings for Seriously Simple Podcasting
In the Settings area, you get a lot of options for how your podcast looks and functions (both the content on your site and the RSS feed).
The General tab lets you choose how to publish content. For example, you could publish your new episodes as regular blog posts. Or, you could also use a dedicated Podcast post type to keep your podcast episodes separate from your blog posts, which is what Castos does by default.
You can also configure:
Where to show the media player
How the media player looks

The Feed Details area lets you choose up to three categories and subcategories for your podcast's RSS feed.
This is a good best practice because iTunes actually lets you choose three different categories – so filling out all three lets you maximize your discoverability:

If you don't want your feed to be public, the Security tab lets you add password protection (but this will block iTunes and other feed readers from seeing your feed – so it's not recommended in most cases).
There are a couple other options, like the ability to redirect an old feed URL to your new one. But in general – that's it for settings! Let's get magical with our first episode…
Uploading Your First Podcast Episode
Again, one of the nice things about Castos is that you can upload new content to Castos without needing to leave your WordPress dashboard.
To get started, you go to Podcast → Add New in your WordPress dashboard.
From there, you can add the episode's title and a text description using the familiar WordPress editor. You can also use two options to organize your podcast episodes:
Series – think of these kind of like the categories you use for your blog posts.
Tag – what the name says!

You can also upload a featured image, which will display as the cover image for your player (depending on your player style), as well as on iTunes and other spots. Make it at least 1400×1400, otherwise it won't display.
For everything else, you'll use the new Podcast Episode Details meta box. There, you can:
Choose whether this episode is audio or video
Upload the podcast file – the plugin will automatically sync this with your Castos podcast hosting
Specify the duration (it will also try to automatically calculate this)
Specify the size (it will also try to automatically calculate this)
Enter the date that the episode was recorded
Choose whether or not the episode contains explicit content
Block this specific episode from appearing in iTunes or Google Play

And once you hit Publish, your episode is live on your site. Here's an example of what it looks like:

Beyond that, you get an embed code that you can use to add your episode player to other spots.
Most importantly, your episode is also live on your feeds, which means subscribers will be able to download it via their podcast app of choice. Finally, your episode is also available at your Castos podcast page:

Pretty easy, right?
Viewing Stats
Once people are listening to your podcast, you'll be able to see listen stats from both:
Your WordPress dashboard, with the free extension
Your Castos dashboard (these are the much more detailed analytics)

Who Uses Castos?
If you want to see Castos and Seriously Simple Podcasting in action, here are some real podcasts that run on Castos:
Castos Price Information
First off, Castos offers a 14-day free trial so that you can try all those features at no risk to your bank account.
Once those 14 days are over, you can choose from one of three plans, depending on your needs:
Audio Podcasting – $19 per month – unlimited storage and episodes – but no republishing to YouTube.
Audio Podcast with Republishing – $34 per month – adds on the option to republish to YouTube.
Video Podcasting – $49 per month – lets you host video podcasts, as well as all the other features.
Five Other Quality Podcast Hosting Options Beyond Castos
If you're a WordPress user who wants to start podcasting, Castos offers a really simple and effective way to get started.
However, it's by no means the only game in town.
Here are some other popular options if you want to see how they stack up to Castos and Seriously Simple Podcasting.

Transistor is a popular option that lets you host unlimited shows for one price, complete with:
Podcast analytics
A great-looking podcast player
A branded website to house your podcast
Plenty of options for distributing your content
It's well-designed and has solid functionality, but it can quickly get pricey if your show is popular.
The cheapest plan starts at $19 per month for unlimited shows and storage. However, there's one big caveat – you can only have 5,000 downloads per month!
Here are all the plans:
Starter – $19 per month – up to 5,000 downloads per month.
Professional – $49 per month – up to 15,000 downloads per month.
Business – $99 per month – up to 45,000 downloads per month.

Libsyn is the "big ugly" when it comes to podcast hosting. Though everything about the interface looks dated, it comes with tons of features and is used by 50,000+ shows, including big guns like WTF with Marc Maron, Bill Burr's Monday Morning Podcast, the Nerdist Podcast, plus a lot more.
Plans start at just $5 per month. However, if you're just getting started, you can find much more user-friendly options, like Castos or Transistor.

Blubrry is another popular option that has a tight integration with WordPress via its PowerPress Podcasting plugin.
Like Castos, it offers this dual approach of standalone podcast hosting, along with an app that you can use to do everything from your WordPress dashboard.
Plans start at $12 per month for up to 100 MB of storage and go up from there.

If you're looking for free podcast hosting, SoundCloud is definitely one of the biggest names.
While SoundCloud started off with just music, they introduced podcast hosting in 2015 and offer benefits like:
The signature SoundCloud player, which looks pretty great
Comments linked to a time in the player (just like other SoundCloud content)
SoundCloud lets you get started for free, but that only offers 3 hours of upload time and basic stats.
For full stats, unlimited upload time, and more features, you'll need the $12 per month SoundCloud Pro Unlimited. Or, there's also a limited SoundCloud Pro option for $6 per month that adds most of the advanced features, but only gives you 6 hours of upload time.

Finally, PodBean is another popular option that offers a limited free plan, as well as affordable paid plans.
You can host 5 hours of audio and get 100GB of bandwidth for free. After that, paid plans start at $9 per month for unlimited storage and bandwidth.
There are also interesting features like the optional PodAds Marketplace that lets you monetize your podcast with programmatic ad campaigns.
Final Thoughts on Podcast Hosting
If you use WordPress and are looking for a simple way to get started with your podcast, Castos and Seriously Simple Podcasting make it really easy to manage podcast hosting and distribution without needing to leave the confines of your WordPress dashboard.
What's more, you'll be able to put your own WordPress podcast site on autopilot, along with a great-looking podcast player.
Give it a try today, and make sure to subscribe to the Create and Code WordPress Wizardry podcast for more great content like this post.