Say you're visiting a new city and you're looking for a place to have lunch. One cafe is bustling and busy, you hear the sounds of diners happily enjoying their food and waiters scurrying from table to table to fulfill more and more orders. The second cafe is completely deserted, row upon row of empty benches, no person to be seen apart from a forlorn owner pleading you to please come inside.
It would convey an obvious common sense to plump for the busier restaurant, seeing happy, contented diners would aid persuasion that the first option was indeed the better choice.
Seeing the proof of delighted customers enjoying their food is a lot more persuasive than listening to the poor owner of the second restaurant.
To quote Cavett Roberts, "Since 95% of people are imitators, and only 5% are initiators, people are more persuaded by the actions of others than any proof we can offer".
In summary, people are more persuaded by social proof from other users, similar to them and not straight from the brand selling a product itself.
In this vein, let's introduce a new plugin by IdeaBox Creations which I'm very excited about called WPfomify. IdeaBox is known for their PowerPack addons for Beaver Builder and Elementor.
WPfomify is a WordPress plugin which you can use to display recent orders, reviews and signups on your site. The transaction can be displayed within a neat appearing and disappearing notification box, plus it can automatically include the name and profile picture of the user who completed the action. In theory, you shouldn't need to do anything once it has been installed.
WPfomify Review: The Feature List
So what are the features that make WPfomify an interesting proposition for a business?
First up, there's real-time customer activity. This is a great driver for an immediate reaction from users currently on your site. So John in London has just purchased, perhaps I should too?
Beyond that main driver, it also includes features such as:
Integrations with popular plugins such as WooCommerce, Easy Digital Downloads and Campaign Monitor (more on this later).
Design options – so you can change the colors and position of the notification box to match your site.
Client reviews – display testimonials from existing buyers when you want to close the sale.
Conversion tracking – use UTM fields and track what works (and what doesn't) with Google Analytics so you can hone your message.
So this is a very strong feature list, let's install it and take a look at how it works in practice.
Hands-on WPfomify Review: Let's Check It Out
So I've installed the plugin on my test site. Let's give it a run-through and see how it performs.
When you activate the plugin, you get a new WPfomify tab within your WordPress dashboard. This is where you'll manage your notifications.
There are a number of tabs on the left, let's run through each one, not necessarily in order.
Config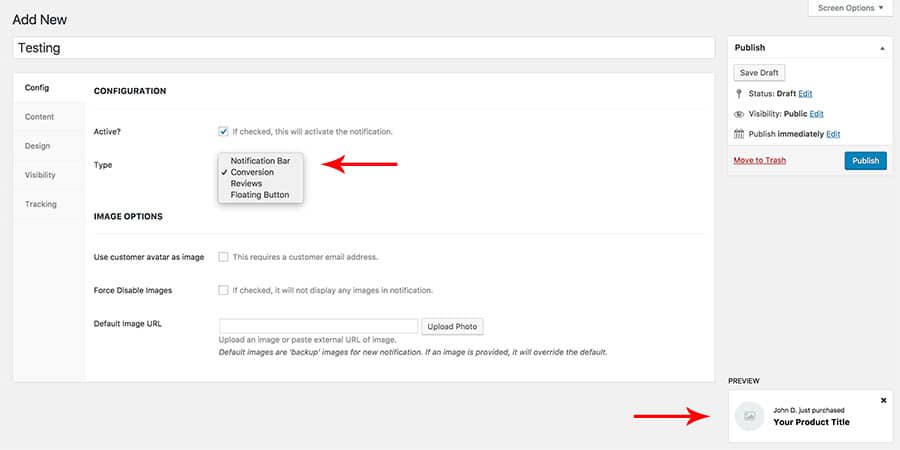 The first one is the most important. You'll decide which type of notification to display. What I really like was the immediate preview it gives in the bottom right-hand corner. The options are:
Notification bar – shows a bar with a countdown timer at the top
Conversion – this is the most interesting one for me, automatically display recent sales or signups
Reviews – display customer reviews of your items
Floating button – you can display a pop-up message, which looks a little like Intercom, only static. It can be used to alert visitors to a special offer for example.
Design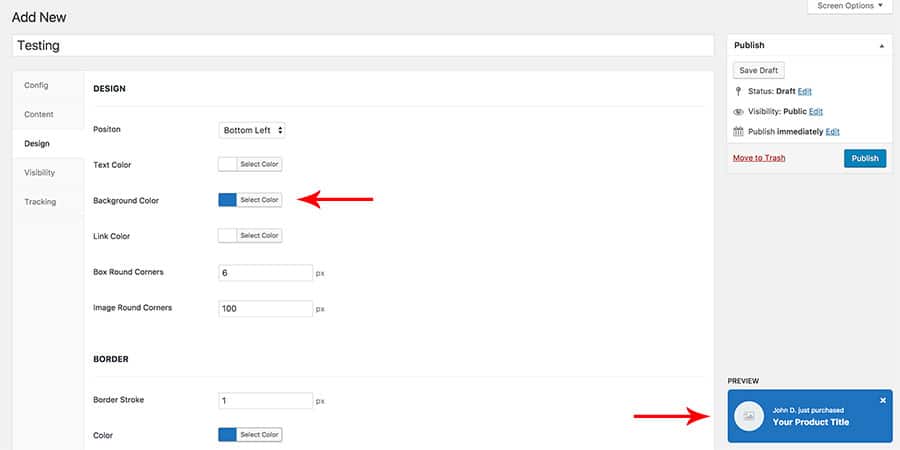 I'm going to come back to the 'Content' tab shortly. Let's look at Design next. This has a neat number of options which allow you to colorize the message box to your liking. You can also tweak the borders, text colors and where it should be positioned on your site. Similar to the configuration tab, you'll see the changes in real time so it's very quick and easy to brand it.
Visibility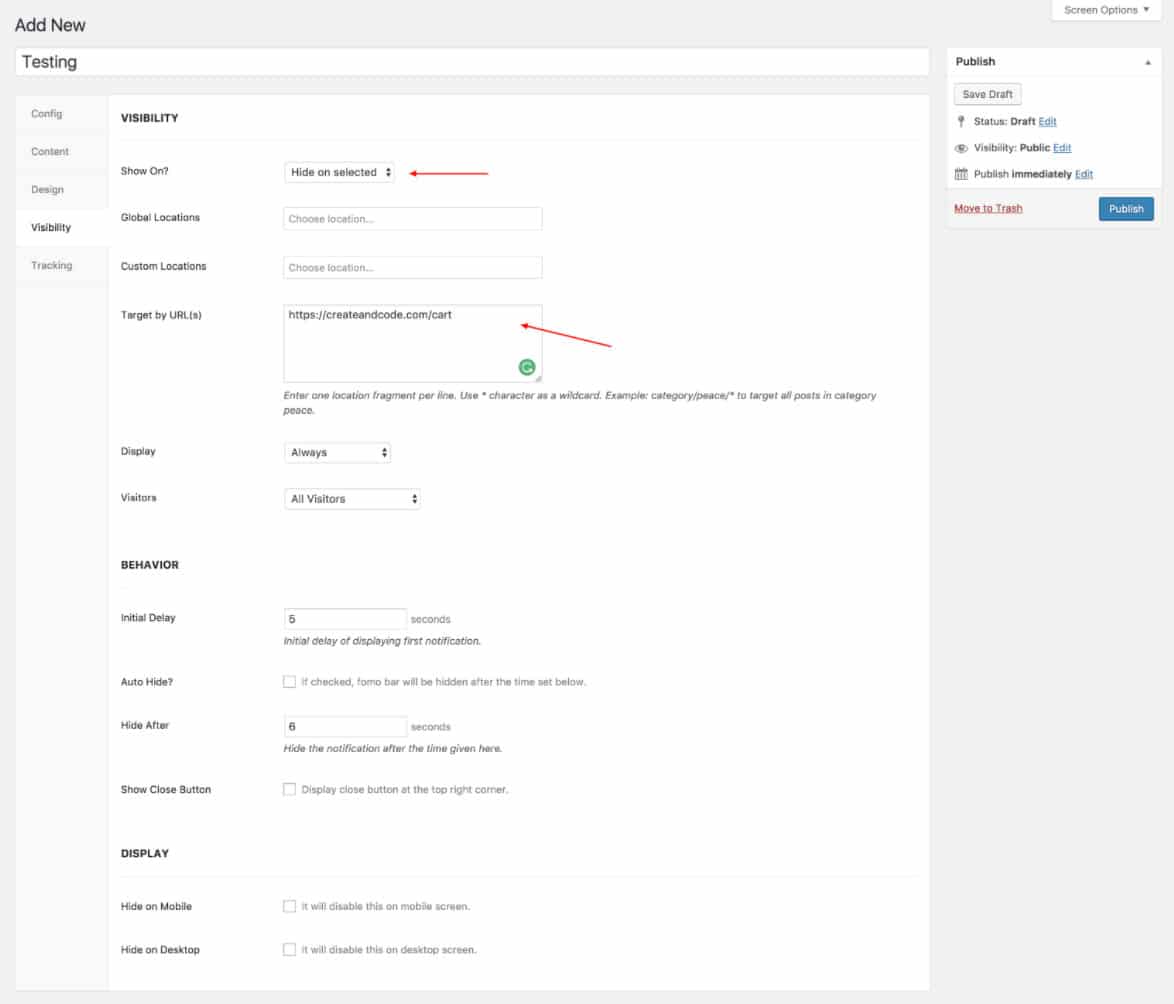 Within the visibility area, you can decide to show the notification on every page or choose individual URLs to include or exclude. This is a nice feature as you may not want to keep showing it on the cart page for example, when you would prefer to close the sale. There are also settings to delay the pop-up and hide it after a certain number of seconds – this could be useful if you don't want to irritate readers by distracting them on long articles.
Notification Bar


The plugin includes a feature to display a notification bar with a countdown timer. With the same design option features as any other type, you can tweak the colors and button style easily to encourage visitors to purchase. A countdown has been shown to be quite effective to emphasize urgency – and entice wavering buyers that with a limited time available to grab a discount it's worthwhile to buy.
Third party integrations (including WooCommerce)
Probably the most interesting aspect of WPfomify is its ability to integrate with a number of popular eCommerce and Mailing List plugins. The list of integrations at the time of writing includes:
Easy Digital Downloads – selling digital products
WooCommerce – the most popular eCommerce plugin for WordPress
MailChimp – creating email campaigns
ConvertKit – an email marketing solution for professionals
GiveWP – donations plugin
Drip – eCommerce marketing automation
Active Campaign – marketing automation
LifterLMS – a learning management system
Zapier – linking applications together
LearnDash – creating and selling online courses
With more to come, this is where WPfomify really shines but there is also potential to improve things even further. Let's look at how it works with the Easy Digital Downloads plugin for example.
Easy Digital Downloads integration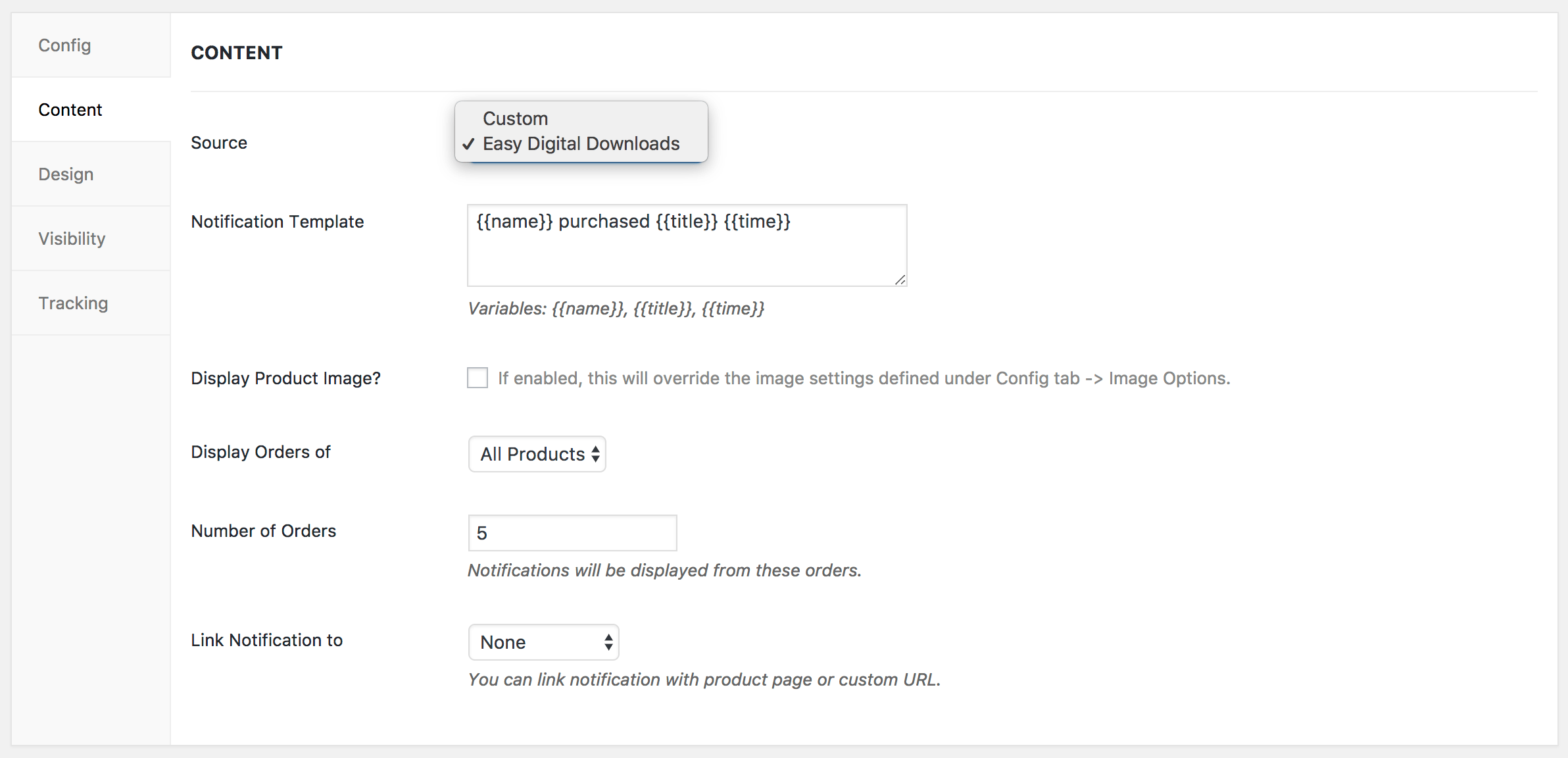 You'll need to first install the EDD add-on for WPfomify – once done you'll see Easy Digital Downloads as an option within the 'Source' dropdown in the Content tab. The options provided are a bit minimal – you can choose the display 'All products' or an individual item. There's no way yet to choose to show certain products and exclude others – that would be a nice addition. The plugin can pick up the product image, or by default, the gravatar of the buyer if available.
The gravatar looks more authentic I think – it's nice to see a real face of someone who purchased. You can limit the number of orders displayed and tweak the notification template text also but there's lots of scope to expand this feature set further.
Potential Improvements
While testing I noticed a number of small points to work on.
If you use Elementor – the 'Floating Button' notification can frequently pick up some content of the page instead of the content specified within the plugin. I've alerted the developers to this and they agree that this is an important item to fix – Elementor has become an extremely popular page builder.
As already mentioned, it would be nice to be able to specify only the buyers of certain products rather than having to pick all.
Is it for you?
I think there are enough features and future potential for this plugin to become a great addition to any site which sells. If you'd like to check out WPfomify today you can get 10% off with the code CNC10.
Summary
Reviewer
Review Date
Reviewed Item
WPfomify Plugin for WordPress
Author Rating