A post on the best SEO plugins for WordPress? Isn't that just a single item list that reads "Yoast SEO"?
Well, if you go with the mainstream answer, then probably yes. There's no doubt that Yoast SEO is the most popular and most recommended WordPress SEO plugin out there. But didn't your parents ever tell you that you shouldn't jump off a cliff just because your friends are?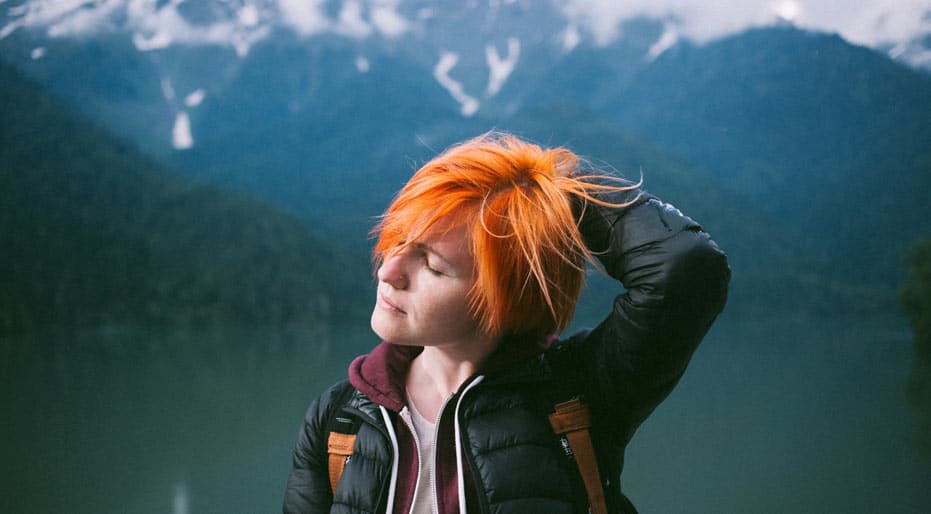 Ok, that's unfair to Yoast. Using Yoast isn't jumping off a cliff. But, I think there is an argument to be made that Yoast should not be the default plugin in 100% of situations.
So to that end, I'm going to spend this post investigating the best WordPress SEO plugins. Note that I'm going to focus on all-in-one SEO solutions, rather than plugins that offer tiny tweaks. And while that will certainly include Yoast, the list will not end after that entry.
What Should You Look for in An SEO Plugin, Anyway?
When it comes to SEO plugins, there are two main types of users:
The newbies who just want an easy way to boost their site in Google. If that's you, congrats! You're making a great decision.
The pros who want to do things like automatically format meta information on custom field variables and all that jazz.
Any good SEO plugin should be able to handle both. But some place more of an emphasis on one group than the other. For example, Yoast includes a simple startup guide and notifications, whereas some other SEO plugins just throw you straight to the wolves.
So when you choose your SEO plugin, make sure to go with one that approaches SEO in a way that fits your situation.
Additionally, if you're running WooCommerce or something else with custom post types, you'll need to make sure that the plugin supports that.
What Are the Best WordPress SEO Plugins?
Ok, now I'll go through each SEO plugin in more detail. Starting with the big man on campus…
1. Yoast SEO

Yoast is popular for a reason. It gives you tons of flexibility over your site's content, letting you set up titles, meta descriptions, and social sharing information on a per-post basis. It gives you an easy way to set up a sitemap, adds some basic schema, and is generally pretty beginner friendly.
It's so focused on being beginner friendly that it hides most of the good stuff behind an Advanced menu that you have to manually turn on to see. What's do I count as good stuff?
Mainly custom variables to set up every title and meta tag on your site. For example, if you're using a custom post type with custom fields, you can pull data from those custom fields to automatically use in your titles and descriptions.

Super helpful, albeit not very accessible for beginners.
And if you're willing to pay for pro or add-ons, there are tons of helpful features like:
Local SEO
Video SEO
Internal link recommendations
Lots more
All that's good…but here's where many people either love or hate Yoast:

For those who haven't used the plugin, that screen showcases all of Yoast's SEO and readability recommendations. To be fair, plenty of people find these recommendations helpful.
But…I personally am not a fan. I think they're useful as general suggestions, but many people put too much emphasis on Yoast's recommendations. Yoast's recommendations often:
Encourage keyword stuffing
Don't recognize the importance of LSI
Ding you for other silly things like a single "stop word" in your URL
And when it comes to readability, they often just plain…fall flat. I won't beat around the bush there. I want to yell when Yoast marks me down for "passive voice" when the sentences…don't actually contain passive voice.
Additionally, all of these helpful features add up to a ton of bloat. So much bloat, in fact, that one dev even created a WordPress SEO Weight Loss Program plugin to remove some of Yoast's many additions.
Look, Yoast is generally just fine and has plenty of helpful functionality. It's just not something you should take as gospel when it comes to its recommendations.
If you're a beginner, you won't go wrong with choosing Yoast. But if you're fed up with Yoast's ongoing quest to completely take over your WordPress dashboard (Cornerstone content, anyone?), then keep reading for a couple more options.
2. All in One SEO Pack

After Yoast, All in One SEO is the second most popular WordPress SEO plugin. Its official "active installs" number is actually higher than Yoast's, though it's not nearly as talked about.
I'm still running All in One SEO on one of my older sites and I greatly appreciate it's slim, bloat-free interface.

There's a lot to like about All in One SEO. It has:
XML Sitemap support
Easy Google Analytics integration
Support for custom post types
Canonical URL support
Free WooCommerce integration (most plugins make this a premium feature)
Automatic or manual meta information
Another thing I like is that it doesn't enable every feature by default. You can go in and turn on or off modules so that you only use resources on the features you care about.

If you go pro, you'll get:
Advanced support
SEO options for taxonomies (shame this isn't in the free version)
A video SEO module
In terms of interface, I much prefer All in One SEO. To be honest, I'm trying to remember why I changed from All in One SEO in the first place. I think it was that peer pressure!
Despite its slimmer interface, All in One SEO is still pretty dang beginner friendly. So this is another SEO plugin that should be fine for both beginners and power users. If you're not a fan of Yoast's aggressive recommendations, give it a try for sure.
3. The SEO Framework

The SEO Framework is a plugin I hadn't heard of until Colm recommended it to me. It can't compete with the sheer popularity of the first two SEO plugins, but it's getting rave reviews on the WordPress.org forums so I had to install it to see what everyone is talking about.
The verdict?
This is one nifty SEO plugin. When you install it, there's just one long list of options. No bloat. No notifications popping up everywhere: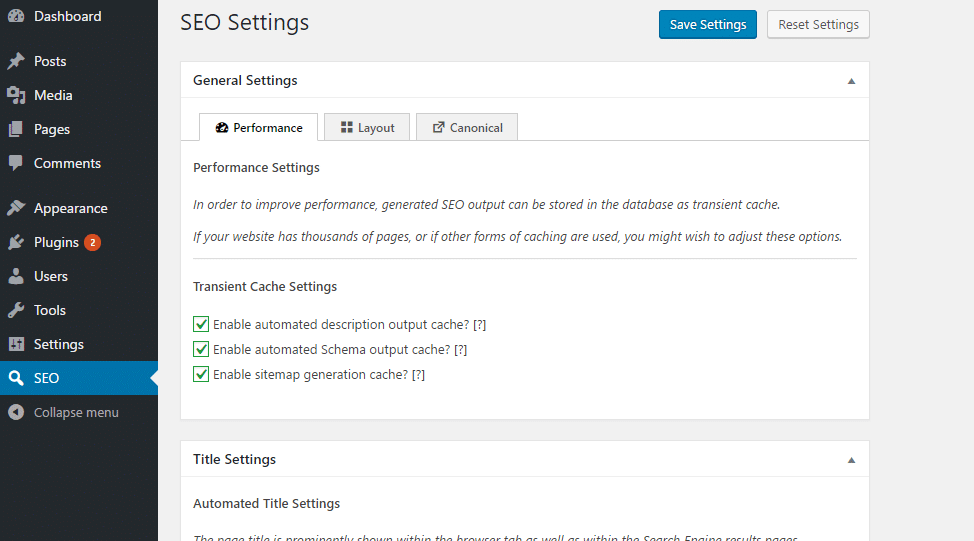 To be fair, while I love this approach – a beginner might feel a little lost when the first setting option they see references Transient Cache Settings.
In these menu options, you can quickly configure:
Meta titles and descriptions
Social meta information, as well as a fallback image to use when nothing else is available
Basic schema information
Settings for search engine robots
How your sitemap functions
And once you do that, you're off to the races!
The only other times you'll run into The SEO Framework are:
In the WordPress Editor with a lightweight box that lets you customize your meta information on a per-post basis:

In your Posts or Pages dashboards with a helpful SEO bar that gives you various information about your post:

I much prefer how The SEO Framework approaches recommendations. They're there if you need them, but not in an overpowering way.
In addition to everything above, The SEO Framework rounds out its pitch with free support for:
WooCommerce
bbPress
Other custom post types
Honestly, there's a lot to like here. I haven't personally used this plugin on a long-term site, but the reviews are excellent and the interface is intuitive.
The only semi-negative thing I'll say is that beginners might feel a little bit out of their element. But if you're familiar with the basic principles of WordPress and SEO, I think this is definitely an SEO plugin worth considering.
Wrapping Things Up
I know this wasn't a huge list with double-digit plugins…but honestly, you only need one SEO plugin. And I think these are your best options. There's no point featuring three other plugins that you're not going to use.
To that end, I'm going to end this post by giving you a few decision matrixes:
If you're a total beginner just looking to add some basic SEO to your WordPress site, you should still probably use Yoast because it's the easiest to use.
If you want a more stripped-down version of Yoast that's still beginner friendly. Or if you're running a WooCommerce store, then you should go with All in One SEO. Remember that support for taxonomies is only within pro.
And finally, if you're willing to try out a relative newcomer, The SEO Framework offers a delightful interface and a promising feature list, though in a package that's not quite as beginner friendly.
Now over to you – what's your first choice when it comes to WordPress SEO plugins?