You know what's better than stuff? Free stuff.
If you've followed us so far, you know that we hunt down some of the best WordPress themes around, fitting any category. Hopefully, we've helped businesses and individuals along the way. But today we've got something a little special: free WordPress themes. No, this isn't a dream! Typically, themes cost a fair amount of money, since they're made and used by professionals. But maybe you don't have the cash, don't want a pricey theme, or just want to learn how themes work. Well, whatever the reason, we've got you covered.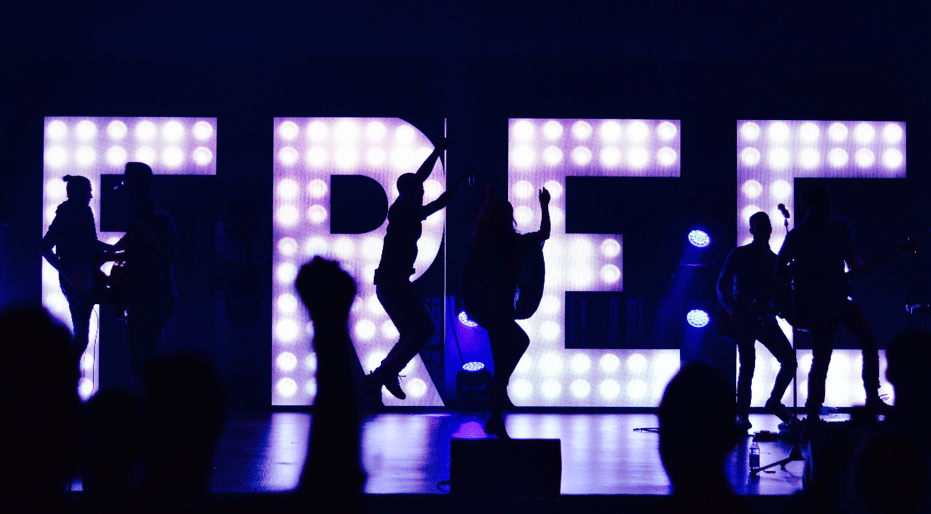 Little of Everything
Free themes are different in that they don't follow a specific category. Typically, I'll tell you to keep in mind what you want most out of a WordPress theme for its specific purpose, but in this case, we'll cover just about everything.
Quality Over Quantity
Regardless of picking from a basket of endless themes, I still make it a point to choose themes based on a list of criteria. For the most part, this will base itself on ratings, reviews, and positive feedback. In the same vein, free themes which offer a variety of features or interesting aesthetics are also likely to make it on my list. It's worth pointing out, however, that our usual combination of premium plugins like Visual Composer will be absent. Doesn't make sense to bundle a $30 plugin for something you don't make money on, does it?
Top Free WordPress Themes
With that out of the way, let's dive in!
bFastMag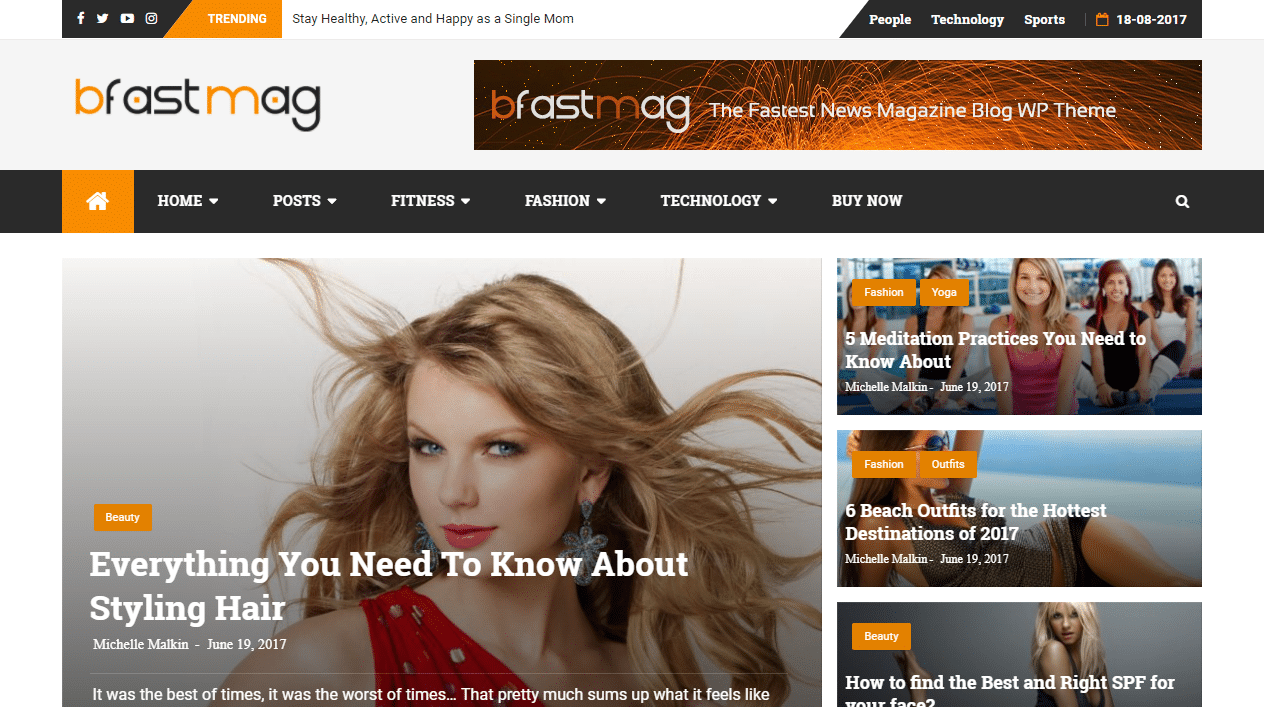 My first choice is aimed at those who might want to try their luck with online magazines, news, blogs, and online content. It's got a slick, minimalistic presentation with cozy box-format for easy reading, coupled with high response on mobile devices. That's perfect, considering most people read things on mobile devices. On top of that, it's SEO ready and supports multi-language translation, netting you a wider audience. The version has both a free and premium one if you're tempted.
Hueman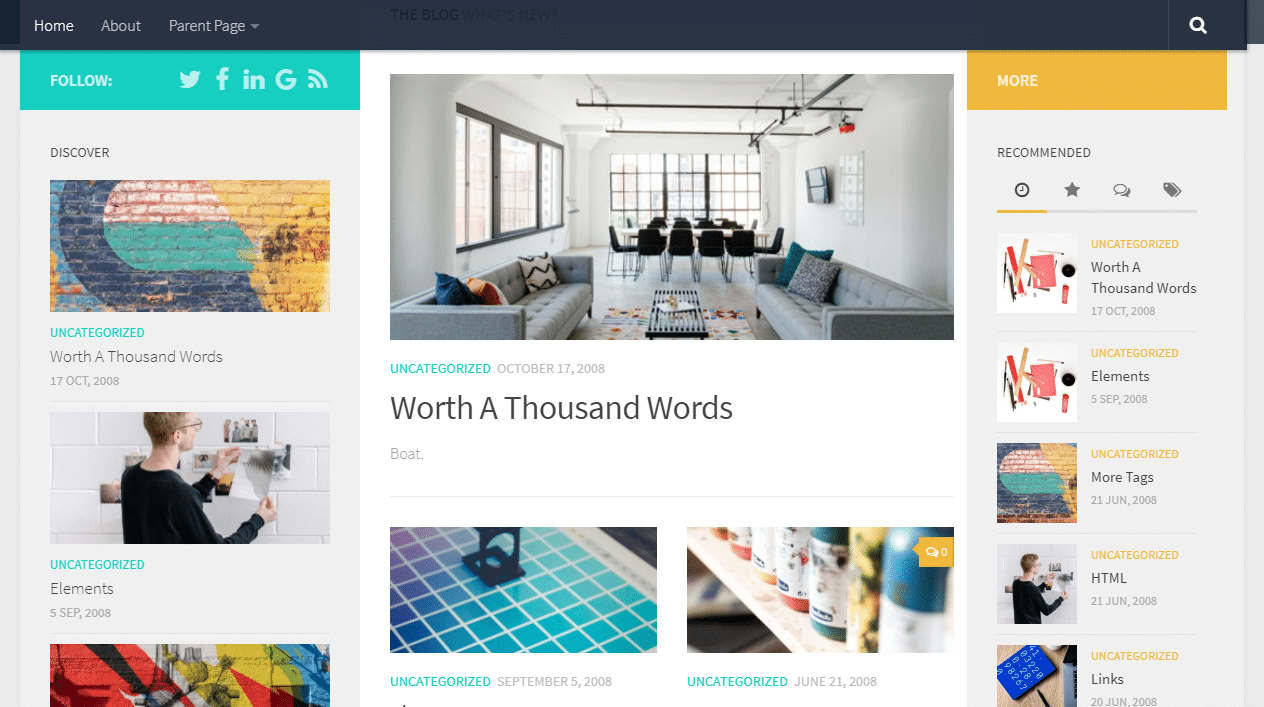 Here's another trusted blog theme for WordPress (or magazines, if you prefer). It is, currently, one of the best (if not the best) WordPress theme for blogs/magazines that you can grab for free. That's a pretty tall order, but I can see why.
It's pleasant to look at, easy to navigate, and easier to customize. As you can imagine, it has a great response on mobile devices. It's excellent for simplified visuals combined with engaging content.
Magnetism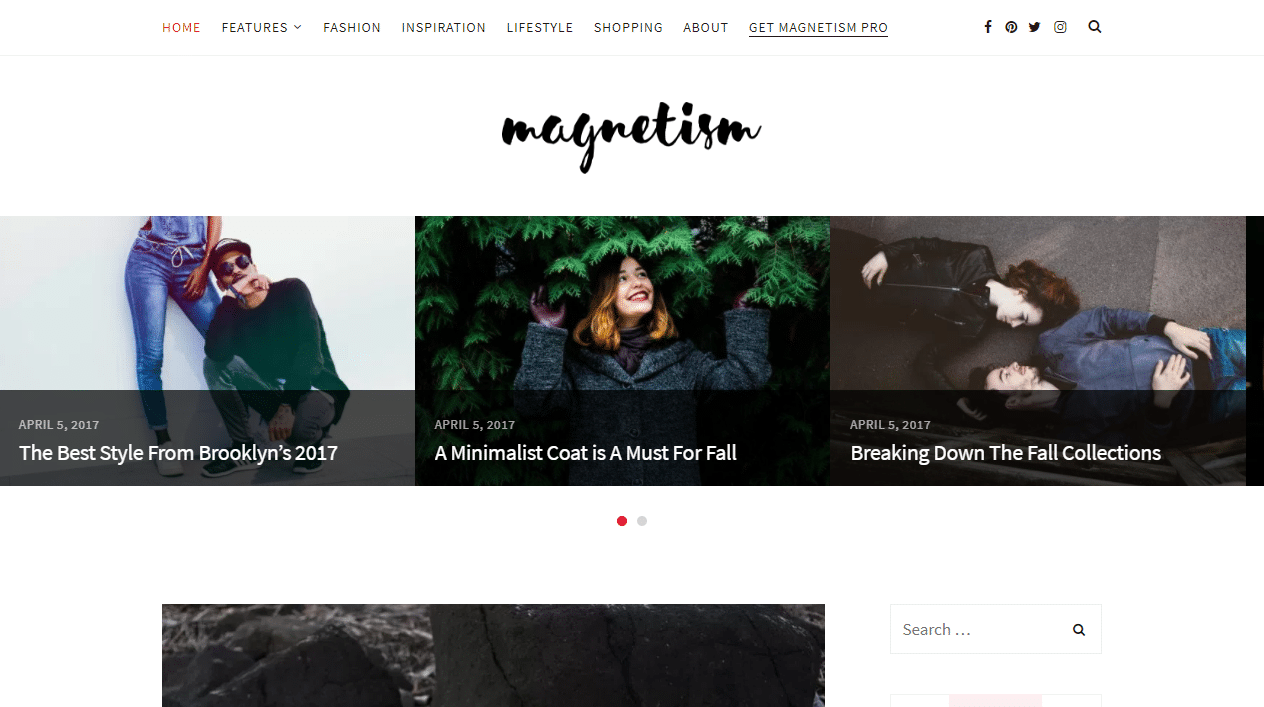 Our very own Magnetism draws you in with appealing visual design, grid-format, and ease of customization. This theme is suited for blogging or content writing, though with enough customization you can turn it into just about anything.
Of course, like the others, it boasts SEO optimization and responsiveness on mobile devices.
Vertex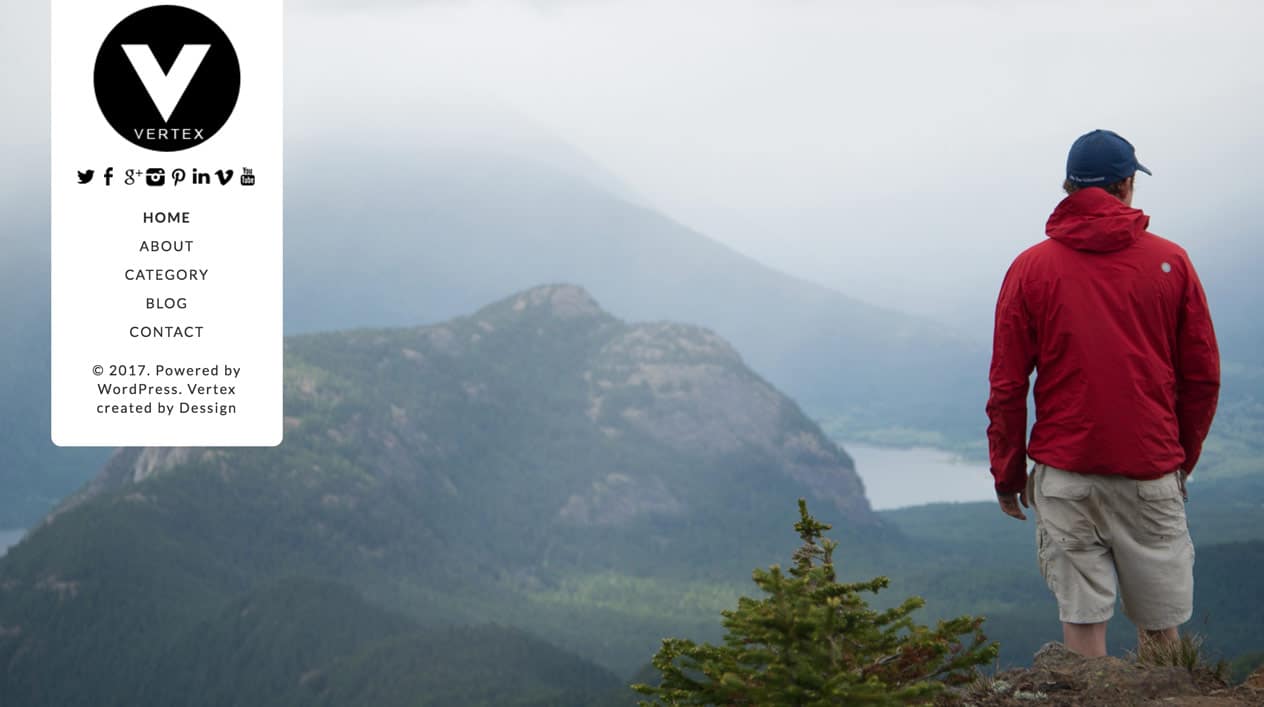 Vertex is a beautiful and simple blog theme with a designer in mind. With a clean, modern design and aesthetic feel, you can showcase your content in an contemporary timeless style. It's a great choice to make your images stand out and focus on your content.
Lighthouse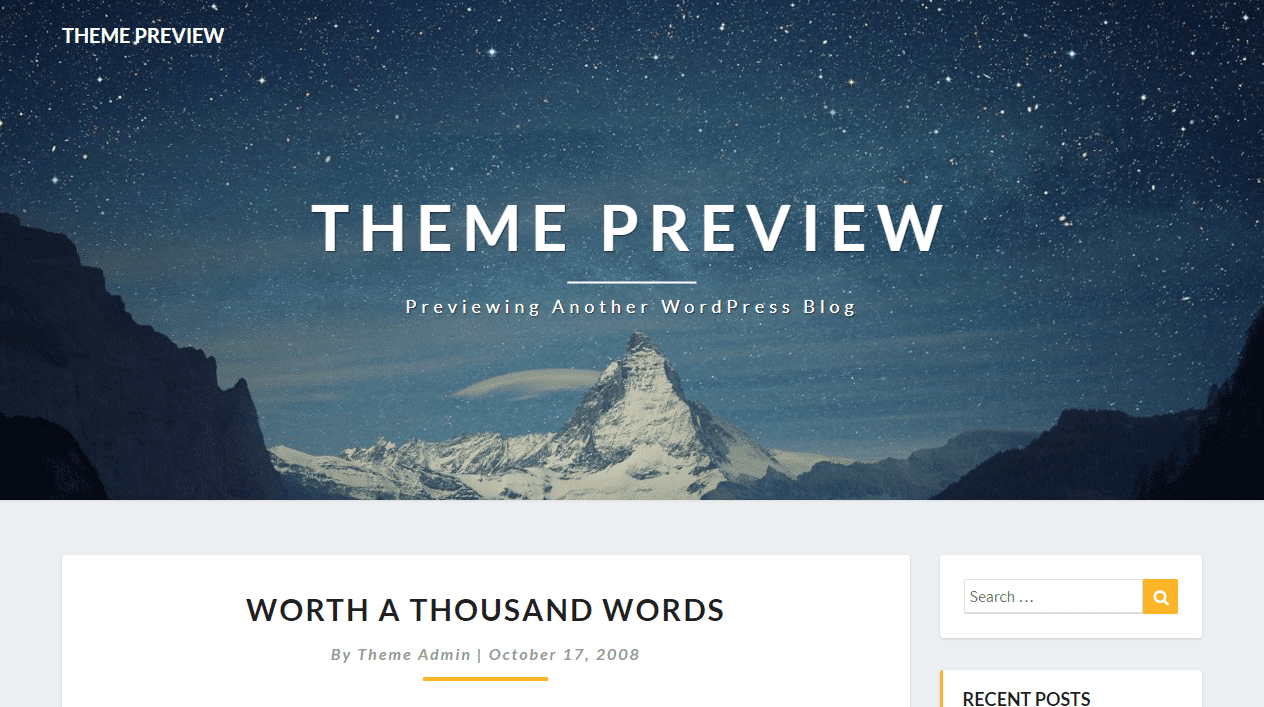 Here's a great one-page WordPress theme ideal for writers or content authors. A beautifully simple visual style means readers will get to your content on the first page. It doesn't fuss over intrusive pictures, so it's perfect for the written word.
It's also SEO optimized and responsive, two trends I'm glad to see. This will expand your reader base, and combined with adsense compatibility, you can use it to springboard into some extra cash. Good theme as a launchpad for other content or just a place to blog.
Oblique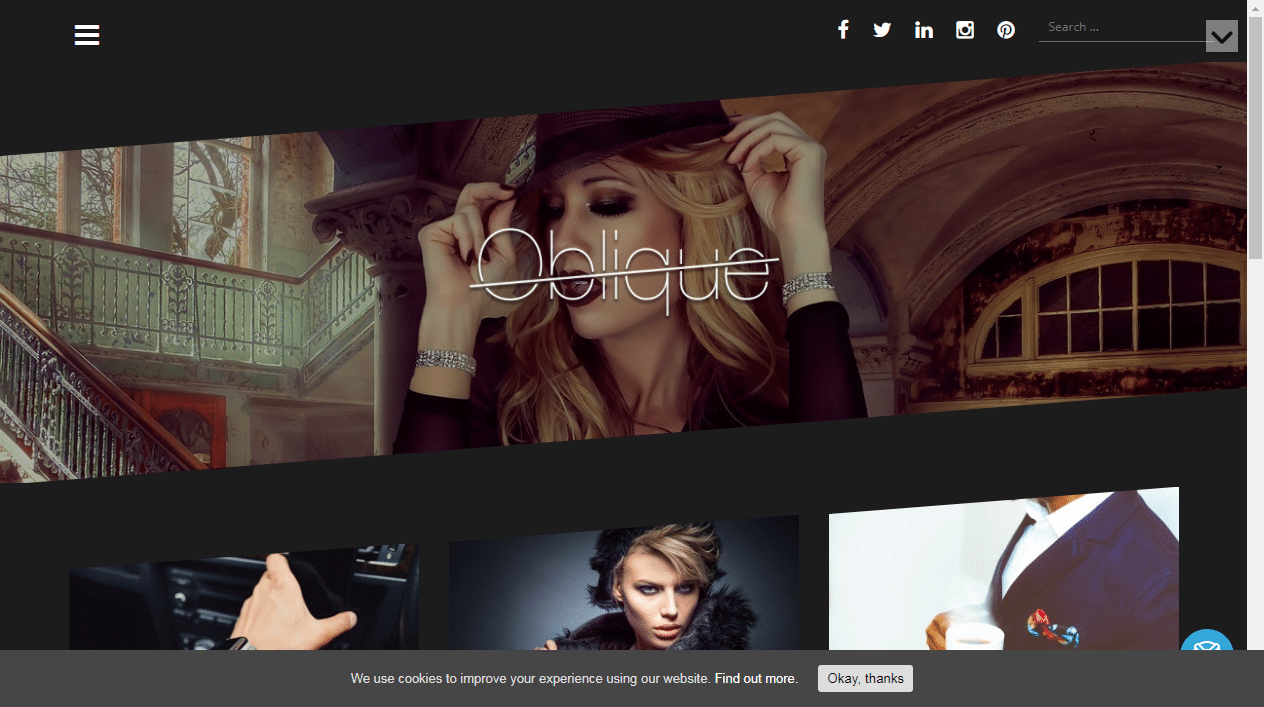 Immediately eye-catching, Oblique sets itself apart with a unique visual style, perfect for galleries and landing pages. The theme aims at fashion and pictures, but bloggers can great use out of it too. If you were looking for a little "character" with your WordPress theme, this is an ideal choice.
Education Base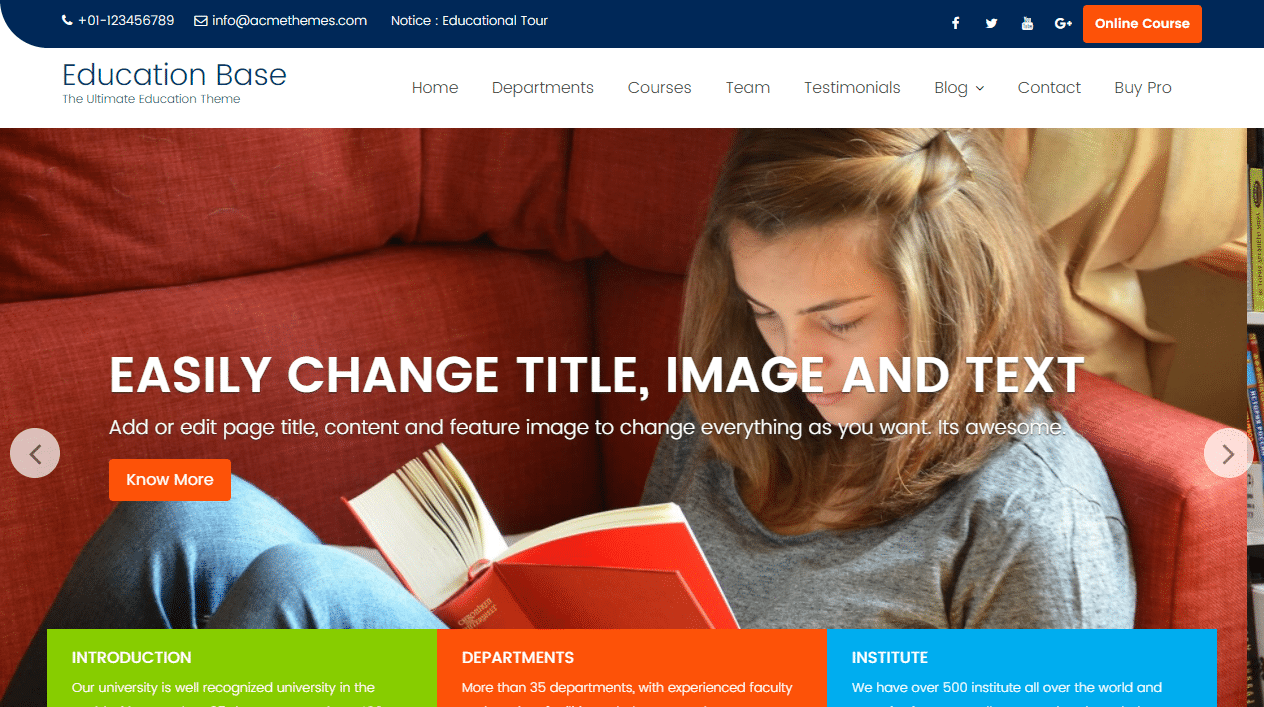 Here's a great theme option for educators, schools, and education programs. A nice, simple one-page layout is attention-grabbing with the theme's pleasant design, and of course, it's highly responsive.
You'll be able to customize everything you need with its convenient slider option, though as it's free some complex customization options aren't available. That being said, slick transitions and animations make it fun to navigate and read.
Nikkon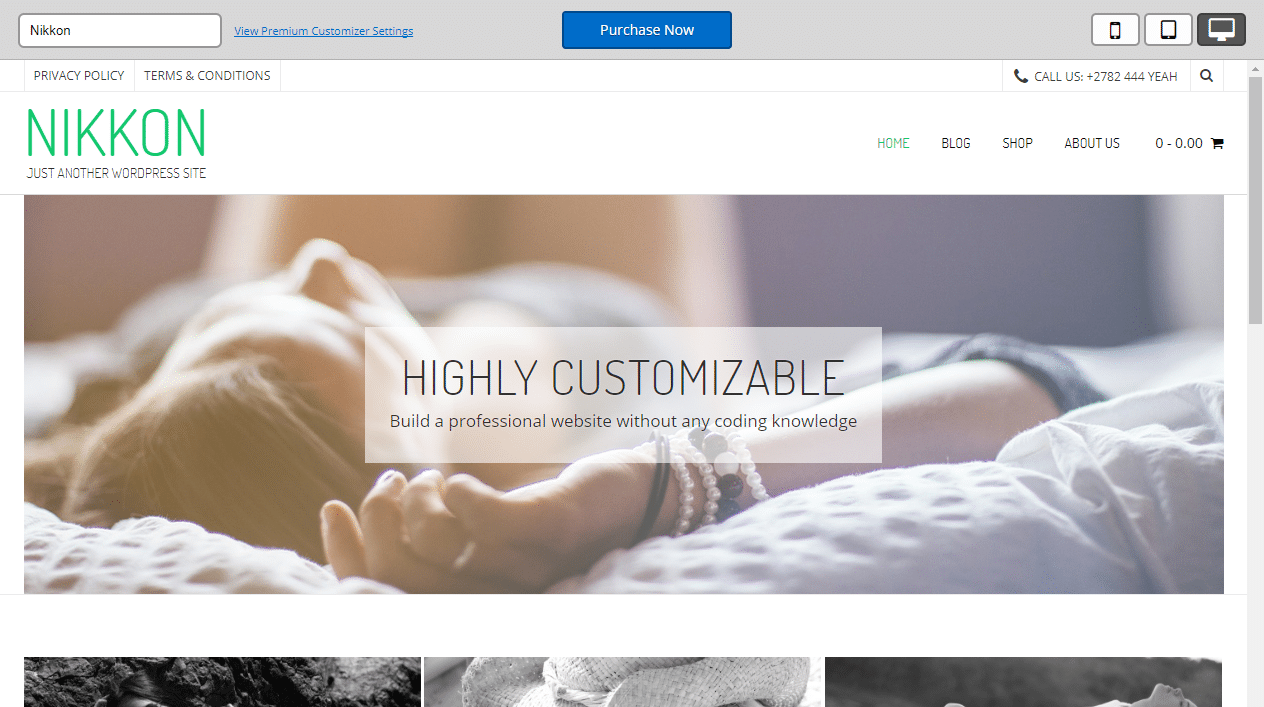 Here's something for all you photographers out there: Nikkon. This single page WordPress theme is a great landing zone for galleries, clustering them together in a grid-style format. Responsive design means that, regardless of images used, everyone will browse them without trouble.
Some other impressive features are along for the ride too. WooCommerce integration is part of the theme, so if you sell services/photos, it's a nice online shop. Also, page creation is managed through drag-and-drop, so you don't need expert coding skills to make it look good. A very strong choice and offers a lot for free.
MH HealthMag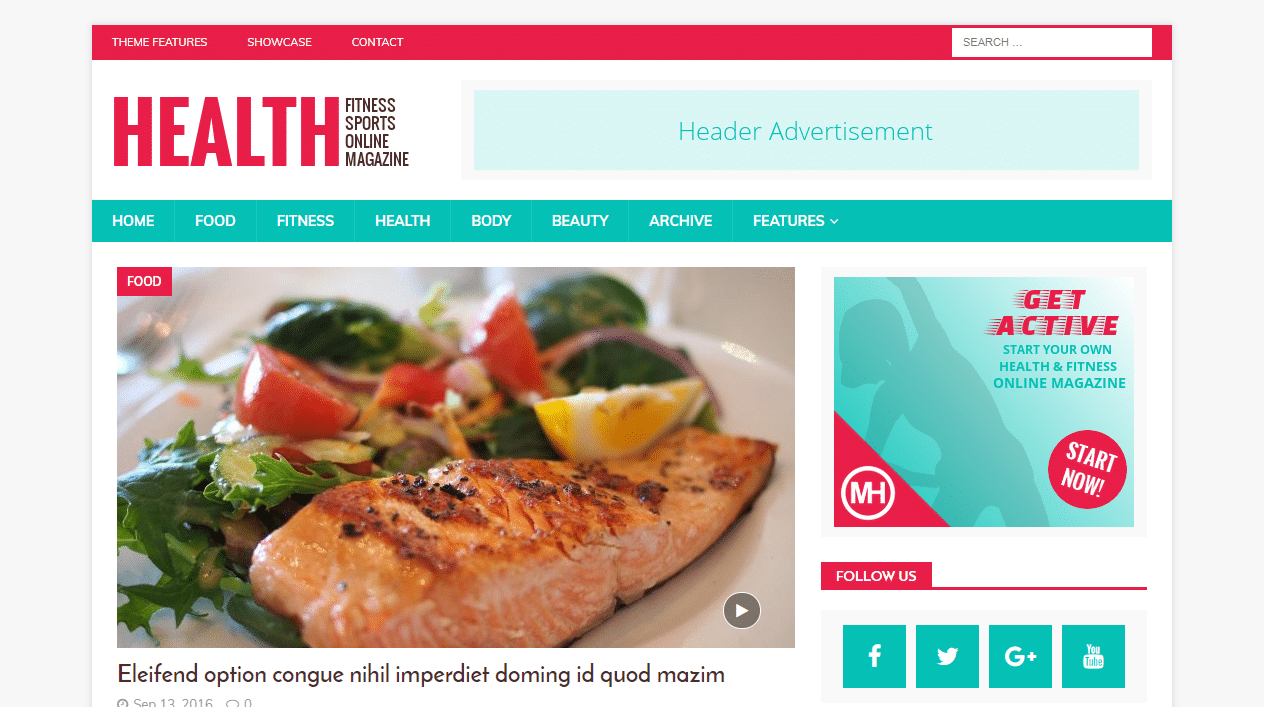 Here's a theme you might like if the subject of health and nutrition comes up. MH Healthmag is ideal for blogs and online magazines which, as you guessed, covers various health subjects. Granted, you can probably use the theme for any idea you have in mind.
Like you probably expect, this has responsive mobile design and some SEO optimization to help you reach larger audiences.
StoreOne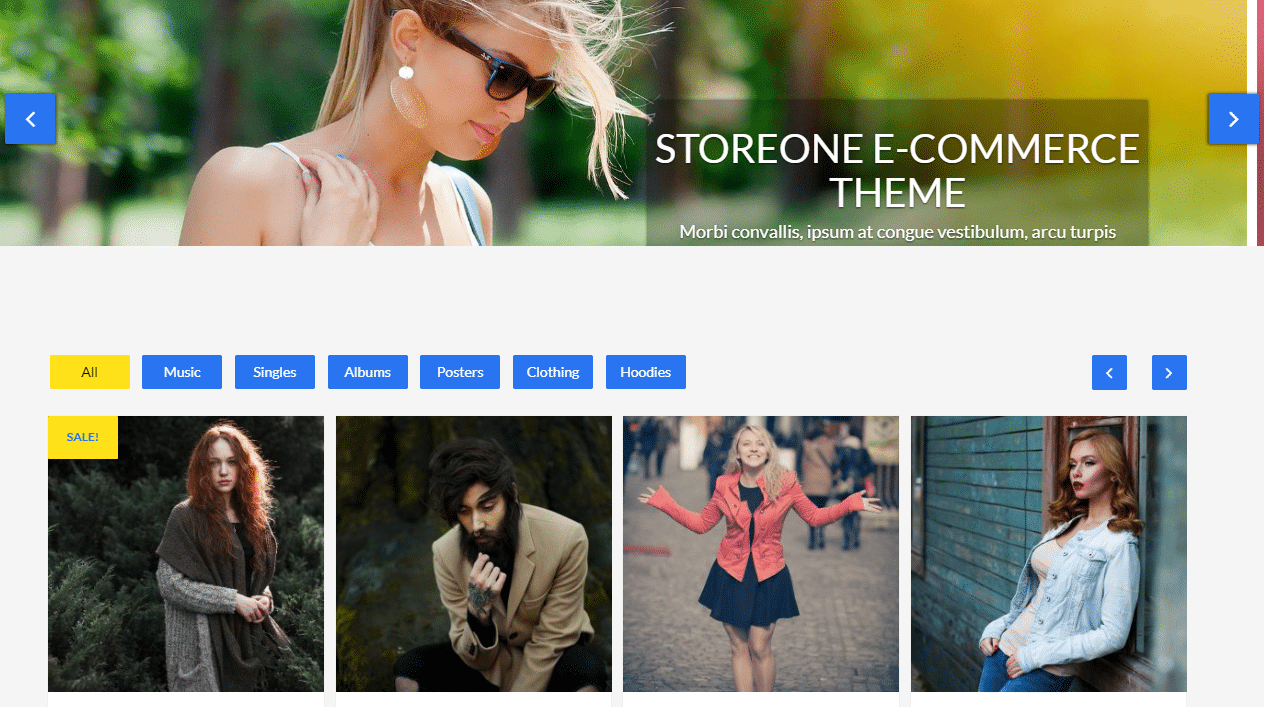 StoreOne catches the eye with its colorful visuals and organized aesthetic. As the name implies, this theme is great for online webstores or blogs that sell specific items. As such, it's got WooCommerce integration to help you make sales, while SEO compatible design brings in a larger audience.
With a powerful initial template and simple customization options, this theme works well for vendors, businesses, and e-agencies.
Clean Commerce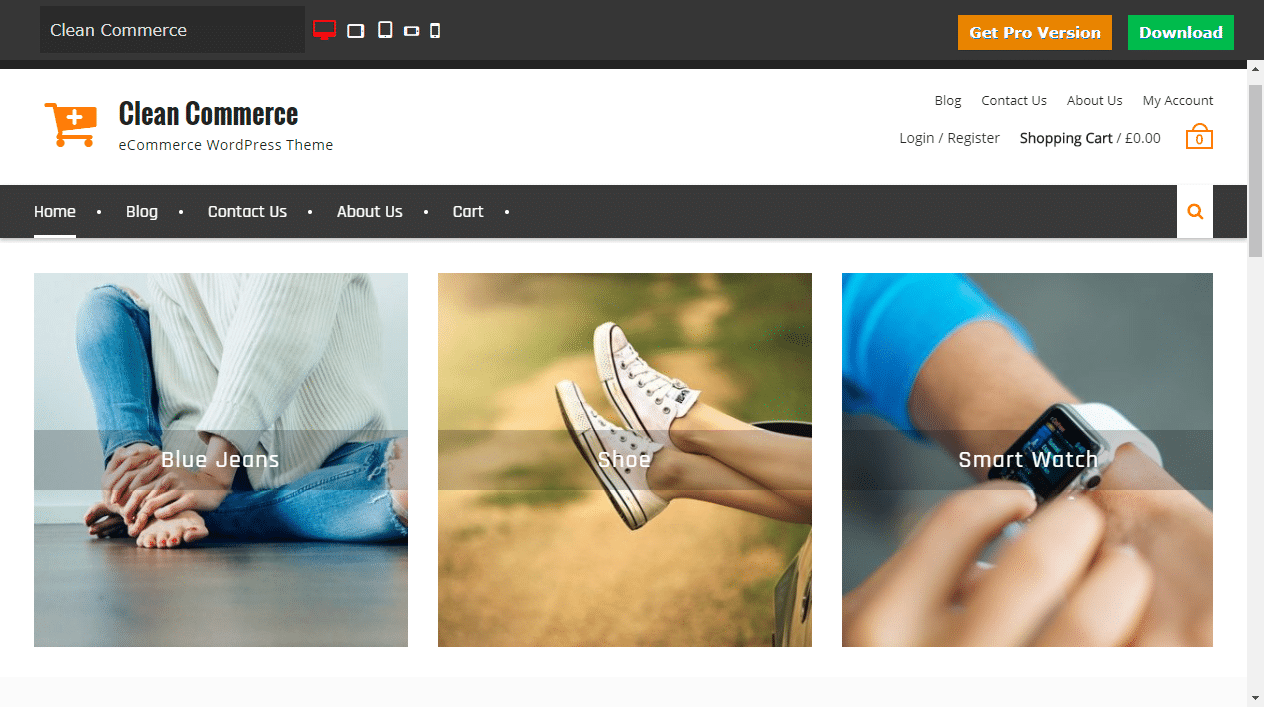 Got some online products to sell? Clean Commerce has your number. As you might have guessed, this WordPress theme suits online vendors and sellers with its uniform gallery and product description design. Visitors will hit an organized landing page with your highlighted products ready to sell.
Along with its convenient sliders and customization options, it also comes with WooCommerce for online transactions. An ideal theme for businesses and companies who manage e-commerce.
MH MusicMag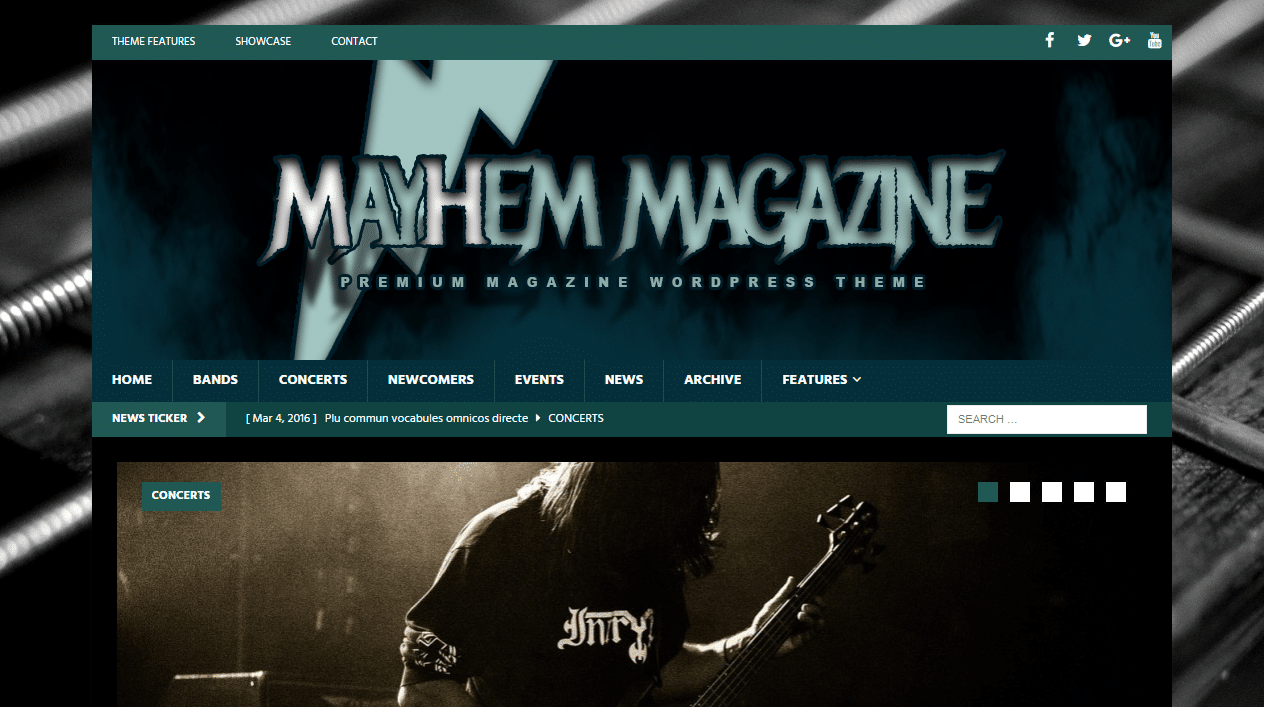 Something with a bit more edge to it, MH MusicMag boasts a darker tone and gritty visual style to incorporate various types of music. If I had to guess, that's probably metal and variations of rock. If you were tired of everything looking like a polished store, this might be for you, especially if you or your company has a passion for music.
This is also great to publish headliners and upcoming events, or any news media about bands. The free version allows this with some extensive customization, and there's a premium version if you ever decide to upgrade.
Portfolio Lite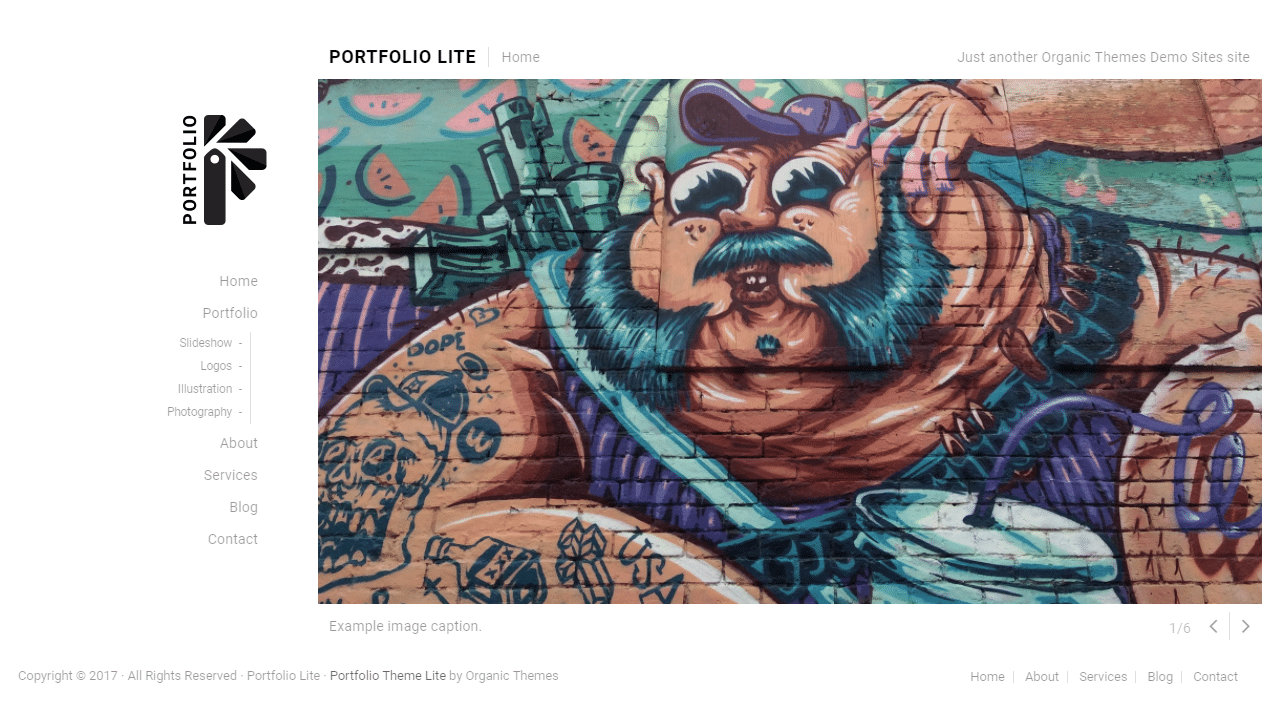 If you're a free agent, photographer, freelancer, or someone who makes a living by building a background of stuff you've worked on, I recommend Portfolio Lite. This simple but well-designed WordPress theme is an excellent landing page that impresses the eye. Responsive design makes it work beautifully on mobile devices, which is likely how you'll present your works to interested third parties.
Page one has a strong visual aspect to give your visitors an idea of what you're all about, while a clean sidebar lets them navigate to other parts of your website. It's a great theme that's easy to customize and focuses on you and your content.
Education Zone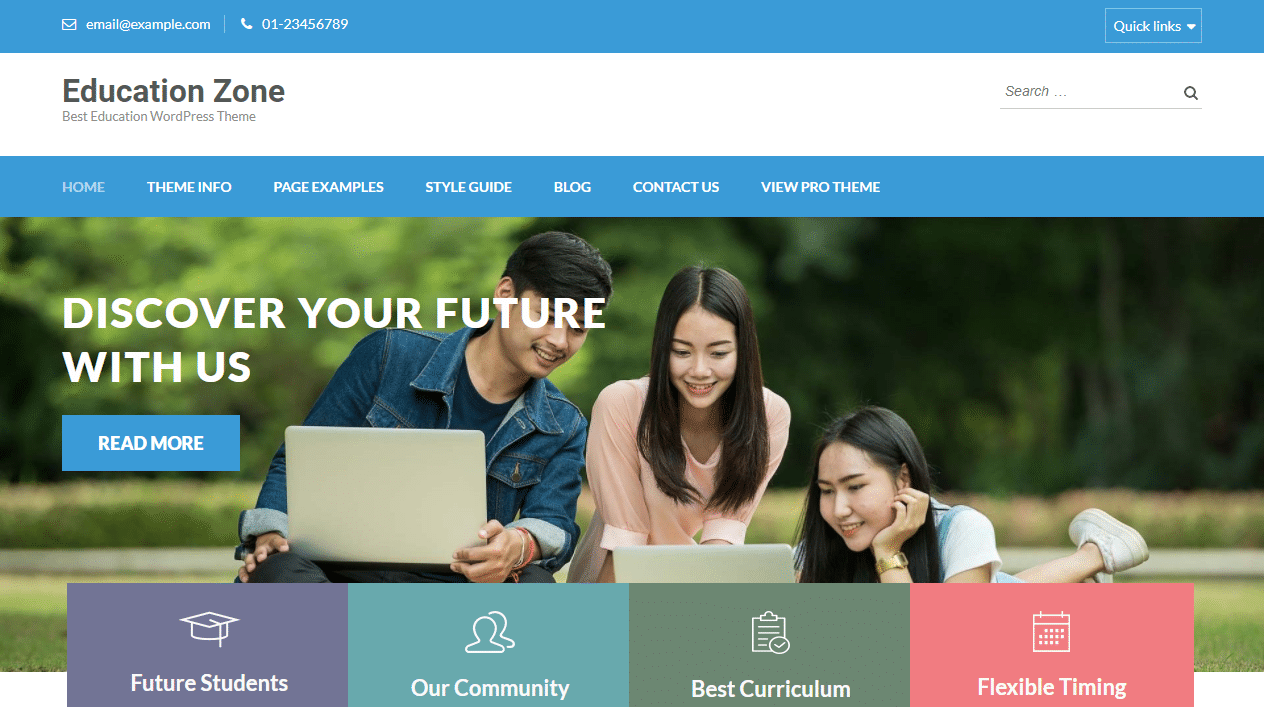 Education Zone is another perfect choice for schools and higher learning, with a professional looking composition and clean navigation tools. This is pretty close to a professional level theme without the cost, letting you modify numerous widgets, headers, and pages until you're satisfied.
Users can also set pages for courses and have SEO optimization, advantageous if you're running a business. Also, according to the designers, not only does the theme operate well on mobile devices but also sports high performance, meaning page load times are minimal. Functional and flexible, the best kind of theme.
Bluestreet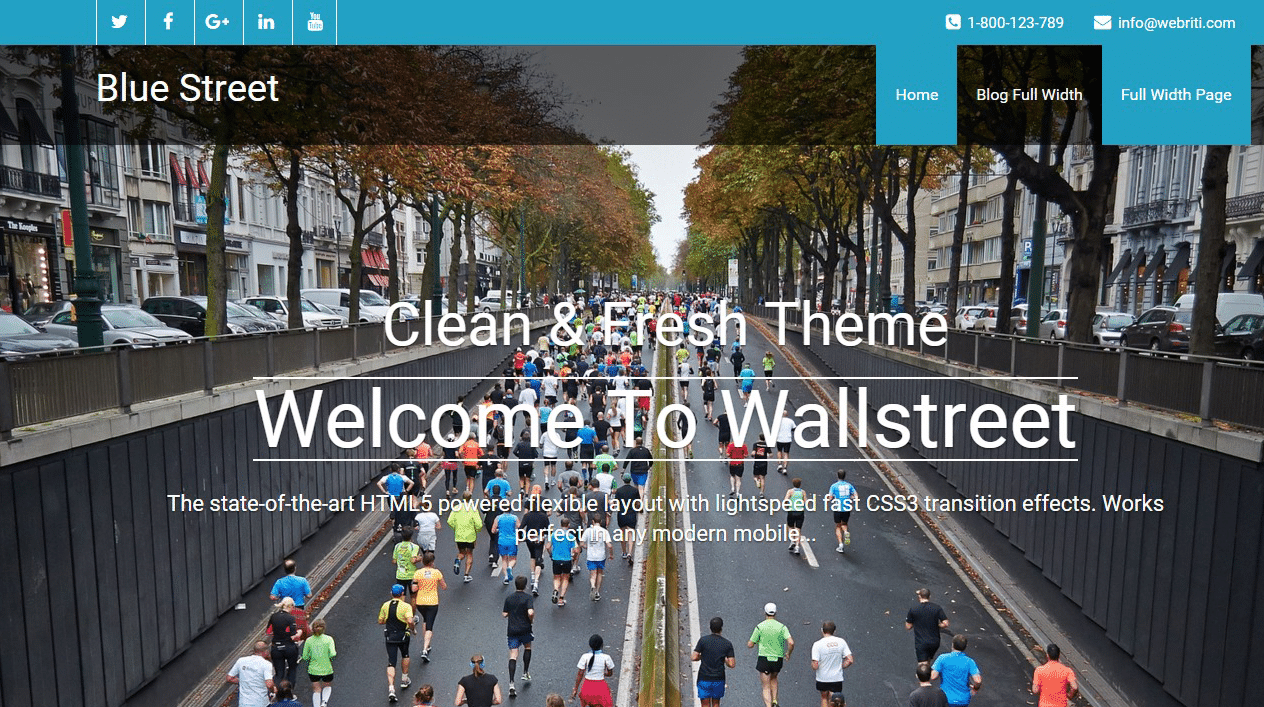 Here's a feature loaded business theme fit for all types of companies, primarily thanks to its multifunction, flexible design. It's also visually clean with a great landing page that organizes tabs neatly while presenting content in an engaging way.
Regardless of what you need the theme for, it can fit just about any company profile. That goes for digital agencies, real estate, tech companies, and so on. Perfect if you want some leeway with your overall design.
Pixgraphy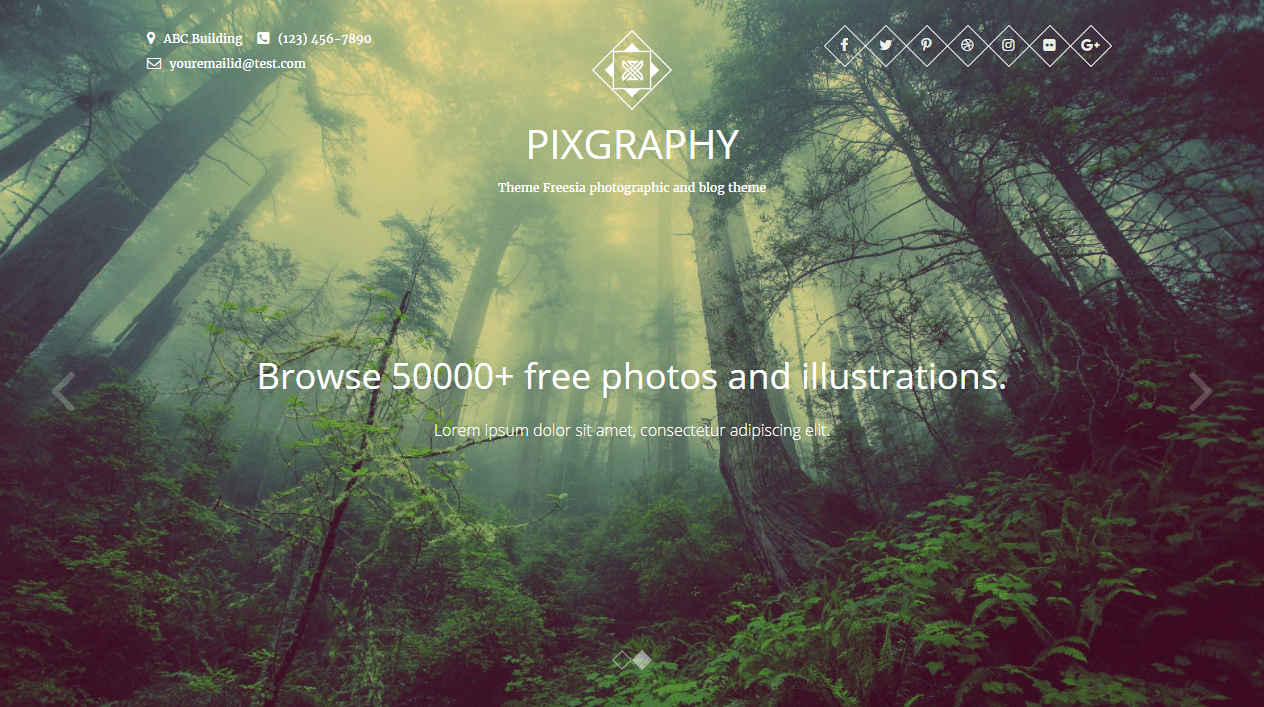 Need a dedicated WordPress theme for galleries, images, and photos? Pixgraphy is perfect for you. This theme hosts powerful landing pages with exquisite formats for galleries, all clean and easy to navigate through thanks to its high performance on mobile devices.
You can also use it to host portfolios or sell services as WooCommerce integrates perfectly. Contact Form 7 is also along for the ride, making communication simple. If you want something to establish yourself through social media, take advantage of SEO, and have a nice home for your pictures, try this one.
MesoColumn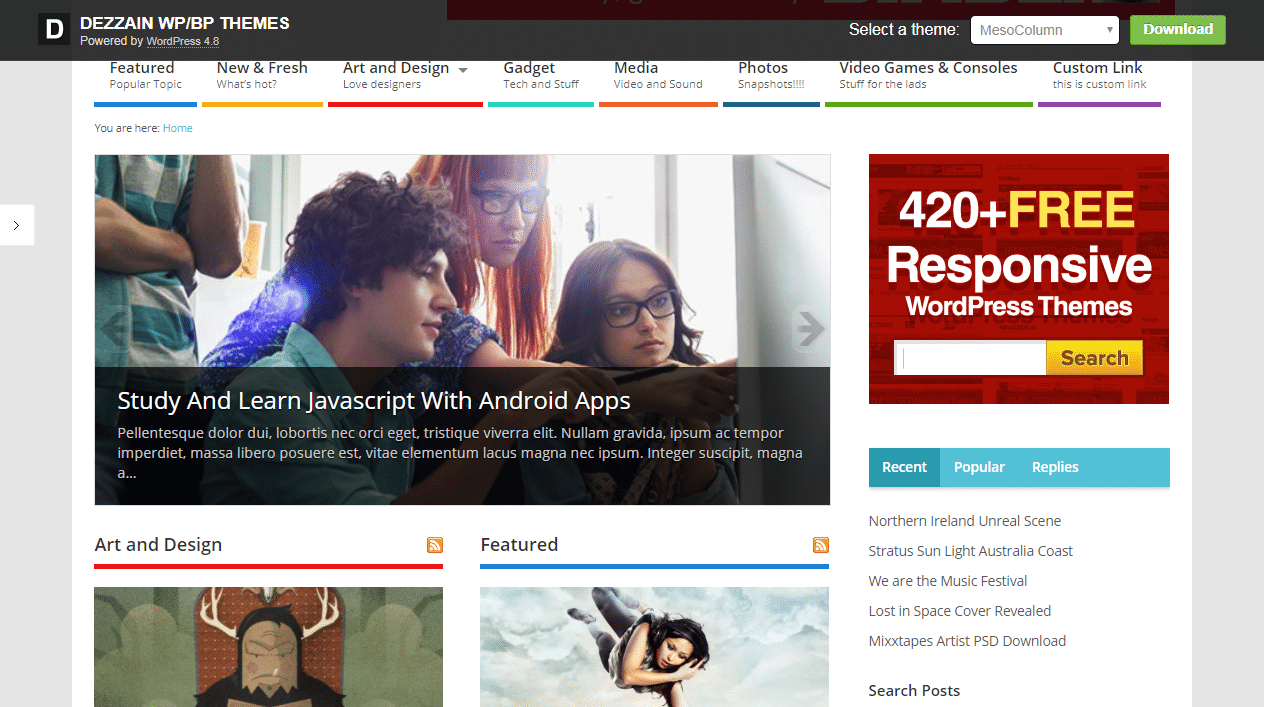 This theme focuses more on content than fancy visuals, although the latter doesn't hurt. Rather, MesoColumn if a flex theme fit for online magazines, articles, content blogs, or whatever else you might think of.
It's also extremely flexible, supporting HTML5 and CSS3 coding structures. You can modify most of the theme's formats, so this is good if you have lots of online media to publish.
Eightmedi Lite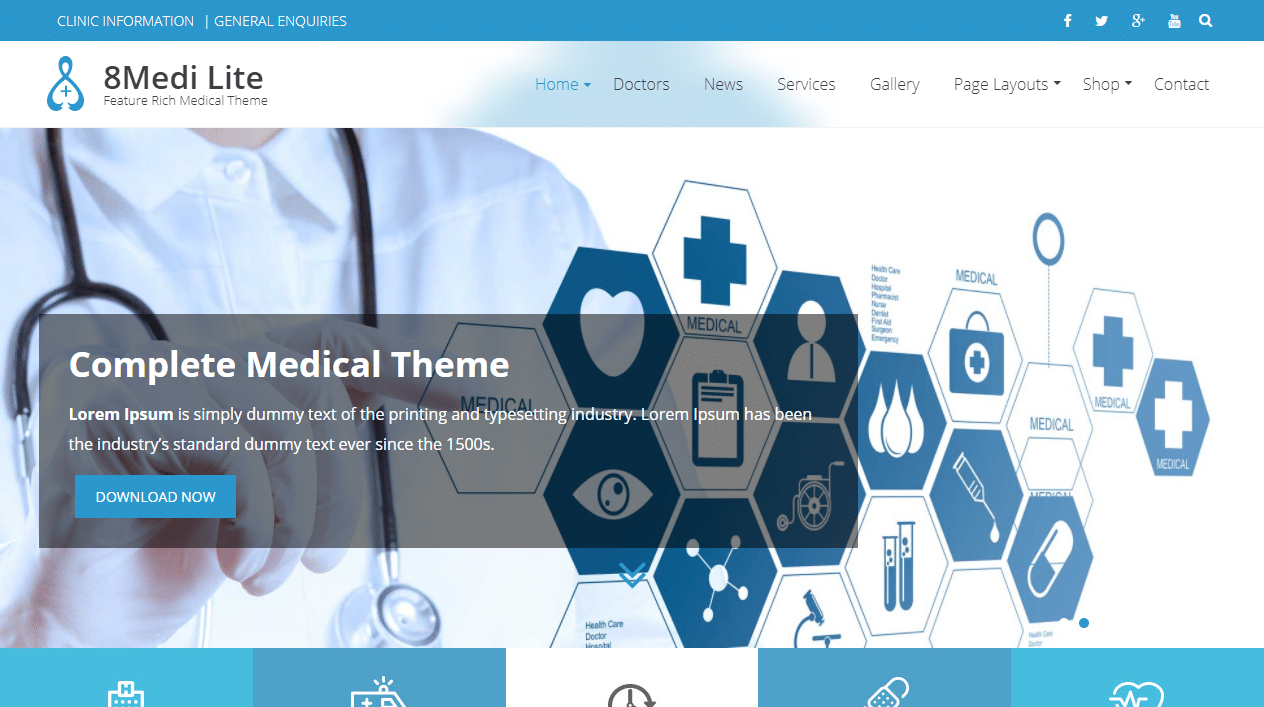 Medical themes aren't too common among the free WordPress categories, but Eightmedi Lite changes this with a high-quality design.
This is suited for anyone or any company in the healthcare industry, complete with the responsive format and modern visuals for easy navigation. You can create appointments, set information, list hours, even link for emergency response.
Most of the website can be configured to suit your needs, complete with numerous google fonts and color schemes. Good choice for medicinal practices.
Teletype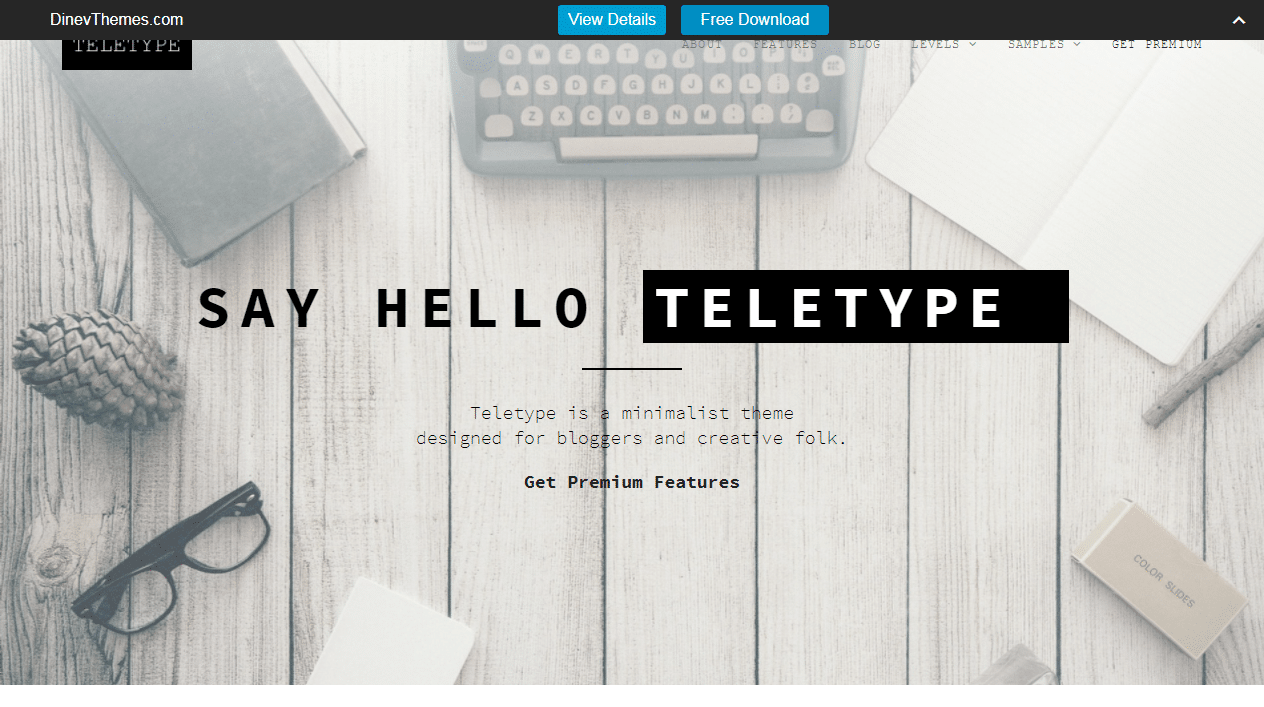 Teletype is pretty simple. And by simple, I mean extremely bare bones – which, if you're a content writer or blogger – is perfect. There isn't a bible of features but at the same time, it doesn't need one. If you want a clean landing page that hosts your written content, give this one a try.
SEOPress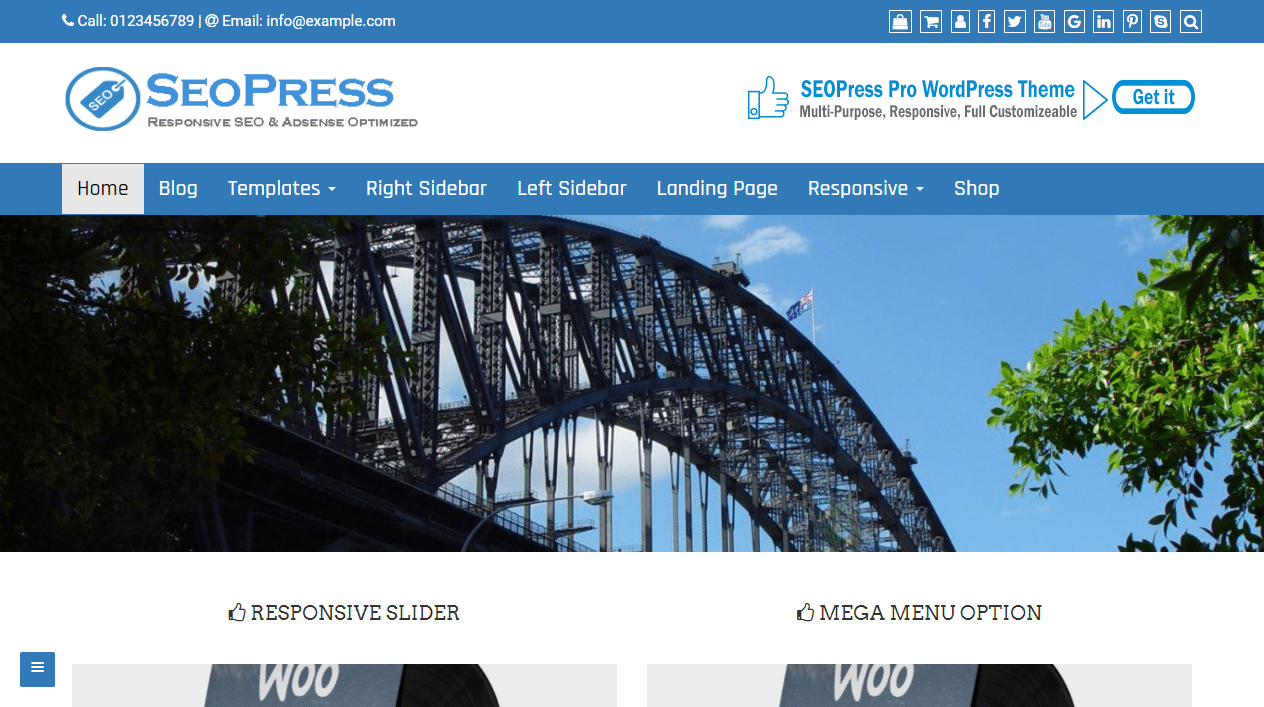 Perhaps you're interested in something that can bring in net profit and increase brand strength. Whatever it is, SEOPress is a potential choice. This theme is all about SEO optimization, the method by which your material appears in search engines. This is a great way to increase traffic and possibly make a little extra money doing it.
It's compatible with all mobile devices, and according to the creators, follows Google's guidelines for optimal search response. You can also rely on a complex set of customization tools, giving you everything you need for the website you want.
Customizr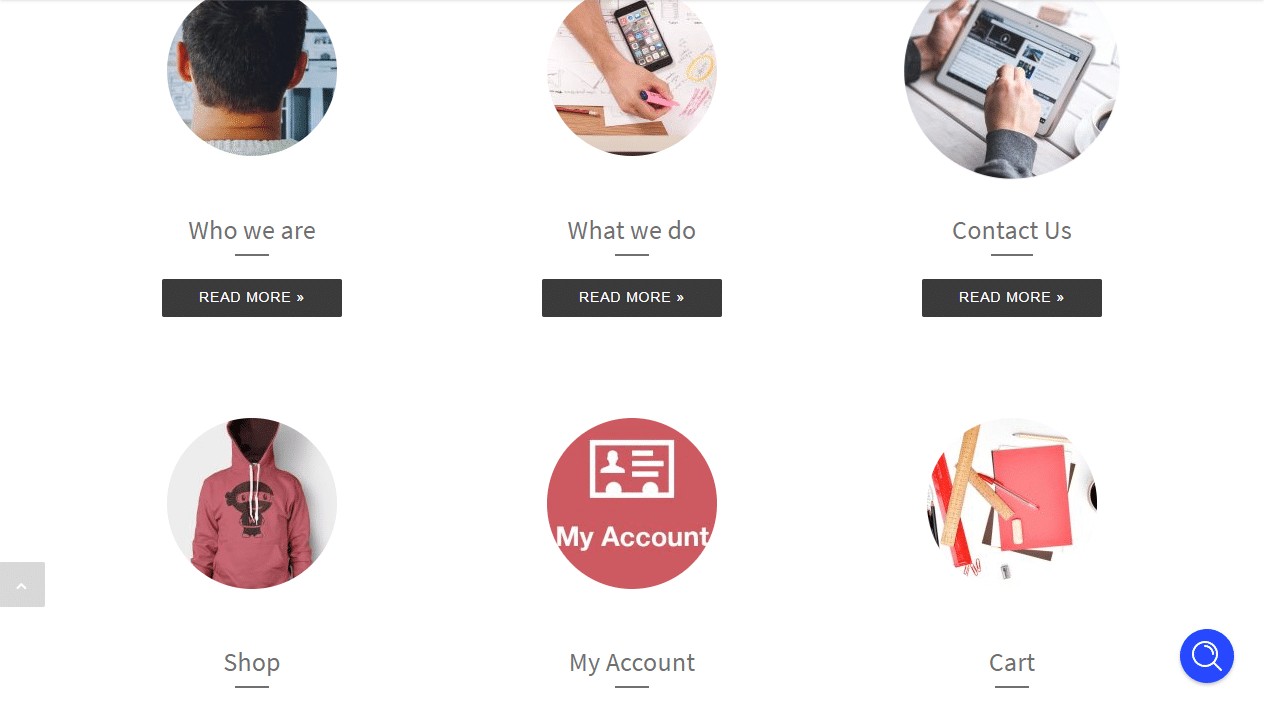 Customizr emphasizes the user experience, meaning long term engagement. It accomplishes this with eye catching visuals and slick animations, lending to a website which is easy to navigate on mobile devices. Because of this, it's ideal for those looking to increase website saturation, attention, and/or brand strength.
The theme lets you create various posts, link social media, and includes built in shop options via WooCommerce. The developers also boast you need no technical knowledge to customize the theme, so it's accessible to everyone. Well rated and powerful.
Panoramic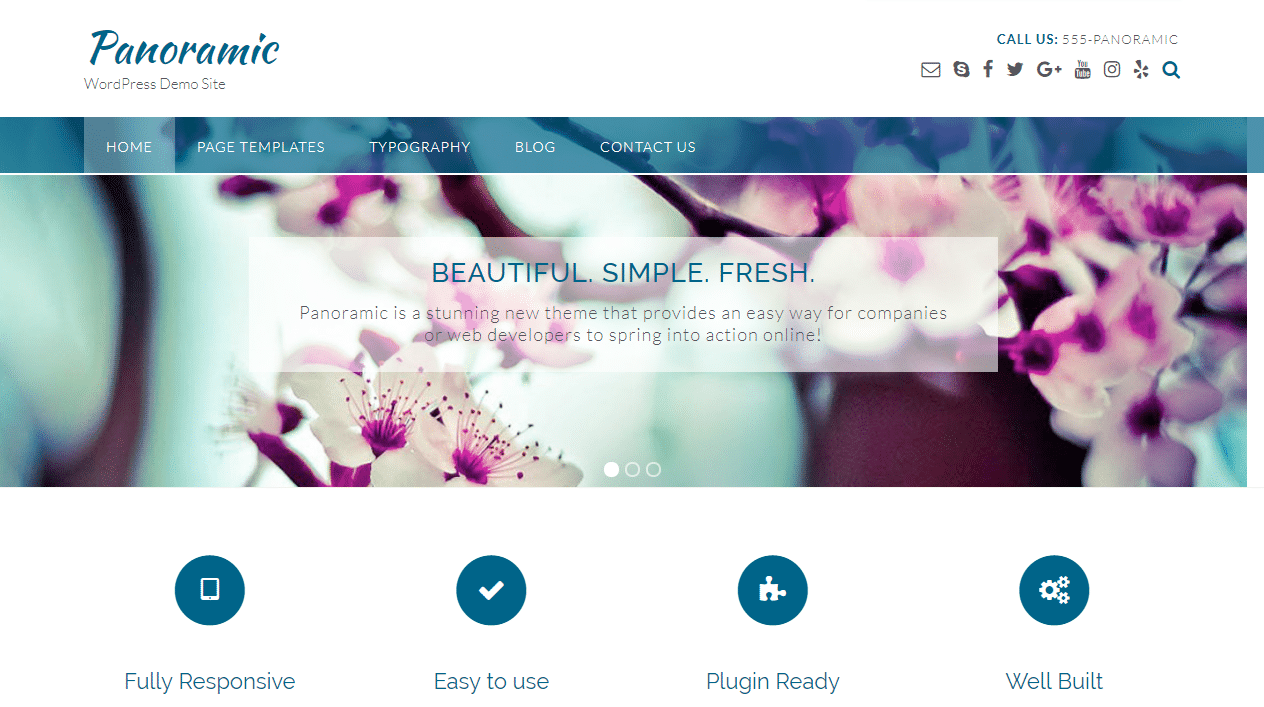 Panoramic might be free, but it's well-supported by the developer team and lends itself to a mobile-friendly visual style. Feature-rich and easy to customize, this is another strong, flexible choice for web developers and companies.
Plugins are included for free so website design is a lot easier, and more advanced add-ons can be purchased as the website goes. It's a great springboard for professionals and can lead to a powerful business landing page.
Decree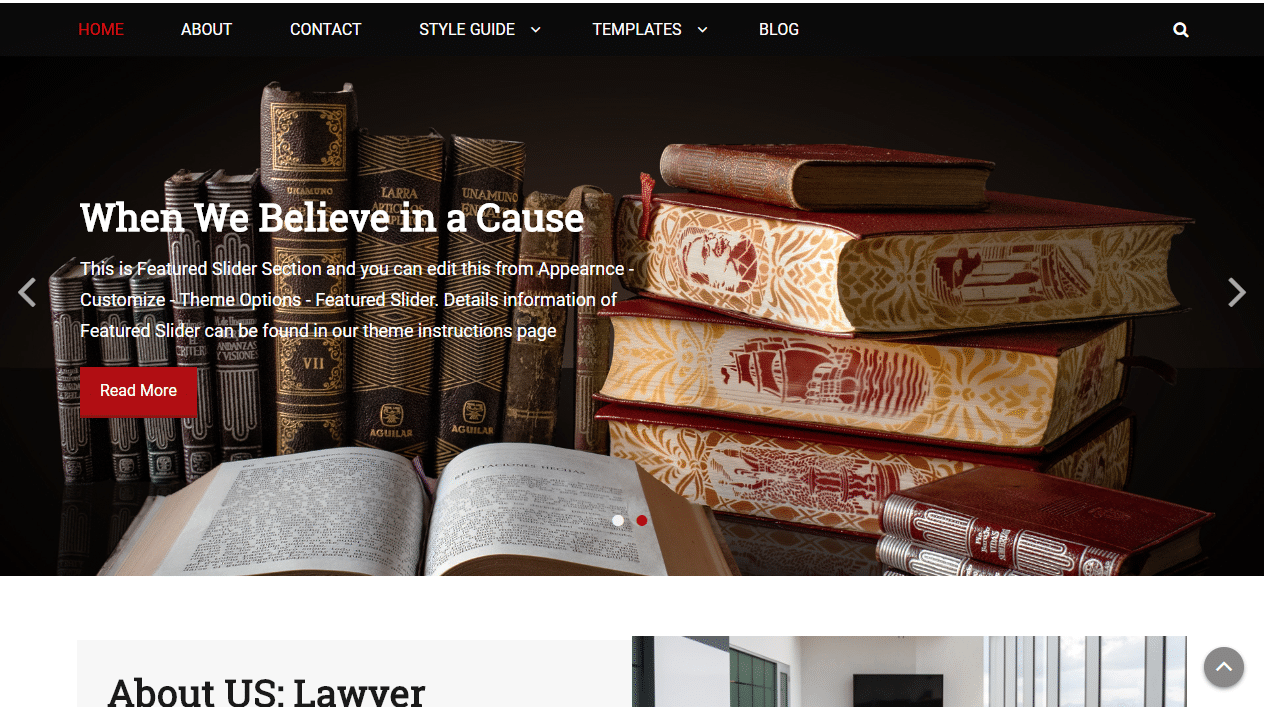 Here's something for the lawyers and law offices. Decree is a WordPress theme specifically for legal teams, with a visual style that compliments the regal, serious nature of our justice system while sporting an easy to navigate layout.
This theme lets visitors get an idea of your staff, practices, set appointments, and all the essentials needed when handling matters of the court. As a bonus, it has multi-language support, and performs well on mobile devices.
Alpha Store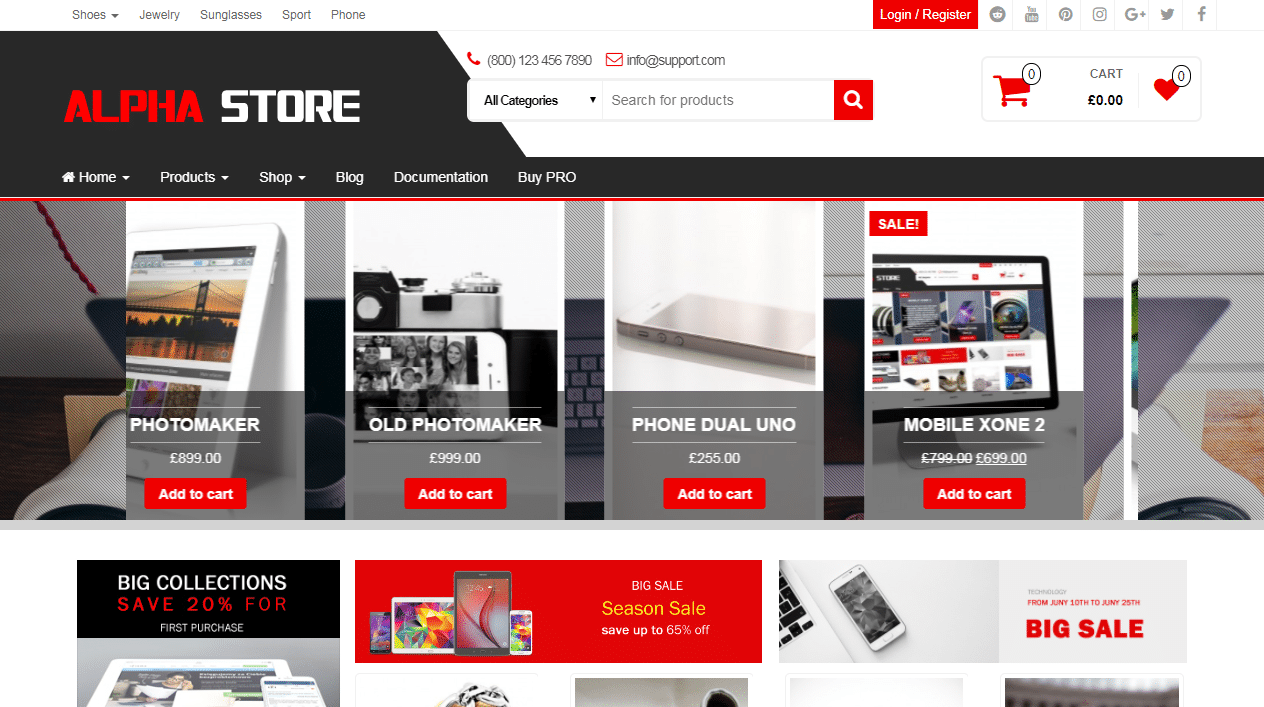 If you want a dedicated e-store, Alpha Store is a potential option. Thus far I've picked themes which have WooCommerce integration, though don't necessarily focus on selling online. Alpha Store, on the other hand, is all about digital vendors.
Regardless of what you're selling, the WordPress theme has you covered with organized galleries and landing pages that showcase your product. Combined with SEO optimization and WooCommerce support, making said sales is easy.
Other benefits include multi-language support, allowing you to reach wider audiences. The creators also mention its been optimized for performance, so whether visitors browse on desktop or mobile, they'll experience brief load times.
VW Corporate Lite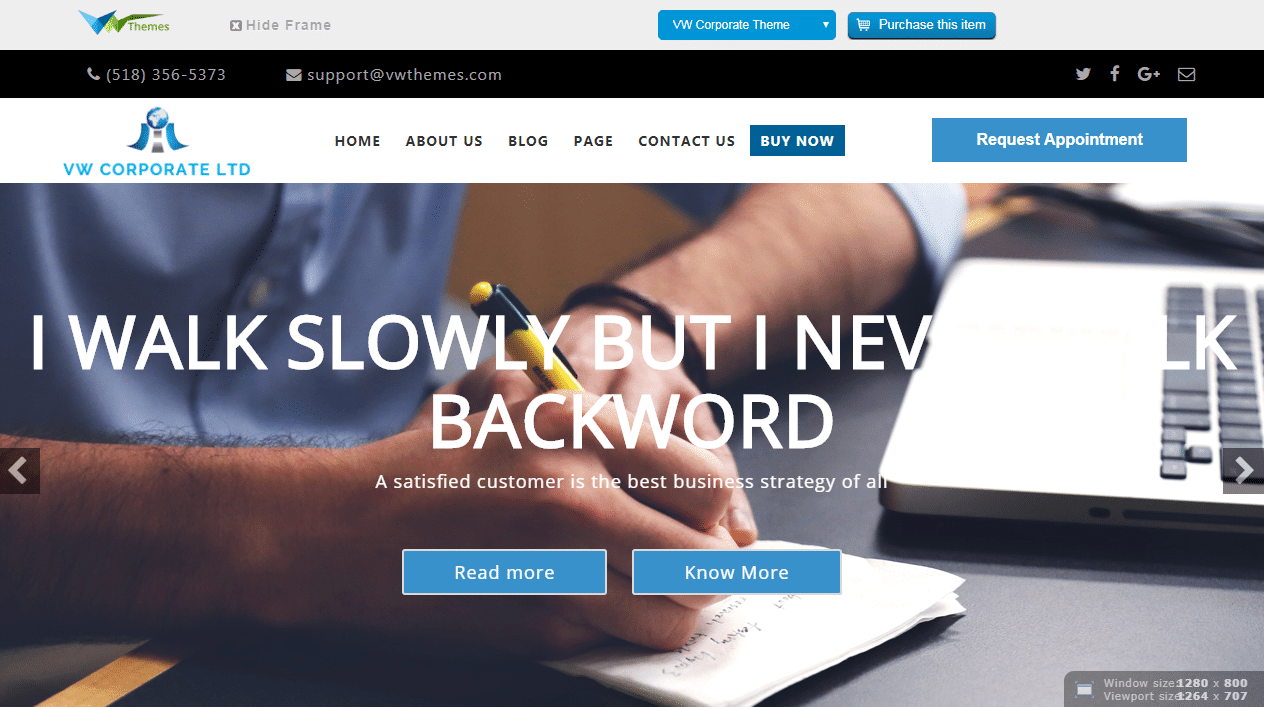 Slim, functional, and easy to manage, Corporate Lite is an easy to use WordPress theme for businesses of all types. It boasts a modern, minimalistic web page design and comes with various customization tools to make design simple.
Various animations engage browsers as they seek information with mobile friendly construction. Additionally, the theme is powerful enough that it can "flex," meaning you can optimize it for any idea you or your business might have. Utilize map integration, staff portfolios, social media connections, and more to bring your website to the next level.
Clinic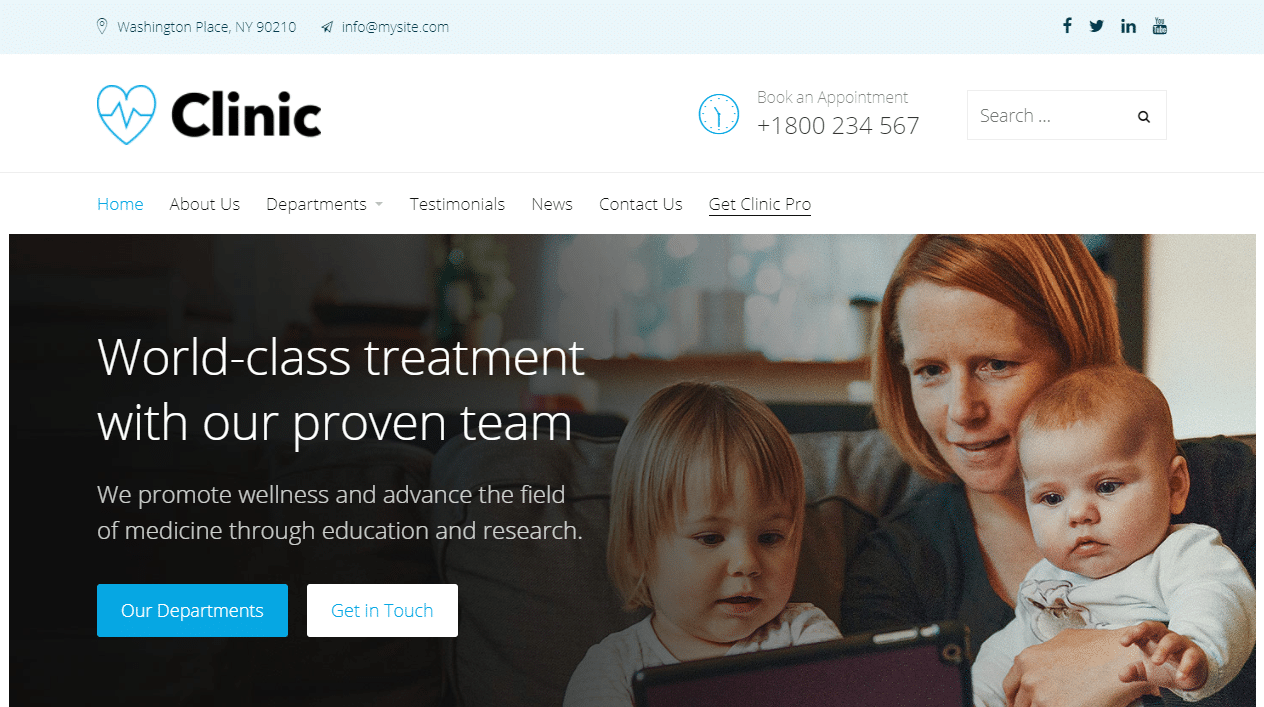 If you weren't satisfied with my initial pick regarding health care WordPress themes, our very own Clinic is a potential alternative.
Clinic is clean, simple, and functional. It hosts a powerful landing page that emphasizes function, avoiding intrusive ads or design choices. Visitors will get an idea of your medical service, staff, location, and ways to set appointments.
The included page builder also makes changes to existing elements incredibly easy, with various ways to modify aspects of your website. It also has a one-click demo import, getting your website up as soon as possible. To top it off, SEO optimization with simple code compliments its translation ready design.
SuperNews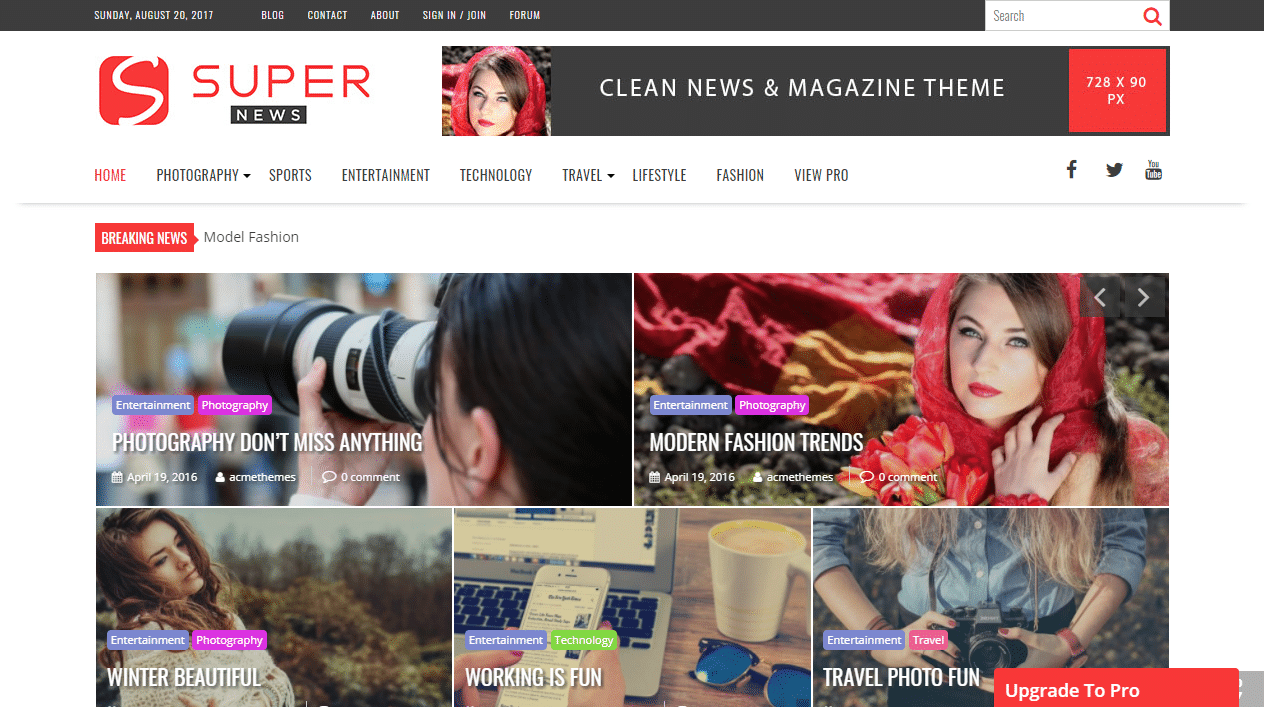 While I've picked a few news and blog themes, I also wanted to recommend SuperNews for its cleaner format.
Like any web magazine or news source, you have everything you need to create a dynamic website filled with various types of content. However, said content is neatly organized in grid/box formats for simple reading on both desktops and mobile devices.
Social media integration allows you to better create a web presence, while AdSense increases revenue potential. Combined with SEO optimization, it's another strong choice for a news style WordPress theme.
Rookie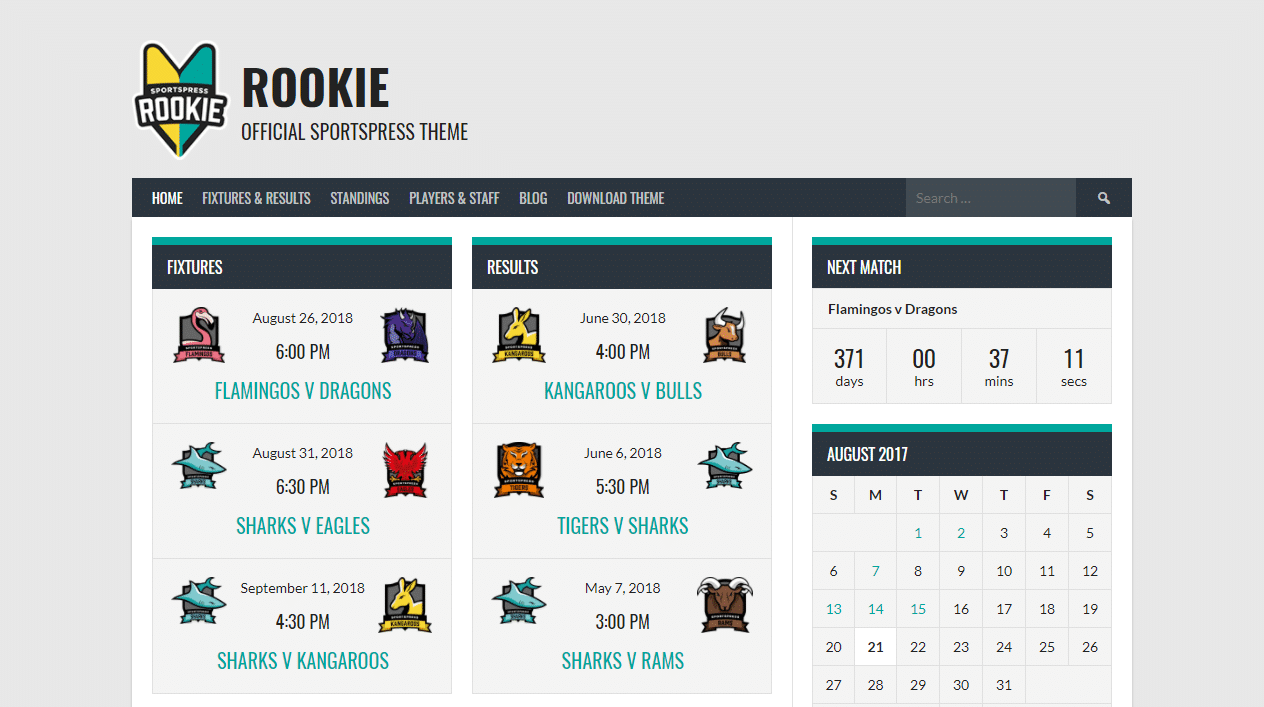 A metaphorical name in the competitive world of online WordPress websites, Rookie is dedicated to all things sports. I had to recommend this one for the niche category, but also for its supportive design to all things sports-related.
Rookie doubles as a blog/content website and a place where fans can check scores, stats, and games. Set schedules, events, and mark those moments on the calender for every hungry fan, drawing in a complete audience. Additionally, the website is SEO friendly and performs well on mobile devices, perfect for all readers.
Production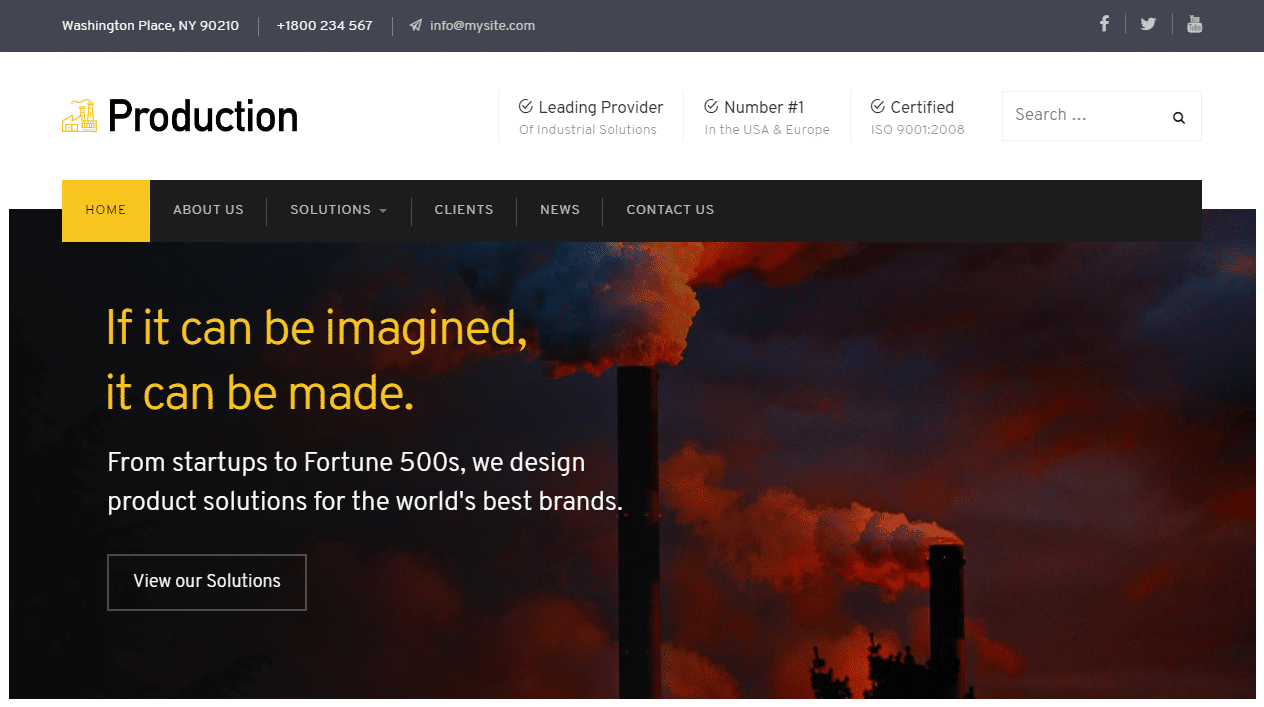 Here's another one of our own, aimed at manufacturing and industrial companies. Production
Production is a WordPress theme which works well for construction, utility, energy, and other types of businesses with a plethora of easy customization options to fit whatever your business needs. Once again, the included page builder lets you modify nearly every aspect of your website, with high response time on mobile devices. SEO optimization will increase client saturation, and everything about the theme is clean and simple.
Eleganto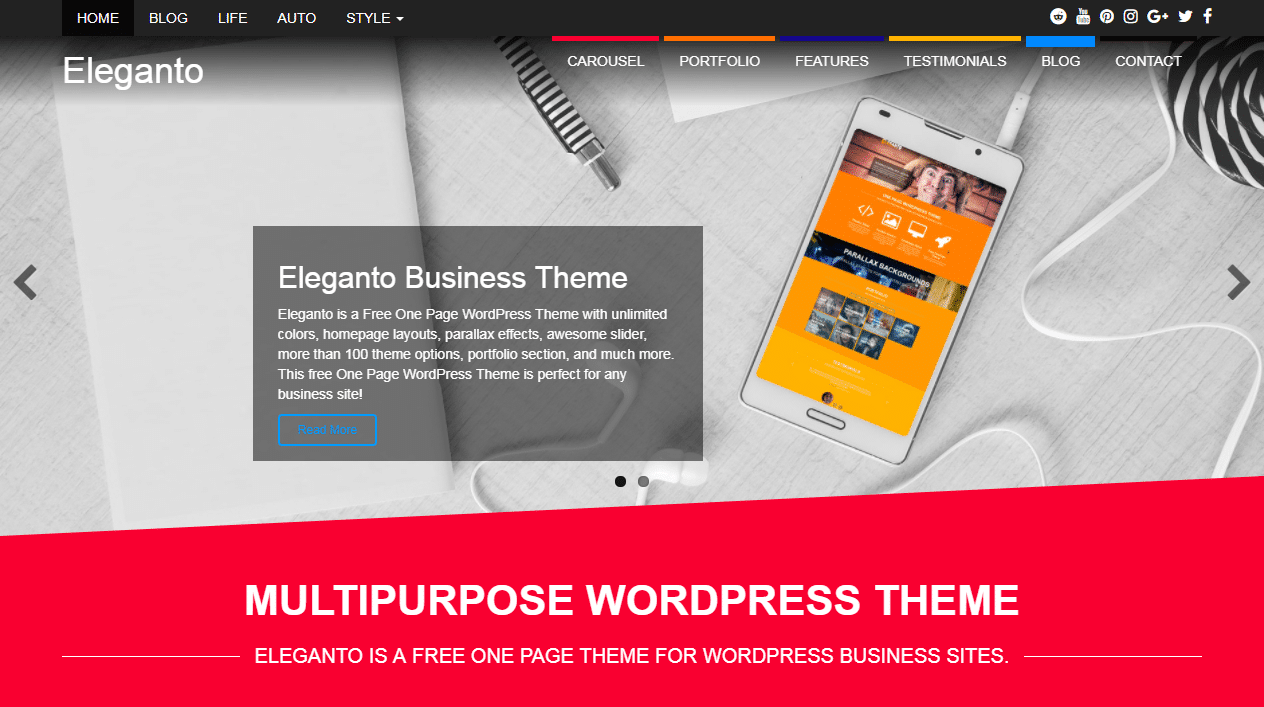 Bold and eye catching, Eleganto is a WordPress theme fit for companies and businesses. Diverse use of colors mixed with sleek iconography help it hold attention, while mobile compatibility means it's easy to navigate.
It's super stylish with a parallax background, meaning you get amazing animations combined with a modern, yet aesthetically unique, appearance. Combined with its organized code for SEO, it can give you a whole new look.
Definitely recommended for companies that want a little more character with their online presence.
Esteem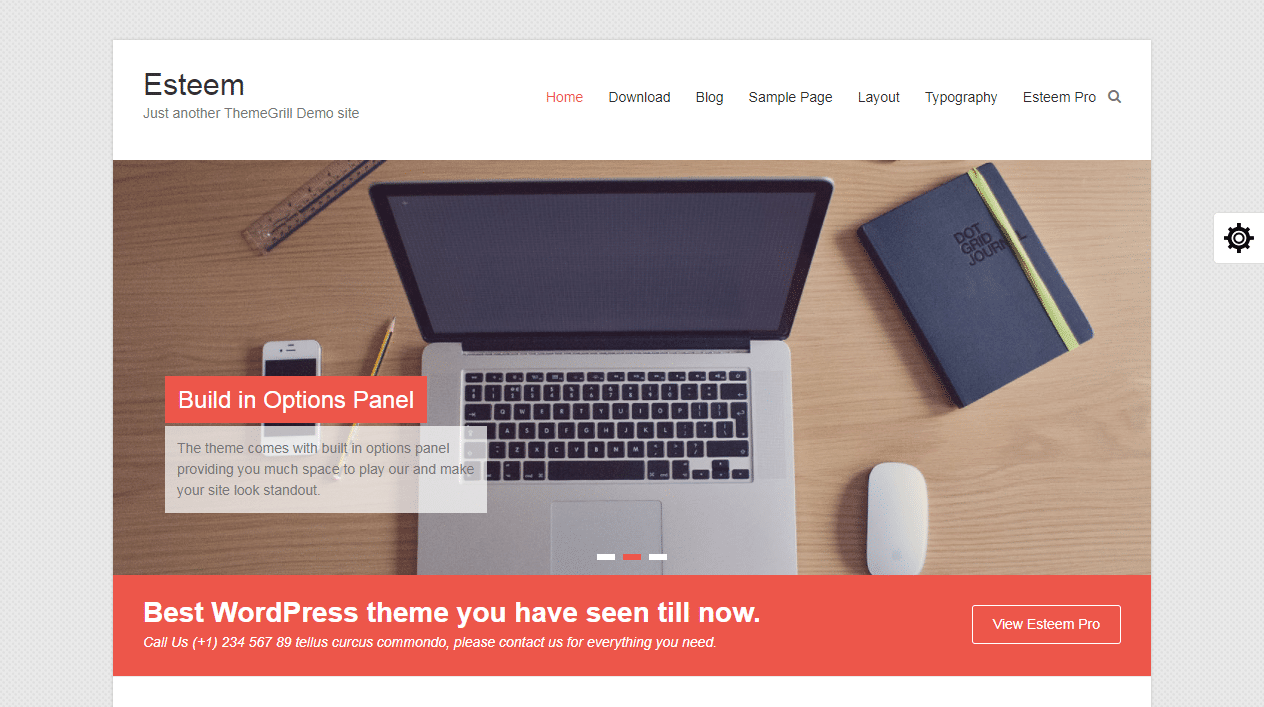 Normally this is where I end things with our last article listing. But as you know, we're just getting started (sort of)! Esteem is here to make us feel better.
This is one more solidly designed single page WordPress theme suited for businesses. However, flexible design means you can create any page you think of. Ideally, however, it's good as a landing zone for various companies and businesses. You can also utilize it for portfolio showcasing, helpful for freelancers or free agents.
All that's accomplished through easy ways to manage and customize the theme, complete with retina support and mobile performance. Plenty of headers and layouts exist with templates to start you off right, combined with SEO optimization. It also has a great support team, so you won't be left in the dark with potential questions.
Spacious

My next pick is a great multi-purpose theme with simple visual design and easy customization. Because of this, it works great on mobile devices and has a dash of SEO optimization thrown in. The free version comes with a variety of neat widgets too to help your website stand out.
Astrid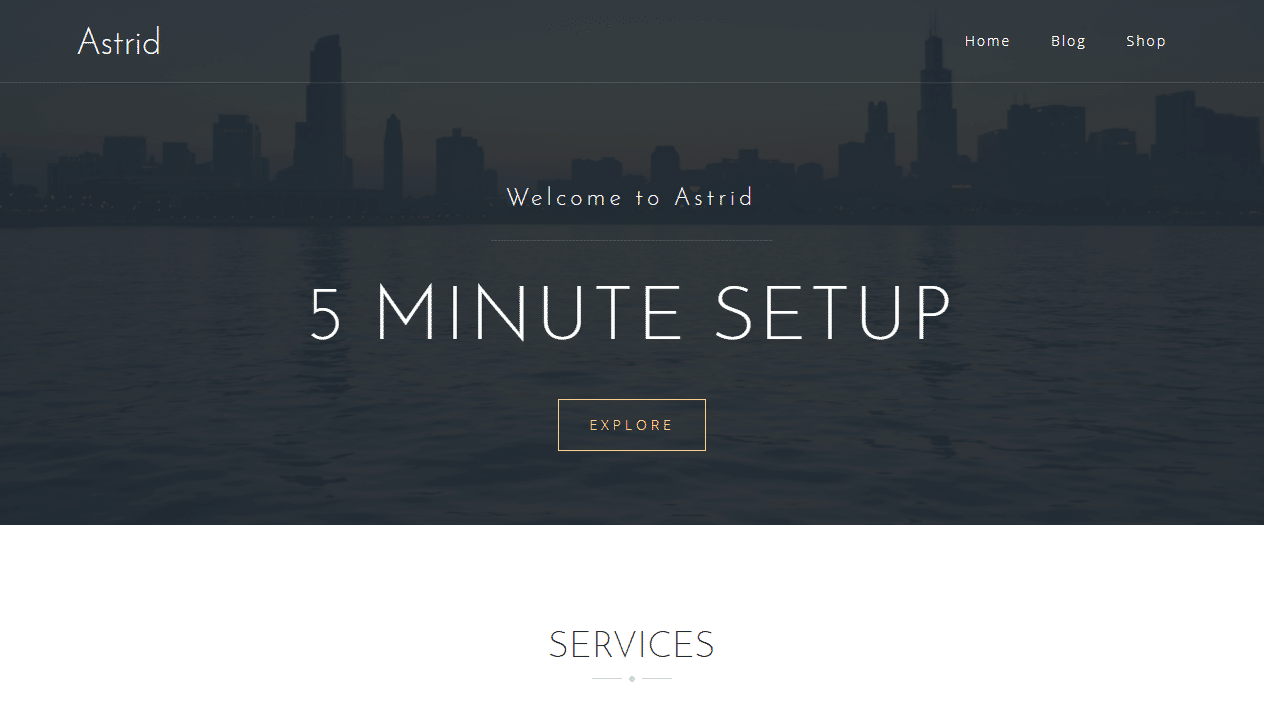 Need a business website created faster than fast food? Astrid's right for you. This one page WordPress theme boasts a "five-minute setup" in which you can create your web zone quickly, getting all the major details down in a single, convenient space.
It's a one-page landing zone with clean design and mobile compatibility. Perfect if you don't have any complex website ideas in mind.
Plum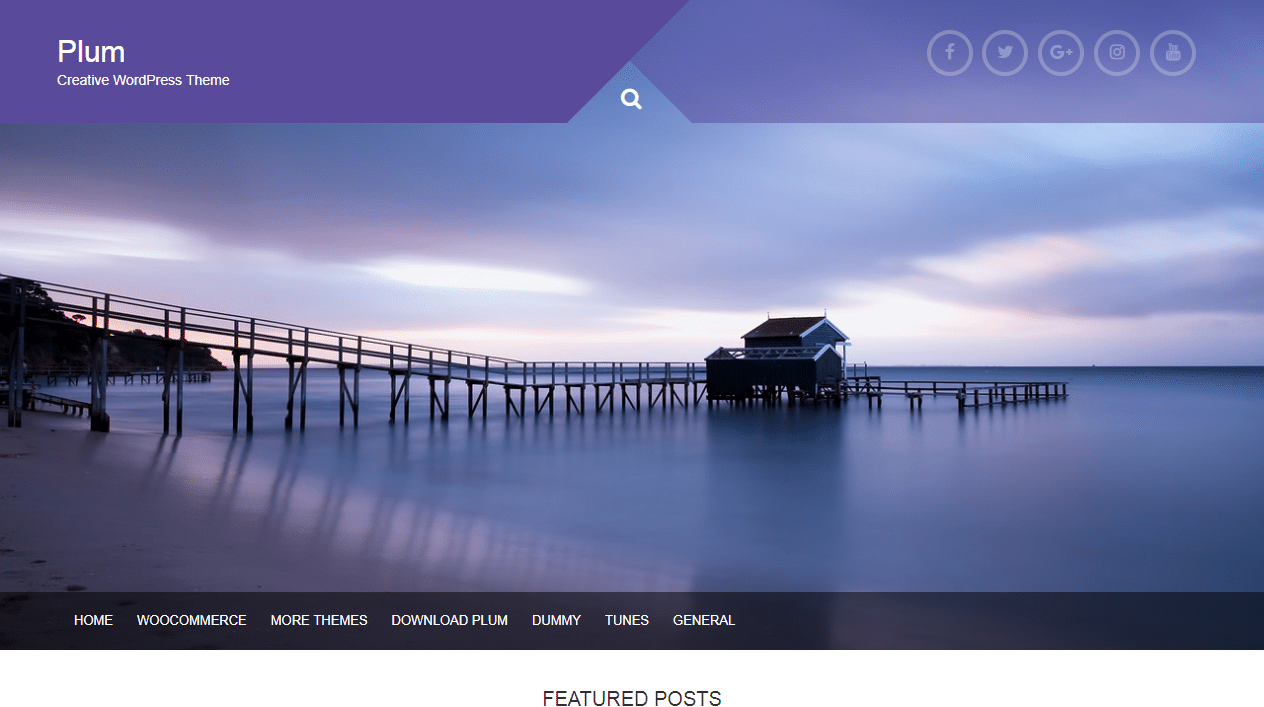 While you don't get any free fruit, Plum's a pleasant looking theme for a variety of user needs. Business, creative, portfolio, you name it! The format compliments any design and concept.
Responds well on mobile and has a pro version for business use too.
islemag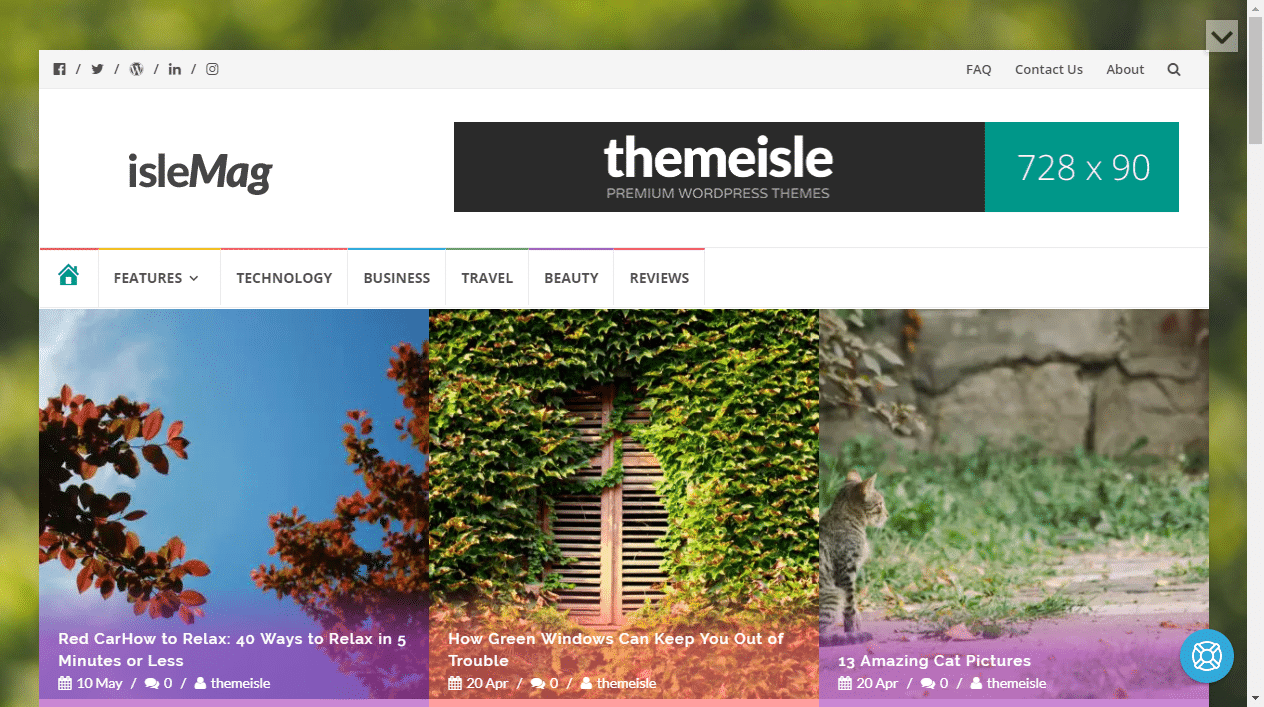 Magazine themes are common in the WordPress world, no doubt. Islemag doesn't look to break the trend, but does work to be a great free theme. This one applies and organized grid format which is a bit cleaner than some of the other choices. Fit for individuals and businesses like.
Ultra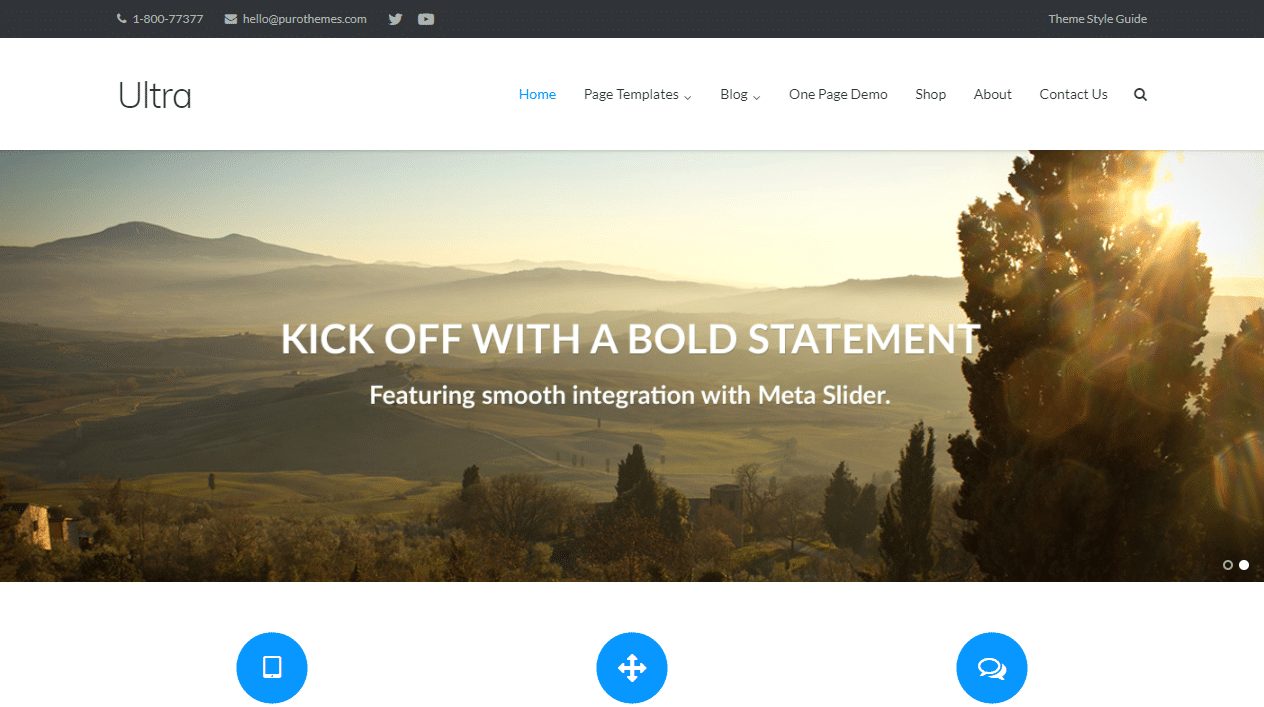 I must say, Ultra sure looks ultra good.
Now with my terrible joke out of the way (let's be honest, it's not even a joke), I can tell you that Ultra is a clean, simple WordPress themes suitable for a variety of uses. It has a nice clean landing page with engaging ways to explore content. SEO optimization certainly doesn't hurt either.
Rock Star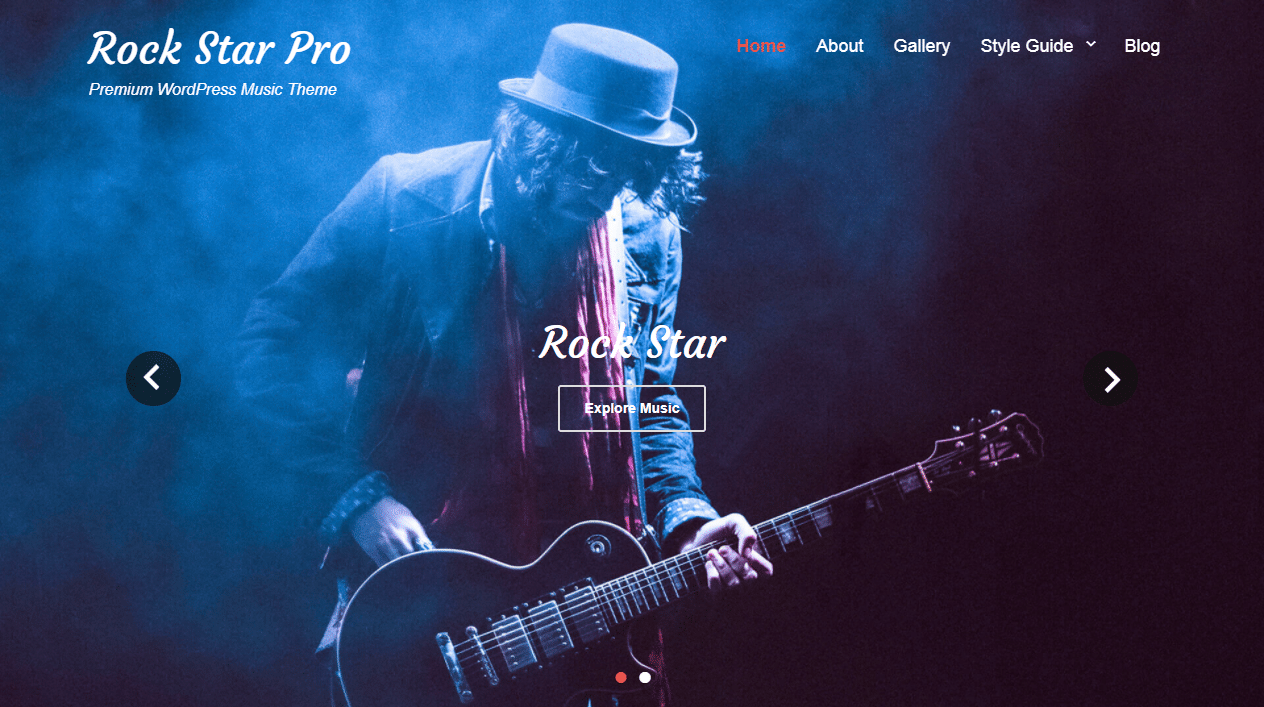 If you have dreams of success and fame, you must download Rock Star.
If only right? Alas, while you can't download success, you can give your blog or official website a brand new look with this theme. Rock Star was designed for musicians and bands, with helpful SEO optimization and social media integration to widen your audience. The aesthetic is nice too, perfect for the "alternate" style music tends to bring.
Wellness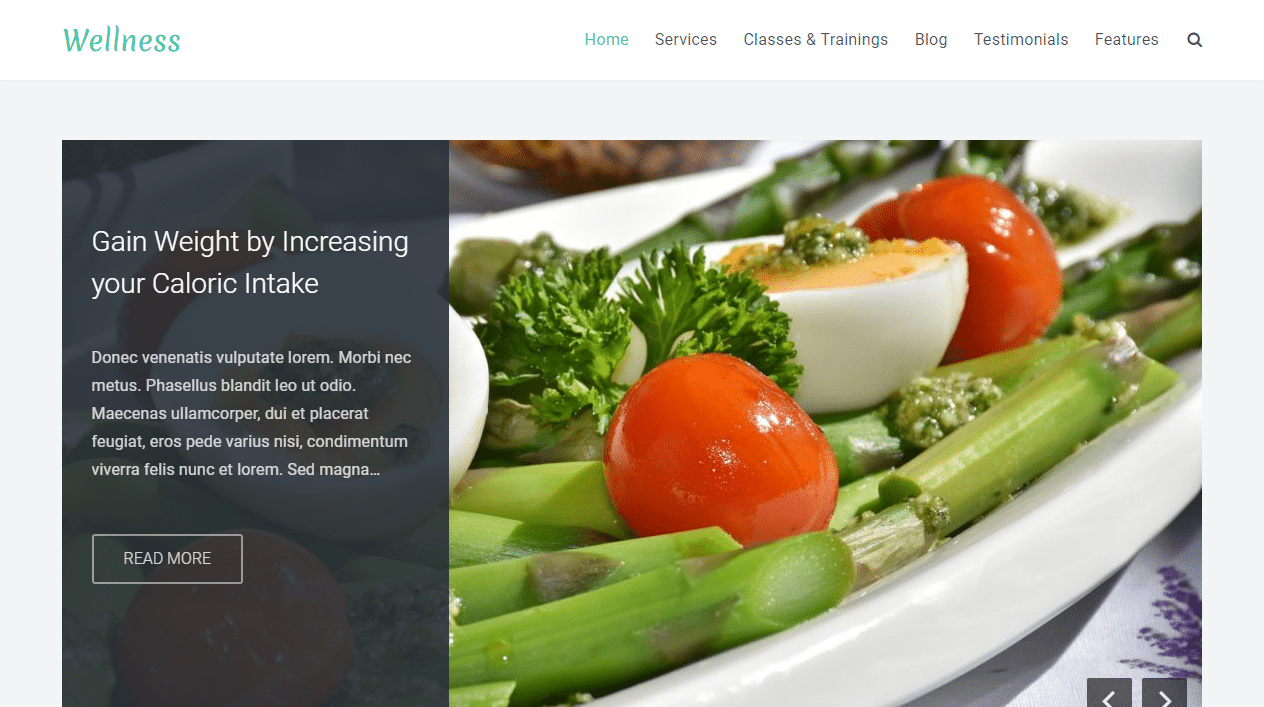 Want another potential option for a healthy lifestyle blog? The Wellness theme might be suited for you.
This organized theme has an eye-catching main page, quick links to different content, and gallery options. Six widgets come along and it's great for health businesses or bloggers.
Simple Store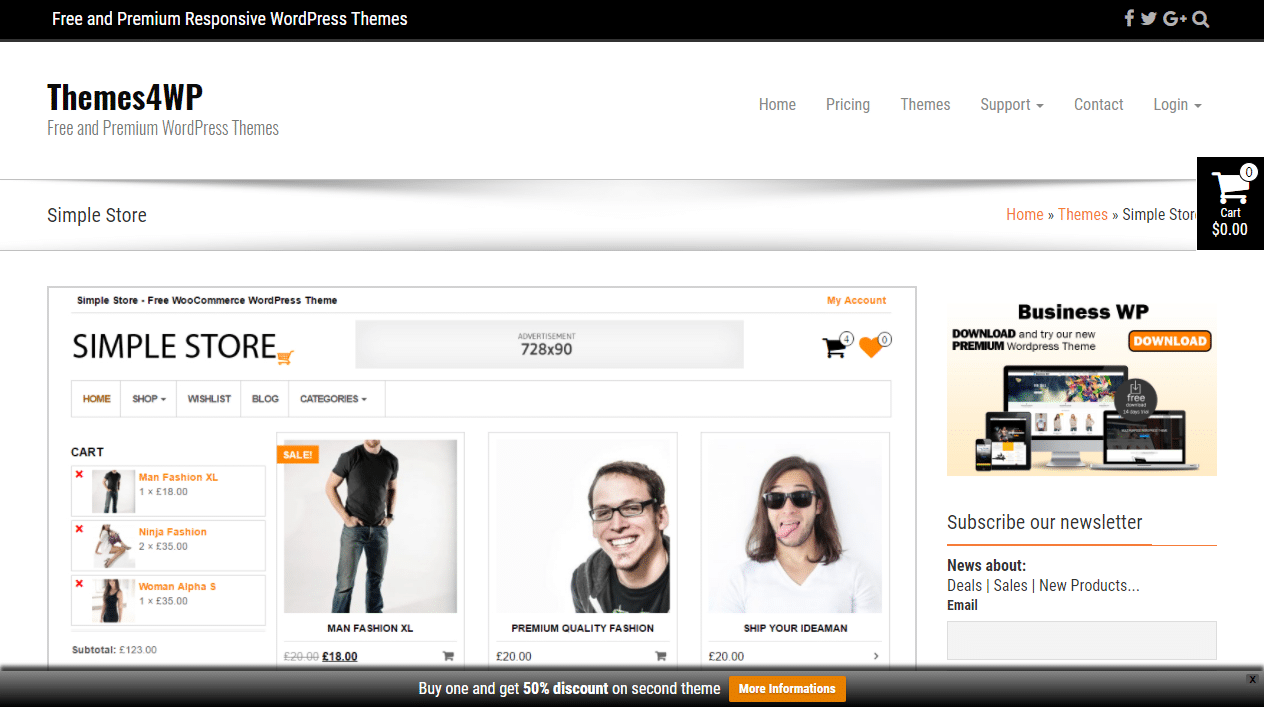 A dedicated e-shop WordPress theme for all your selling needs. Simple Store has a professional, clean look and focuses on selling products with intuitive galleries and ways to shop. WooCommerce integration comes as standard.
Auberge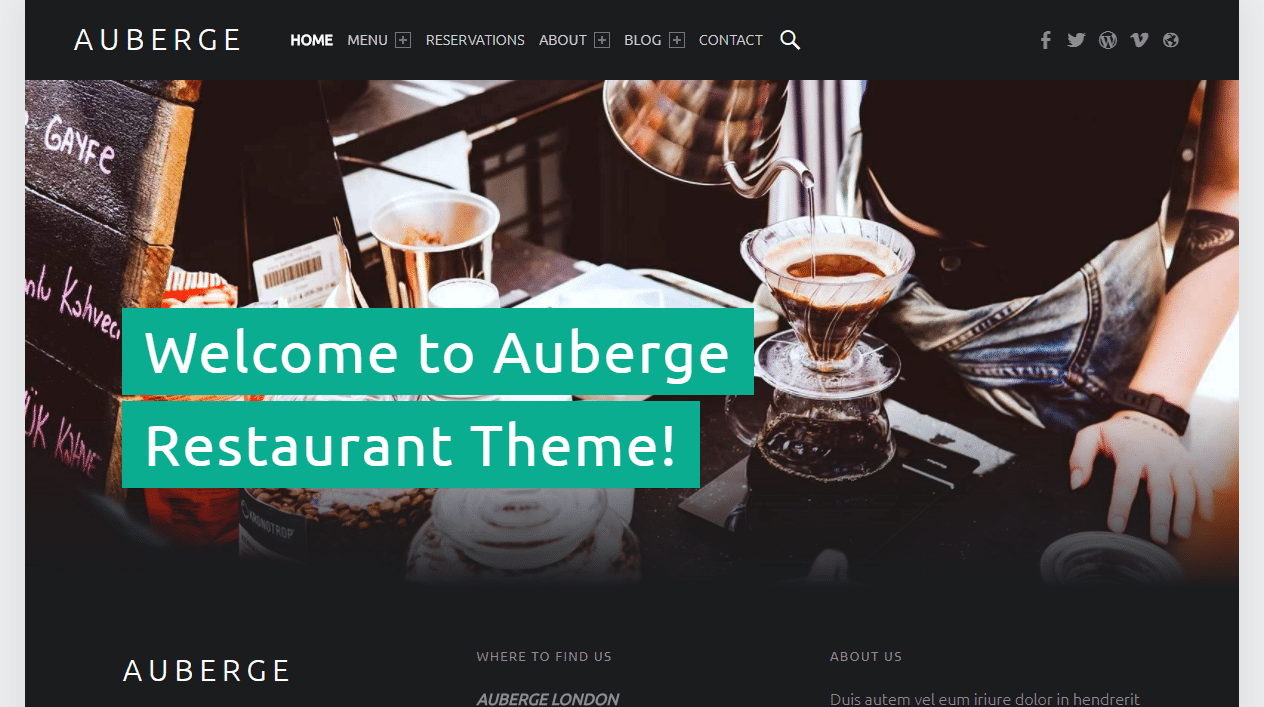 Auberge (short for aubergines, an eggplant, enjoy that food trivia) is an elegant theme fit for restaurants. It's classy and simple, with high performance and SEO optimization. This is perfect when you want visitors to explore your website and see "hey, this is the place to be to dine out, come visit us!" One of the best free restaurant themes out there.
Portfolio Gallery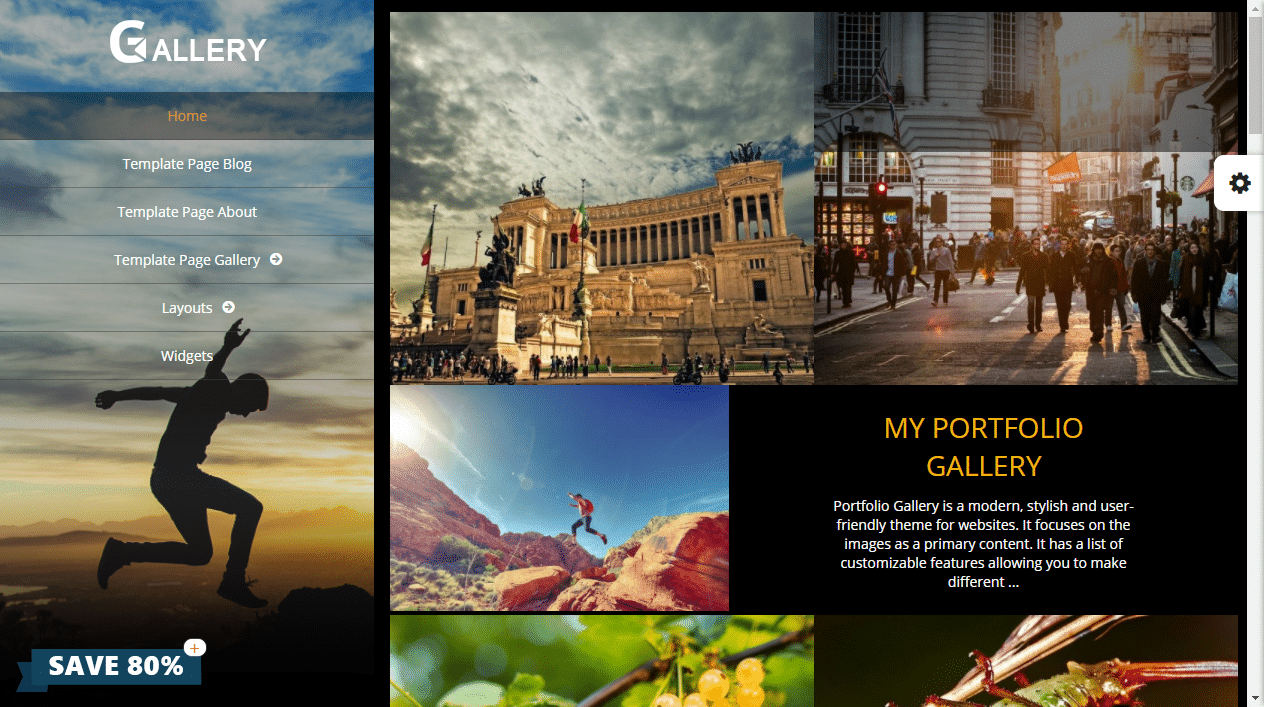 Perhaps one of the best looking WordPress themes that fits an air of professionalism, Portfolio Theme is exactly as described. Housing your photos and content with a slick grid-format, it definitely holds viewer attention as they explore your works. Recommended for any artist, creator, or photographer who wants an online portfolio.
Perth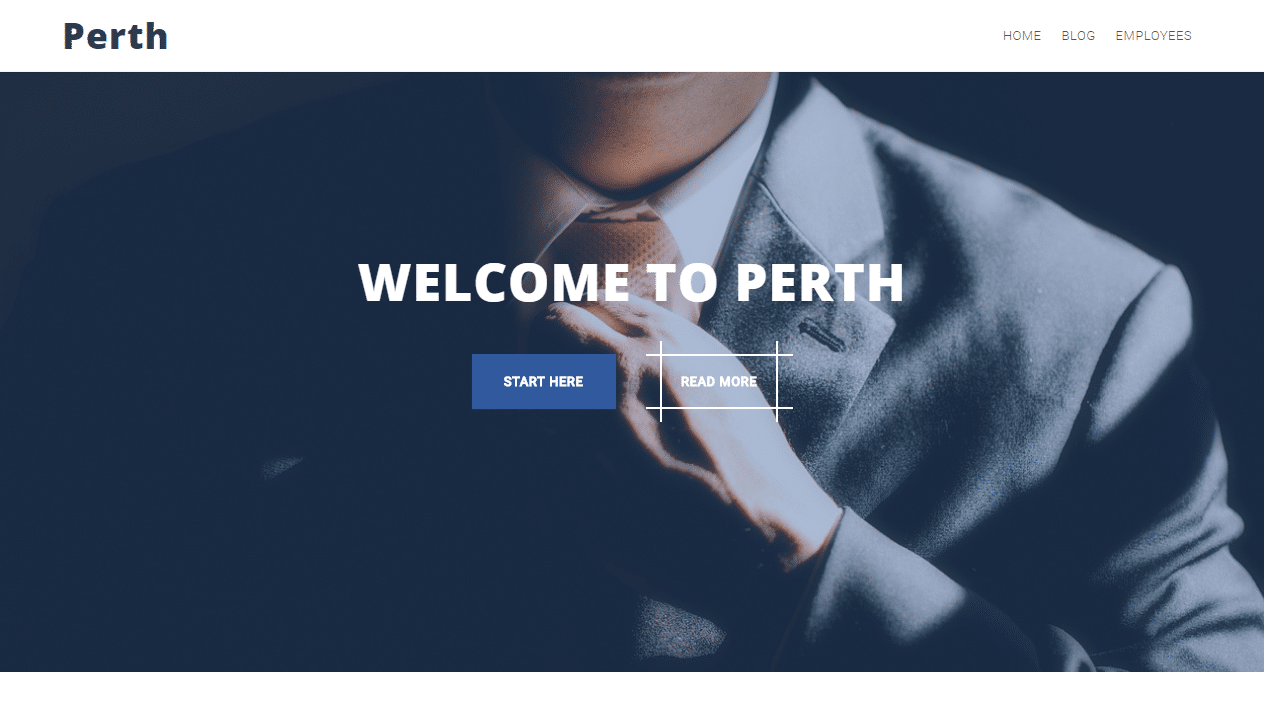 Perth is a potential option for modern companies that want a little style with their substance. This WordPress theme hosts a unique style with custom icons for immediate recognition. Along with SEO optimization, it's ideal for both freelancers and businesses trying to strengthen their brand.
Cubic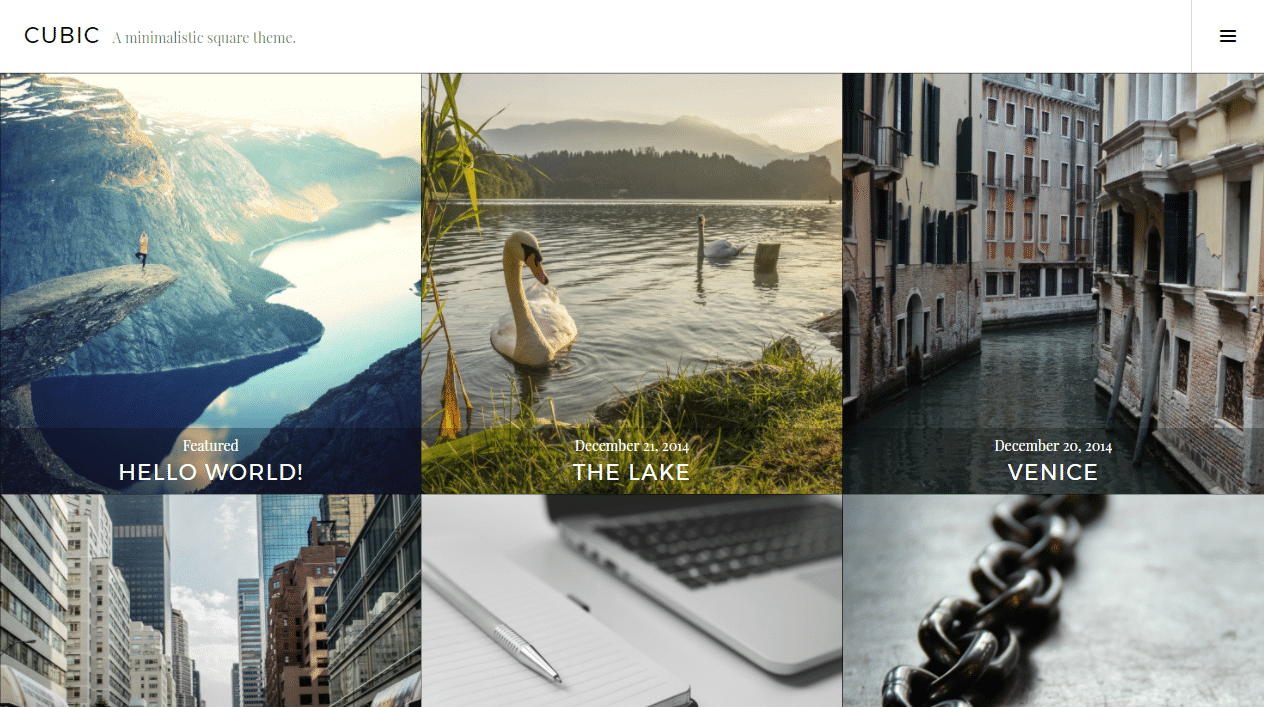 Cubic, a theme for everyone!
Really though, this extremely simple theme is basic but effective. This is ideal for blogs that utilize photos to enhance their presentation, with everything neatly organized in an easy to navigate package.
Fitspiration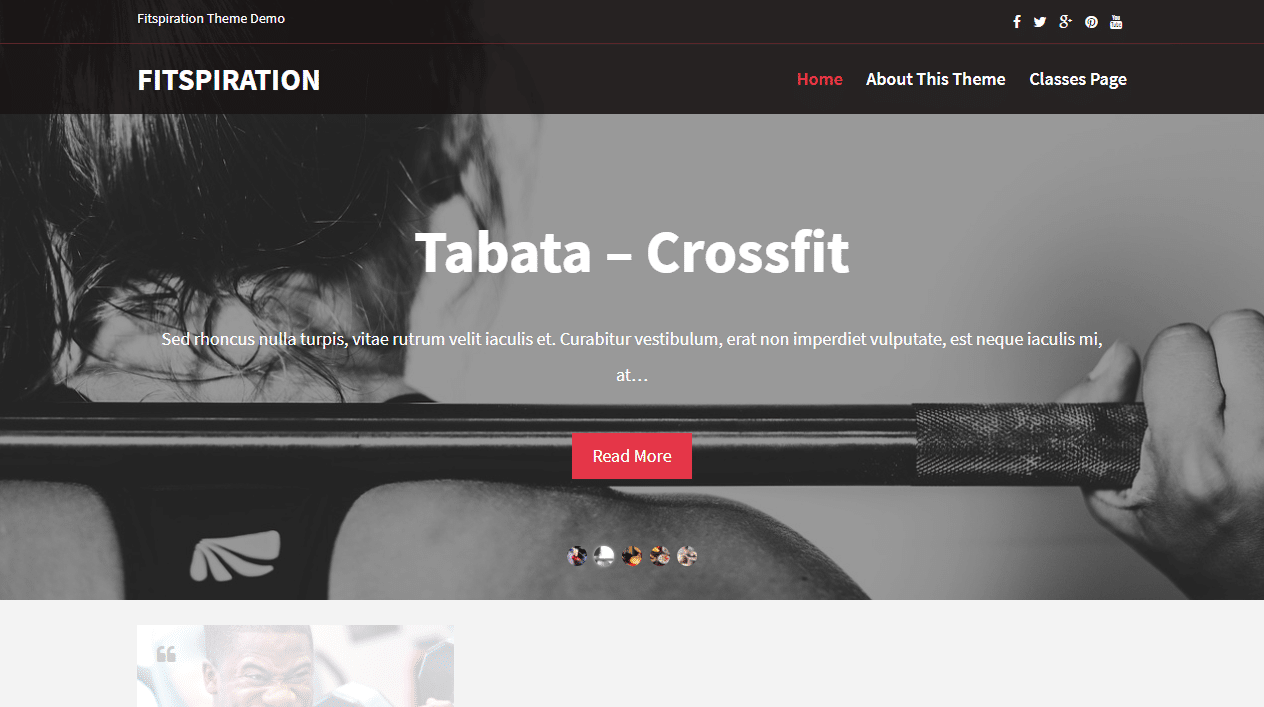 Got a fitness idea or company? Fitspiration is a WordPress theme that fits a blog/business category for all things physical fitness. Aside from various content formats, this theme also comes with a "classes" widget to schedule events for members and the like.
Ryan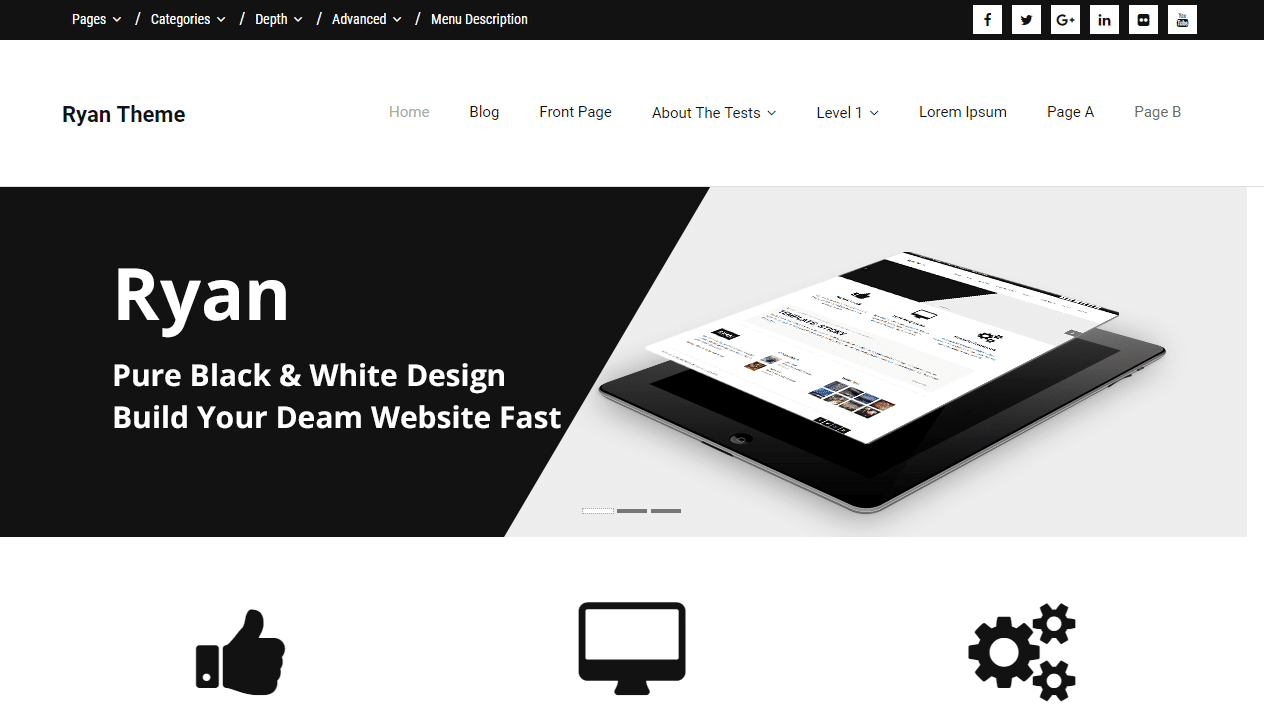 I don't know who this Ryan guy is but he sure does have a great WordPress theme.
The self-titled theme is multi-purpose and high contrast. The core idea is to present all content and ideas in a black and white format. This on its own is pretty eye catching and for those seeking some style, it's a good choice.
Harest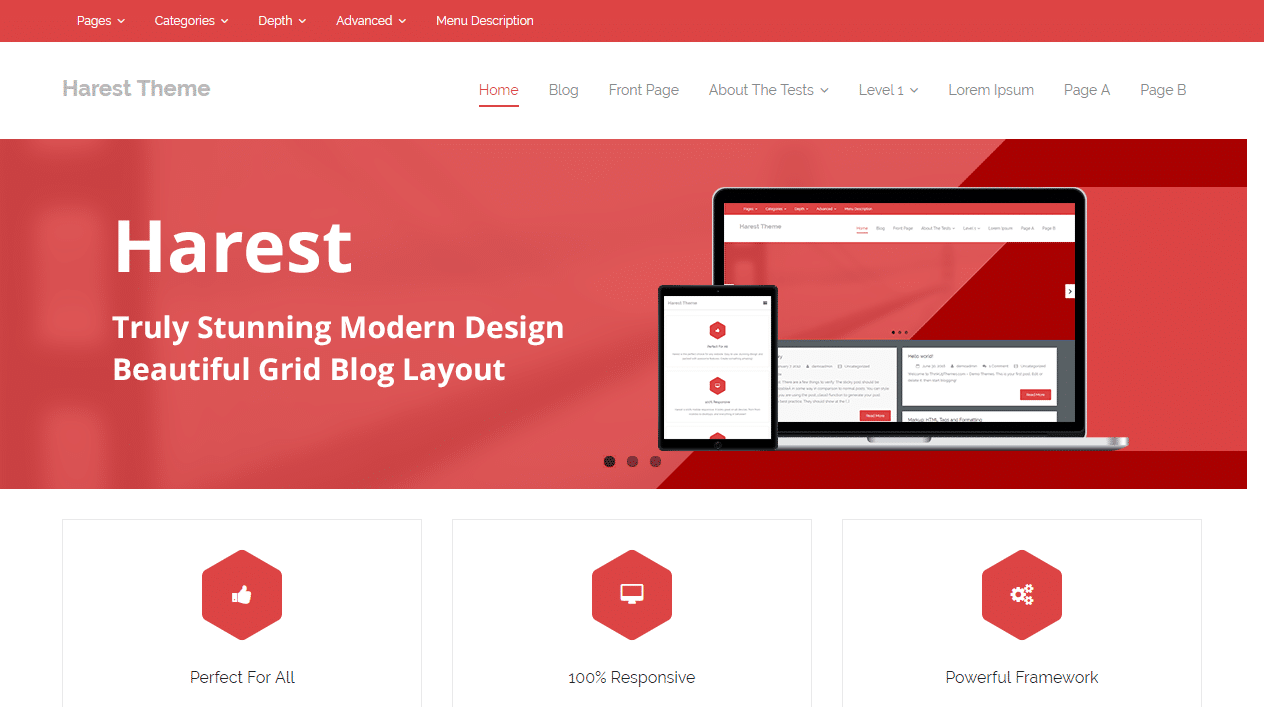 Harest is a high tech theme suitable for businesses and anyone looking for a "modern" flair to their website. Unique, simplified iconography mixes well with its high performance and SEO optimization. It's easy to use and simple to customize. Changes can be made without coding knowledge too, so that's always a bonus. They're also made by the same folks behind Ryan, so another alternative option for you!
Destin Basic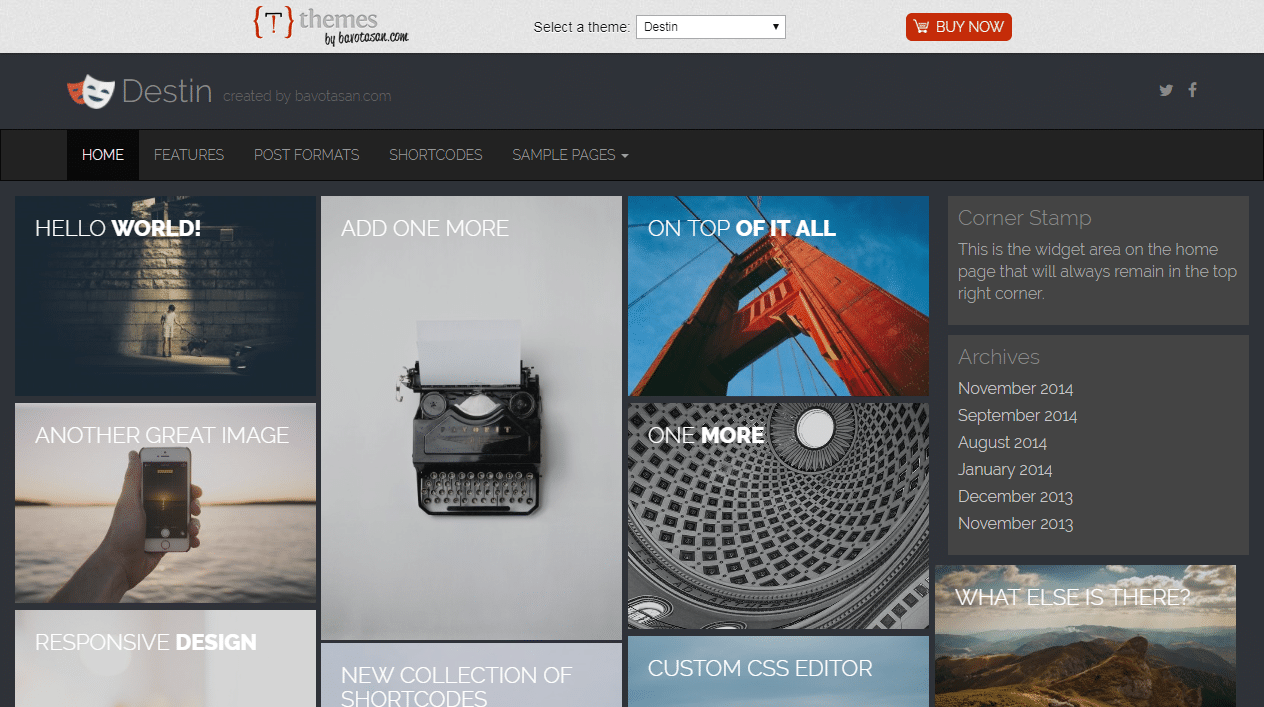 Destin Basic is great for users who want an easy to customize WordPress theme that's also lightweight and responsive. Grid format compliments minimalist design and alterations can be made anywhere on the page. Best for mobile reading and mobile design.
Appointment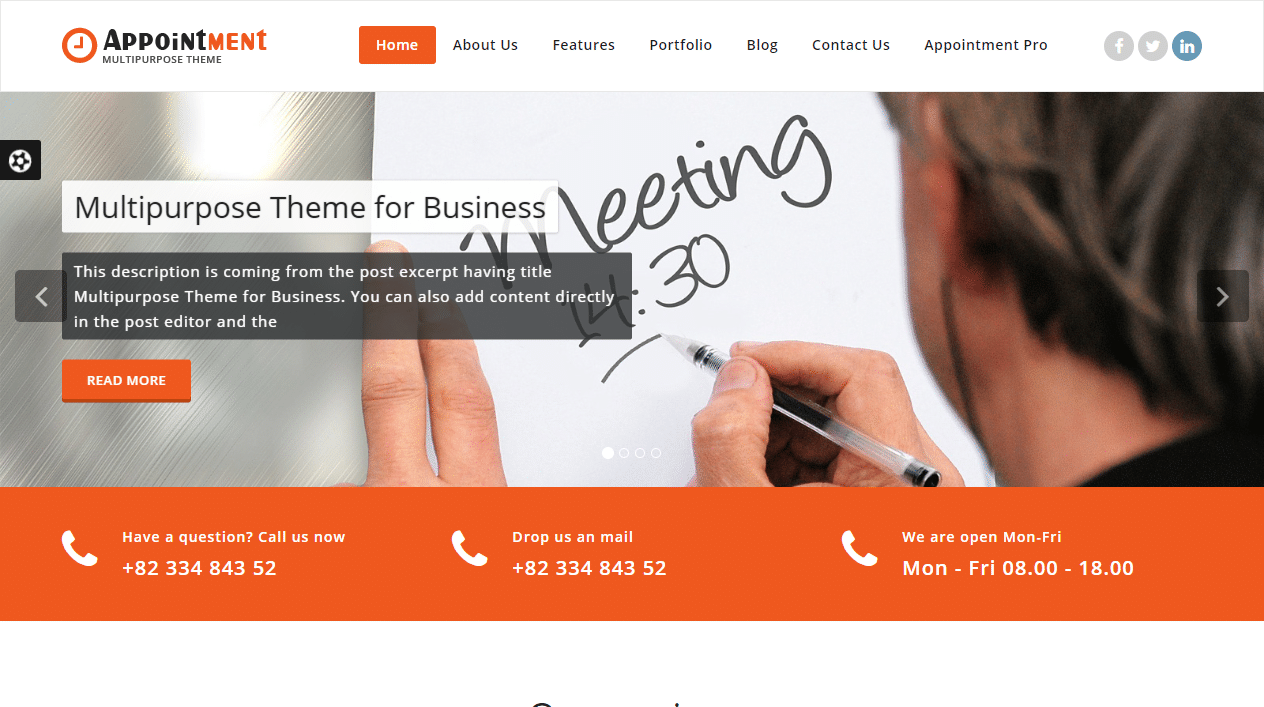 Appointment is a multi-purpose theme with lots of professional flairs. Simple to design and modify, it compliments any business, organization, or individual. It comes with translation support (good for building an audience) and has a lightweight format which performs great on mobile devices.
Kurama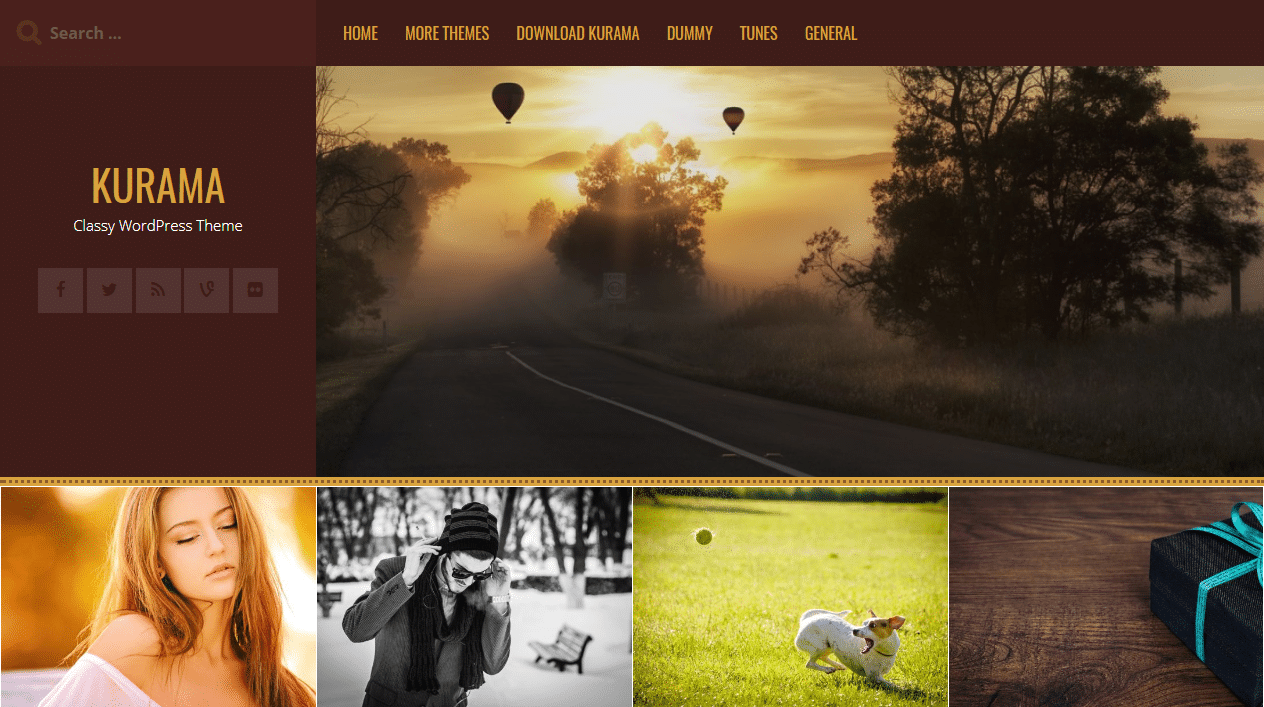 This theme caught my eye for its simple design and rustic appeal. This is another flexible WordPress theme for various forms of content, flexing with social media integration and gallery support. Might be good if you want a more "country" feel to your website.
Gravida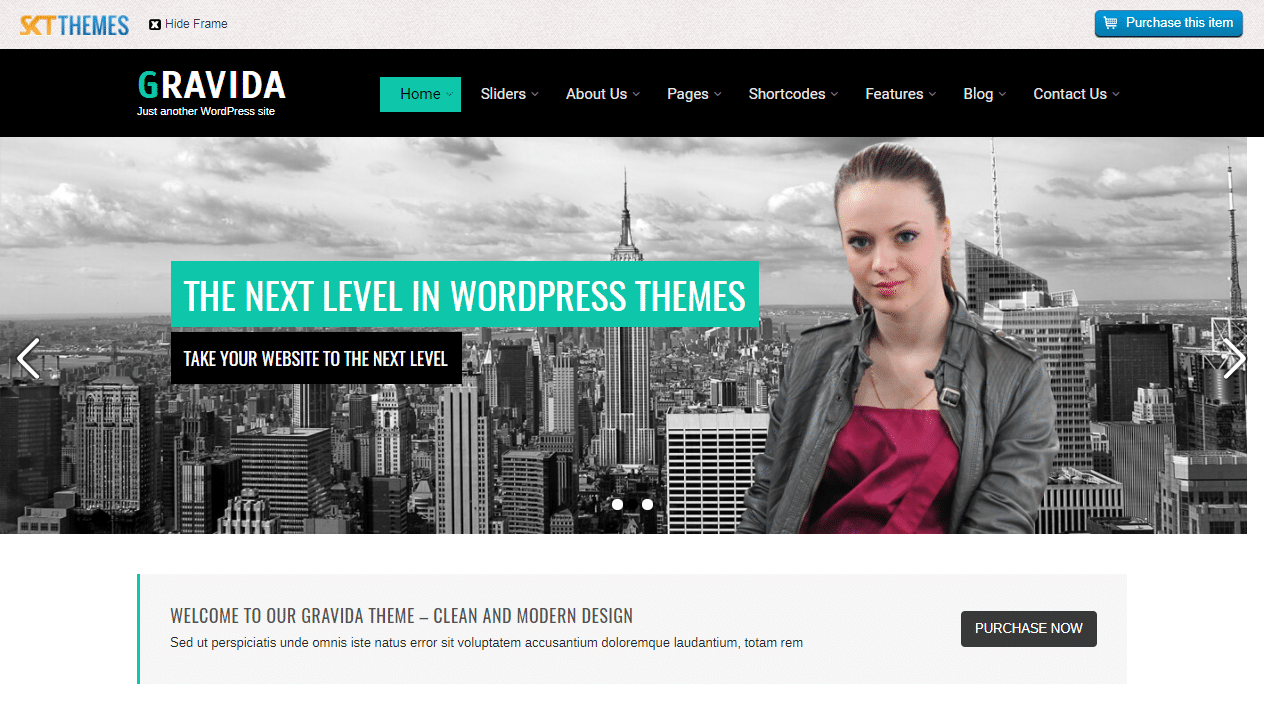 The running trend so far is lots of flexibility and multi purpose themes. Gravida is no different, granted it's suited for modern, professional businesses. Like many websites, it has a great landing page and easy ways to navigate. It's also simple to customize and sports SEO optimization.
Plugins like Contact Form and WooCommerce are also compatible making it easy to sell products online.
Foodies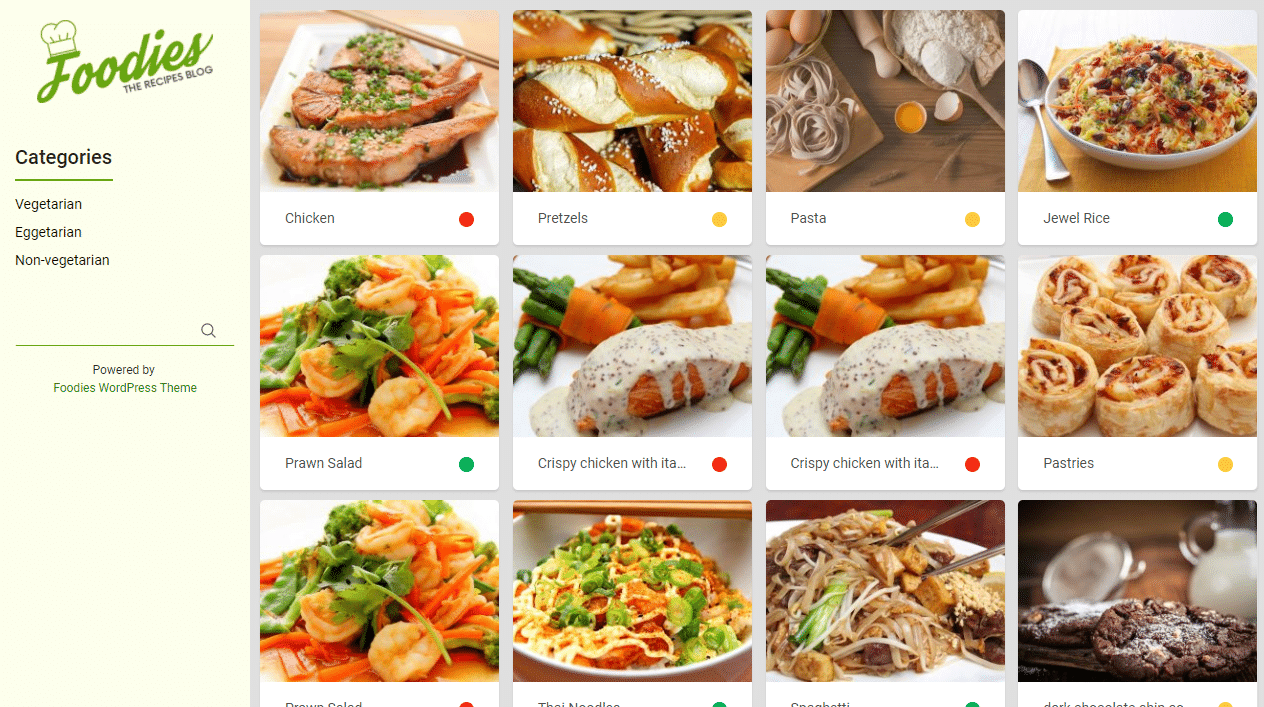 Delicious food needs a home, so Foodies is a digital zone where every connoisseur and hungry visitor discuss tasty edibles.
This is a perfect place for bloggers or users who list professional recipes, with a clean, grid-format that's easy to navigate and modify. But, if you're feeling a change, the gallery format can also be customized for just about anything else. Clean and looks great on mobile devices.
Justice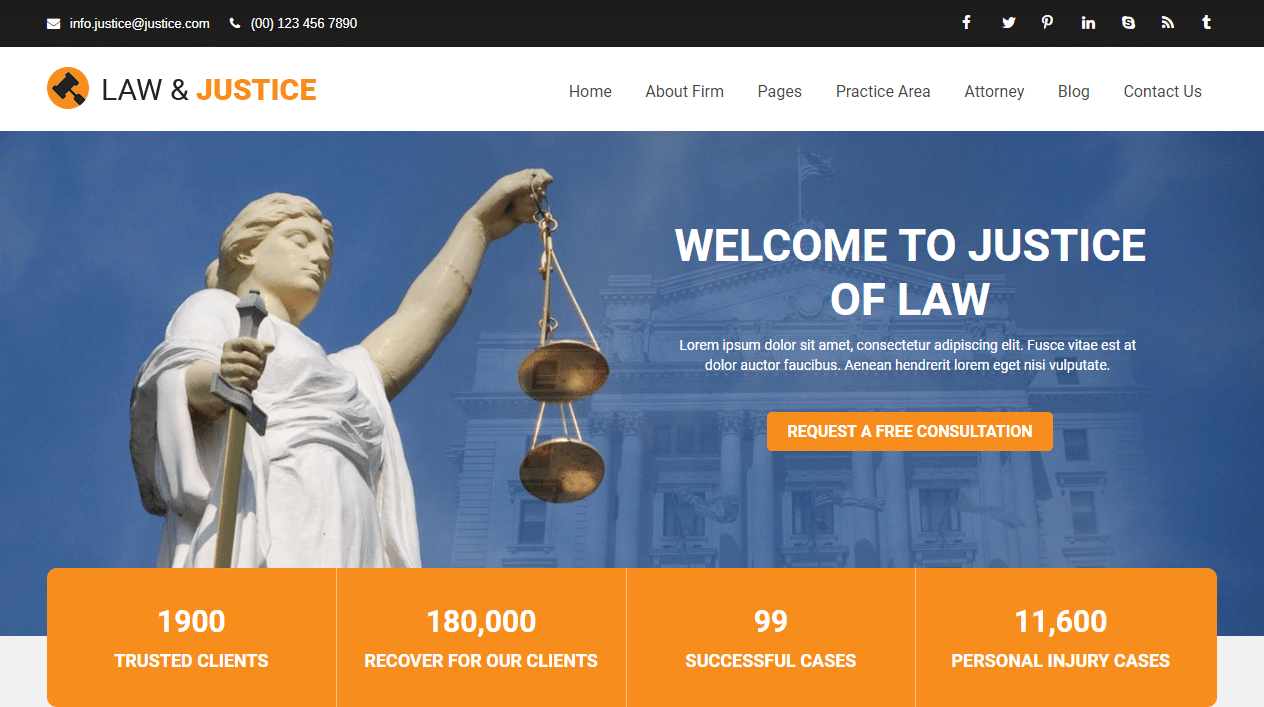 No finer a word than "justice," true in strength and concept. So why not bridge all that regal authority over to Justice, the aptly named WordPress theme?
This one, if it wasn't obvious, is for legal and law practices, a decent alternative to some of my other choices. Even as a free theme, it has plenty of professional features with an equally professional look. Give your clients the scoop on who you help and how you work, strengthening your brand and law business.
Kakina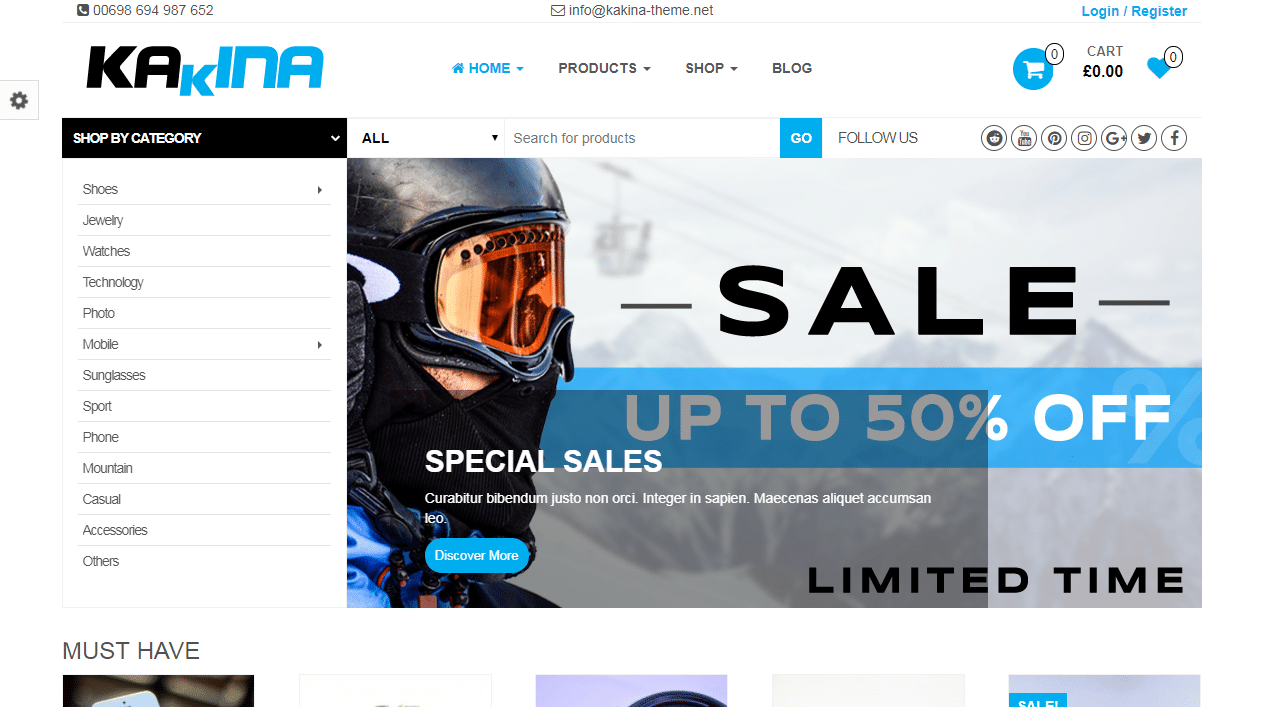 Ready to compete with the likes of Amazon with your powerful eCommerce theme? Well, Kakina is for you!
Okay, in truth, it's doubtful you'll overturn the sales titan that is Amazon. However, Kikana is an extremely professional looking WordPress theme with a variety of features to sell items online. WooCommerce integration is standard and it operates well on mobile devices. It's also got SEO optimization and was coded with CSS3 and HTML5 in mind for maximum performance.
Sporty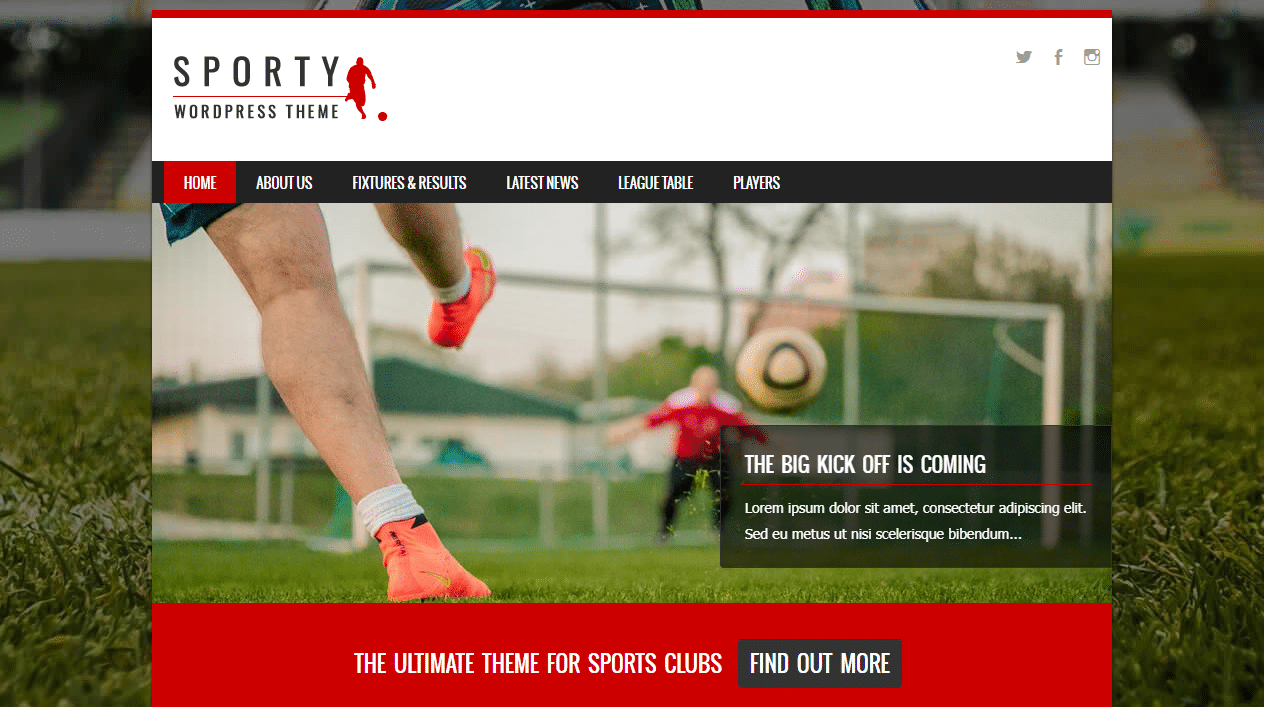 An alternative to the other sport based WordPress theme I picked, Sporty is a multi-functional choice which is optimal for sports based categories.
This one operates much like an e-magazine with sections for blog posts, but it also has a scheduler for upcoming games and other areas for sports lovers. Great if you want to mix official events with some personal touches.
Stargazer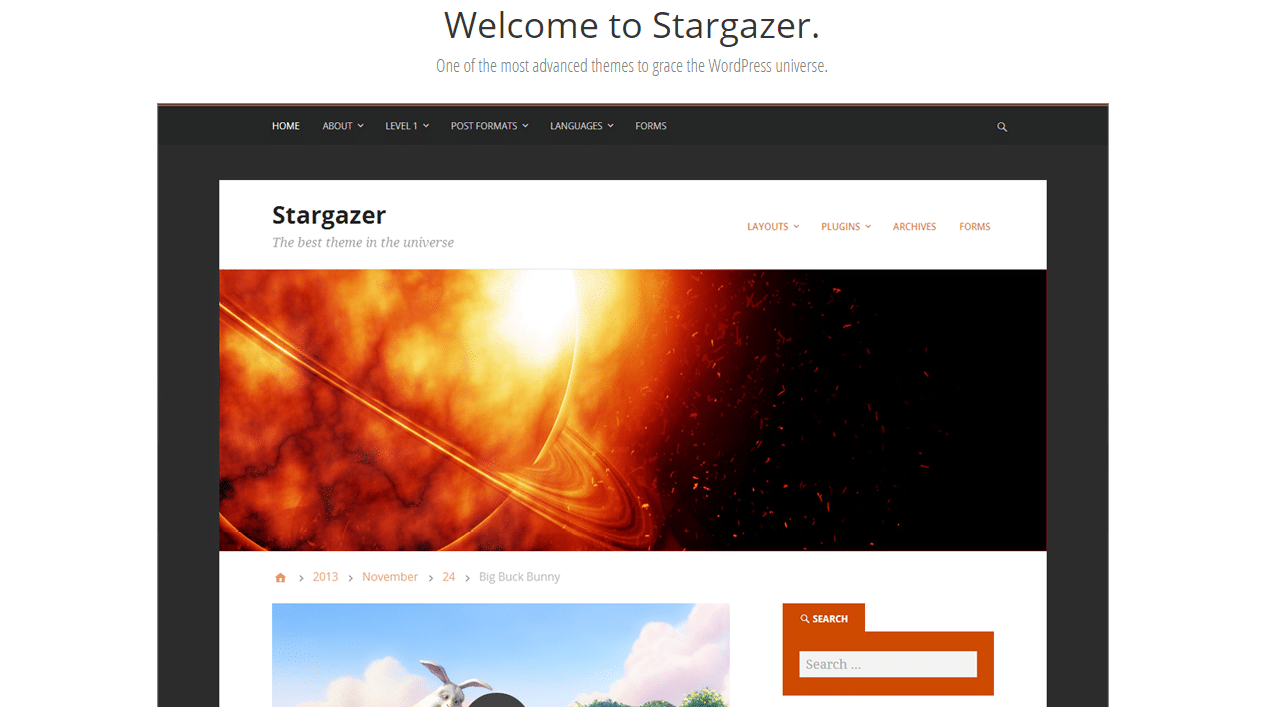 At first glance, this theme appears to be dedicated solely to astronomy (which would be great). In truth, while it can accommodate such a need, it's a flexible theme for all sorts of things. It's worth noting the creator's comment that this is "one of the most advanced WordPress themes" available. This is because it uses "Hybrid Core" framework, advanced coding which lends to high performance and creativity. Primarily, it's a great resource for those who can make the most with the tools given.
MH Biosphere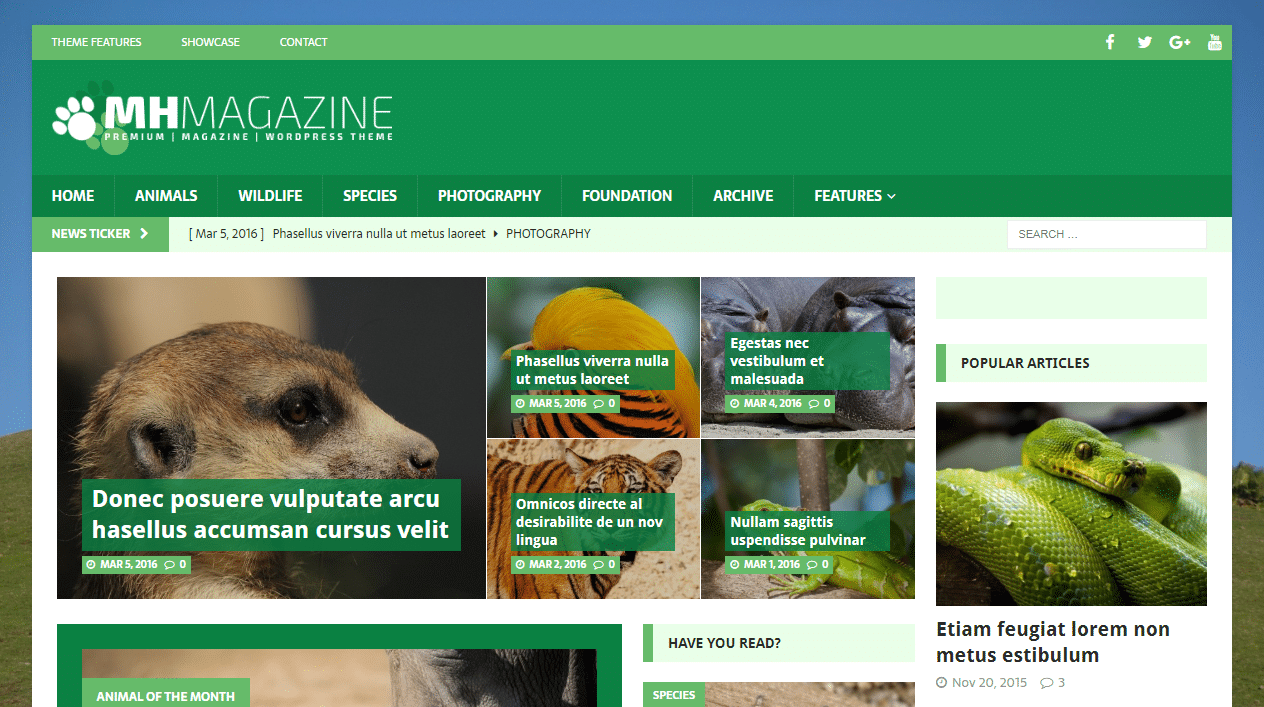 Here's a great theme for those invested in biology, nature, or animals. Organized like a web magazine, the friendly green color and optimized template lets you focus on everything outside. Suitable for both personal and professional use. Worth noting it's a child theme of "Magazine Lite," but with a specific category.
Directory Starter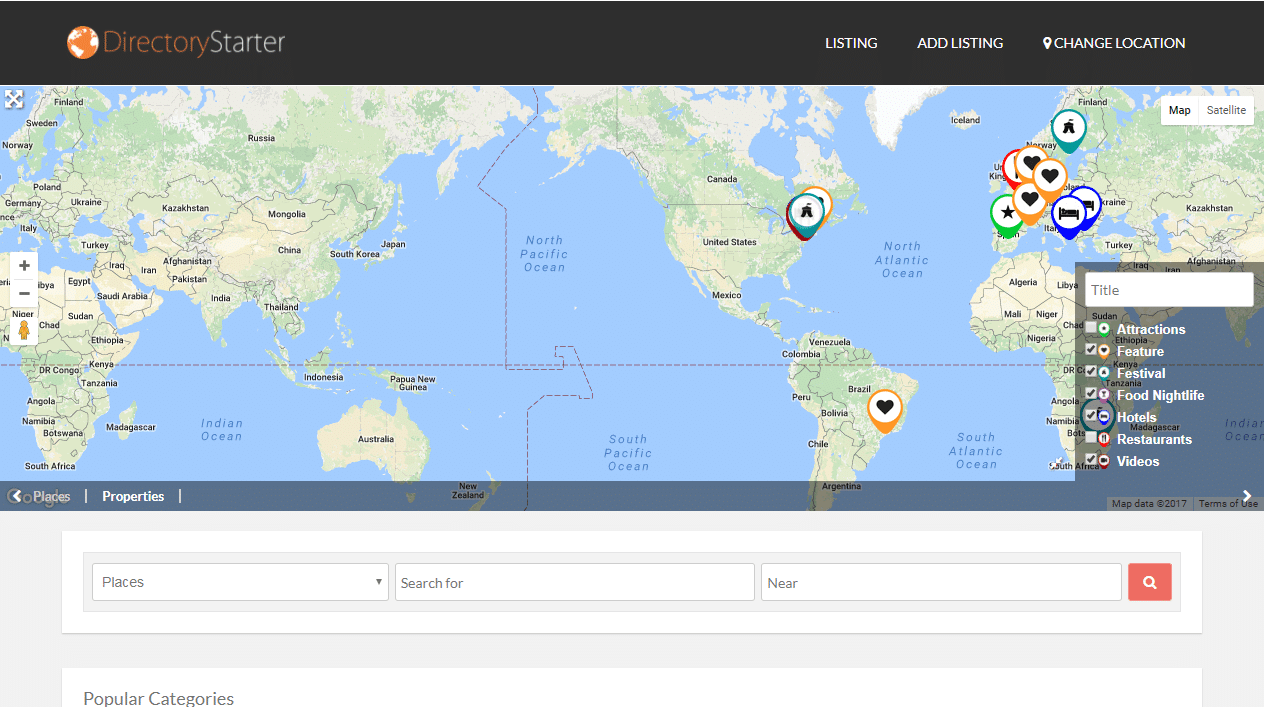 Not too many directory based WordPress themes exist in the free area, so it's worth putting one in. Like you'd imagine, this theme is perfect for various listings of locations like movie theaters, diners, or locations of note.
It comes with built in map integration, SEO optimization, and works great on mobile devices. Easy to customize as well with no coding knowledge required.
Profile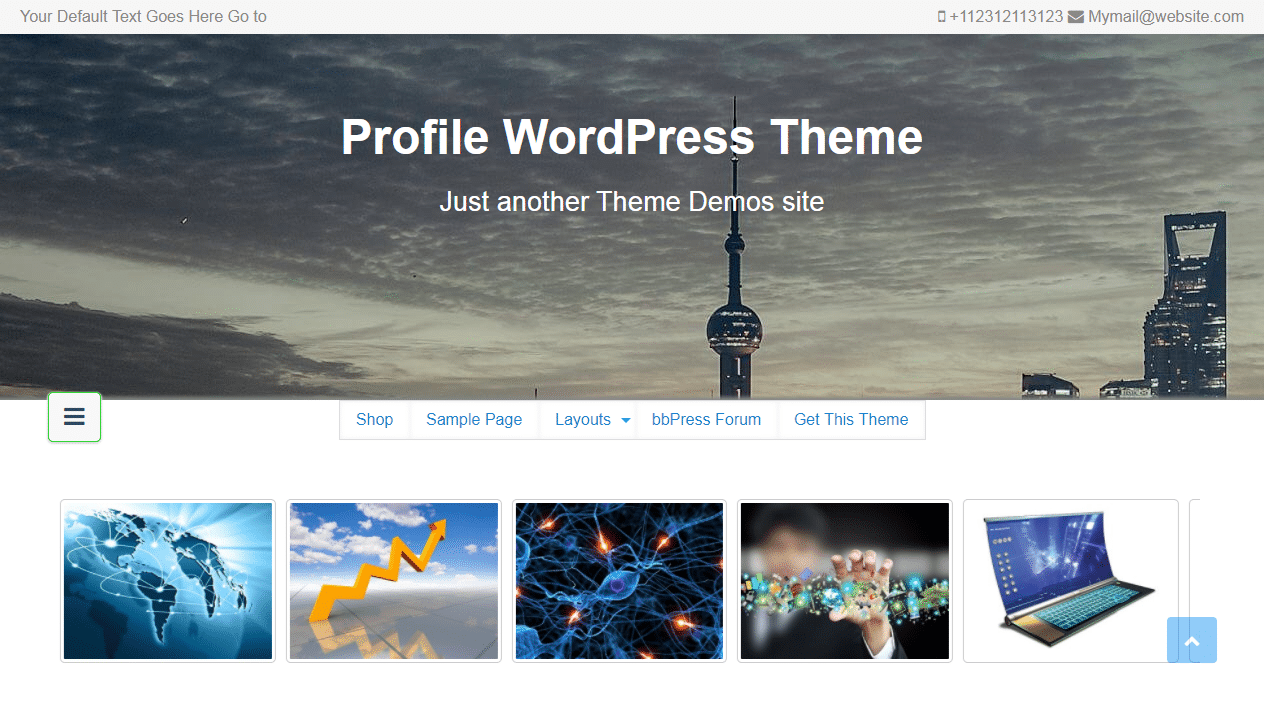 Profile is straight to the point, and that's a great thing. This is another potential choice for those who want to highlight themselves as freelance contractors. Regardless of what type of work you do, Profile's got a way to showcase it online. Of course, you can take it a step further and use it for company related material.
Casper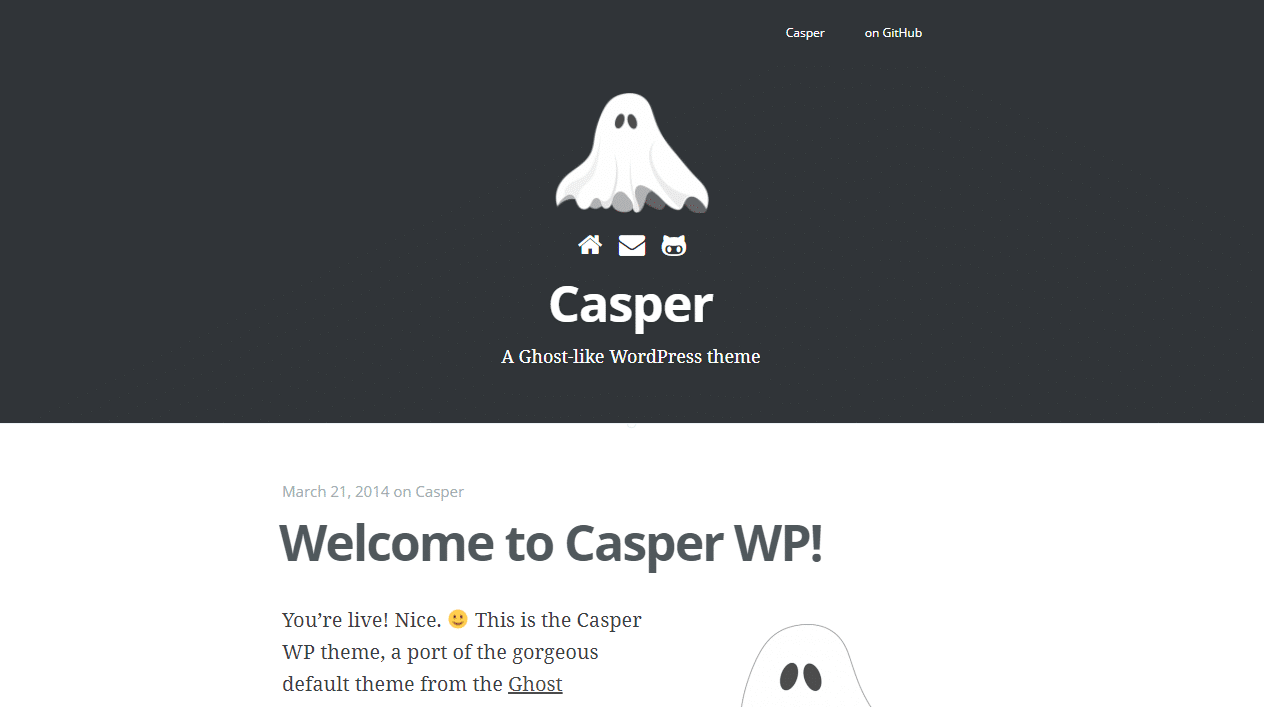 I admittedly snagged this theme just for the ghost icon, but as I got to looking around, I realized this theme is a little different. Instead of slamming readers with hundreds of icons, links, pictures, and information, it goes the opposite way. The point of this theme is artistic absence, I'd say, where less is more. You know, the feeling that a "ghost" might illicit.
So if you're the creative type who doesn't have a product to sell or a specific message to give the world, I say, try this out. Especially if you like spooky stuff.
SKT Coffee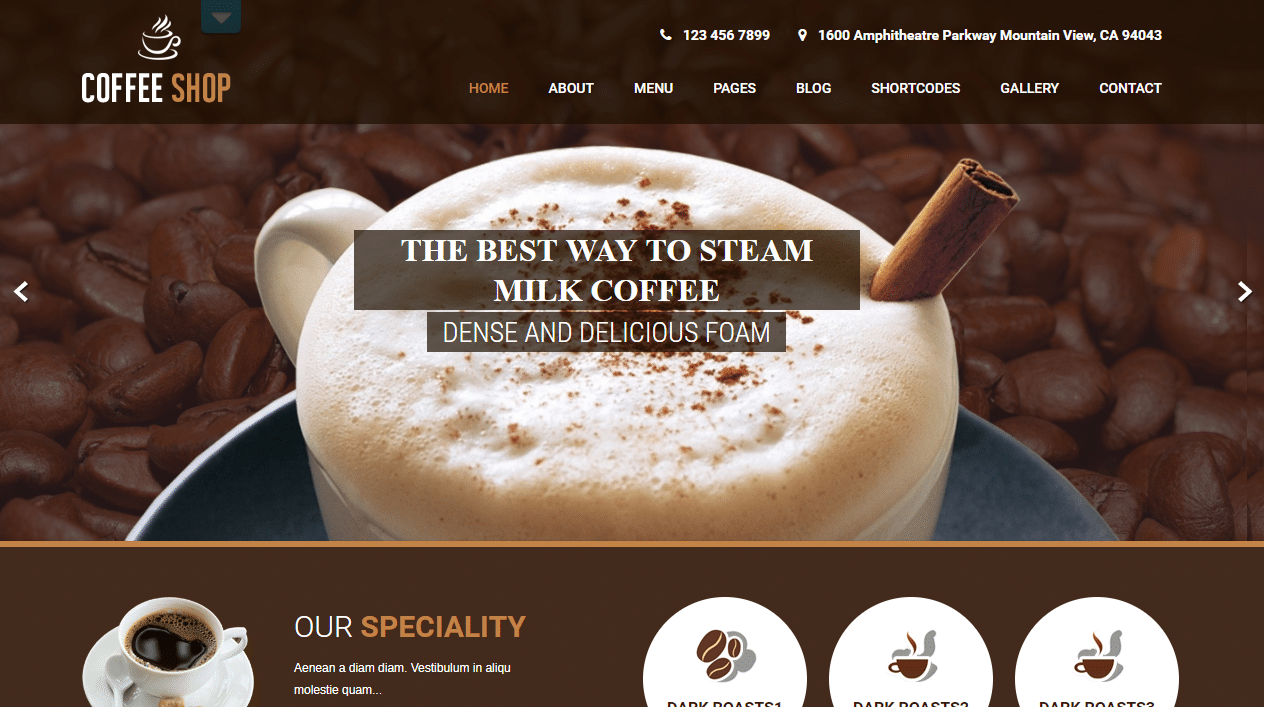 You like coffee? Great! Got a coffee shop? Even better! This is an obvious pick as there aren't many, if any at all, WordPress themes specifically for everyone's favorite caffeine fix. With a regal, elegant visual appeal and ways to easily showcase coffee menus, this is a beautiful theme that's nice to look at and nicer to navigate. Professional for the price of nothing!
Andorra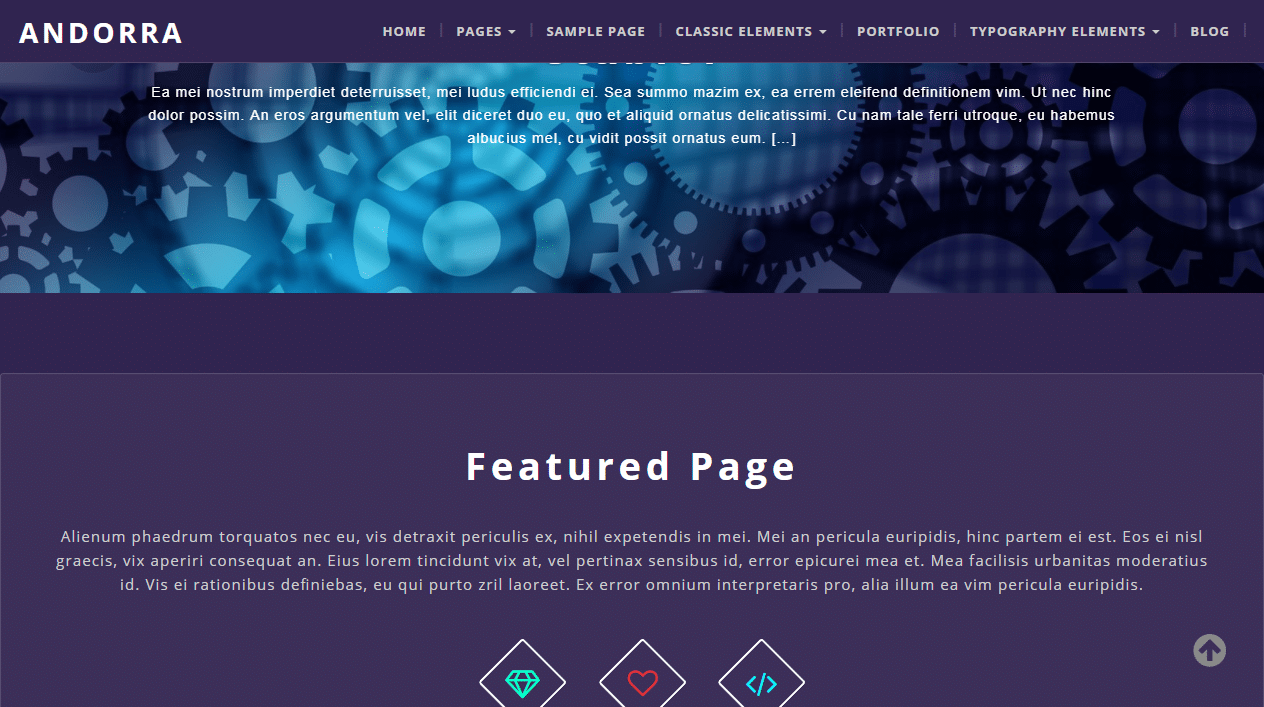 Perhaps one of the most unique looking themes, Andorra is a flexible option with strong purples and minimalist design to captivate readers. It's also easy to customize without the need for coding knowledge, complimenting SEO optimized framework.
This is good for creative types who want a nice looking landing page for their content.
It's also my last choice out of the numerous available free WordPress themes. Thanks for sticking around, and by now, you should have an idea of what you're looking for in a website. Until next time!