Music defines a person if the KISS Army is anything to go by. It's also more accessible than it's ever been, thanks to the internet. Indeed, every day there's some young kid or two picking up their first bass or annoying the parents with cacophonous drum-slamming. Maybe one day they'll get in a big fancy band and make millions (though it's more likely they'll just play weekend gigs).
But it's clear music has a lot of passion, and combined with the internet, can reach millions worldwide. So why not take this a step further? For aspiring musicians, professional agencies, album listings, and all things music, they need a website. And the perfect conduit for building that dream website is WordPress.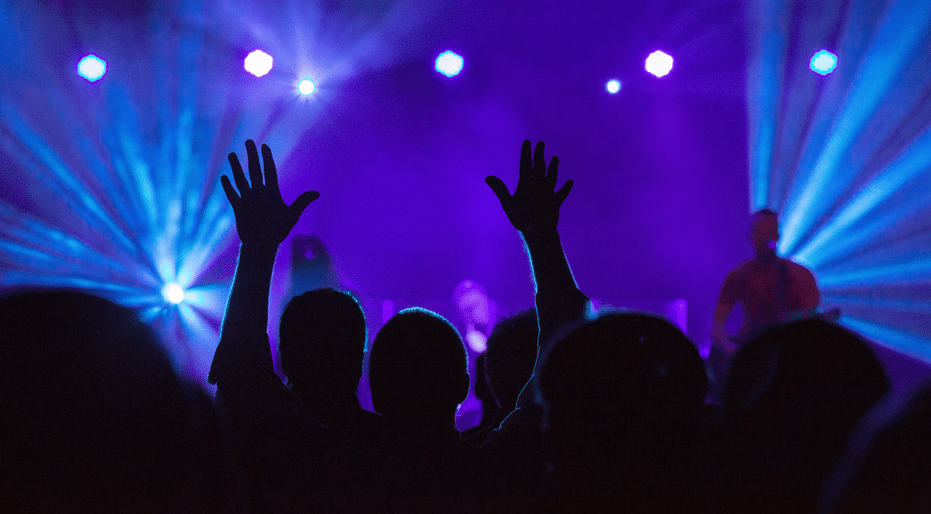 That's right, today we'll be taking the stage with a list of amazing WordPress themes all related to music. Set aside those worries of remaining undiscovered genius, your story begins here!
Getting the Right Instruments
Every WordPress category is rife with hundreds of thousands of different themes, and vary in their quality and features. So, as always, my job is to search through these choices and bring you only the best.
Best Features for Best Musicians
The trick to finding the right theme isn't so mysterious. In fact, it relies on your own personal criteria (or business, if applicable). That means you'll want to keep a few things in mind as you read through my selection: does it have the features you want, does it look good, will it have continued support, etc. Think about the best qualities you want to see in your theme, like say, SEO optimization. Or, maybe you like slick animations that bring a lot of style and life to your website.
Whatever the reason, form a quick list, and with it, you'll find the optimal choice.
Top Music WordPress Themes
Tune the guitar and bang the drum, it's time to get started. These primarily draw from "best of all time," so you'll only get the highest quality.
Decibel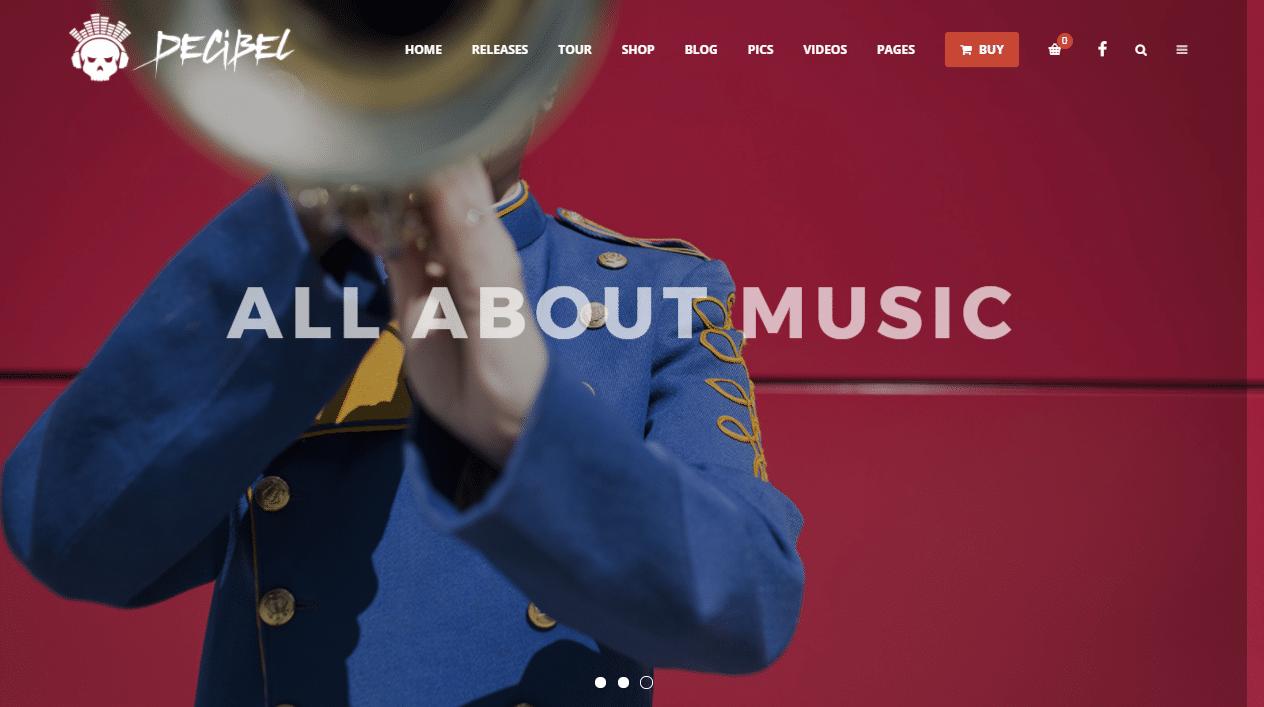 The first pick of the lot is Decibel, an industry standard, pro-grade WordPress theme suited for professionals, bands, agencies, or musicians looking to accelerate their career. This theme is feature rich, with an assortment of tools that compliment both musicians and brands.
For instance, the theme is mobile friendly with a varied array of templates to select from, getting you online quickly. It also has synced online playlists to feature selected music, along with listings for discographies.
Agencies will appreciate its online commerce integration, since WooCommerce is along for the ride. Tour dates can also be set for bands, and managing the page is accomplished through Visual Composer. It's a strong choice for true professionals.
Lush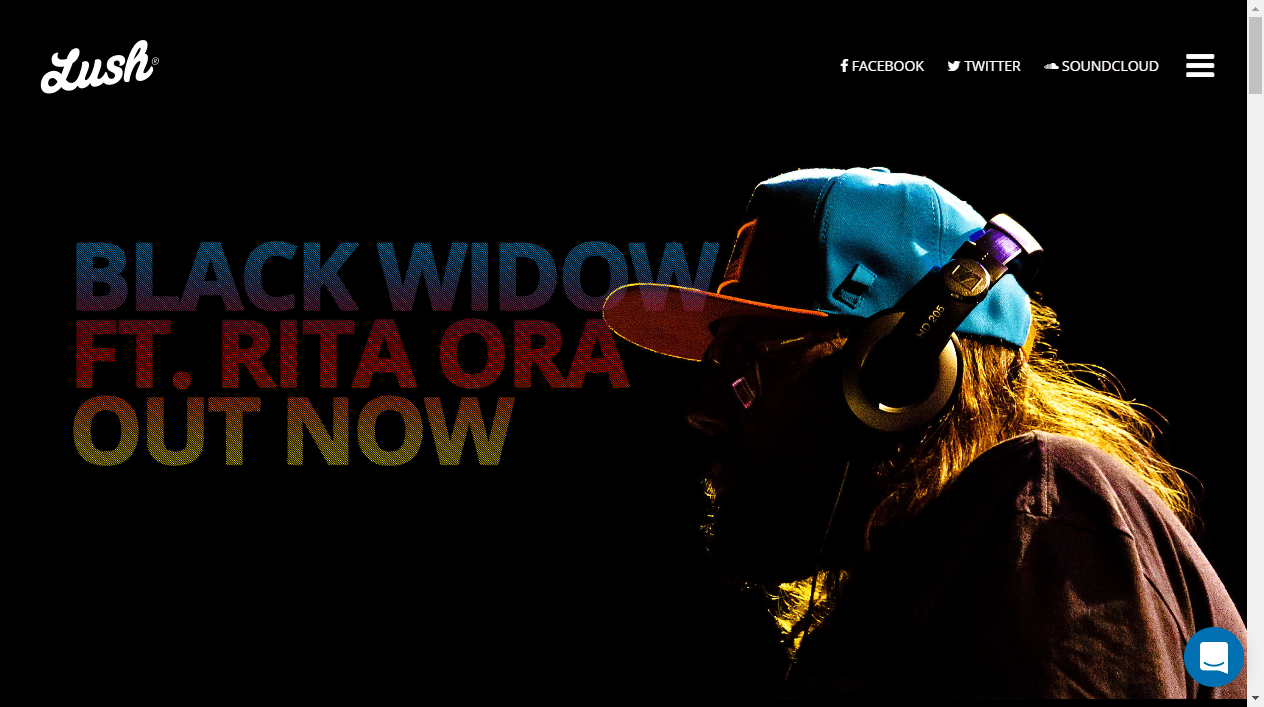 Lush might be my second choice, but it's the highest rated music WordPress theme to date. The reputation is earned from its sleek look, mobile performance, and feature-rich design.
This theme is great for musicians, DJs, or bands looking to host their content online, utilizing several pre-made templates to fit their style. These same templates can be modified extensively thanks to the included Visual Composer. It takes things a step further with creative ways to explore content via 3D menus, accompanied by methods to sell music over the website. Going further, gallery options are available to showcase style, and music playlists can be built to your desired specification.
Perfect for sound creators and audiophiles.
FWRD (Recently Updated)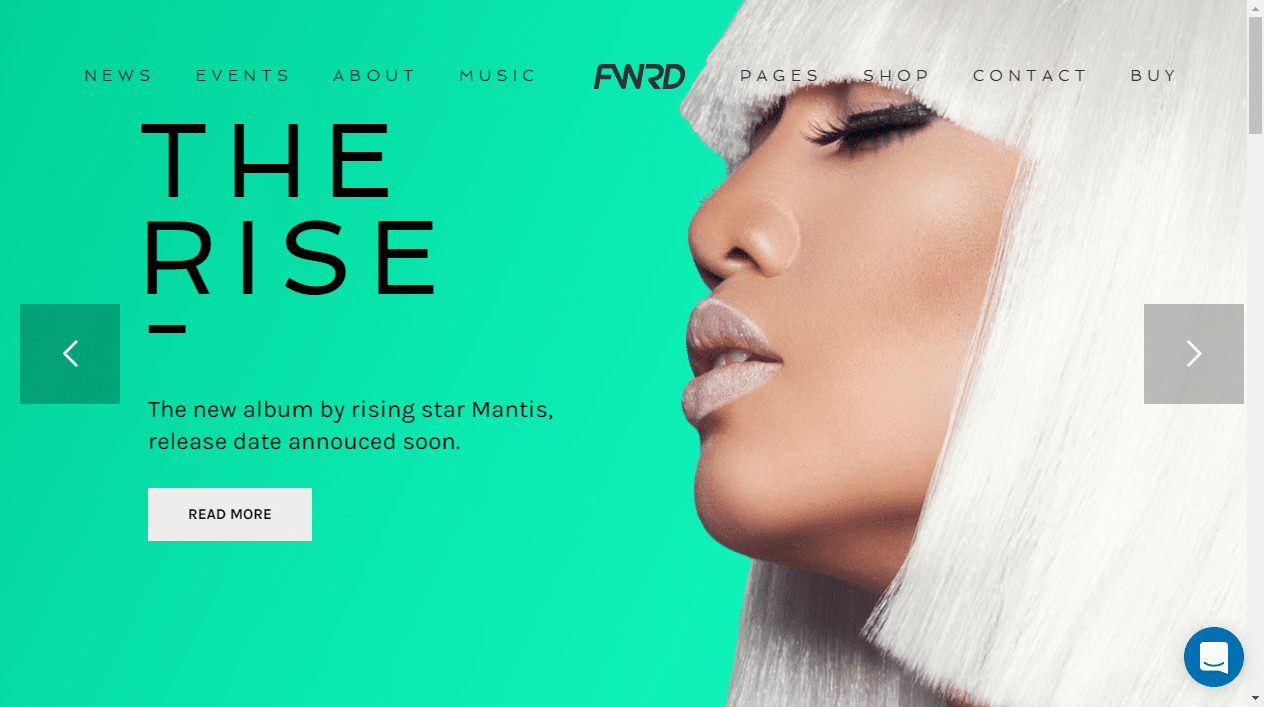 FWRD is another brand empowering theme suited for artists and bands wanting that next level in recognition. The website alone is loaded with professional features and content to help you achieve those goals.
This theme provides you with five initial demos which are all visually stunning in their own right, backed up by a myriad of creation tools to customize them however you want. Video backgrounds can be set with animation sliders, Visual Composer makes design easy, and one-click links are integrated to make website navigation a breeze. Events can be set, brand merchandise can be sold via WooCommerce, and layouts are managed through a clean grid format. As a last note, it has translation support, truly allowing you to reach numerous audiences around the globe.
Epron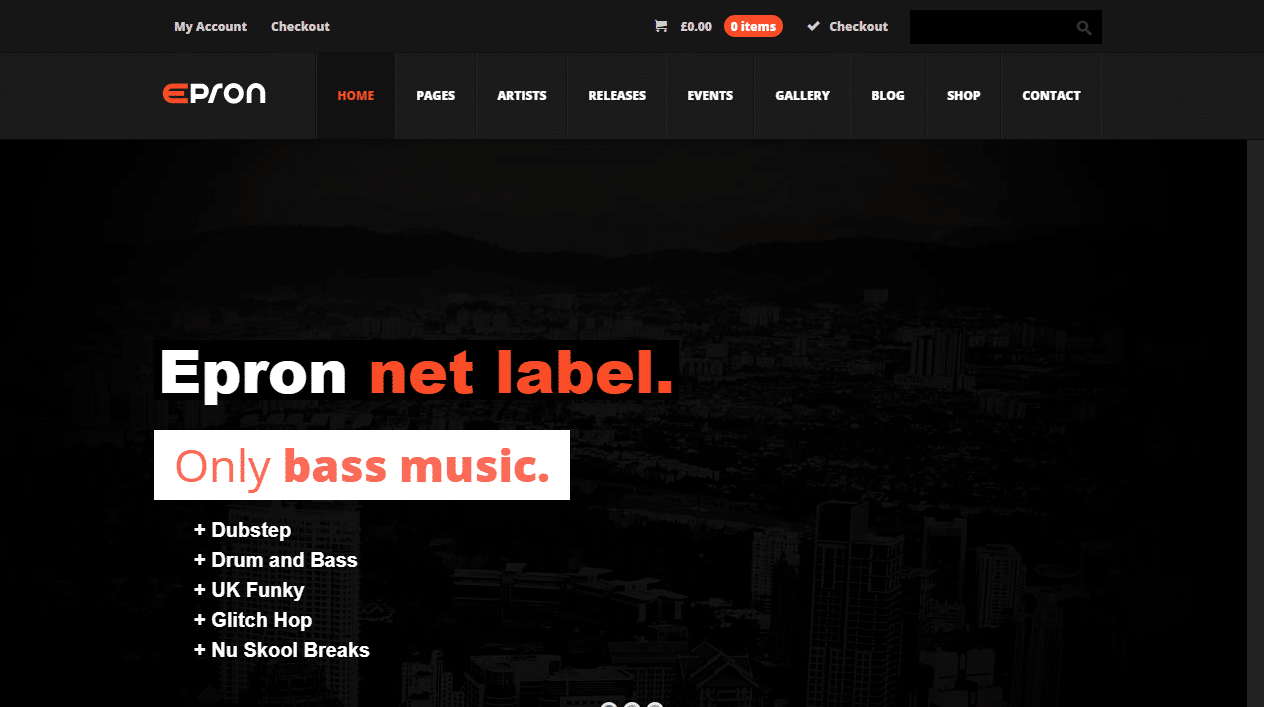 Epron does a little mixing by acting as both a professional hub for agencies and also as a standalone portfolio for music artists. It comes with two "skins" (Dark and Light) and has a lot of tools for easily customizing your website. For instance, numerous shortcodes are included for unique page layout creations, and Revolution Slider tops things off for an identifiable look.
Like the choices thus far, Epron allows you to also set events, sell merchandise, list artists, music, create blog posts, and much more.
Soundboard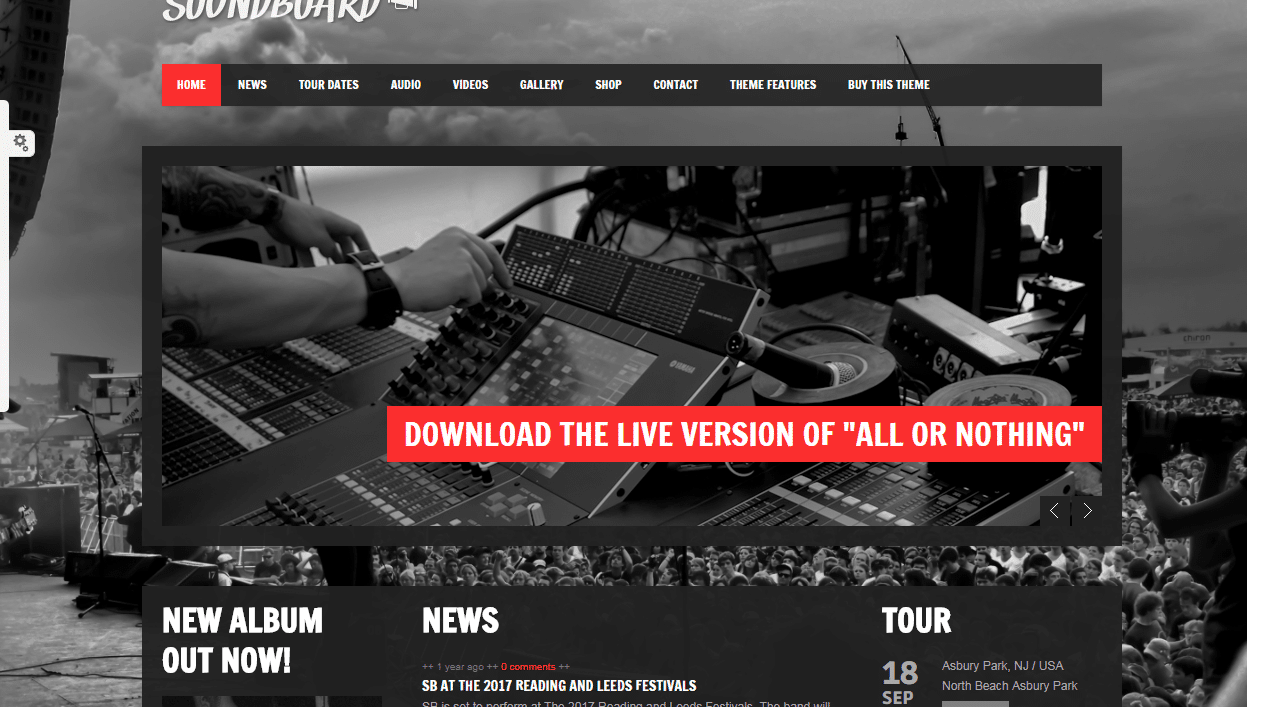 Soundboard takes the focus to bands and solo artists this time around, versus a generalized category for all music related things.
As such, its features are all about getting content to your base, via dates, discographies, blogs, events, and everything else you can think of. You won't need any expert coding knowledge, as all customization is handled through the theme's well-built creation options, allowing you to seamlessly integrate content as needed. Topping it off, it has social media integration and translation support, expanding your audience.
A veteran theme that's going strong to this day.
Speaker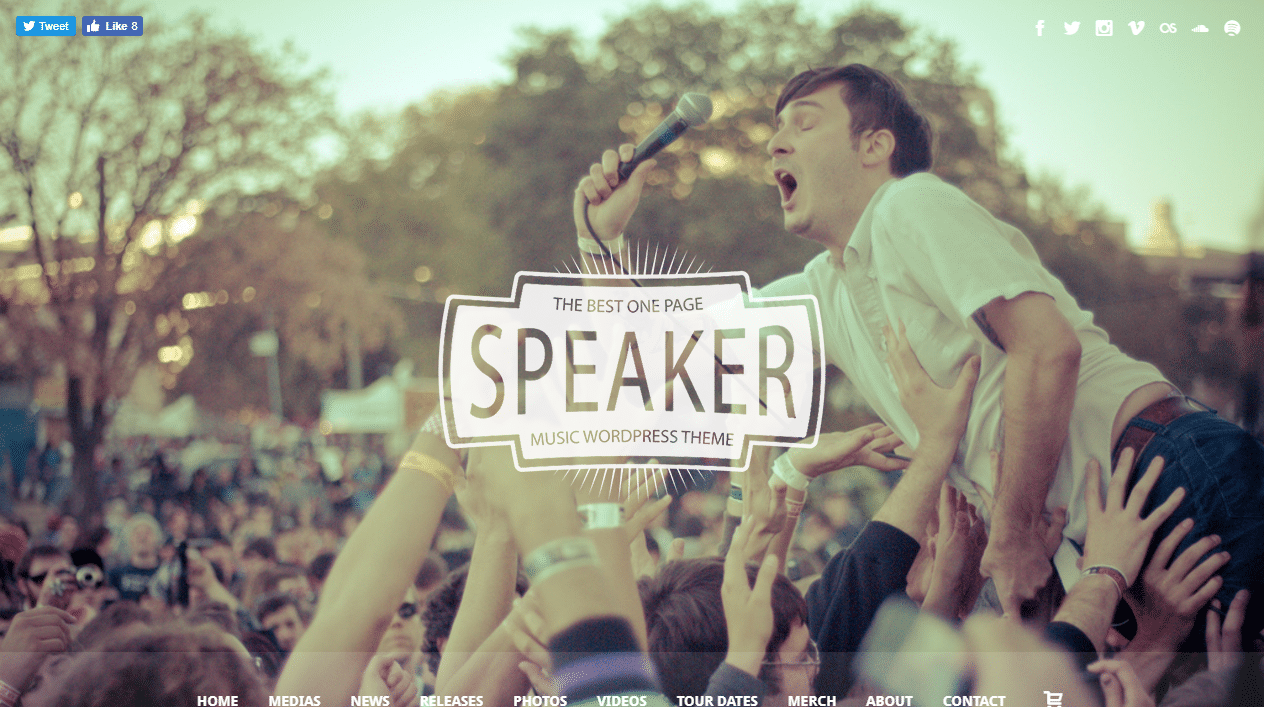 Speaker is a stylish landing page for creative music artists, complete with features they need to boost both their career and audience. This theme is a one-stop shop (literally and not) for everything about your music, from song listings to tour dates. Artists will also be able to sell merchandise thanks to WooCommerece integration while installing demos only takes a single click.
If you're not satisfied with the given templates, however, you can adjust various visual elements, like setting a video background or modifying page layouts. A great all-inclusive theme for rising talent.
IronBand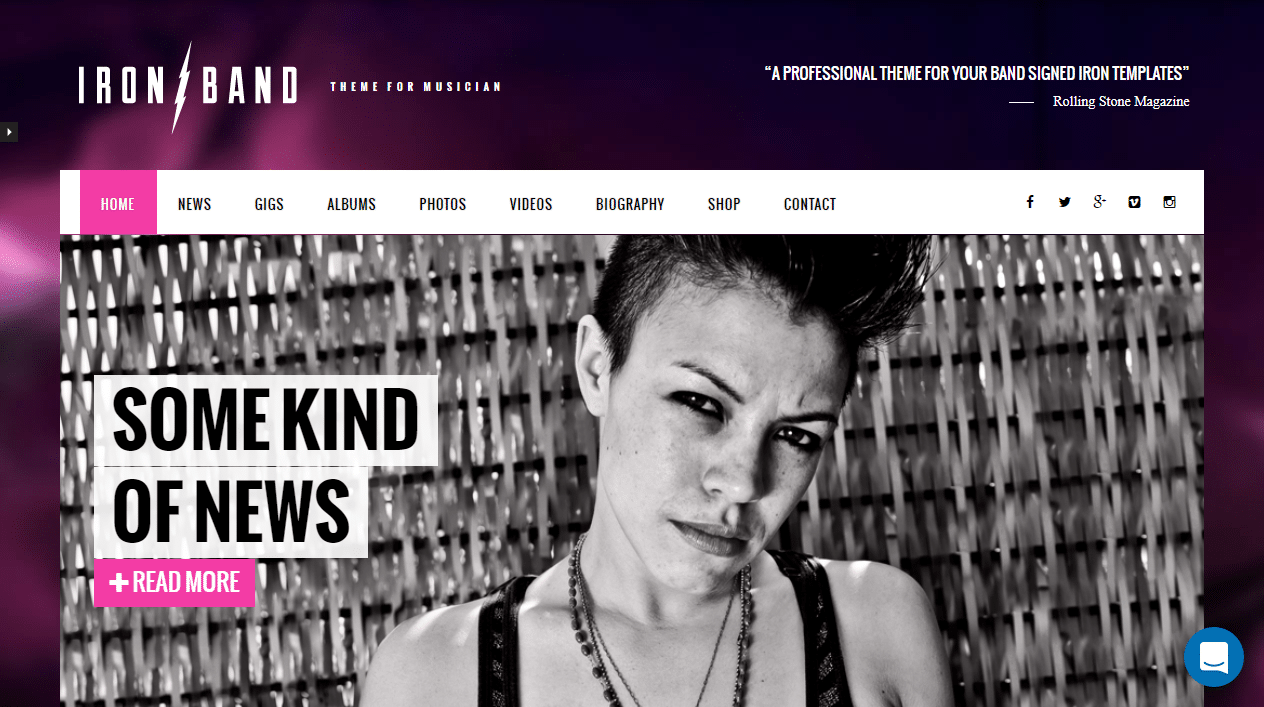 Here's something with a bit more edge, splashed with a coat of grunge. What I mean is, IronBand is suited for musicians, but more so to those that prefer rock and heavy metal.
Aside from this powerful visual distinction, this theme is competent and feature-laden like the others. It's compatible with both HTML5 and CSS3, meaning you have optimized performance, while the theme itself uses several creation tools for easy page creation. From its custom widgets and live preview system, you can get the design you love firsthand, all while loading your website with music-driven content.
JamSession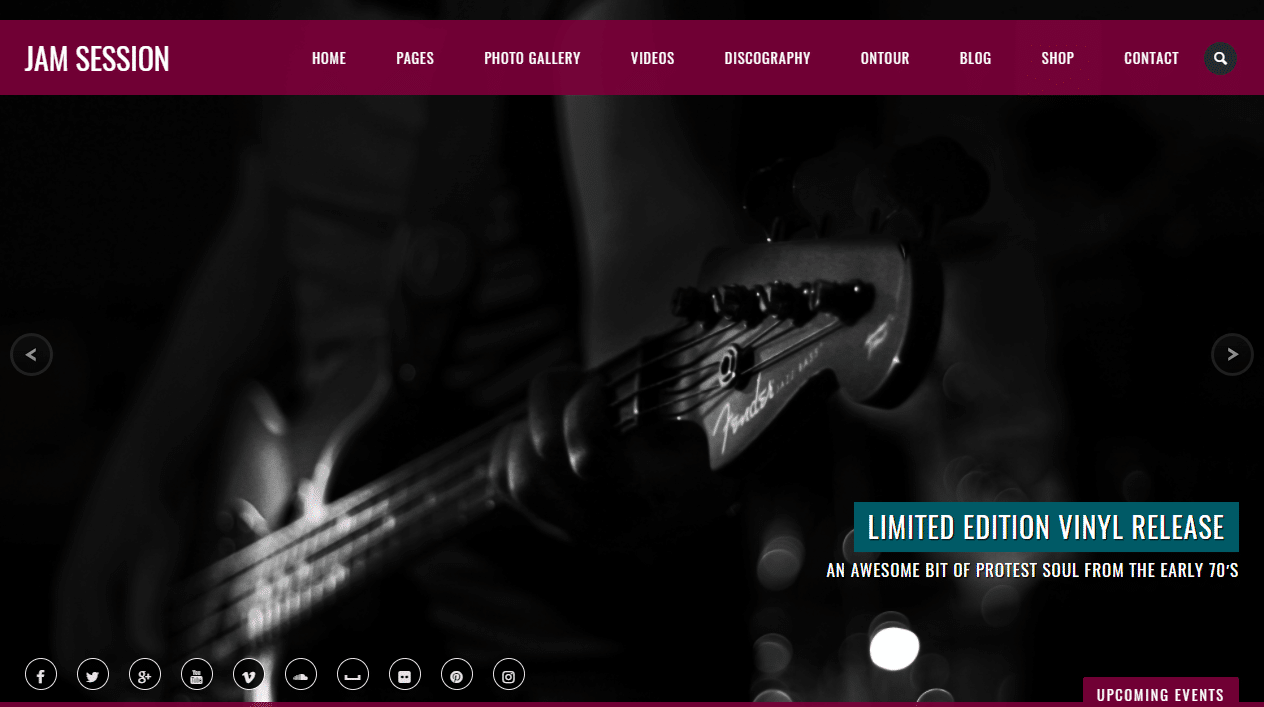 At the end of the day, isn't that what all musicians want to do?
JamSession may not grant them the freedom to jam forever (yet), but it does compliment bands looking for a website. It also extends to just about anyone working in the industry, as the theme is flexible enough to change as needed.
There are a few essentials you've come to expect, such as multiple layout options and Visual Composer/Revolution Slider plugins. But, you also can integrate media videos for live performance showcasing (or whatever you need). The Masonry layout will also let you format pages in a clean grid-style. This includes integrating SoundCloud for the ultimate user experience, along with ways to list albums and set event dates. Another complete package.
Croma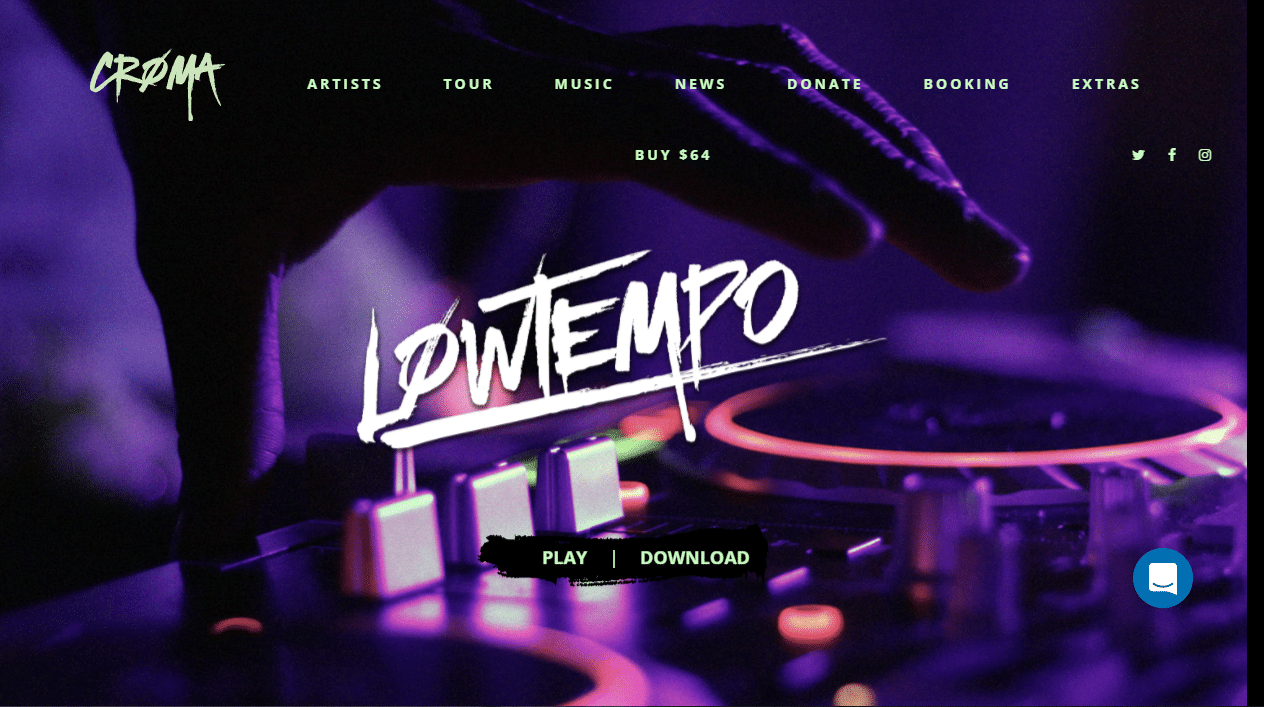 Croma is another professionally made WordPress theme suitable for agencies and leaders in the music industry. The powerful animations and slick design compliment its warehouse of features, such as its continuous media plugin, where audio plays as users browse the website.
There are several initial demos, all of which are easy to install and customize, getting you on the right track fast. Users can also set events and gigs with various modification levels. Along with mobile responsive design and its Visual Composer addon, this is a theme you don't want to ignore.
Replay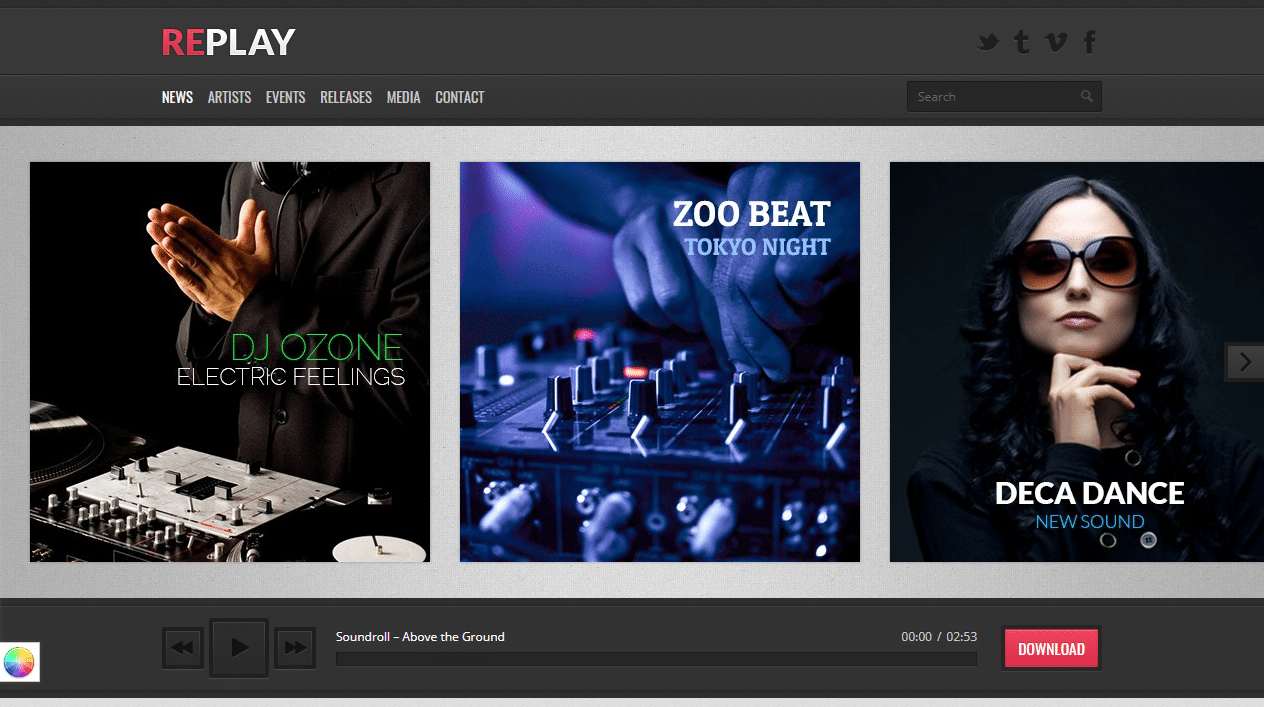 Everyone's favorite word when they find a new beloved song. Replay takes that love and translates it to a functional WordPress theme, suitable for bands, brands, and anyone in the music business.
Along with several theme options and templates, a few familiar features appear too. Those include an audio player for specifically chosen music, while social media integration helps expand your audience – and message. A nice mix of blog content and professional music.
Flycase

Flycase finds a healthy balance working between professionals and music lovers. This means you don't necessarily need to have a business, or a band, just a love of music. But if do happen to be a business or a band, Flycase can work with that too.
Flycase will allow you to stuff your website full of content as desired – everything from blog posts, social media links, and audio tracks. You can also expect to make a few sales with WooCommerce integration, while Revolution Slider gives you a unique, creative edge.
Other helpful assets are five free templates, extensive documentation, video tutorials, and continuous support.
MESH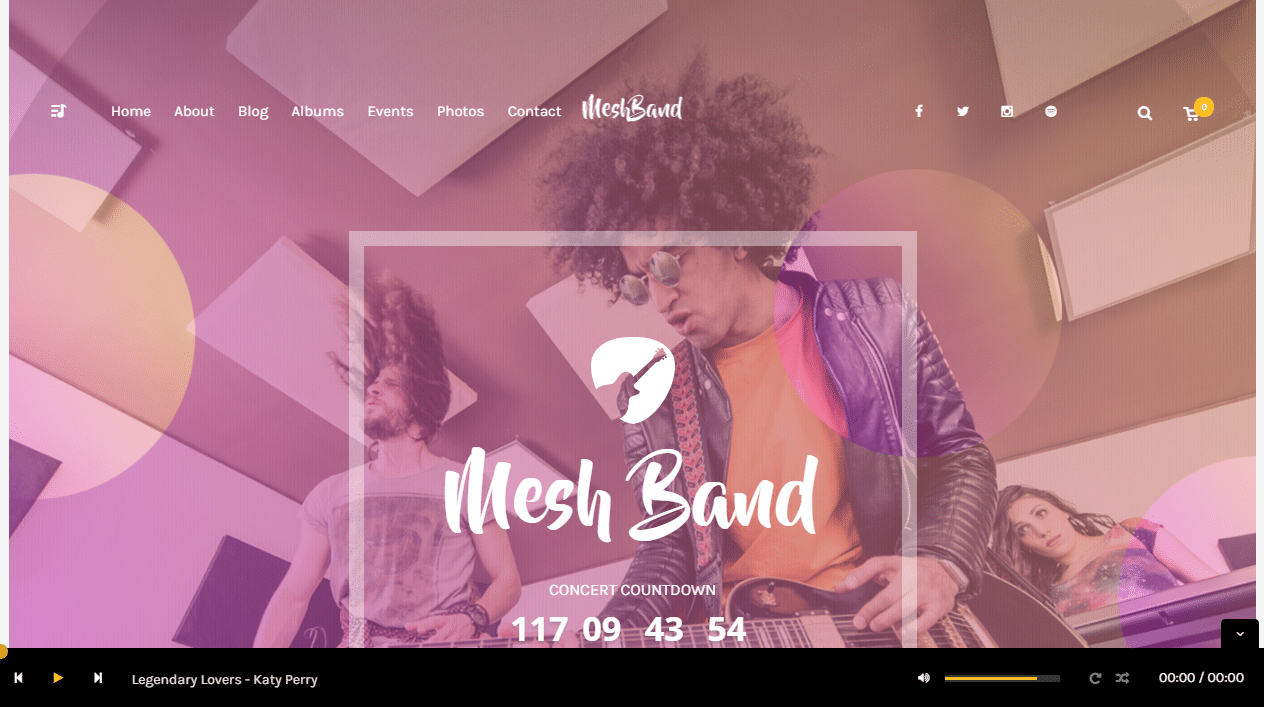 MESH hits hard with lots of aesthetic style and personality, which in this writer's opinion, are important when trying to stand out as a brand or recognizable music name.
This is because MESH utilizes unique animations and page interaction sliders to elevate the visual elements to the next level, all while providing professional features for professional needs. For instance, if you want to set events for booking, you can do that. If you want to list prices, galleries, and bands participating in said events, you can do that too.
It's also got a few other features to give you some advantages, such as translation support and a continuous music player – something to hook viewers while they browse around.
Lucille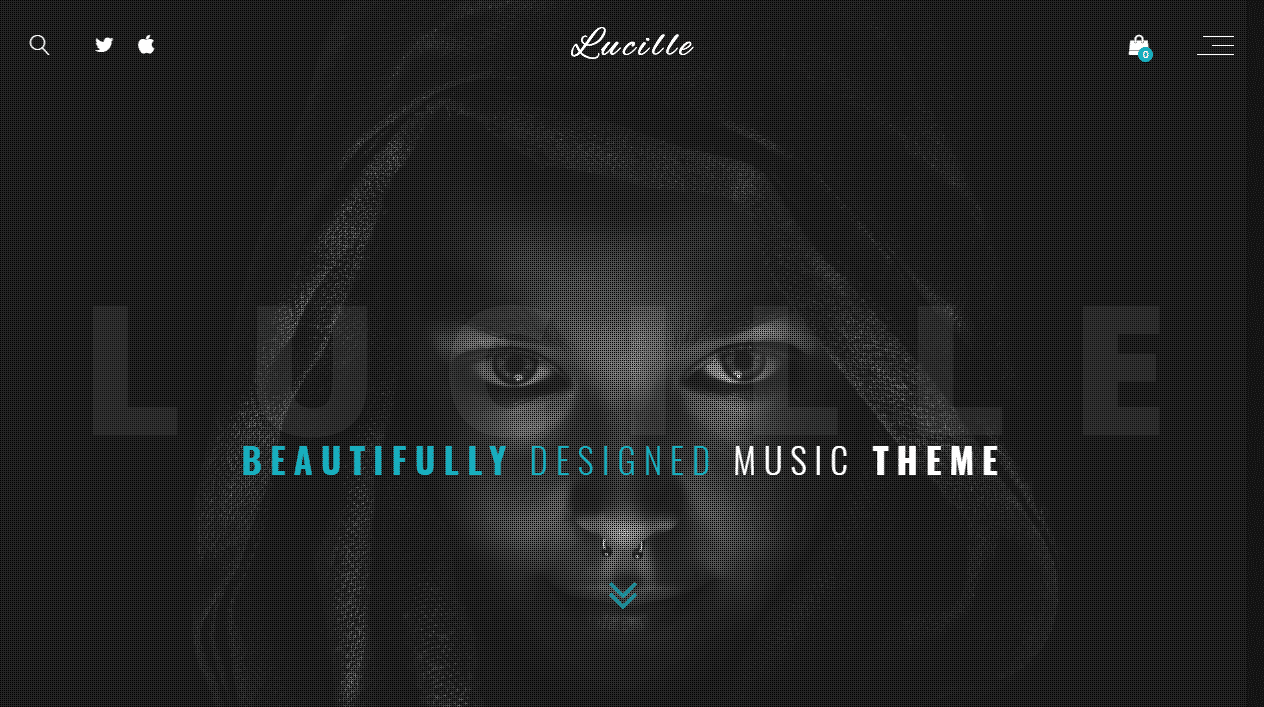 Lucille is another industry ready theme which incorporates features and page layouts ideal for artists, agencies, and albums. Providing purchasers with several layouts, they'll be able to sell music, list events, incorporate discographies, and highlight important items. This is accomplished through the included Revolution Slider and Visual Composer plugins.
Along with drag-and-drop customization, you can modify pages in real time with a live previewer, along with unlimited colors. Topping it off is a wave player and translation support, providing you with another feature-rich theme.
Odio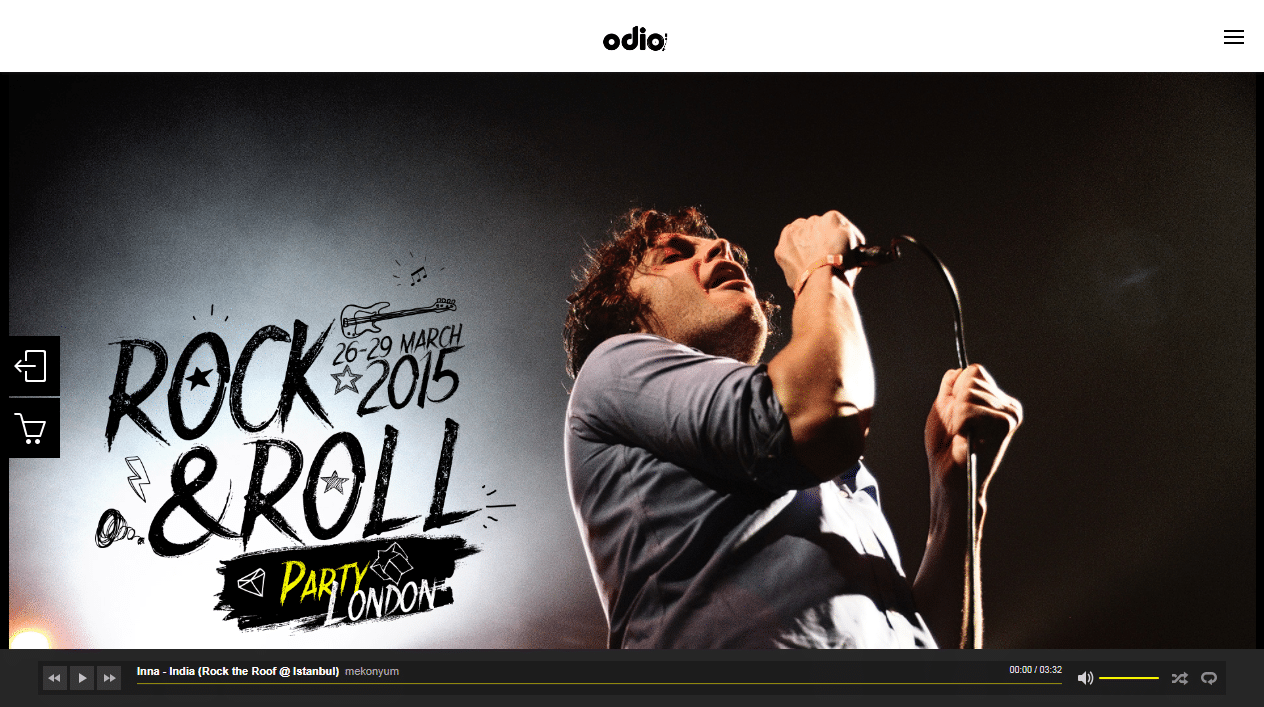 Odio's got style and character, and for that, it's an easy next pick.
This WordPress music theme is great for landing pages, where you can showcase all your interests, media, and posts in one area. Combined with stylish animations and visuals, it's enough to keep the eye and get your content out there.
Odio does a lot of other great things too, such as allowing users to easily customize event dates or integrate with SoundCloud. Visual Composer page builder is part of the package too, giving you hundreds of ways to modify your website. With mobile responsive design, translation support, and one of the most visually grabbing looks around, it's a selection I highly recommend.
Remix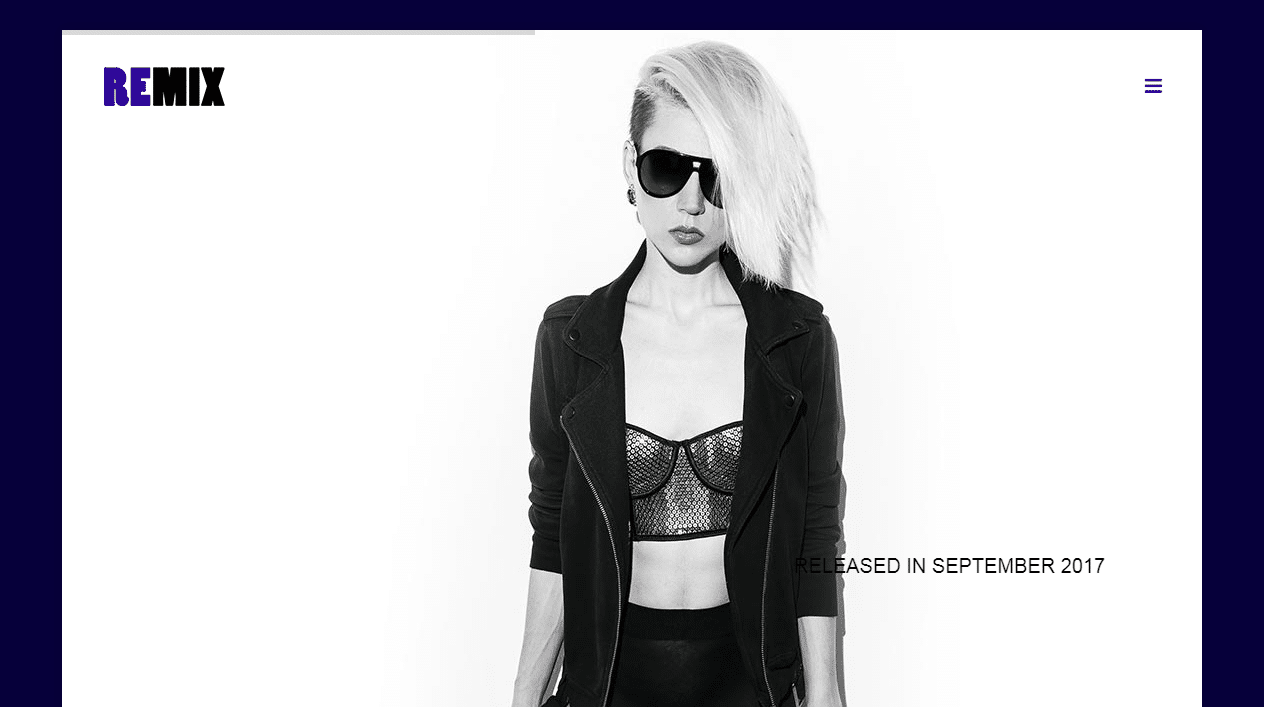 Remix has a message: high performance and numerous management options. As the theme claims, its one of the best media management themes currently for WordPress, and that's not inaccurate.
Remix has exceptionally short times on both mobile devices and desktops, along with numerous premium plugins valued at over $100 USD. From this, you can integrate live radio and music players, create event listings, sell merchandise, and customize templates to how you see fit. If you're a business that needs SEO optimization and exceptional speeds, Remix is for you.
Vice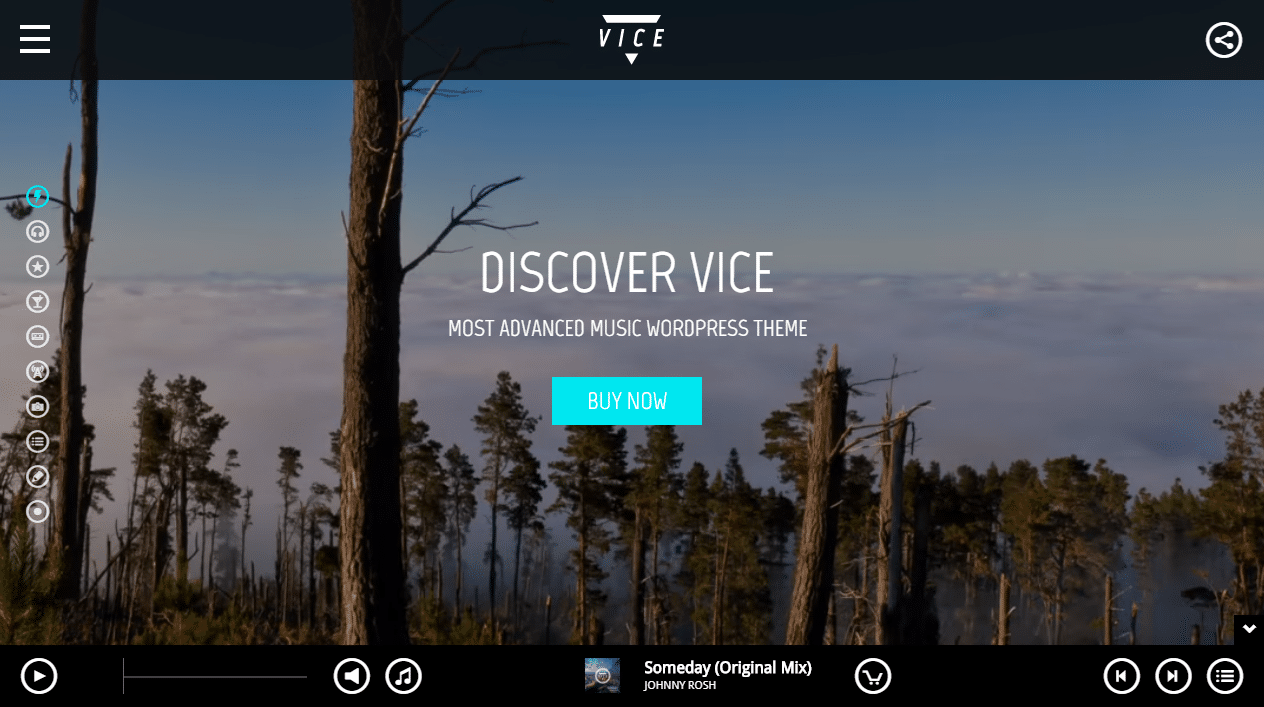 Vice is another potential option if you're in the business of highlighting musicians, bands, events, and new albums. This theme comes with video tutorials for learning about various modification methods, allowing you to change one-page layouts to your specification. From these landing pages, you can integrate music, locations, list upcoming events, set integrated video backgrounds (such as with YouTube), and more.
The theme also comes with hundreds of unique logos fit for both mobile viewing and desktops. A solid choice if you're focused on upcoming music, versus curating it yourself.
Sonik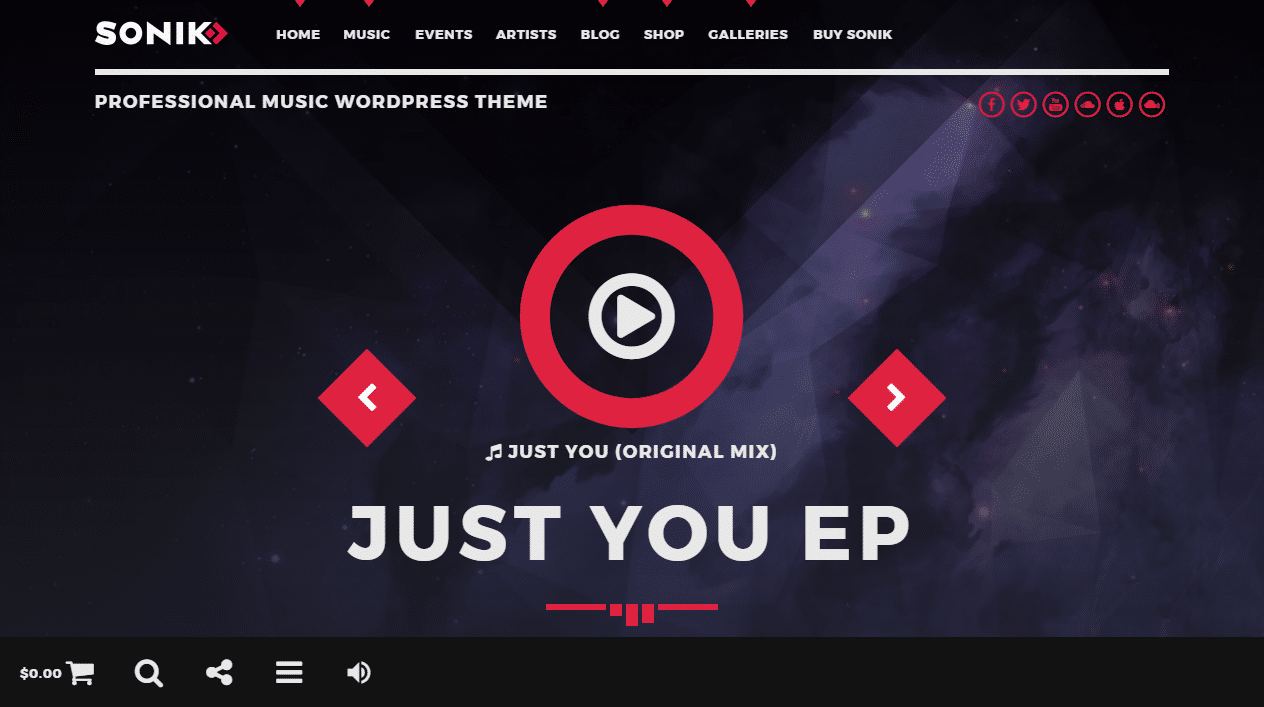 Sonik boasts lots of flexibility and performance, which is great if you're an evolving music artist, DJ, or company trying to find its identity.
This is because it comes with several stylized demos, all complete with their own flair and content, so you can get started on the right foot. Each page is impressively designed with unique visual layouts and animations, all of which can be customized with the theme's included options. Purchasers can also set radio streams, set map events, integrate WooCommerce, and include artist information for the ultimate audio experience.
With the Page Composer plugin and some truly amazing layouts, it's a selection I can't recommend enough.
Noisa

What the name lacks in spelling accuracy it more than makes up for in content.
Noisa is a high-performance theme that boasts captivating landing pages for music. With its simple creation tools and radio integration, visitors will browse through content with some tunes in the background. You can also adjust the website for anything you need, including profile, event setter, blog, and other forms of content management. Great support, translation compatibility, premium plugins, and some amazing gallery layouts make Noisa another reliable option for lovers of music.
Acoustic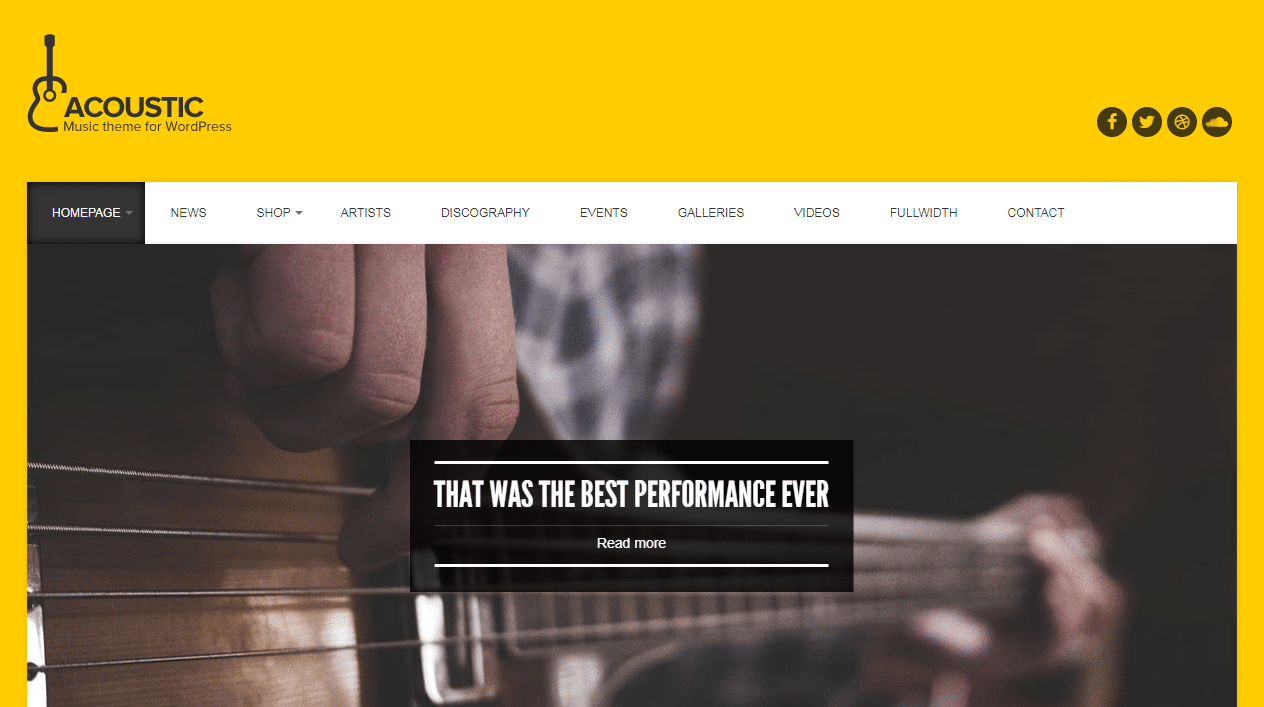 Like the great sound, Acoustic is a great theme. This one looks to simplify the process of music discovery for your visitors with an advanced filter and search system.
The theme has all numerous powerful tools built in for specific posting styles and formats, allowing you to create the website you want. A few other handy features are along for the ride, like translation support and WooCommerce integration.
NOISE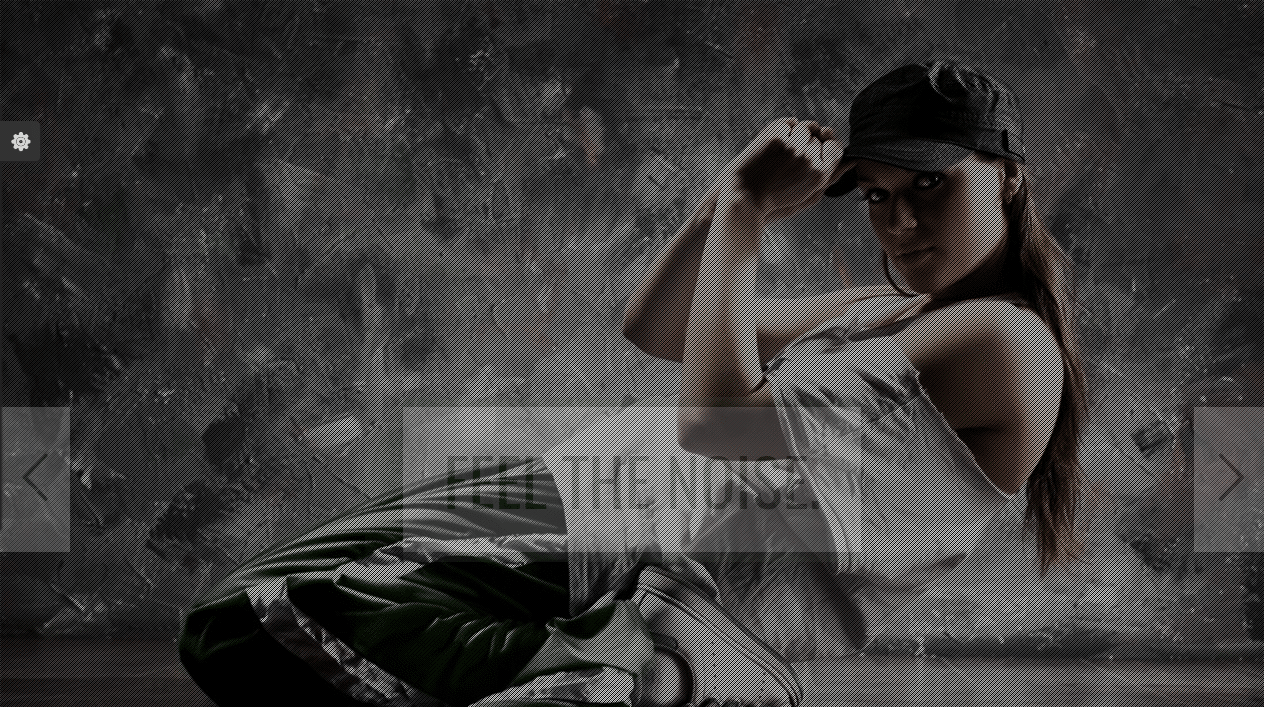 We're getting into the last choices, but that doesn't mean quality is lacking. To showcase this, my next selection is NOISE, the thing your cranky neighbors complain about when you're jamming out.
NOISE follows suit with the other themes in terms of features, like having easy to use page builders, WooCommerce integration, event listings, and all the good stuff. What helps separate it, however, is its unique visuals and animations, which give that extra bit of character to your website. SEO optimization also helps sweeten the deal. Good for vendors and businesses.
Electron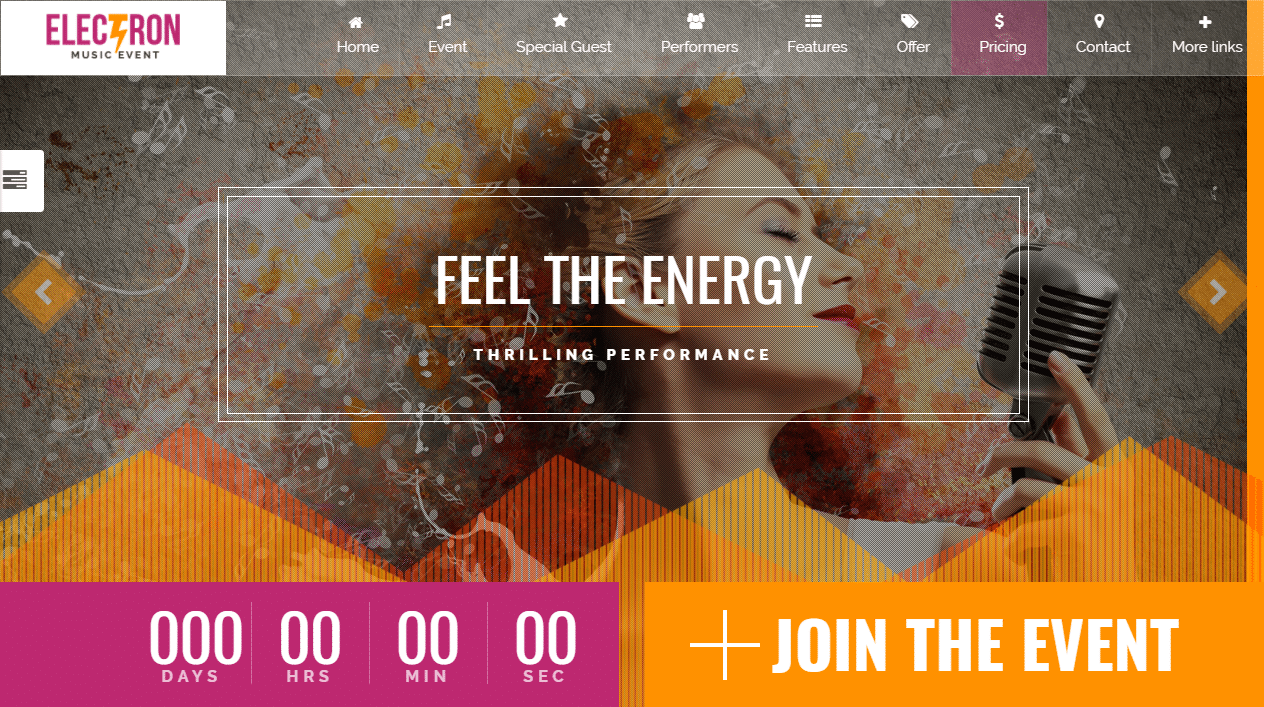 Though a lot of my choices are flexible enough for musicians, agencies, and bands, Electron is a little more focused. This one is all about events, concerts, and music shows, complete with various tools to complement this focus.
Visually it's an attention-holding landing page with timers and animations to get your viewers informed, while drag-and-drop tools let you change the layout as you wish.
Tuned Balloon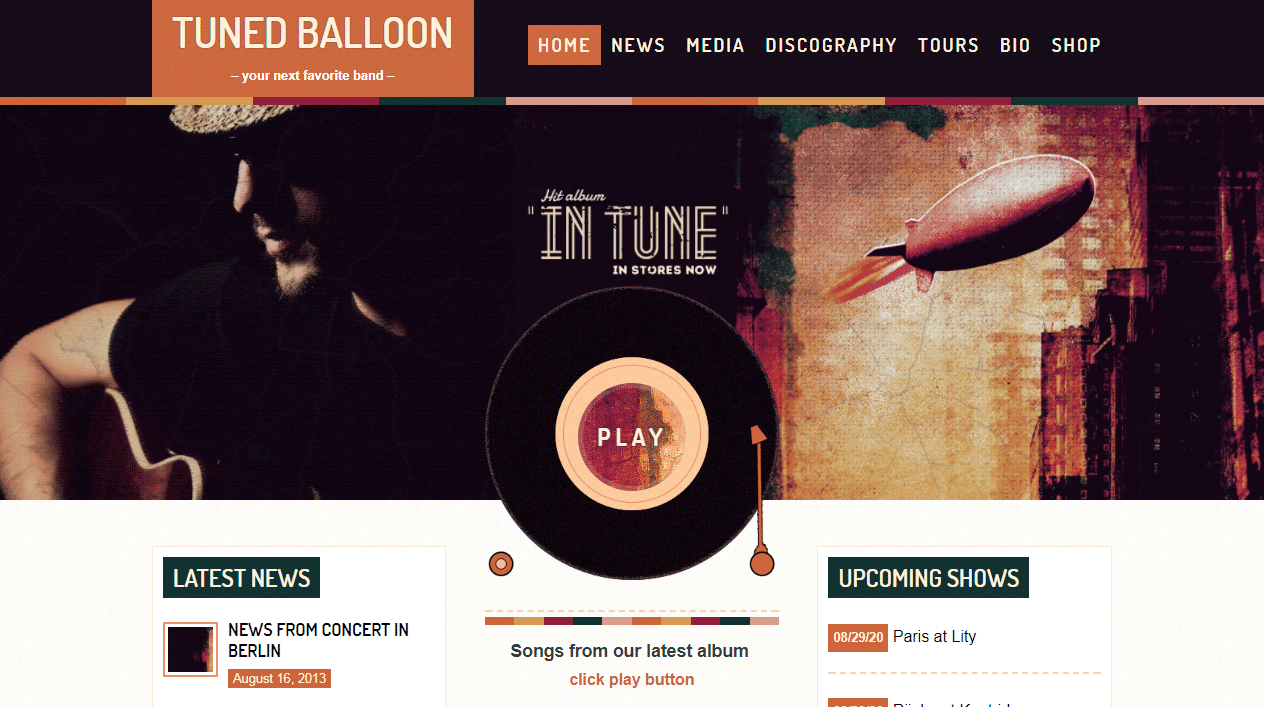 How do you tune a balloon? Sadly I can't answer that. But, I can provide you with Tuned Balloon, a good WordPress theme for musicians.
Tuned Balloon emphasizes ease of use, requiring no coding skills, so it's great for bands looking for a website home who have no applicable web skills. However, more advanced users can modify the theme even further.
On its own, it's a high functioning theme with blog listings, event calendars, and ways to broadcast your music. Good for newbies or veterans.
AQURA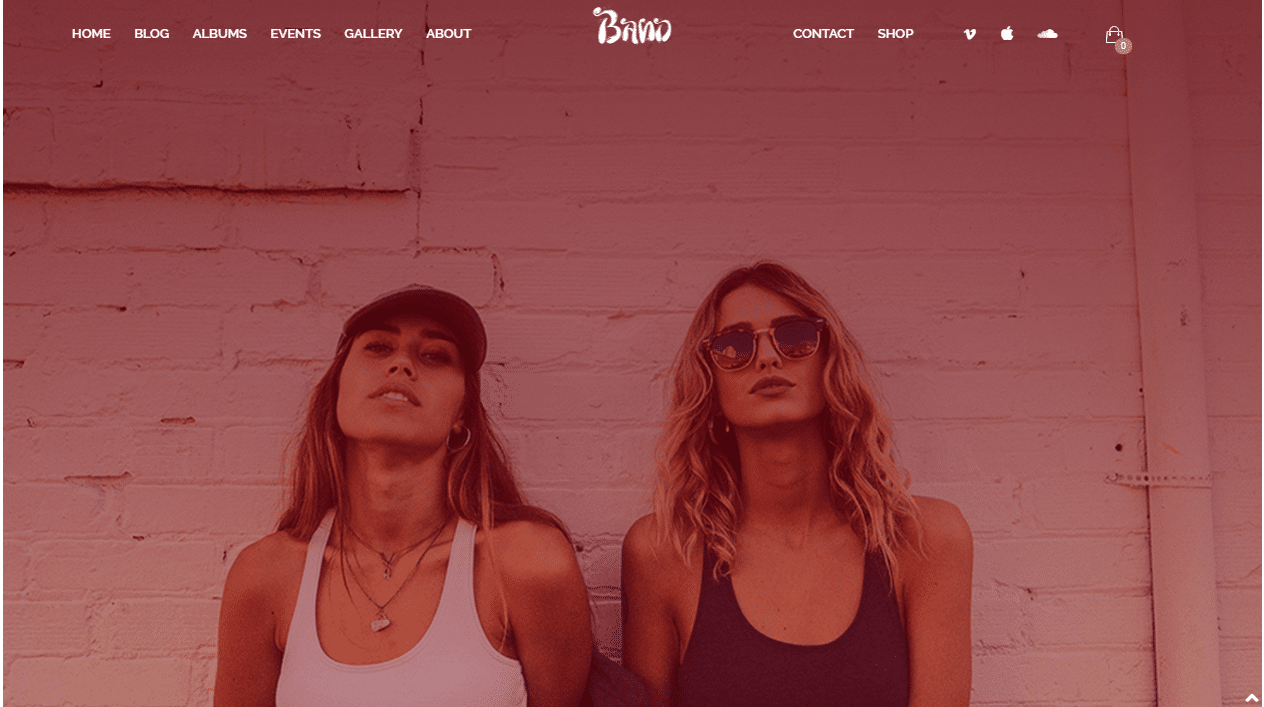 AQURA is a high-functioning music theme fit for established (or growing) brands looking to extend their audience. Great mobile performance and a variety of layouts give your website enough unique style to represent your music, and WooCommerce integration lets you sell merchandise.
There are also several stylish demos available – with more on the way – so you can get started in minutes. Some other great features are the Visual Composer plugin, playlist integration, gallery support, and SEO optimization.
Dubstep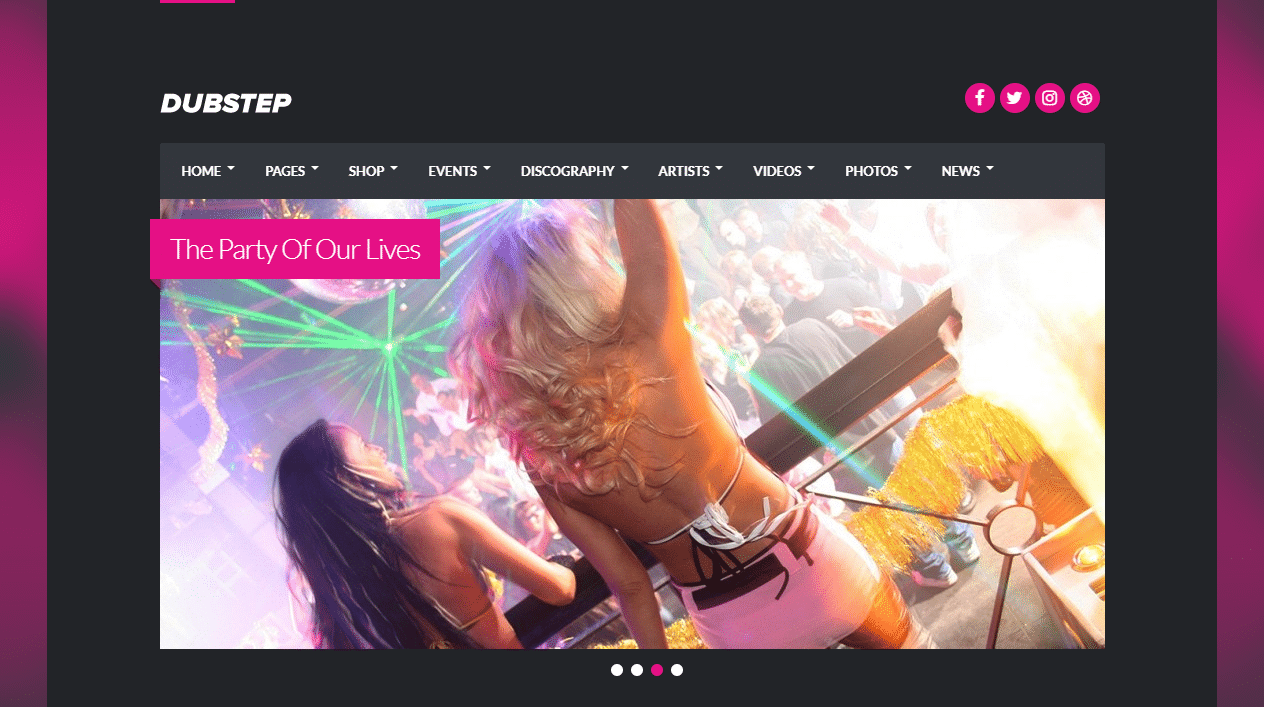 Though its name relates to a specific category of music, Dubstep is actually for all audio forms and best used as an event setter. Much like other themes you have some essentials to design your ideal pages, like the event calendar, WooCommerce support, gallery support, and unlimited ways to manage media.
Chords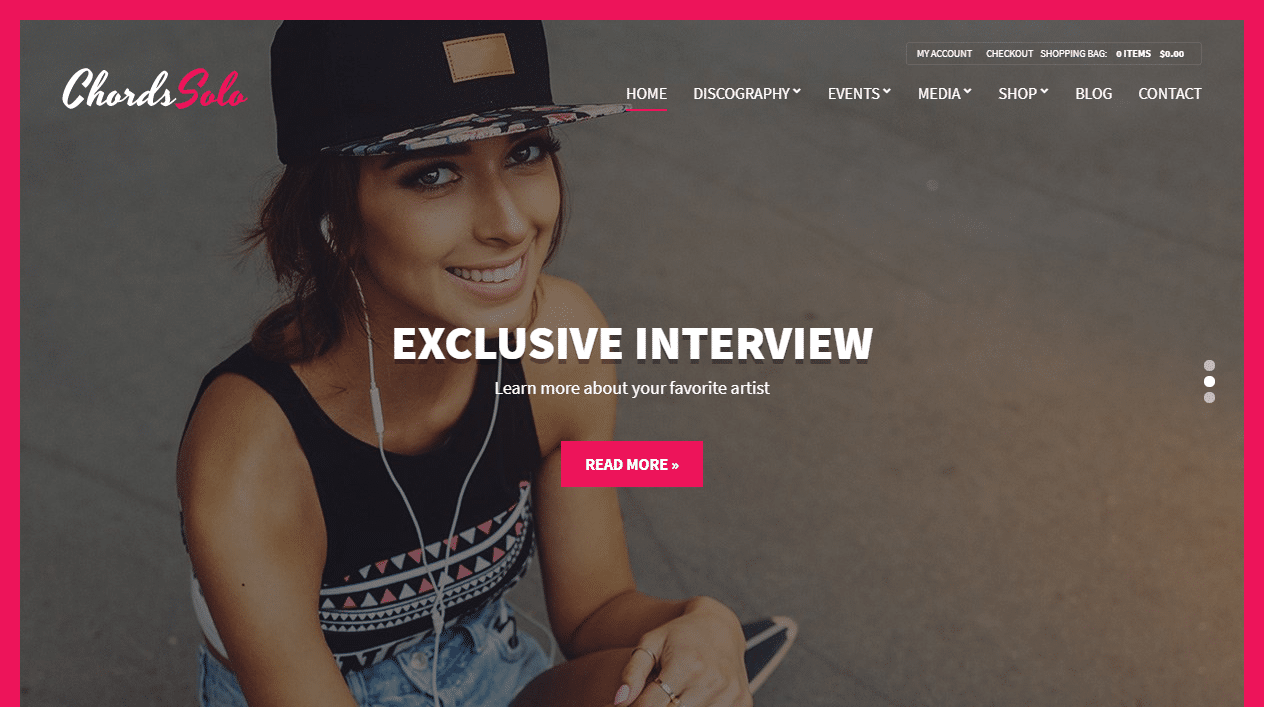 Chords is another music WordPress theme suitable for anyone in the industry, be that up-and-coming artists or agency professionals. To help streamline this, it has three high-performing demos which are made specifically for different users, with numerous ways to modify them.
Chords will let you set events, list music, create a music player, and integrate WooCommerce. It comes with translation support, different layouts for individual layouts, and excels on mobile devices. Another good option.
Live!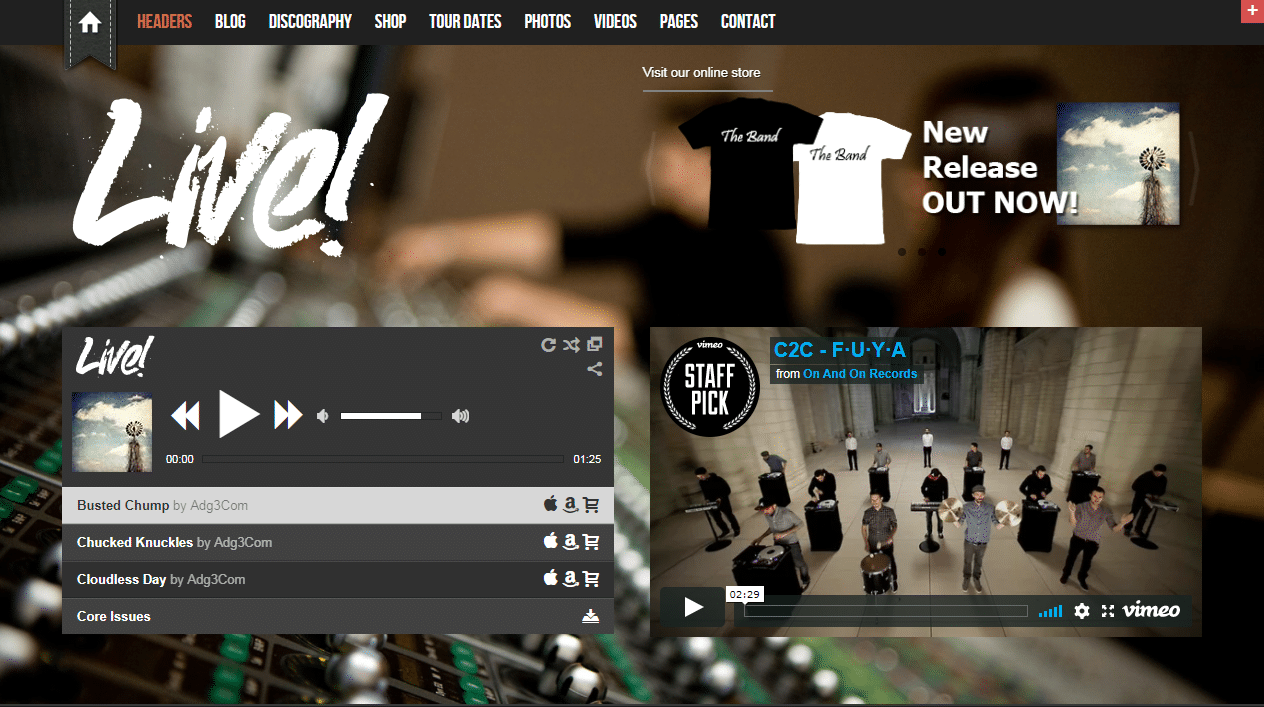 Live! works as another theme for self-promotion and brand recognition, fitted with different creation tools so you can make the website you want.
Such as with other choices, this one has some handy features, like event listers, music players, SoundCloud integration, and different ways to showcase your music. Fit for any band, starting out or professional.
Colibri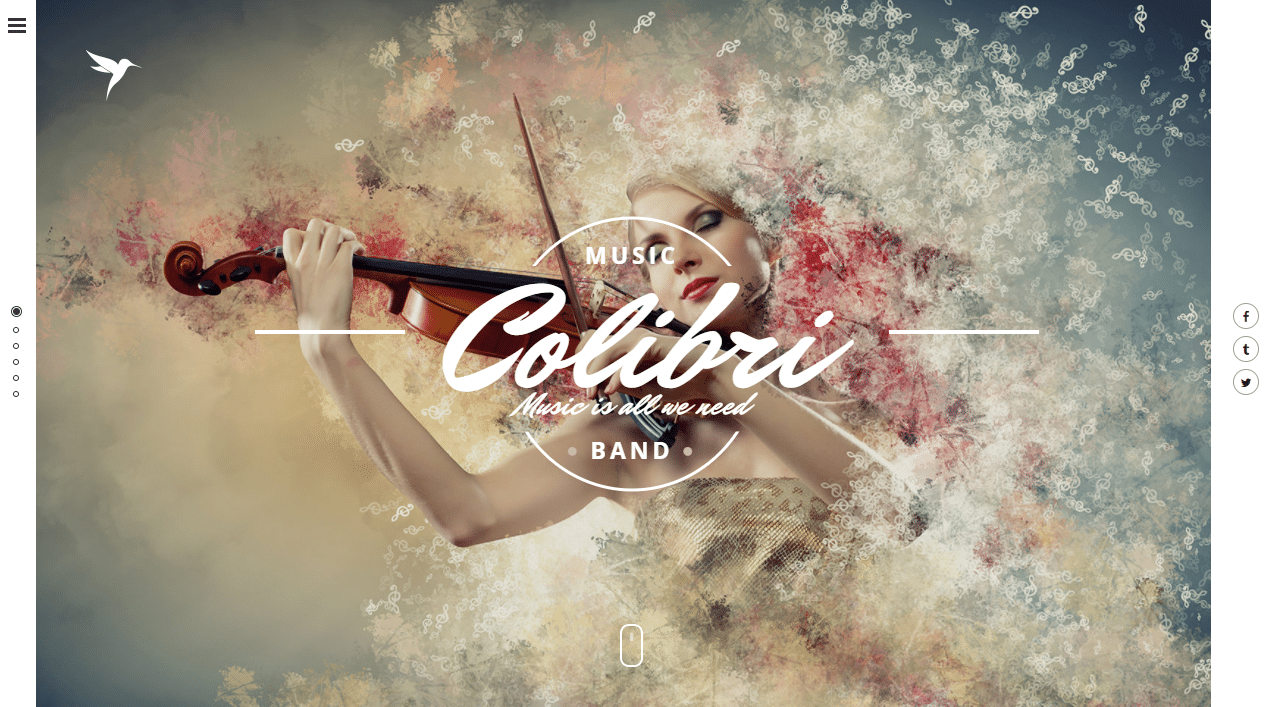 Colibri is downright elegant, boasting beautiful demos with slick performance perfect for music lovers. This high-performance landing page runs on streamlined animations and integrates support for playlists, SoundCloud, and social media integration. This is also a great way to showcase aspiring musicians and artists, all on one easily customizable page.
Music Band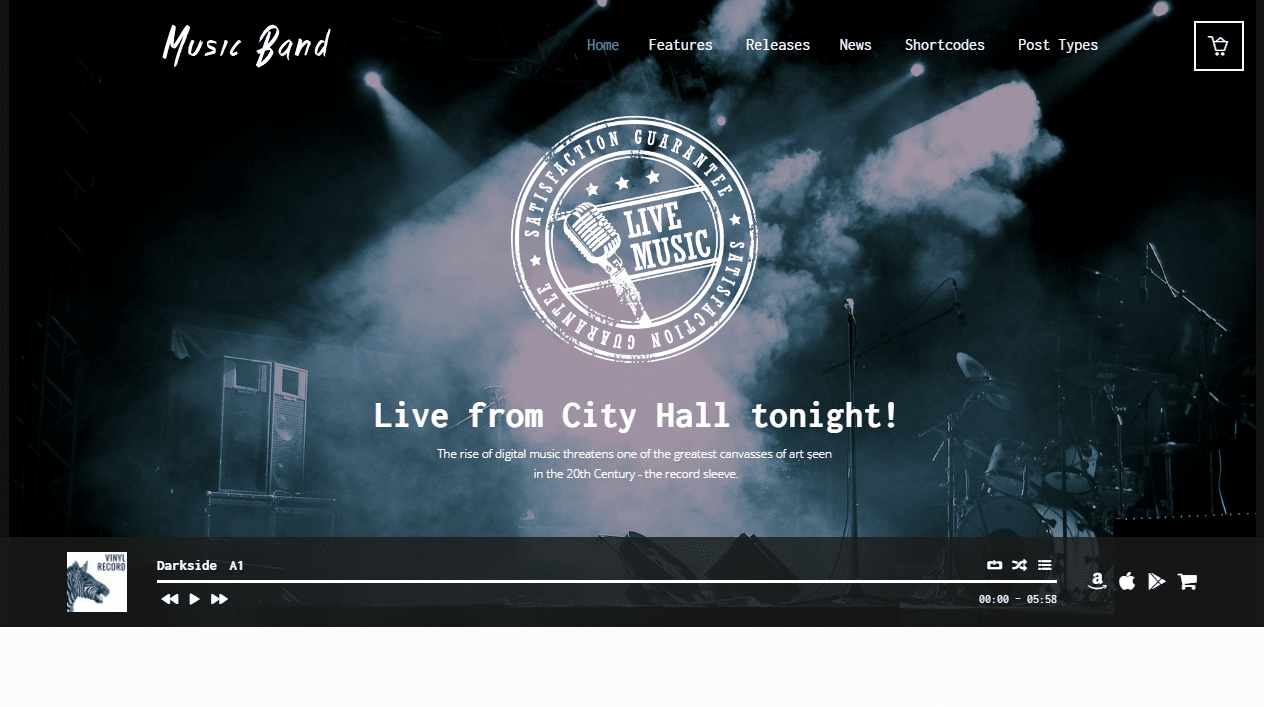 I couldn't think of a more straightforward name, but that's not a bad thing.
Music Band is a powerful theme which showcases various songs, events, and musicians on an engaging, visually interesting platform. Right from the get-go visitors are hit hard with slick animations and content, getting them in the know about their favorite bands.
This theme takes it a step further with unique logos, music-player lists, and ways to highlight content creators. It is, essentially, all about the music band.
WeMusic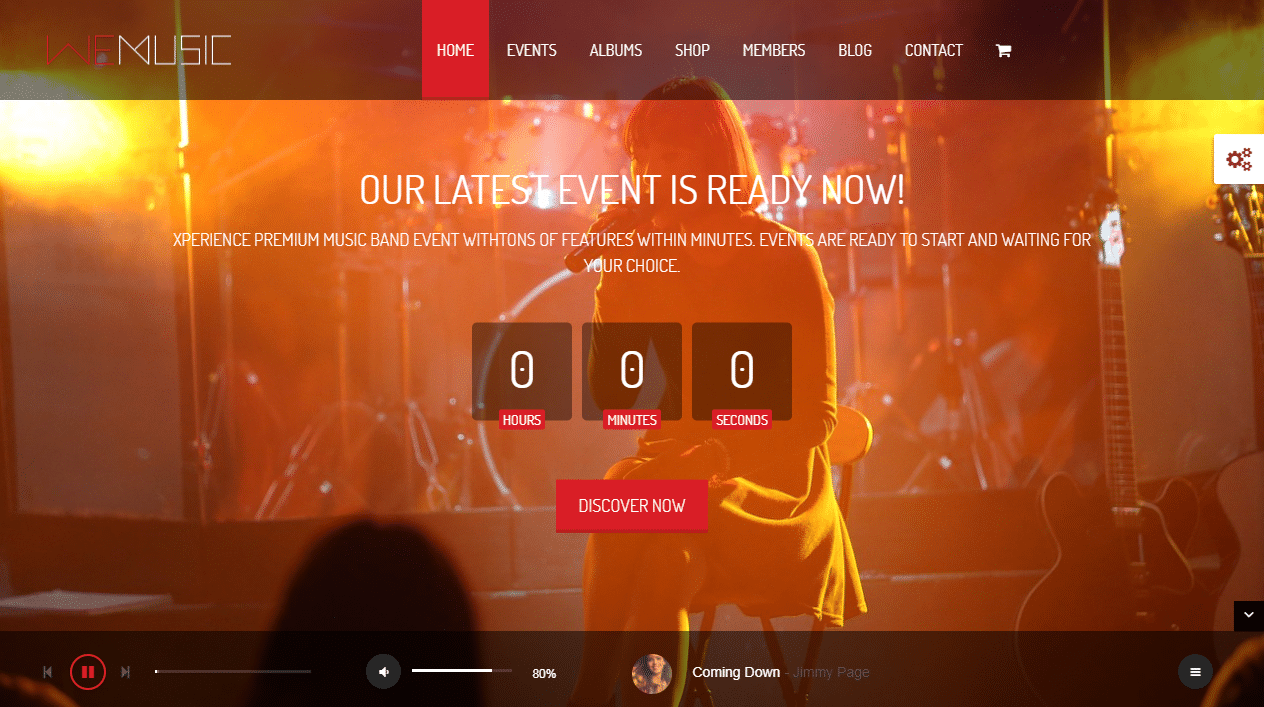 Once again we've reached the end, and my last pick is the music WordPress theme WeMusic.
WeMusic is a theme ideal for mobile devices, sporting several demo templates to get you started. Each theme will let you set event timers, list content, create blogs, and everything else you need to highlight shows and various musical talents.
By now, you've hopefully found a theme that fits your style and needs. Good luck out there, and keep jamming.