If you're not already familiar, AMP, short for Accelerated Mobile Pages, is a Google-backed initiative aimed at providing a framework to help publishers create quick-loading, mobile-friendly content.
While there are some detractors, most publishers seem to view it as a positive thing because AMP pages consistently drive more impressions and return visitors. As a result, AMP now powers over 2 billion mobile pages across ~1 million domains.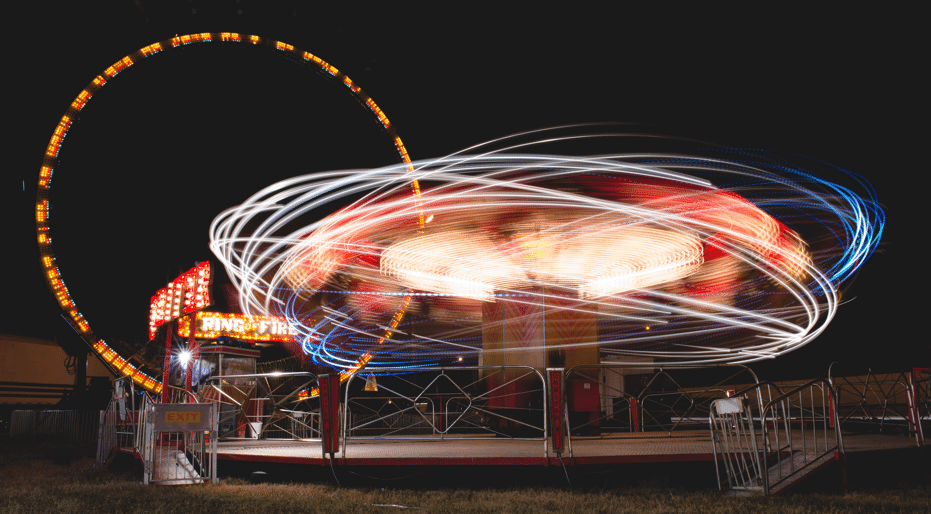 But if you want to add Google AMP to your WordPress site, you're going to need a plugin. Which is what I'm looking at in this weeblrAMP review.
weeblrAMP is a freemium plugin from Yannick Gaultier that gives you a ton of flexibility for how you implement AMP on your WordPress site.
If you're not sure why to use Google AMP, he has a good slide presentation on that subject. And if you're not sure how to use Google AMP, you should read this review!
Doesn't Automattic Already Have A Google AMP Plugin?
They do! And it kinda sucks. I mean, it's perfectly functional at creating a basic Google AMP version of your posts…but that's literally all it does.
The notable drawbacks of the official Google AMP plugin are that:
It doesn't support pages – only your actual posts.
There are almost zero customization options. You get a few basic options in the WordPress Customizer, but that's it.
It's fine for what it does, but "what it does" is incredibly basic.
That's why you have more feature-rich Google AMP plugins from talented developers. AMP for WP is one solid option that I've tried, but weeblrAMP is a newish entrant that tries to up the game on the official AMP plugin from Automattic.
Ok – So Why Is weeblrAMP A Better Option?
Let me start by saying once again that weeblrAMP comes in both a free and premium version. Both versions are an improvement on the official AMP plugin – but, obviously, the premium version offers even more goodies.
Let's start with the free stuff, though. Without opening your wallet, you get:
Full support for posts, pages, custom post types, categories, tags and, archives
Support for native WordPress comments
Analytics
The ability to insert ads into your AMP content
Yoast SEO and Jetpack integrations
If you go with the premium version, you'll get:
Gravity Forms and Contact Forms 7 support
WooCommerce and Easy Digital Downloads support, including Add to Cart buttons on the AMP versions of your content.
Automatic ad insertion based on paragraph count or shortcode
Google Analytics Event Tracking and Tag Manager support
Polylang support for multilingual AMP pages
Disqus comments support
And developers will also dig the 70+ well-documented filters and actions that let you take things further.
Hands-on With weeblrAMP
Once you install weeblrAMP, the AMP version of your content is active right away in development mode. This means that you can access it by appending "/amp" to any page on your site, but the plugin isn't sharing that fact with search engines quite yet.
Here's what it looks like on my test site (that's my blog archive page showing the map):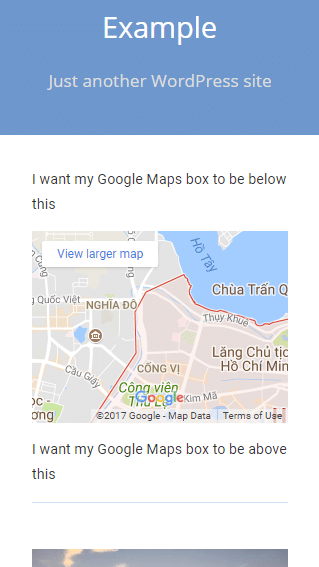 To further customize how your AMP pages look and function, you get two different areas under the weeblrAMP menu:
Settings – these deal with things like SEO, analytics, metadata, ad networks, and the like.
Customize – these deal with the actual layout and style of your pages.
I'll dig into each menu area in more detail in a second. But let's start with some quick likes and dislikes.
Likes:
You have a ton of control.
The settings are conveniently divided into different tabs.
Dislikes:
weeblrAMP doesn't use the WordPress Customizer for its style changes, so you have to "save and refresh" to see your changes.
Digging Into The weeblrAMP Settings
In the settings, you have 9 different tabs to configure your AMP pages: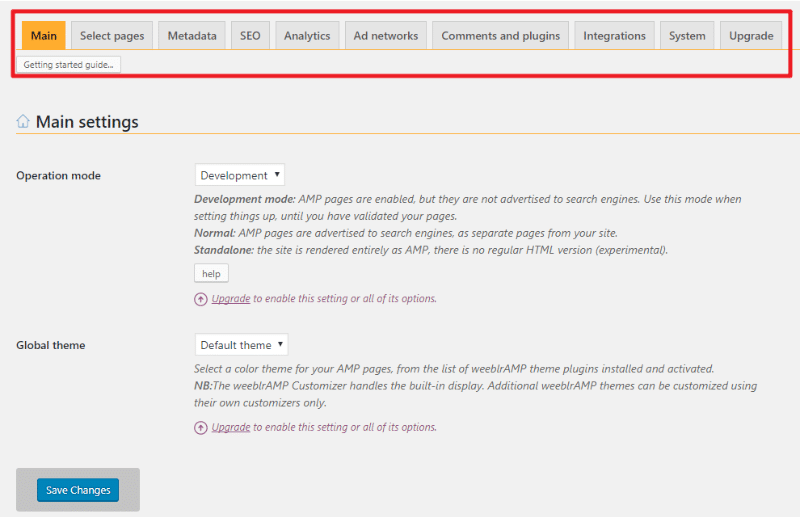 There are a lot of helpful small details contained in these pages. Let me give you an example:
If you go to the Google Analytics tab to add tracking to your site, weeblrAMP not only helps add the tracking code, but it also lets you:
Require consent before enabling the tracking code
Add tracked events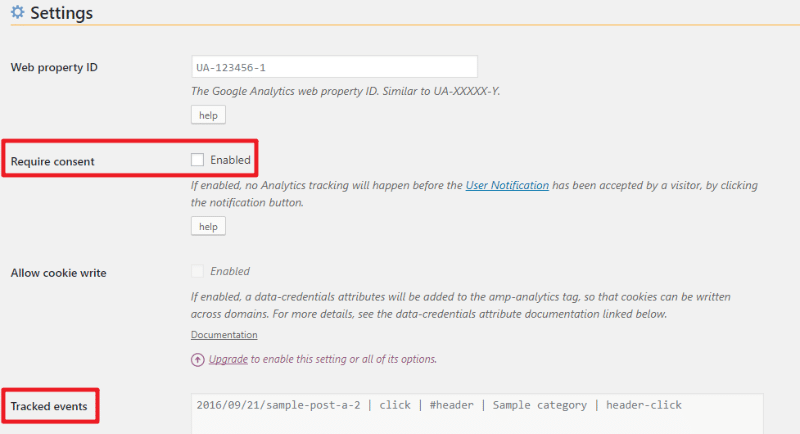 Let's look at another one.
Say you don't want to render shortcodes in your AMP content. Not only does weeblrAMP give you the option to disable shortcode processing, but you can also disable only specific shortcodes if needed: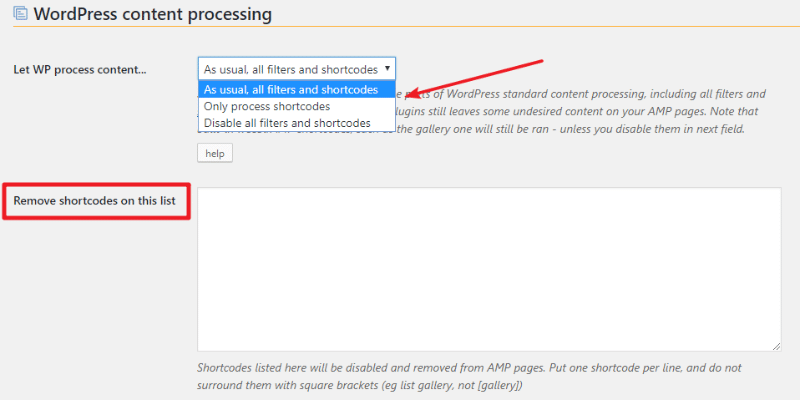 And one more! Let's say you want to disable the AMP versions of some of your content. Not only can you disable by entire content types, but you can also only disable AMP on specific categories or tags: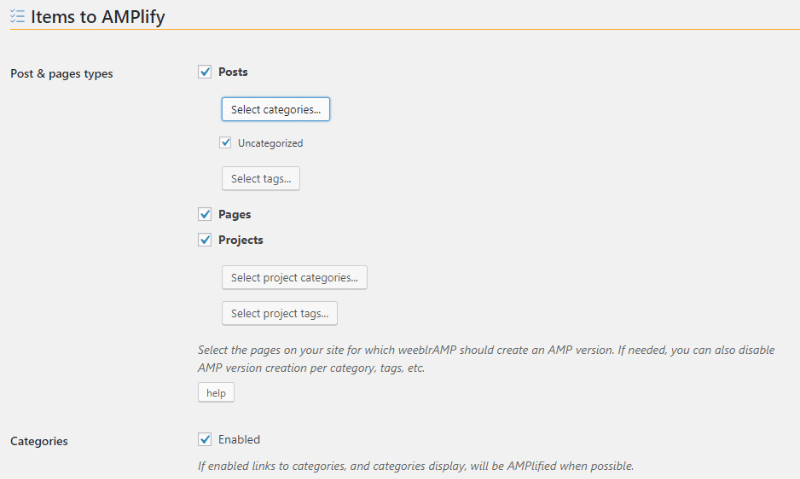 It's this attention to little details that really impresses me.
Other things you can do here are:
Set up ad networks and rules for when/where ads show
Disable specific plugins on AMP content
Add schema markup and social metadata
Lots more little goodies
Digging Into The weeblrAMP Style Customizations
The above settings dealt entirely with functionality. But the Customize area is more about making that functionality look pretty.
Again, you get 9 different tabs to work with: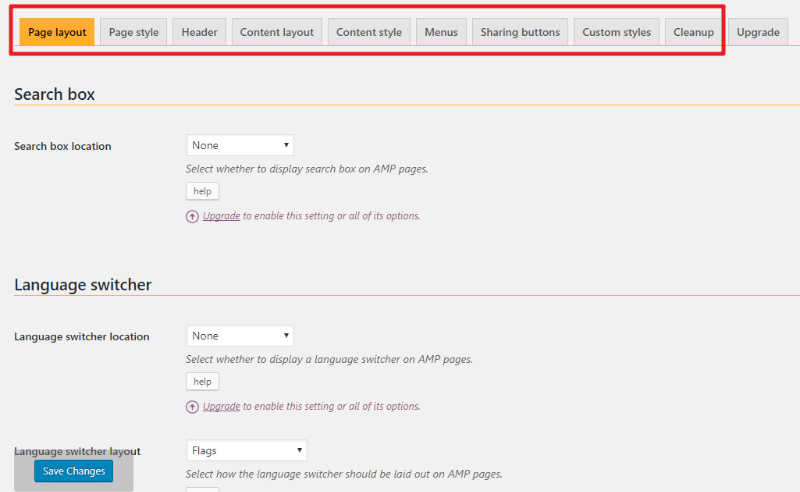 Some, like the Page style tab, just contain a few basic styling options: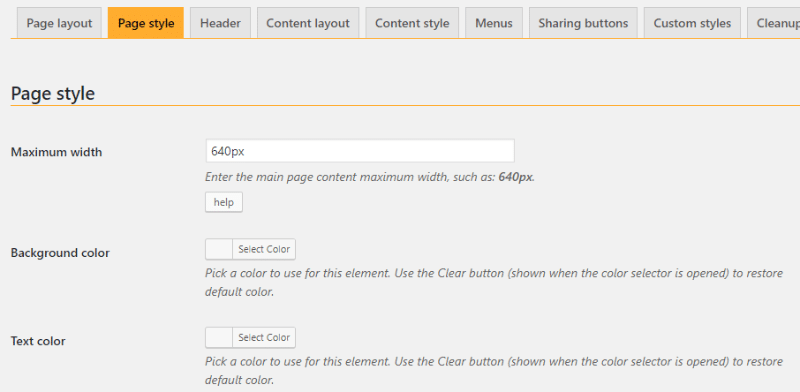 While others, like Content layout, let you turn a bunch of metadata on or off: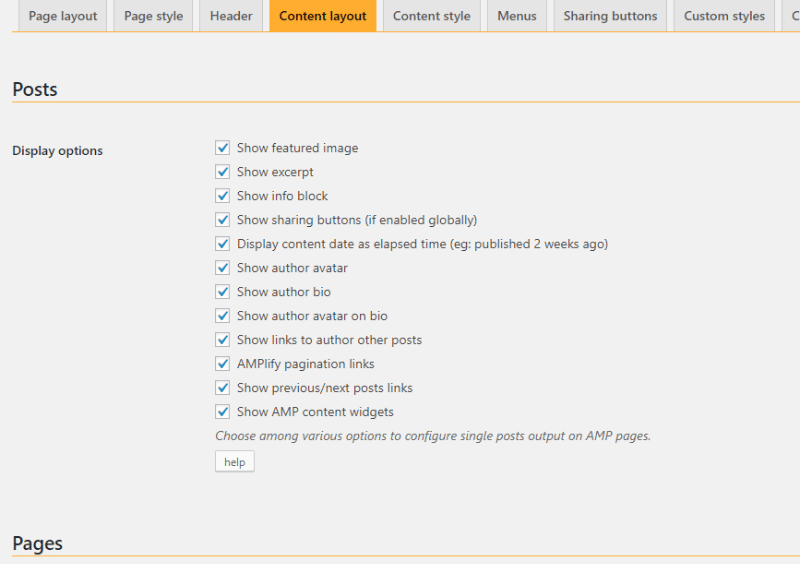 Content style goes even more in-depth with a huge heap of options: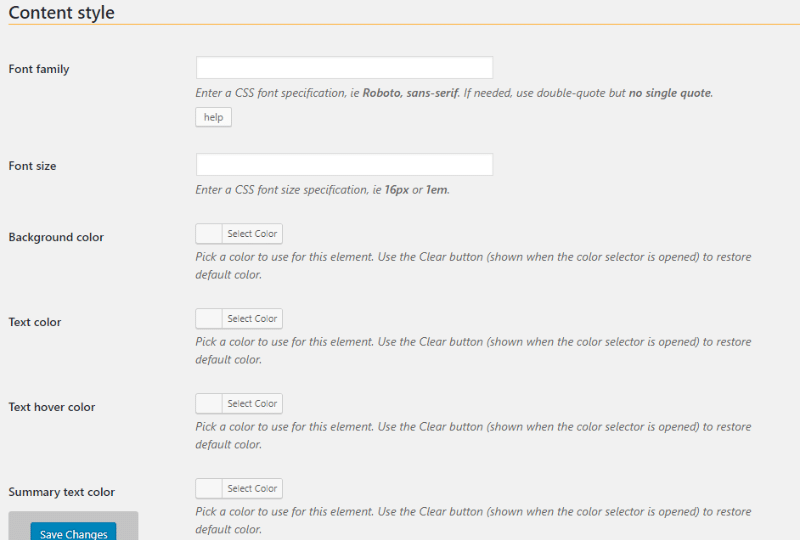 While I love the level of detail here – this is the part that I think could really benefit from the WordPress Customizer or some other type of live preview.
Without being able to see a live version of your AMP page, it's hard to keep track of what all that detail applies to.
The Menus and Sharing buttons tabs are fairly simple but incredibly important. Each lets you toggle on or off its eponymous feature. And when turned on, you'll also get more options to configure it. For example, you can turn on social share buttons for specific networks and choose more styling: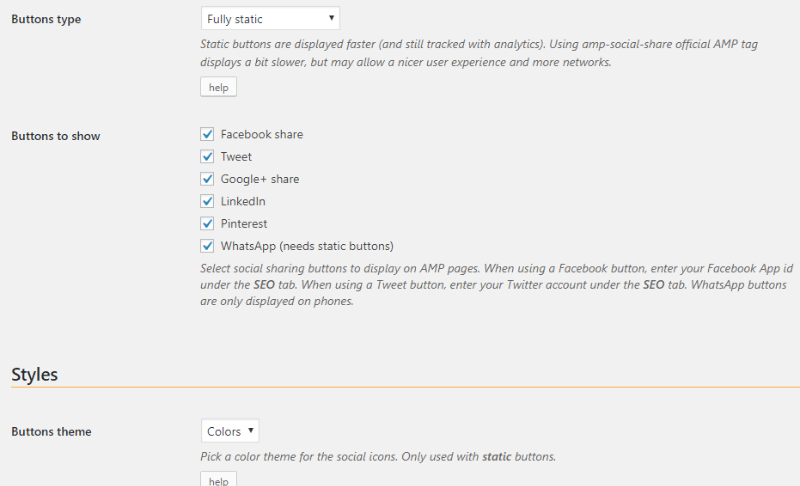 Here's my AMP page with some nice dark social share buttons added: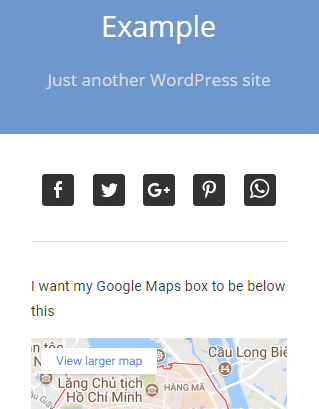 And if you're into doing things manually, you'll like the ability to add both custom CSS and your own links (for external fonts, stylesheets, and the like):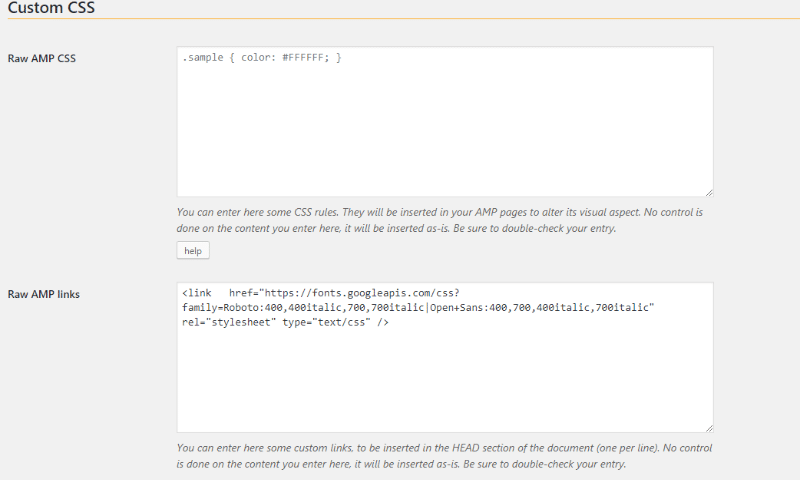 Using weeblrAMP With WooCommerce or EDD
If you want to use weeblrAMP with WooCommerce or EDD, you'll need to install a separate "theme" (it's actually a plugin).
Once you do that, you'll get a new Customize WooCommerce or Customize Easy Digital Downloads menu.
There, you're able to control the page layout and style for the AMP versions of your product pages: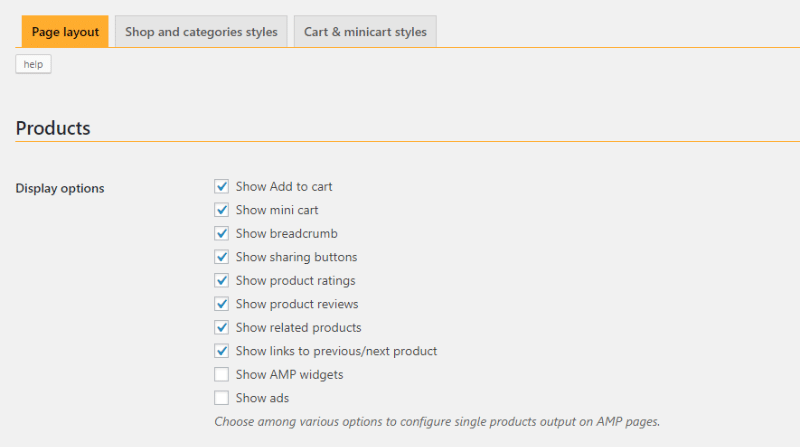 For example, here's what the basic AMP version of a WooCommerce page on my test site looks like:

How Much Does weeblrAMP Cost?
The free version of weeblrAMP is listed at WordPress.org.
Beyond that free version, there are two premium versions:
weeblrAMP – $49 – includes most of the premium features that I listed but lacks support for Disqus and WooCommerce/EDD.
weeblrAMP + Extras – $69 – includes every single feature.
Final Thoughts On weeblrAMP
Functionality wise, weeblrAMP is incredibly powerful. And like I said, I love that Yannick included so many small details that allow for ultimate control.
With that being said, I think the usability could be improved a bit for the styling areas simply because the sheer number of options can become overwhelming without any real-time preview. AMP for WP offers tools like an AMP page builder to make things a little more accessible – so I think weeblrAMP needs to up its game a bit to compete on that front.
But don't let that small criticism dissuade you:
AMP for WP also doesn't have everything that weeblrAMP has – notably a lack of Easy Digital Downloads support. And weeblrAMP seems to still be ahead on offering some of the more nitty-gritty, behind-the-scenes features.
So beyond that criticism, I would say that functionality wise weeblrAMP is definitely something that you should look at to create an AMP version of your WordPress site.