Weddings are a special event for everyone involved, but even though there's magic in the air when two loved ones tie the knot, it's also a process which requires planning. That's where our category comes in today with the Best Wedding WordPress Themes. Much like my other articles, we'll be going over select choices which support great features, performance, and professionalism.
Like you can expect, these choices are ideal for wedding planners, businesses, agencies, and catering parties to create a moment to remember. There's something for everyone, accommodating various price points, requirements, and organization sizes. So, like cutting the massive celebratory wedding cake, let's get started.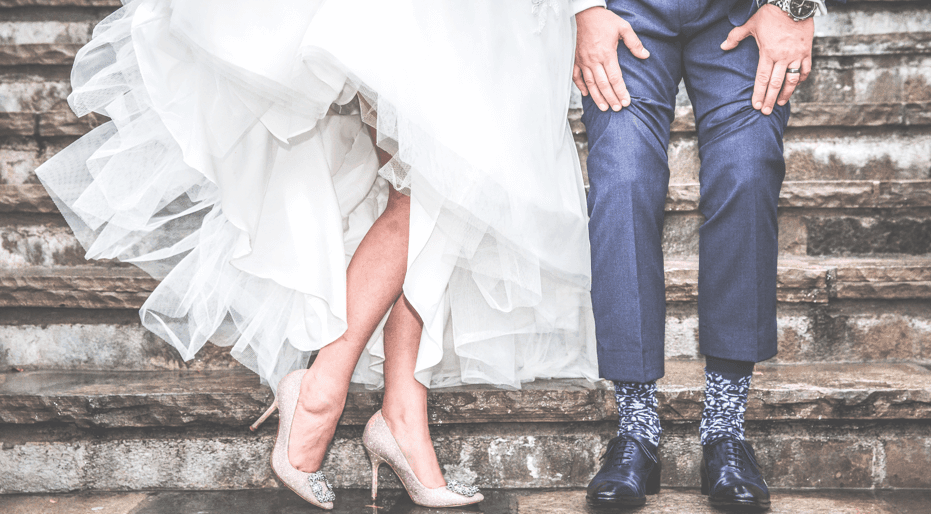 Themes for the Grand Spectacle
Each of my choices will target similar themes, but also boast something unique. Sometimes that's aesthetic and functionality, and other times its unique widgets which turn your website into an amazing one.
Best Features for Wedding WordPress Themes
While these criteria can seem straightforward, there's a lot of differences in each theme which may – or may not – be suitable for your organization. For example, are you an organization that handles massive wedding events, or focus on smaller, quieter outings? Regardless, it's important to have your objectives in mind as you search through the list. I mention this each article because while the choices are always top of the line, they're not created for the same purpose. Some, for instance, might require technical coding knowledge, while others rely on premium plugins for website construction.
Whatever the case, choose wisely, and know what you're after – just like a good partner!
Top Wedding WordPress Themes
GeekLove

At first glance, the name indicates this a specialty website suited for geek based weddings. While that's not exactly the case (sorry, no Nintendo themed cake with Warhammer minis as the bride and groom here) it's still a fully functional, high-quality WordPress theme.
The website itself is nice and clean, with a high response time and some handy features to seal-the-deal for a big day. Some of those features include a countdown feature, RSVP system, calendar element, and directions for potential arrivals.
While they don't come with the theme, you can expect compatibility with a few extra plugins like WPML and StagTools (assets made by the theme developer).
Jack and Rose

Good news, if you have clients getting married named "Jack and Rose" you're guaranteed to impress.
For the rest, this is an easy to use WordPress theme which is even easier to customize. It's simple, yet elegant, focusing on a more whimsical charm. Purchasers can expect to receive the theme with initial templates ready to go. These templates allow you to set things like video or picture backgrounds on the landing page.
Aside from that, it's well supported, has map integration, integrates translations, and performs well.
Bride & Groom

If you're looking to tie the knot with an elegant WordPress wedding website, then Bride & Groom is for you.
The completely responsive and Gutenberg compatible theme can be used for personal weddings and wedding planner websites. It's feature-packed with options like photo gallery, RSVP, testimonials, countdown timer, wedding event custom post, testimonials and so much more.
There are endless customization options to make sure you've got a sophisticated wedding site to attract the guests and clients. Bride & Groom also comes with 2 stunning demo variations- personal and wedding planner. Utilize the multiple addons and drag & drop functionality of WP Page Builder which comes with this theme. Moreover, offer a solid navigation system with mega menus powered by WP Mega Menu. The theme is WooCommerce ready in case you want to add a wedding shop too. The theme is so well-organized that you'll definitely build websites happily ever after!
Honeymoon and Wedding

As a planner, you know things go beyond the wedding, which is where this WordPress theme comes in. Ideal for agencies who plan both wedding and honeymoon.
Under the hood, it's a gorgeous looking theme with great presentation elements and ways to integrate professional photographs. High-quality animations, logos, and iconography also integrate its unlimited layout functionality, so no matter what you can create a truly unique website.
Marriage (Recently Updated)

Marriage is currently the top-rated WordPress theme regarding weddings, so if you need a veteran choice with proven stability, performance, and features look no further.
There are lots of options out of the hood, including several modern templates. All look great on mobile devices and have a clean, organized layout suitable for various agencies. Everything breathes personality, and you're also given various creation tools to help you along the way. Those include top rated support, SEO optimization, unlimited customization for headers, and more.
Moments

Since every wedding is all about capturing those beautiful moments, perhaps the aptly titled Moments is an ideal choice for your agency.
Moments is clean and refreshing to navigate, much like a well-fitted wedding dress. It's a great way to entice potential clients, filled with features to help you. Modular galleries, for example, allow you to showcase great captures from previous weddings, while Revolution Slider and Visual Composer make it easy to modify options at will. Better yet, purchasers have numerous templates to star out with, giving you immediate access to website creation options.
The Wedding Day

Another top-rated theme, The Wedding Day stands only as second best to its counterpart – Marriage. But, beauty is in the eye of the beholder, and much like two lovers won over, you might find yourself entranced by its amazing visual design and rich features.
For starters, it's a fantastic looking theme with unique aesthetics that help separate you from the competition. Two templates allow you to shine a spotlight on a wedding of choice, complete with countdown timers, galleries, RSVP, and more. This is a fantastic way for you to make a wedding event absolutely massive.
But things aren't done there. You're a business, so there are some pro-company features tossed in. SEO optimization and high performance mean you can reach any device. Translation support and quality video tutorials also mean you get the most for your money. It's a theme I can't recommend enough.
Perfect Couple

Help loved ones have the perfect day with Perfect Couple!
Perfect Couple is a modern, simplified WordPress theme that puts focus on couples. Modern visual design means it performs well on mobile devices, supports galleries, and is bundled with features to make that special day even better. Purchasers can expect utilities like map integration, calendar support, and countdown functionality, along with plugins such as Visual Composer for simple website construction.
Idylle Wedding

Idylle Wedding was an easy pick for its rich features and awesome interface. This beautiful WordPress theme comes with six starting templates, each with their own style. But it doesn't stop there – visitors are treating to slick animations and eye-catching visuals to accent the wedding theme.
For agencies that want to add a modern, creative touch to their web presence, I recommend Idylle Wedding. Looks fantastic on mobile devices and every point of interaction is treated with care. Personal favorite!
Fleur

Fleur is another glamorous theme suitable for businesses and websites looking to highlight a special wedding day. It's got an incredibly flexible design and supplied templates to cover any topic you can think of, along with high mobile performance.
As the theme says, you won't need coding knowledge to take advantage of its various features, such as the numerous shortcodes and parallax animation support. Elegant and clean, just like a wedding day.
Love Story

A good way to sell the "story" to your clients, Love Story is an elegant WordPress theme fit for all agencies in the industry.
As you can expect, it has a clean design fit with a gorgeous aesthetic which compliments websites which focus on marriage. It has plenty of great features and plugins too for maximum value, like WooCommerce integration, free updates, Visual Composer, and a builder for custom shortcodes.
Qaween

Certainly a fancy way of saying "queen," Qaween is a well-respected WordPress theme for its years of service and various features. Qaween is for wedding events like you'd expect, but also highly customizable so you can pin down the exact look you want. Over 500 google fonts are available too, along with several page templates to get you started.
For those who don't code, you can design with drag-and-drop functionality. Feel free to take advantage of its multi-language support, which is also included.
Lovey Dovey

As all couples are prone to be, right?
Aside from potential puns, this is a full featured WordPress theme great for agencies, caterers, or businesses in weddings (as you've come to expect). The theme looks great and has lots of tools under the hood to give you complete functionality. Purchasers can expect a Bootstrap 3 based build, drag-and-drop design tools, guestbook support, RSVP support, and a whole bunch more!
Celebration

Weddings are a grand event, so channel that excitement with Celebration!
This theme is a little different, as it boasts some flexibility. Coming with two templates, you can build a website for weddings, or, class reunions. Granted if you can mix the two that's even better, but at least you have options!
Joking aside, the themes are beautiful, well built, and perform incredibly on mobile devices. You also have extra features like webstore support if you're looking to expand your business.
Lily

Lily boasts both professionalism and creation assets as part of its package. That means, if you're an agency that needs to get things running quickly, this is a great option. The website template itself is simple and modular, featuring gallery support and an RSVP system. Its lightweight too, so high mobile performance can be expected. A good choice if you're trying to establish your brand quickly.
Everline

Some of my choices thus far are rigid in what they offer, meaning you only have one template to work with. Everline, however, is perfect for agencies who want a lot of flexibility from the get-go. It includes several elegant demo templates, each of which can be customized as desired. It also has plenty of premium plugins to make the process simpler.
As you might guess, those plugins include Revolution Slider, Visual Composer, WooCommerce support, and Event Calendar. If you need it, it also supports WPML for translation. Aesthetically it makes for a great landing page, and with the Mega Menu option, you can include all the frills in various tabs.
Wedding Planner

Wedding Planner gives you plenty of tools, templates, and demos once purchased. So, like others on my list, you as an agency have some flexibility when trying to create that perfect wedding based WordPress website.
This one also goes for the modular, modern look, so images, icons, links, and other visual aspects are neatly organized. Great animations also tie everything together, making it a joy for visitors to navigate. If you want to say to potential clients "hey, we're a modern agency right for you," this is the theme to choose.
OneLove

OneLove is similar to some of my previous picks, featuring a fully customizable landing page and multiple demos/templates. But, if they're not what your company was looking for, this one might be the ticket.
OneLove's major advantage is the numerous templates that come along. While others start out with a handful, this one has a dozen at least, with lifetime updates to support them. WooCommerce integration also means you can sell online, so if you're a vendor for dresses, rings, cakes, or other wedding items, it's a perfect fit.
Confetti

All celebrations need it, right? While Confetti isn't for selling a ridiculous amount of colored paper, it's a nice WordPress theme all the same.
Like others on my list, it comes with essential features perfect for setting up wedding day events. This includes contact modules, event setters, countdown timer, RSVP system, background music integration, and anything else your team conjures up!
XOXO

XOXO has lots of functions that appear in my other picks, like easy website design and an RSVP system. One of the nicer things about it is its "timeline" system. This neat add-on lets clients create a timeline of how their relationship bloomed over its period. That may not be what sells you, but during my selection process, I always look for unique features – since many WordPress themes have similar core functions.
This also extends into an animated event timeline, where the schedule of the day is presented with beautiful icons. Overall, nice features for a great theme.
Eternity

Clients are going to look to you to bring them a fantastic wedding event, so try Eternity to make their special day last a lifetime.
Eternity works as an elegant WordPress theme which focuses on a wedding event itself with beautiful landing page focus. Visitors looking to RSVP can do so via the theme and also find themselves treated to a gorgeous opening layout. A few other features are on board to make the process even better, such as a timer for the big day, map integration, and high-quality support videos. A good mix of both simple and complex functions.
Wedding (Best Day)

Visually, Best Day has a lot going for it. With slick animations and gorgeous image layouts, this is one that's easy to recognize. Additionally, it functions well on mobile devices and has everything an agency needs to set up a big day event.
Everything else works like a beautiful landing page, showcasing all the various details of the event itself. This includes whose attending, where, what time, and anything else that's required.
Wedding

You can't get more self-explanatory than that. So, as Wedding suggests, this a theme suitable for agencies which handle the big party. It's also great for people looking to highlight the special day with some professional flair.
But that's not all. This one comes with numerous templates, demos, and layouts, giving you a multitude of options right out the gate. Installation is fast and animations can help accent each page, while rigorous support ties it all together.
Plan My Day

A marriage is a major event and as such, requires lots of preparation. So, why not take the burden off clients by utilizing this WordPress theme, the perfect way to tell potential customers "hey, we've got this."
From this theme, you'll also get the modular design with great mobile performance, along with various layouts for great customization. Visual Composer is included, topped off with some nice SEO optimization.
Grand Wedding (Recently Updated)

Weddings are certainly a big event, so up the grandiosity with Grand Wedding!
You're given plenty of ready-to-go wedding websites with their own aesthetic and features. Each is easy to customize and allows you to adjust various settings, such as a custom RSVP form. There's also map integration, hotel highlights, and places for galleries to name just a few more features. While it's a young theme, it's got so much to offer, and I expect it to rise even further.
Wedding Industry

Wedding Industry arrives with its mega-pack of features, templates, demos, and layouts. For agencies or businesses that require flexibility, it's a perfect fit.
One of its features is the component which allows purchasers to create package plans. For organizations which handle multiple wedding events, that's a huge benefit and accessible for website visitors. Revolution Slider will also allow you to change layouts as required, with a dash of SEO optimization and map integration for perfect optimization.
Emma

I don't know who Emma is, but she's got a great WordPress theme!
Emma's a far more compact theme in terms of aesthetic and design. So, while you won't be bombarded with lots of animations and visual trinkets, you can rely on the theme for great performance and easy customization. SEO optimization is also here, so building website recognition is easier. The only thing its lacking are plugins like Visual Composer, but otherwise, it's a fantastic option.
Union

Union's a nice, simple landing page WordPress theme suitable for those who want to present a wedding event as is. Everything works terrifically on mobile devices and you have customization tools to adjust layouts as you see fit. Various sections are interchangeable and include things like "the story," RSVP form, gallery, and registration. To top it off, it also supports multiple languages with WPML.
Wedding and Marriage

While the title of the theme won't spin heads anytime soon, this is a competent option for those who like a beautiful aesthetic and great customization options.
Wedding and Marriage allows you to manage events similar to others, like setting event calenders. It also operates great on mobile devices and lets you adjust icons with customizable photo layouts, adding a little more character. Finally, it has translation support, so you can reach a wider audience with your website. Lastly, parallax backgrounds give you a finishing flair that's sure to engage visitors as they browse.
Bloom

And finally, here we are, at the end of another meticulous list. I hope by now you've gathered a few choice picks, but just in case you haven't, here's Bloom to seal the deal!
Bloom has several demos and templates to start you with, each easy to customize. You can also expect helpful core content, like Contact Form 7 and RSVP system for efficiency. It works great on mobile devices, and will hopefully allow visiting lovers to 'bloom' themselves.