Ever wish there was a WordPress customer service number you could call? Like whenever you hit a snag, just call up and say, "Hey Mr. WordPress, fix my site please". That would be pretty awesome, right? There's just one problem…
It doesn't exist. At least not officially.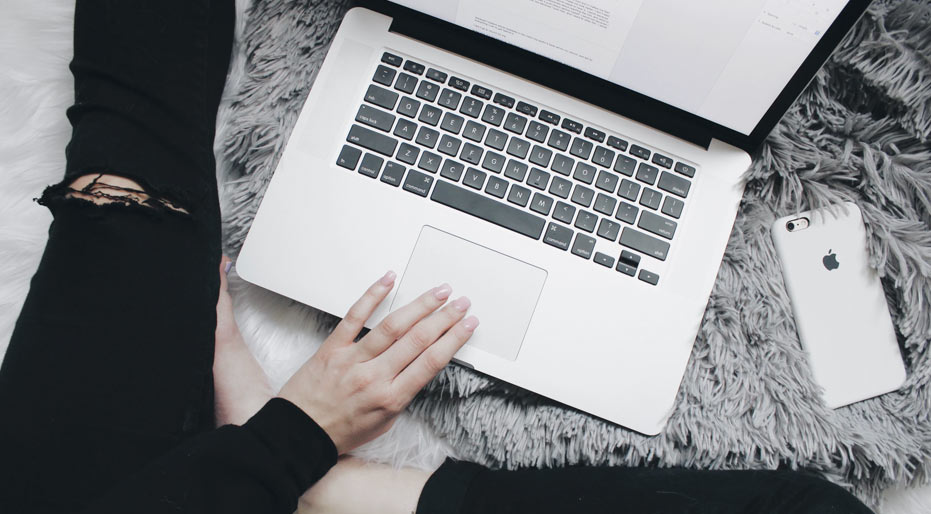 But the fact that there's no official WordPress customer service for the self-hosted version doesn't mean there aren't places you can get help with WordPress. There are plenty of WordPress support services out there. And that's what I'll be digging into in this article.
Most of the WordPress support services you'll encounter come in two flavors:
Maintenance services.
Customization services.
I'll cover options for both types of services in this article.
Do You Need a WordPress Maintenance Service or Customization Service?
Some services span both categories. But generally, services usually specialize in one or the other.
So which one do you need? Here are some scenarios to help you pick the right one:
If you're already happy with your WordPress site's functionality and just want someone to take care of housekeeping details like updates, backups, and assorted other small jobs, then you want a WordPress maintenance service.
If you're looking to add brand new functionality to your site or make changes to your theme's design, you'll need a WordPress customization service.
Ok, now you hopefully know which type of service you actually need. Next, I'll get into some recommendations for both types of WordPress services.
Best WordPress Maintenance Services
As I mentioned, WordPress maintenance services are primarily about handling basic tasks like backups, performance tweaks, updates, and other small things.
Most maintenance services will also give you a certain number of "small tasks" per month. These are usually defined as tasks which take fewer than 30 minutes to complete. So you could potentially get a small customization done as part of your maintenance service, but definitely nothing major.
Here are some of the best…
WP Site Care


Founded back in 2012, WP Site Care is one of the leading WordPress maintenance services. For a flat monthly fee, WP Site Care will:
Back up your WordPress site to the cloud (using Amazon Web Services).
Update your WordPress software, themes, and plugins.
Perform security monitoring and hack cleanups.
Provide support if you need to talk to a human.
You'll also get access to video tutorials that help you learn WordPress.
So how much does that cost? $99 per month if billed monthly or $79 per month if billed yearly.
If you want access to customizations, too, you can upgrade to a higher plan to get access to up to 2 development hours per month, as well as some other added features. That plan starts at $299 per month if billed annually.
Maintainn


Maintainn is another popular maintenance service with a slightly more affordable price point. In Maintainn's basic plan, you get:
24/7 security monitoring.
Automatic backups
WordPress software, theme, and plugin updates.
Support from 9AM to 8PM EST Monday to Friday
That basic plan only costs $49 per month. If you want faster response times and help with code, you can pay $99 per month for one hour of dedicated code support per month on top of the other features.
WPmatic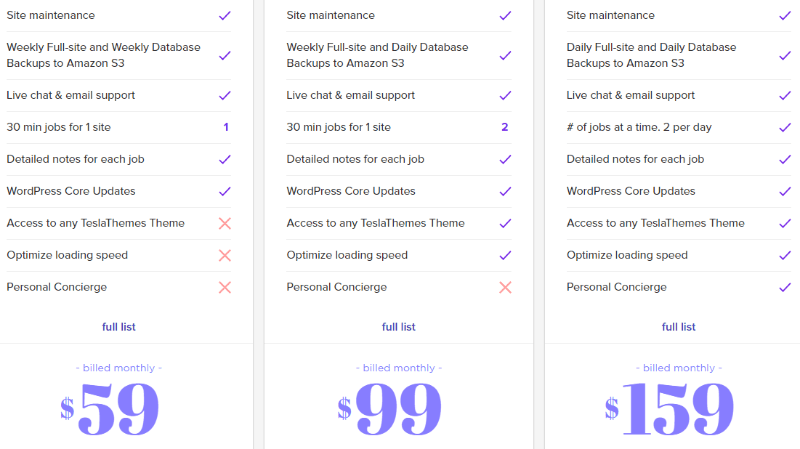 WPmatic offers WordPress maintenance services at a few different price points.
Their basic plan costs $59 per month and gets you weekly backups, WordPress core updates, as well as one 30 minute job per month.
Their middle plan tacks on an extra 30 minute job, as well as performance optimizations and access to all of TeslaThemes premium themes.
And finally, their $159 per month plan gives you up to two 30 minute WordPress jobs per day.
WP Buffs


WP Buffs offers the standard WordPress maintenance services like:
Automatic backups
Software, theme, and plugin updates
But then they go even further with a few neat features that other maintenance services don't offer:
Unlimited content/image edits
Google Analytics set up
Uptime monitoring
Weekly traffic reports
Unlimited website edits (only in $80 Perform plan and above)
Their cheapest plan starts at just $40 per month and they also offer a 7-day free trial for you to test out their service.
WP Maintainer


WP Maintainer is the last maintenance service that I'll feature for now. They offer the most simple pricing and plan structure of any of these maintenance services.
There's one plan that costs $99 per month. With it, you get:
Software, theme, and plugin updates
Automatic backups
Security monitoring and cleanup
Add-on developer support at $99/hour
Everything is transparent. Simple, right?
Best WordPress Customization Services
The market for WordPress customization services isn't quite as broad as WordPress maintenance services, but I still have two quality recommendations for you.
WP Kraken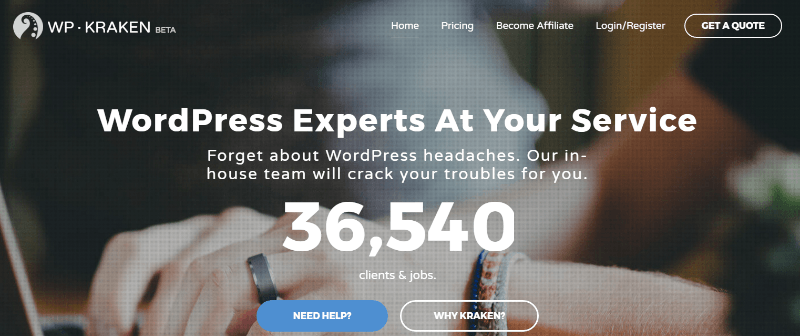 WP Kraken can help you with any WordPress customization job. And they also have super transparent pricing.
It works like this:
Submit a request for a service. You can choose from customizations, setup, performance optimization, or anything else.
Choose your budget and how urgent the job is.
Describe the job in detail and provide a brief.
Then, you get a quote and the option to continue! Currently, WP Kraken bills out at a flat $40 per hour, which is pretty dang affordable as far as WordPress development goes.
Codeable


Codeable functions along the same idea as WP Kraken, but at a higher price point.
To get a price, you submit your job to Codeable's marketplace of hand-picked WordPress developers. Those developers give an estimate. Then, you pay the average of those estimates plus a 15% fee to Codeable.
Codeable can help you with everything from theme customizations, to development, to maintenance, to anything else WordPress.
Just keep in mind that Codeable guarantees their developers a minimum of $60 per hour, so you'll be paying that at a minimum.
A Service That Offers Both – Valet
Valet gets its own category because it completely bridges the gap between maintenance and customization.
Valet can handle the basic stuff like site monitoring, backups, and troubleshooting.
But then it can scale up to things like performance audits, custom plugin/theme development, and even A/B testing and performance marketing.
But like most services that don't publicly list their prices, Valet is not built for small-scale webmasters. That being said, if you are running a serious business or large website, give Valet a look if you want your own personal…WordPress valet (!).
Wrapping Things Up
Look, I know that WordPress can feel complicated when you're just starting out. But you don't need to tackle everything all by yourself.
Enlist some help so that you can focus on the fun stuff and leave the hair-pulling-out stuff to the experts. Yes, it costs some money – but would you rather spend 4 hours trying to figure something out yourself or just pay someone $40 to do it? I know where I stand on that!
And if none of the WordPress support services I listed above tickle your fancy, some theme shops offer priority support to help you get their themes up and running. Hey, would you look at that? We offer priority support. What a coincidence!