Money management is important, I don't think that can be said enough. It's especially the case if work in a business environment where big financial exchanges are made frequently. Lots of info to keep track of, no doubt. Then, there are consumers and clients who need help with accounting or want financial advice for things like retirement or investments. Reaching such an audience or managing this kind of information requires professional assets. Good news then! You're in the right place.
WordPress covers a lot of categories, and finances are one of them. In its rich library of various digital mediums, there are of course electric tomes feature the many fancy themes for finances and accounting. If you're trying to build a professional website, want to give your current zone a facelift, or just need something for business, then this article is for you.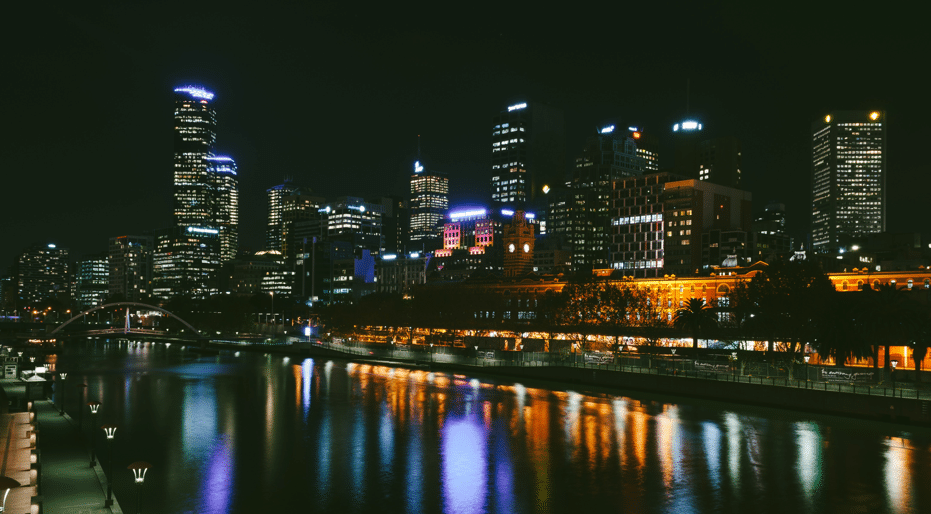 Big Themes for Big Money
So what kind of organization are you? There are hundreds that deal with money and hundreds of themes of the same character. But not all themes fit the needs of a person, so you want only what's best for your business.
Best Features for Financial WordPress Themes
Each article I do I request one thing from the readers: to keep in mind what they're after in terms of features. This will help you better understand what theme works best for you. For example, most themes will come standard with Visual Composer as a plugin, which lets you build websites easily. However, some may not have plugins for social media integration, which your organization may want. Once you have this checklist ready, you can hone in on the best theme suited for you.
Top Financial and Broker WordPress Themes
You're one step closer to managing money better. Let's take a look, shall we?
Broker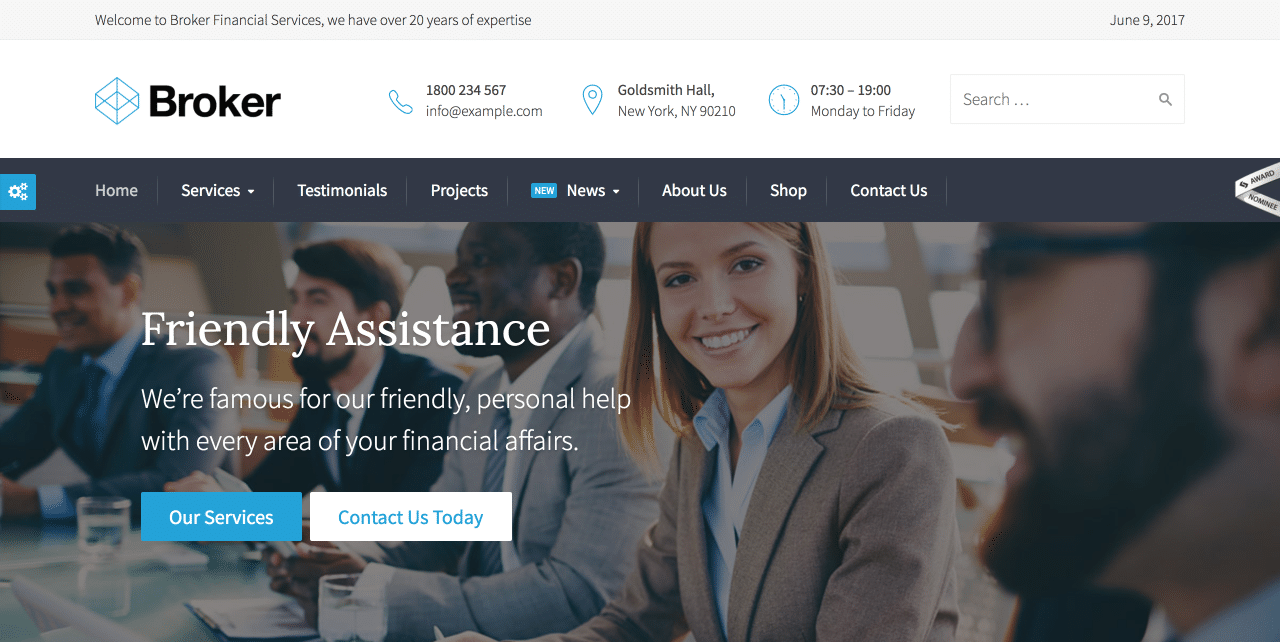 Broker is one of our own, and we're very proud of it. Going strong for a while this theme is loaded with professional features and responsive design suitable for any company's needs.
Out of the digital box, you'll get several demos, easy ways to customize each, and free lifetime updates, meaning you're always supported. The Visual Composer page builder plugin will also accent your purchase, giving you unlimited ways to change your web zone to exact specifications.
You can expect your pages to enrich themselves with company content, from graphs, success stories, article posts, data points, and everything to prop your company up as the business to work with. You're also backed by our responsive support teams, who are ready to help you with anything you might need.
Success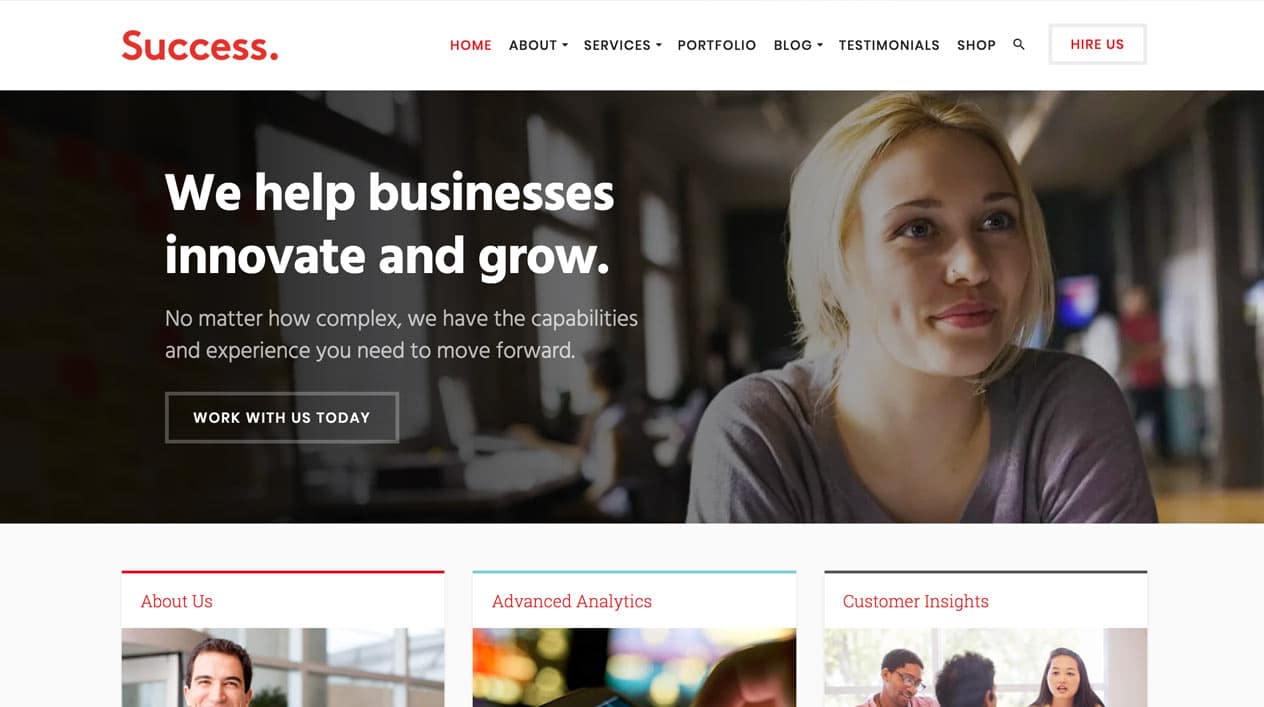 Ready to engage visitors and potential clients with useful financial advice? Success is another consulting option for organizations that handle financial advice. This professional theme comes equipped with some beautiful layouts, all of which are easy to customize thanks to the Visual Composer plugin.
It has several templates and demos for initial use, and for those looking to learn more, video tutorials, support, and extensive documentation come standard as well.
Economist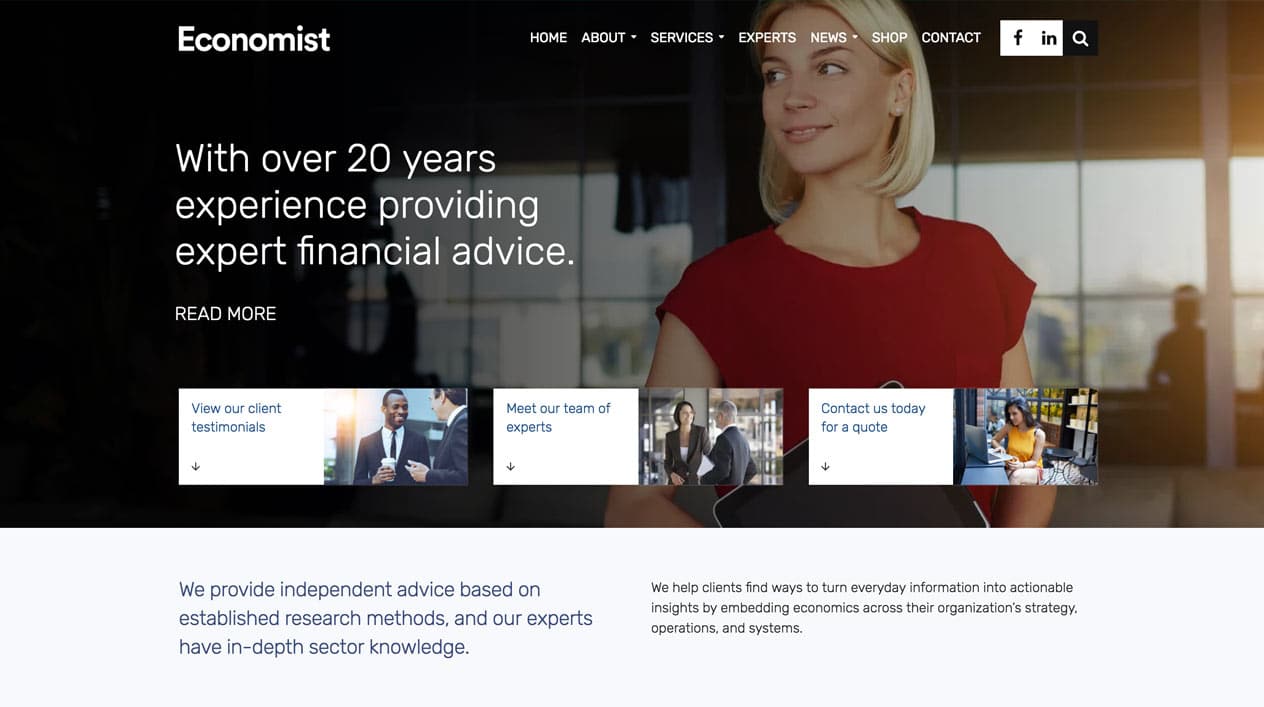 Economist works great as a theme for companies who entrench themselves in financial and economic data. If that sounds like your organization, whereby you take that info and hand it to clients and those looking for advice, it's another theme I'd like to recommend.
As for features, it has everything you need. It also comes with video tutorials, documented code, and helpful support if you should need it.
PRO Business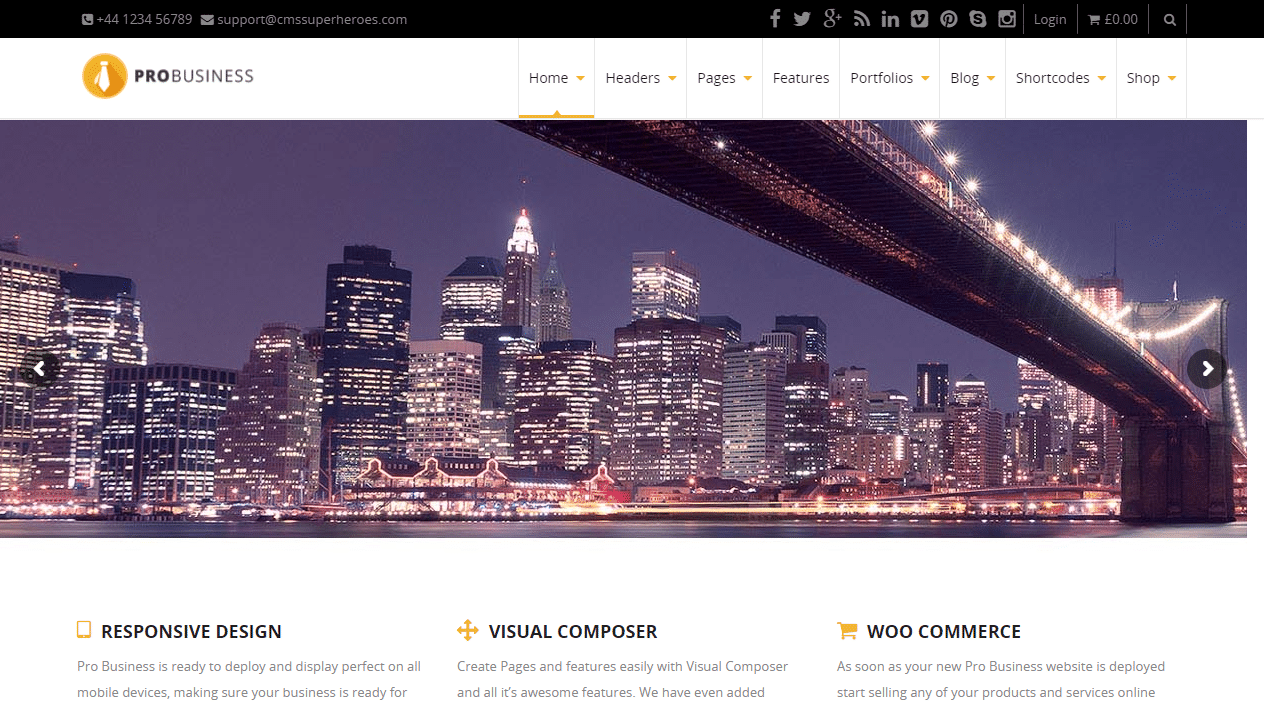 Like the name suggests it's for organizations and online businesses who are looking for a total facelift to their website. It comes with all the organization and flair required to manage a comprehensive web zone, with different tools and customization features to accomplish this. This theme also casts a wide net, with unique templates and demos covering different types of businesses. Maybe you're a gym, or an e-shop, or a business for gardening. Doesn't matter, PRO Business has a template for you.
From here, you get everything else you could need to make modification easy, like customization plugins, WooCommerce integration (expect this to come up a lot), and parallax animations.
Finance Business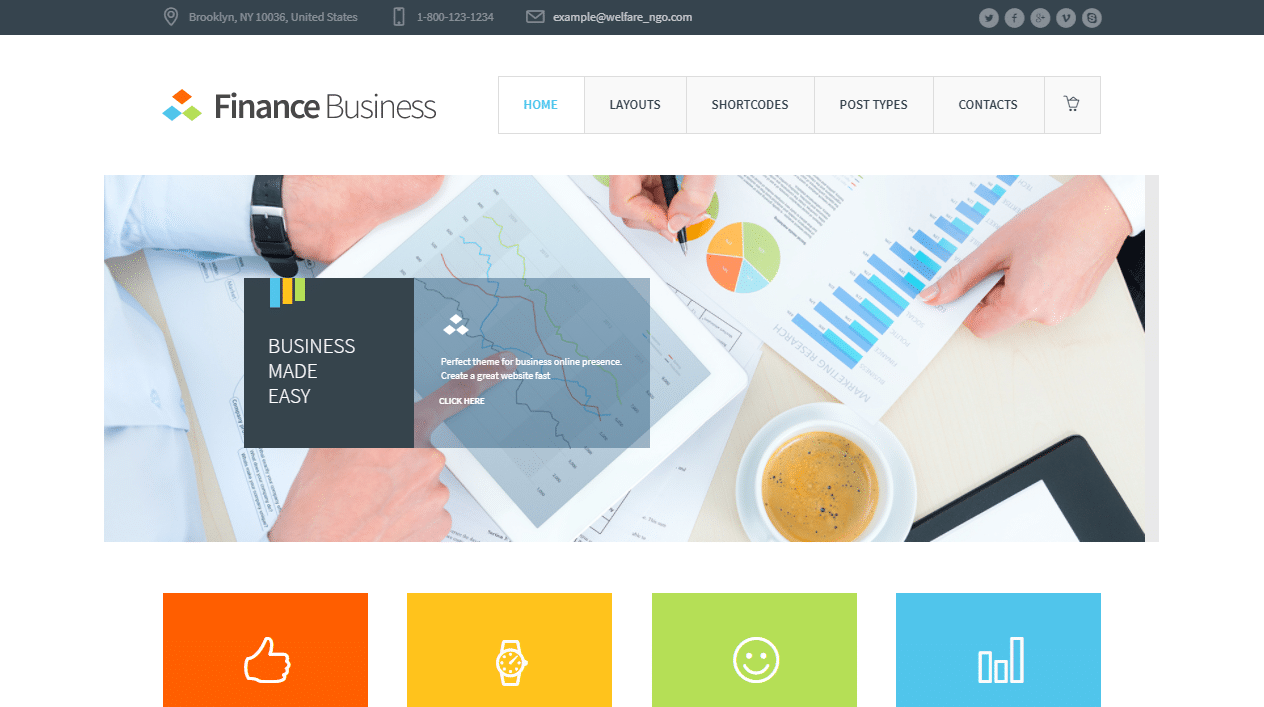 While pick number one was for different organization types, the second is focused on finances and accounting. Finance Business works well as a professional template for consulting, brokers, advice, and even law if you need it for that. It's responsive as well, sporting modular design with two separate templates which are simple to modify.
You can use the theme as an engaging web-page to showcase stats, portfolios, employees, social media links, and whatever else you might need, so it's a great "catch all" choice. Remember how I said to keep that personal checklist? Well, no doubt there's something in this theme for you and your business.
Finanza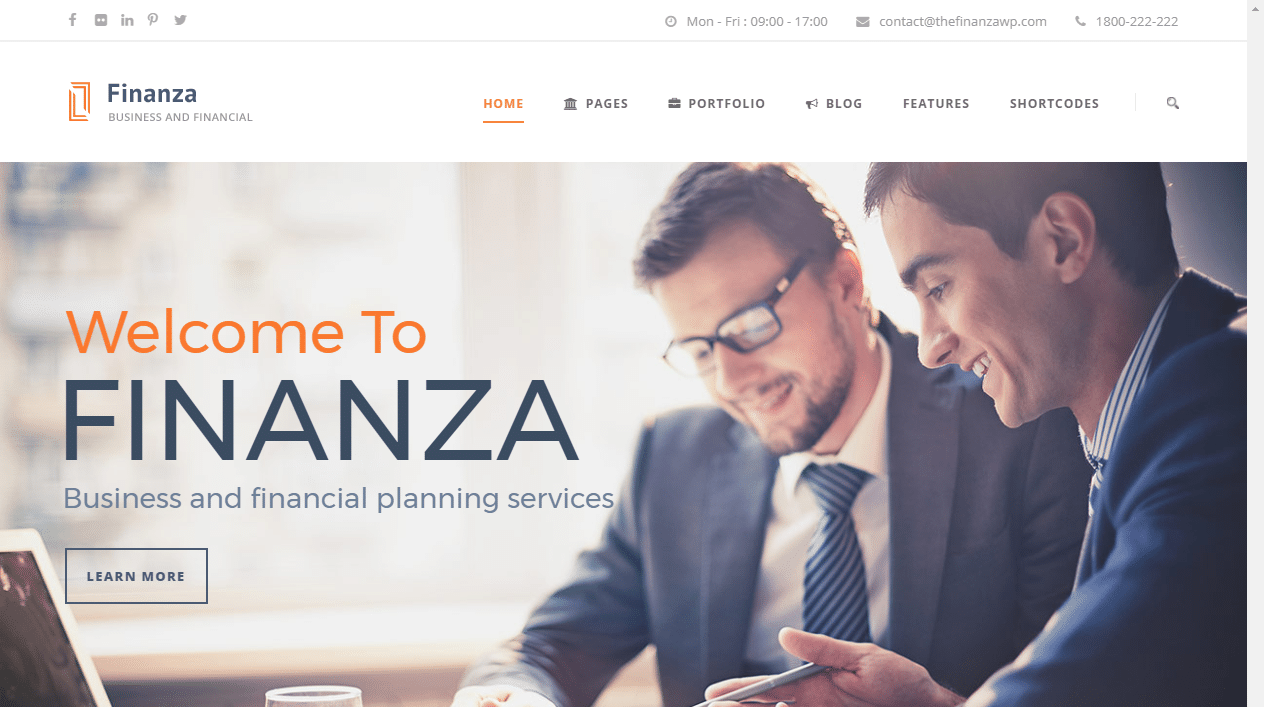 Finanza might sound like an after-business party, but sadly, there are no balloons here.
But that's okay, what you get instead is a stellar WordPress theme which is ideal for financial advisors, planners, and businesses in general. Out of the box, you'll note the theme is "clean," meaning it supports a simplified design for exceptional performance on all devices. You can also expect drag-and-drop design for your customization needs, along with unique icons and media integration for a polished feel. As you might expect, it supports WooCommerce, but also has translation support for a wider potential client base.
Consulting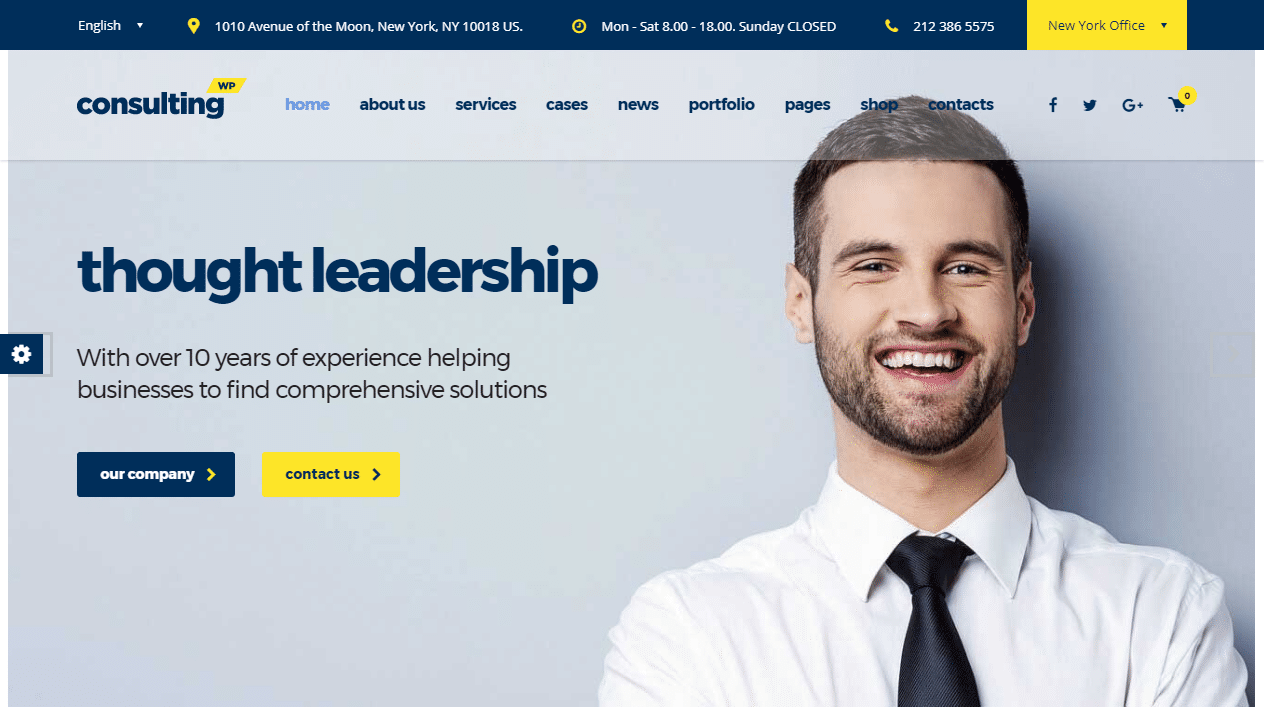 Sometimes having money isn't the problem, it's knowing what to do with it. That's the core idea behind Consulting, another proud family member of our WordPress theme fleet.
Consulting is the industry standard theme for financial matters relating to business, consultation, and advisement. It's also flexible (with over 20 demos included) that it can work for whatever your organization might need. Each of these demos is researched and fine-tuned for optimal performance, servicing the needs of a business. You've got numerous ways to edit the layout of each page while compiling statistics to show different clients, all while utilizing a responsive, powerful design.
Some other nice features were thrown as a bonus is google maps integration, event calendar setups, Slider Revolution/Visual Composer, and real-time customization.
Advisor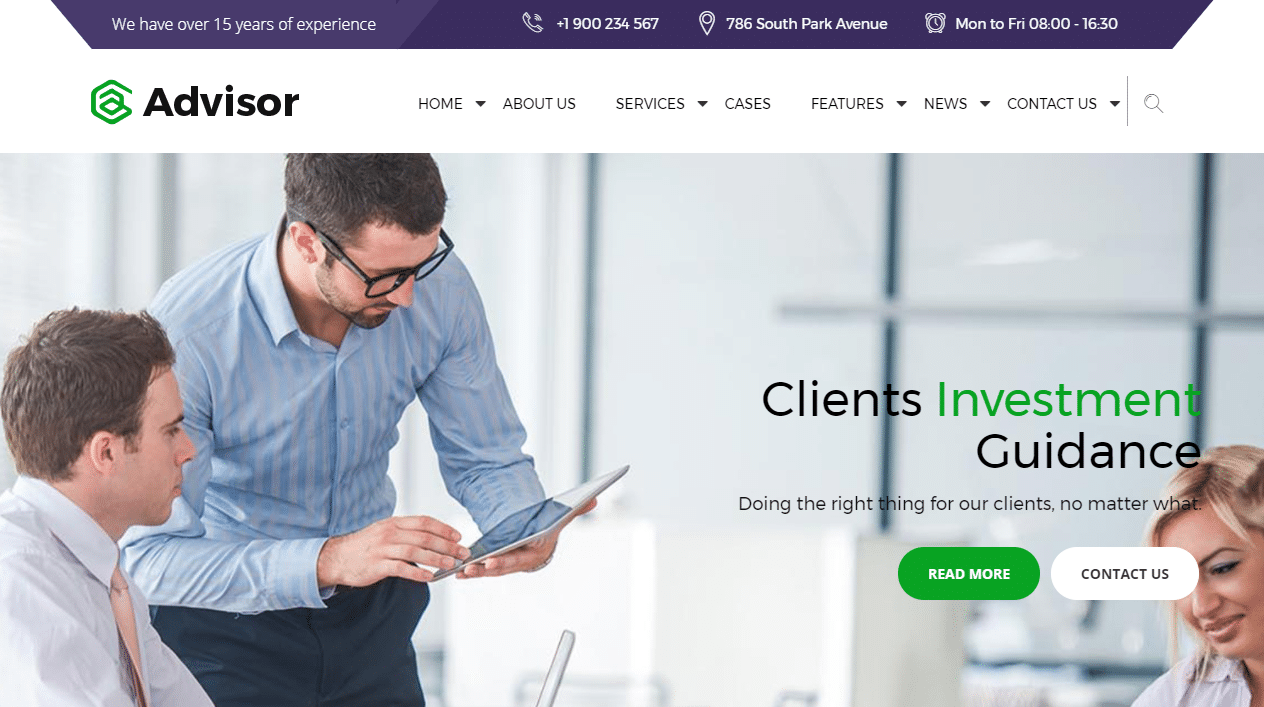 For posterity, I want to quickly mention there are two Advisor named WordPress themes. The one listed here, and another spelled with 'e.' To prevent confusion I'm just going to focus on this one.
Having said that, as you might imagine this is a finance based theme for consultation. If that sounds like what your business does, it's for you. It comes with several demos and templates, primarily for flagging clients and saying "hey! we're a company that can help manage your money." Each demo is easy to customize and you can expect a wealth of features and plugins to accompany your purchase like the Visual Composer addon.
One Page Pro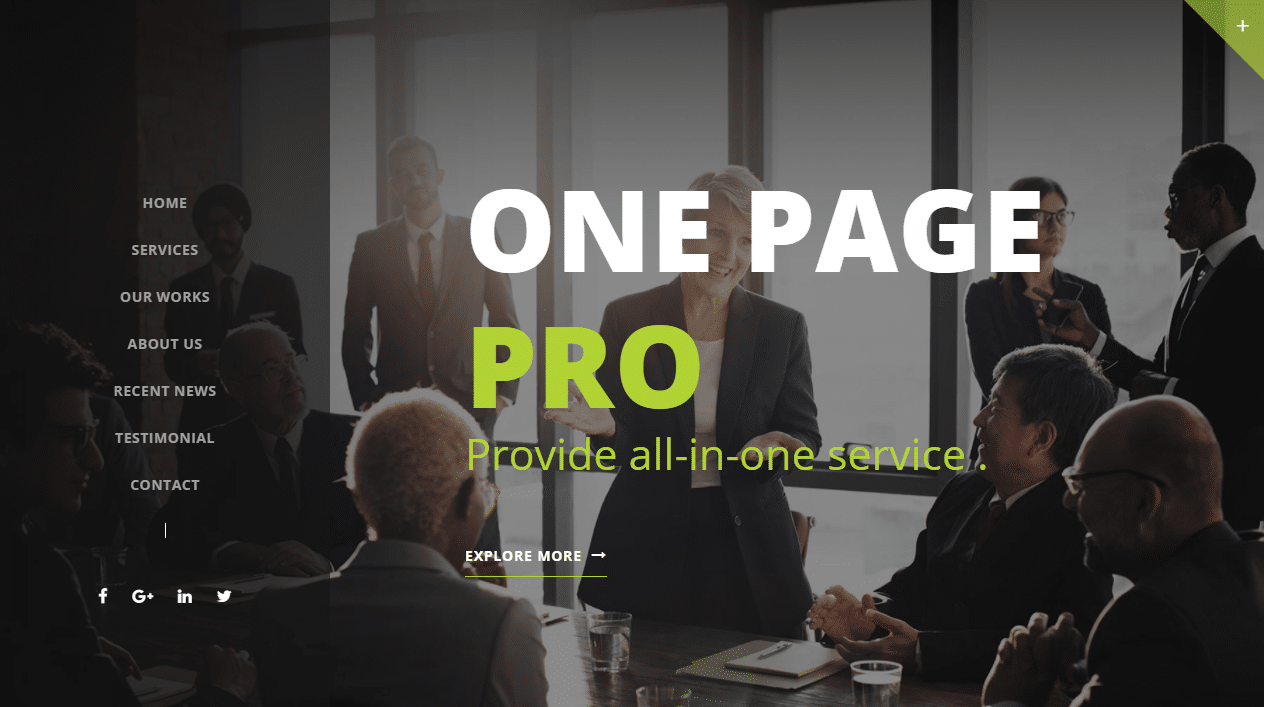 This was a tentative pick as it's not specifically for finances and consulting, but it can be. One Page Pro instead is a multi-purpose landing page theme, meaning all the good bits, features, and information are created on a single mobile-ready page. This is great if you want to introduce profiles to potential new clients or just want a simple website that goes over your services.
In order to fit the customization aspect, it comes with easy ways to modify pages along with some helpful plugins and tools, like translation support. You can also see your updates in real time, leading to faster page creation. Good choice if you need both flexibility and simplicity.
Tax Help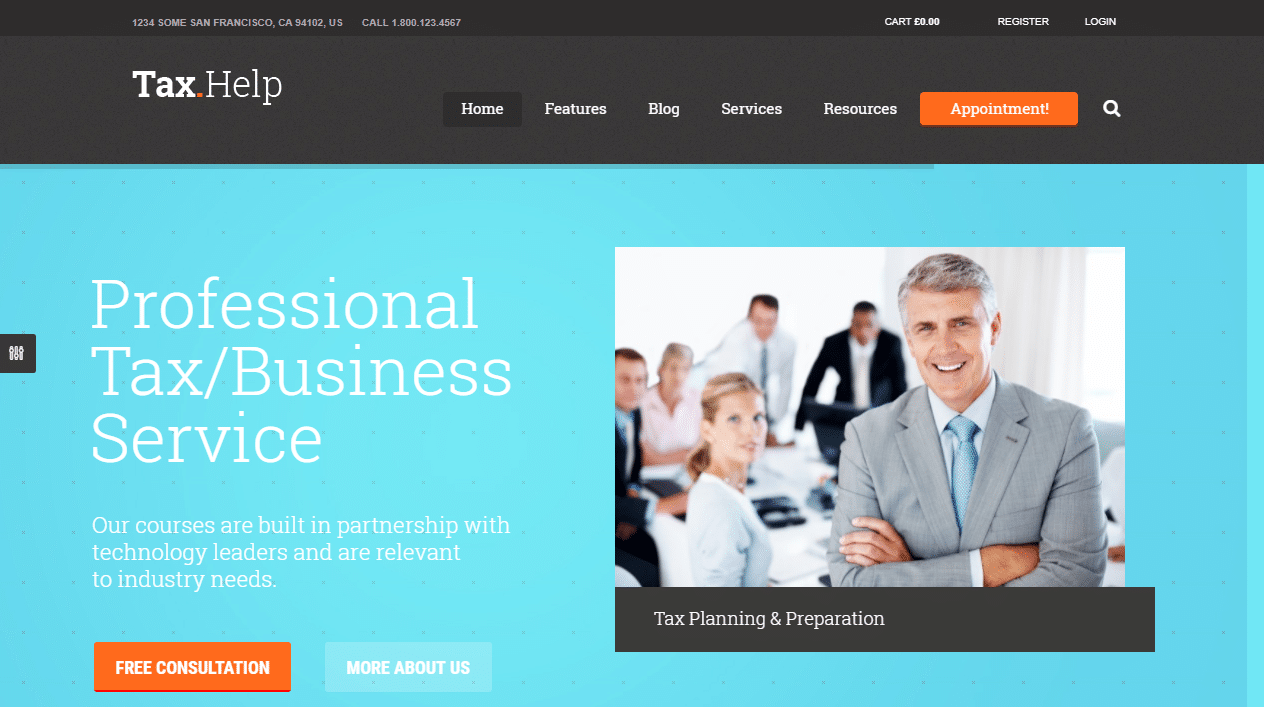 Now taxes are something nobody wants to deal with, but it's a reality that we must accept. Fortunately, the process of handling them has gotten easier over the years but there are still thousands of people who need some extra help.
And that's why I was happy to toss Tax Help into this list. It's a consulting WordPress theme fit for organizations that look to help those dealing with tax trouble, as you might imagine. It's responsive and feature loaded, looking great with a professional aesthetic. Modular design is also complemented by translation support and SEO optimization, while you can expect one-click demo installs for quick website construction.
Investment Expert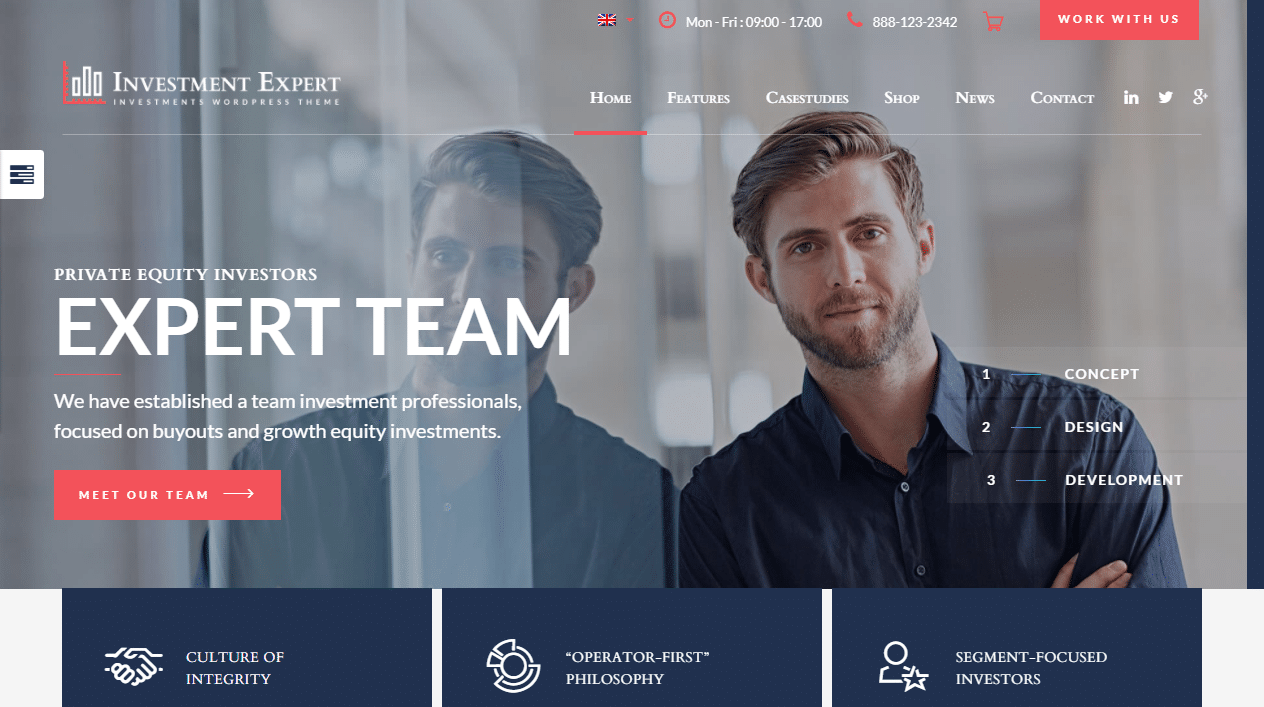 Fancy yourself a company that helps people make the right kind of financial investments? This theme is right up your alley.
Coated with a great looking modular design, unique icons, responsive layouts and easy navigation tools, Investment Expert is both feature rich and professional. It comes with several demos which are customizable with drag-and-drop design, further complimented by Revolution Slider and Visual Composer. SEO optimization also helps you reach a larger client base, and multi-language support is perfect for international business. The theme is also documented well, meaning you have all the foundational resources needed for in-depth modifications.
Business Lounge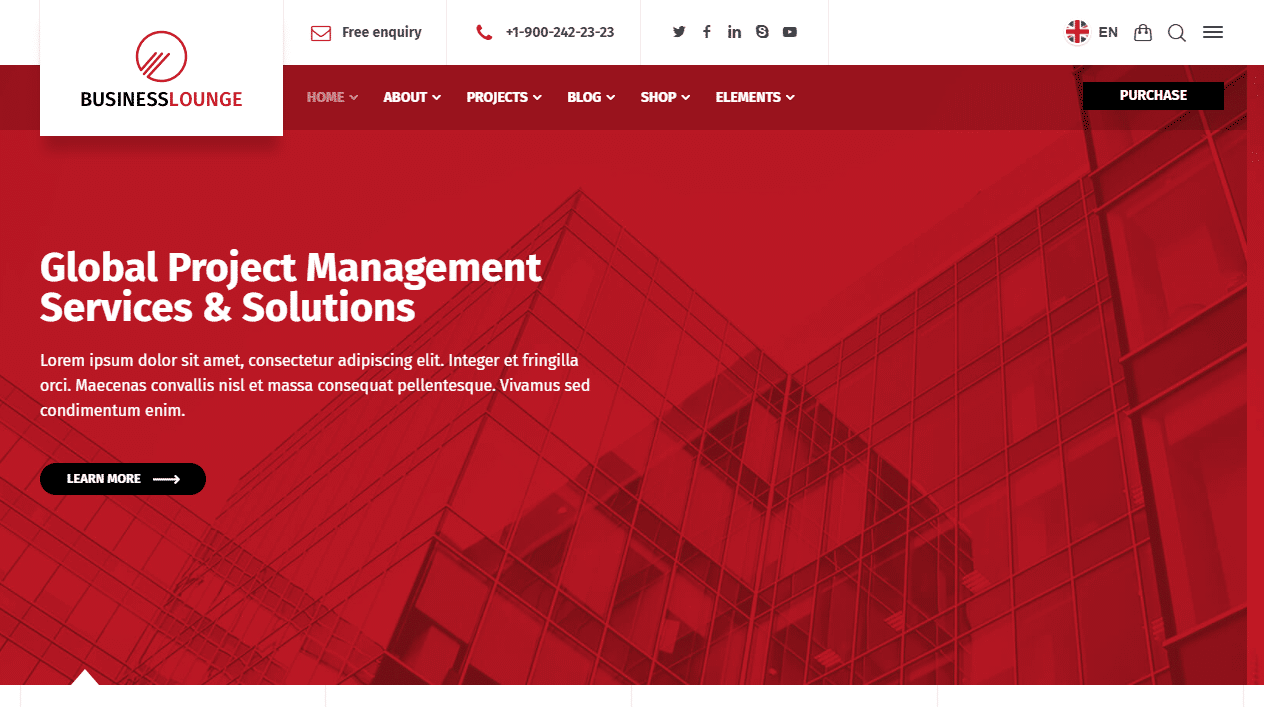 Here's an ideal theme for business information websites, or for companies that want a professional website area to list their services to a wide client base. This industry standard theme comes complete with several great looking demos and templates, all of which – of course – are customizable per your desires.
The high response and contrast of reds/whites make this an eye-catching theme too, sure to keep visitors engaged as they browse. You also get Visual Composer and Elementor plugin, giving you extensive customization options.
Partner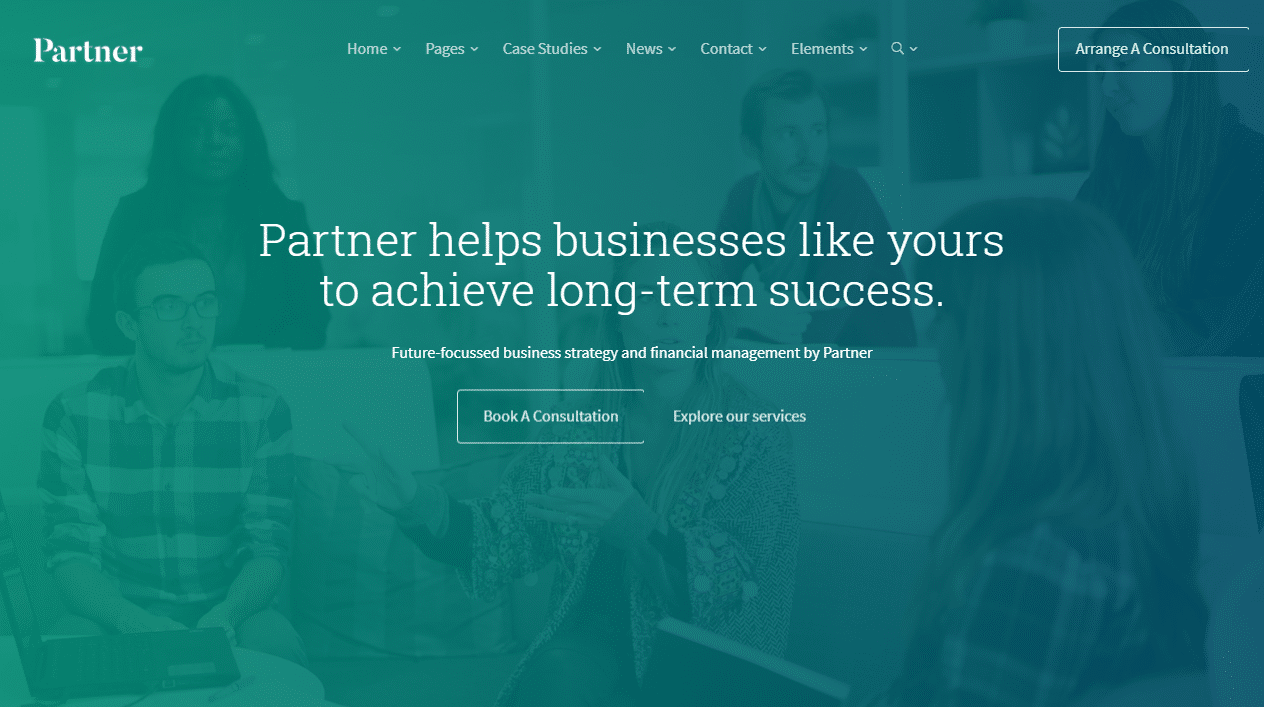 Sometimes going alone proves too challenging, so that's why you need a partner.
"Partner" carries this philosophy as a theme, a template for businesses who work in law, accounting, or other related financial matters. This clean, SEO optimized theme has lots of features for the business in need, such as organized code and ways to create engaging visuals. It allows you to forge a captivating landing page to illustrate your services, and you can set appointments with clients.
FinancePlus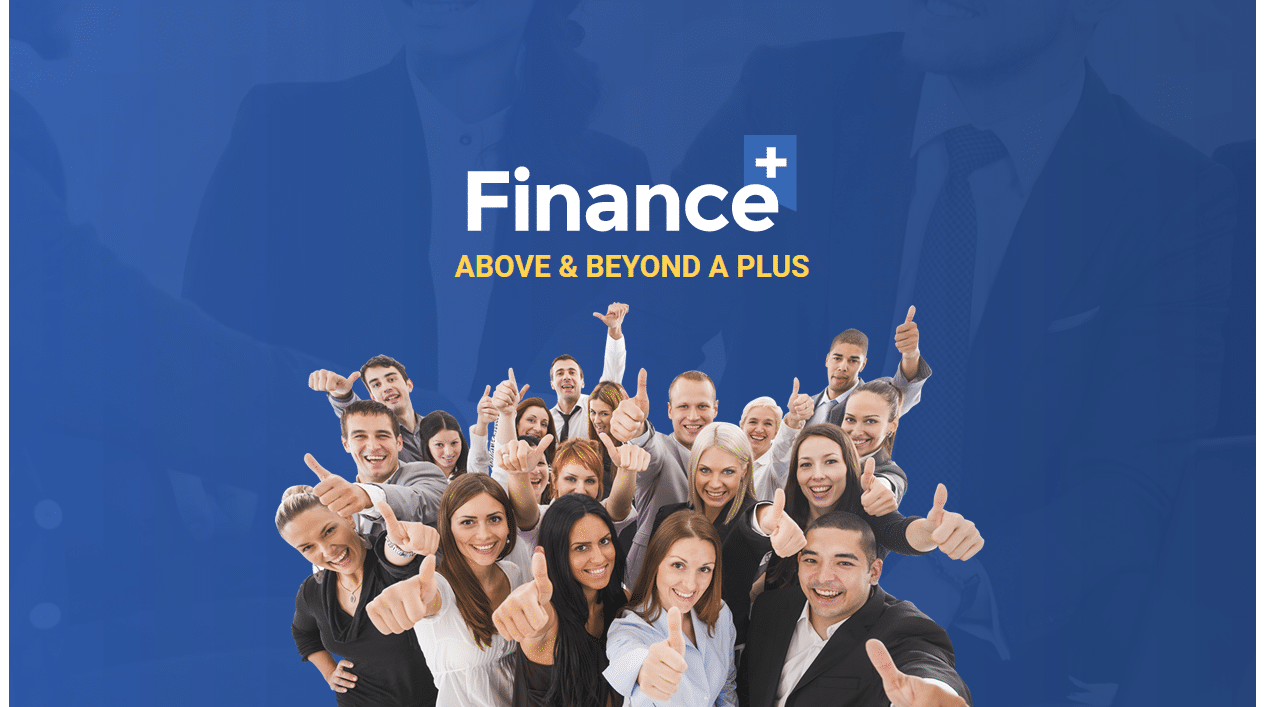 FinancePlus is an industry standard theme rich with features you not expect, but demand. Everything from different layouts, one-click demo installs, simplified customization and high performance are standard with the package. Other standard features include SEO optimization, translation support, and your favorite friends: the Visual Composer/Revolution Slider plugins.
Give it a look for that clean, stylized look. Animations accent the design well which helps keeps potential clients engaged and gives you a professional flair.
Note: I'd like to quickly mention the demo links to cryptocurrency miner, CoinHive. You may receive an anti-virus popup for it.
Cosine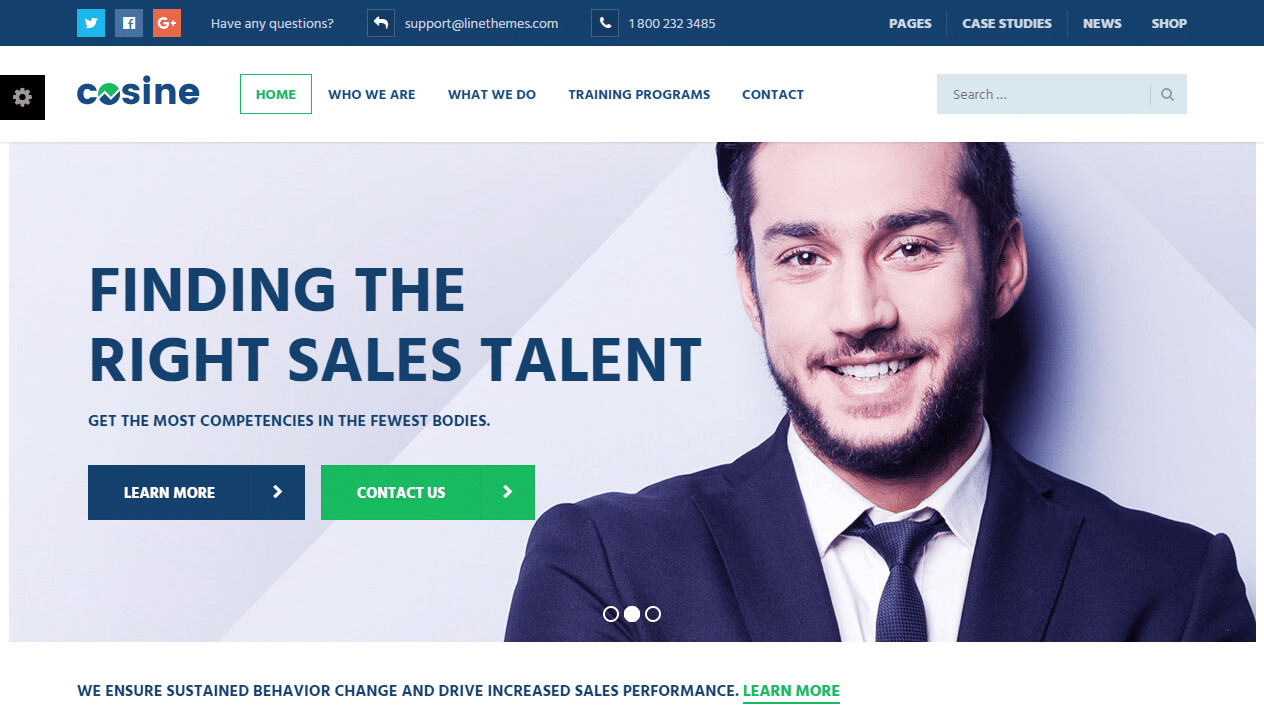 While I've gone over a few general finance categories thus far for WordPress themes, I picked Cosine as it's specific to business training. If you're an agency or organization that works with consulting and educating new hires, or deal with something like business teaching, Cosine is a possible website option for you.
Primarily, the idea is that visitors can come to your website and sign on for business courses, which can be purchased thanks to WooCommerce integration. Complete with other customization tools and features, this is a great option if you work as a professional business coach.
Payday Loans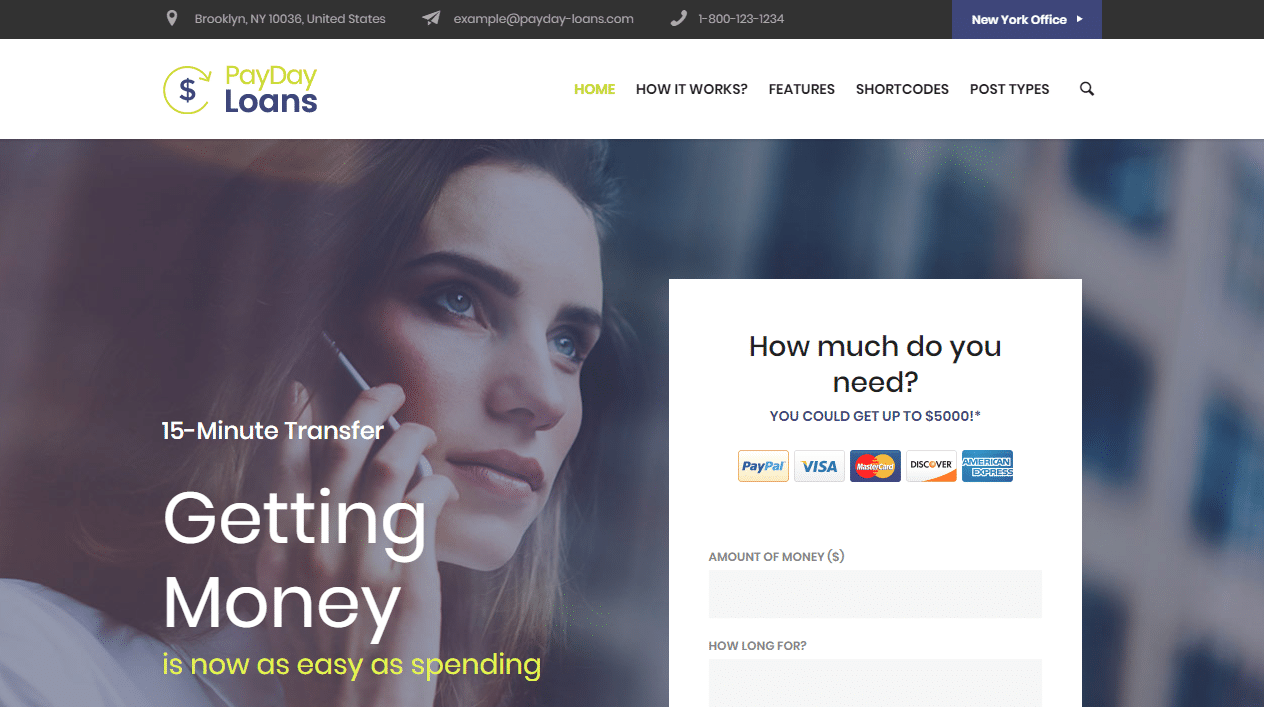 Loans might work with varying success, but that comes down to the client and ones offering said loan. If that sounds like your organization, Payday Loans is an option. This WordPress theme, if it wasn't obvious, is ideal for websites which focus on offering financial loans for various purposes.
Design wise it's clean, modern, and boasts a welcoming aesthetic, something that's very important when dealing with new clients (no one wants to feel intimidated). From its one page accessibility, users can browse around and request money, and thanks to WooCommerce integration, you can oversee this transaction over the web. Convenient! Accompanying this you have lots of helpful plugins, optimizations, and translation support to put a bow on an otherwise complete package.
Kroth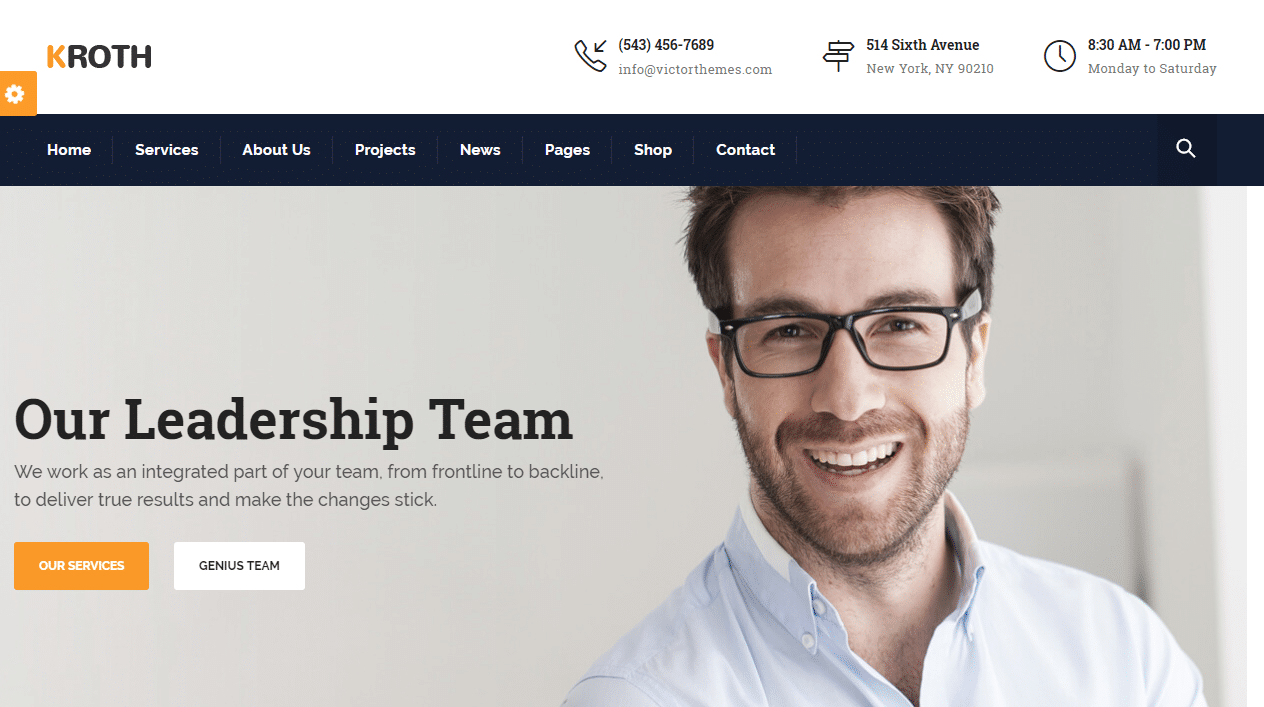 Kroth is another consultation WordPress theme that comes out of the box with lots of features you'll need for a professional website. I chose it because it keeps things simple and gets to the point, showcasing multiple demos and features from the get-go.
In this theme, you can expect plugins like Visual Composer, SEO attachments like Yoast, translation support, and multiple demos/templates. Each demo works great as a landing page and is a perfect way to showcase your financial consultation services.
Investments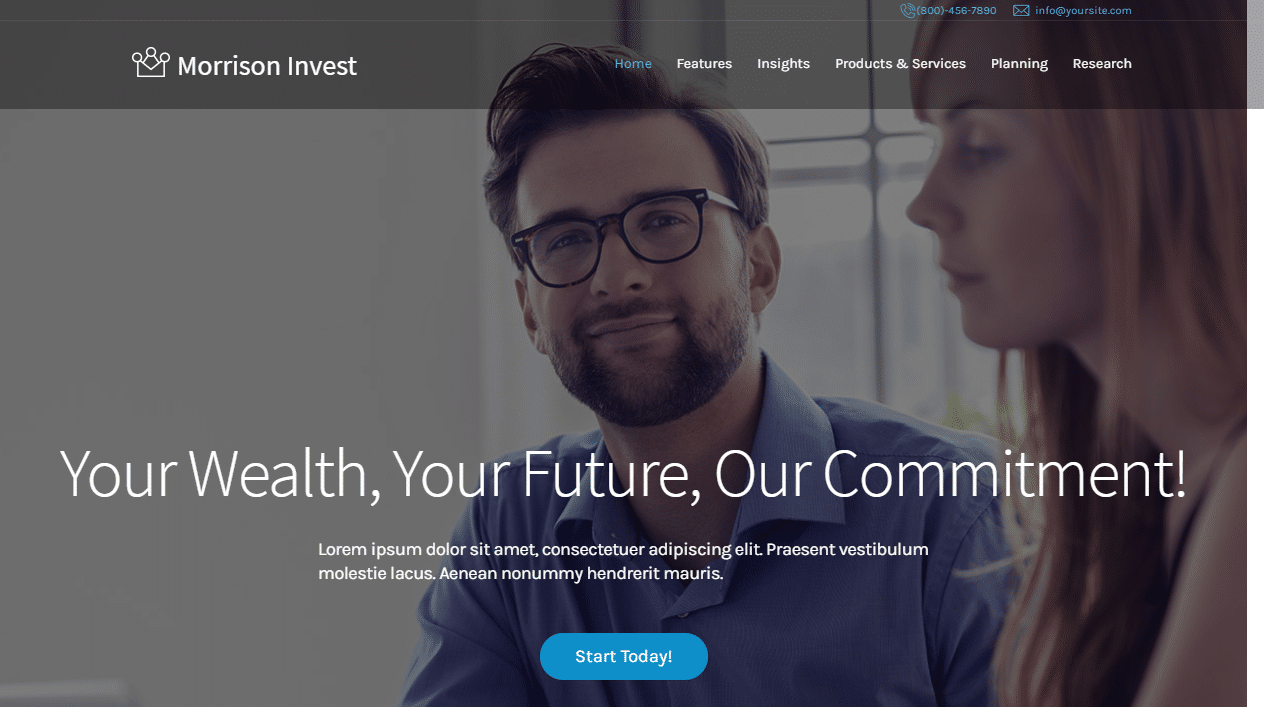 It takes money to make money, as some say. Why not invest in this theme, Investments, allowing others to invest in your investor based WordPress theme?
This one sports a clean, elegant design complete with great animations, graphics, and mobile-friendly framework. Demos are easy to install and ready with purchase, along with ways to modify them as you need.
You can also expect a treasure trove of shortcodes for easy effects and translation support to reach different clients.
Fintech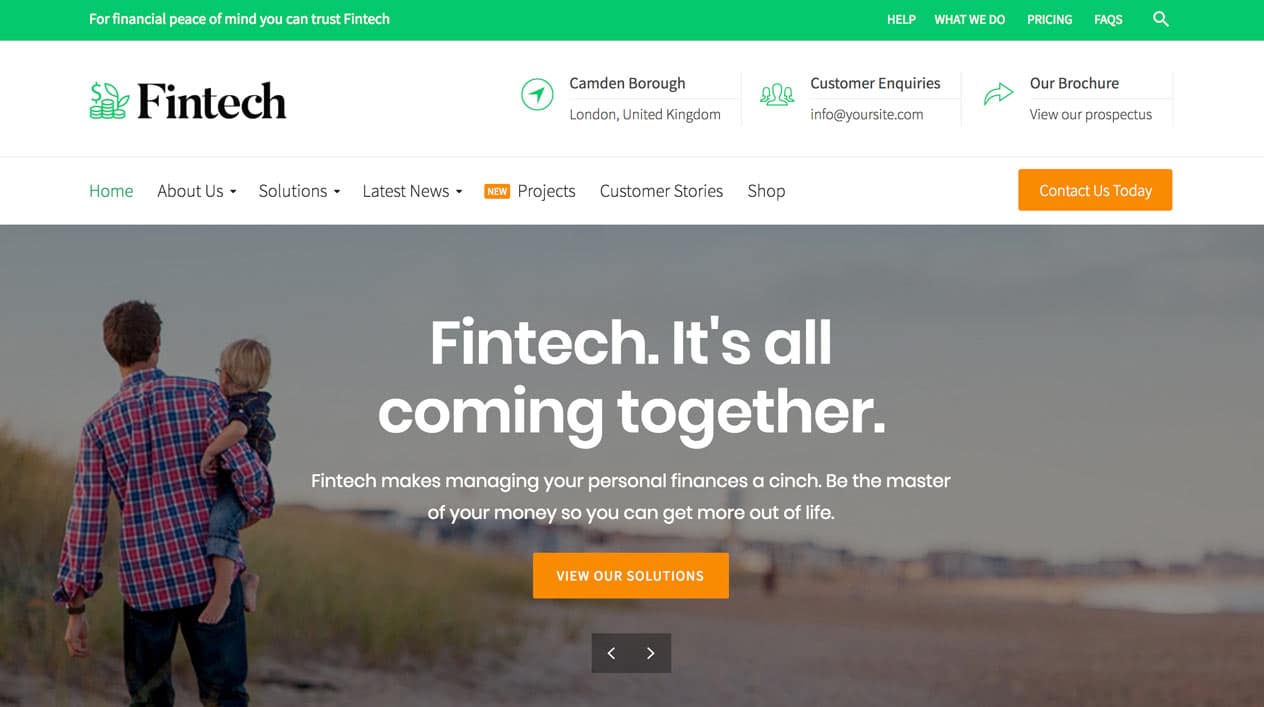 Fintech might sound like a WordPress theme best fit for fish, but it's actually best for small businesses driven by the technology/finance industry. If that sounds familiar, it's a potential choice for your organization.
Much like my choices thus far, it has a responsive layout and modular design, complete with easy to customize your pages and change them at will. Under the hood, it also has everything you need to cultivate a powerful website with lots of return visitors. Those features include SEO, clean code, great support, and useful plugins.
InsuRel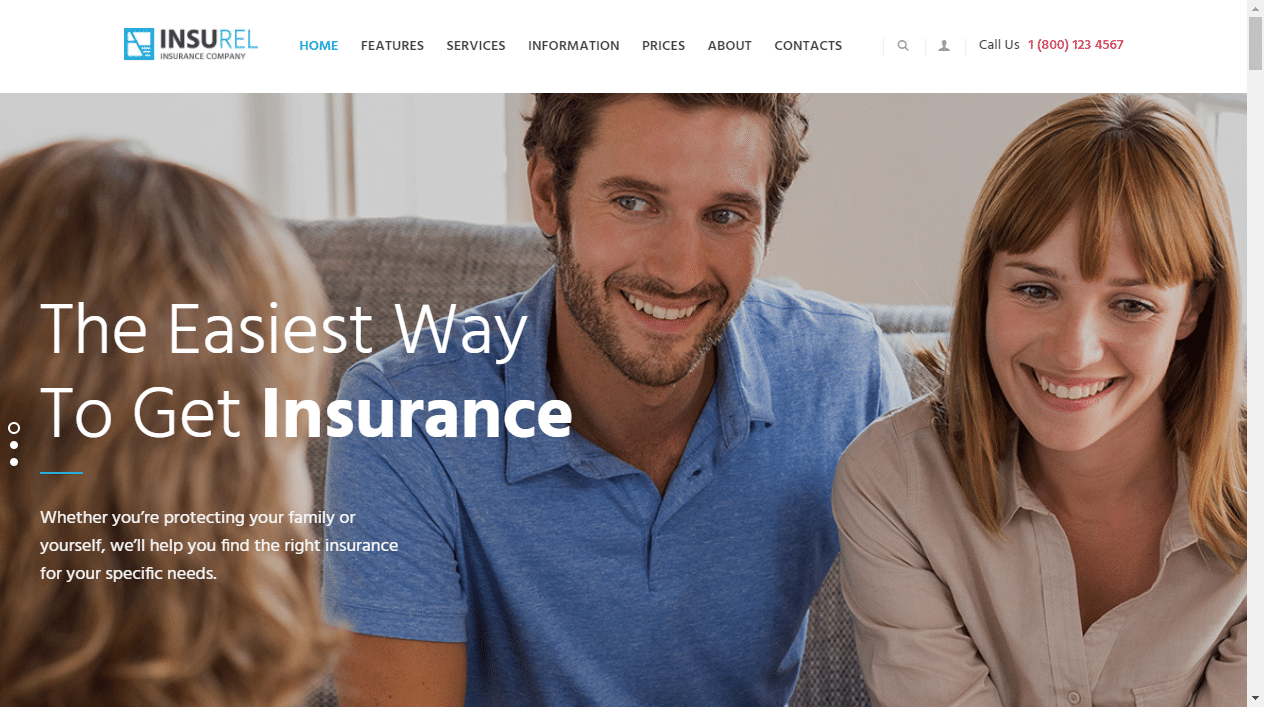 Here's one that's a bit more specific: a WordPress theme for online insurance companies who might need a facelift or some new features.
Like others, it has a clean, modern visual style which looks especially good on mobile devices. From there, purchasers can change things as needed with Visual Composer. But, as an insurance company you need ways to keep in touch with clients, right? Appointment booking is part of the package, and Contact Form 7 comes included to make the process easier. This is a great way to increase your brand strength and extend services to a bigger audience.
Quick Cash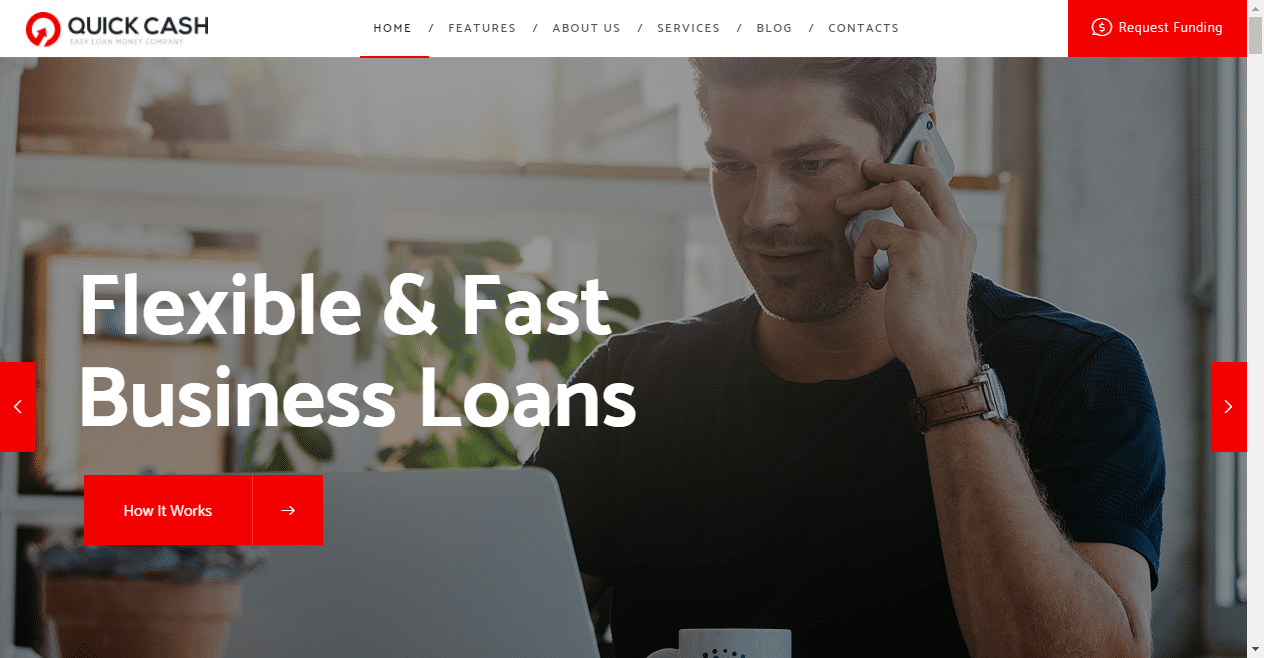 Now that's a phrase everyone can get behind. Sadly, easier said than done!
However, Quick Cash is another option for businesses that operate as loan companies. This can be used for small or large partitions of money, depending on the type of business you do. That being said, it's got all the presentation elements and layouts you could need for discussing your services and offering ways to loan to visitors.
All the plugins and features you need for in-depth customization are also on board, with a little SEO optimization and translation support to help. So, if you weren't satisfied with the initial loan-based theme choice, this is a possible alternative.
Opportunity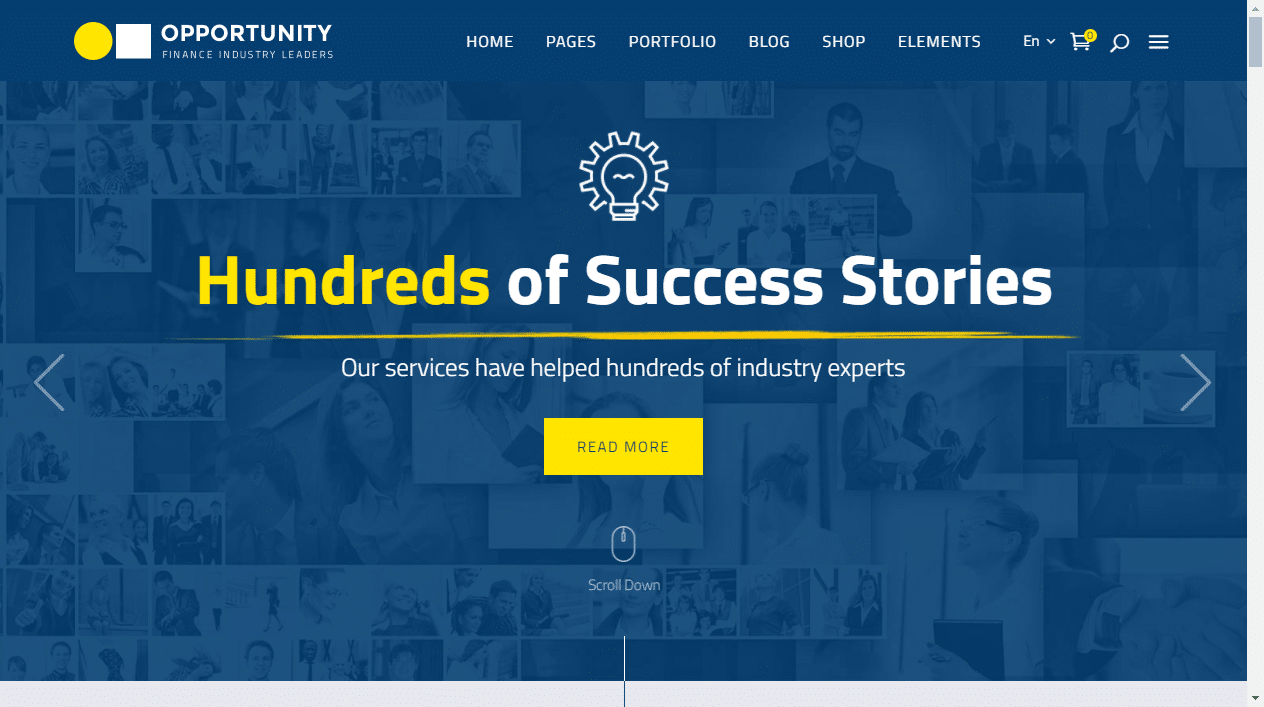 As business owners, I'm sure you've attended dozens of seminars where "opportunity" was thrown around like pudding at a kindergarten food-fight. Well, now it's taken shape into a full-fledged WordPress theme! Pudding not included.
This is a great theme for companies that work to help other businesses expand revenue and profit, usually as a consultation organization (or with other services). It's got a great, captivating look and comes with nine demos for quick installation, along with plugins to help you build your dream website easily. A great way to attract new business with a truly professional theme!
Consultancy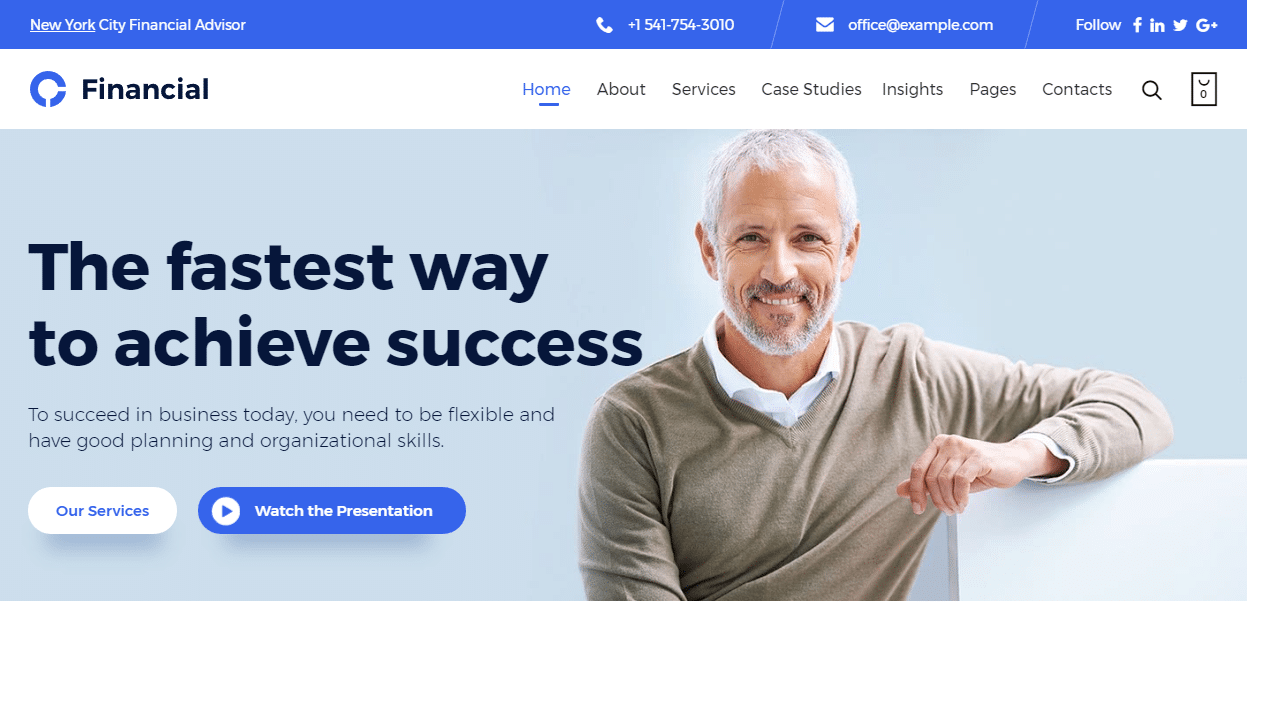 Now I'm just going to take a guess and say this WordPress theme is for financial consulting.
If you thought the same thing, then we're both right! As the name suggests, it's a high-performance theme fit for organizations that consult and advise regarding money, whether that's personal or professional. Consultancy is one of my choices as, aside from its flexible design and features, you also get custom icons, which help identify your business from others. Worth checking out.
Borrow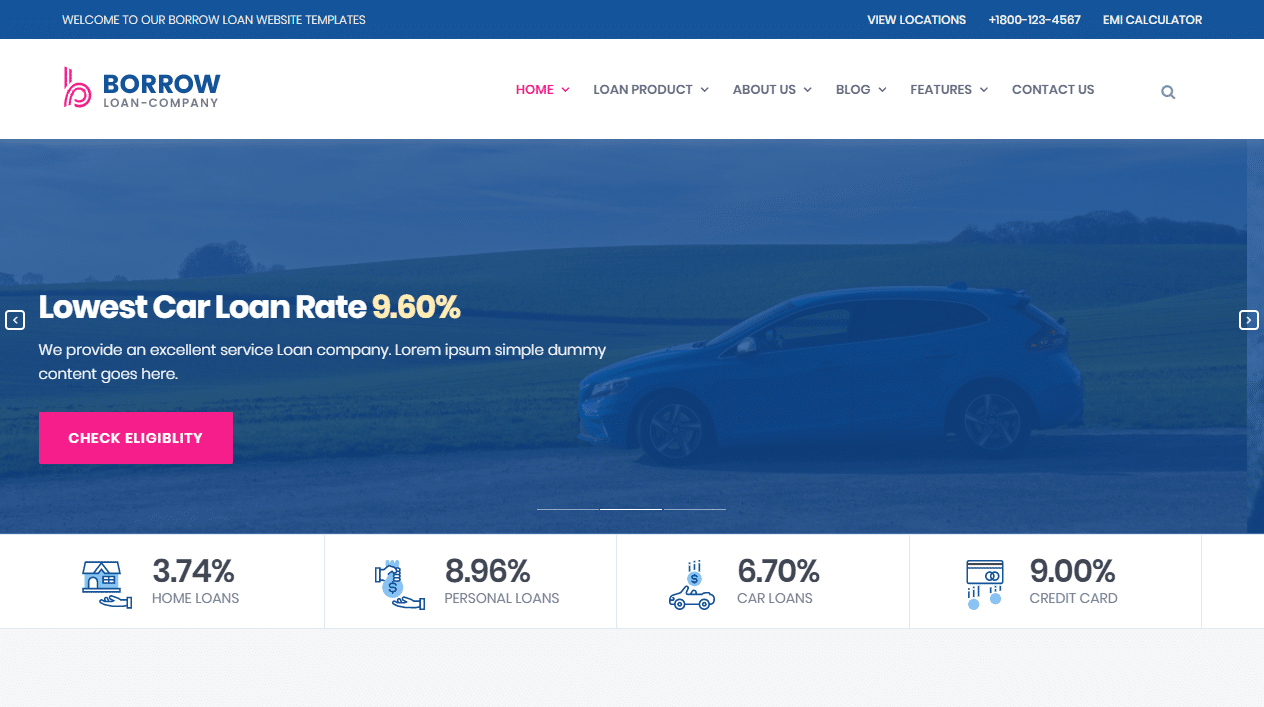 Need another option for a lending company? Borrow might be what you're looking for. As the name suggests, this is a WordPress theme ideal for companies who lend credit, small loans, and other financial bonds.
It's got various layouts and templates, complete with plugins to customize each. Pages work well as landing-zones for service descriptions and each can be installed with one-click. Additionally, the theme has translation support and comes with Visual Composer/Contact Form 7.
Finance Hawk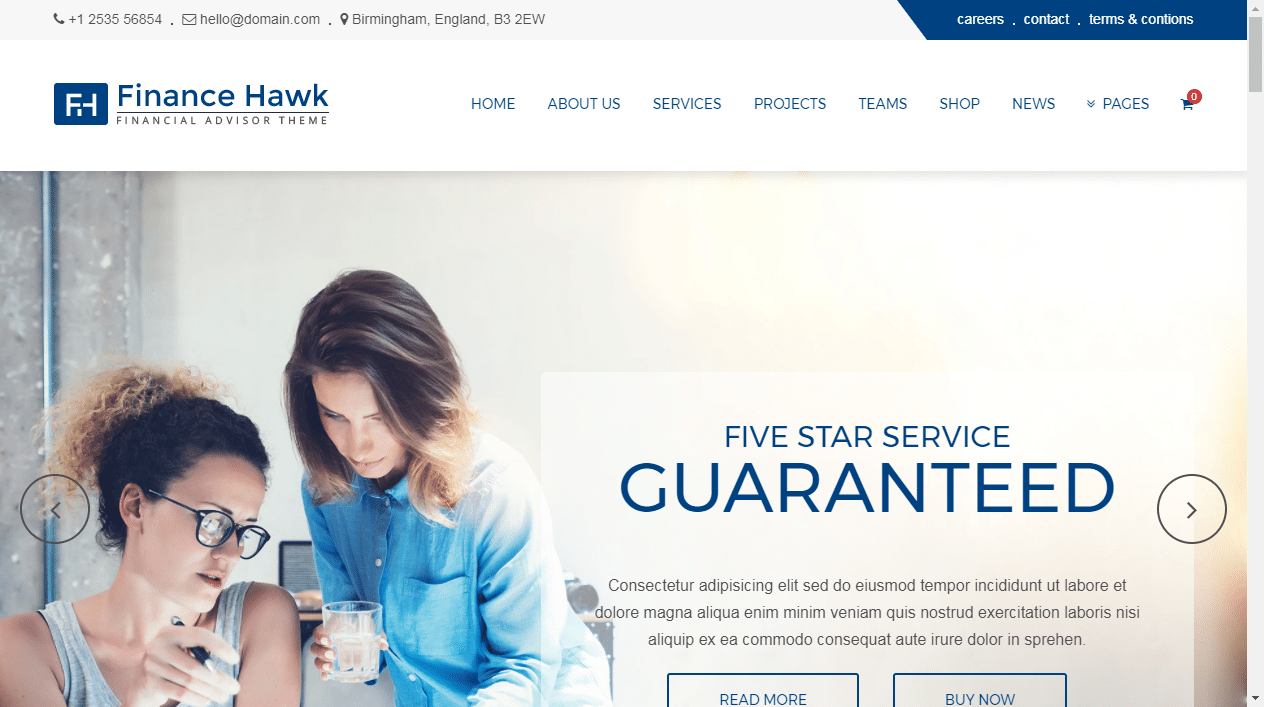 If there's one major criticism I have of this them, it's that you don't actually receive a hawk upon purchase.
Aside from this, it's another modern, well-designed theme for finance consultation services. Now I think at this point you've got a good grasp of what consultation services are for, so let me just hit you with the features. Visual Composer for easy modifications, Unyson for social media integration (great for brand campaigns), and various demos to get you started. And that's just listing a few of its key strengths!
Consulting X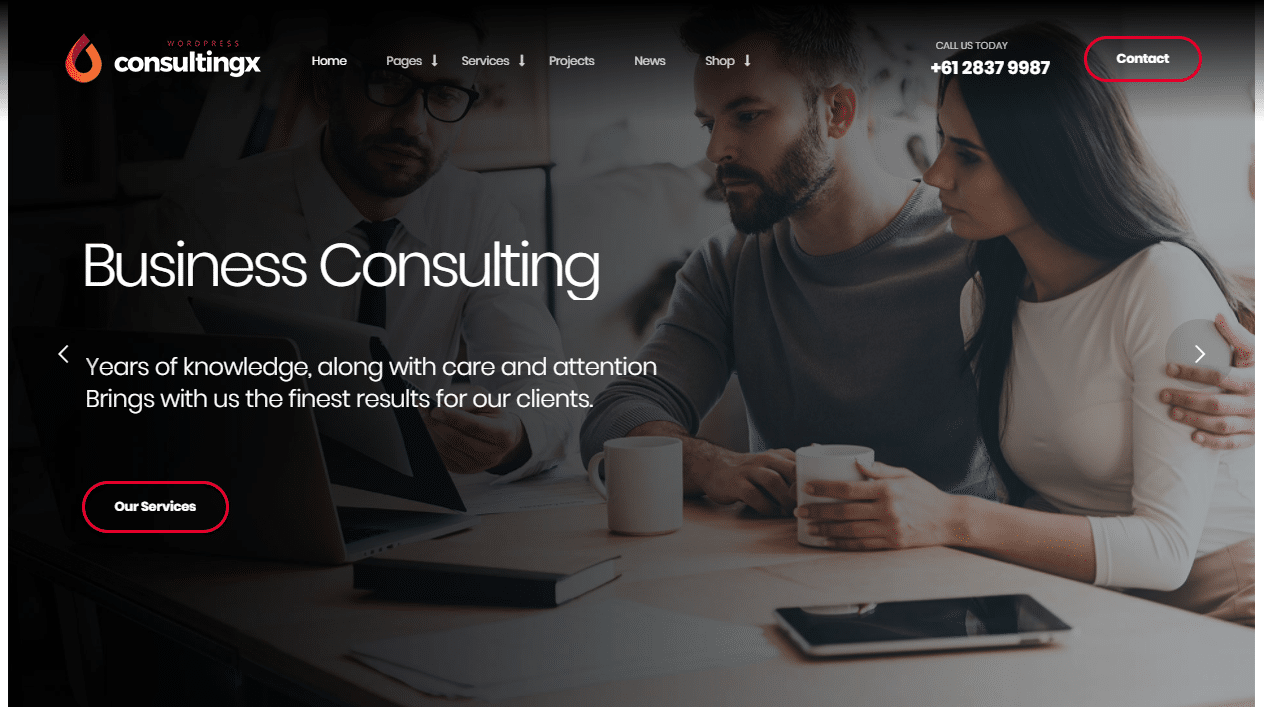 Another option to show off your highly coordinated teams of market professionals. Consulting X is similar enough to others you'll find its features familiar, but different that you may prefer its style. For example, video backgrounds are optional with its demo templates, giving your website a little extra life.
On top of that, aside from plugins you expect, WooCommerce is integrated for the sale of online products and services.
Insugroup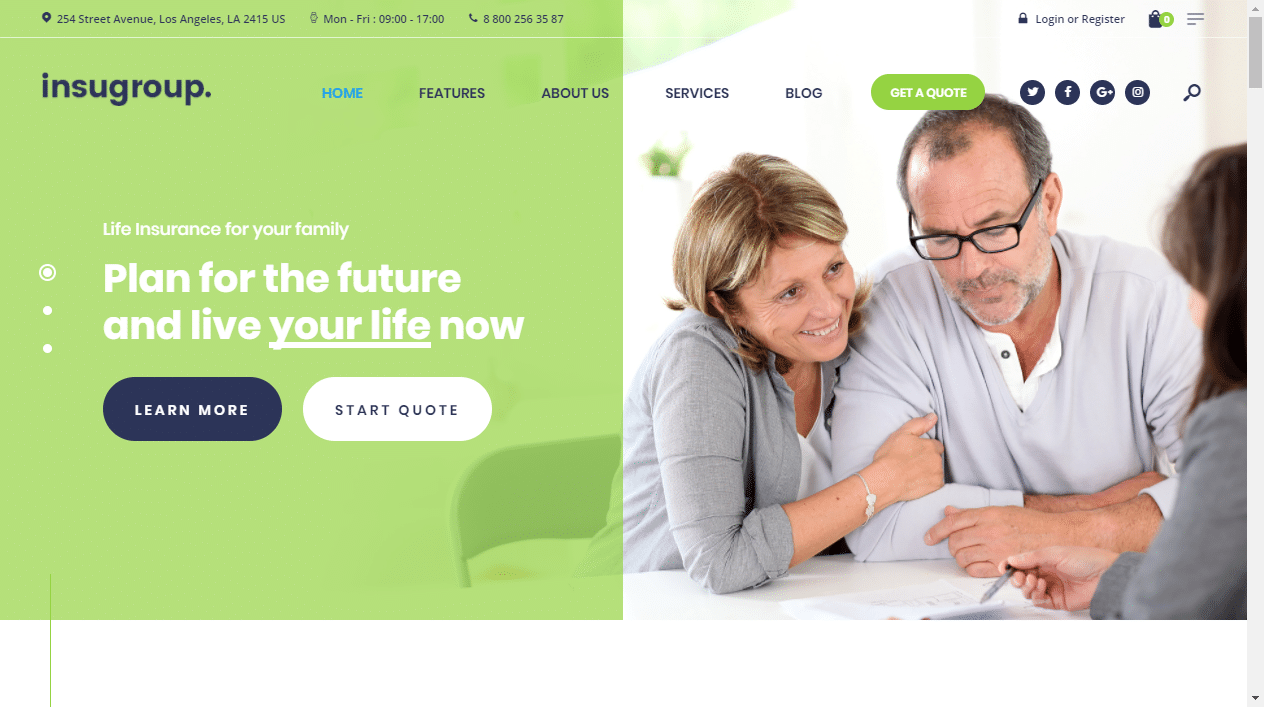 Here's another potential option for companies that work in insurance.
This theme is quite lightweight, fit with lots of standard plugins you need for success – like WooCommerce and Visual Composer. Thanks to its modular format, you can also expect excellent mobile performance. With three templates and SEO optimization, it's a nice way to strengthen your brand.
Financial Service Hub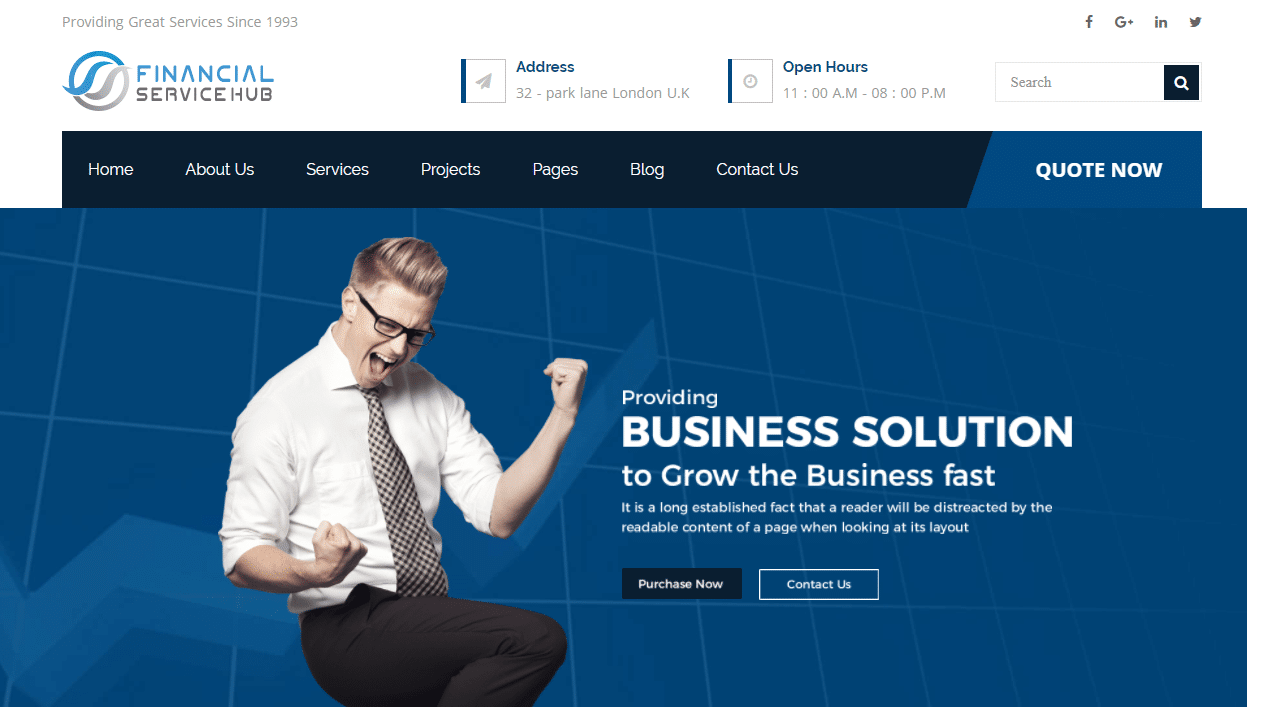 Here's a little something that mixes focus on consultation, business advice, financial growth, and whatever else you might need. It grants you four starting templates to get the ball rolling, mixed with multi-language support. Some of the plugins that come along are the Master Slider and Ultimate Addons, which will turn your website into a unique, identifiable platform.
Radius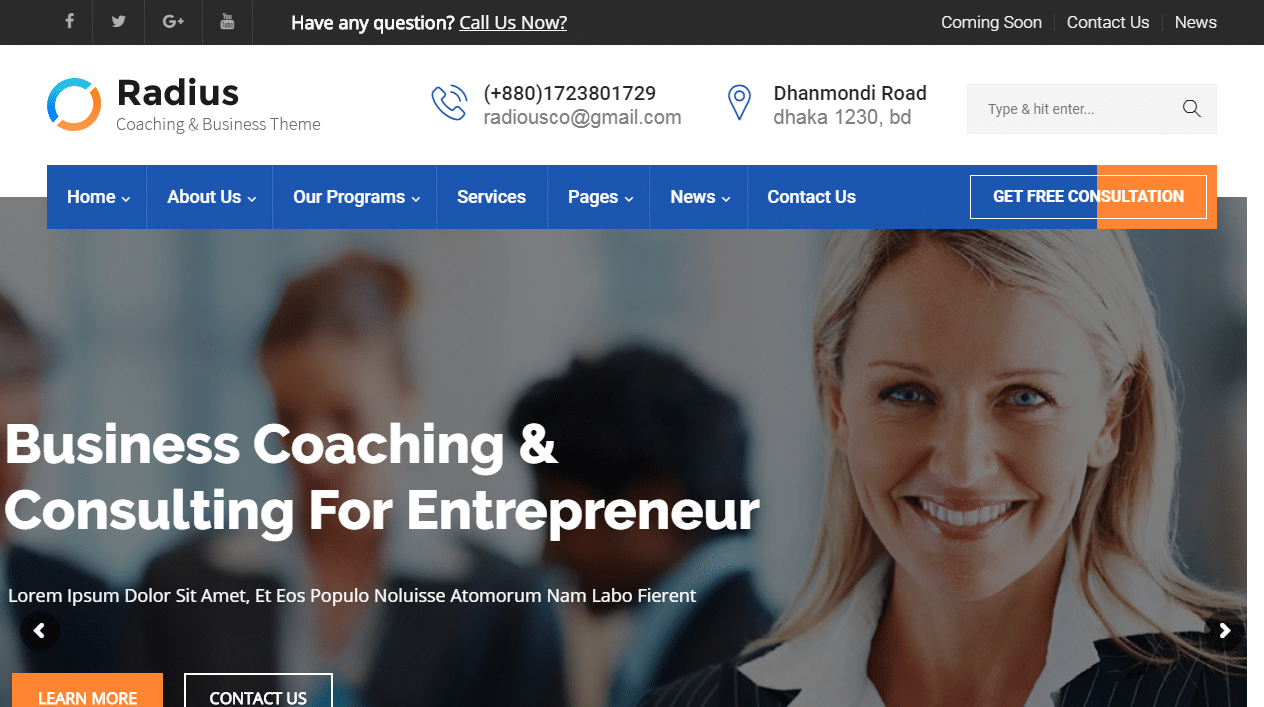 There weren't too many training and business education themes, so I had to snatch Radius for the list as I do love me some niche picks.
Radius is great for companies that sell courses or offer service training to other hopeful workers, allowing them to expand skills. With this responsive layout you can expect all the tools you'll need to get the message out about your services, no coding knowledge required.
Finazi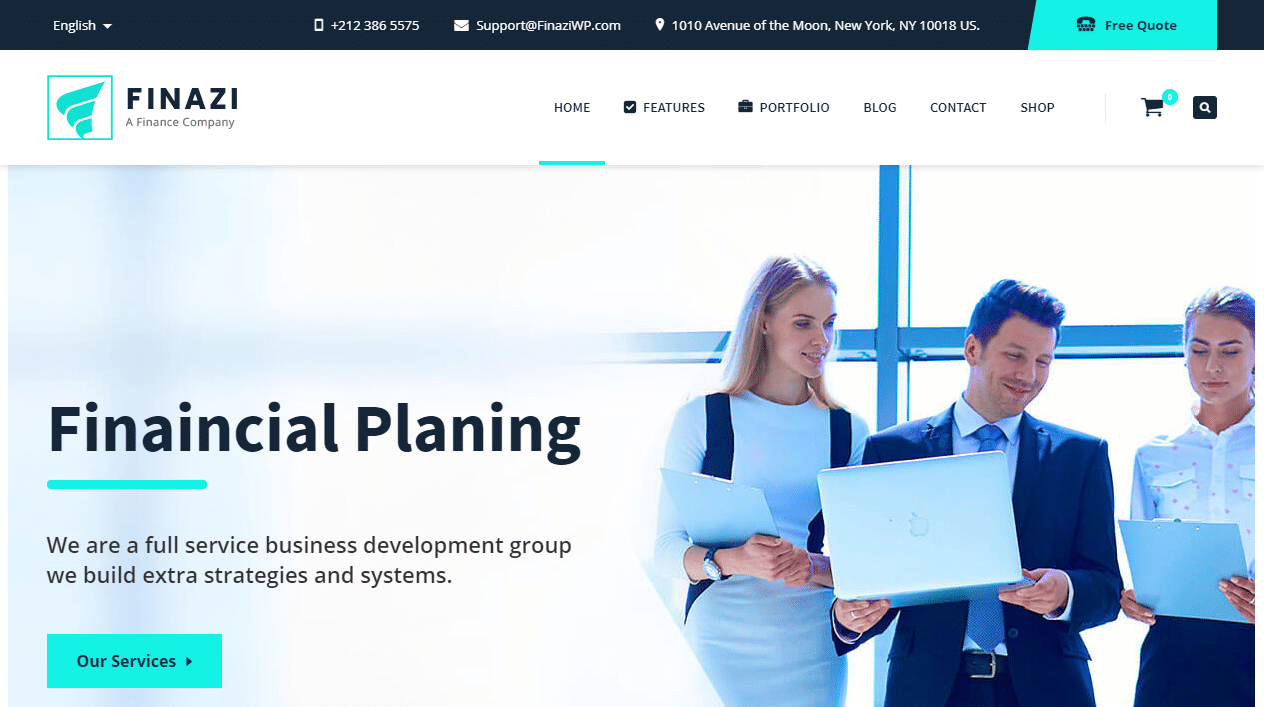 Finazi sounds like final, and that, sadly is where we are. The last WordPress theme!
But, I dare not leave you off on a sub-par note. Finazi is a high-response, modern template for businesses, especially those in the consulting sector, fit with plugins and features to create your dream page. Numerous demos are along for the ride and WooCommerce integration is standard, so if you need to sell services or products, you're covered.
By now, you've hopefully found the theme that works for you. Good luck and may all your business ventures be successful!