Non-profit organizations and businesses face a Rubix cube of challenges, financial hurdles only one of them. Indeed, the success of a nonprofit largely depends on its community and support factors. Typically they pursue a cause or charity. Sometimes they just don't seek extra profit and put everything back into their infrastructure. But whatever the reasons are, it's clear that non-profits need lots of help.
So what better way to put them on the fast track to success than by offering a whole cavalry of interesting WordPress themes? Since non-profits have to get their message out, what better way to accomplish this than with a fancy website loaded with numerous features, functions, and utilities?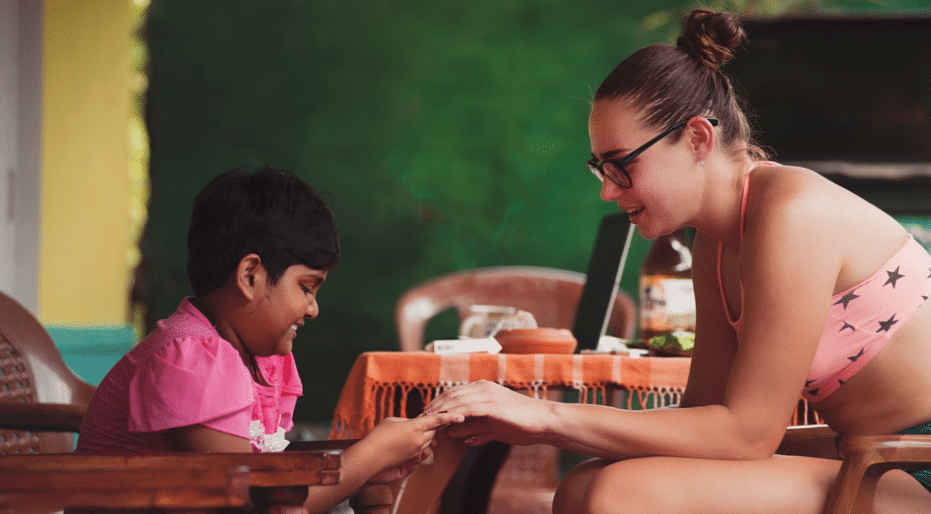 If you haven't guessed already, our topic this time around is all about non-profits! If you have a charity, organization, or goal that runs on the non-profit model, this is for you.
No Fees Required
As per usual, my job is to walk you through the best and only the best. There are hundreds of WordPress themes out there, all which have their own unique flair, functions, and aesthetic. Sorting through it on your own can be a huge hassle, but my list cuts down the fat and offers only updated top quality picks.
Best Features and Themes
It's easy to find great themes for you, but that's only half the battle. Each non-profit has their own set of unique needs, wants, and goals. Therefore, it's important to keep those in mind as you read through my picks. Have a checklist ready for essential features or concepts you want.
Granted, there are some redundant features you'll see crop up in each theme, typically dealing with premium plugins, SEO optimization, and ease of installation. But, not all of them fit the same categories. Some themes are better for charities, others for businesses.
Now that you've got a general idea of what's ahead, we can begin!
Top Non-Profit WordPress Themes
Non-existant drumroll, please. Let's get on with the list!
Charity Hub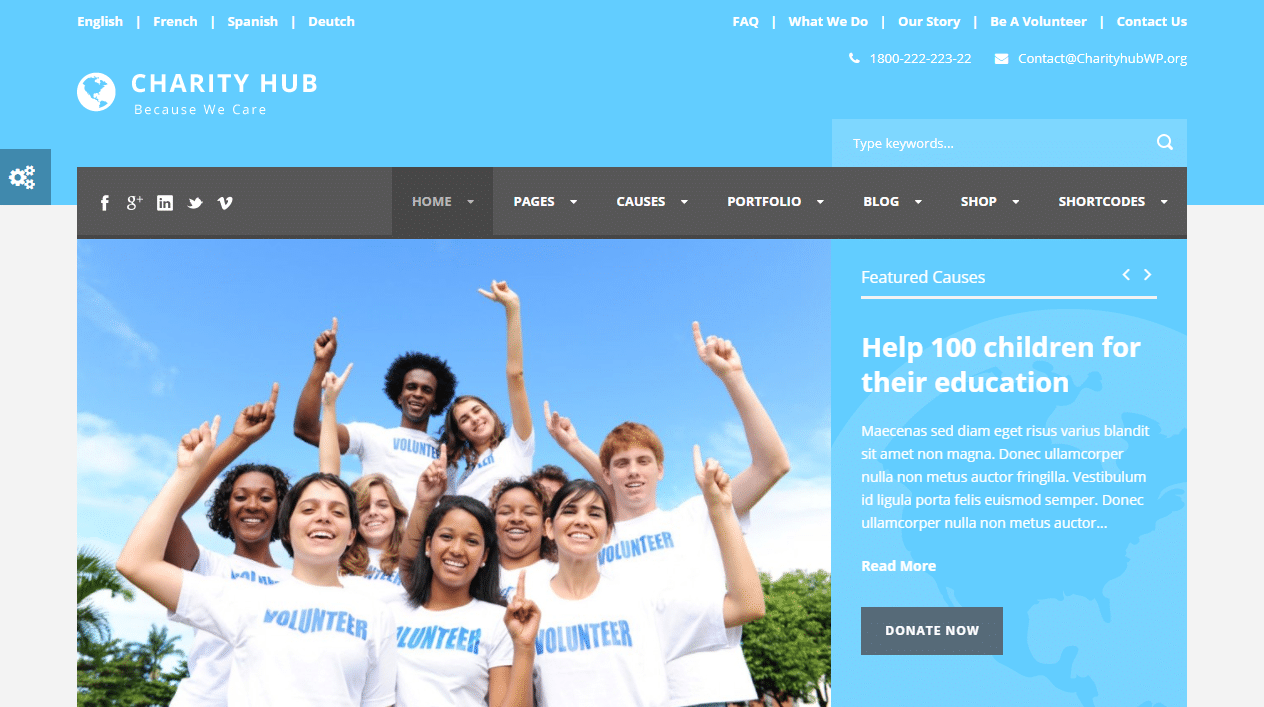 Starting my list is something for a good cause: charity. What kind of charity? Well, that largely depends on your goals, but Charity Hub is a WordPress theme meant to carry your mission to the public eye.
There are lots of essential features to help you along, such as simple creation tools. It also has a few charity specific assets as well. One of them is the "cause post" function, where purchasers can create posts to link to a specific cause like donating to Red Cross in a different country. From there, a donation feature is part of the theme, without need of extra coding or widgets. Goal counters can also be displayed and visitors can search for posts.
As the name describes, this is a great theme for handling multiple charity and donation drives.
Mission

If you've got a mission, then get Mission!
This is another flexible, multi-purpose WordPress theme suitable for a variety of charity drives and goals. It's a solid, highly functional template which comes with all the features you would need to run a successful non-profit website. Much like the previous entry, you can set important dates, create posts and updates for drives, and utilize the donate feature to financially support your selected charity events.
The content is well organized and looks great on mobile devices. Good for anyone who tackles multiple charity or non-profit drives.
Earth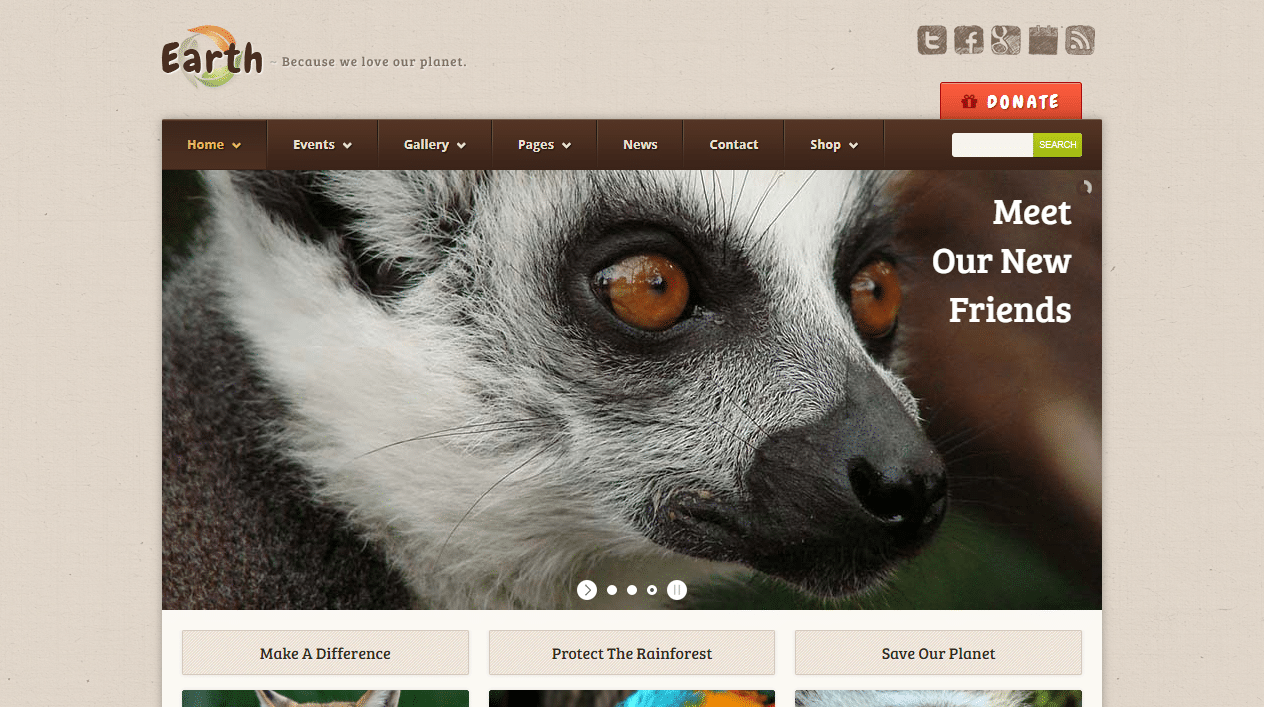 You can't go wrong with conserving the environment, and lord knows it needs all the help it can get. If you feel the same way, Earth is the theme for your organization.
This non-profit WordPress template is all things bio-friendly, fitted with an aesthetic that supports the world's natural beauty. You'll design pages with the included Visual Composer plugin. You can set dates, events, and update followers on various charities as well. WooCommerce also comes along, in case you'd like to sell supporting items.
Ideal for news/blog oriented non-profits who are pro-environment.
Risen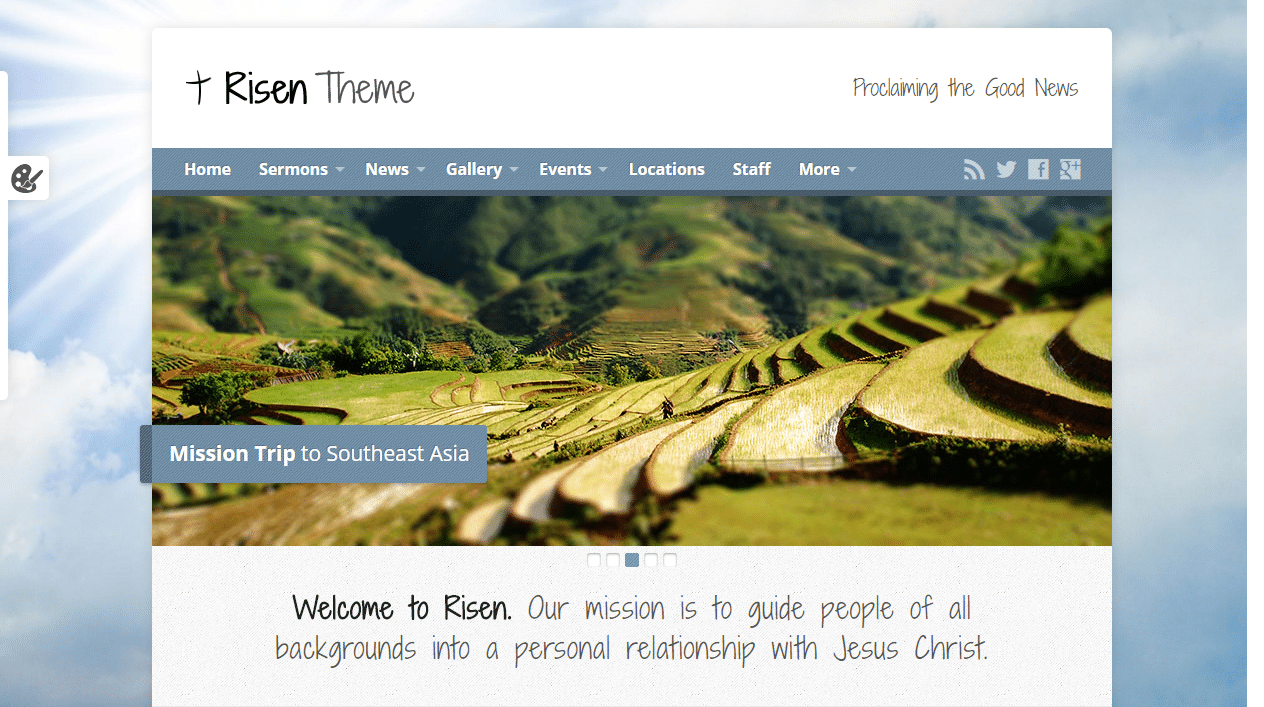 I'll level with you, you'll be seeing a lot of church and religious based non-profit WordPress themes, primarily because organizations accept donations from their followers to function. So it makes sense this tithe extends to the WordPress format, where any spiritual organization can set up a professional online home for help.
Risen is just that, loaded with support options and customer care to handle any problems you may have (sounds familiar). You also have numerous presents, gallery templates, google font choices, and ways to customize the website. As an added bonus, while it's aimed at churches, this theme is flexible enough to fit any WordPress need.
Campaign

No matter where you stand on the political spectrum, all creatures of government rely on support from their base to get going. Typically, when someone's running for office, small or big, they rely on donations from their constituents to steam through.
Sound like your organization? Well, open up the ballot box, Campaign is the WordPress theme for you.
It's clean, organized, and allows you to get your message (or organization's message) across immediately, with a powerful landing page fit with galleries, message, and email links. It's ready to go as soon as it's installed and also easier to customize. No need for coding knowledge, save that for your illustrious stop-sign reform and tax cutting.
Dunamis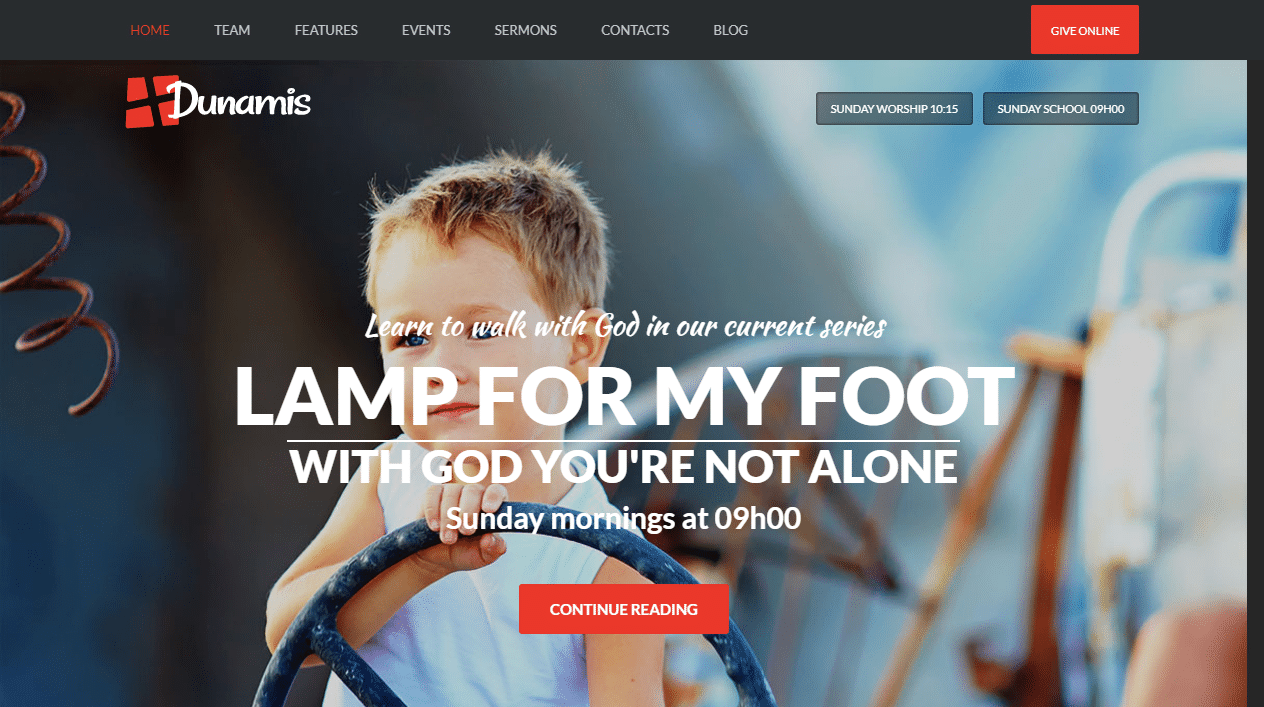 If you didn't like my first pick for a church based WordPress theme, Dunamis is a potential alternative. Granted, you should expect to see quite a few of those.
Dunamis has a clean aesthetic and comes with a variety of helpful functions for its congregations. Podcast links, compatible donations, blog posts, and clean grid-layout all complement its modern format. Purchasers can modify the look of their website with drag-and-drop tools and even keep track of donations made online. If you're still struggling, no worries, its extensively documented and has dozens of tutorial videos for newcomers.
Eco Nature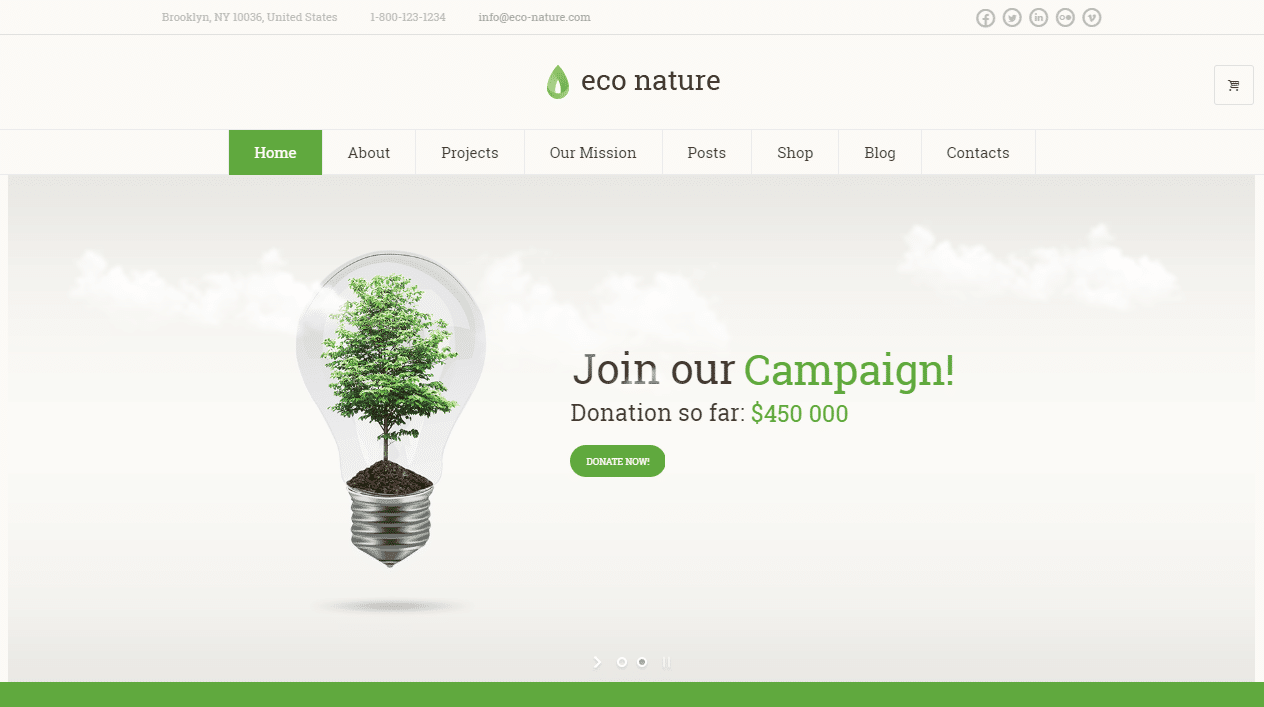 Eco Nature touts the same message as any pro-environment WordPress theme. This one, however, has a cleaner, minimalist aesthetic which may fit your preference as an organization and non-profit.
In fact, you're given three initial demos to get you on the right path, each featuring their own distinct style and goals. Combined with that, WooCommerce integration is included along with multi-translation support. It also allows for total customization with unlimited color choices, various layout formats, and menu organization. Combined with its SEO optimization, this is an excellent choice for getting your website – and message – greater traction.
Sport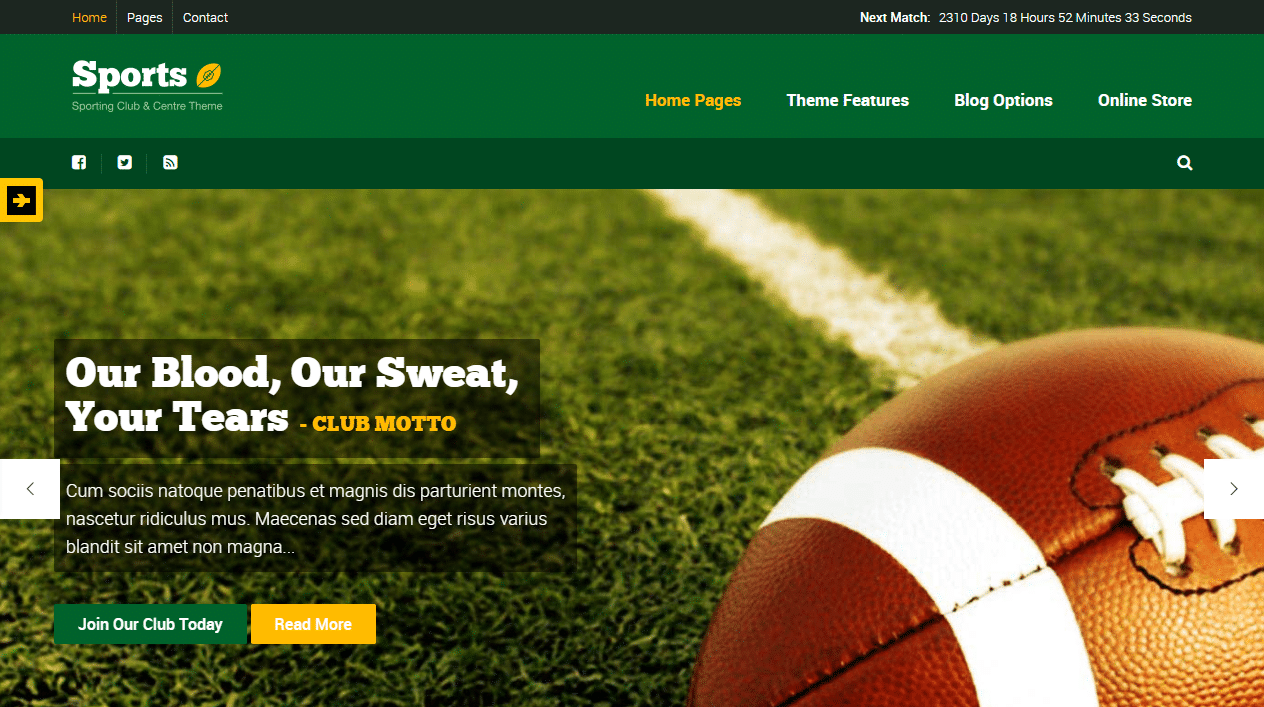 How about that sport ball? Pretty exciting, right? Well, why not lend your passion for sports. . . with Sport!
This non-profit theme is angled towards those who want to set up online communities for sports events or anything they think of. It's super responsive and looks great on mobile with in depth menus, offering gallery options with a retina-ready design. SEO optimization will help the blogger aspect, which has its own advanced settings for improved visibility. Along with translation support and WooCommerce compatibility, this is good for communities who just love athletics.
Maisha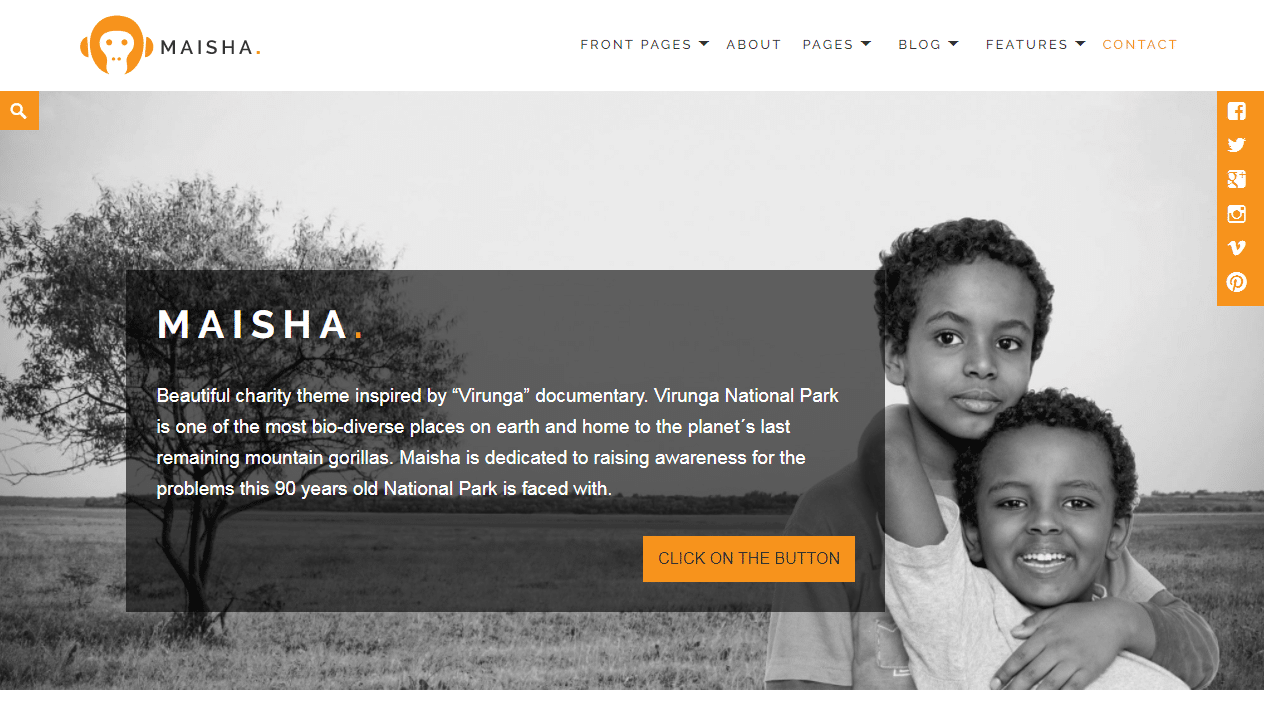 Here's a non-specific WordPress theme for charity drives and non-profits. This flexibility will allow you to fine tune your website into whatever you need.
There's plenty of reasons to use it, too. Over a dozen templates start purchasers on the right food with different ways to modify their landing page, from headers, layout, and post format. Unique sliders will give your website a touch of finesse, and WooCommerce integration means you can sell for charity drives. This theme also works great with BuddyPress, so you have some options for website creation.
ChurcHope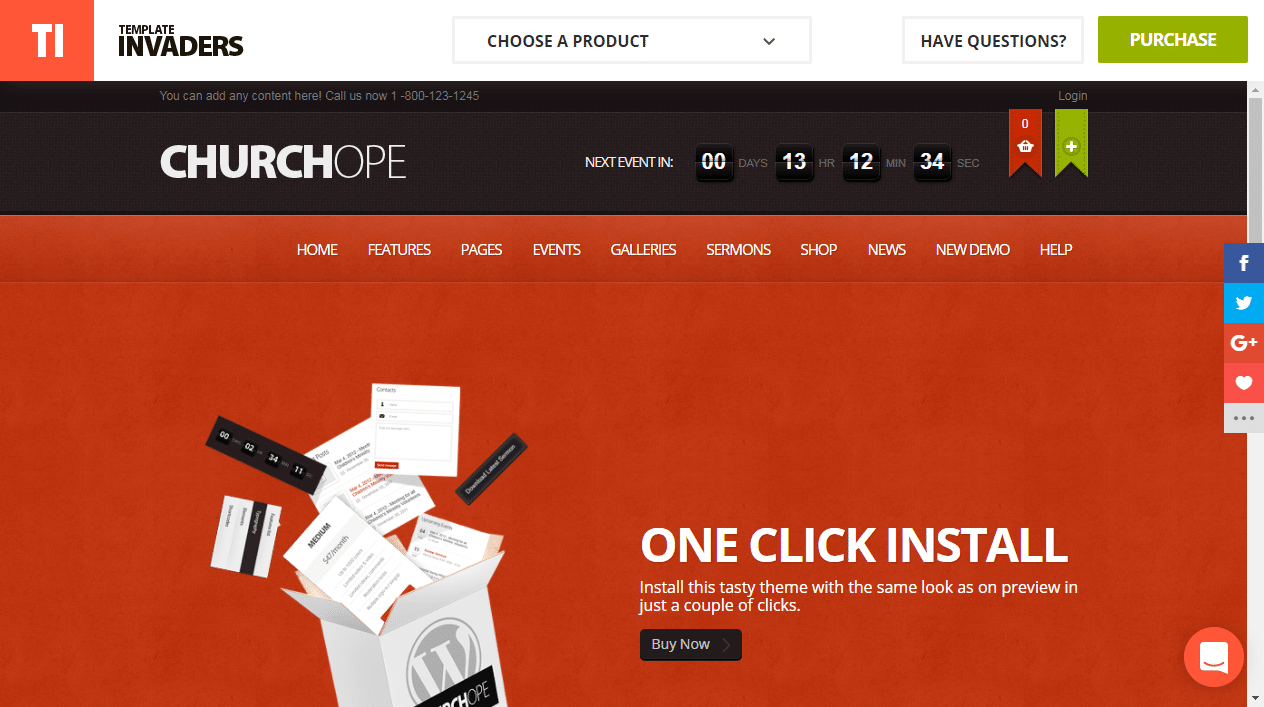 When in doubt about your non-profit websites or landing pages for religious purposes, then look no further. ChurcHope is the highest rated WordPress theme in the category of non-profits, so if nothing else, it's proven and dependable.
Despite its spiritual-oriented design, the aesthetic is exceptionally modern and highly responsive. It comes with WooCommerce integration to sell specific wares you may have and has numerous starting templates as you begin to build the perfect website.
For churches, video integration, blog posts, and map listings are tossed in for convenience. Oh, and if you happen to decide that you want to sell clothes, this theme also doubles for a fashion theme. The devil wears Prada, as they say.
Hope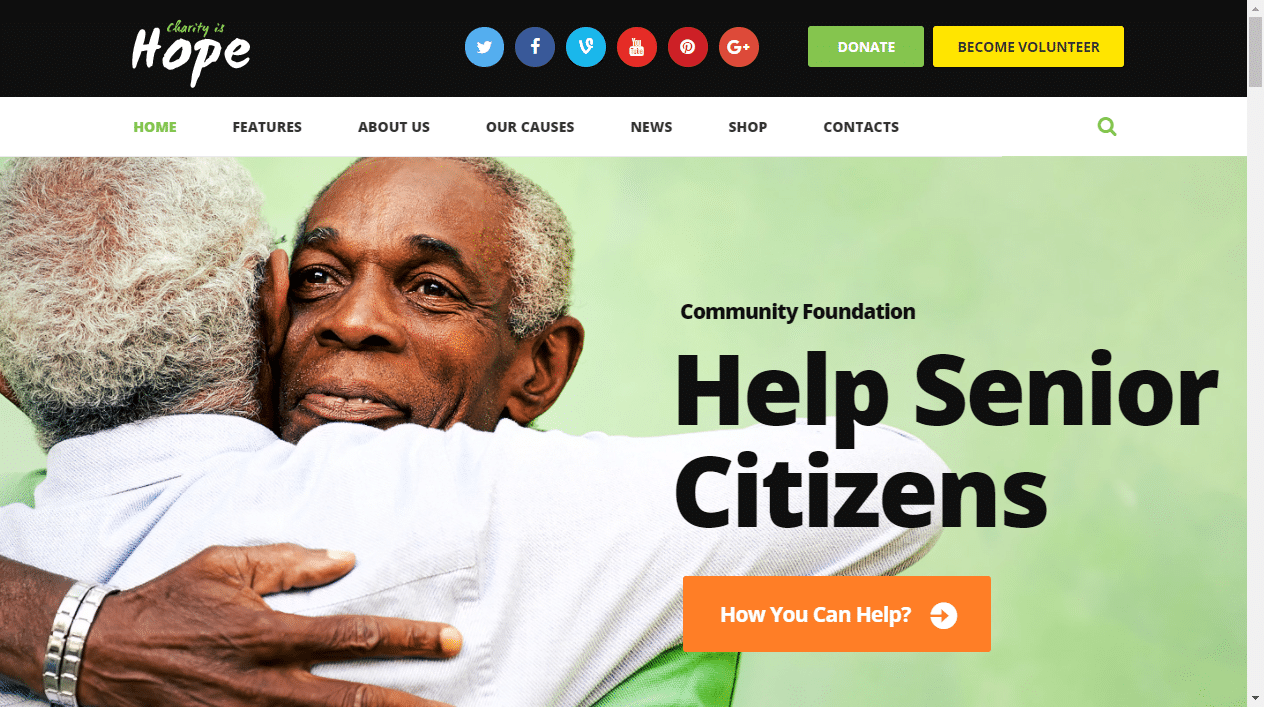 Time now I start switching gears and taking a gander at the best WordPress themes created in the previous year. Starting off this switch is Hope, the fuel we get for free.
Actually, this great multi-purpose theme is suitable for all charities, non-profits, and goodwill drives. This is accomplished through its one click demo installs, mobile-responsive design, drag-and-drop tools, and Revolution Slider plugin. Oh, and that's just the start. There are a dozen more features with other great plugins which make site creation a breeze, and the SEO optimization will better expand your message to the world.
Charity Hub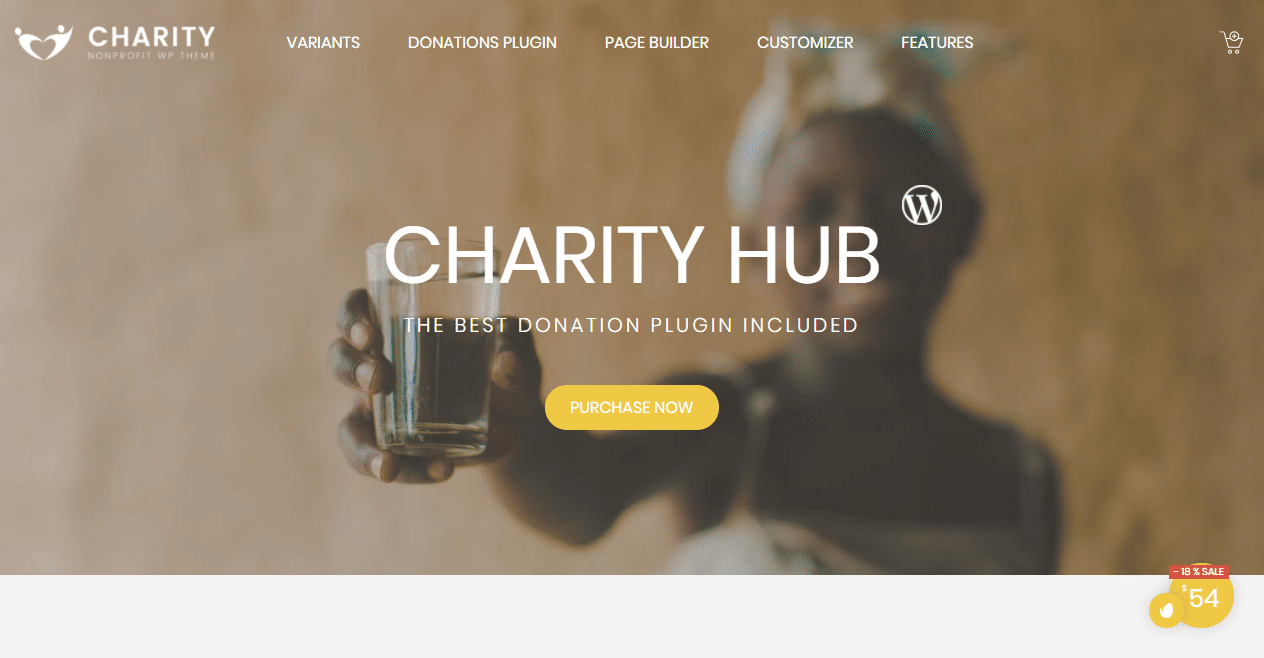 You can't go wrong with flexibility. Charity Hub is another choice which is ideal for any non-profit drive your organization has in mind.
This theme gives you six beautiful starting variants which translate to amazing landing pages, bundled with premium plugins, easy design features, and WooCommerce compatibility. The included events calendar allows you to set dates of interest and the theme is PayPal ready for online donations. The combined Page Builder plugin means you're saving hundreds on features while taking advantage of the theme's flexibility. A well-rounded option.
Recycle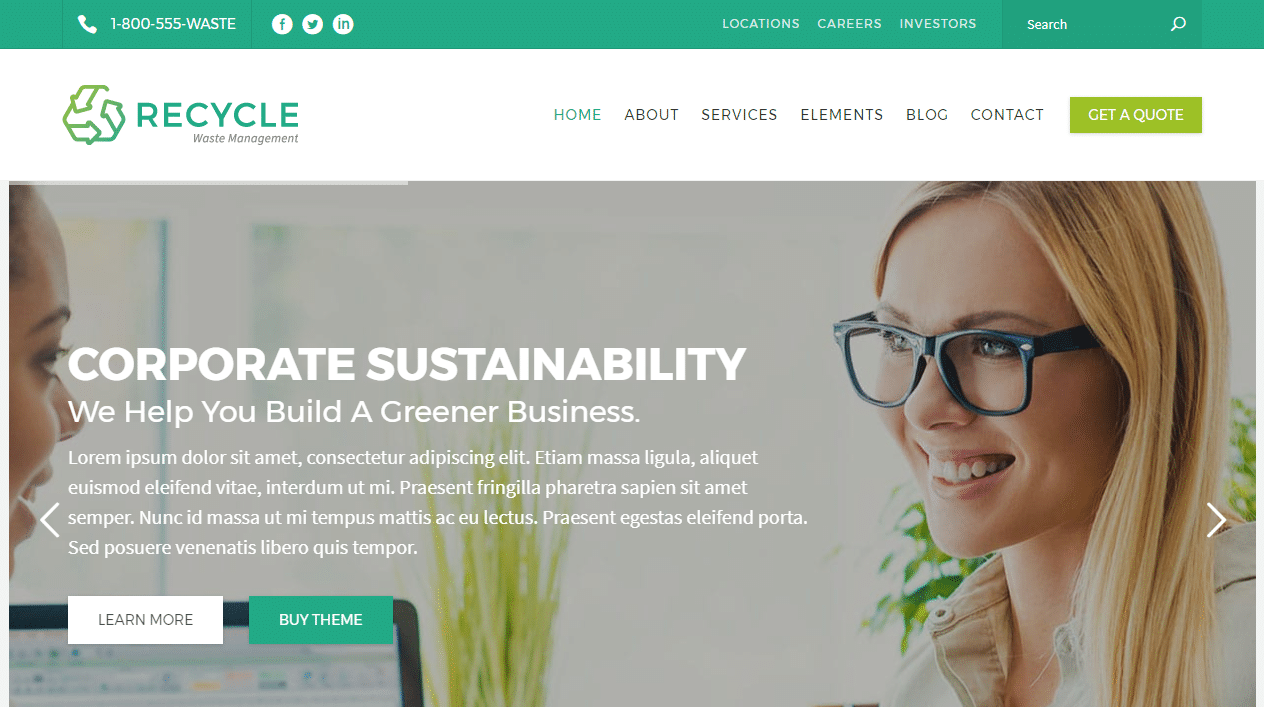 Preserve resources and tell others to do the same with Recycle! Actually, this eco-friendly WordPress theme might be named Recycle but is a general charity theme for all things pro-nature and environmental protections.
This theme is modern in both look and feel, showcasing a clean grid-format with slick animations and icons. You can use it for organizations and services who all serve the environment, taking advantage of its customization tools.
Vision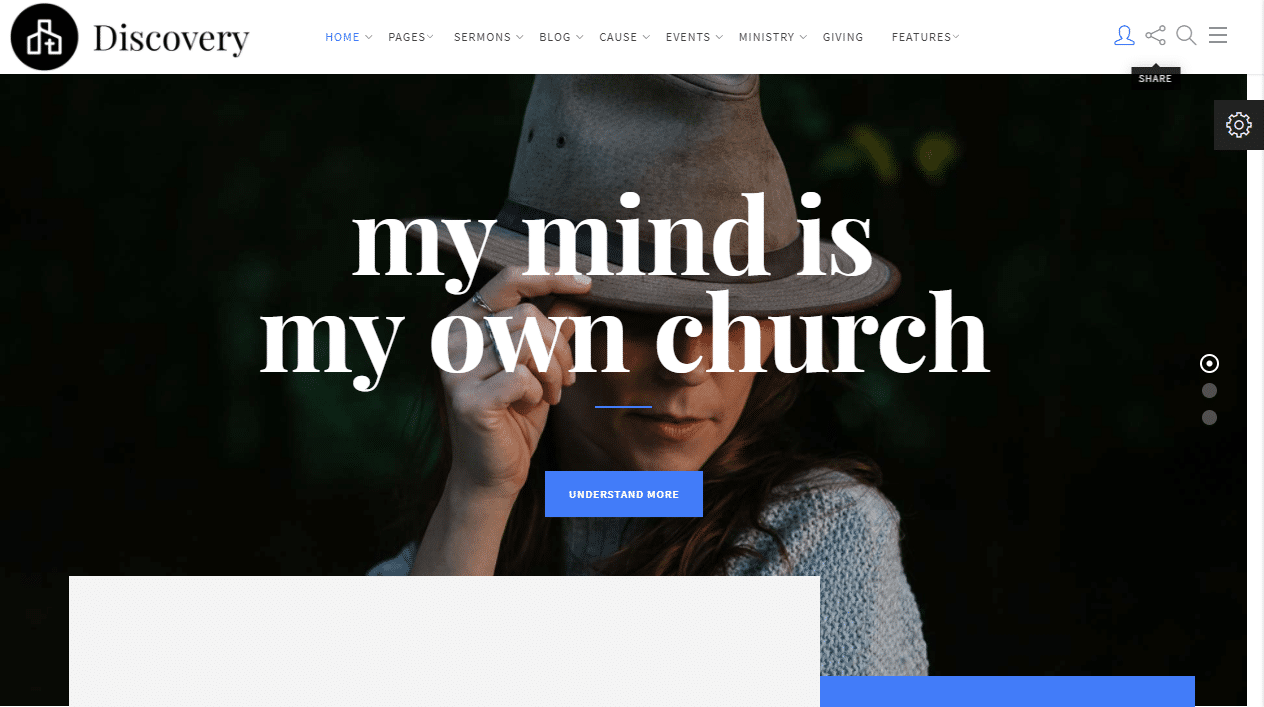 You're not seeing double, only Vision, another WordPress theme for nonprofit churches and organizations that sports two demo templates for its purchasers.
Much like the other themes you have lots of similar, necessary features like customization options and event markers. However, you can also take it a step further with a few church-oriented widgets like a tracker for charity drives, sermon "lessons" (which work like an online class format) and a prayer wall. This, I feel, is enough to separate it from other options as it gives you specific tools for church-based goals.
The Needs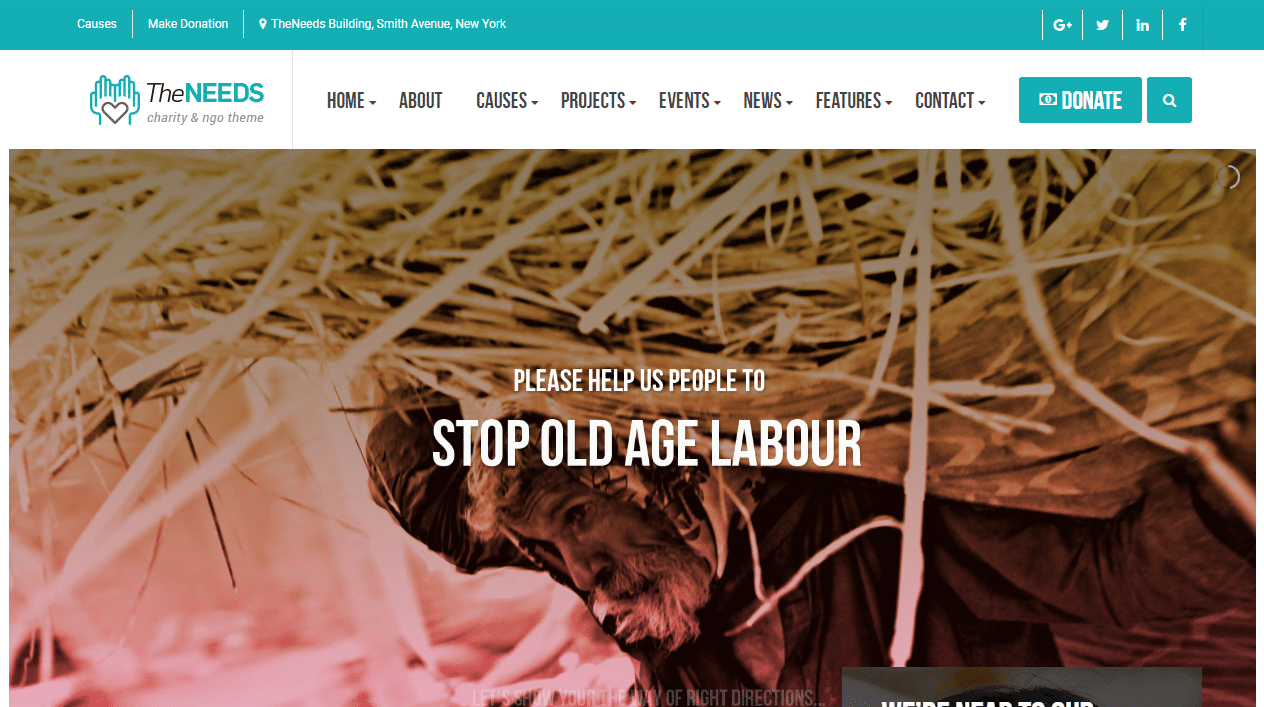 The Needs of the many outweigh the needs of, well, something.
Actually, The Needs is a great multi-purpose WordPress theme for different charity drives and nonprofits, like you'd expect. This one, however, is very much geared towards hunger drives and donation drives for less fortunate people, accompanied with a clean layout which showcases the financial progress of each charity. It is, thus far, probably one of the most modern looking themes I've chosen. Give the demo a look to see for yourself!
Right Way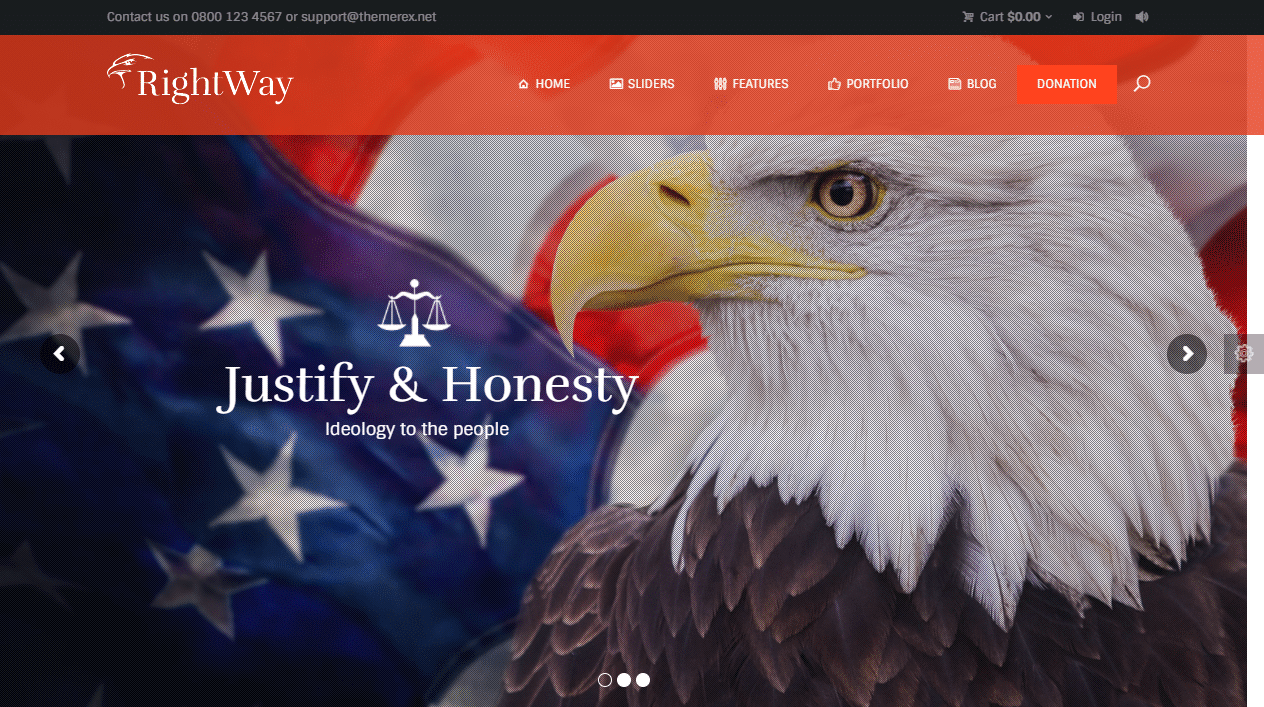 You can't start those dreams of becoming local mayor without starting the Right Way.
Now that my terrible pun is over, check out Right Way, the political non-profit WordPress theme. This is a potential alternative if you weren't satisfied with my first choice. Right Way has loads of premium plugins to give you lots of value and supports a slick landing page coupled with modern design.
Vestige Museum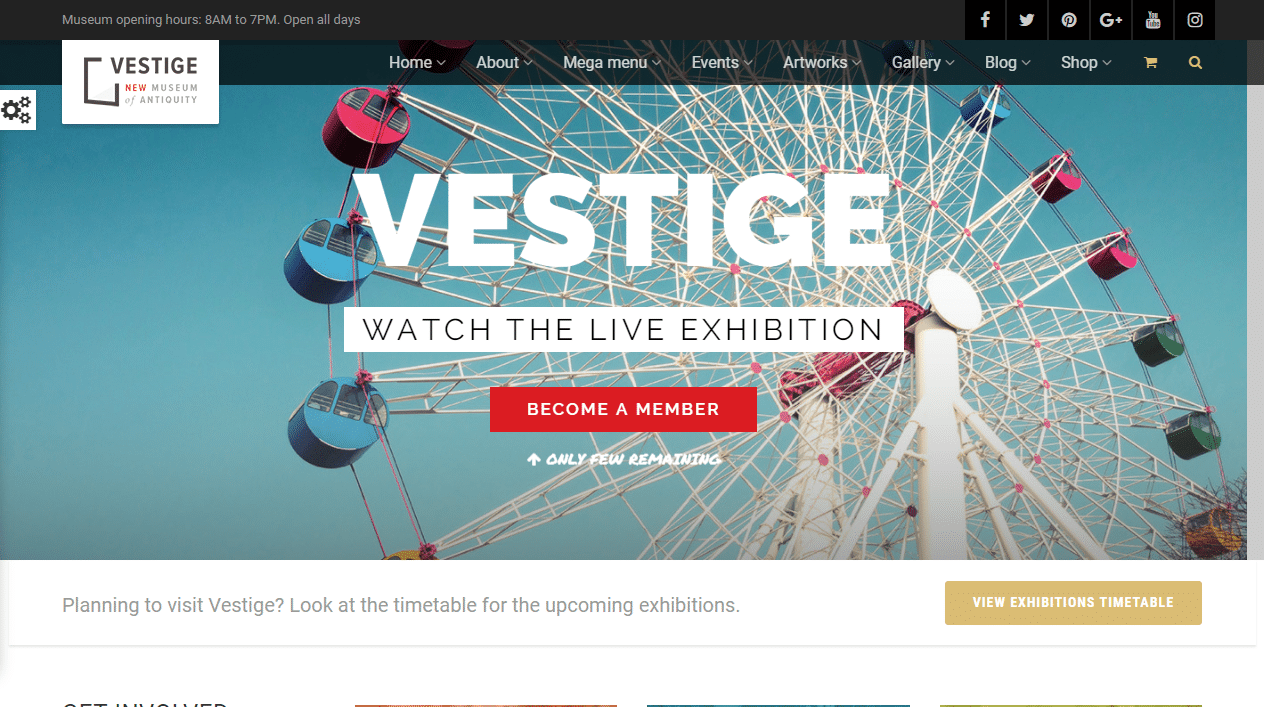 You gotta' support the local arts! Vestige Museum encapsulates this idea with its multi-purpose WordPress theme suited for organizations related to public art, aquariums, or – you guessed it – actual museums.
Included is an in-depth page builder with ways to set event dates and specialized blogs. Slider Revolution is also included and there are over 1000 unique icons to give your website its own identity.
Rescue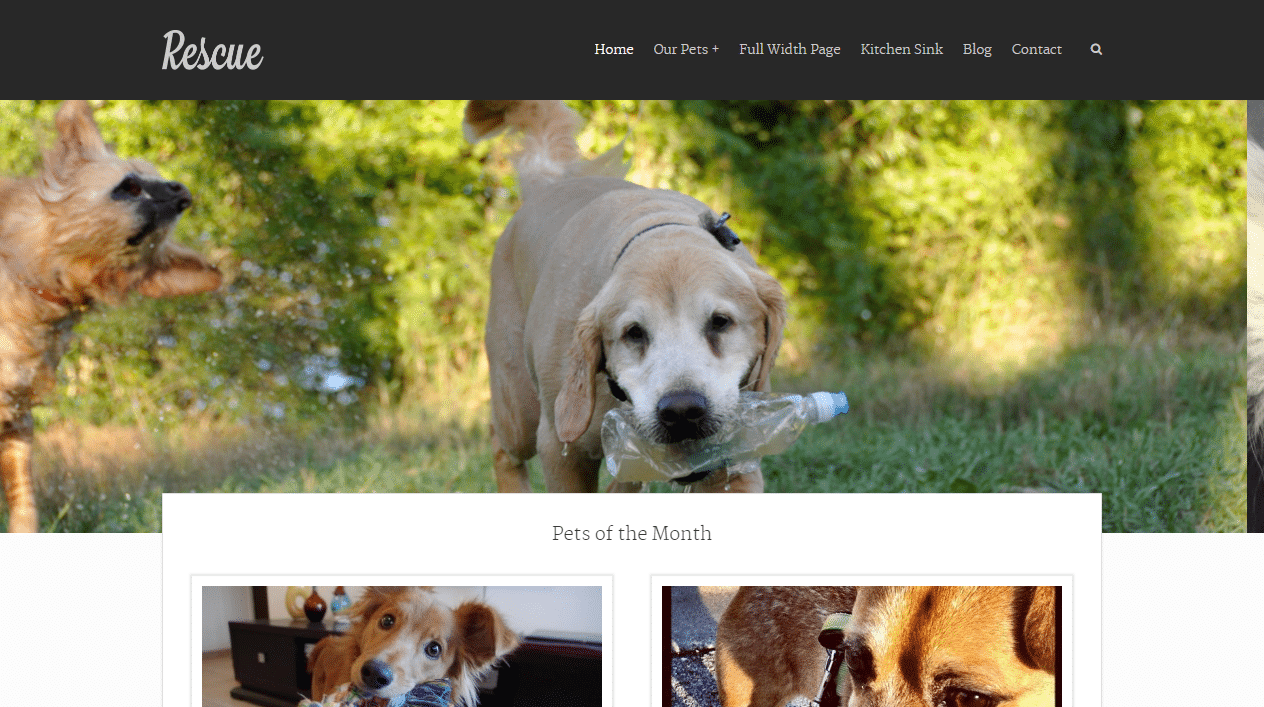 The plight of animals should never be ignored, and Rescue takes that core idea and translates it into a responsive WordPress theme.
Rescue is for nonprofit organizations who specialize in animal rescue and care. If that sounds like you, this might be up your alley. One of the big advantages of this theme is its sync with Petfinder, a tool which lets users keep track of animals and animal shelters. Map integration and manual pet submissions also allow anyone to make use of the site, so it's ideal for users seeking their lost animal friends.
Splash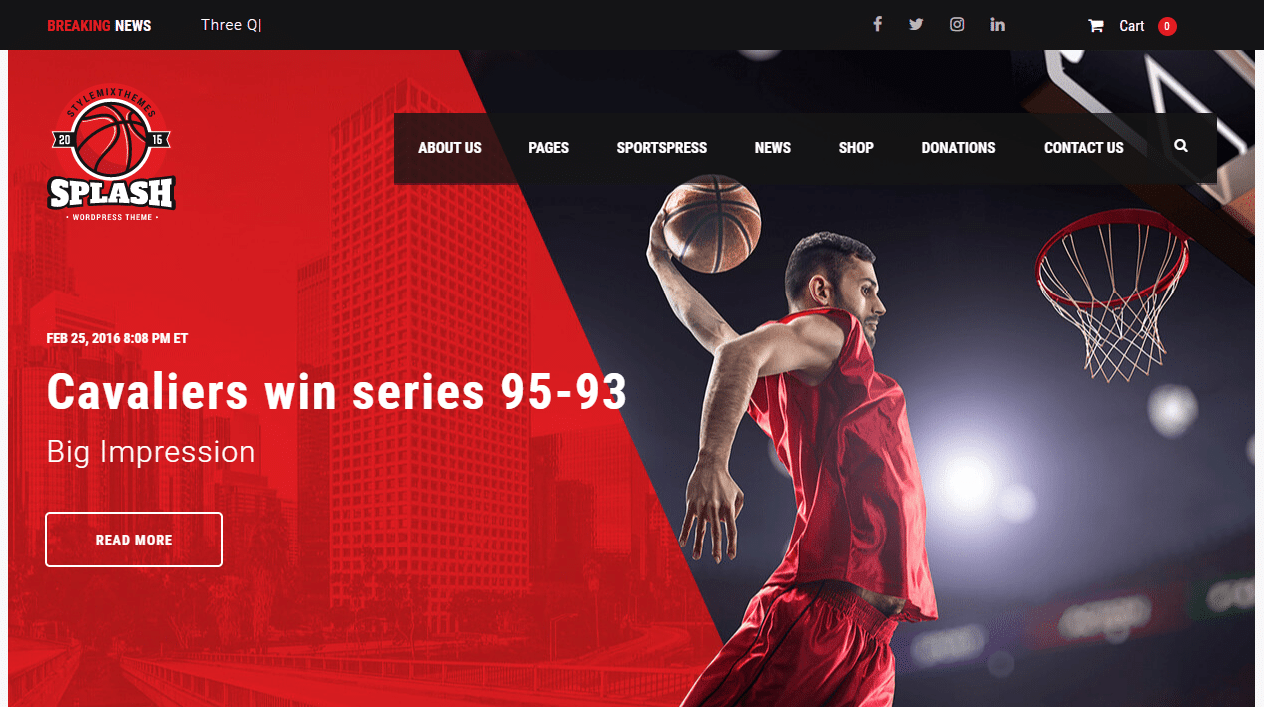 Splash is a stylized non-profit sports theme, suitable for all athletic clubs and organizations. Three powerful demos give you numerous visual options and ways to discuss the latest sports trends, scores, and stats. Purchasers can set team rosters, keep up with games, set events, customize to view live results, with much more.
Though it's not a traditional non-profit listing, this is a good choice if you're out to support local teams and want a modern looking theme to go with it.
Grace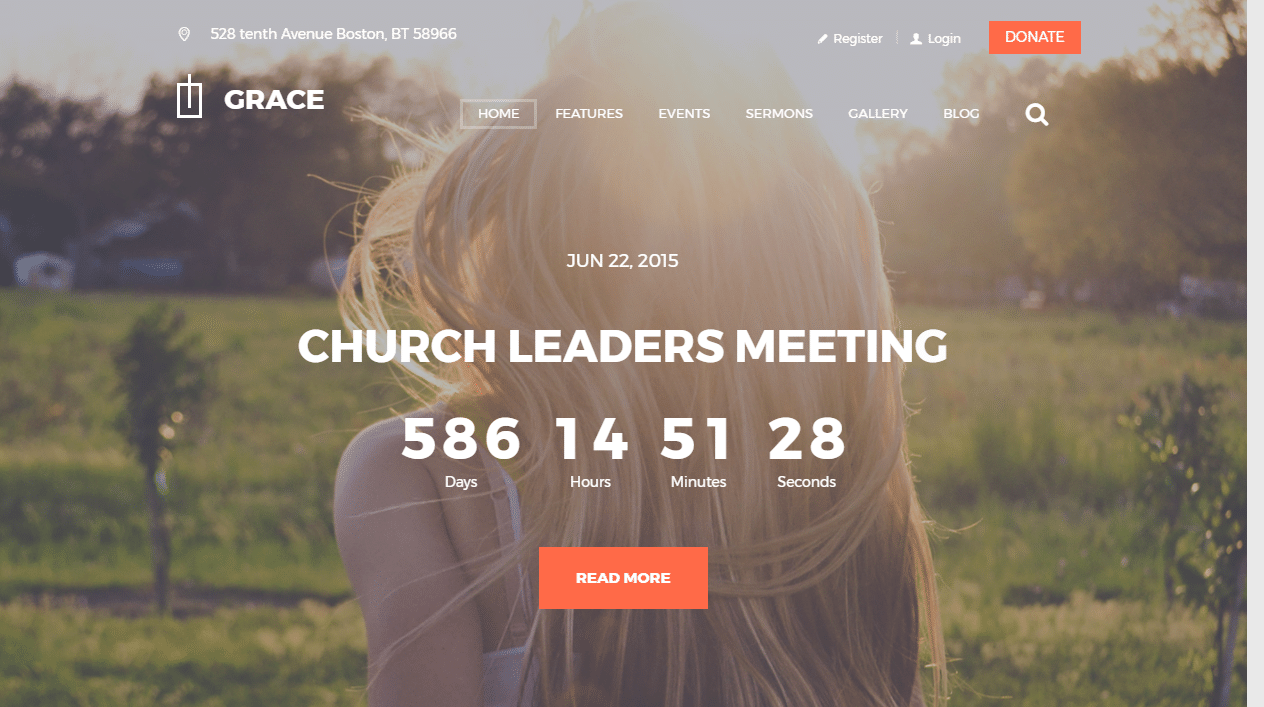 One more option for religious organizations, Grace is a modern WordPress theme with convenient features and tools. One-click demo installs get websites up fast and extensive documentation means you won't be left guessing when building your pages.
Much like other church oriented themes, it has gallery pages, sermon listings, and other details, but also has a variety of unique animations that help it stand out just enough.
Soraka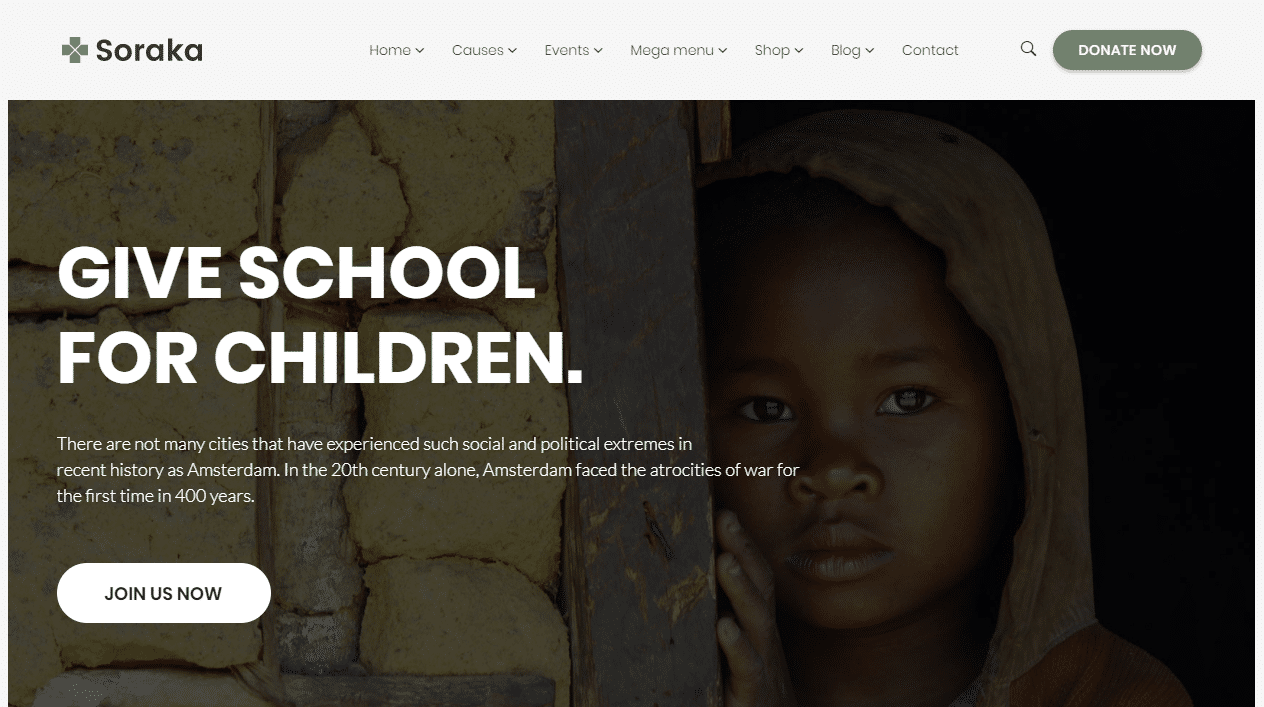 We're on the home stretch, but that doesn't mean quality is going somewhere.
Next up is Soraka (Japanese for flower), a multi-purpose charity theme suited to any donation drive. This theme gives you five powerful demos and various ways to create a contact list and spread your message. Donations can be tracked via a progress bar and it's highly responsive on mobile.
Zeko

Zeko might be fairly new but it doesn't skimp on the quality. This modern theme is another animal activist WordPress theme, promoting the safety and protection of their well being. The message is delivered with a near zero load time website that's super clean and operates perfectly on mobile.
If you've got a soft spot for our furry friends this is a good theme to set up various drives for their healthcare.
Nonprofit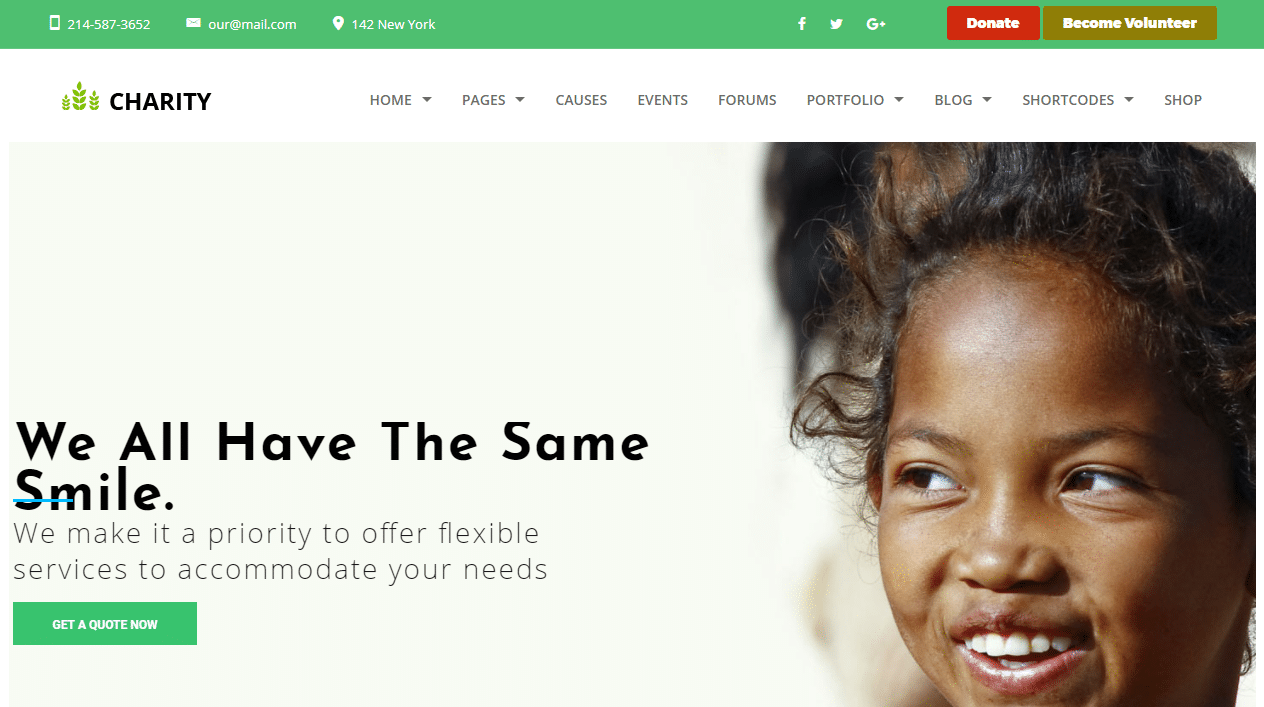 Here's a good theme for charity organizations which, of course, follow the philosophy of no profit. It starts with three demo templates, one for blogging (if you're interested in the message aspect) while the format is responsive and modern.
It also comes with several premium plugins like Visual Composer, so you're given a complete package with lots of design tools.
Advocator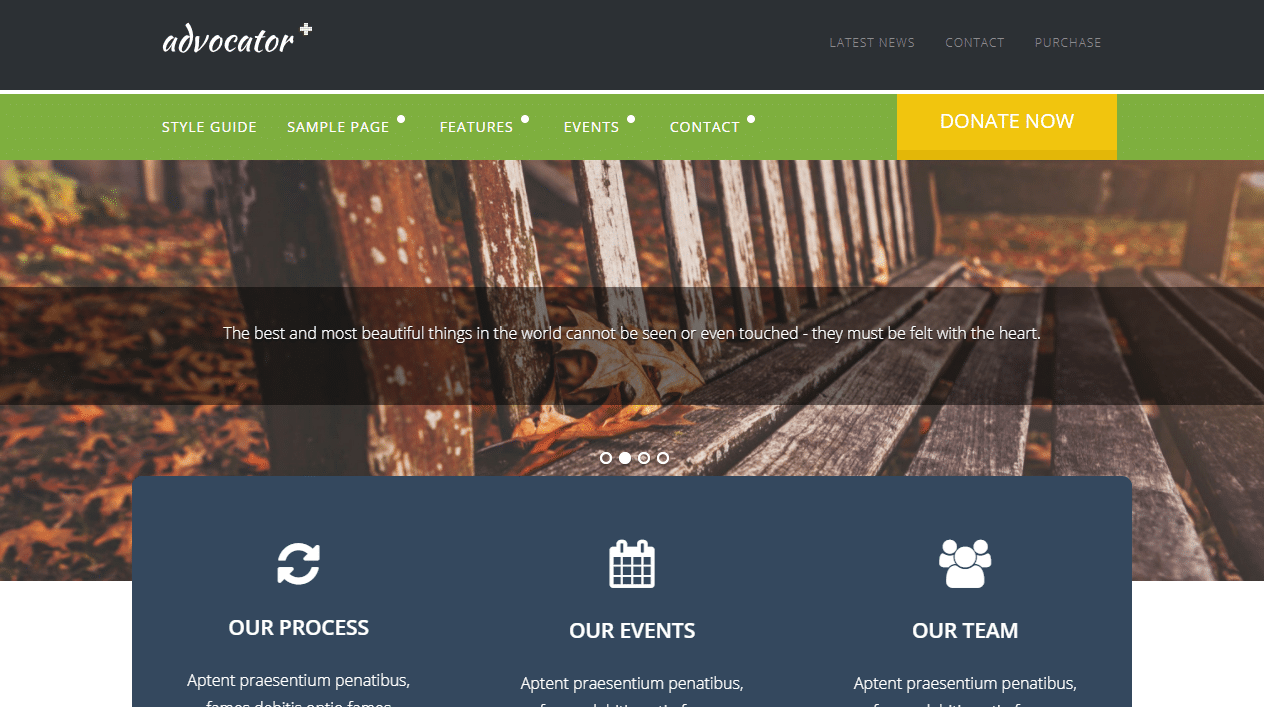 Advocator is simple but effective. A nice option for purchasers who want to create a powerful landing page and skip on an excess of content (at least initially).
Animations and unique icons help separate your website apart and the theme works well on mobile devices. You can also set events and keep track of mailing lists while accepting donations online for whatever charity or cause you have in mind.
Politica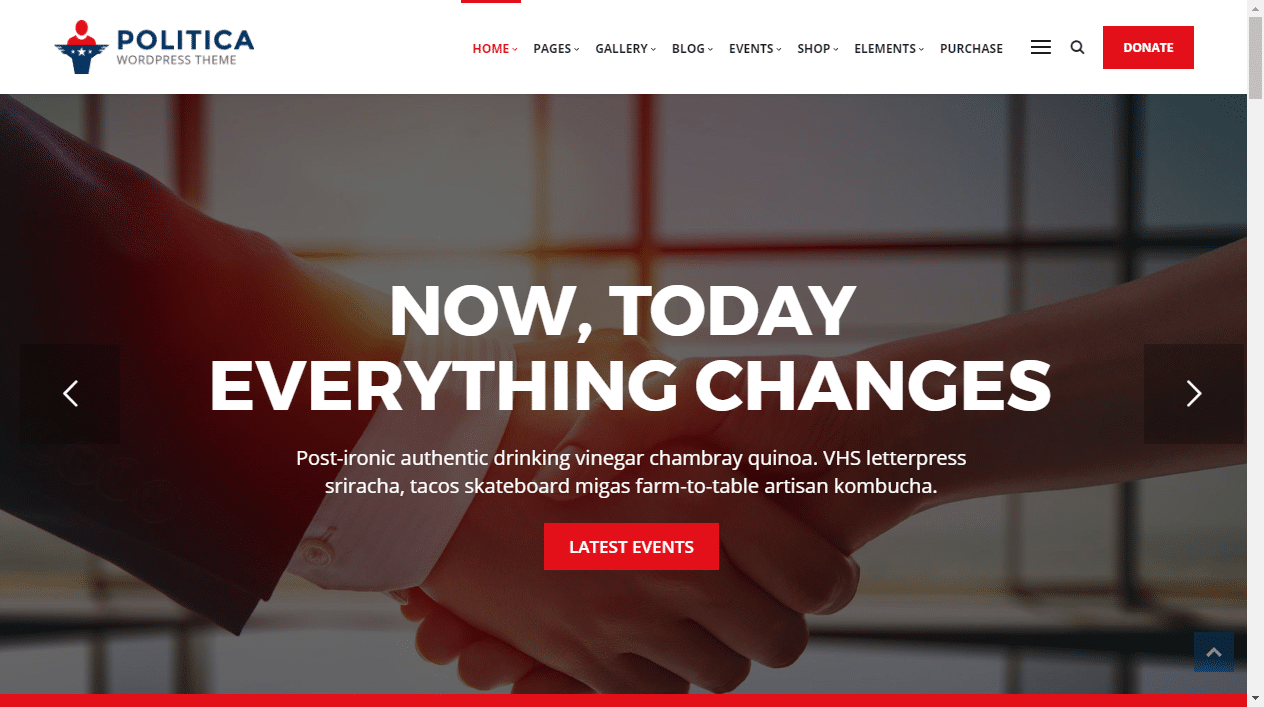 Politica is one more choice in the field of donation driven politics and candidates. It also boasts the "best of" reward for being the top rated political based theme of 2016.
Such trustworthy ratings came from its extensive list of features and tools. For one, it looks good as a modern landing page complete with engaging animations and visual style. It's also got quite a few premium plugins, such as Contact Form, MailChimp, WooCommerce, and Events Calendar. It also sports multi-language support so you can better extend your message. Combined with a powerful support team, you'll have a great theme with greater support, donation button included.
HelpingHands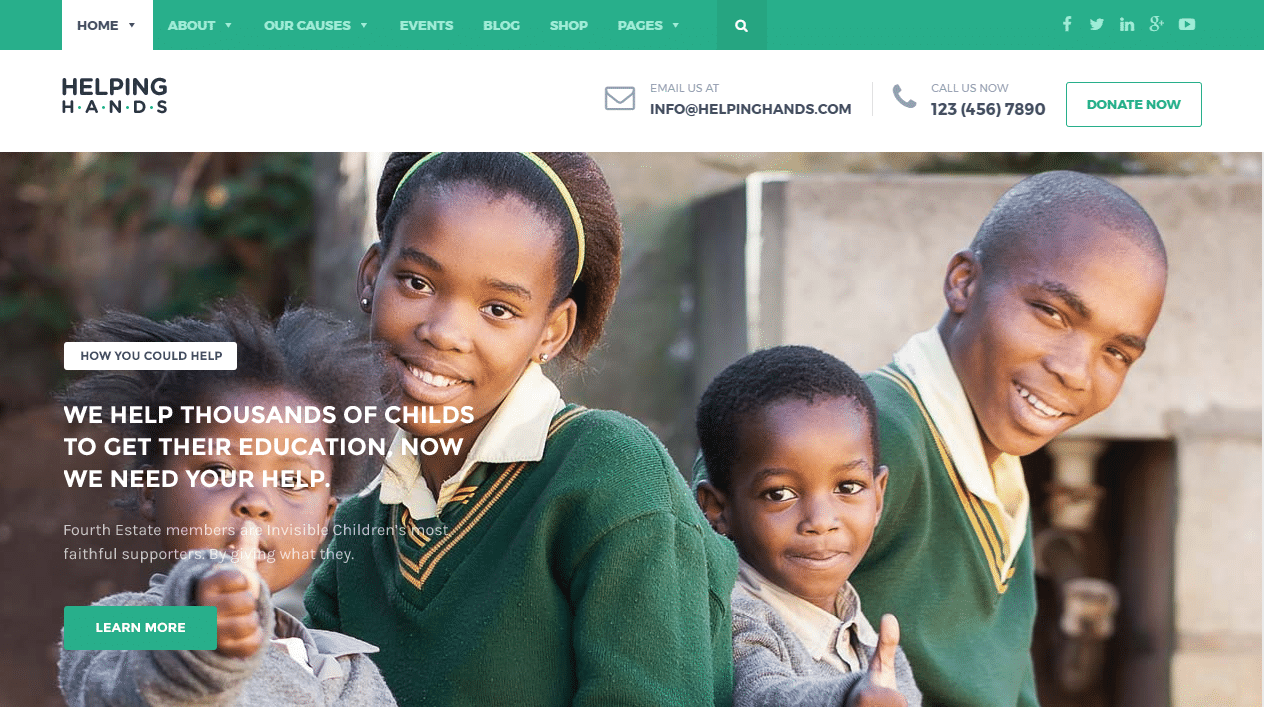 HelpingHands, now updated with a church demo template, is another one-stop shop for charity drives, organizations, and general nonprofits looking to do some good in the world. Like other choices, this one has many essentials you'll need, such as map integration, blog updates, a tracker for drives, messaging system, and more. You can also expect Visual Composer, Ultimate Addons, and WooCommerce as part of the package.
Pena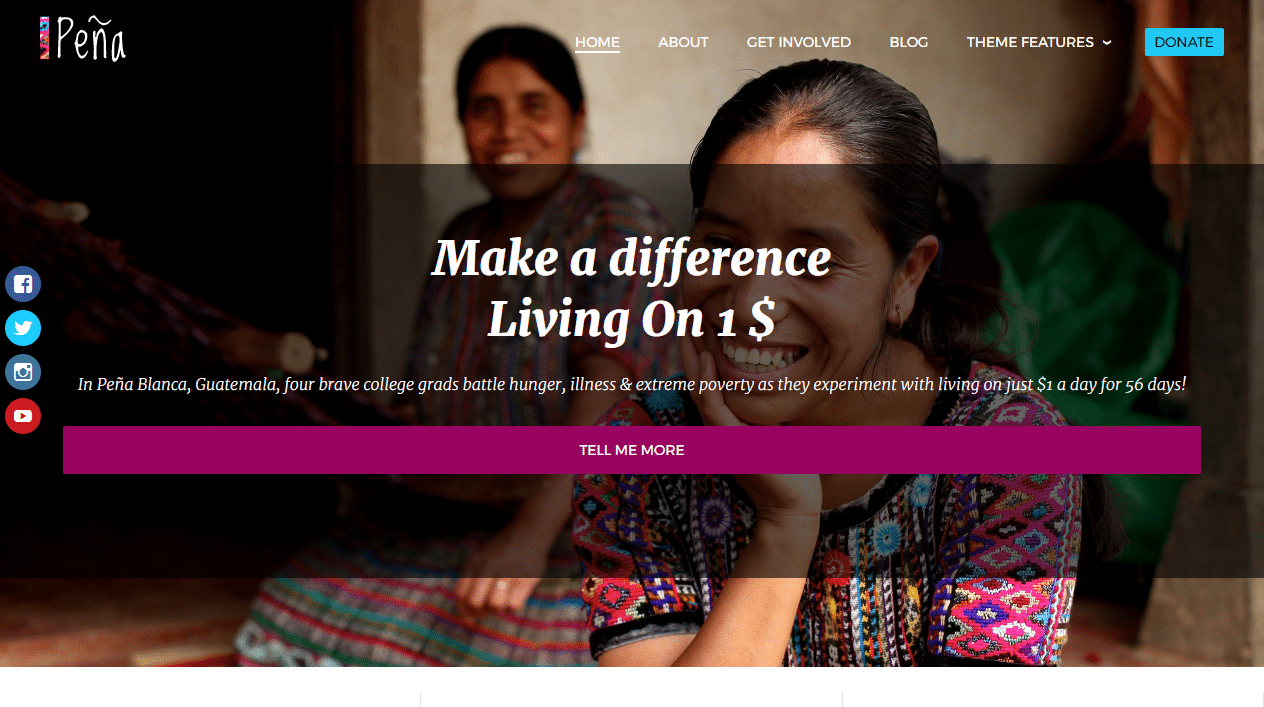 Originally inspired by documentaries based on the hardships of lower income people, Pena is all about getting the message across to the internet: help others.
But it's not all words, this theme is packing with features and powerful design, despites its newness. Several templates fit a variety of style choices with easy ways to customize each. Along with its blog format and gallery friendly design, you also have a series of helpful plugins, like WooCommerece, to help charity drives. It also incorporates the "Give" plugin, so this is ideal for those looking to create a website of goodwill.
Green Nature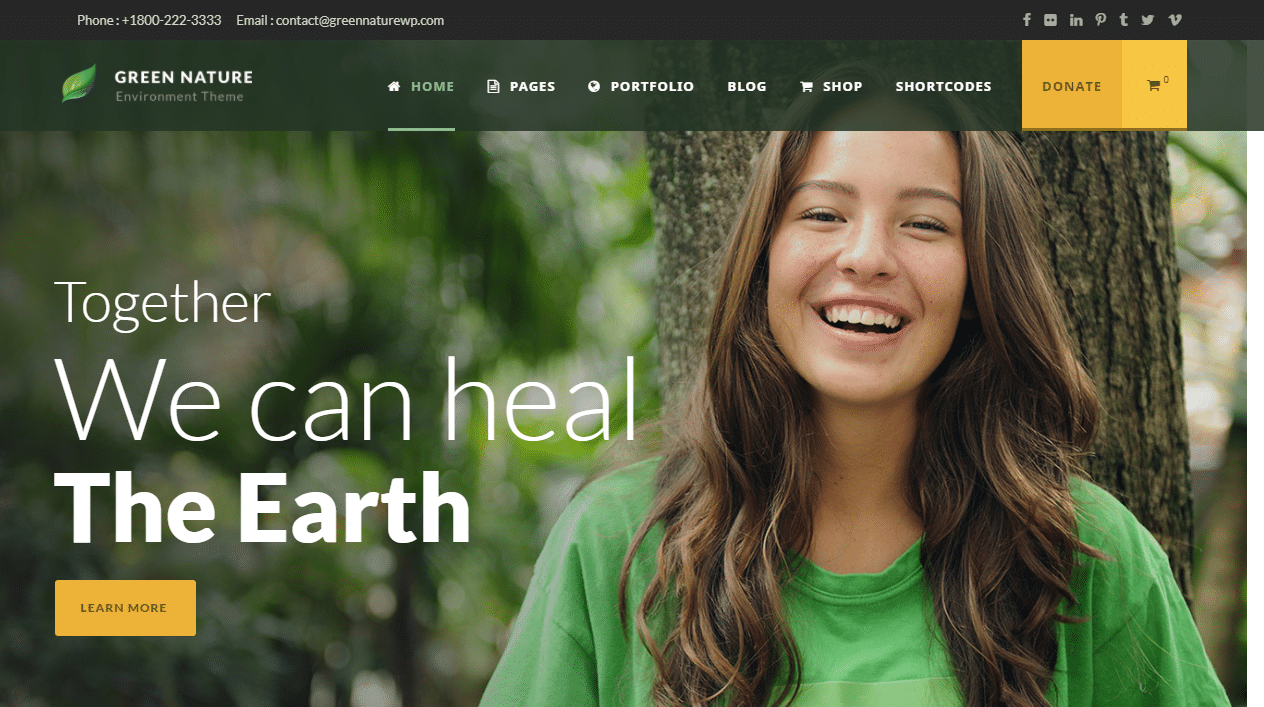 One more potential option for the green loving organizations out there.
This WordPress theme looks great on mobile devices and has a few handy features which support drives to protect the environment. PayPal is integrated as are contact forms, so you can get the message out faster while accepting online transactions. You can also install demos with one click, and it's compatible with WooCommerce.
Social Activity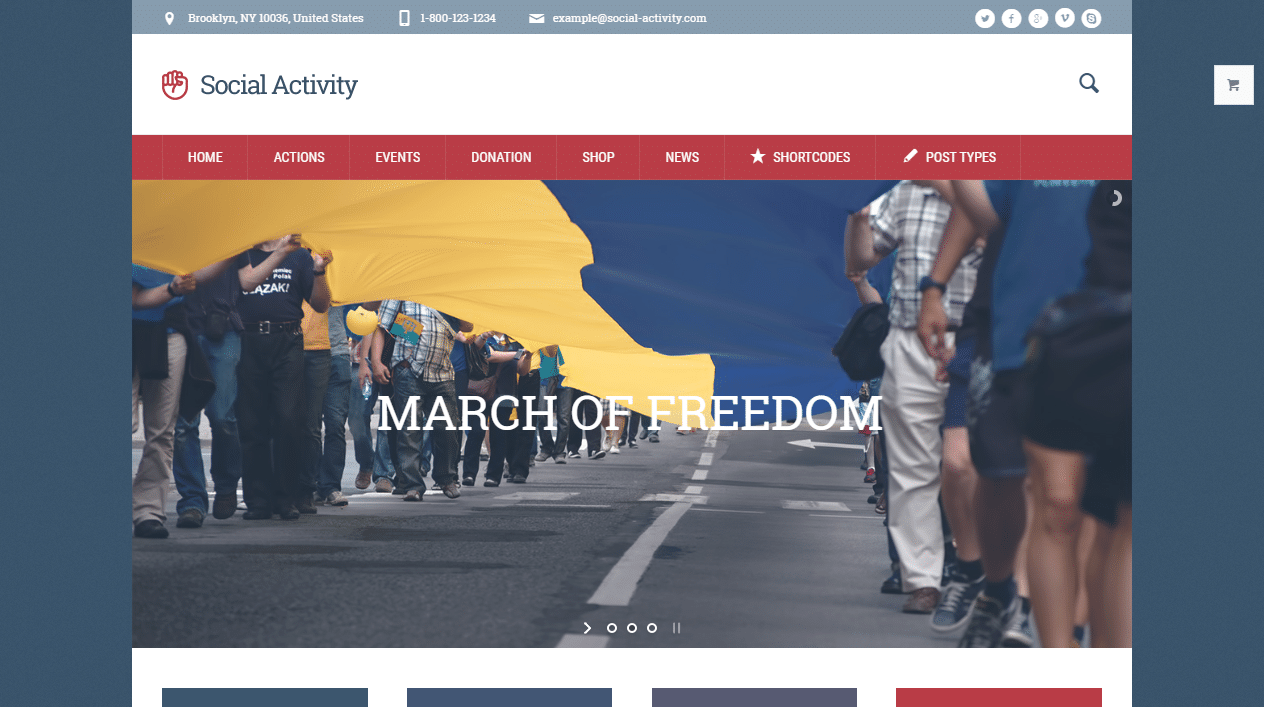 Ideal for activists and those involved in politics, this is a good option for fundraising and donating to a variety of political based purposes. A solid choice if you're not looking for something ingrained in a particular political candidate or movement, and rather use the levers of power to accomplish various goals.
DonateNow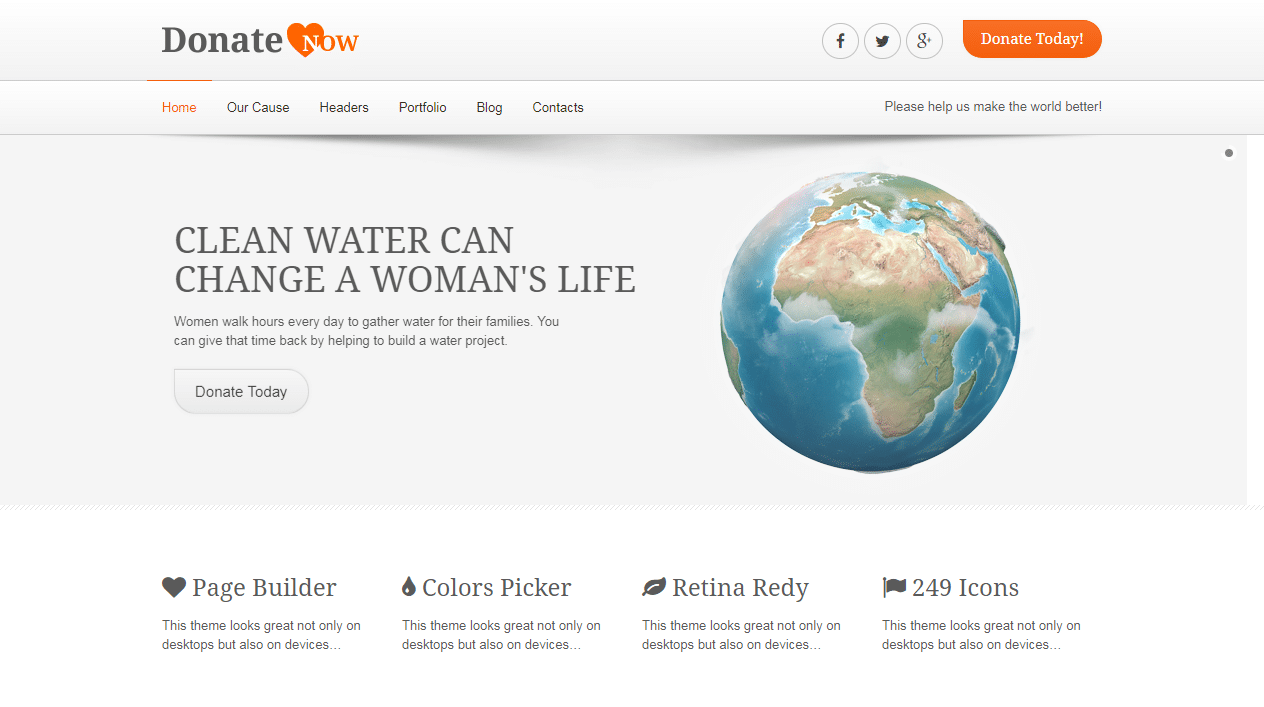 My last pick is a bit more straightforward, less about any particular movement, charity, organization, or motive, and primarily about donations as a whole. This means the theme is flexible enough to fit your needs as you see fit.
It has several templates, responds well on mobile, and allows for customization of header/footer layouts. Slick animation and clean style mean it looks great and fits what you need it for.
With that, I thank you for your time. With the recent chaos in the world and disasters lurking around the corner, finding a way to help those in need is important.