You've got a WordPress website – congrats! Now you need to figure out how to make your website better. And part of doing that is learning more about your content and your visitors. Figuring out what content is the most popular, where your visitors are coming from, what they're clicking on…
That all helps build a more successful website.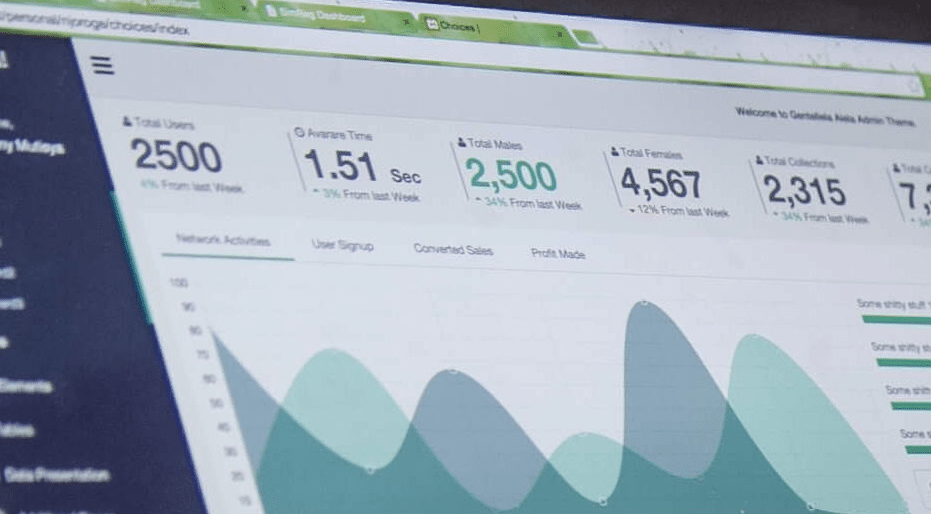 But if you want to do that on WordPress, you're going to need help. That's where WordPress analytics plugins come in. And that's also where most WordPress blogs rattle off a list of Google Analytics plugins and call it a day.
To avoid that, I'm going to spend this post covering a variety of WordPress analytics plugins. Yes – one of those plugins deals with Google Analytics – but the rest open up new analytics options you might not have known about.
*Note – I'm going to refer to all of these as "plugins" because they all offer a dedicated WordPress plugin. But a few of these tools are technically SaaS products. The plugin terminology is used for simplicity.
Traffic Analytics Plugins That Store Your Data Off-Site
These plugins and services offer helpful tracking and insights, but require you to give up full control over your data. That is, your data "lives" on their servers, not your own servers.
Google Analytics Dashboard for WP (GADWP)


I'd be remiss if I didn't include at least one Google Analytics plugin, so bear with me for a second before I get to your other options.
In addition to helping you add the Google Analytics tracking code to your WordPress site, Google Analytics Dashboard for WP also gives you:
Cleaner data by excluding certain user roles from tracking
Enhanced link attribution
Basic Event Tracking
In-dashboard reports so you can view your stats without leaving WordPress
This is by no means your only option for integrating Google Analytics with WordPress. But it's popular, well-rated, and 100% free, which is tough to argue with.
Get Google Analytics Dashboard for WP
Jetpack WordPress.com Stats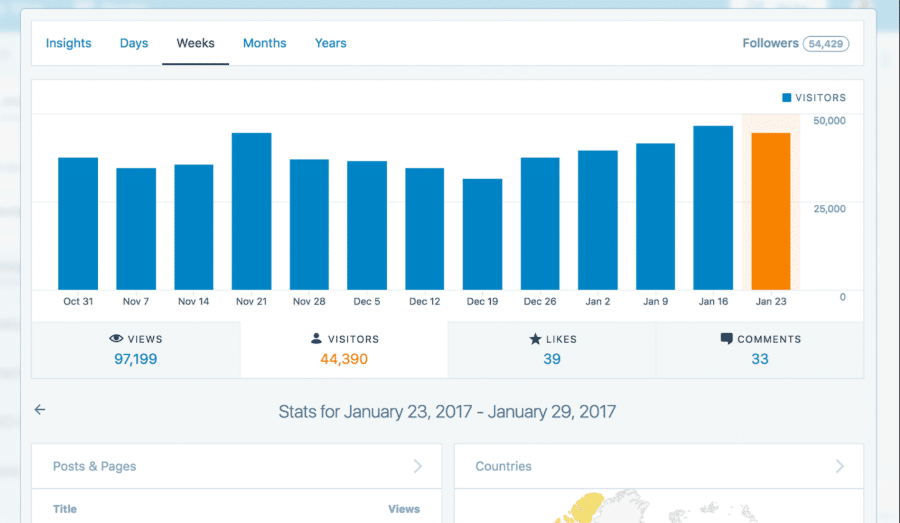 If you don't care about super detailed analytics and just want a basic look at what's happening on your site, Jetpack's WordPress.com Stats module might be a good option for you.
Assuming you're already using Jetpack, all you need to do is turn on the module – no additional setup required.
Then, you can see where people are coming from, your most popular content, and more.
Just be aware – while the plugin is entirely self-contained from your point of view, all of your data is still stored on WordPress.com's servers, not your own.
Clicky and Clicky by Yoast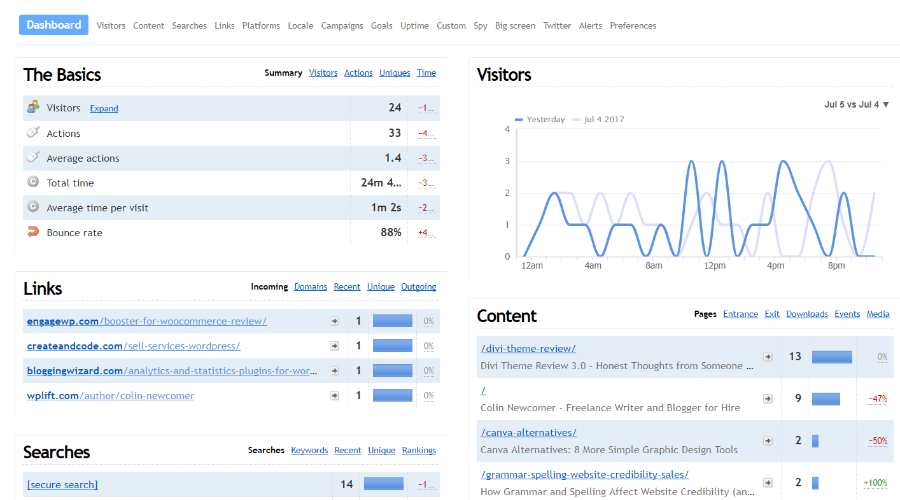 Clicky is another long-standing analytics tool. It's been around almost as long as Google Analytics and actually has a couple of features that make it a worthy alternative to Google Analytics.
First off – Clicky's bounce rate calculation is better than Google Analytics'. Clicky doesn't count users who stay on your site for more than 30 seconds as a bounce, which I think is a more accurate measurement.
While you can achieve the same thing with Google Analytics using interaction events, it's a lot more complicated for the average user.
Beyond that, Clicky also has easy outbound link tracking, heatmaps, and the coolest live traffic view in the business.
Even though Clicky is a standalone service and stores your data on its own servers, you can use the Clicky by Yoast plugin to easily add the tracking code and get some more control with things like:
Excluding certain user roles
In-dashboard reports
Goal tracking
Traffic Analytics Plugins Where You're In Full Control Of Your Data
If you'd prefer not to hand over data about every single person who visits your site to a third-party, there are also self-contained analytics tools where all of your data is stored on your server.
For the privacy conscious, these are your best options…
Independent Analytics

Independent Analytics is a new Google Analytics alternative made exclusively for WordPress. It starts tracking data the moment you install it and adds a beautiful analytics dashboard to your WP admin.
With Independent Analytics, you can track your sites views and where your traffic is coming from. Unlike traditional URL-based analytics programs, it's deeply integrated with WordPress so it can list your pages and additional data about them. You can see your pages sorted by view with data including their URLs, publish dates, page type, author, and even the post category.
There are also filter that make it easy to generate custom reports in a matter of seconds. For instance, you can filter the report to show only pages with more than 50 views, or posts published before 2022. You can also see helpful data like your most popular search terms and 404 errors listed alongside your other pages.
One last point to consider is performance. Independent Analytics loads a tiny 2kb tracking script that is inlined to your site's HTML, so there's virtually no difference in your site's performance with it installed.
Overall, it's an innovative and practical new take on analytics, and it's completely free to use for all WordPress websites.
WP-Piwik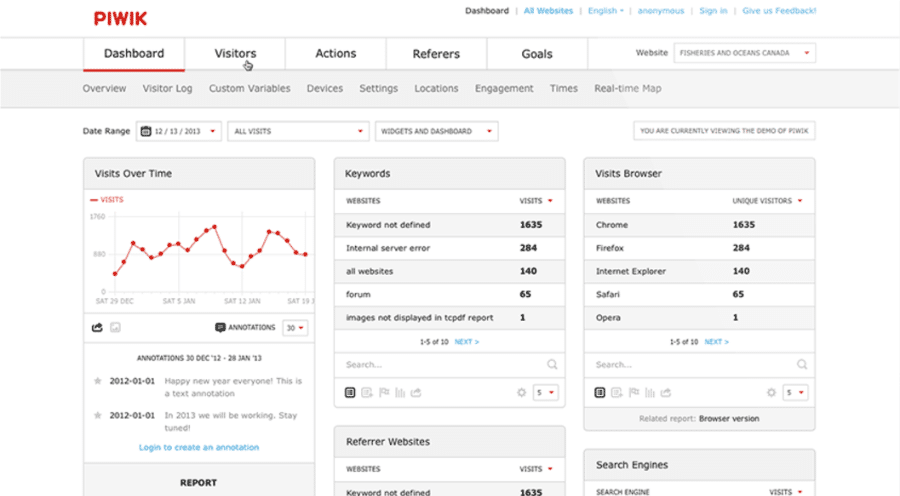 Piwik is a popular open source analytics platform that gives you full control over your data. It aims to be as powerful as Google Analytics, but without that whole "hand over all of your data to Google" business.
Going over the whole feature list would require its own post. But suffice it to say:
Piwik has most of the features you'll find in Google Analytics.
So how does Piwik work?
Well, part of it happens entirely outside WordPress. In order to retain full control over your data, you'll need to host your own instance of Piwik (or you can opt for a cloud-hosted version). I know that sounds complicated, but it's really not.
If you can install WordPress, you'll be able to install Piwik. Piwik even has its own 5-minute install.
Once you have your own instance of Piwik up and running, you can use the free WP-Piwik plugin to add the tracking code, modify your tracking, and view in-dashboard stats.
Slimstat Analytics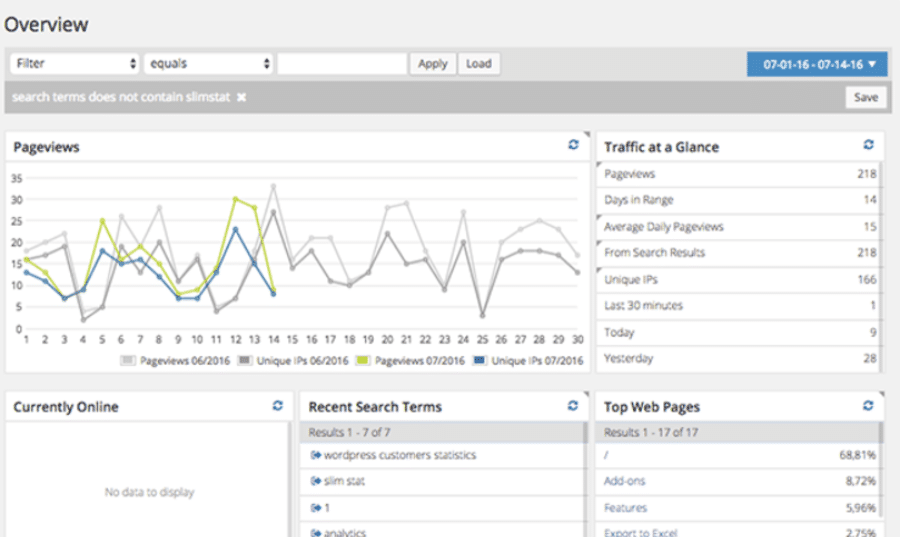 Slimstat Analytics is a free analytics plugin that gives a bit more information than WordPress.com stats, but not as much detail as options like Google Analytics and Piwik.
What's cool about it, though, is that all of the data is stored in your own database.
Yup – unlike WordPress.com stats – you have full control over your data and what happens to it.
Now you might be wondering, "is storing analytics data in my WordPress database a good idea?".
It's a good question.
Look – I'm not a developer, so I don't want to give a "definitive" answer here. But according to the Slimstat team, it only takes 10MB to store 10,000 records, which doesn't seem horrible to me assuming your site isn't getting 100,000s of visits per month.
For a privacy conscious webmaster who doesn't need the full power of Google Analytics or Piwik, Slimstat Analytics seems like a great middle-ground.
Analytics Plugins That Aren't Just About Traffic
These analytics plugins don't focus on traffic stats like the previous two sections, instead opting to drill down into specific analyses like:
Heat maps
Call analytics
Customer intelligence
Here are some rapid fire options that may, or may not, apply to your specific site.
Hotjar / Hotjar Connecticator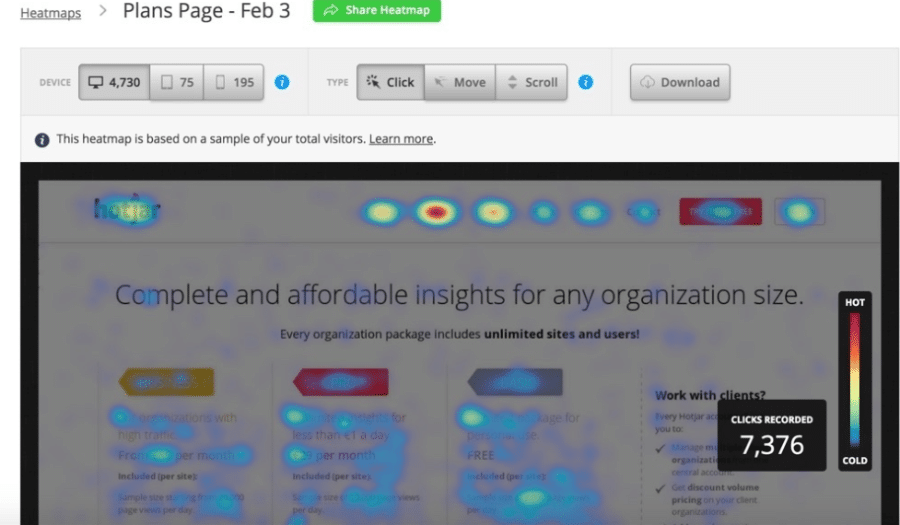 Hotjar helps you understand more about what visitors actually do on your website by giving you access to:
Detailed heatmaps for clicks, touches, and scrolling
Real-time recordings of visitors' actions
Form analysis to find out which fields cause visitors to abandon your forms
Helpful survey and feedback forms
Hotjar itself is a SaaS product, but you can connect it to WordPress easily with the Hotjar Connecticator plugin.
Get Hotjar Connecticator | Free for up to 2,000 pageviews per day.
Woopra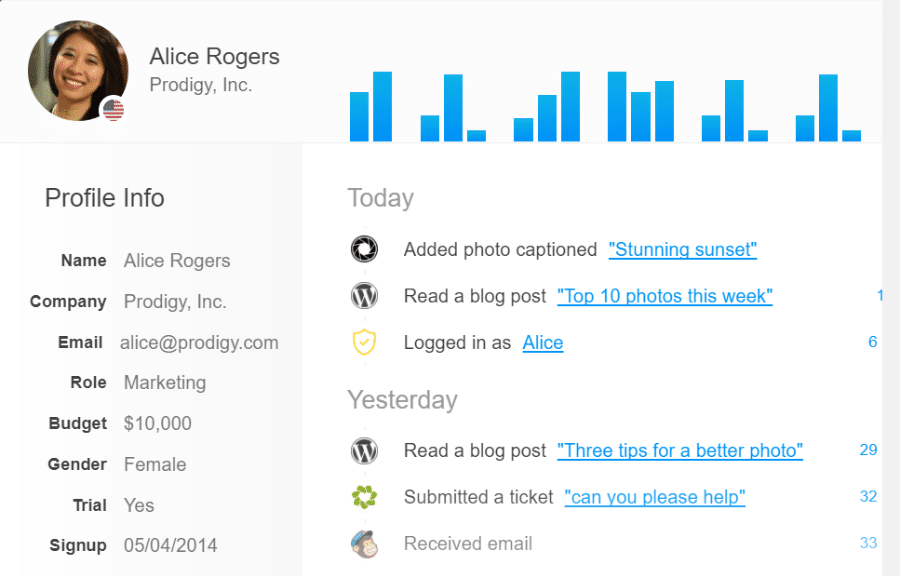 Woopra is a "customer intelligence" tool. Like Google Analytics and the others, it tracks the actions taken by anonymous users.
But where Woopra differentiates itself is when those users sign up to your site. Through both your own data, as well as integrations with tons of other CRM, email, chat, etc. tools, Woopra helps you build a detailed customer profile that tracks…pretty much everything that they do.
Track your funnels, see how well you're onboarding users, and more.
For the average WordPress user, Woopra is definitely overkill. But if you're running a detailed store, membership site, or something of that ilk, Woopra might be able to help you further optimize your processes.
No matter what, the Woopra Analytics Plugin makes it easy to get set up.
Get Woopra Analytics Plugin | Free for up to 30,000 actions per month
CallRail Phone Call Tracking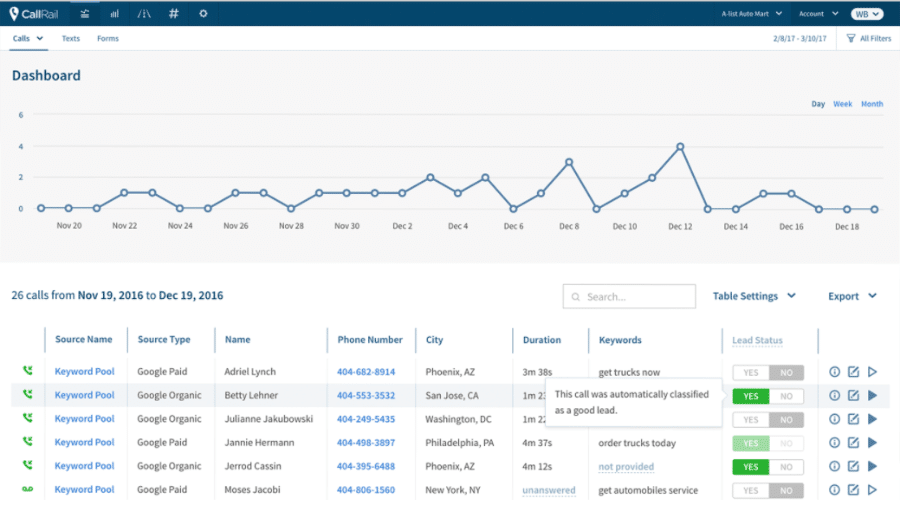 If you're running a business that accepts phone calls like a law firm or a medical practice, CallRail Phone Call Tracking can help you figure out which channels are most successful at generating phone calls.
With the plugin, you can dynamically change your phone number depending on where a visitor came from. For example, you could show one tracking phone number to people who come from Facebook ads, and another to those who come from Google organic search.
Get CallRail Phone Call Tracking | Plans start at $30 per month
Wrapping Things Up
If you're concerned about privacy, Piwik and Slimstat Analytics offer good self-hosted solutions. Otherwise, Google Analytics and Clicky are two of my favorites for general web analytics.
And if you want to dive even further into your tracking, plugins like Hotjar and Woopra can give you even more insights.