Making money online sounds like a sweet gig, and it's entirely possible. But beyond those shady YouTube videos where some guy at 360p holds a fan of ones and claims you can make thousands in a week, making real internet cash is easier said than thought. However, now more than ever, the levers of action which allow for monetization are bigger than ever.
That's partly because of online marketing strategies, and partly because of SEO (search engine optimization). There are billions of people with billions of devices searching billions of things on a daily, second-by-second basis. So how in the world does any online business break that mold and attract an audience? Well, while there are a variety of techniques – a lot of which come down to patience and consistent content creation – SEO and marketing play a role.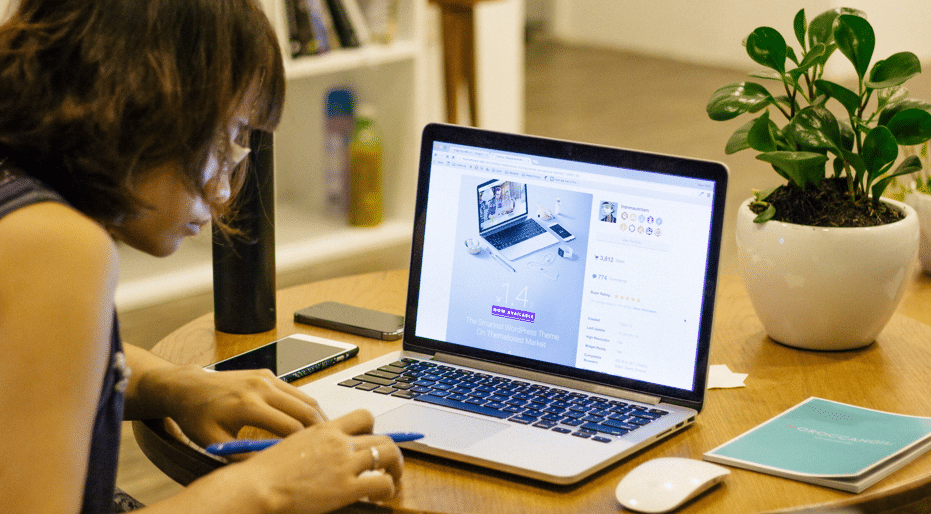 It's of that particular subject I'll be focusing on. That's right, you've wandered into the right blog because I'm going to take you on a magical journey, where you'll discover the exciting realm of SEO optimized marketing based WordPress themes.
What Do You Sell
More specifically, how do you sell it? How do you optimize your posts, web pages, and content with proper SEO and metadata? Well, I'm here to help, offering WordPress themes which will accelerate your performance.
Best Features for Marketing
There are lots of ways to handle SEO and marketing campaigns, and while I'm no business savant, I do know that WordPress themes come equipped with helpful features to boost your efficiencies. But, finding those themes requires a little bit of elbow-grease on your end. Well, it's more like a mental checklist, but the point is, you want to know what you'd like to see in a theme.
What features are most important to you? How about the aesthetic? What type of agency or business are you? Once you figure some of these things out, keep them in mind, and they'll help you locate the best possible WordPress theme.
Top SEO and Marketing WordPress Themes
Just imagine bank accounts full of money, and then imagine really high taxes because it's independent income. With those pleasant thoughts ready to go, let's begin.
JustLanded

Here's a veteran theme with an established reputation for quality: JustLanded. It's ideal for landing pages that want to showcase products, ideas, or services – AKA the kind of website you visit and there's a single, comprehensive zone to check out.
It boasts a simple to use format with a variety of ways to highlight your brainchildren, complete with a responsive design. Its compatible with HTML5 and CSS3, so you have sleek, modern performance. Extra features like MailChimp and WooCommerce are also part of the package, so you can sell to visitors easily. Backed by a comprehensive support team, this is a good first choice if you're new to the WordPress game.
Optimize

If you're trying to reach new audiences, Optimize is likely your favorite word. This WordPress choice might also be your favorite theme, too.
Like the name suggests, this theme is all about digital marketing, high performance on devices, and SEO optimization. There are numerous tools to help you increase rank and generate sales, including twelve starting demos to get you on the right foot. They all boast the business professional aesthetic, complete with unique icons and symbols to better enhance the user experience.
As for the tools, some great ones are here: Yoast SEO, Yoast Analytics, Rankie, Visual Composer, and more give you a complete package. If you're trying to make a business online, this is an ideal template.
SEO WP

I don't think there's a more straightforward title than this. SEO WP is the go-to choice by many professionals, sitting at the top rank of this entire category. For good reason, it has some of the highest performance ratings for any theme. It also comes with lots of assets and creation tools to better enhance your theme into an SEO charged machine.
Aside from its massive vault of unique art logos and icons, it also comes with powerful plugins for ranking SEO and customizing your web zone. Are you the kind of person or business who wants their material sitting on the front page of Google? SEO WP will get you there.
Salbii

Salbii is a colorful, flexible choice for businesses who want a fresh website page. It's got numerous tools and high response time to give you optimal performance, while not limiting your business to single visual style.
Animated backgrounds and stylish interface visuals keep attention, and purchasers can utilize Visual Composer for design. Translation support is also part of the package, allowing you to reach a wider audience.
The SEO

Another powerful option for online agencies looking to boost traffic. The SEO comes with five initial templates for quick starts and is loaded with features and tools to aid search engine performance.
One of the big highlights is the theme comes with over $200 USD worth of plugins, so you're already getting a deal. Visual Composer, IcoMoon Ultimate Pack, SEO Services, and more are just a few.
Aside from its high response time and fully customizable layout, it also has translation support and unlimited colors. Another complete, feature full choice.
GrowthPress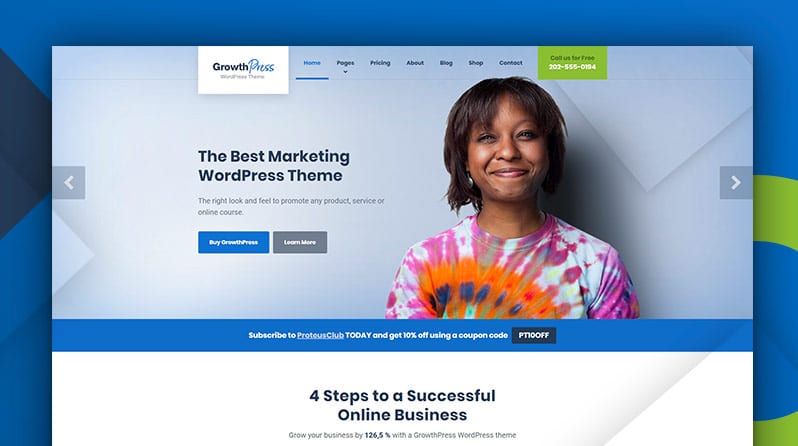 GrowthPress is all-around marketing WordPress theme perfect for almost any kind of online business. With a beautiful modern design and powerful features, GrowthPress can be used as a landing page for you Saas (software-as-a-service) business, a presentational page of your mobile application or simply as a website for your SEO agency.
It has a uniquely designed sales page with an option to hide the main navigation, which means you will increase your website conversion rate and turn more visitors into leads and then into sales. With an integration of WooCommerce, GrowthPress also allows you to set up an online store in no-time and start selling more than just one product immediately.
xLander

Want another potential landing page option? xLander is an alternative choice for showcasing services and/or digital products. Like a landing page, it boasts high mobile performance with a variety of starting templates. It also allows for unique page construction thanks to Visual Composer, so you can design pages as you desire.
Other small menu options let you demonstrate statistics and services in ergonomic sections with accompanying icons, while its super modern design will give an edge over the competition. A good choice if you want to look "high tech."
Leadinjection

While I realize inoculation by lead is probably not what doctors recommend, Leadinjection is actually a powerful landing page theme complete with dozens of features. The idea is flexibility and followers, letting you create a variety of websites with its numerous creation tools while encouraging subscriptions and return visits.
You can build your landing page with HTML5, CSS3, or Bootstrap, complete with YouTube backgrounds and unique animations/icons for a rounded look. High performance also benefits SEO, so you've got everything you need to sell a product, service, or idea.
Marketing Pro

It has pictures of "not-Superman" on its homepage, what more could you want?
Well, Marketing Pro isn't just an "original character," it's also an all-in-one solution for marketing agencies and SEO who want to strengthen their brand. There are several demo pages, each created with a particular subject, and all which can be modified with included creation tools. It also boasts high performance, sporting extremely small load times, meaning your website will operate perfectly on all devices.
Another good option with some flexible options available.
Seosight

The superpower you never knew you wanted! Seosight is an optimized theme fit for websites looking to enhance their digital marketing strategy with – you guessed it – SEO. The fully responsive code means it operates great on any device, and its overall code construction has the sought SEO for improved results.
You can integrate social media into enhanced campaigns, sell with WooCommerce, and install demos in one easy click. You can also take advantage of its translation support and unique layout schemes, along with the dozens of other features its equipped with.
Off the Shelf

Trying to convert clickthroughs into profit or visitors into customers? Off the Shelf has you in mind. This theme is SEO optimized with various customization tools to create an impactful, interesting page. You've got several starting demos, all with their own unique focus, each of which is easy to modify.
Want to sell a product? No problem, WooCommerce integration is standard. Having trouble or need coding questions answered? The theme is backed by 24/7 support. With this theme, you can make unlimited websites, all focused on cashing in on SEO.
Simple

Everyone likes simple, so why not simplify things with the simple WordPress theme, Simple?
Simple is a Bootstrap ready theme fit with numerous features for your digital agency and media campaigns, equipped with tools like Visual Composer and MailChimp. This SEO optimized theme is great for landing pages and presents visitors with info about what you do.
With captivating animations and high mobile-performance, you can increase brand strength and accelerate business performance.
Corpress

If you're a digital agency or business with a love for stats, statistics, and graphs, Corpress is right for you. This WordPress theme boasts high performance, SEO optimization, and social media integration as the backbone of its design. As for the juicy bits, every demo is stylized to present in-depth details about your corporate stats, whatever that may be.
This information is presented with slick animations and unique visual systems, providing data quickly, but in an engaging way. But don't you worry, one-click demo installation doesn't lock you down. Feel free to modify your single or multi-layout pages with Visual Composer or Revolution Slider. Or, take advantage of the compatible CSS3/HTML5 coding structure. This is truly a professional them with an assortment of expert assets.
SEO Company

If you're a business that specifically deals with SEO enhancement – and by this, I mean you work with other companies to boost their performance – this is a good choice for you. SEO Performance not only benefits from its own optimization, it's also a great way to showcase how your services can make other businesses stronger.
You'll get plenty of assets to do that too. SEO Company comes with unique logos/icons, tutorials for beginners, Yoast optimization, numerous demo templates, layout modifications, and so much more. So, before you take a business to the next level in performance, try it on yourself first.
Novela

Here's a theme that's a touch more specific than my choices so far. Ebooks are a pretty big deal, but any self-publisher knows they're responsible for all the marketing. So, why not use a theme to give you a hand?
That's the idea behind Novela, a theme for authors and agencies looking to promote said authors. It has a layout and design for showcasing specific works and utilizes optimization to gain better traffic. There's also helpful features to highlight books, such as a preview feature and galleries for selling. So, if you're in this specific category, Novela might give you a boost.
Eventme

Some consider a more personal touch for their marketing, and that's the philosophy of Eventme.
This marketing theme is designed for setting events regarding businesses or products of interests, having tools and layouts to aid this. You can describe events with various layouts, include videos, link social media, set counters, and much more.
It's compatible with all browsers and also comes with Owl Carasoul to better highlight specific events.
Bivio

Bivio is another call-to-action theme for online agencies that encourages visitors to sign up for content. It comes with a variety of powerful tools, along with SEO optimization. All-in-One SEO and Yoast, for example, are part of the package.
Bivio is also built on Bootstrap 3 for high performance and utilizes three unique templates to get you started. A good choice which works as an alternative to some of the other landing pages I've chosen thus far.
Sleek

Landing pages are quite popular, as you can see. Sleek is another one of these, providing you another option for a potential choice with a variety of templates and features to highlight your services/products.
You can also take advantage of its plugins to further enhance your page design, like Visual Composer and MailChimp. Lastly, because of it's Boostrap 3 format, expect high performance on all devices.
TopSEO

TopSEO is another powerful for choice for agencies and businesses looking to enhance their brand by the method of – you guessed it – SEO. But it's not just a little enhancement with keywords and metadata, TopSEO is loaded with tools and features.
Right off the list it already had several powerful plugins for your agency, including Yoast, Revolution Slider, Visual Composer, and Contact Form 7, to name a few. Additionally, each demo is compromised of beautifully unique animations and logos to give your business that much-desired character. Last, but not least, it boasts super high performance on all devices, perfect for agencies looking to take advantage of mobile marketing. Perfect if you want to supercharge your website and company.
Marketplus

Marketplus is simple to use and simple to set up, and sometimes that's all you need.
Like most of my previous choices, this flexible theme works well as a landing page or extension of a business to encourage sign-ups. You can take advantage of multiple-layouts, easy customization, stat viewers, and high performance on any device.
Book

Perhaps you weren't satisfied with my first marketing choice for books/ebooks. Well, I've got another to give you a second option, the simply titled "Book."
As with the other choice, this WordPress theme is ideal for showcasing book content, selling it, and hosting it where visitors can find updates on it. It's continuously supported, works great on mobile devices, and gives you a few template options before starting. It's also easy to customize and has translation support, along with hundreds of google fonts for a fully unique touch.
Launchkit

The final ten choices are here, but you can still expect quality for my last picks. For the next choice, I've selected Launchkit, a WordPress theme with all the essentials ready to go for digital agencies.
Launchkit sports WooCommerce support and has several multi-purpose demos for just about anything you can think of. So, you're not limited with what you can create, especially with the simplified design process. Other great features include several menu layout types, translation support, and one-click demo installs. Speed and quality combined.
Moxie

Put some character into your WordPress website with Moxie. This theme is about flexibility, professionalism, and creativity, giving purchasers the freedom they need to make the website they desire. This means it can work as a landing page, portfolio, website for digital agencies, and more.
Take advantage of its various plugins like the powerful Uber Menu and Visual Composer. You will also benefit from its SEO optimization and limitless ways to customize your web page.
Yamato

Yamato is a name – and theme – that demands respect, and with its purchase, respect you shall have. This is a corporate WordPress theme with powerful built-in features and performance, highlighting the specialties of your company while reaching that next level in efficiency.
Yamato also works best for businesses that sell a service, idea, or product. Apps, managed service providers, corporate products – if this applies to you, Yamato is your theme.
With Yamato you'll have extensive customization options and ways to fill out your pages with info, utilizing Revolution Slider, Visual Composer, and Essential Grid.
Proland

Need a theme that's for showcasing your amazing products? Try Proland, a WordPress landing page for the marketing of physical products. This optimized theme comes with several templates, each of which is fully customizable. It also has an arsenal of plugins and features, like translation support, Visual Composer, one-click demo installs, and so much more.
SEO Crawler

SEO Crawler is an incredibly powerful theme with lots of professional tools.
This one, like some of my other choices, is best for agencies who look to boost the SEO performance of other companies. However, this middleman service doesn't mean you'll lack any of the utilities needed for your own strong website.
As for its features, it comes with a robust set of plugins for easy website creation. Yoast SEO for optimized traffic performance, Rankie for website ranks, and GoodLayers page builder for some of the most intuitive creation assets you could ask for. Along with its unique icons and demo templates, this is one you don't want to skip over.
Caliber

Another way to describe Caliber is "easy."
This flexible WordPress theme can work for digital agencies, but because of its simple creation tools, works for just about anything. Thanks to a drag-and-drop page builder, you can design amazing looking websites with incredible ease. You'll also be able to link social media and take advantage of its high performance. Perfect for those who want complex but practical methods for page creation.
Royal

Royal is another powerful alternative for marketing agencies who want style and character in their presentation. This theme does that by providing numerous templates and demos with a variety of layouts, colors, and animations – all of which are customizable.
It's ideal for professional businesses, companies, and SEO agencies who need a new look with industry standard performance.
BEBO

BEBO is my third pick for themes focused on marketing ebooks. So, if you didn't like my first two choices, this one might suit you better.
BEBO comes with three elegant templates and customization tools, with SEO optimization built into the theme for better traffic gains. You can also utilize minimalistic galleries and videos, with author pages on the way.
Wealth

At the end of the day, isn't that what we're all after? Well, hopefully, Wealth can help you achieve your goals, as it's a clean, responsive theme fit for just about any digital agency, company, or brand.
Wealth comes with numerous templates with ways to customize each. If you need to market it, chances are Wealth has it covered. Consider it an all inclusive, ready to go package.
Metrics Business

My final choice is Metrics Business, a strong SEO focused WordPress theme for digital businesses. This well-documented theme is all about supercharging websites with SEO, linking to social media, and enhancing traffic gains.
Purchasers will receive a massive arsenal of demos, easily adjustable with the included Visual Composer plugin. You can also take advantage of its translation support and WooCommerce compatibility, to name a few of its positives.
And there we have it. Hopefully, by now you've picked a theme that fits your company's specific criteria and pushed forward with renewed SEO focus.