We've covered the topic of where to get help and support with WordPress nearly a year ago but it's worthwhile to take a fresh look at the playing field for 2019 and see what options are out there. We'll cover everything from the support options on WordPress.com to what to do and who to contact if you have a self-hosted version of WordPress.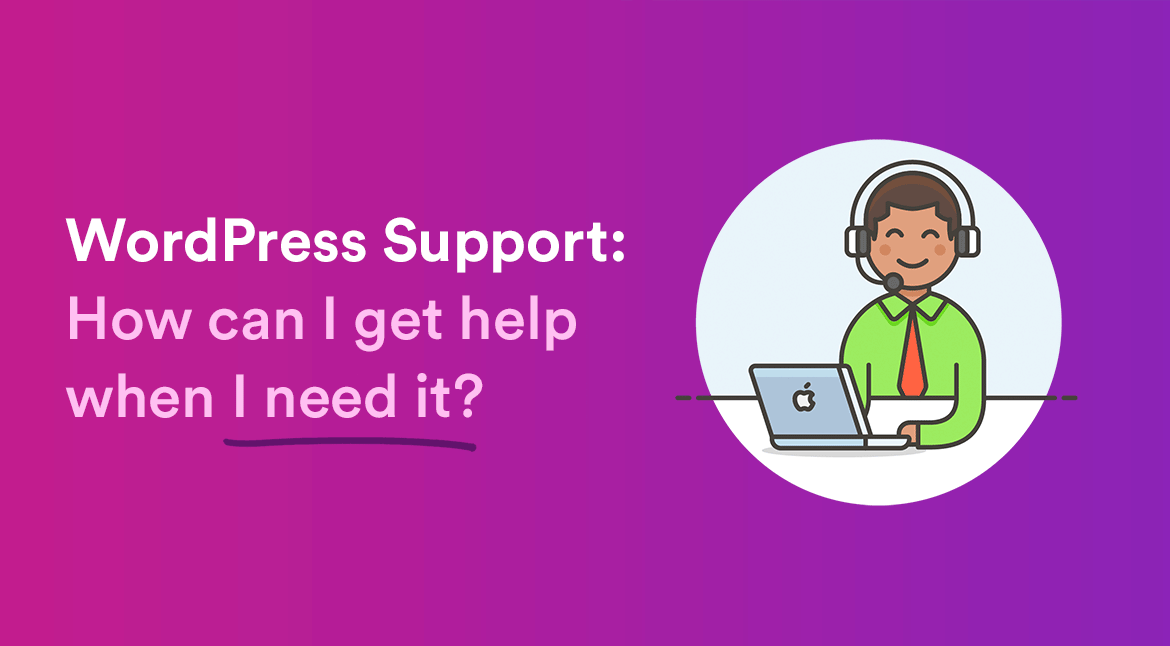 If you are on WordPress.com
There's a major difference between support options depending on whether you're using a self-hosted version of WordPress or WordPress.com. If you are with .com, you do not host it yourself. They take care of this for you, you don't need to pay separately for a host, or manage your own web server. So, if you have problems such as speed, or want to transfer your site to a different domain – rather than worrying about it yourself you can get onto the team at .com for help.
When it comes to support, you'd need to have at least the 'Personal Plan' at $4 a month to be able to avail of live chat and email support. You can see the pricing tiers here, it ranges from free (no support and limited options) to $25 a month for businesses where you get additional functionality such as the ability to install your own themes and plugins.
Phone support
If you need phone support the only method with WordPress.com is through the business plan. They call it 'Concierge Support' – once signed up as a business you'll get an email with instructions on how to schedule such an interaction.
It includes a screen-share and voice chat where the happiness engineer can walk you through any questions. They also send a useful recap email upon conclusion of the call which summarizes what was covered. This is a great idea I think, it's very useful to be able to look back at a readout of the call at a later date.
Live Chat
If you need any kind of support I'd recommend at least the Personal Plan – you will have access to live chat (but not phone support) from WordPress.com's happiness engineers. It's available 24 hours a day, Monday to Friday and for a limited time over weekends. If they are busy when you submit a question they email you back pretty promptly.
Support is available in English only and is limited to WordPress questions only – not third-party applications or instructions on how to write content. It will be up to you to review the basic support documentation yourself first.
The free version
If you are on the free WordPress.com plan you're a bit more limited when it comes to support options. You can take a look through the .com forums for an answer to your query for example. Be sure and use the search facility to see if it has already been asked first.
There is also a dedicated CSS customizations forum for questions of this nature, e.g. you want to make some simple design tweaks. If you're using a Premium WordPress.com Theme, there's a separate help section for that which covers questions particular to that Premium Theme.
WordPress.com Support Options Summary
Need phone support? Go for the Business Plan – $25 a month
Happy with live chat? – Go for the Personal Plan at a minimum – $4 a month
Think you can solve any issues yourself? – Go Free
If you are using the self-hosted WordPress.org version
The more popular version of WordPress is the .org version, whereby you install WordPress from scratch on your own host. If you have questions on your site, this takes a little more time to diagnose. I'd break them into a number of rough categories.
A theme question
If your query is to do with your theme then I would approach it in this way. If it is a major problem – e.g. some functionality is broken, temporarily switch to the default WordPress theme, twentyseventeen within Appearance > Themes. This is a good base to discover if the problem is theme related. If the issue is solved when switching to this, there's a good chance that there is a problem with your original theme.You'd need to contact the theme author for assistance or renew your support period if it has expired.
If the problem still exists after switching to twentyseventeen then it is not a theme problem. It could be to do with a rogue plugin or an issue with your hosting company. Next, you could disable all plugins within the Plugins section and see if the problem still exists. That would rule out a plugin conflict. It is through the process of elimination that the final step would be to get in touch with your host. Taking screenshots and providing a direct link to an example of the problem is an important step to help any support team diagnose an issue quicker.
A plugin question
I'd use a very similar process when diagnosing a plugin issue. Does it work with twentyseventeen? If there is still a problem with the default theme active then I'd go back to the plugin developer with this information and instructions on how to recreate the error.
A customization question
If you want to make some changes to the look or functionality of your site that goes beyond what is available with the theme's options – this would be considered 'customization' and is likely to not be covered by basic support. Examples could include:
Front-end custom work
Logo design or branding
Technical development, e.g. adding a new feature
For work of this nature, I recommend the guys at Codeable. You can submit a quote for free and decide if you want to go ahead with it once they send you a price and a timeframe. It's best to collate all minor jobs you need to be done in one go, rather than breaking them up into separate jobs. This is best when your site is complete. Price-wise they're competitive so it may not be a big outlay to add some design polish or extra features to the final result.
Other questions
It still amazes me how many people still don't do a simple Google search. WordPress has hundreds of thousands of tutorials, StackOverflow answers, blog posts, CSS snippets and plugins available for almost every kind of question so you're highly likely to find an answer after a few minutes of searching. Plus, we have dozens of posts right here on Create and Code which could help. From speeding up your site (part one and part two) to instructions on how to add custom code snippets, plus lots more within our archives.
If you need a professional to make weekly edits
For many businesses, it's great to have someone "on call" who you can send text edits, image additions, design tweaks an so on, without having to worry about it yourself. For something like this, it may be well worth enlisting the help of WP Buffs. Their plans start at only $67 a month – they will also monitor your website and make critical plugin and theme updates for you, safely and securely and ensure that you always have a backup. There's no contract and you can cancel anytime.