Time to explore the very Best Health and Beauty WordPress Themes! Health, beauty, and topics of the self are in abundance these days. With so much emphasis on getting well and looking good while doing it, there's a market out there for advice, tips, and ideas for general well-being. WordPress, as usual, is prepared to accommodate this market desire with its spree of useful themes pertaining to health and beauty. There are hundreds of hundreds to choose from, all of which have their own style and specification.
As usual, dear reader, my goal is to tour you through this wonderland of WordPress and pinpoint the theme that's right for you. While features and specifications do blend together like high-quality makeup, my goal is to gather up the best-of-the-best, giving you a strong springboard for ideas to start your very own health and beauty WordPress website.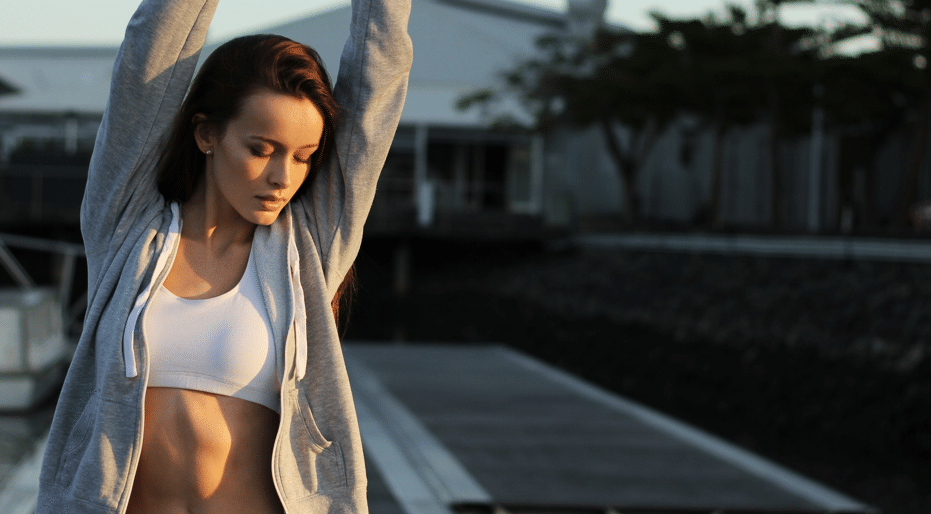 What's in a theme if not good looks?
Health and beauty are separate but intertwined. One compliments the other. Whatever you choose to focus on, it's important the theme of choice services your needs specifically. Are you selling beauty products? Offering general health advice? Creating a forum so others can share personal tips? What kind of audience do you want to reach out too? Each theme will broach on some of these subjects, and more. So, to better help yourself, jot down the key factors you want present in your WordPress website.
Strengthen Your Ideas
If you're ready to shower the world with a series of amazing beauty ideas by now, that's good. Or, maybe you want to undo the fabrications of bad health advice ever present on the web. Whatever the case, the key is to fixate on a style and presentation that works for you. You might just want a blog. Or, you may want a legitimate, SEO charged business which sells products.
Top Health and Beauty WordPress Themes
I'm not a wizard when it comes to the matters of makeup and personal beauty, but I do know a good WordPress theme when I see one. These choices of mine cover a range of categories, from best of all time, up and coming, and brand new.
Clinic Pro

What better way to start a list than with our own beautifully designed Clinic Pro theme? It's a great option for medical practices, dentists, doctors and health clinics. It covers every kind of medical business and you're guaranteed a professional looking theme with excellent customizable theme options so you can easily brand it your way.
This theme sports some very useful tools as well, such as allowing visitors to book appointments online. You also have access to hundreds of unique icons and animations to truly set your website apart from others. High performance is also part of the package, sporting great response time on mobile devices. Other major positives is SEO optimization and translation support, expanding accessibility.
Plus, get a very special 20% discount by using the code CCTHEME20 at checkout – it doesn't get much better than that!
Symetrio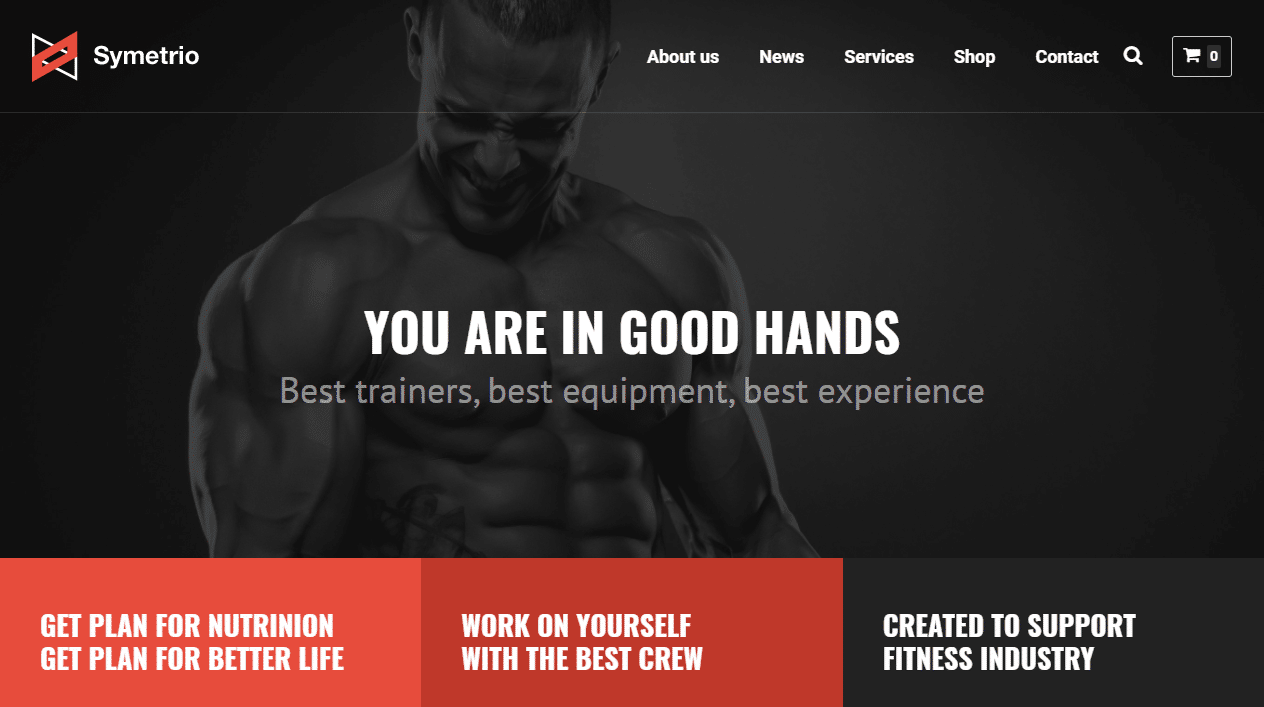 Maximize your website gains with the bold "Symetrio" WordPress theme. As indicated, this theme broadcasts responsive features to nurture a community of fitness-hungry individuals. Its tone is all about gym, increasing performance, and bettering yourself in a hundred different ways. While it's priority design is mainly about sports, gym, and athleticism, the flexibility of its tools allows for any real self-improvement based website.
It's got some nice features like WooCommerce compatibility (a trend I expect to see a lot of), event setters, schedules, and lots of options to challenge and encourage visitors to that next level in performance.
Coiffeur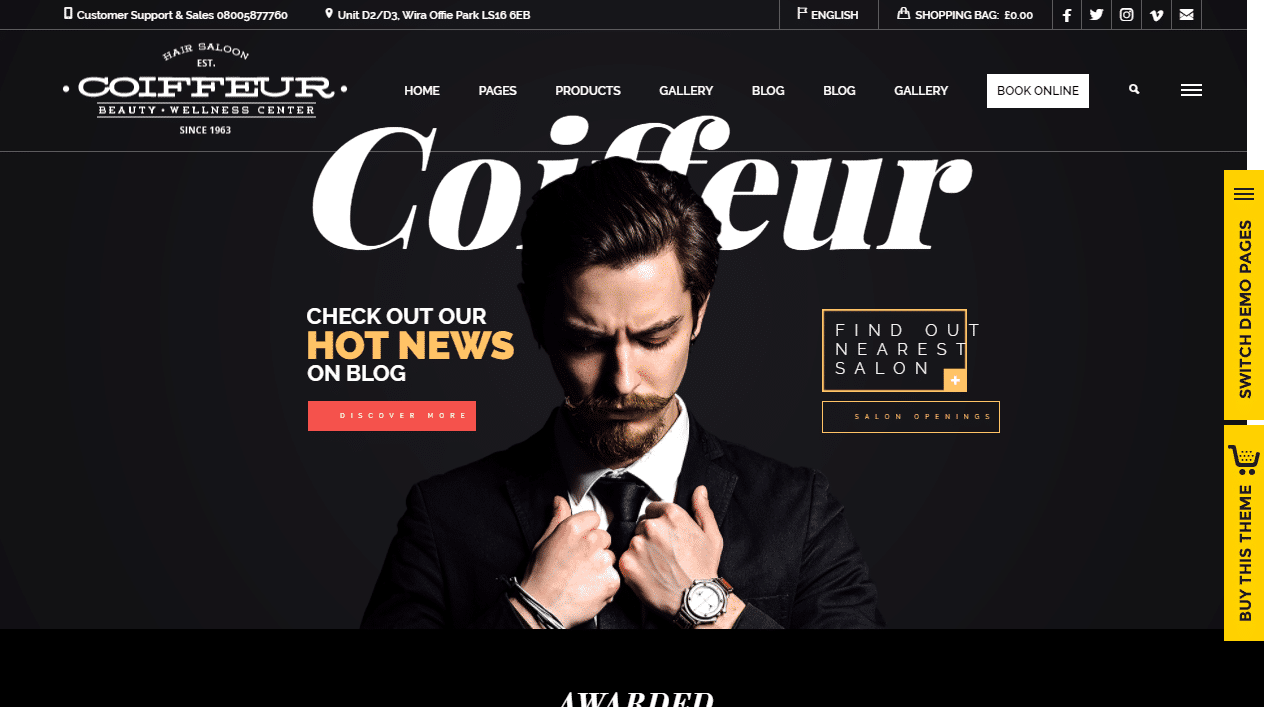 The first beauty themed pick in this long list of these is Coiffeur. Is that a fancy word for something else? I don't know, but what I do know is that Coiffeur is a premium WordPress theme with hair salons and hair-based beauty in mind.
Coiffeur offers users a beautiful variety of templates and design features to get started, with an array of elegant sales add-ons for further enhancement. Menus which offer robust options for product selling, prices based on hairstyle, contact info, and even specialized sales landing pages. So, if you're in the market for building a powerful hair-salon based website, you can dazzle visitors via Coiffeur.
Yoga Fit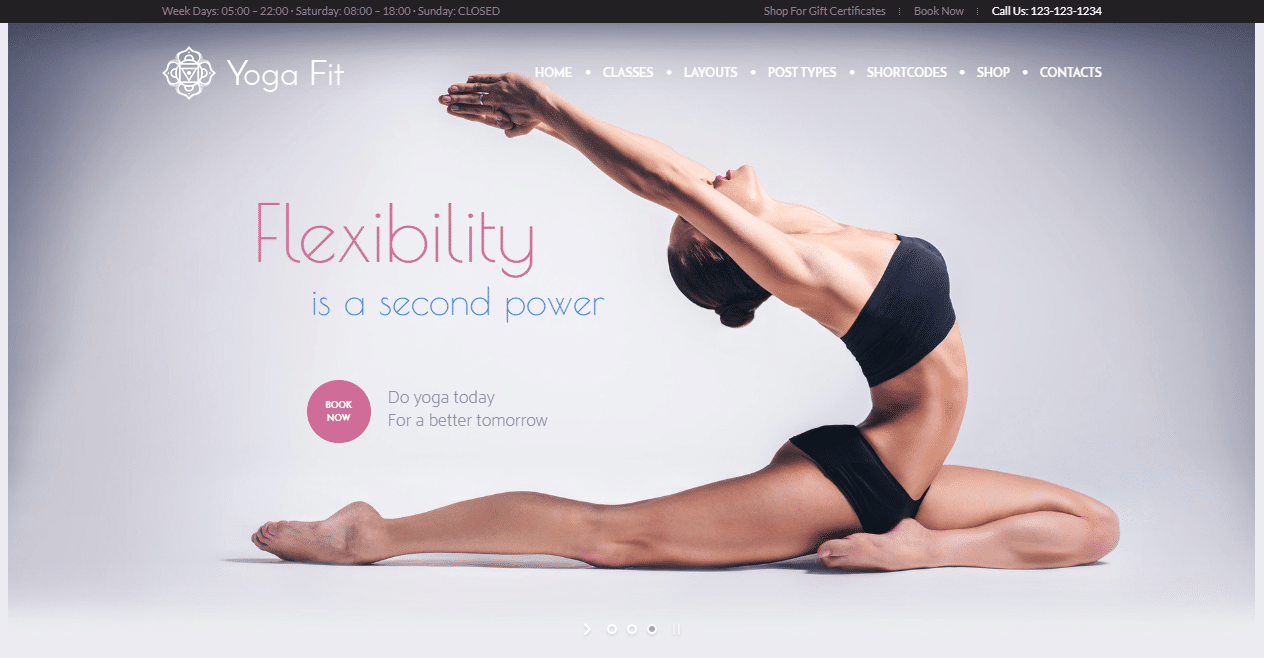 There's an abundance of fitness based WordPress themes out there, let me tell you. But among those numerous, there are specific themes, of which I'm delighted to find. Yoga Fit is an example of one, focusing on personal wellness but through everyone's favorite spaghetti-like self-posturing.
Yoga Fit is flexibly designed and packing a handful of helpful features all useful for yoga-based activities. Class planners, activity schedules, drag-and-drop design, and even SEO optimization are just a few of the ways Yoga Fit benefits you. Rearrange a website to your liking as you would all the bad chi in your body.
Dent-All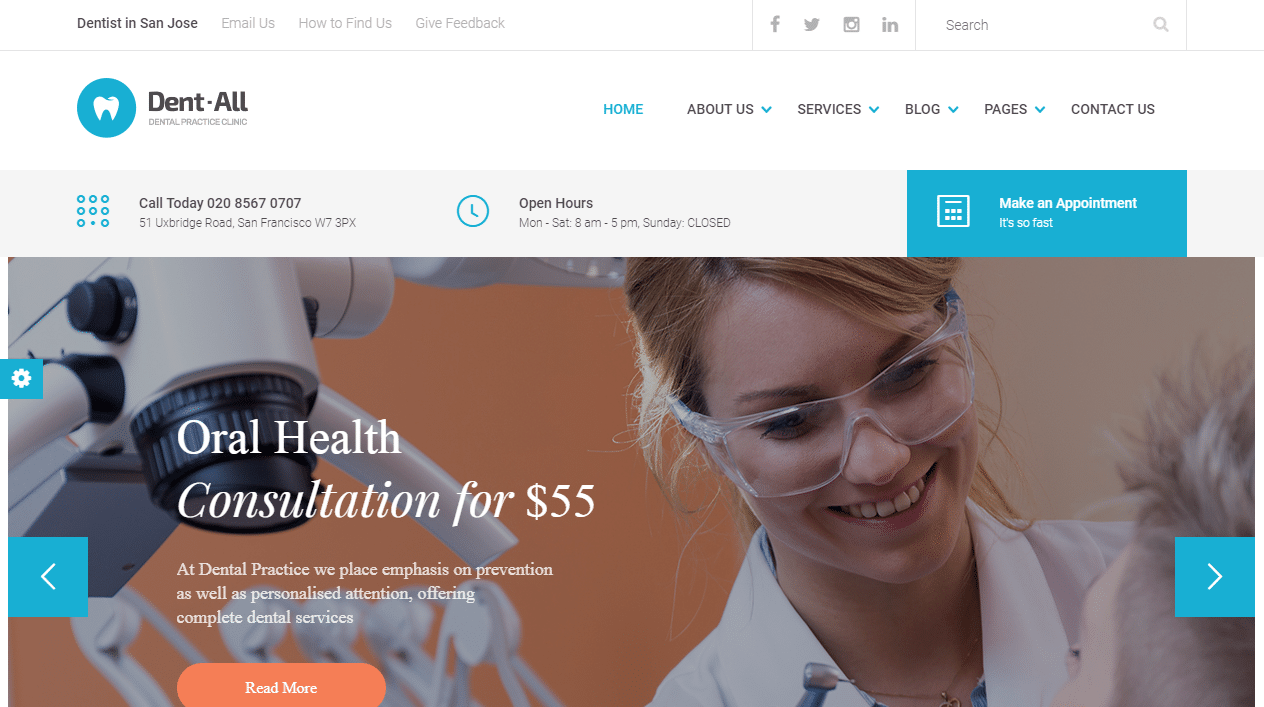 While some part of me shudders at the idea of "denting" teeth, the other part applauds Dent-All for its great features as a dental themed WordPress choice. This particular theme serves the business aspect of keeping teeth cavity-free, perfect for professional clinics who want to describe their services and look good doing it.
For dentists, the theme features a variety of helpful tools. Visual Composer and Slider Revolution are premium features included for free. Additionally, dentists can set pages for service descriptions, prices, and online scheduling. It's also translation ready if you need it.
Care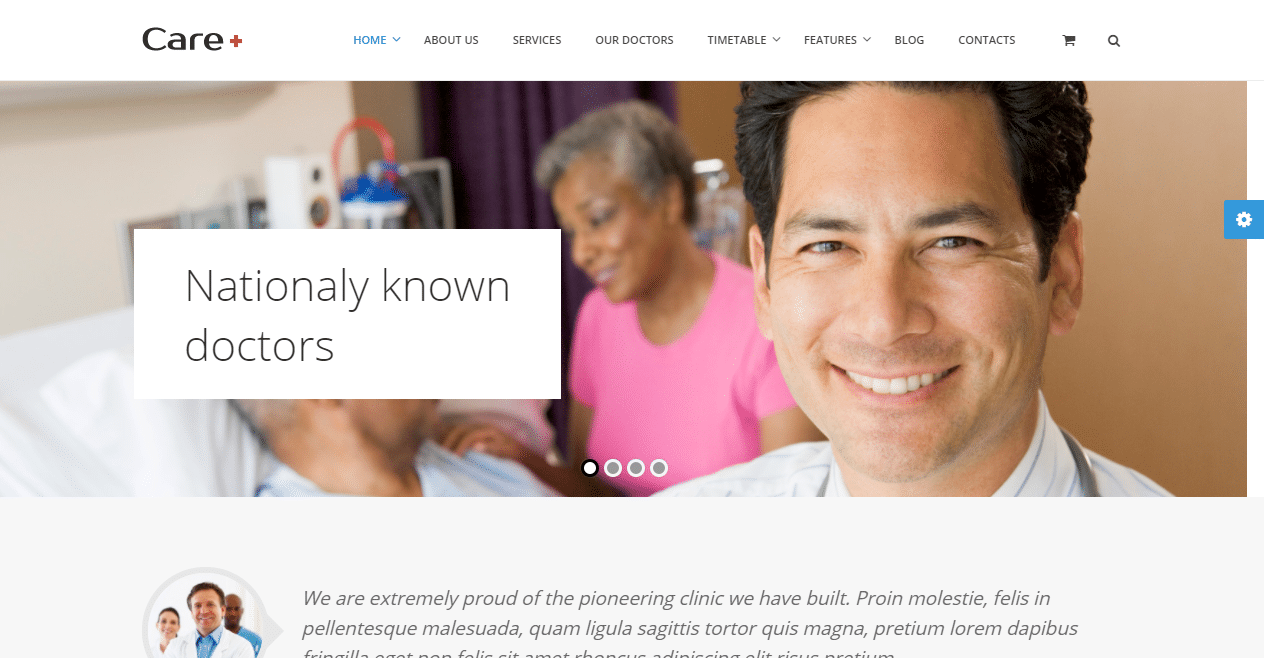 Care is my first choice which, while promoting itself as a theme for health-based services, is actually quite flexible. Though it's good for dental, doctor, or health clinics, you can also whip this into a health-based blog too. The difference being, you'll get a professional flair and premium tools to separate you from the rest.
But, if you're a clinic looking to build a business and help patients, you have useful resources too. WooCommerce compatibility lets you offer medical products and a translation feature widens your reach of patients to help. There's also an in-depth scheduling service, and the theme is responsive and mobile ready.
Fitness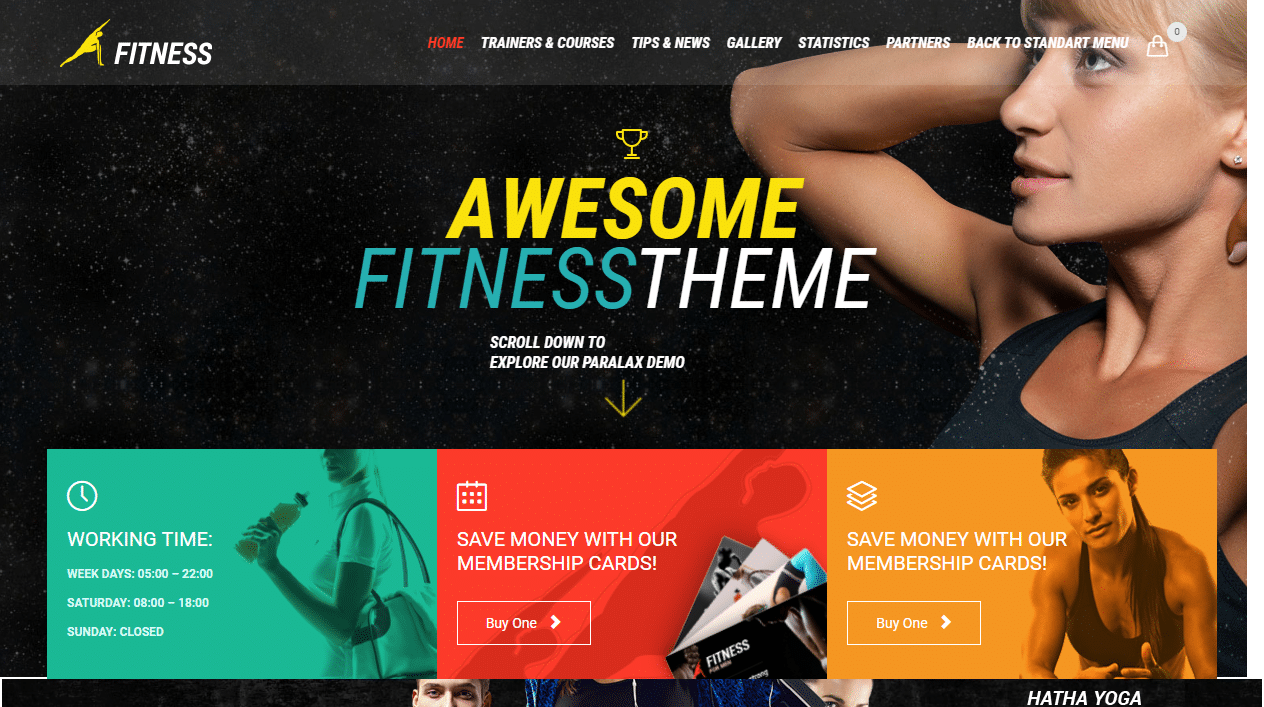 Elevate the performance of your website and your userbase with Fitness. This fantastic WordPress theme is all about building a community of health-lovers and fitness seekers, providing quality creation tools, lifetime updates, and well-rated design.
Fitness gives you a diverse set of choices for visual themes, along with some other features to enhance the user experience. It boasts high performance, meaning website load is next to immediate, along with great mobile compatibility. You can also one-click install selected demos, and the site is SEO prepared. This means if you want to strengthen your gym brand, Fitness is the theme for you.
MentalPress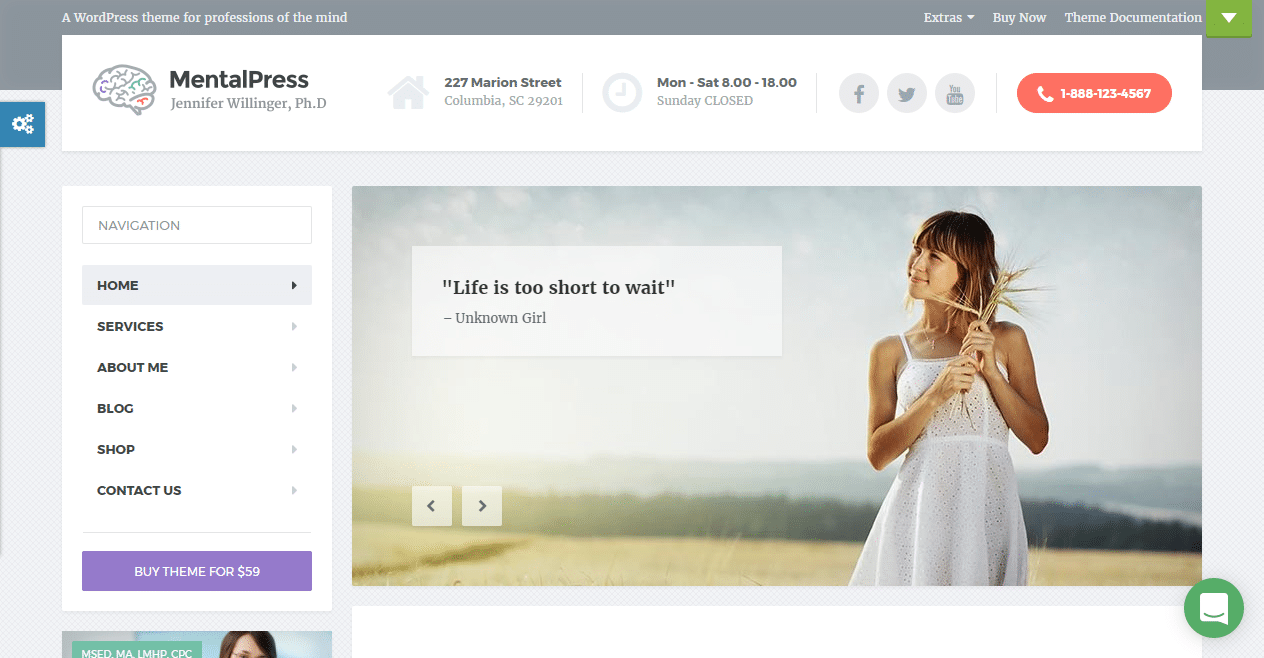 Well-being is not just centered around good looks and physical health, it's also a healthiness of the mind. MentalPress is exactly the WordPress theme for this concept, a premium choice for the betterment of psychology.
This is perfect for mental-health clinics, psychologists, counseling, and anything related to the functions of our brain. This is all accomplished through one-click installs, SEO responsive design, easy creation tools, extremely in-depth tutorials and support, and WooCommerc compatibility. And, if for some reason you want a total career change, it's flexible enough to accommodate any health-based website design.
If you were looking for a theme to prop your practice on a professional pedestal, MentalPress is for you.
SPA Treats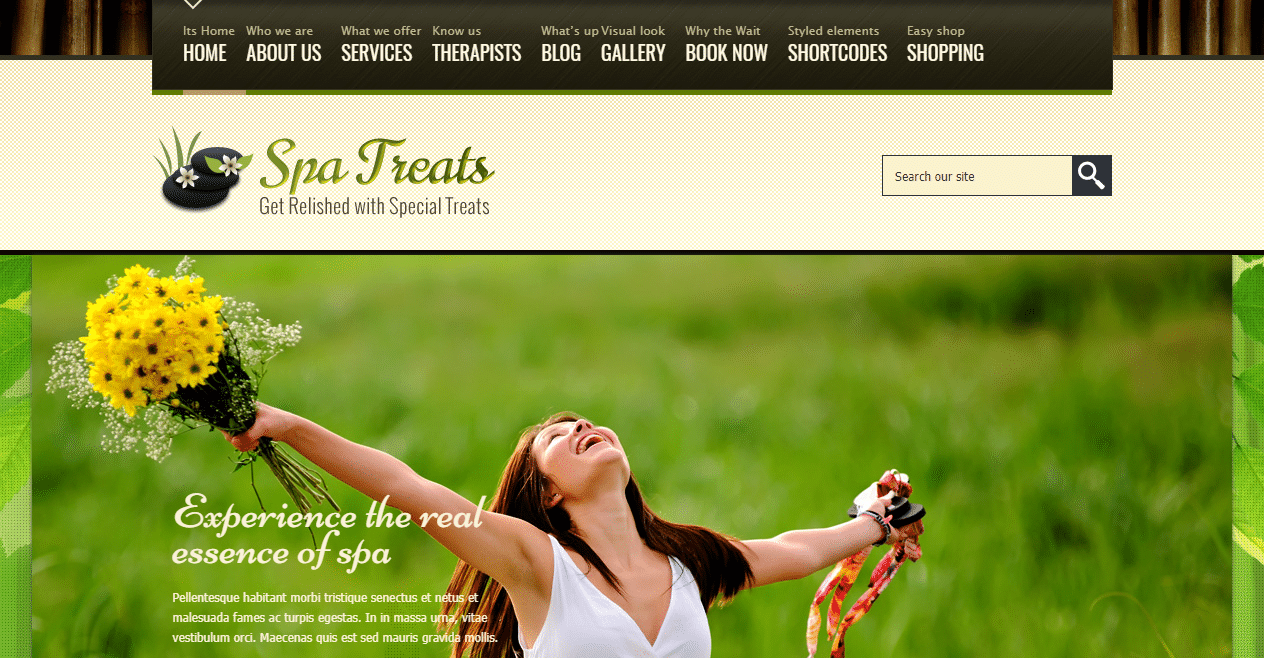 Invite your readers to a delightful website before you get them on board for a relaxing day with this theme. SPA Treats is about great website performance and eye-catching design for primarily spa and beauty parlors. Visitors will get a sense of your services and location with inviting visual elements and simple explanations of services.
Additionally, if you happen to serve healthy food along with the spa treatment, they've got a template for that too. Purchasers can switch between two central themes (spa or spa/restaurant) in a single click. The theme also comes with multi-language support, WooCommerce compatibility, and Slider Revolution.
It's a popular, professional pick for a fairly niche category.
BeautySpot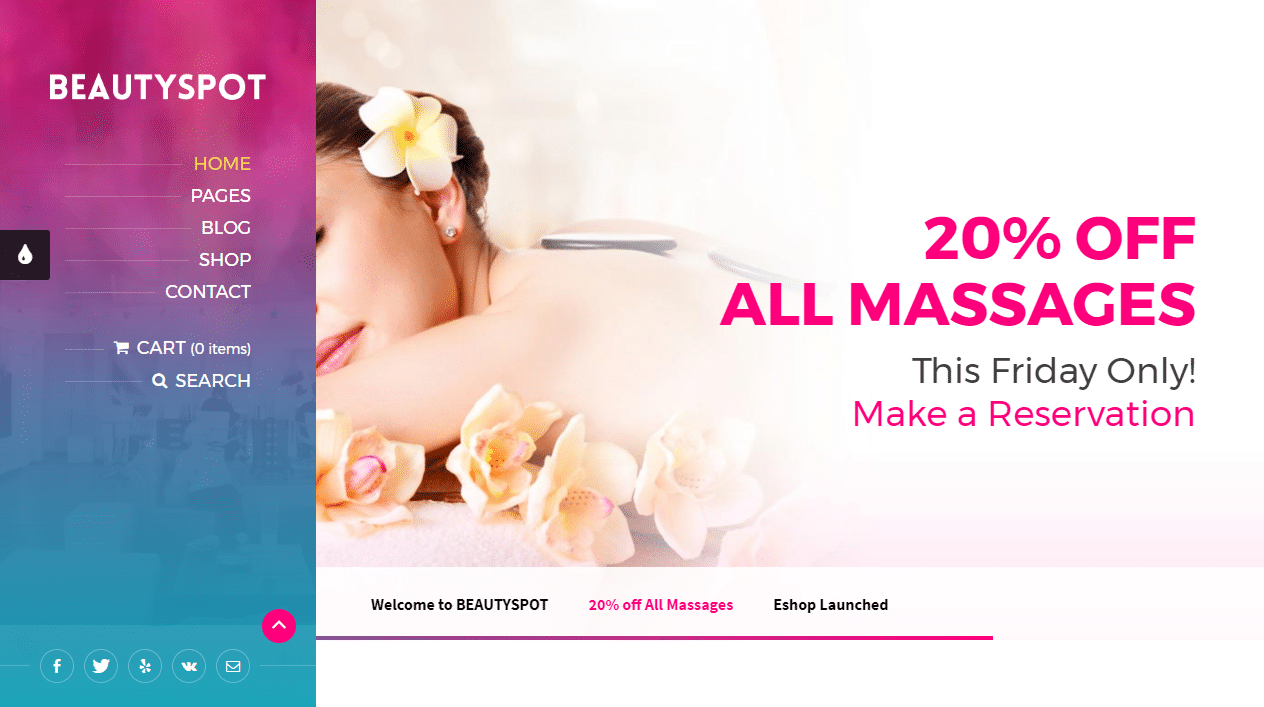 While I covered hair as a beauty based WordPress theme, that focused on one aspect of appearance. BeautySpot, however, is great for a website that highlights all aspects of beauty, makeup, and looking good, specifically by focusing on the salon aspect
This diverse theme sports a host of great tools and features. Drag-and-drop page building (or shortcodes if you prefer), responsive design, and diverse templates mean you can create a truly unique website for your salon of choice.
Physio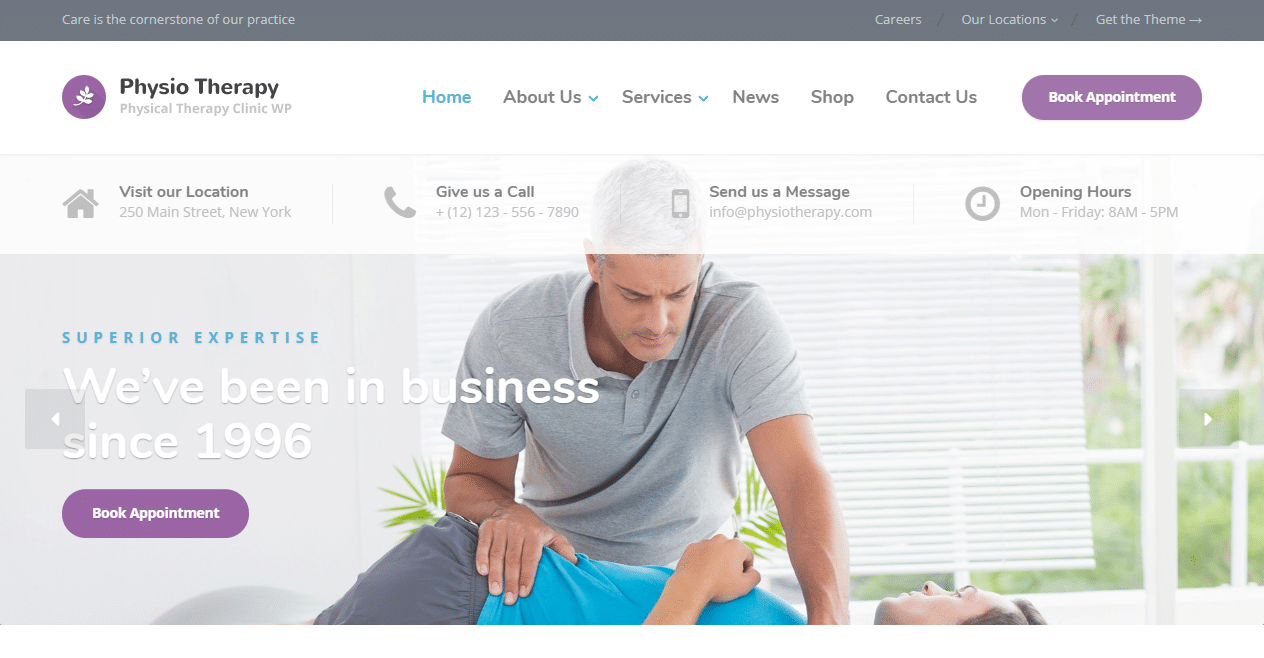 While it's great to work on personal physical performance and looks, some aren't fortunate in that they're dealing with major disabilities. Physical therapy being among them, I decided to highlight Physio, a WordPress theme for services which offer therapy as a service.
Physio does not offer flashy website design, rather very information construction with services, posts, and contact information displayed in an accessible format. Complimenting this accessibility is a built-in scheduler, WooCommerce support, mobile compatibility, excellent documentation and well-rated support. Pages can be built in minutes, meaning professionals can offer a conduit to their services within the day.
Anahata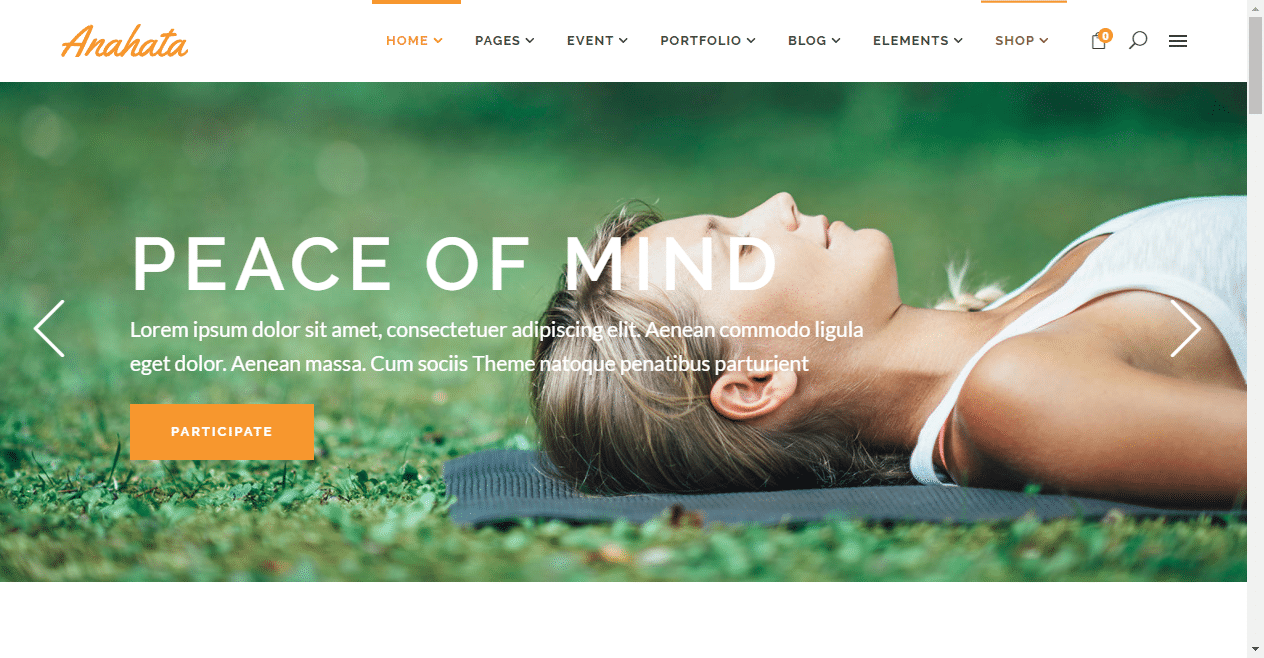 It's time now where I shift gears into the best WordPress themes from last year, and to start I snagged a particularly stylish self-help theme: Anahata.
This exotically titled WordPress theme is centered around Yoga, with beautiful visual design, sliders, and simple format to engage visitors. It's also quite easy to use and create, thanks to a portfolio of great features. WooCommerce integration, drag-and-drop construction, non-coding requirements, great support and diverse colors mean you can develop your yoga themed website of choice.
Samurai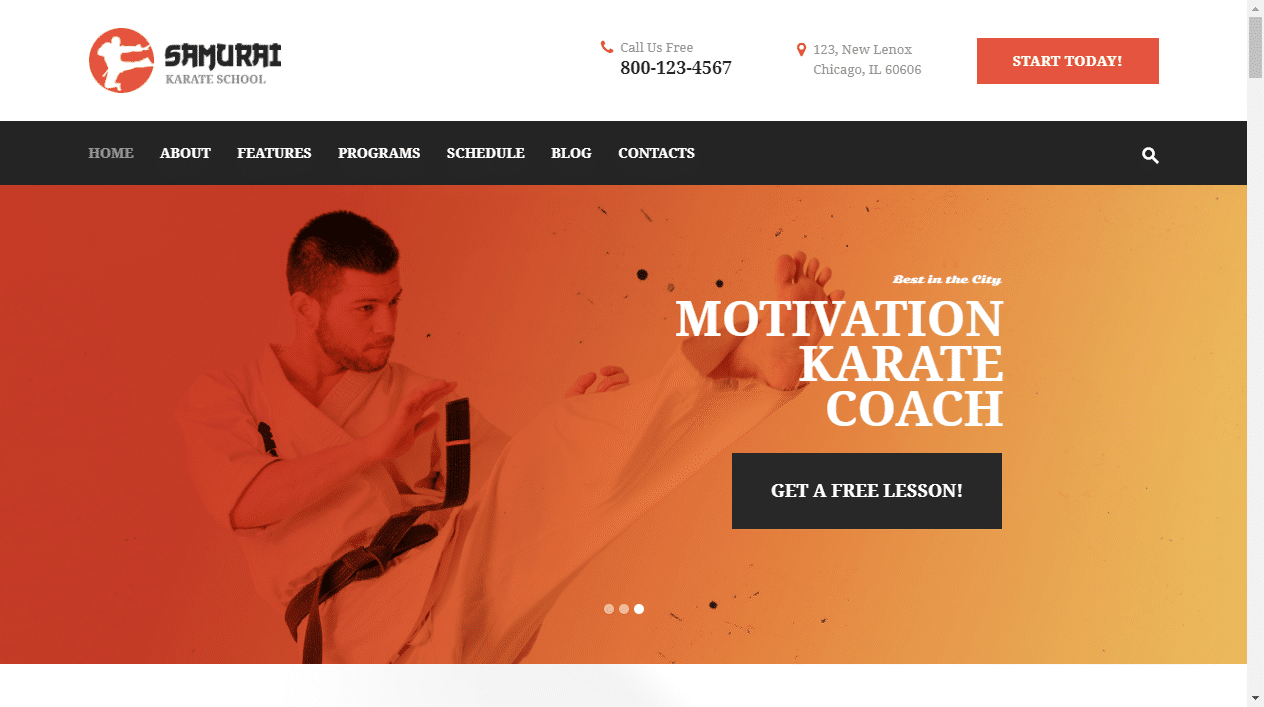 I'm sure at some point we've all desired to release our inner ninja. It was hiding there, all along.
Samurai, then, might be the theme to cater to this desire. Specifically, it's a WordPress theme for martial arts and all other forms of physical combat prowess. Or, you can specify it to things like boxing or a gym. Whatever the case, Samurai has you covered, though unfortunately not with armor.
Samurai lets you create a single page theme as well, listing all the essentials necessary for an organization. Contact details, maps, galleries, statistics, and more boost your worthiness. Additionally, WooCommerce and Slider Revolution are along for the ride.
Senior Security

For those in service of the elderly, Senior Security is a WordPress theme accommodating older person's health care. This theme is simple and gets to the point, combined with easy creation tools for quick website creation. Visitors will get a sense of what your healthcare service is all about, and Slider Revolution is tossed in for free. Pretty good for a subject not often touched upon.
Winner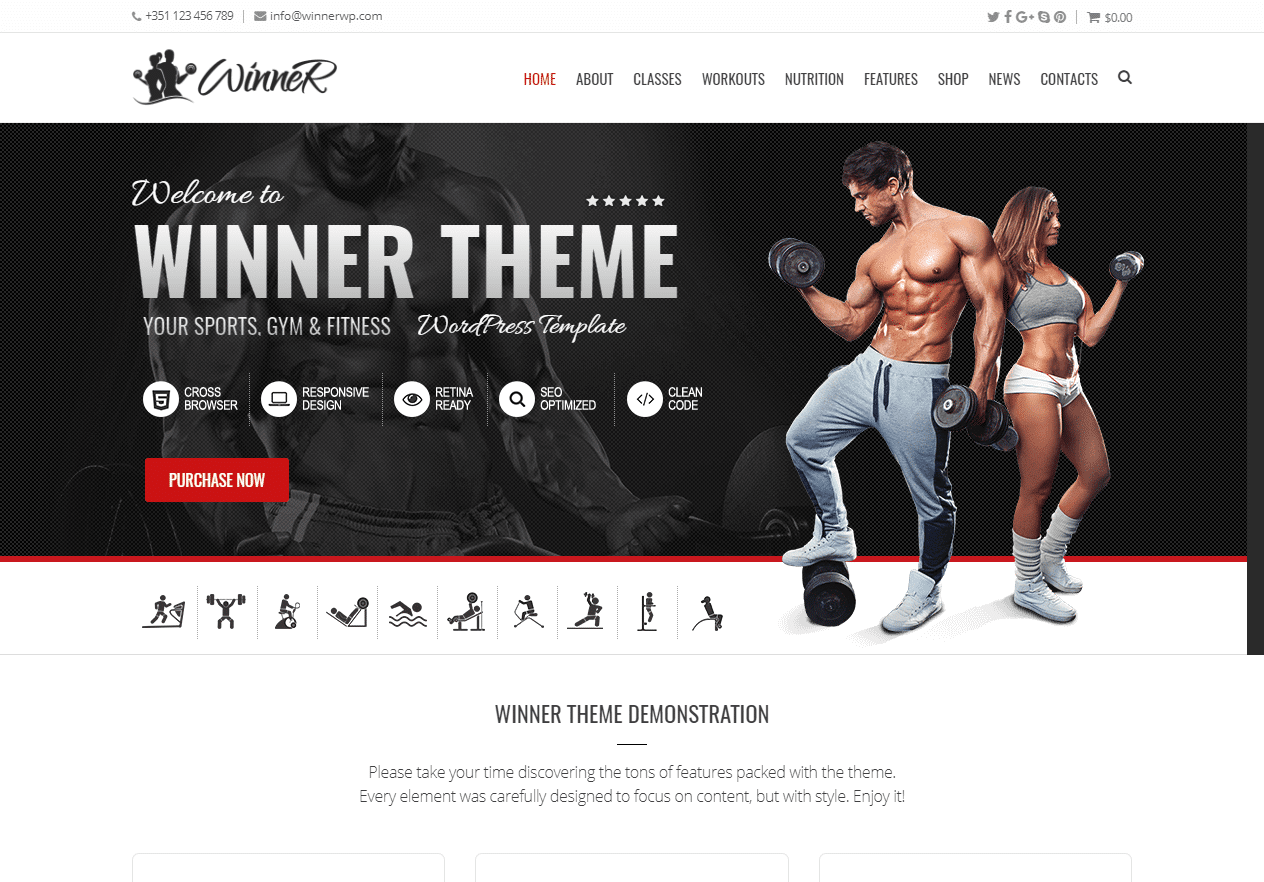 Everyone likes to win, so help your visitors feel accomplished just by visiting your website with "Winner."
This fitness-based theme sports an iron, no-holds-barred visual style, the kind of serious strength-hungry punch that delights the curious athlete. While you're busy wowing an audience with the complex and amazing visual elements present, you also get packed with useful creation assets as well.
Everything from setting pages to showcase products, fitness workouts, nutrition posts, personal trainer tips, and more are available with Winner. You're also able to bring your website (and likely supporting gym) to the next level of business with SEO optimization and mobile compatibility. There are dozens of other features I can't fit on this page, but needless to say, this is a strong choice.
Berger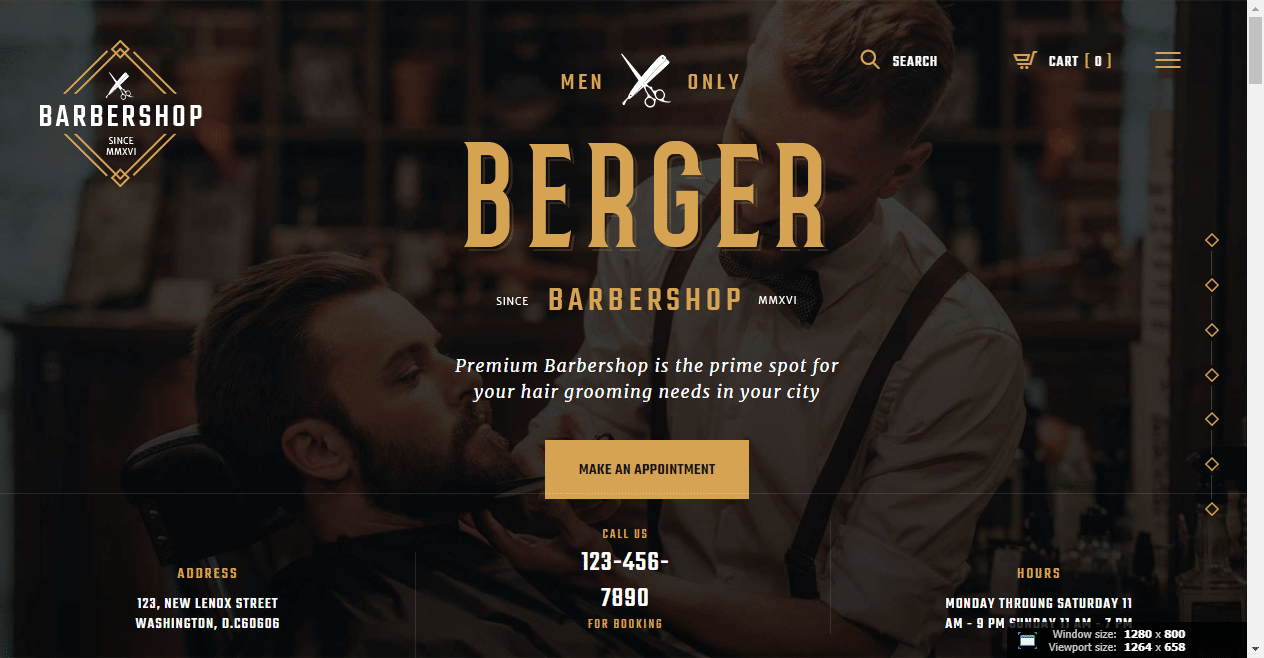 No, it's not a typo for America's favorite sandwich styling, it's Berger. This barbershop focused WordPress theme is all about the stylings of beards and stylish hairdoos.
What this rustic, refined theme offers is a robust set of creative features to boost both web performance and business sales. SEO optimization and codeless construction mean you can create without concern while boosting internet traffic, and beautiful visual formats allow you to customize some truly magnificent pages. Additionally, some top notch plugins are thrown in for free, like Visual Composer, Revolution Slider, and Essential Grid.
Jacqueline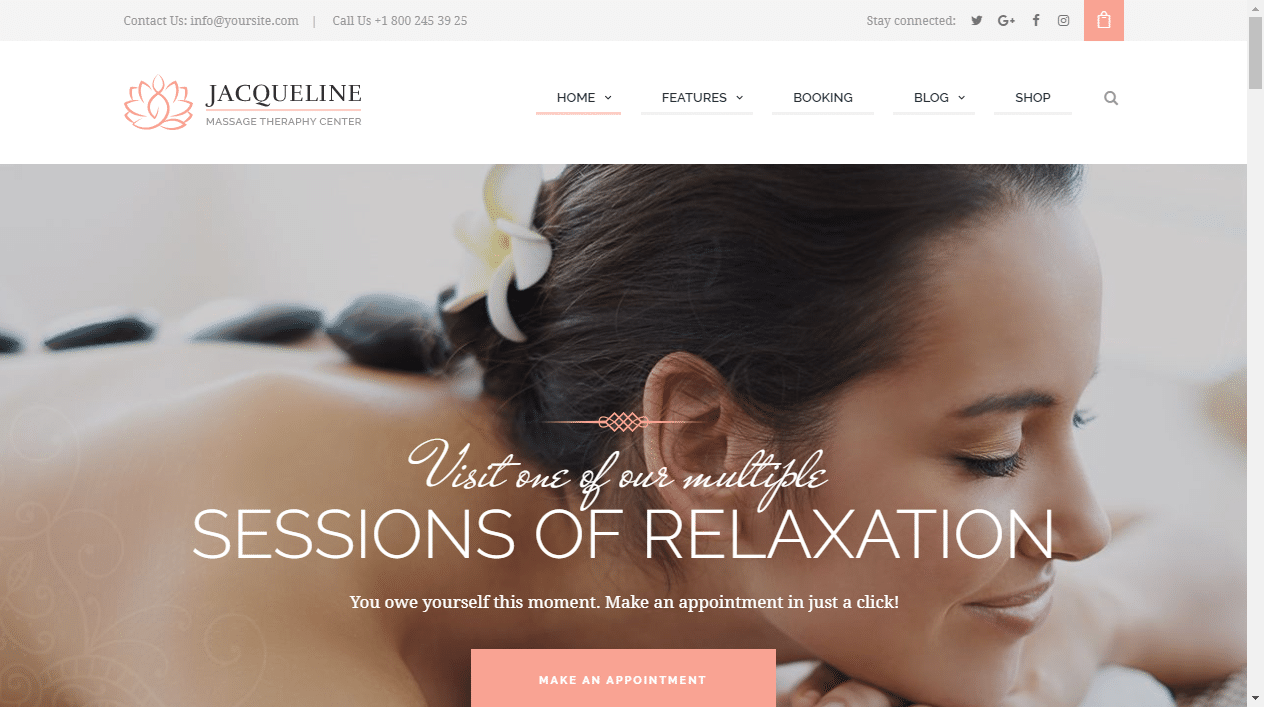 It's hard to ignore perhaps the most successful beauty salon WordPress theme of the current year. Jacqueline stands tall with good features, great visual design, and resoundingly positive feedback.
Jacqueline is responsive, has built in options for WooCommerce and sales pages, gives you three templates to design from, and is SEO optimized. That, of course, is only naming a few advantages, but they're no doubt extremely helpful resources for a beauty-based business.
Psychologist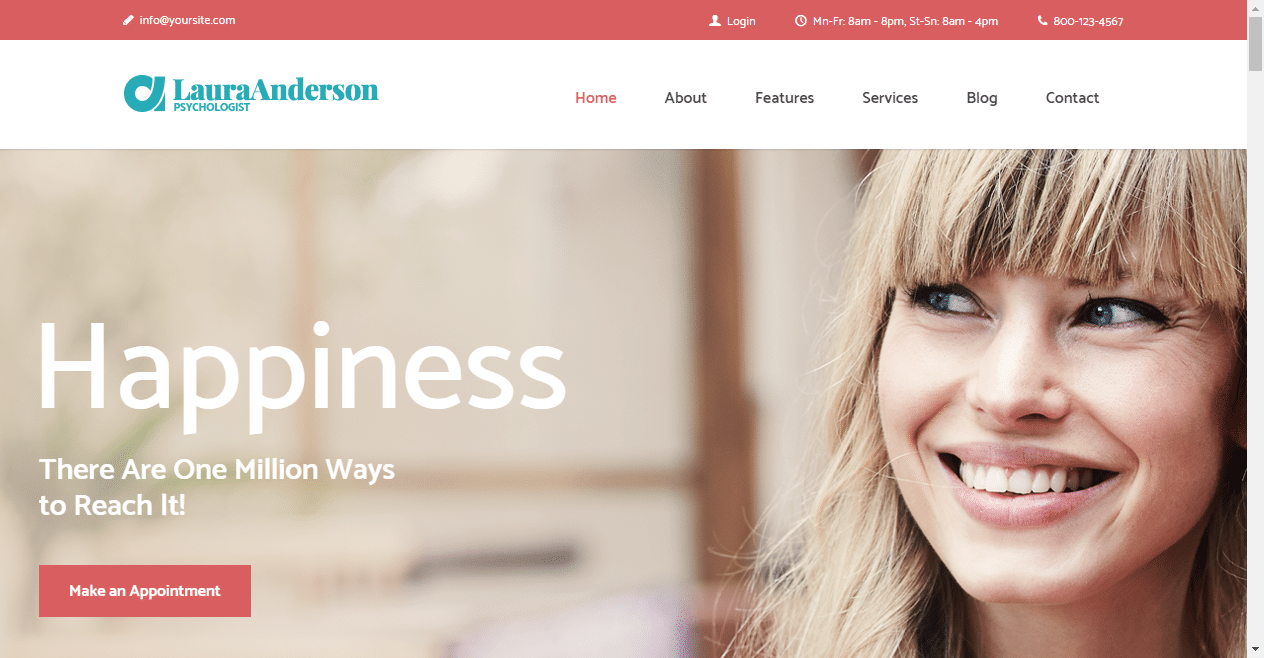 If you weren't satisfied with my previous choice for a mental-health focused WordPress theme, Psychologist is another option. This one is minimalist in design, emphasizing speed and simplicity. Visitors will get the idea of what your services are all about, where you can be found, how to contact you, etc. All this is wrapped up with pleasant visuals, with several page layouts to start from.
Additional core features include SEO optimization for improved visibility, Revolution Slider, language translation and some basic shortcodes.
Dentalia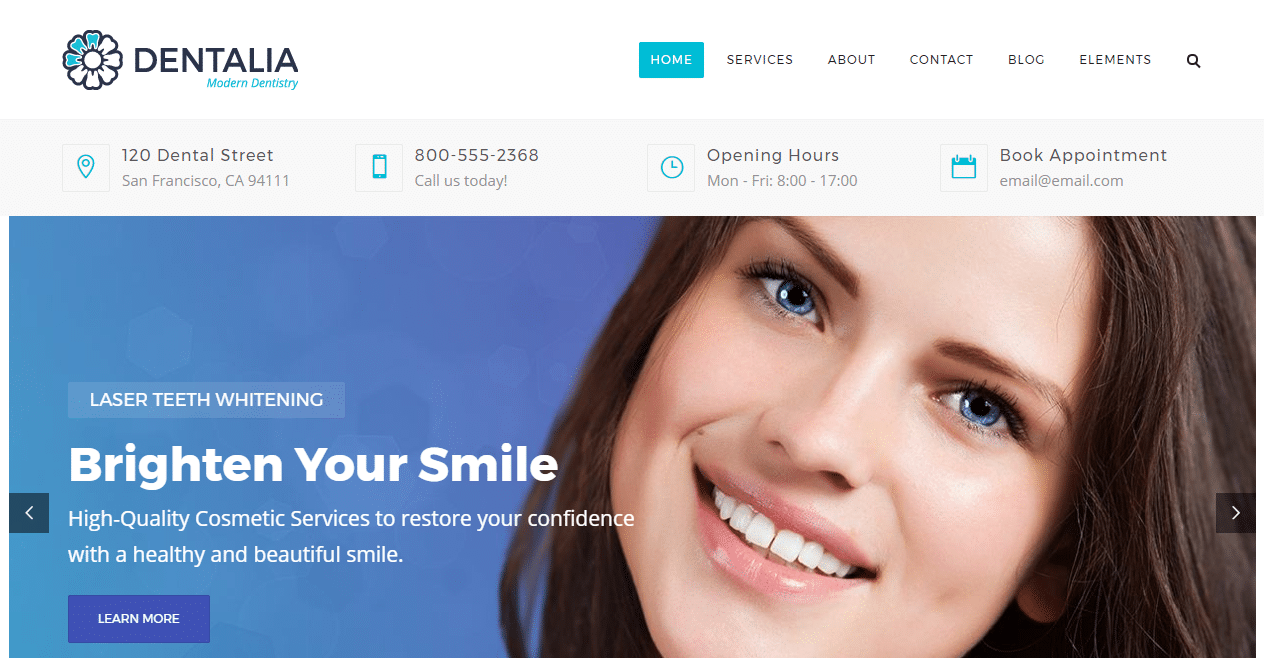 They say to brush twice a day for optimal dental health. So, in the spirit of the pearly whites, I'm putting in second dental based WordPress theme. Dentalia is another well-reviewed, high-performing theme for teeth and teeth services.
Dentalia has a simple, but engaging visual design with various cool, unique icons and easy ways to create pages. You can create without any hardcore coding knowledge and have access to modernistic themes, animations, and slides.
A single page informs all current and future patients about services and your templates to build from are rich with helpful details. Combined with extensive customer support, you'll have a perfect dental clinic website in no time.
Vital

Vital is another medical, multi-purpose WordPress theme which sports simplified design but eye-catching visuals. You can use it to build clinic websites, blogs, places for general health advice, nutrition related things, and more. You can edit just about all aspects of your website too, giving you unlimited ways to create.
The theme is also extremely well-rated when it comes to speed, both on mobile and PC. Finally, $80 worth of plugins is brought in for your use, including the trusty Visual Composer and Slider Revolution.
Health Coach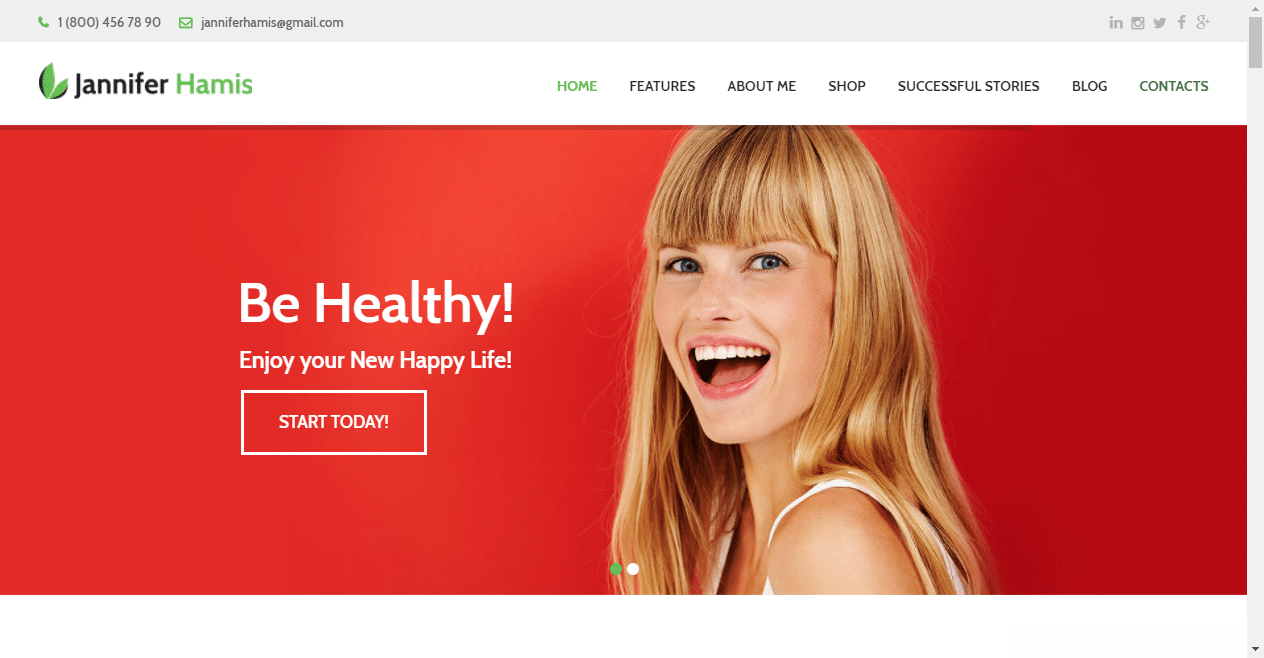 Want to encourage the masses with your home-grown tips about diet and exercise? Professional trainer with lots of wise advice? Gym looking for ways to expand its audience? Health Coach might be for you.
Health Coach is a simple, but highly functional theme mainly for purchasers who want to design a blog/advice based website. They'll get to do this with plenty of helpful tools (like the standard Visual Composer) and great customer support. SEO optimization and awesome mobile device performance don't hurt either.
Fitness Point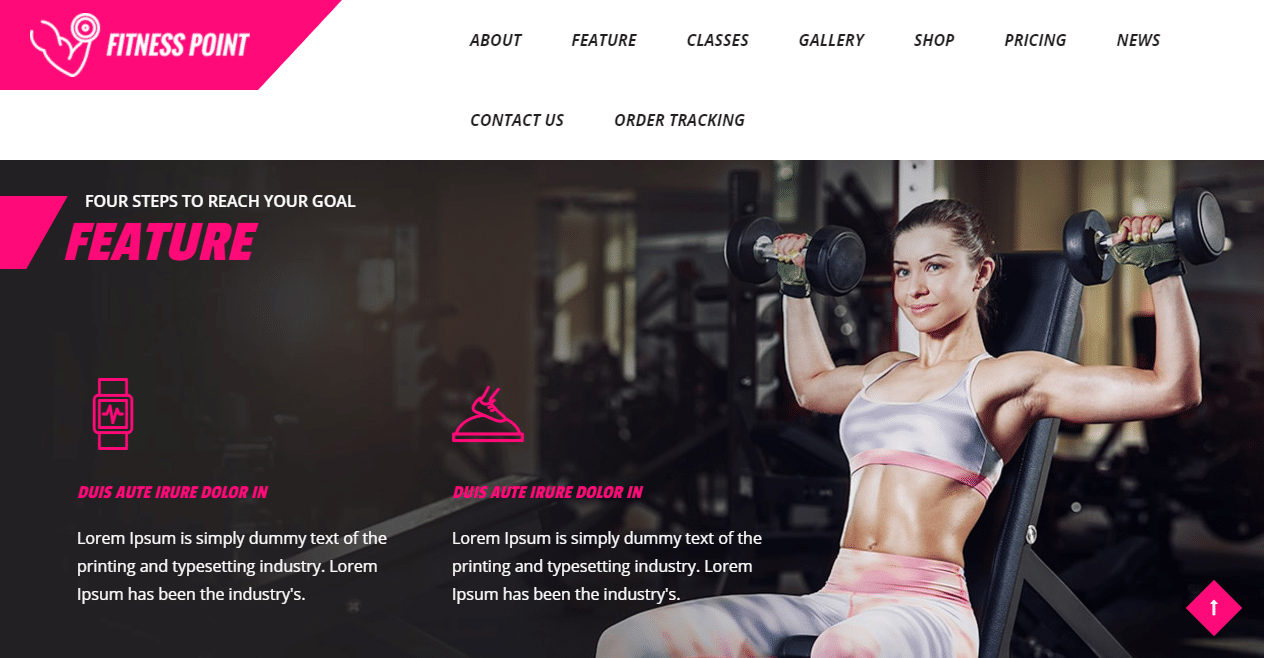 As I shift gears into the most recent releases for health and beauty based themes, my attention turns to Fitness Point. The striking use of clashing purple colors immediately caught my eye, and the simple but functional design kept it.
This might be a new theme but it's loaded with great features and cool visuals, really allowing purchasers to stand out. Businesses can also take advantage of its sales page options and super fast performance. I expect it to grow in popularity very soon.
Medical Cure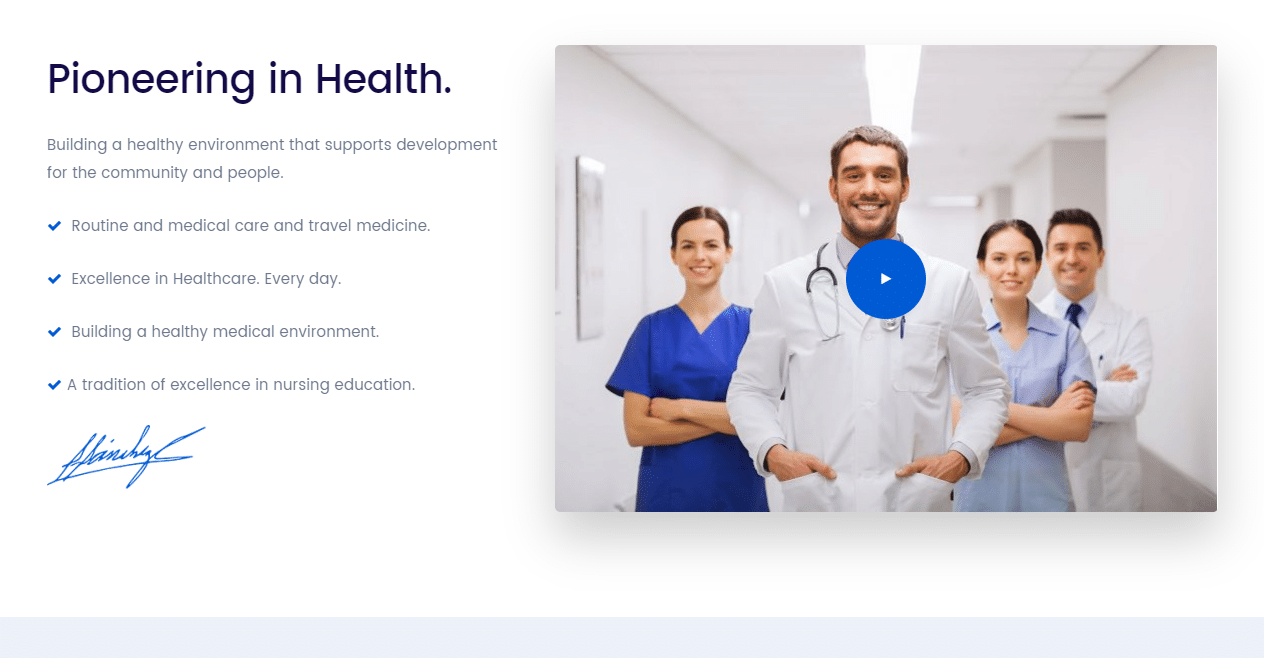 Now I can't guarantee this theme will cure all diseases and bring peace to the world, but I can guarantee it's packed with features and responsive design. Boasting "the most advanced medical theme yet," Medical Cure already looks promising. Install demos with one click and enjoy a variety of premium plugins added in for free. Not bad for a newcomer.
Grand Spa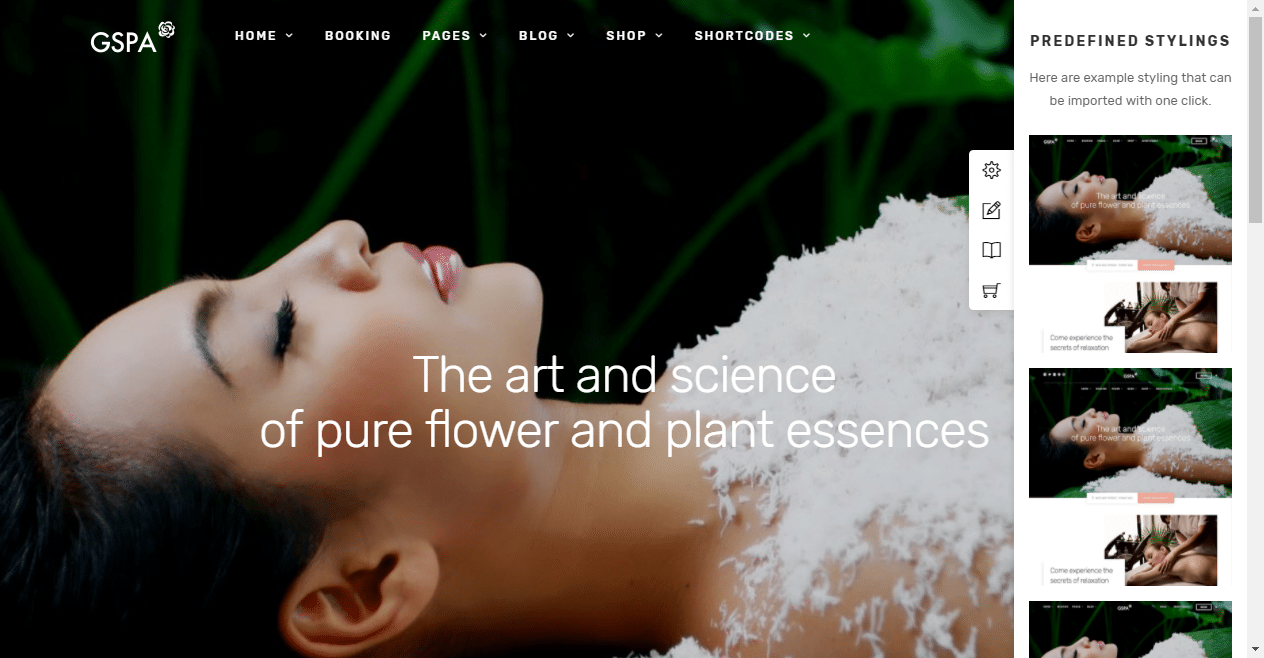 No, I didn't mispronounce grandma. Grand Spa is a new WordPress theme about – as you might have guessed – spa treatments and spas in general. But, despite its lack of seniority, this theme is already overwhelmed with features. 40 basic templates, live previews when customizing, integrated and ready-to-use shop, schedule system, and all sorts of other great features compliment a spa business. For the new month releases, this one might be my favorite in terms of features alone.
Nirvana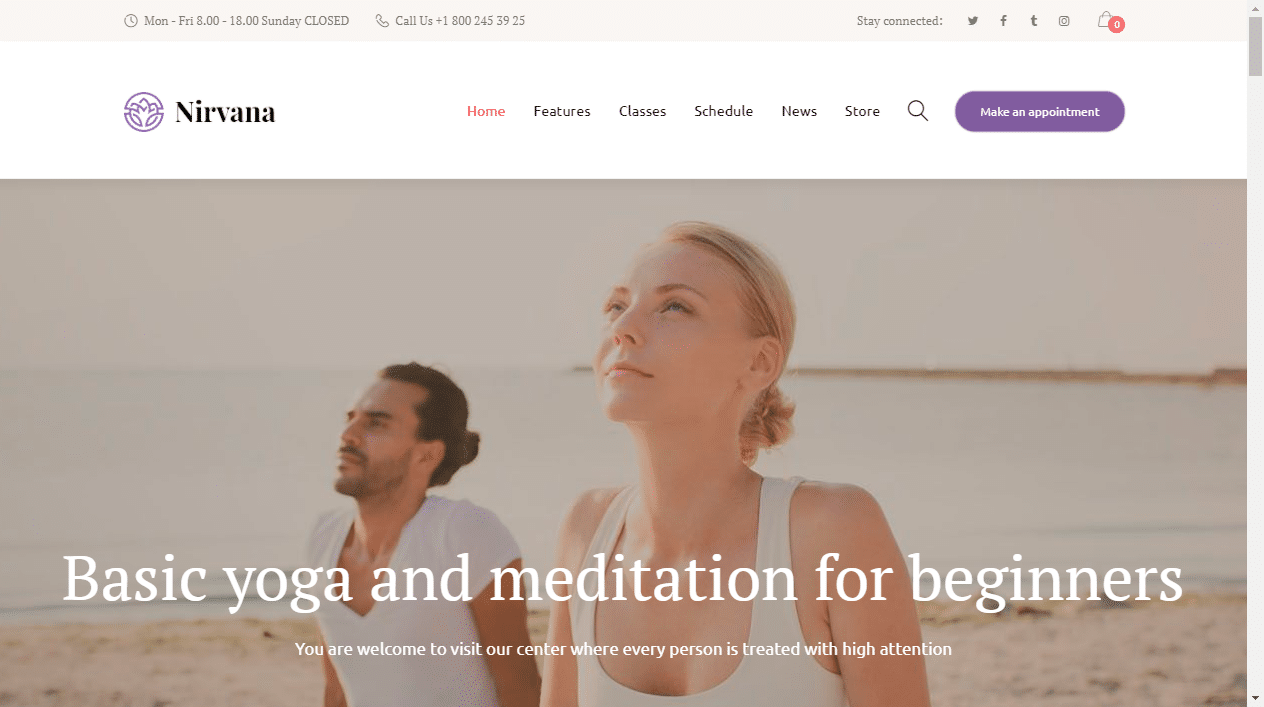 Will you achieve peace and enlightenment with this theme? That remains to be seen, but Nirvana is another fresh Yoga focused WordPress theme complimenting performance with its fairly simple design. This particular theme also hosts some interesting animations and effective page creation so readers can get to the content fast.
Brussals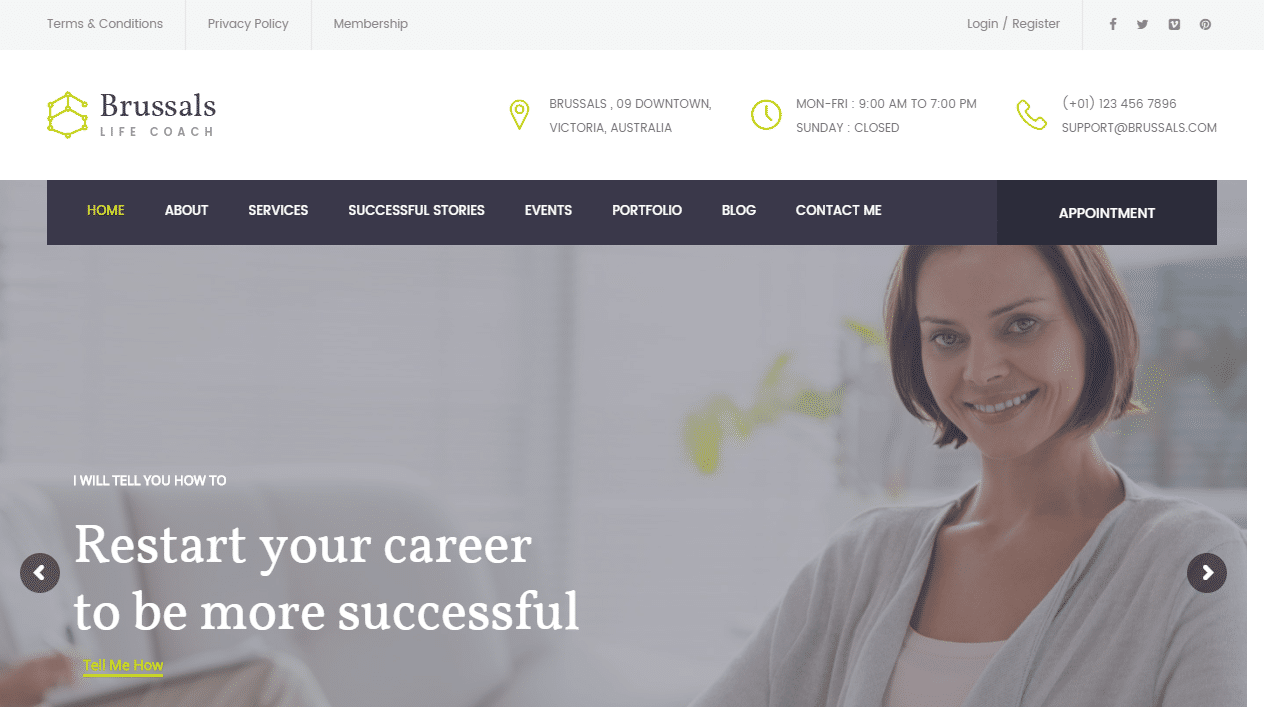 If you were looking for personal-coach theme choices but didn't like my initial pick, Brussals might be your style. This new theme is packed with lots of great starter features, such as lots of essential templates, drag-and-drop design, parallax effects, and mobile responsiveness. You can use this theme for nutritional, physical, or mental coaching. Or, coaching in whatever you please, really, it's got the flexibility for it.
Pediatrician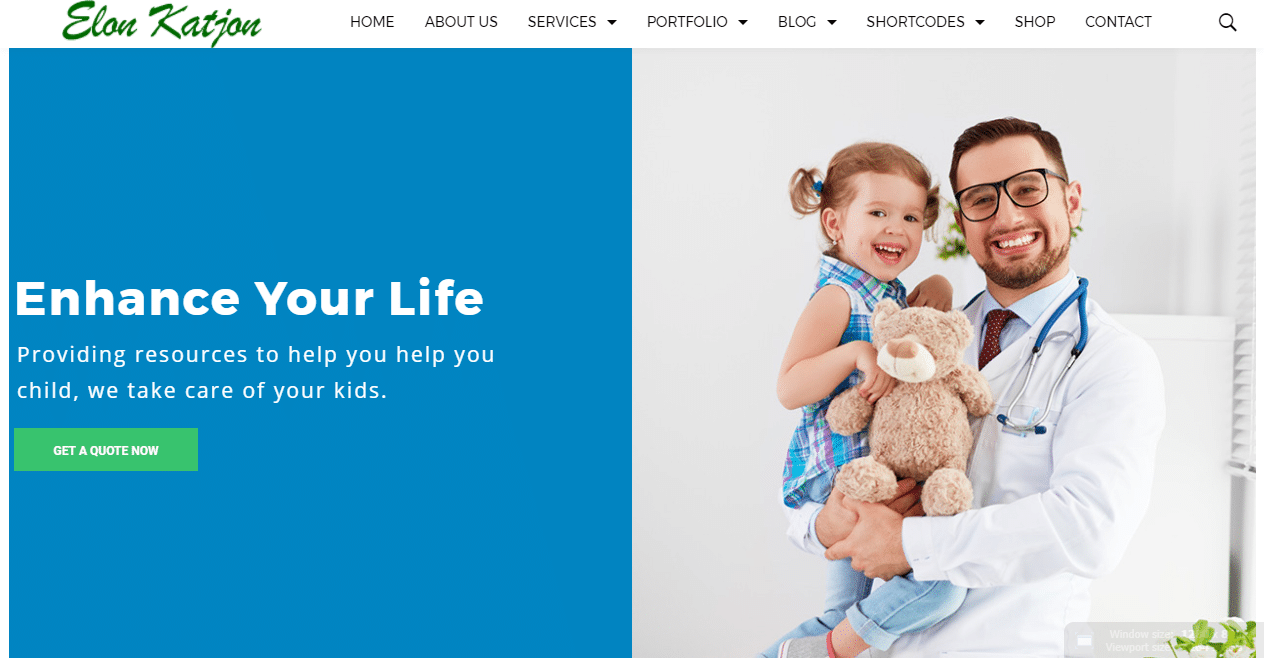 While this theme might be as juvenile as a newborn, I had to highlight it for value alone. There are few health themes which focus on children and their betterment, so it's nice to see something which benefits kids and pediatric practices.
This theme sports a lot of essential features necessary for most websites, like Visual Composer, mobile responsiveness, and simplified visuals. Great way to showcase what your practice does for children and child health.
Medical Plus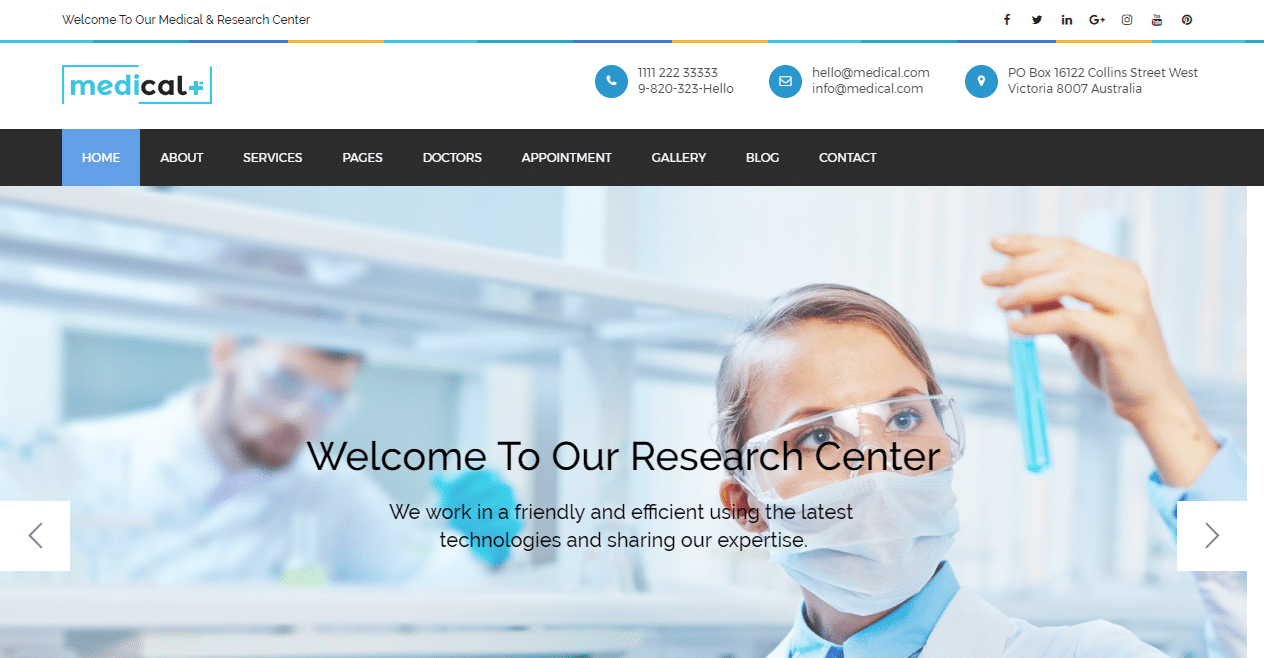 Yes, it's another medical theme! These WordPress choices are out in force, so at least there are lots to shop around for.
Medical Plus gives you a variety of useful website creation tools – as you'd expect – but has some unique sliders and animations to help your page stand out a little more. With Visual Composer, you also have access to the various doctor, schedule, and appointment forms.
Psychology Therapist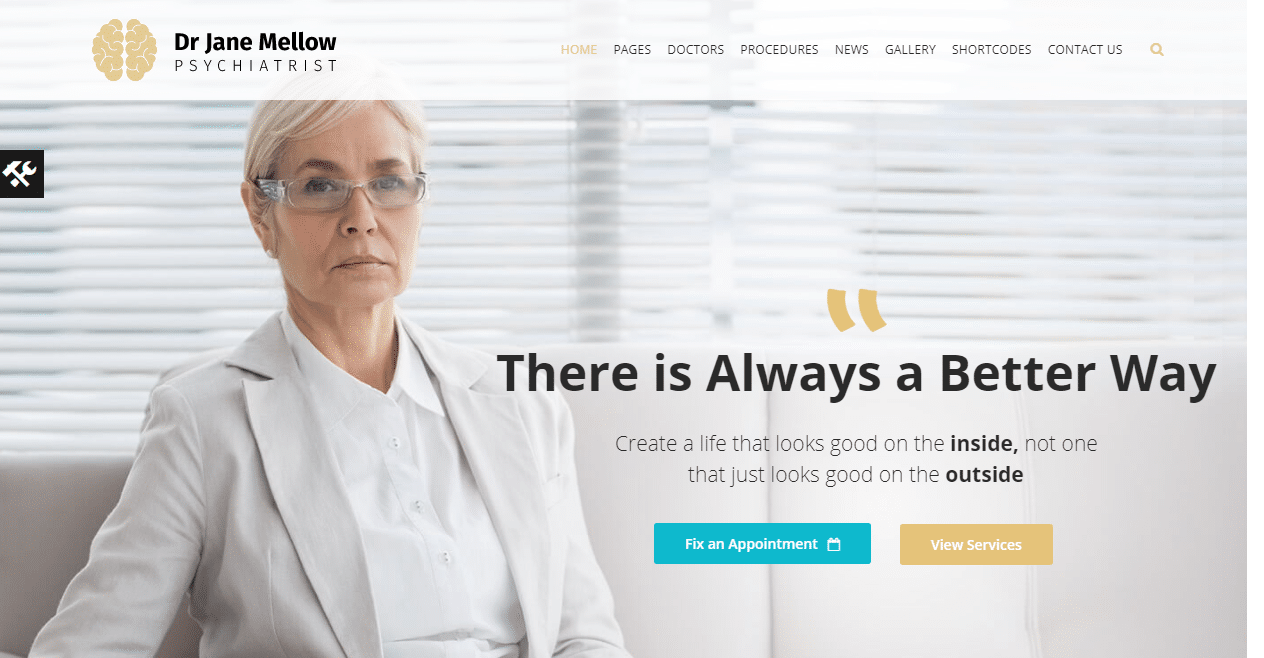 Psychology Therapist is an all-inclusive WordPress theme for those who help the mind. Complete with custom icons, mobile responsiveness, and minimalistic visuals, Psychology Therapist leads to an engaging environment for visitors to make potential appointments. Purchasers also get four premium plugins for free and have different options for biographies.
Magna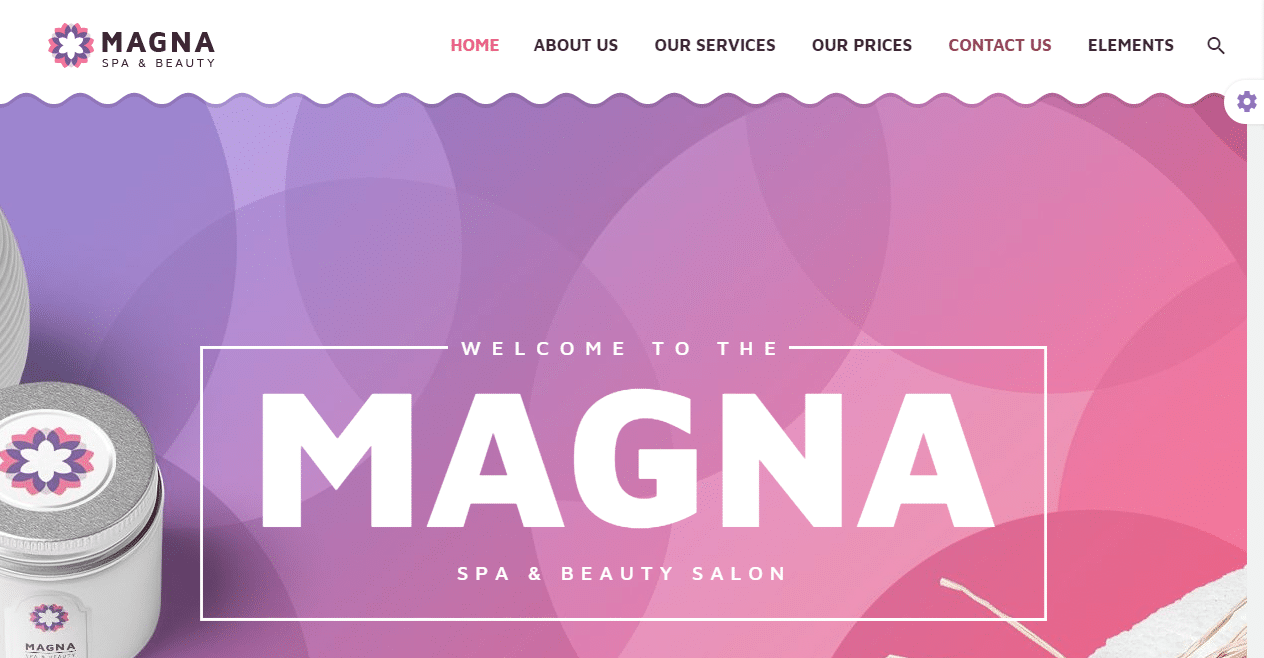 I'm getting the feeling that Yoga is popular. I come to that assumption because I've found another great Yoga WordPress theme.
Despite its relative newness, Magna is already claiming to be the "most beautiful Yoga theme ever," and I may agree. You get a rich set of templates to work from, with numerous animation styles and portfolio types. Inviting colors compliment its simple, mobile-ready design and the material is SEO optimized. So, if you want to take your Yoga business and/or website to the next level, it looks like Magna is ideal.
Medison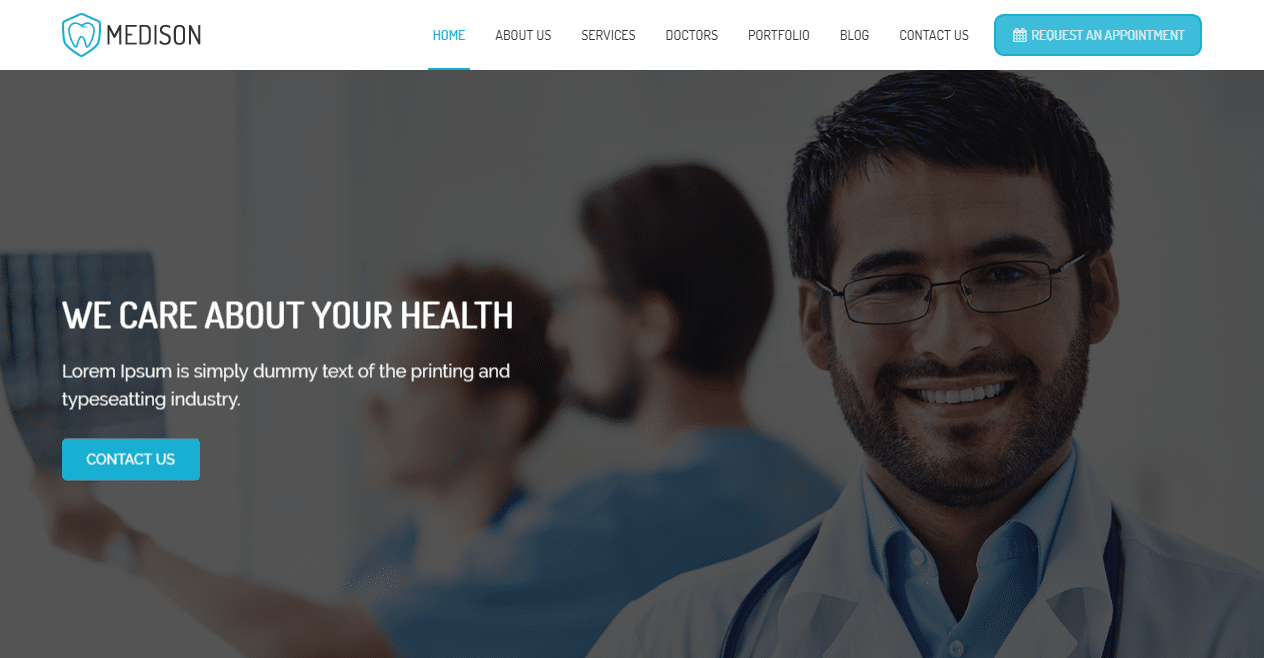 My final pick continues the trend of WordPress themes which misspell common phrases on purpose.
Medison is another new theme perfect for clinics, hospitals, and doctors with easy drag-and-drop construction tools and a plethora of customization options. As a bonus, a premium appointment plugin is added for free, making things a little easier.