WordPress has evolved greatly over the past several years. What once began as a simple blog publishing script with a few very basic themes has now evolved into a fully functional publishing platform for millions of users. Everything from the smallest fan pages to Fortune 500 websites use WordPress as their preferred publishing platform.
One style which has captivated many are Magazine and News WordPress themes. While WordPress is now used for a wide range of use cases, content publishing remains it's greatest strength. Massive content publishing powerhouses like CNN, The New York Times, BBC, Bloomberg The New Yorker, Conde Nast and many more all use WordPress to power hugely popular news websites and blogs. But it's not just new websites, globally recognized magazines including Vogue, Variety, Readers Digest and Forbes are all powered by WordPress!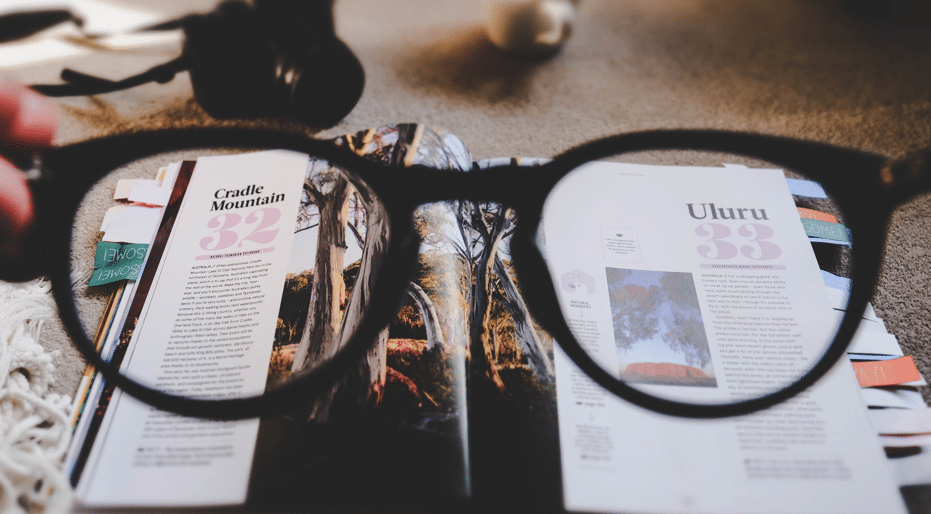 The importance of a well designed Magazine WordPress theme.
Standing out among the thousands of blogs and websites is a challenge. Everyone has their own unique angle on something. This is especially important for those looking to build brand strength or generate a well-known online identity. But how do they do it?
One of the fastest and most effective ways to immediately catch the eye is to use enticing WordPress themes. There are thousands to choose from, with hundreds more created on a monthly basis. You have no shortage of options. But, there's still some problems: how do you know the one that's right for you? Fortunately, we've compiled a quick list of some of our favorite Magazine and News WordPress themes. If you fancy yourself a columnist or a news organization looking to build an image, these themes are right up your alley.
The good news is you too can create your own Magazine or News website running WordPress and look just as good as any of those household names thanks to the wonderful selection of fantastic looking Magazine and News WordPress themes that have been developed in recent years. We've hand picked a collection of what we believe to be the best News and Magazine WordPress themes available for your perusal. Let us know if you find any others we you like 🙂
Finding the Right Magazine and News Theme
Any site looking to gain viewership has to sport some powerful visuals along with easy readability. It enhances the readability and lets users identify their favorite content faster. People also access this content from mobile devices most of the time. As such, looking at those angles for a magazine or news focused theme are important.
Asking yourself a few questions before searching for a theme is a good way to find what you want. For instance, is the theme SEO optimized? This goes well beyond keyword saturation. Modern SEO also takes design into consideration, such as visual elements. It's also important that it's ready for mobile devices. Themes which aren't optimized will run slowly on smartphones, create blocks of hard-to-read text, and overall feel cumbersome to navigate.
What you want then is a powerful theme which strengthens your brand, captivates the eye, and is easy to read through.
Top News, Blog, and Magazine Themes
Out of the hundreds of pre-existing themes already available, these choices are some of the best. These have proven to be the most reliable and well-received themes over their lifetime, and give you powerful options right out of the gate.
Newspread (Trending right now!)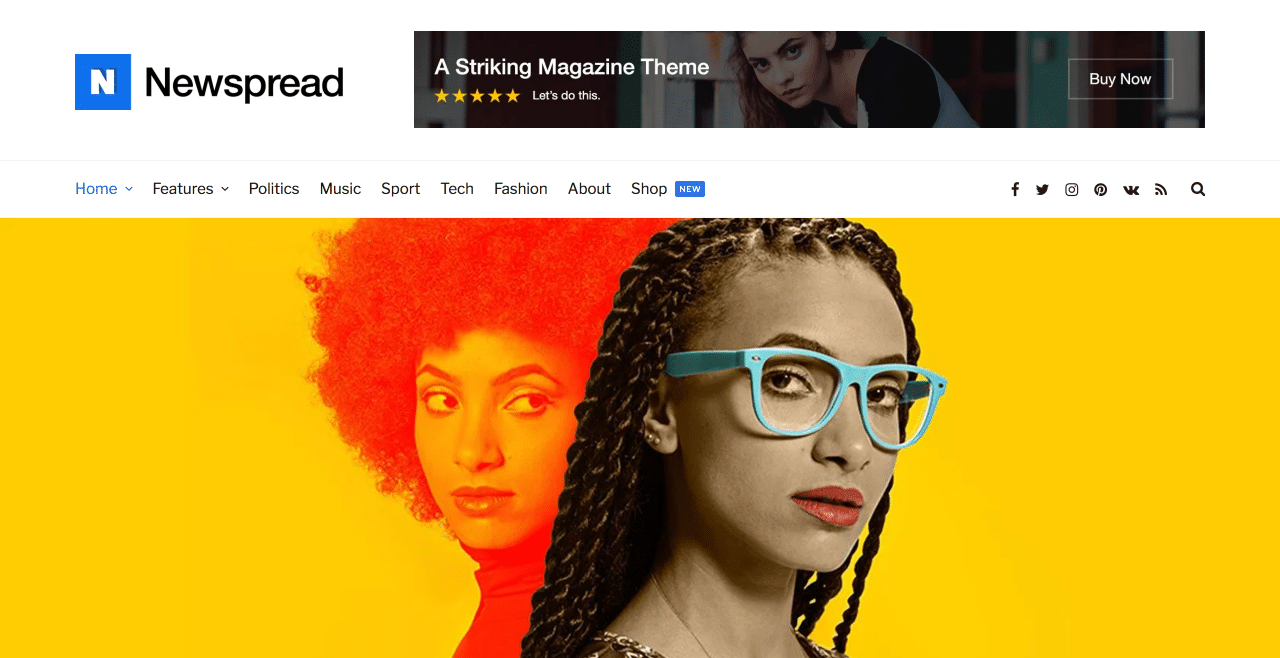 Newspread is a visually stunning Magazine and News WordPress theme by CommerceGurus. What I love most about Newspread is that they've really nailed the perfect balance between providing a visually engaging content experience and a fast loading website –  which is no mean feat. In my tests, Newspread consistently scored 100/100 in Google Pagespeed and also maintained an overall load time of around 1 second! Newspread also comes with a comprehensive set of theme options via the native WordPress customizer allowing you to quickly adapt the theme to your brand. While it's a new theme it's already picking up a lot of 5 star reviews from happy buyers and is picking up a lot of momentum making it a great option for your website.
Mission News

Mission News is a gorgeous looking newspaper theme modeled on the New York Times and Washington Post. It is beautifully responsive and resizes neatly on tablets and mobiles. The three column layout provides excellent space for featured posts from your categories, advertisements, and a live twitter feed. The typography is crisp and clean which gives it a really professional look. Because of this attention to detail, articles within this theme are always a pleasure to read. Overall, Mission News is a fantastic choice for anyone who wants a professional newspaper theme.
Newsmag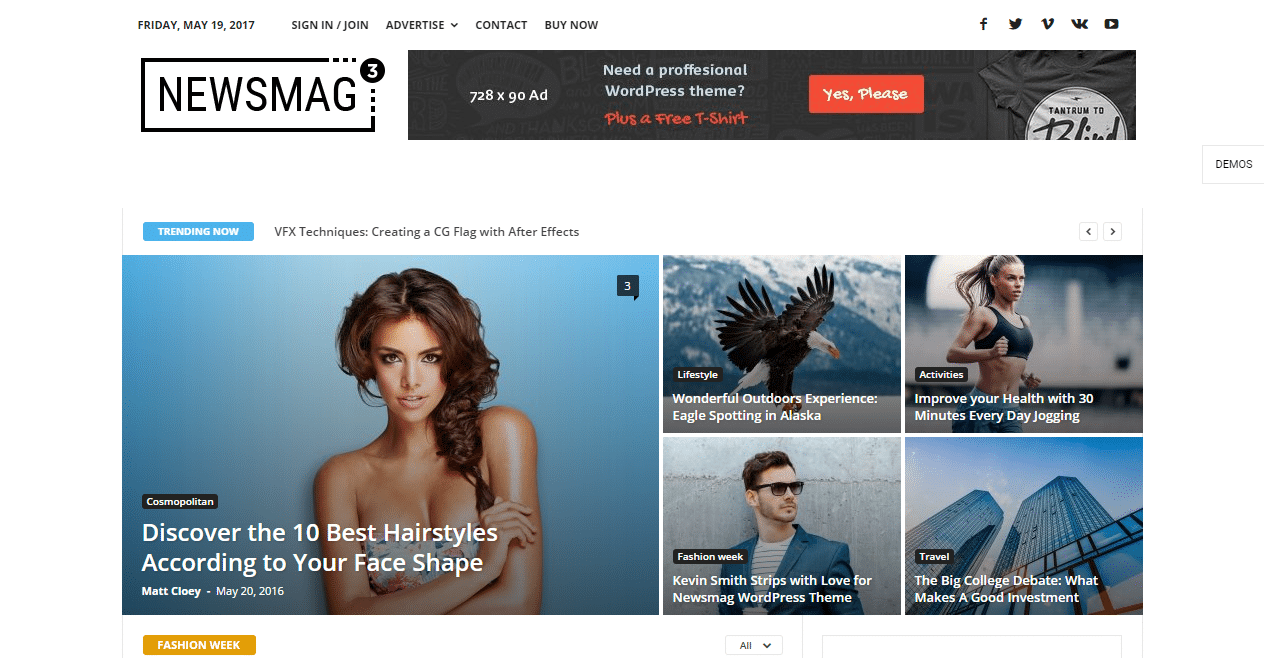 Newsmag was introduced to the WordPress world in November 2014, but is still one of the highest rated and well-received themes to date. Maximized with hundreds of built-in themes, designer support, and SEO tool compatibility, this is one of the strongest options to select. Newsmag does not require coding skills, has integrated widgets, and gives everyone the powerful news and blog-style presentation they're after.
Bimber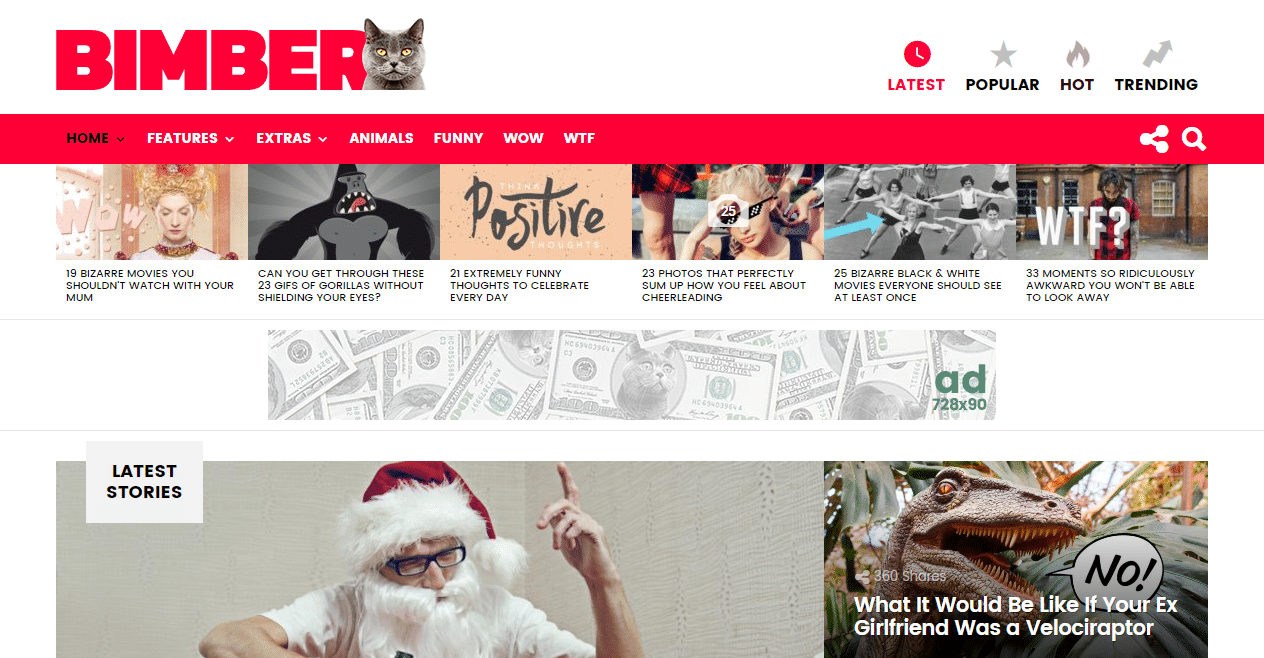 Viral news is as engaging as regular reports, if not more so. The internet is constantly on the prowl for the hottest story, so why not deliver it to them with Bimber? This WordPress theme features bold, strong colors and metro-style organization for easy reading. It's compatible with mobile devices, older WordPress versions, and can be built in under 24 hours. This puts your latest story on the front page for maximum readability.
The Essence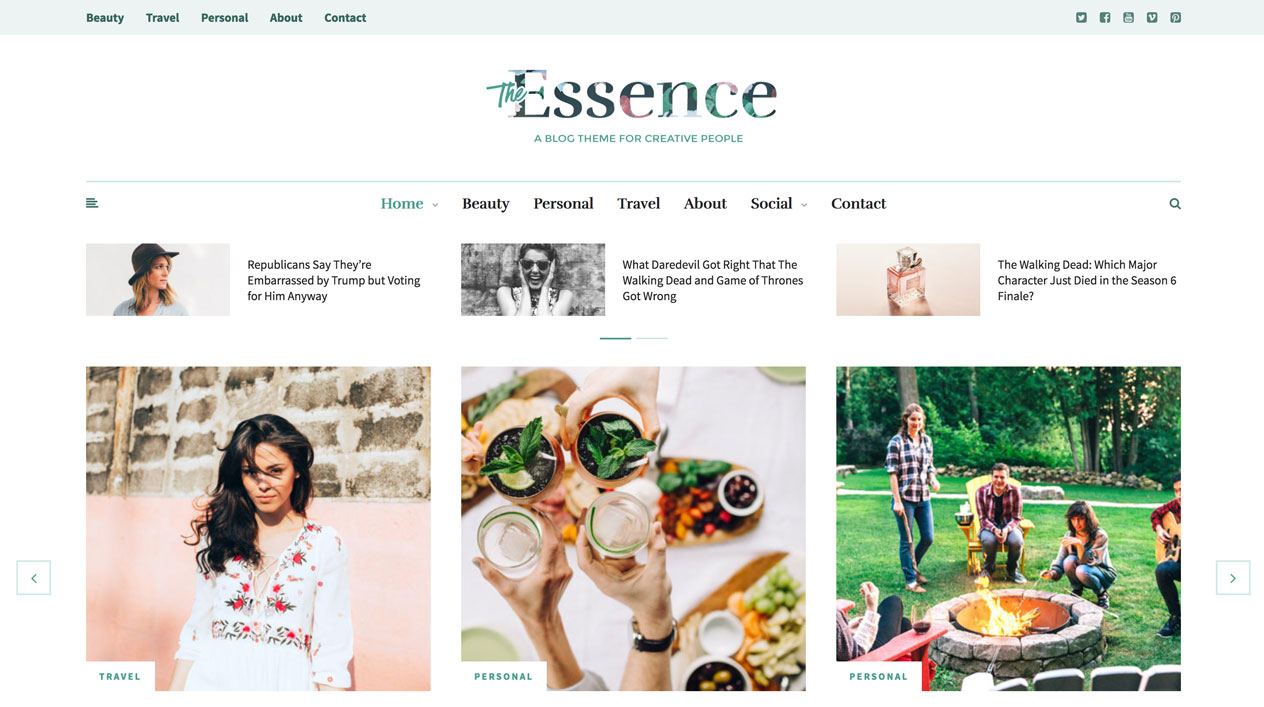 Meridian Themes' The Essence is a chic blogging theme for WordPress websites that features a fully responsive design that's bound to captivate your viewer's attention. The theme's design is intuitive making it easy to use for all kinds of users regardless of how tech savvy they might be. The theme comes with 17 different layouts including a 3-column and 4-column design. In addition to the incredible range of features, the developers behind The Essence also offer premium-quality support. Overall, it's a great choice.
Explicit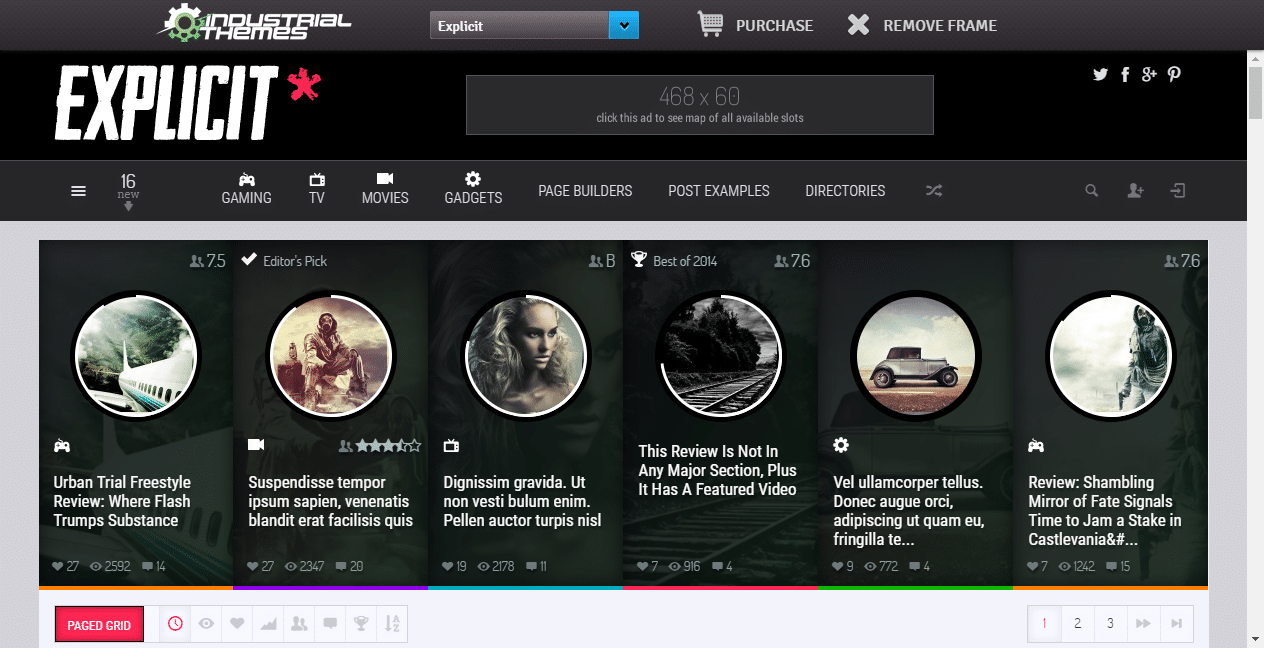 Lots of WordPress themes like to focus on minimalism or a sort of "elegance," but Explicit foregoes the fancies and hits readers with an eyeful of style. It's clear that Excplicit is geared towards those who want to present their content in an "edgier" manner, with a built in scoring system and style that pairs content off like virtual trophies. Mainly aimed at gamers, this is a bold choice for startups who want to toss away formal design and hit viewers hard with something on the stylish side.
Wonderwall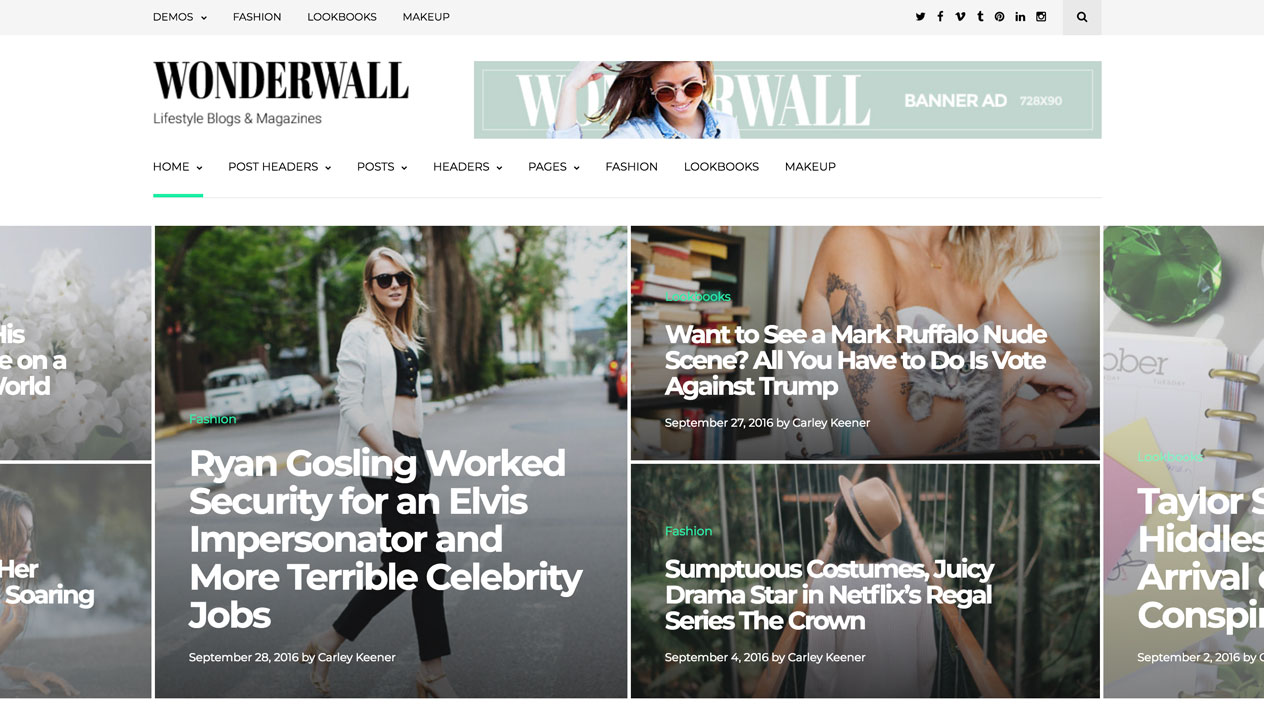 MeridianThemes' Wonderwall is a stylish yet flexible WordPress theme designed to be used on magazines and lifestyle blogs. The theme is mobile-optimized from the get-go allowing you to deliver a pixel-perfect browsing experience to your site's visitors regardless of which device they use to access your site. The best part is that Wonderwall is fully customizable and extremely easy to get to grips with so you be assured that you'll be able to comfortably customize it even if you're not particularly technically inclined.
Jarida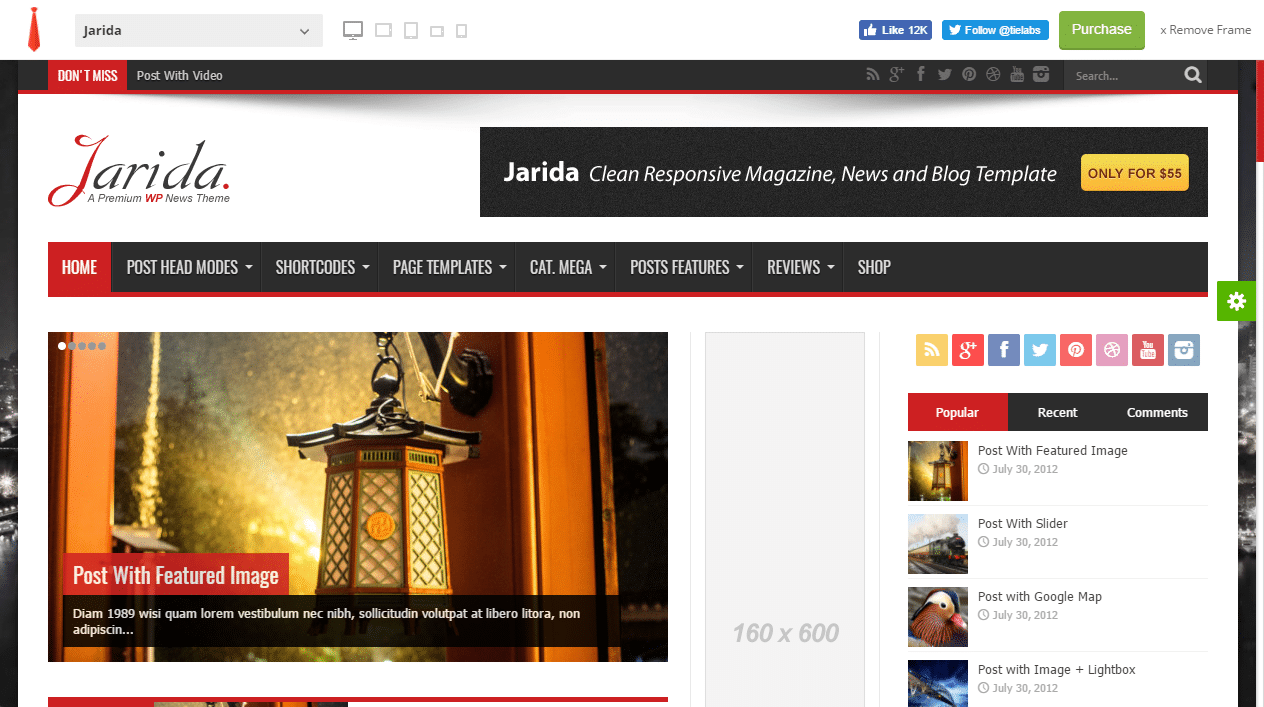 One of the most proven themes, Jarida was introduced in April 2013 and still remains a top choice for news-oriented WordPress options. With a rich host of features such as unlimited color choice and automatic language translation, it's a flexible option fit for anyone with a magazine style site. Readers can tab through their favorite categories and identify content they want, while the clean visuals keep clunky ads and other intrusive elements out of the way.
Guage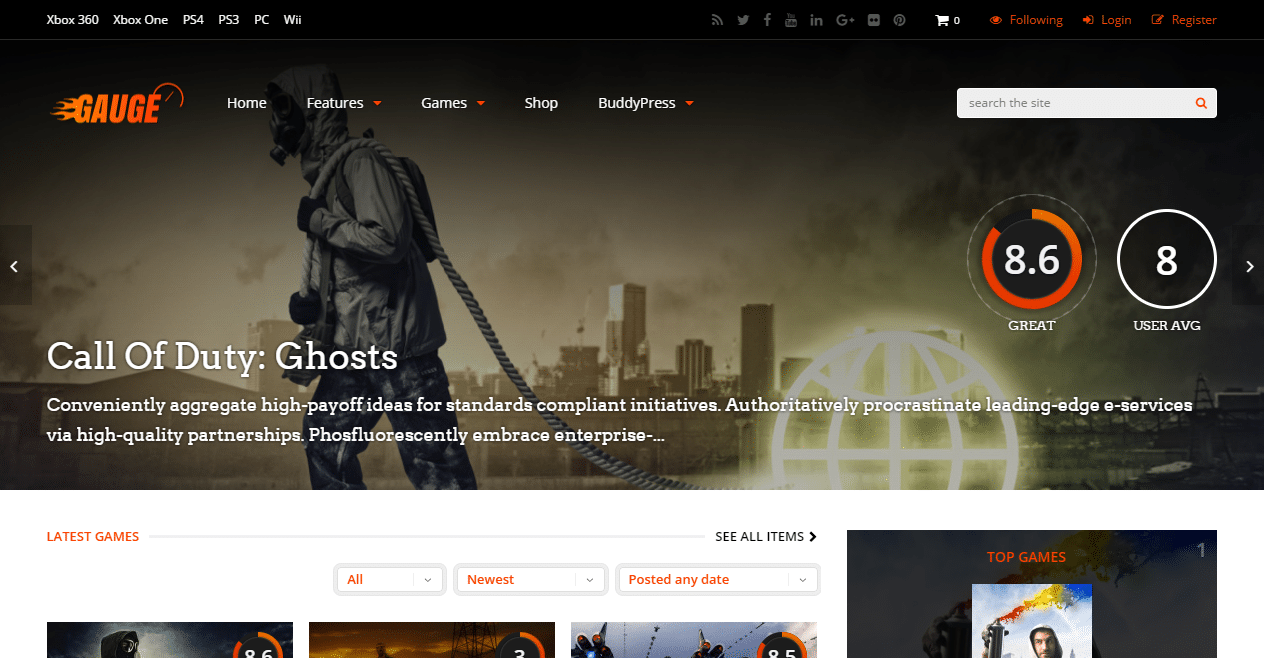 This fiery theme focuses on review blogs and critical speculation. If you're interested in starting a site which reviews films, games, products, or anything else you can think of, Gauge aims to be theme to fit your niche. Easy to install and easier to customize, it's a great way to start strong as a potential review site.
Newspaper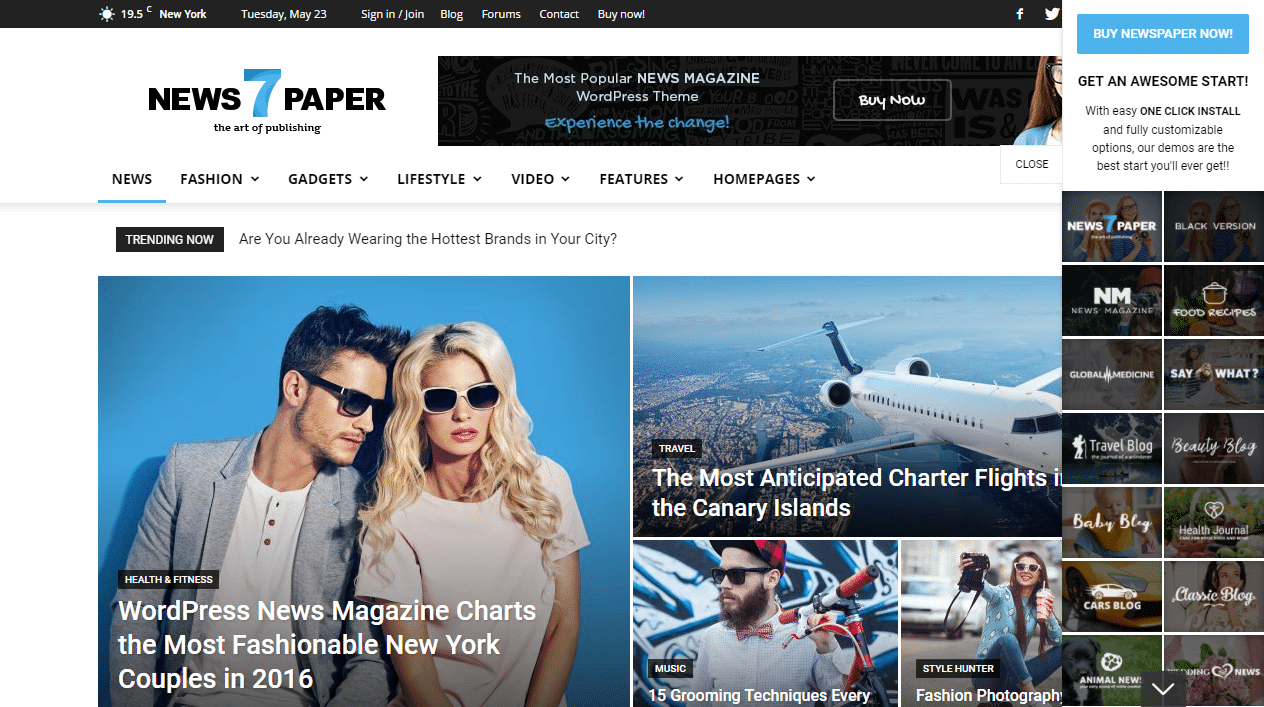 Newspaper is essentially the most popular news focused WordPress theme. With consistent updates and 24/7 available support, it's the perfect choice for anyone looking to take their news focused website to the next level of professionalism. Combined with mobile compatibility, various widgets, engaging customization options, tutorial support for design questions, and more, it's a reliable, powerful choice.
Hot Topix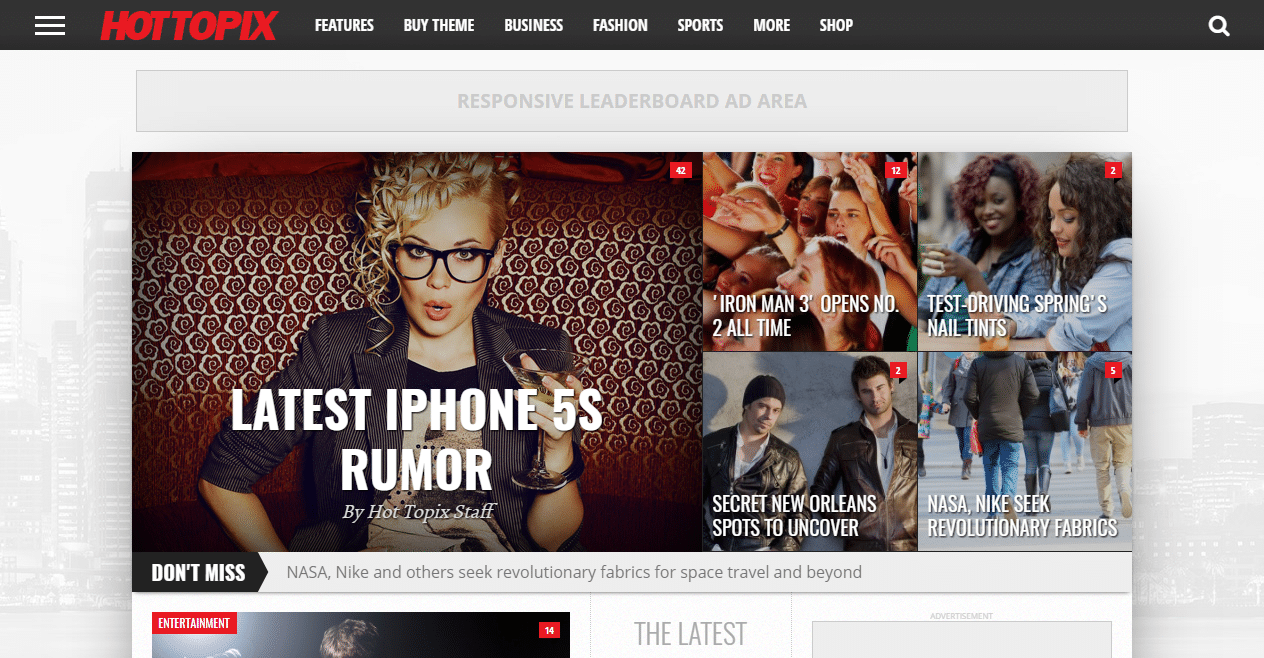 Hot Topix focuses on the viral side of news with an entertainment-focused flavoring. This an ideal choice for WordPress websites which want to focus on celebrity news, media, movies, or other upcoming stories which deal with Hollywood-esque stories. Users can easily integrate slideshows, video, and other media to give their content a little extra pop.
Multinews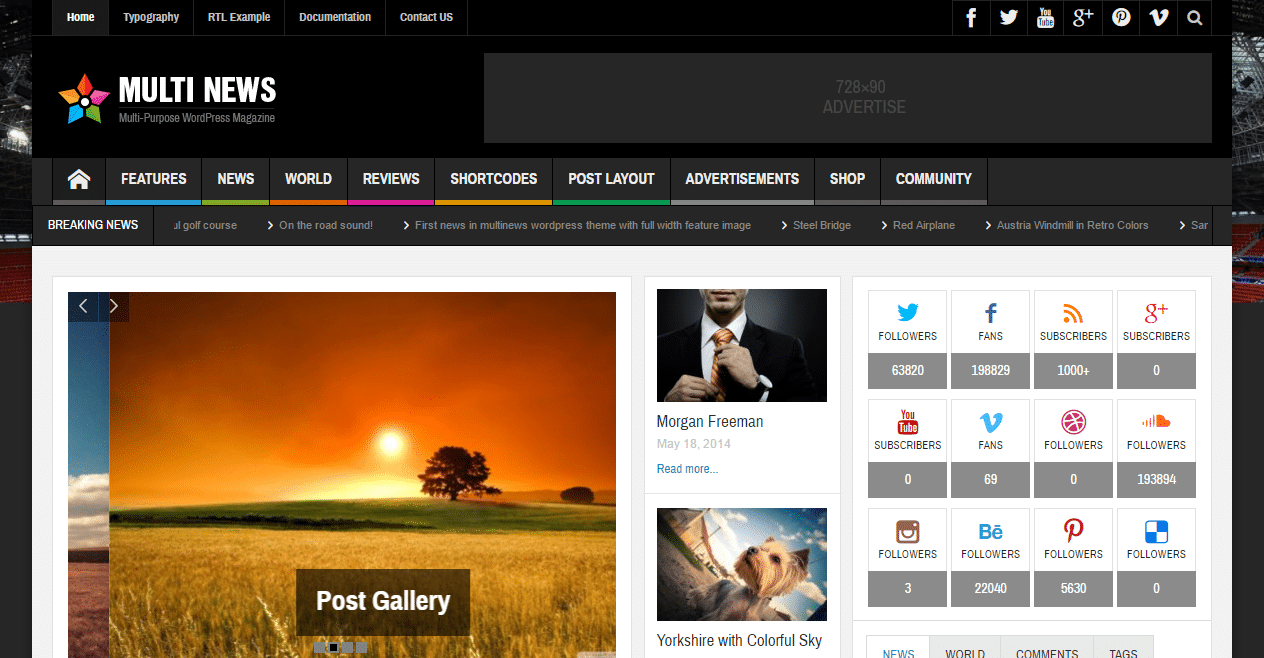 Care to hit your readers with a little bit of everything? Multinews is the theme for you. Minimalist design with strong mobile compatibility focuses on indexing all the stories you can handle, from politics to sports. Great for WordPress websites which aim at a variety of readers or want the flexibility of multiple categories.
Gameday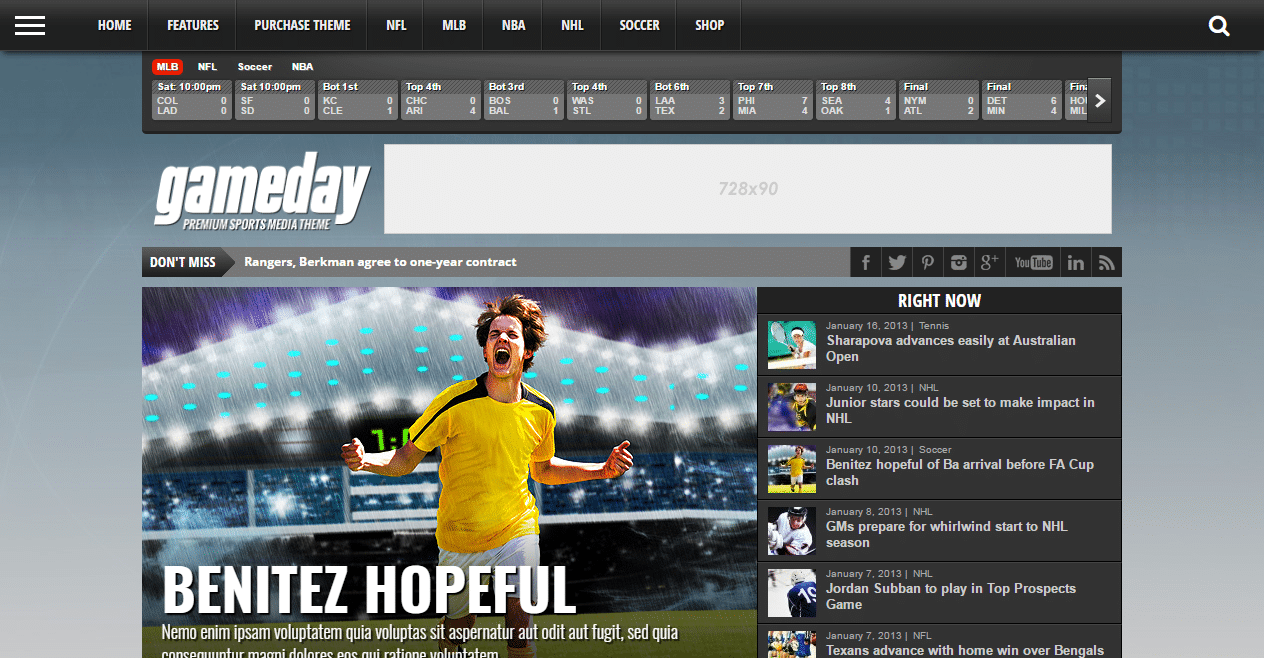 If you want to kickstart your blog with sports-centric news, Gameday covers the turf. This stylistic theme has a slick interface and aims to hit your readers with updates, scores, and news all related to the world of athletics. Customizable tickers and areas for info keep your viewer in the know.
GDN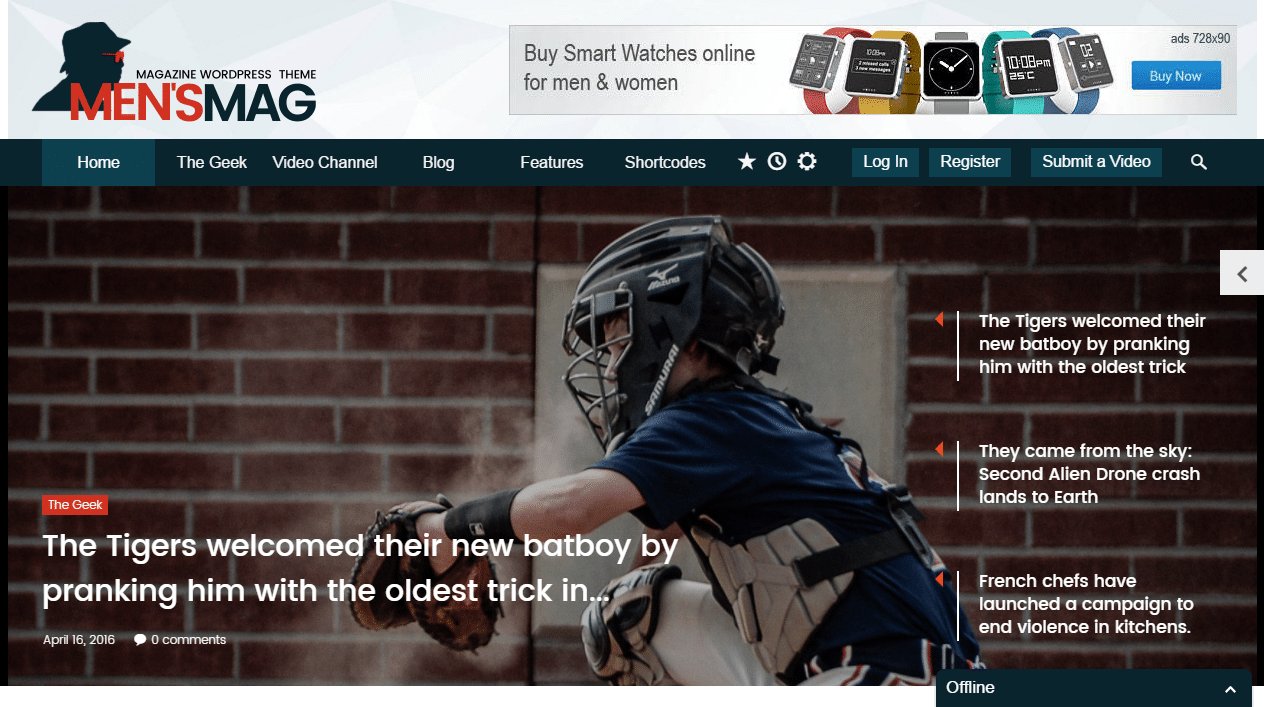 GDN is a web magazine WordPress theme which offers a robust entourage of templates and features. This allows purchasers to create the kind of content they want, from viral blogs, business news, fashion reviews, and more. The designers for GDN are also friendly and experienced, offering 24/7 customer support.
GDN is translation ready and SEO optimized, allowing owners to promote their web brand and build a strong reader base. The theme is organized and well documented and is expected to continue updating over the course of its lifetime.
Click Mag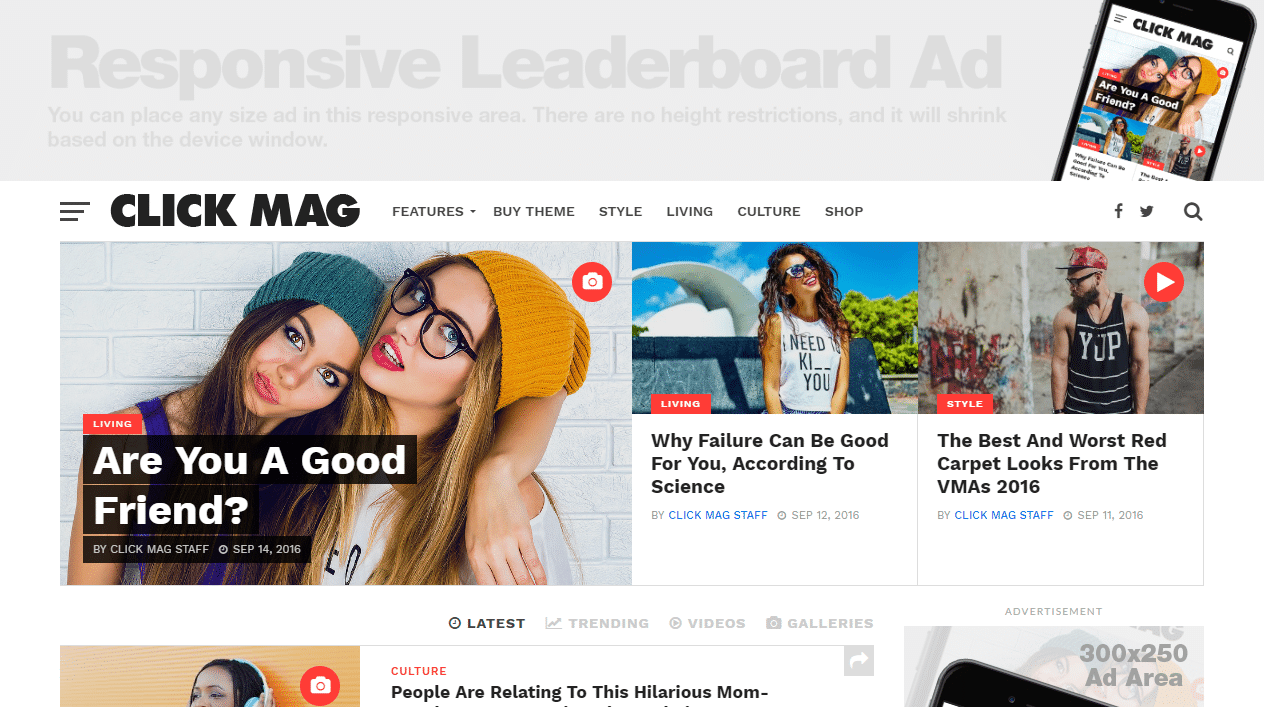 As the name implies, Click Mag is all about slick design and high click saturation. Flashy, strong visuals entice the eye and encourage browsing this WordPress theme to ultimately improve web traffic. For those aiming to turn their blog based WordPress site into a profit, Click Mag is the theme for you.
Video Pro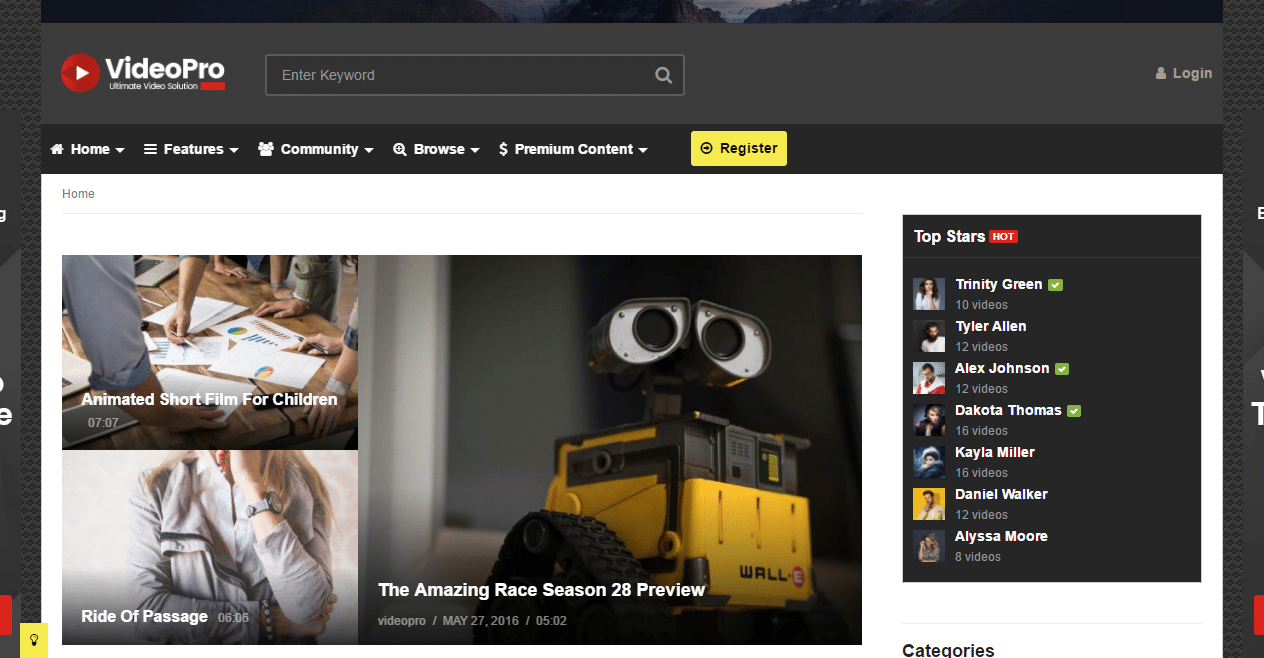 Do you prefer to deliver powerful stories and captivating headlines through vids? That's the idea behind Video Pro, a WordPress theme created for highlighting video media to entertain visitors. Video Pro emulates websites like YouTube, with flashy landing pages bursting with different media. Bloggers can partner for AdSense revenue and start with three base blog styles to choose from, all of which works great on desktop or mobile device. If you prefer to create content with vids, this is a strong choice.
Sprout and Spoon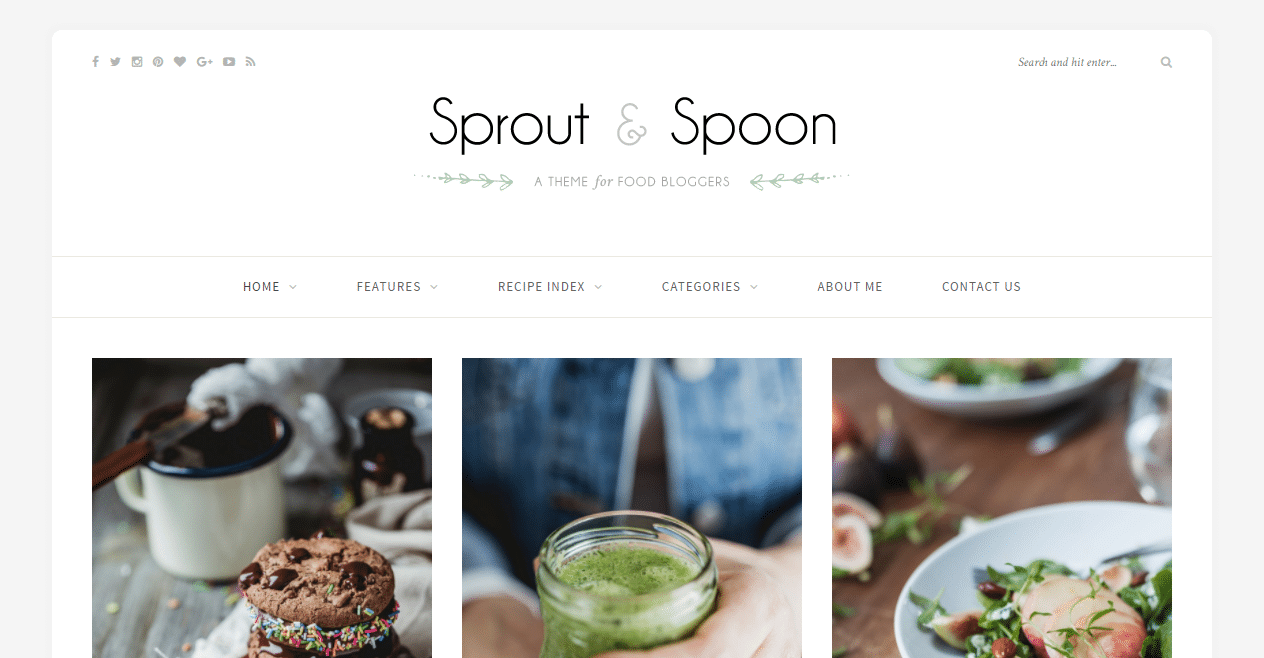 Sometimes delighting the mind isn't through a viral story or political scandal, it's a sizzling recipe cooked up by friendly bloggers. Those who want to share their unique recipes or clever food trays can do so with the Sprout and Spoon WordPress theme. This one foregoes spotlight on news stories, rather serving a hot blog post of interesting dinner ideas. The theme uses a simplified visual style, presenting readers with dinner delights they seek, along with mobile compatibility and thorough customization options.
Daynight Magazine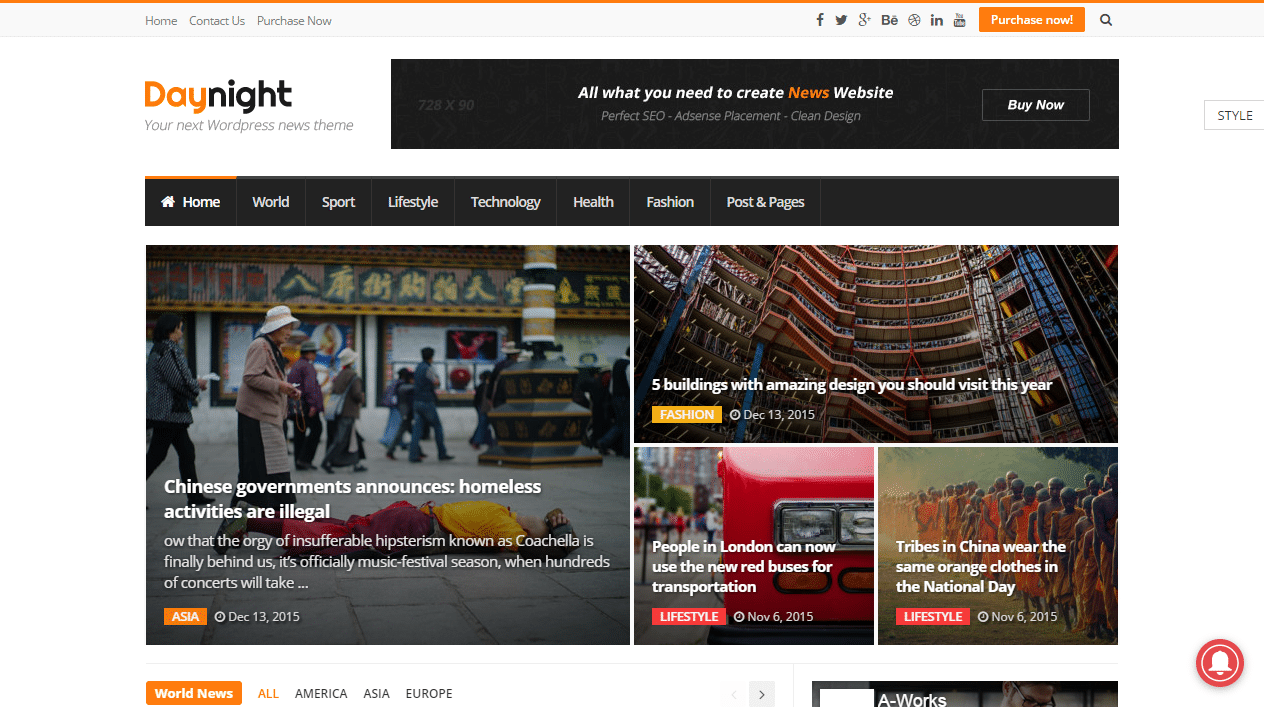 Daynight aims to be a modern media WordPress theme. As such, every effort is made to incorporate powerful functionality and optimized performance to streamline the reader experience. Theme owners present their media to users with easy-to-navigate design while integrating SEO optimization. Daynight wants your stories to be read, your stories to appear in search engines, and your stories to be at the top of the food chain. For competitors, startups, and aspiring journalists, Daynight is a powerful foundation to establish your brand.
Writsy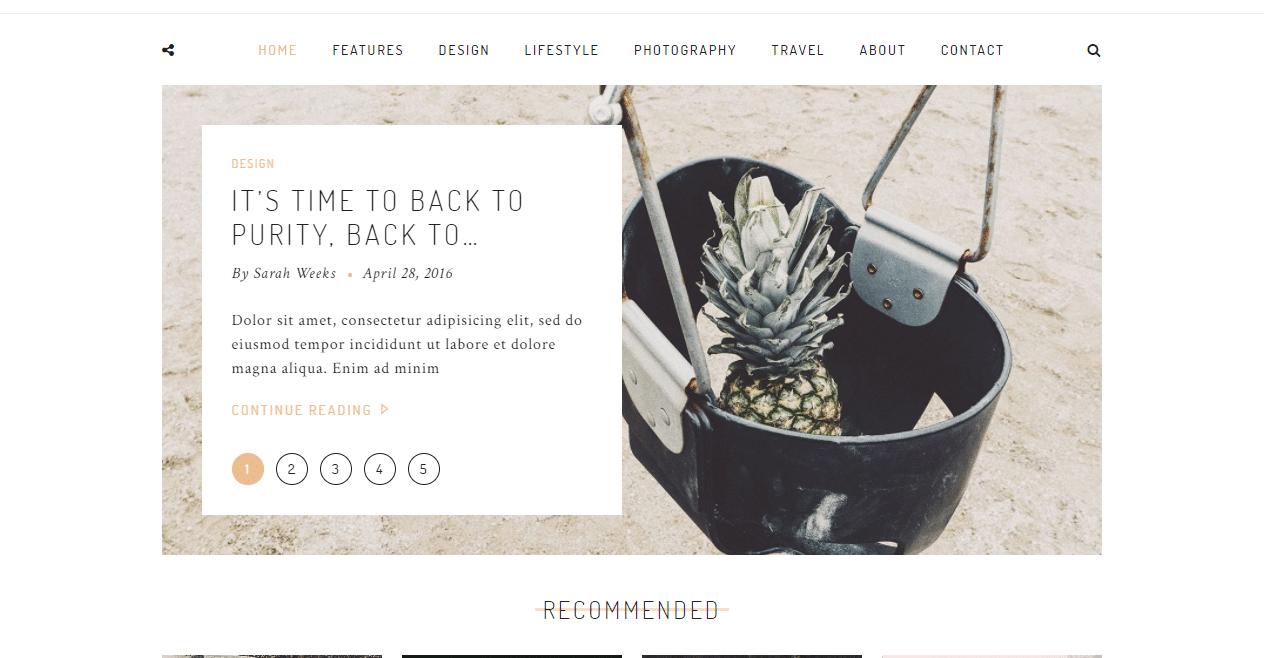 Writsy is a dignified, rustic style WordPress theme. It cuts down on the "loudness" of most blog themes and presents stories and media in a clean manner. This is a stylistic choice for those who may want to write about alternate news or blog more "down to earth" inspired articles. Indy and elegant, it's the kind of theme you expect to read after playing some acoustic guitar and sipping imported herbal tea – calm, therapeutic, refined.
Hermes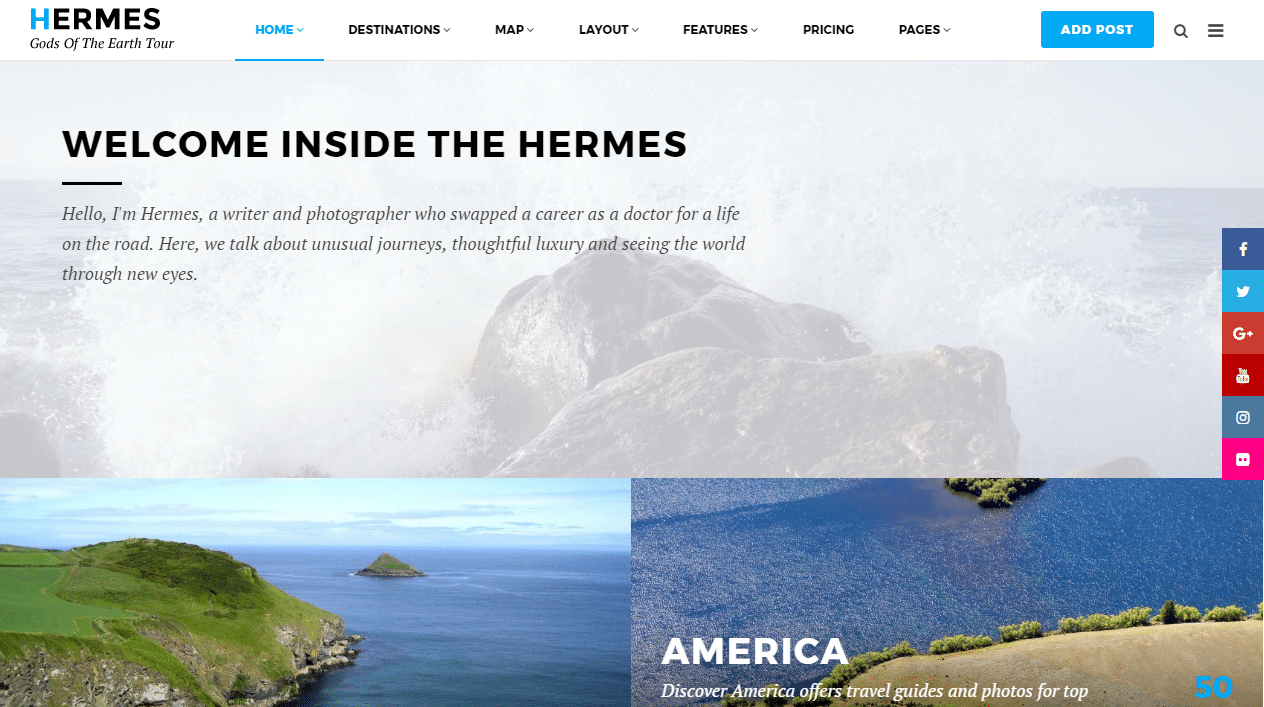 Discuss the excitement of travel and report on beautiful locales with Hermes! Whether you're an agency or a blogger with some recommendations, Hermes has a slick design and engaging interface to entertain your readers. With its built in Wiloke page creator, the Hermes WordPress theme can help you develop a personalized travel blog in minutes.
But of course, what's a travel blog without features? Pictures and reviews are one thing, but Hermes has a few features to really let your audience plan their dream vacation. It has map integration, custom reviews, user feedback to rate their experience, sort options, and Instagram compatibility. This all builds the foundation for not just a fun blog to visit, but one your readers can rely on as a trusted source of information.
LifeCoach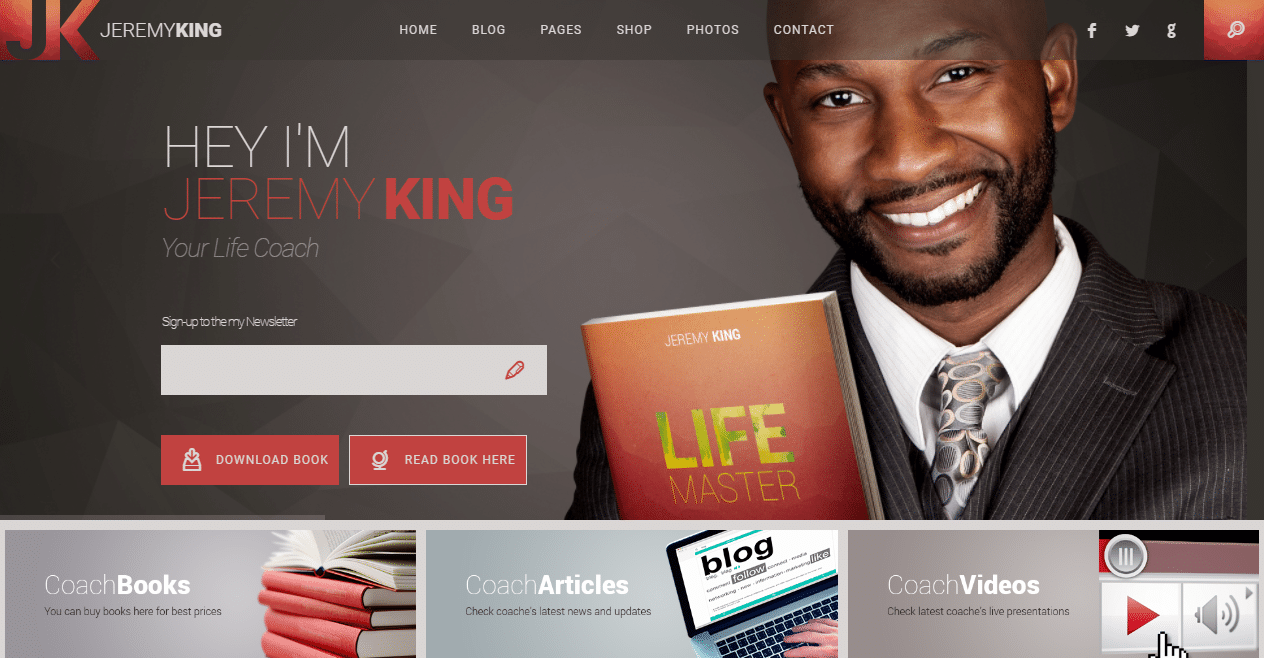 LifeCoach is all about promoting healthy advice and self-help through a modern, organized them. Built in Slider-Revolution, LifeCoach aims to promote you and your self-help programs through refined presentation elements and an easy to use interface. LifeCoach is bundled with lots of quality features, ideal for new startups or established brands.
Integrated with mobile compatibility, organized code, intuitive widgets, and more, LifeCoach wants to accelerate your potential with a strong WordPress format.
Authentic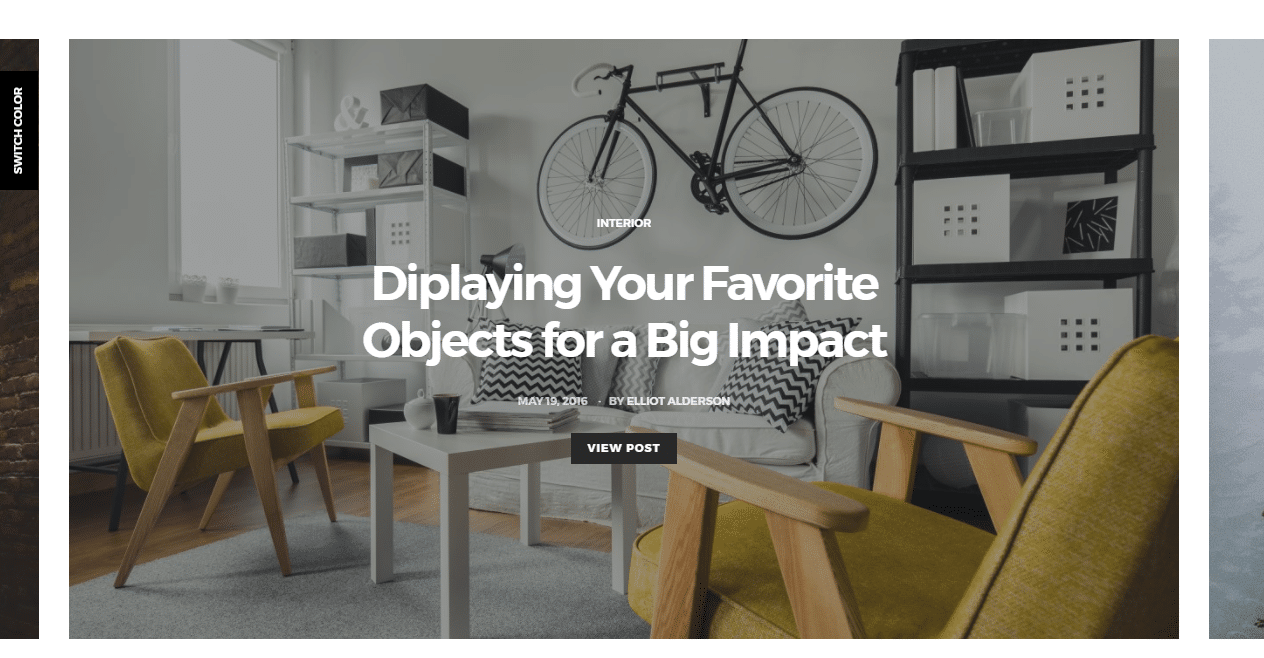 For the active and lifestyle loving, Authentic is a theme geared at those looking to reach new heights – sometimes literally. Whether it's for people who plan mountain climbs every month or the fashion savvy, Authentic is a fully functional theme for good reading and great presentation.
Integrated with SEO and social media optimization, Authentic treats its readers to a fluid interface they can be proud to read. A nice option for bloggers who want to create content for the next level in life.
Gloria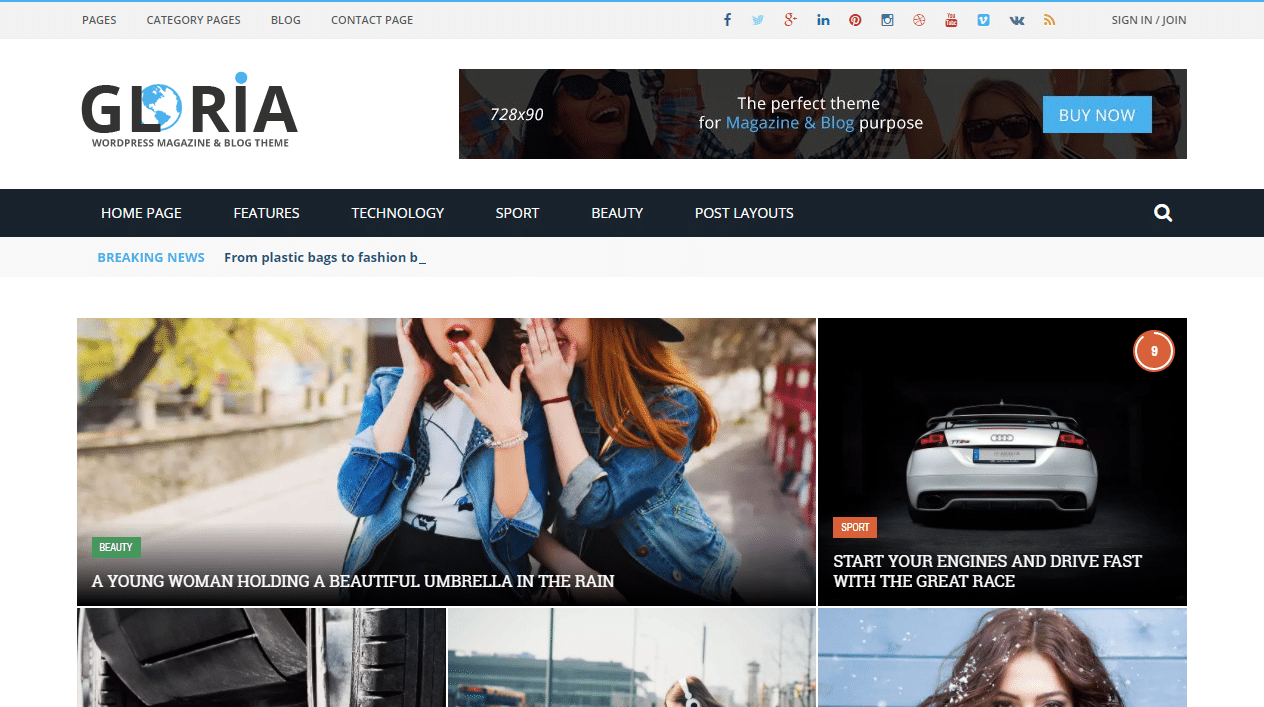 Hundreds of themes are available for WordPress, so standing out is the biggest challenge for any new media or blog team. Gloria gives that to you with an extensively customizable interface. Even for those who don't code, Gloria lets you drag and drop formatting styles into the theme, offering unlimited font and color integration. It's fairly inexpensive, and wants you to create the exact blog you want. For advanced coders, they can forego pricey themes and instead build their dream website from the ground up. Great for those who want in-depth control of their website.
Bunchy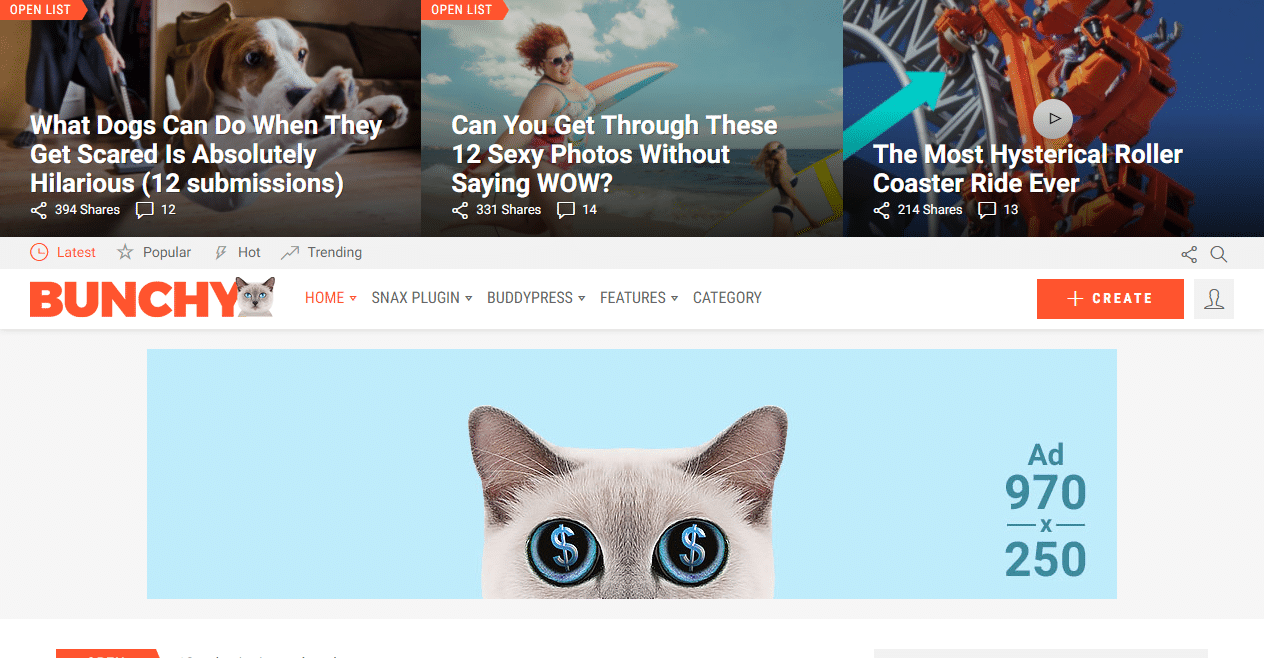 Sometimes it's not always the theme which builds readership, but the format. Bunchy invites readers and visitors to submit content. Posts and various media have their own "upvote" system similar to websites like Reddit, mixed with the sharp delivery of colors and bombastic media. A great way to try and cultivate your own "community culture" on the web.
Look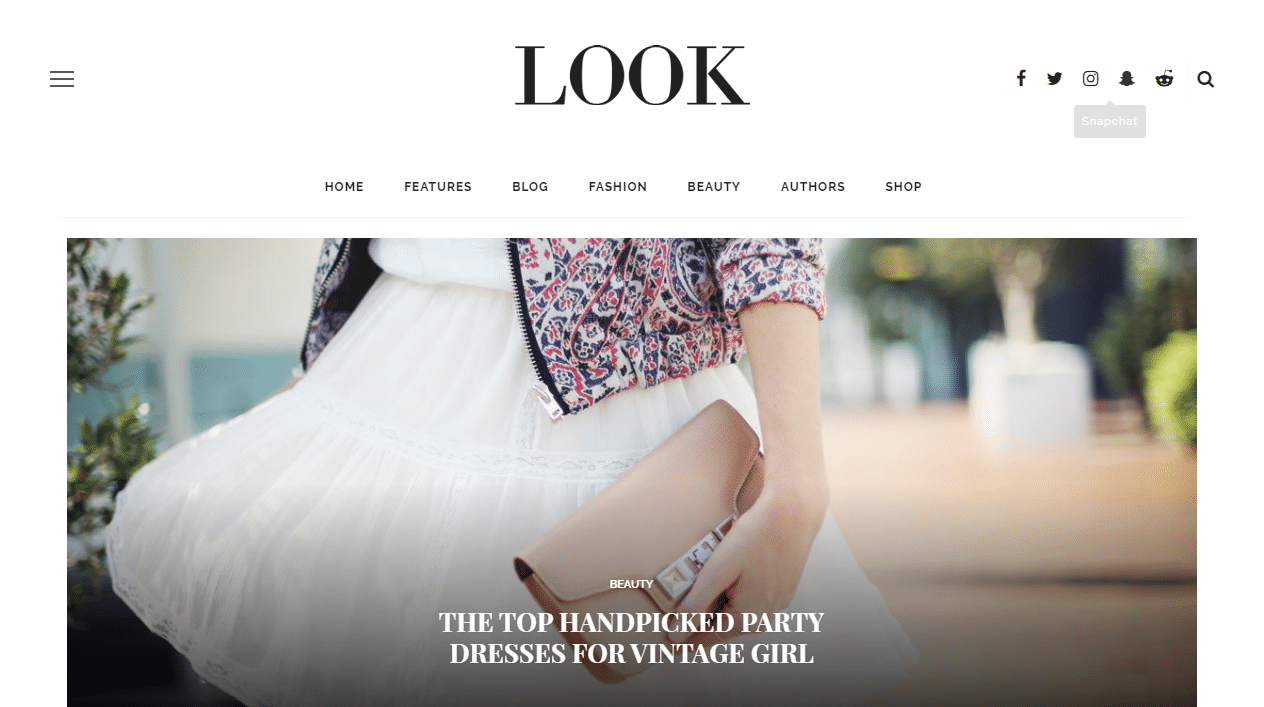 Got some thoughts on the razzle-dazzle of fashion? Look is optimized for you. As the name suggest, this is all about integrating top fashion trends and minimal blog design into one, as well as integrated web shop for encouraging those extra sales. The drag and drop style customization means anyone can jump right in, and the slick, elegant design is perfect for focusing on clothing.
Digital Mag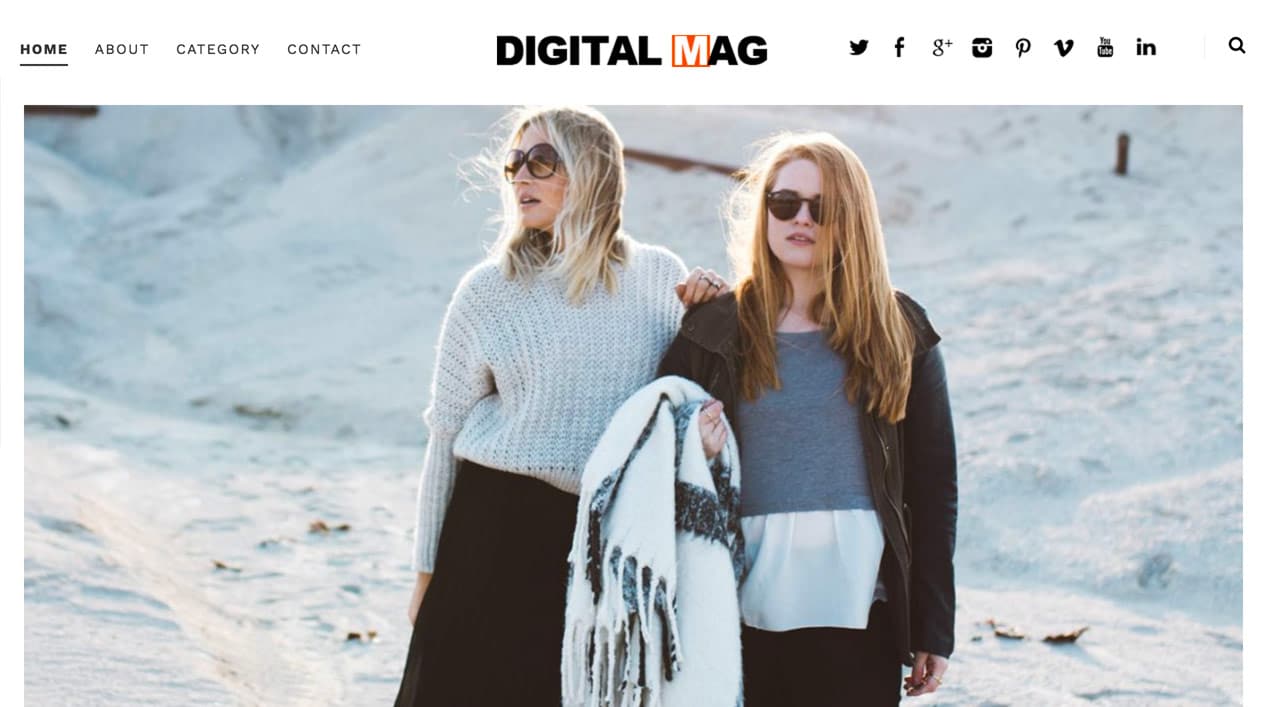 Digital Mag Responsive WordPress is great theme for any magazine blogger, with clean design and minimal layout. Digital Mag WordPress theme has minimalist style and mobile friendly design.
Huber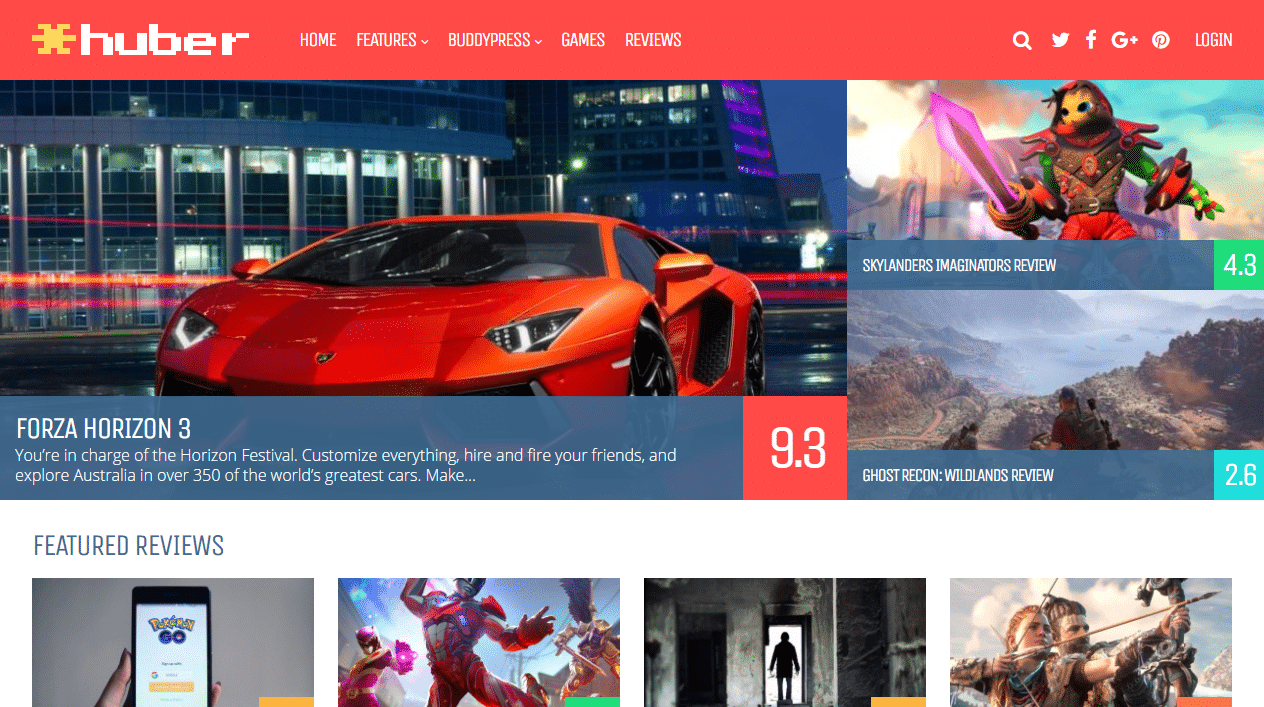 If there's one thing we're in no shortage of, it's stuff to review. Huber takes advantage of this by offering a powerful review presentation for those who like a good critique. Whether it's games, movies, television, products, vehicles, or whatever else you can think of, Huber is all about passing out scores.
But, you've likely run into review style themes before, so what's the advantage? Huber offers one-click install for fast startups while creating a "hub system" for its reviews. Each critique has its own scoring, social media integration, rank, and links, giving readers a complete sense of quality.
Avantura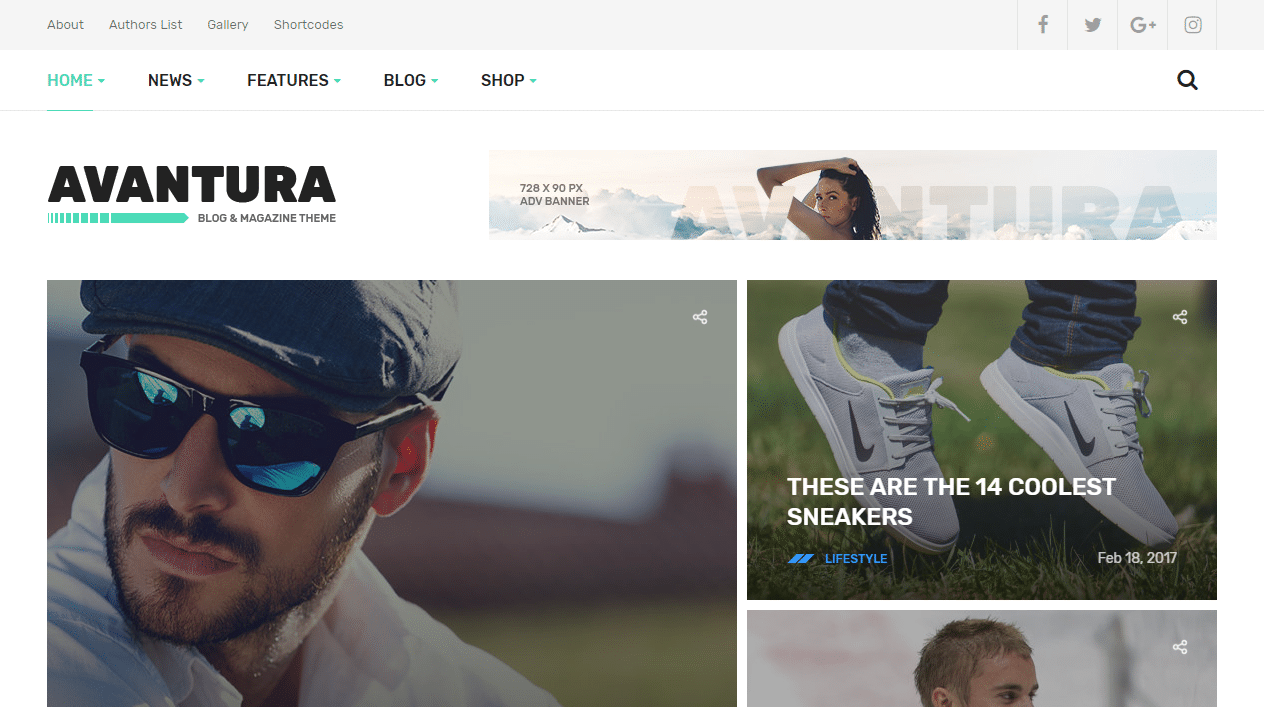 One of the latest additions to the WordPress theme family, Avantura is all about delivering blog and magazine style content to your readers. Compatible with various plugins like WooCommerce and featuring an easy to read, metro styled format, Avantura is an exciting new entry and a solid option for those looking for a theme that simply works.
Diane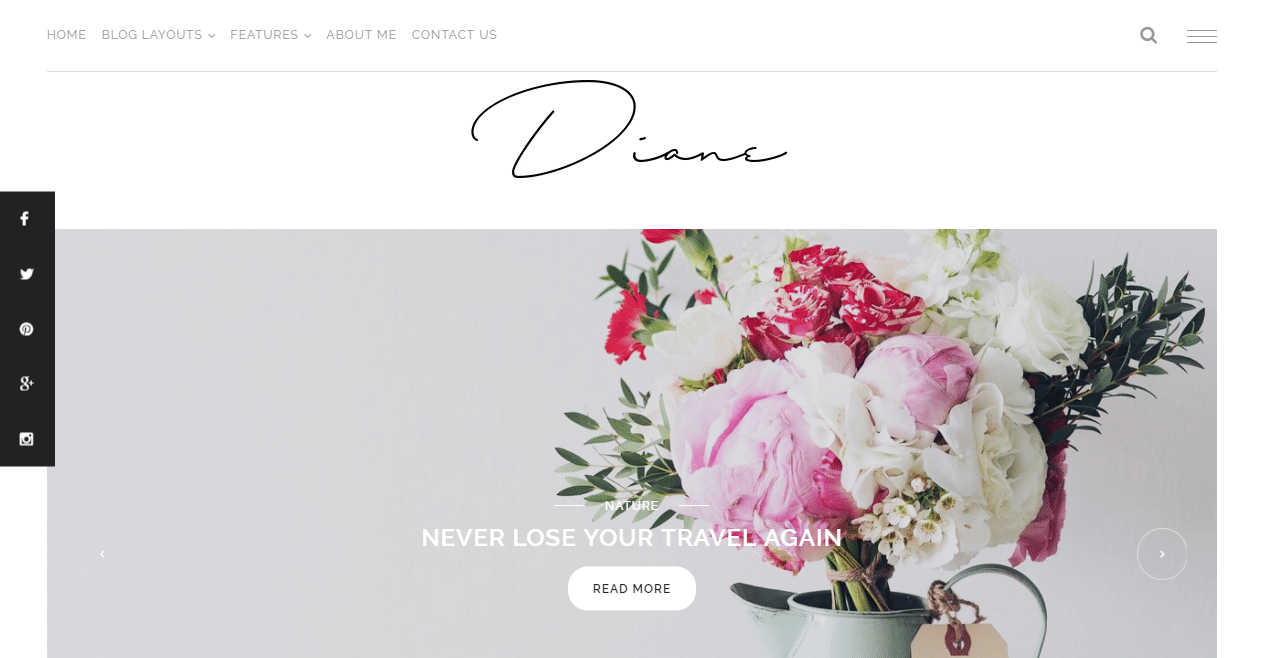 We've reviewed many WordPress themes, but Diane might offer one of the simplest designs. This is not a bad thing either, as an extremely refined interface means readers will access written content without much trouble. Recently released, Diane is good for those who don't have anything overly complex in mind for their website and want to focus on blog elements only.
Medias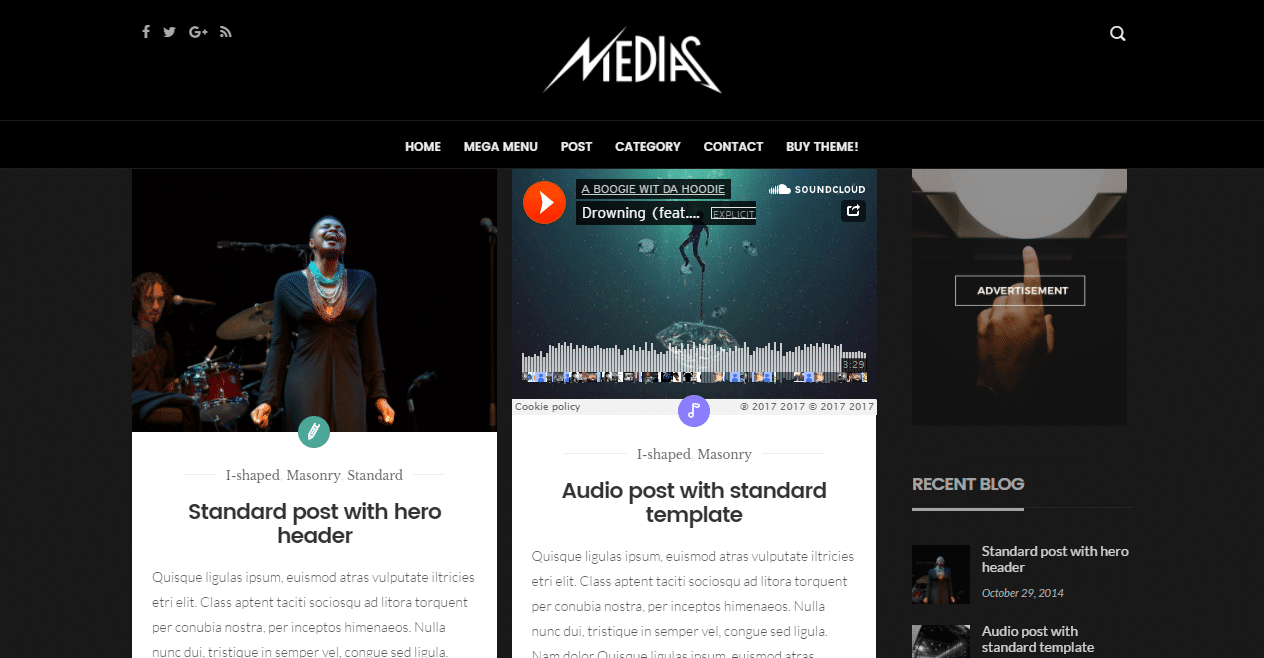 Medias is another newer entry to the WordPress world which sports flexible customization options at a single push. Medias allows bloggers to focus on how their preferred content delivery, such as video posts or standard blog posts. It works well on mobile devices and allows users to start their website in a matter of minutes. An ideal fit for those still trying to decide what kind of blog defines them.
Viseo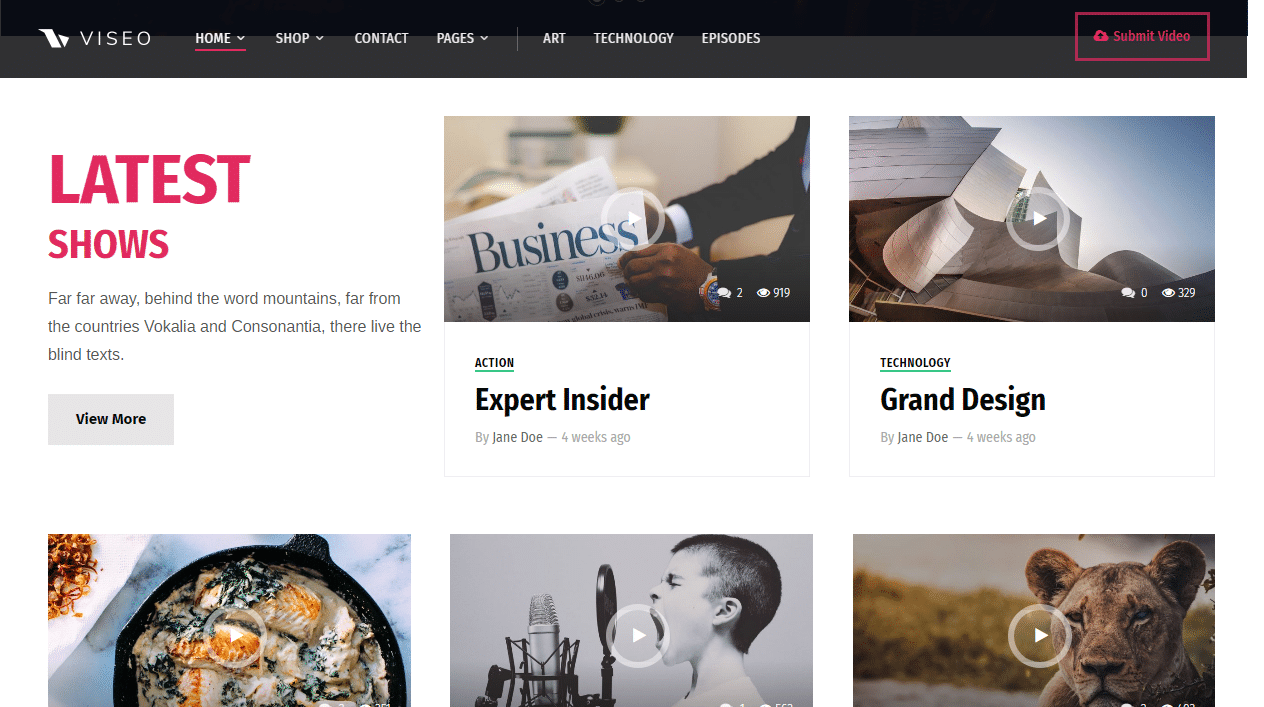 Some sources for news or blogs like to create talk shows to deliver it. Viseo is one of the newest entries which allows for podcast integration, giving fans, readers, and listeners alike a place to find all the info they need about episodes and other media. Owners can host various forms of said media, using an extremely simplified customization tool, and utilize powerful visual options to give their website a unique feel. Posts are organized into responsive, easy to read metro-style blocks, letting your visitors sift through entries with ease.
Universe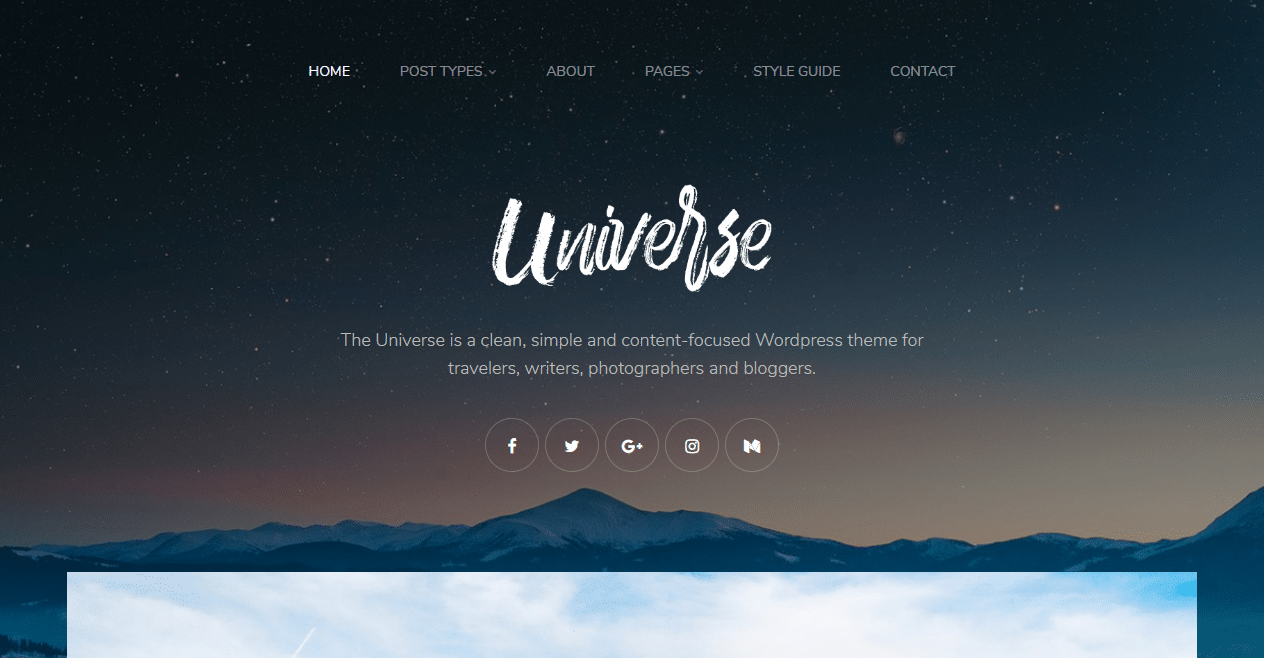 Universe is a clean, organized, and simplified WordPress theme centered around travel blogging. Like other minimalist choices, this one cuts down on "busy" posts and pages, letting readers focus purely on the content in front of them. Because of its responsive design, reading through the theme is relaxing and easy.
This theme is for travelers and writers who want to display only selective content. Social media integration is intertwined in its presentation while categories are neatly collected in a customizable toolbar.
PuraVida

While self-help is one aspect of personal health, so is diet and exercise. As such, PuraVida focuses its design around health style presentation and organization. Constructed from BootStrap, HTML5, and CSS3, PuraVida is efficiently made and presented. Like other life-focused WordPress themes, PuraVida lets owners create food, health, and lifestyle content without worry of intrusive design, where posts are presented in an eye-catching manner. Of course, users also have complete customization options available to them, available through a simplified customizer tool.
Allegra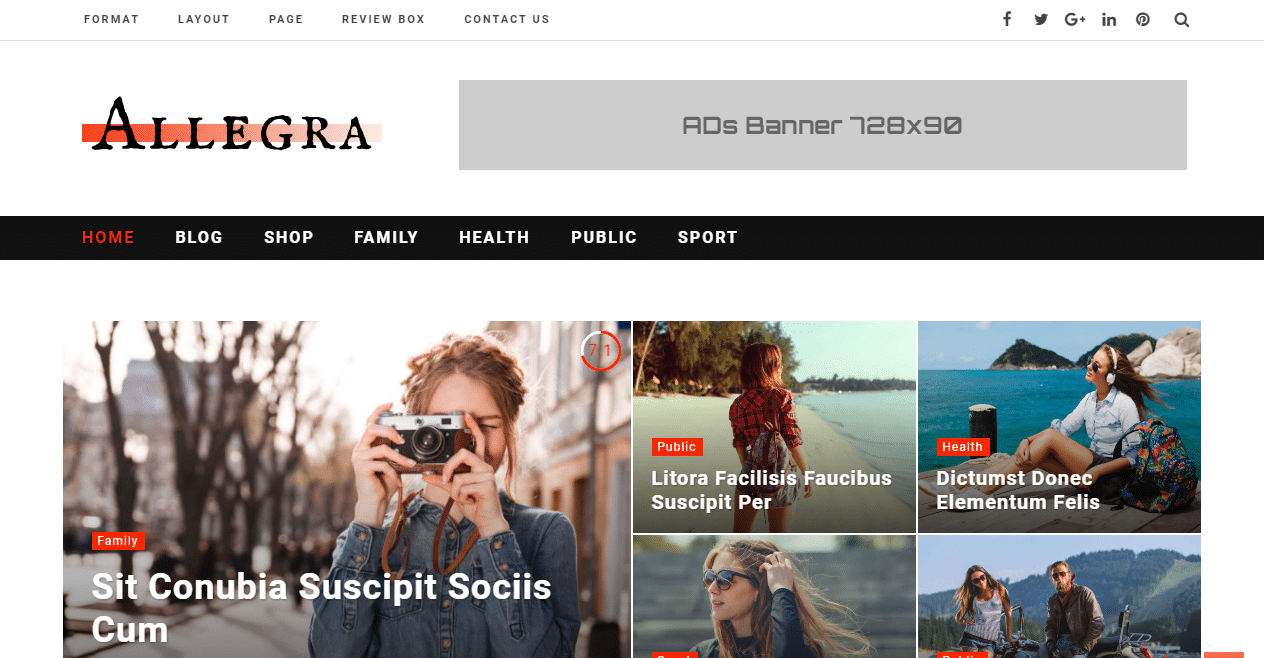 Want to design your dream web-magazine? Allegra might be the choice for you. With unique customization options and an easy to use interface, buyers can design their own style and brand of online magazine in minutes. Allegra sports a variety of column or tile style formats, with posts presented using enticing images. Fully responsive and compatible, Allegra is a great way to start your web-based magazine as the one to read.
Bold News

Modern events give us no shortage of news. Why not capitalize by using a new, feature rich WordPress theme which aims to bring information to the public? As the name implies, Bold News wants to make your headline stand out, with captivating customization options which allow you to fine-tune almost every aspect of the theme's presentation. You can start with various layouts to modify your approach to the news you discuss and change from there, armed with custom icons, Google fonts, and more.
Bold News also sports WooCommerce integration and automatic translations, along with mobile compatibility. Constantly supported and updated, it's a powerful way to start a news and report based website.
Waves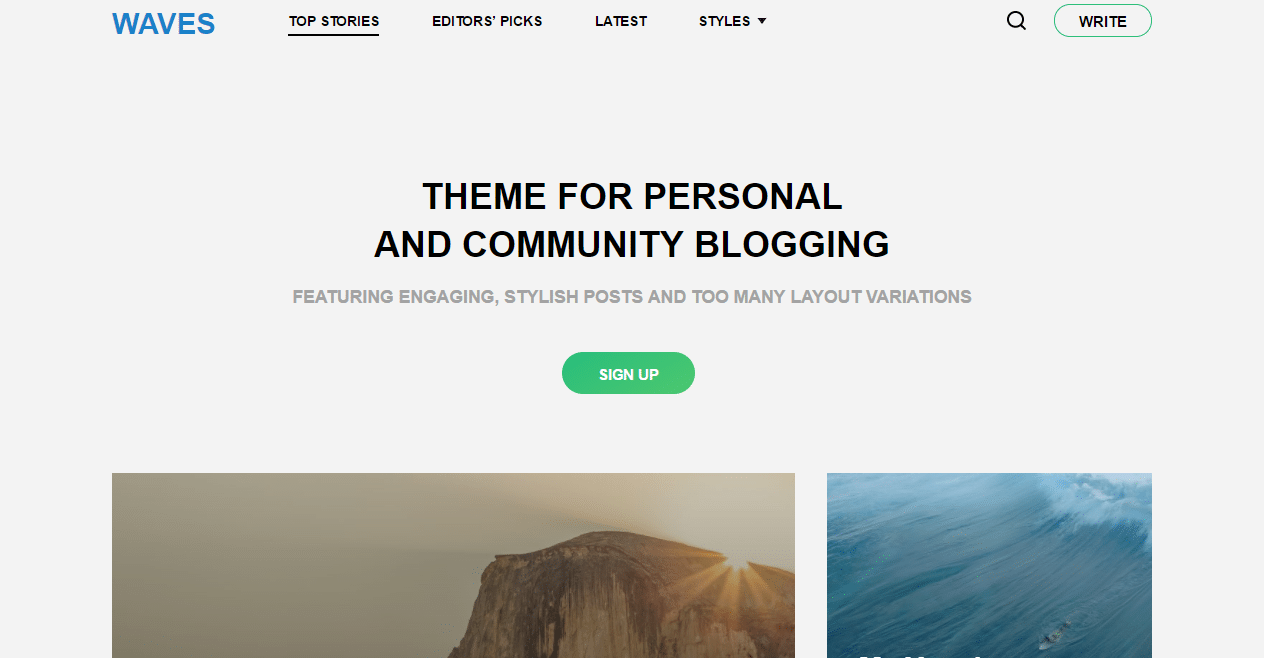 Waves is a beautifully simple WordPress theme which encourages personal or community blog content. This easy to use, easy to navigate theme is excellent for small groups. A library club, a teacher's blog, neighborhood newsletter, or other micro-concepts all fit perfectly in the Waves design philosophy. Content is simple to customize and is presented in a block-style format, combined with preloading for fast use and additional tutorials to learn more about the customization process. A wonderfully simple choice fit for any demographic.
Titan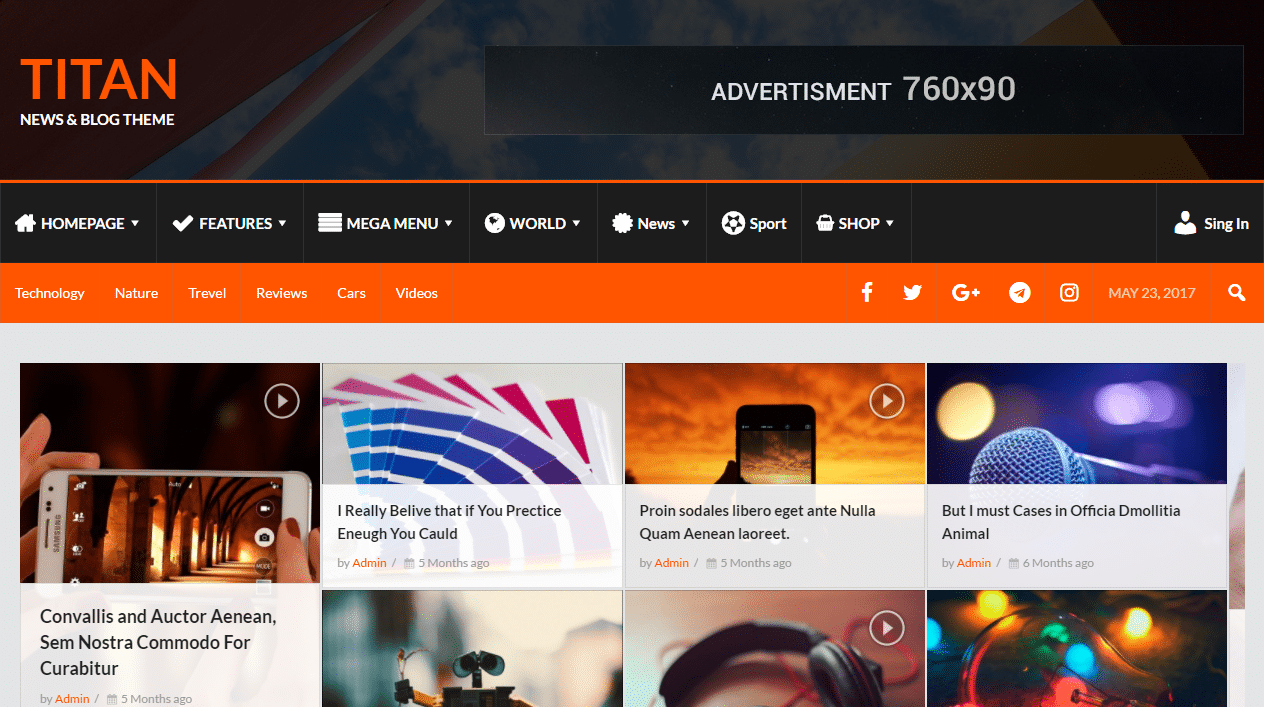 Titan finishes our list as a theme to check out as it emphasizes mobile compatibility. While functional on desktops, it's no secret that most people enjoy reading their favorite content on a smartphone or tablet. As such, all of Titan's design stresses high performance on any smart device. Gifting users twelve basic formats and a simple to use tool builder, theme owners can craft their specialty blog site without hassle. Titan comes translation ready, has a built-in rating system, compatible with WooCommerce, and compatible with BuddyPress.