With Netflix surpassing 100 million subscribers in the streaming juggernaut shows no sign of slowing down. It's likely you'll either have an account or know someone who does – perhaps an ex-flatmate or partners? I've picked out a mix of series, documentaries, and movies which will help you have a more creative 2020.
They cover a wide range of creative pursuits and include films focused on concepts such as minimalism and the power of thinking differently.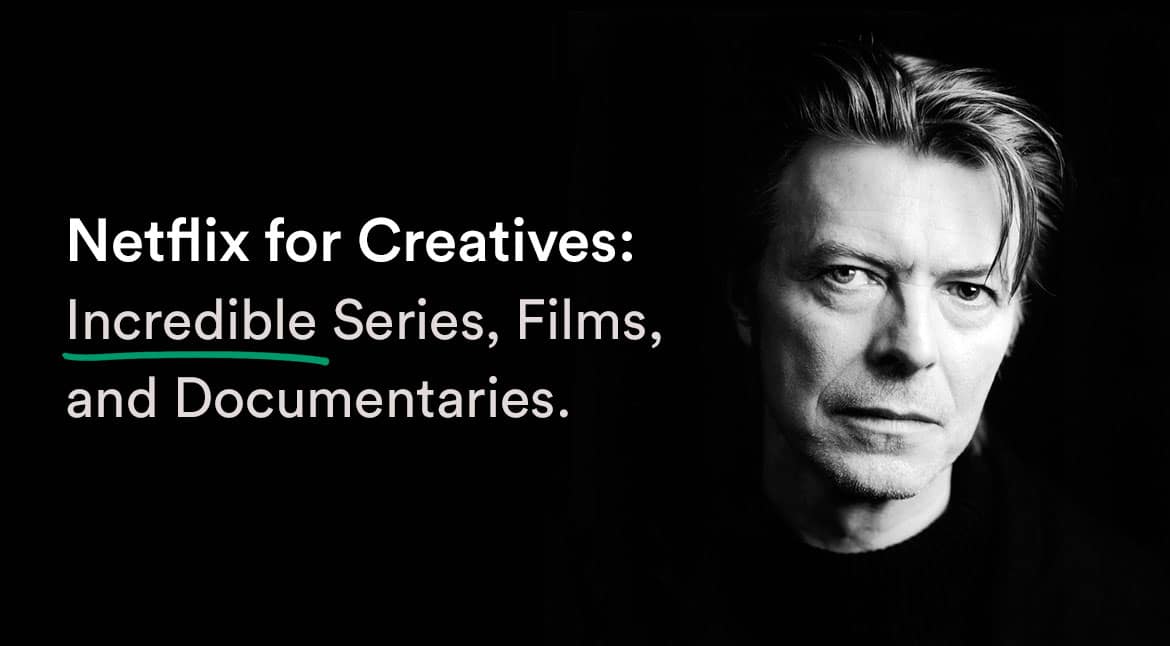 Note: Some of these may be region limited – but hopefully the majority will be available to you.
Abstract: The Art of Design
"Abstract: The Art of Design" is a celebration of design within different mediums. From the celebrated New Yorker illustrator, Christoph Niemann to Ralph Gilles, head of Fiat Crysler design, this 8-part series focuses on the artist behind the work. It is an unashamed look at how much thought and effort has gone into everyday items in our lives which we take for granted. As Tinker Hatfield, the famous Nike design guru, and creator of Marty McFly's automatically lacing sneakers in the "Back to the Future" film says in Episode Two: "A basic design is always functional, but a great design will say something."
Sky Ladder
The ambition of Chinese artist Cai Guo-Qiang is exemplified by his "sky ladder" project, which was over twenty years in the making. It is a 500-meter ladder, rigged with explosives and held upright by a huge balloon. As the blue touch paper is lit, a ladder seems to rise into the darkness of the night sky. It's a fitting tribute to his ambition and how technically challenging such a piece is to pull off. "I hope this movie will encourage a lot more young artists," said Cai. "It's not easy to be an artist, but it's very meaningful."
Saving Banksy
This art documentary begins in 2010 when the anonymous British street Banksy artist flew to San Francisco. Pieces of his work began subsequently popping as murals up all over the city. They were almost immediately sabotaged, either by vigilant city cleaners who considered them illegal vandalism or by taggers who put their own mark over the original. This Netflix feature from Colin M. Day is about one man's quest, San Francisco collector Brian Greif, to save an original (a classic Banksy rat) from a building owner and donate it to a museum in order for the public to be able to see it.
Minimalism
Netflix's Minimalism: A Documentary About the Important Things centers on the unrelenting commercialism of modern life. The film makes it clear that it infects almost everybody, one impulse purchase at a time. The director, Matt D'Avella explains minimalism as "the active intention of paring down so you can focus on what matters in life". Minimalists from all walks of life – entrepreneurs, architects, artists, journalists, scientists are interviewed by Joshua Fields Millburn and Ryan Nicodemus – with all aiming to live a more contented life with less. As D'Avella says at one stage, "We've been sold a story that we have to have all these things in order to be successful, and it's not exactly true."
Burden
The documentary, Burden, focuses on the extraordinary American artist Chris Burden who worked in performance, sculpture and installation art until this death in 2015 at the age of 69. Burden specialized in the provocative – from nailing himself to his Volkswagen Beetle like a modern-day Christ to cramming himself into his school locker for his master's thesis. He somehow managed to take his performances even further. Crawling in his underwear on broken glass and getting shot by a rifle from only a few feet away for example. This is a fascinating portrait of an artist who continually wanted to take things further.
Yarn
Knitting and crocheting have had a reputation for years that they are primarily hobbies for grannies. In recent years, especially following Scandinavian influences such as the chunky sweater worn by Sofie Gråbøl in Forbrydelsen it's changing and the hipsterization of it is well on its way. Yarn: The Movie, from Icelandic director Una Lorenzen takes this further and proposes that it's truly a form of art and not just a hobby. It follows artists from Berlin, Barcelona, Berlin, Iceland Rome, Cuba and more, giving insights and incredible examples of what they've created.
I am Sun Mu
This fascinating documentary from Adam Sjoberg reveals just how constrained artists are in some parts of the world. The film explores the efforts of this North Korean designer as he prepares for an exhibition of his work on this isolated and mysterious nation. Similar to many other defectors he tries to hide his identity. There are various shots of him in shadow, from the back, or unfocused, for fear of reprisals against his family. Mu is similar to Banksy and Warhol in a way with a funky pop-art style to his work. A sarcastic piece, for example, depicts a schoolgirl wearing the distinctive North Korean red scarf and blue dress uniform next to the words "a nice place to live".
Small is Beautiful
This tiny house documentary, 'Small is Beautiful' focuses on the affordability crisis that affects many young couples. It revolves around four characters including Ben; a single guy with a short timeframe in which to build and no experience of construction. A couple (Nikki and Mitchell) want to avoid the trap of paying off a mortgage for their lives and need a modern alternative. The film makes sure that it doesn't gloss over the personal struggles of the people involved and ensures that it's not just a romantic interpretation of a passing fad movement.
Innsæi – The Power of Intuition
A film named after an ancient Icelandic word for intuition which means, 'the sea within'.  It refers to the borderless nature of our inner world. A world of feelings, vision, and imagination which can't be described by mere words. Filmmakers Hrund Gunnsteinsdottir and Kristin Olafsdottir meet scientists like neuroscience expert, Marti Spiegelman who believes that we are only using a small fraction of our capability as human beings. Filled with incredible animation and beautiful imagery this is a stunning piece of work which will make us think deeper about how we perceive the world we live in.
Harry Benson: Shoot First
Harry Benson is a legendary 88-year-old Scottish photographer who has shot everyone from the Beatles having a pillow fight to a swaggering Muhammad Ali in the ring and a dying Bobby Kennedy on the kitchen floor of a San Francisco hotel. This is a portrait of a man who always seemed to be at the right place at the right time. He ingratiated himself easily with celebrities and politicians alike, all of whom seem disarmed by old-school, humble Scottish charm. It results in moments of intimacy from a true master craftsman in his photographs which seemed almost impossible to capture.
Steve Jobs
Danny Boyle is an incredible film-maker and this biopic on the life of Steve Jobs doesn't disappoint. Scripted by Aaron Sorkin, it covers Jobs (Michael Fassbender) often chaotic career into a truly great story. When Apple's timid co-founder Steve Wozniak (Seth Rogan), says that a computer is not the same as painting, Jobs is quick to destroy the idea. Jobs sees himself as a great artist, one who doesn't code or manufacture the hardware but is a visionary. "The musicians play their instruments," he says. "I play the orchestra."
David Bowie: Five Years
'David Bowie: Five Years' is a hard-to-find documentary from the BBC and a hidden gem on Netflix. It covers Bowie's incredible transformation from a hippy singer-songwriter to a glam rocker and one of the most important musicians in a generation. The film focuses on the most important five years in the singer's career. It includes dozens of insightful interviews with collaborators and friends who knew him best. The follow-up to this film – 'David Bowie: The Last Five Years' was released by HBO in 2017.