Your medical practice website is where you make a first impression on potential patients and connect with your existing patients. It's an important part of growing your medical practice and helping your patients lead healthier lives.
But sometimes creating a successful website feels a bit like rocket science. I mean, what actually goes into creating a stellar medical website that: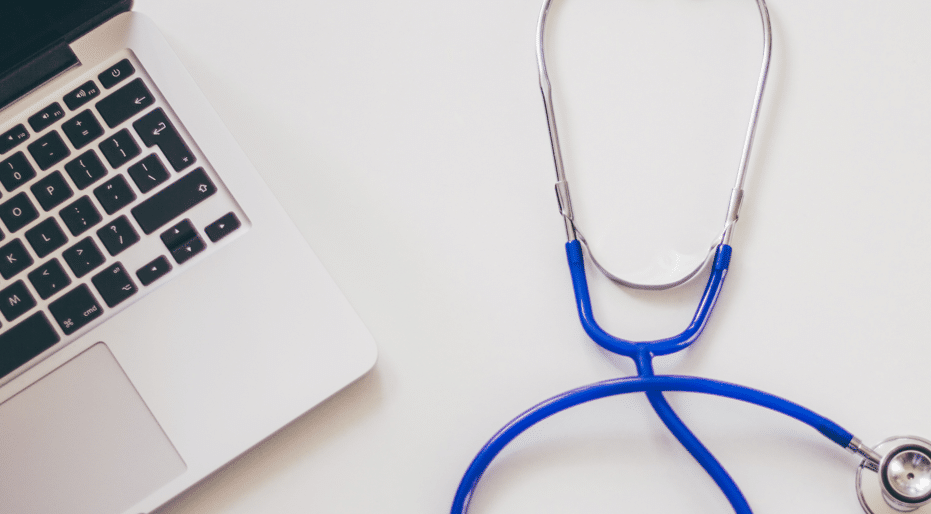 Makes a good first impression with potential new patients
Helps your existing patients get better care
That's what I'll be digging into in this post. I'll give you ten key features that your medical website needs if you want it to be successful. And to ground every tip in reality, I'll also pull in real-world examples from existing medical practitioner's websites so that you can get an idea of how these tips play out in the real world.
Let's jump right in…
1. A Clear Value Proposition in Your Headline
Your value proposition is the biggest text on your site's homepage. In a sentence or less, it sums up exactly what quality and type of care you offer to your patients.
On the Internet, you only have a few seconds to make a good impression. So your value statement needs to immediately tell your potential patients that they've found their way to the right site.
What does this look like in the real world? Take a look at how Royal Dental Care leads with their headline of "All Your Dental Needs Under One Roof":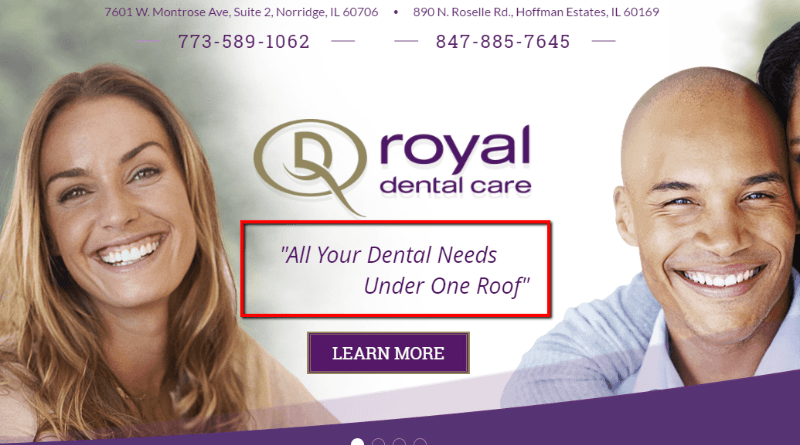 While not the most creative headline in the world, it hits the concept squarely on the head!
2. Contact Information / Opening Hours
While the Internet has come a long way, I think we can all agree that it's still not very practical to get important medical advice over the Internet (obvious, right?). To that end, your medical website needs to make it as easy as possible for your visitors to actually get to your office for a visit.
How to do that? Make it impossible for your visitors to miss your contact information and opening hours.
Don't hide this information away on a Contact Us page – put it front and center on every single page of your website.
For example, look how, in addition to a Contact Us page, Miracle Hills Primary Care Center puts their phone number and address front and center on every page of their site: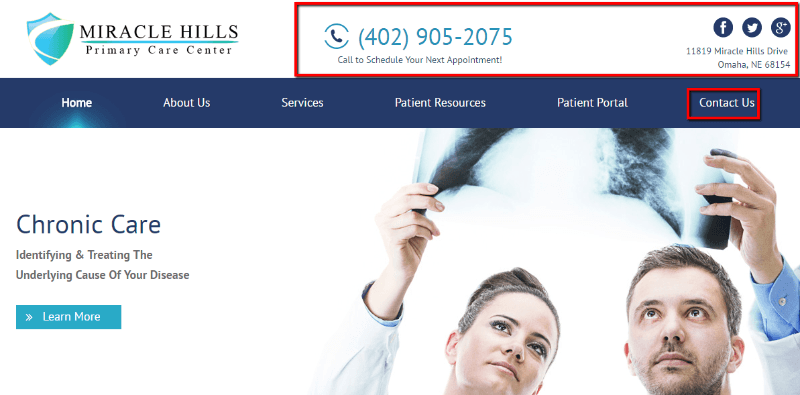 3. Appointment Booking Forms
Want to make it even easier for your potential patients to book an appointment? Consider adding a booking appointment form that lets your patients book an appointment without even needing to lift up the phone.
While not every medical website offers online bookings, plenty of forward-thinking physicians are integrating online bookings into their websites: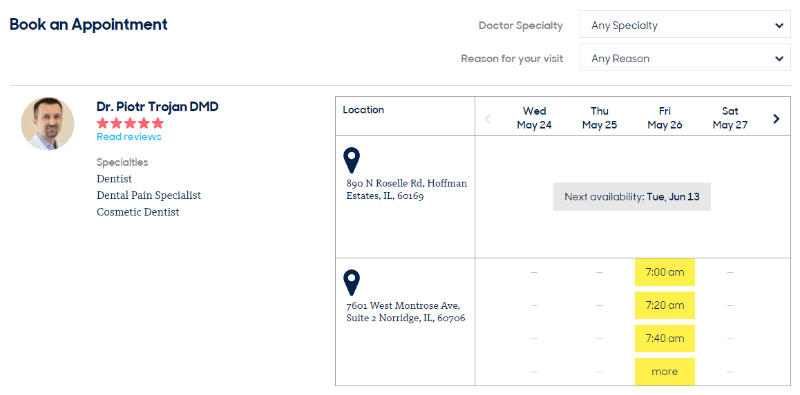 Best of all, with the right integration, you can automatically add online bookings straight into your calendar system for easy appointment management!
4. Responsive Design
Responsive design is a web design technique that ensures websites look just as great on mobile devices as desktop computers. Given that the majority of Internet usage is actually happening on mobile devices nowadays, you can't afford for your medical website to only work on desktop computers.
If your practice's site isn't responsive, you're making it difficult for your patients to get the information that they need.
5. The Medical Areas You Specialize In
If patients are dealing with a specific issue, they want someone who practices in the specific area they need help with. Makes sense, right? That's why it's essential that your site showcases your areas of practice.
For example, look how Urology Care Alliance showcases their specialties: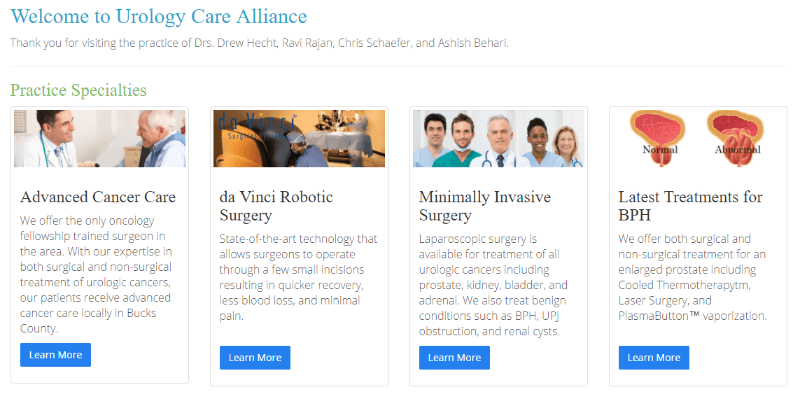 If visitors click on the Learn More button, they'll be taken to a page where they can learn about each specialty in more detail: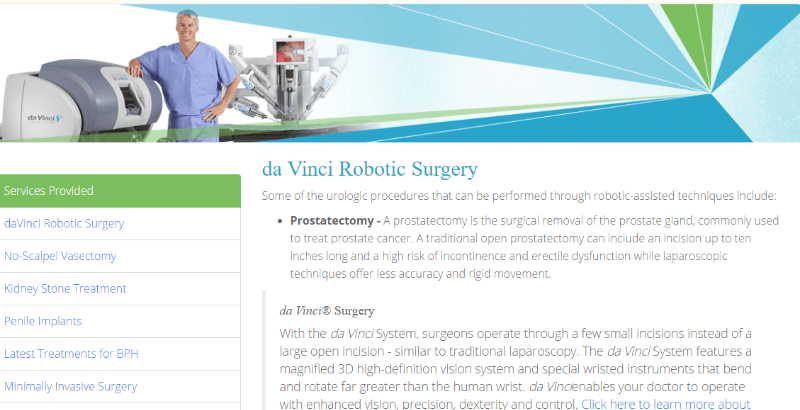 In addition to helping readers who are already on your site, this also makes it easier for people to find you through Google search.
6. The Credentials of Your Practitioners
Needing medical help can be a scary situation, so you want to do everything possible to give your visitors confidence in your care. One of the best ways to do that? List your credentials so that people trust that you can make them healthy again.
For example, take a look at how Premier Family Health provides brief biographies and credentials for all of their doctors: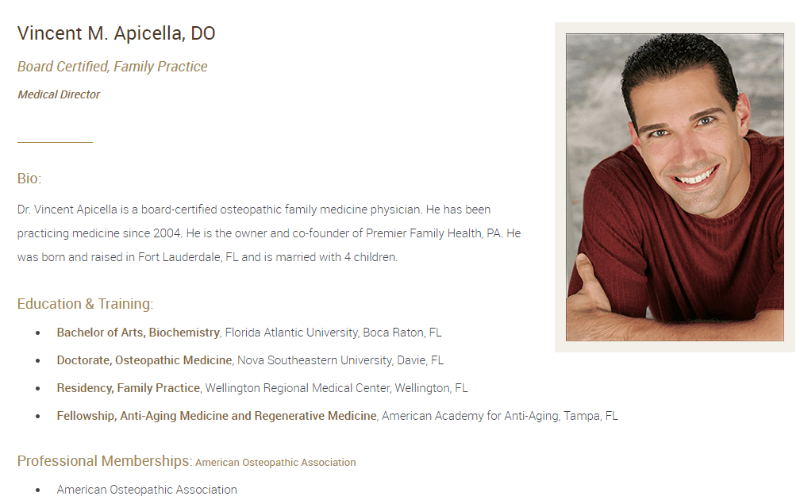 Real photos are an absolute must on these pages. Putting a face to a name can go a long way towards building trust.
7. A Patient Resources Section
While a large part of your medical website should be focused on attracting new patients, your site should also provide value to your existing patients as well.
Most medical websites include some sort of Patient Resources section that provides information on things like:
Basic appointment procedures
Patient forms and instructions
Accepted health insurance
Additionally, you can opt to include a more detailed patient portal. But for detailed patient portals that might deal with protected information, you'll want a third-party service that's fully HIPAA compliant to stay on the right side of the law.
For example, look how Pentucket Medical includes a detailed Making the Most of Your Visit page as well as links to a variety of other guides: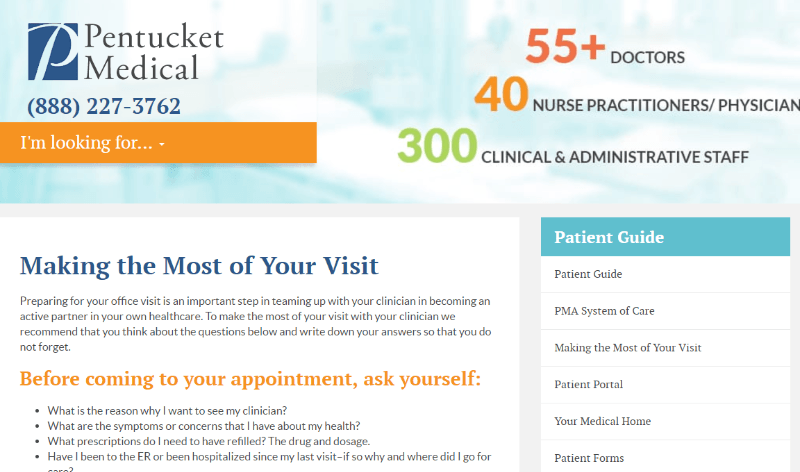 8. Patient Testimonials for Social Proof
Patient testimonials are one of the biggest features you can add to boost your potential patients' confidence in your care. In fact, a 2014 survey from BrightLocal found that 88% of people trust online reviews just as much as they trust personal recommendations.
Depending on how much you want to highlight your patient testimonials, you can either include them on your homepage, a dedicated testimonials page, or both.
For example, Premier Family Health opts to include some testimonials on their homepage and then link to all of their Facebook reviews for authenticity: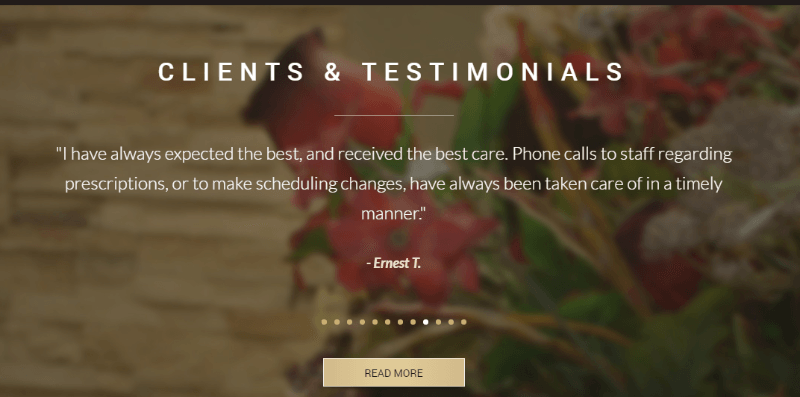 9. Urgent Care Information
As much as we all wish it weren't so, a health crisis doesn't always want to wait until the morning. So what should your patients do if they have an urgent issue that needs to be attended to?
Tell them! Sometimes it might be as simple as directing them to go to their local emergency room. But if you do offer urgent care services, you should list them boldly and clearly. Remember – in an emergency, your patients don't want to waste time trying to find the information they need.
For an example, look at how OSS Health includes a bold Urgent Care button on every page of their site: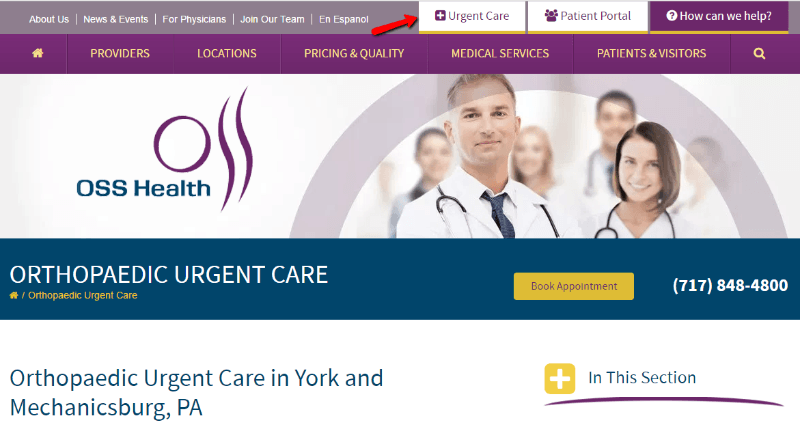 10. A Blog Or News Page
Blogs aren't just for fun. They provide a useful way for you to do a few different things:
Establish credibility by authoring blog posts on medical issues.
Keep patients up-to-date with your practice or events.
Reach potential patients in search engines like Google.
While maintaining a blog does take some time and effort, it will pay dividends in terms of increased authority and visibility.
For example, look how Dinesen & Associates OBGYN & Infertility puts serious effort into making their blog a useful place for potential patients: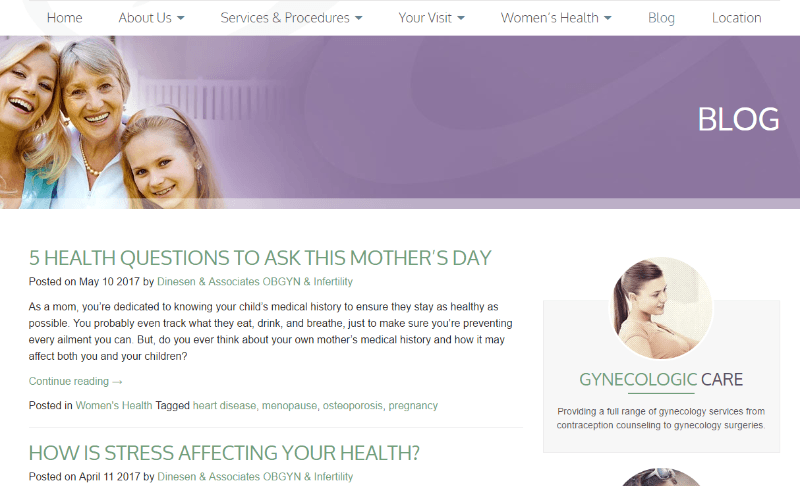 Wrapping Things Up
Whether you're trying to find new patients or help your existing patients, your medical practice website is essential to helping you connect with people. And by ensuring you include all of these key features, your practice's site will be off to a great start.
If you're looking for an easy way to launch a site with all of these key features, our Clinic Pro WordPress theme will give your medical website the right foundation without you needing to take out another med school loan to pay a web designer.