StartRight is a high quality, free business WordPress theme designed to provide a superior foundation for creating world class business websites with WordPress.
StartRight is the first WordPress theme from Create and Code, a brand new theme shop created by veteran WordPress experts Simon Tomkins and Colm Troy who also run the highly successful CommerceGurus, the first theme shop dedicated to WooCommerce themes.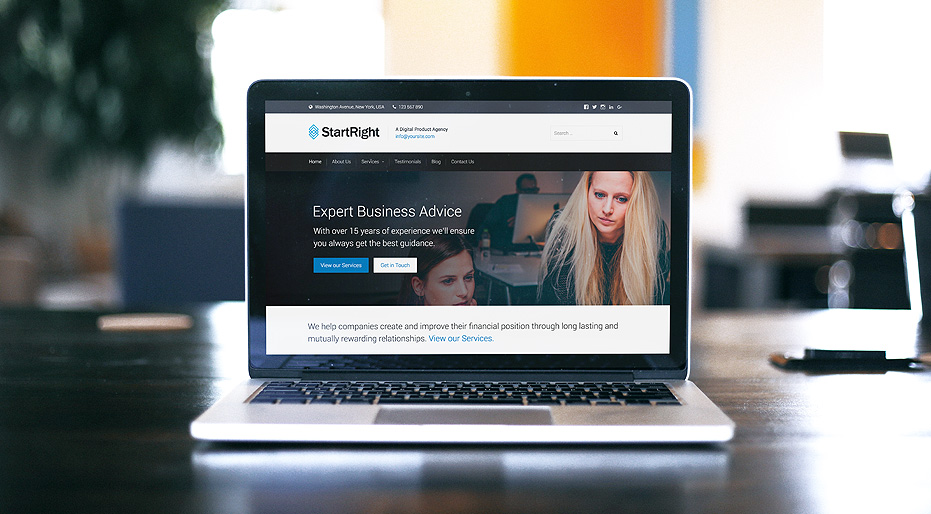 What's so special about StartRight?
Let's face it, the WordPress theme market in 2016 is incredibly competitive. You can generally find a multitude of themes for any given niche.
When we set out to create our first WordPress for Create and Code we knew we needed to create something truly special to set ourselves apart from the competition. So let's take a look at what we believe to be the defining features of StartRight and why you should choose it for your next WordPress project.
Focus on World class design for business websites
Over the years we've spoken to literally thousands of people creating WordPress business websites with our themes. For the vast majority of people the main reason they choose one of our themes is the quality of the design. We pride ourselves on creating stunning designs that immediately give your business website a fantastic foundation for success. A huge amount of time has gone into crafting every pixel you see in StartRight.
"Design is not just what it looks like and feels like. Design is how it works."
– Steve Jobs.
We think about WordPress themes as fully formed products that must delight:
the user coming to visit your website
the website owner who wants to grow their business
the WordPress developer who builds your website
A carefully crafted WordPress theme should excel at all three. StartRight is the result of over 1,000 hours of hard work and refinement to create a product that does precisely that – we help you to Start Right 🙂
We believe that while there are thousands of very well designed WordPress themes, the vast majority of free WordPress themes are not good enough for business and corporate websites. We should know, before we made themes for a living we were part of a web agency that made custom WordPress websites for large enterprise clients. We would never have even considered using a free WordPess theme as the basis for one of our projects – they simply weren't good enough.
When we set out to create StartRight one of our primary goals was to create a free product that we would be proud to recommend to any WordPress website owner, big or small as the basis for their website design. StartRight is that theme.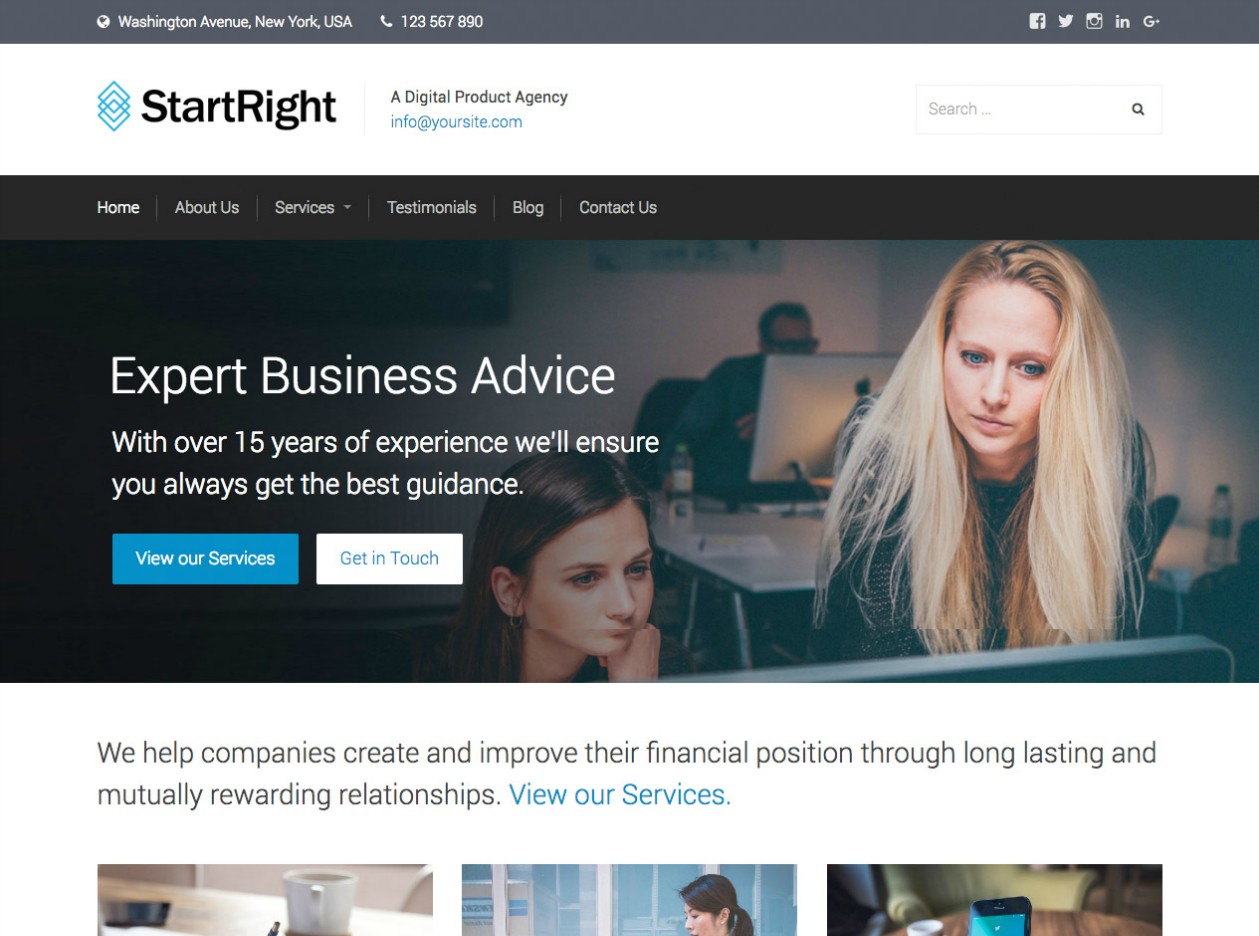 Focus on simplicity
In the past 5 years or so we've seen major changes in the WordPress theme ecosystem. One of those big trends has been the rise of the multi-purpose theme. Dozens of demos for lots of different types of businesses, oodles of theme options for just about anything you can think of and more sliders than you can shake a stick at. All sounds great right? Wrong! Here's the dark side of the multipurpose theme world:
They're slow and bloated – all those features, demos and options come with a heavy price tag. Your site will generally be quite slow. In some cases, ridiculously slow and incompatible with some of the most popular WordPress hosting platforms.
They make WordPress complicated – WordPress came from origins of simplicity. In fact, core WordPress is still relatively simple. Many multipurpose WordPress themes do violence to that simplicity by adding a myriad of controls for things you'll never need. The end result is that the theme ends up getting in the way of you running your business. That's something that simply should never happen!
I'll let you in on a secret. We have built some all singing, all dancing multi-purpose WordPress themes in the past. We seen what was becoming popular and thought it was what people wanted and therefore what we needed to do to build a successful business. You know what? That's not the case. In our experience the opposite has been the case. We found that the majority users wouldn't use many of the features that we had spent weeks and months working on. Did we make the wrong features? Or was is simply that many users were buying theme because they liked the design rather than the plethora of features we were offering. As we created more and more themes we simplified and refined our options and found that the sky didn't fall. Users didn't revolt. In fact, users didn't care – and quite often they were more satisfied than before as things got simpler.
So while StartRight does ship with a series of theme options – we've tried to keep them as simple as possible so as to not overwhelm someone getting started with WordPress for the first time. We are also unashamedly providing opinionated decisions about things like layout and call to action placement based on our experience and expertise in discovering what works best for the tens of thousands of websites that have used our themes over the years.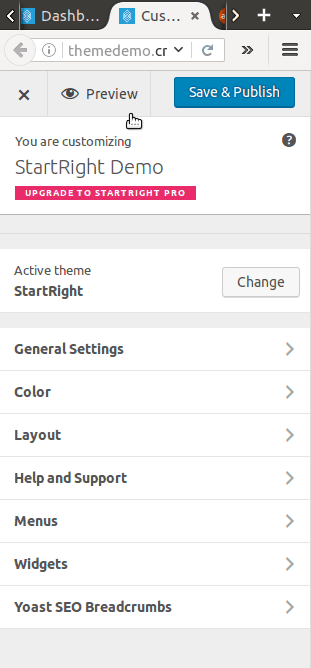 A special focus on what a really good business website needs from WordPress
So if we learned our customers don't need tons of theme options – what do they need? StartRight is primarily aimed at business or corporate websites. A lot of our customers are small business owners or WordPress developers and implementers building websites for local businesses. As most of us know, WordPress core is still a blog/publishing engine and as a result it can take a lot of time for someone to build a corporate website in WordPress. StartRight fixes that. How? Well here's what you get:


Comprehensive homepage that incorporates well established design patterns for how best to present a business from a homepage. That includes a lightweight slider, services highlight area, frequently asked questions (which are a great way to clearly communicate what your business does), an area to communicate your USP's and several clear Calls to Action (including a nicely designed integration with Contact Form 7 for a homepage form integration).
Comprehensive About and Services page templates. Lots of multipurpose themes provide tons of homepage designs but then do a very poor job providing well designed inner page templates. We've spent a ton of time designing every last detail of all inner pages in StartRight. (And remember these are all free!)
Simple default blog layout
Most businesses have fairly simple blogging/news requirements – so we've kept very simple when it comes to theme options.


Again, the devil is in the details with these templates! With our simple demo data importer you can basically get a business website up and running in about 45 seconds – here's an animated gif showing the install and setup process to prove it 🙂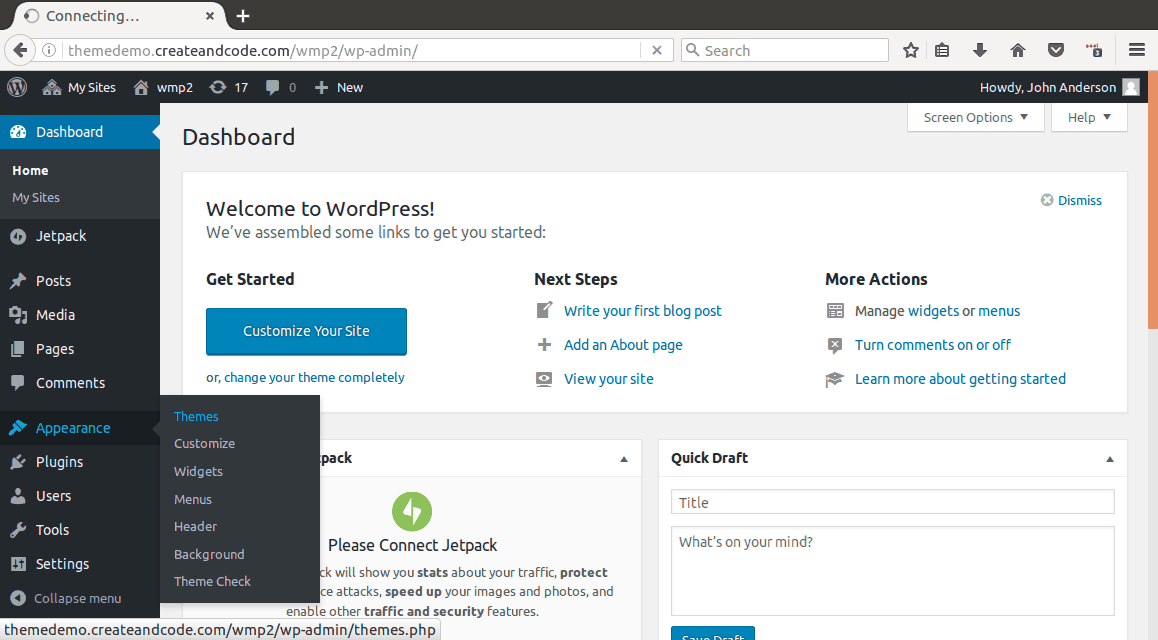 Once you're up and running, you'll find it really straightforward to modify demo content by using our recommended Page Builder, King Composer.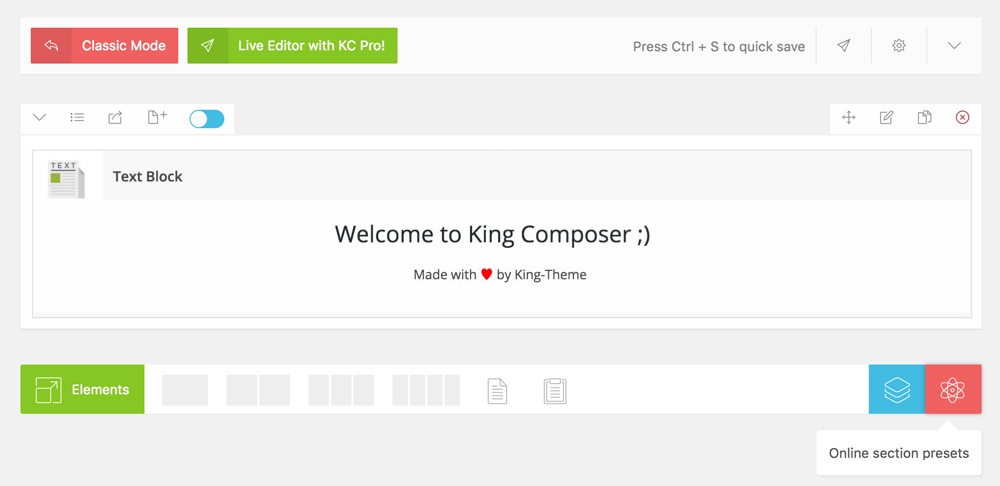 And much more!
We've only just scratched the surface of what StartRight has to offer your business website. Here's a run down on some of the other features we offer:
Fully responsive – looks stunning on smartphones and tablets
A beautiful homepage slider is included
Deep integration with Jetpack
100% Translation ready
Lightweight, fast loading, SEO optimized markup
Fully Complaint with WordPress.org theme review guidelines
Native WordPress Customizer is used for all theme options including Google Font integration
Child theme friendly – comes with a starter child theme
All images used in the demo site are available for free, we've hand-picked them for you
Comprehensive documentation
We're very proud to say we think StartRight is just about the best free option available for creating business or corporate WordPress websites.
Need something extra? Check out StartRight Pro!
We created StartRight Pro primarily for users who need professional support for StartRight. Our support team have a reputation for being one of the best in the business and are consistently amongst the highest rated theme authors on theme marketplaces like Themeforest.
In addition to Professional support, StartRight Pro offers several extra enhancements including:
WPML Support
If you need to build a multilingual website StartRight Pro is 100% compatible with WPML
RTL Support
In StartRight Pro your site will look beautiful in RTL languages such as Hebrew and Arabic.
Products & Services Portfolio/Showcase
Our portfolio feature is really useful for some businesses that have lots of products and services that they would like to showcase.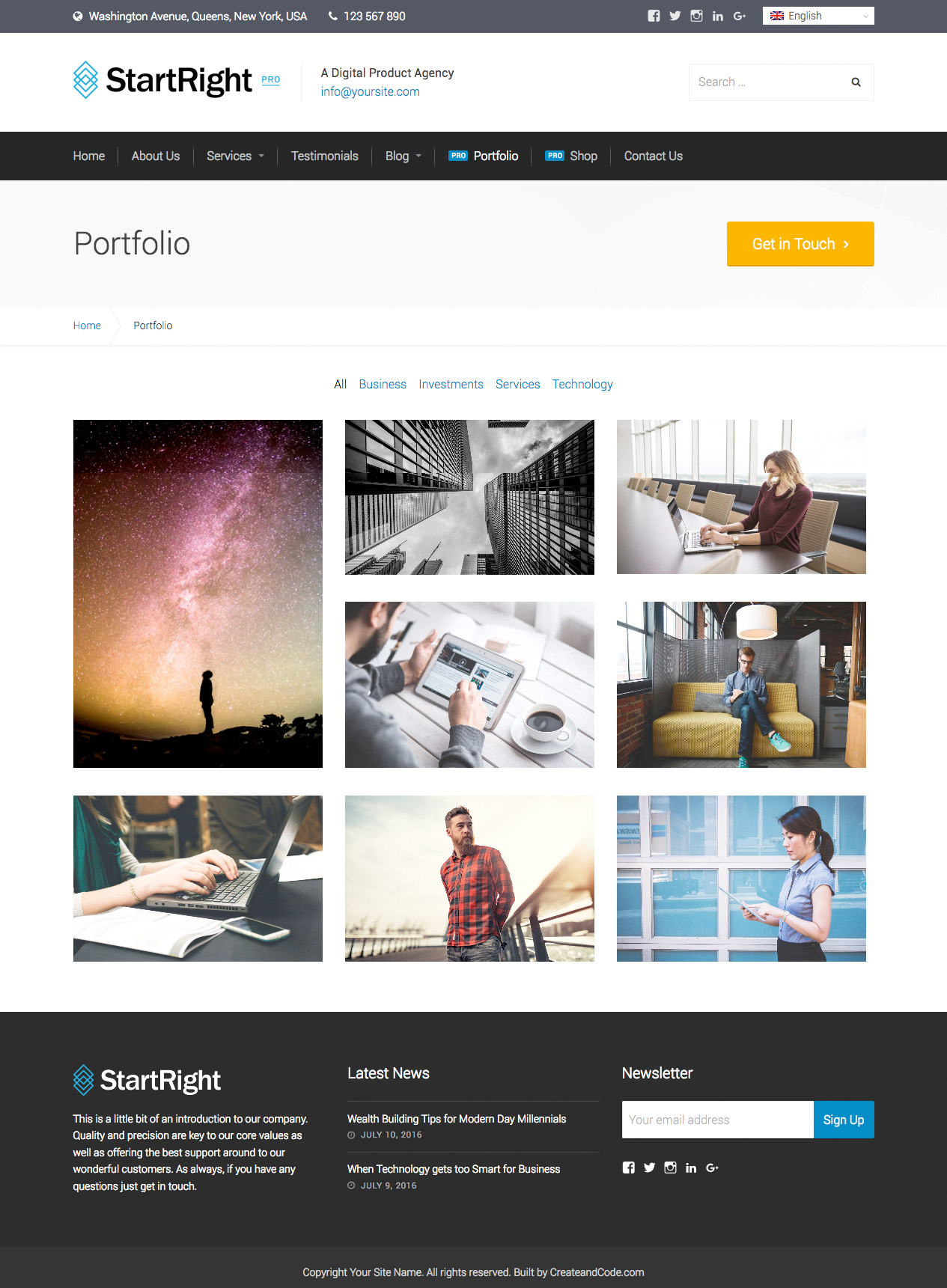 WooCommerce integration
As the founders of the first WooCommerce theme shop, we know WooCommerce inside and out and StartRight Pro comes with deep WooCommerce integration.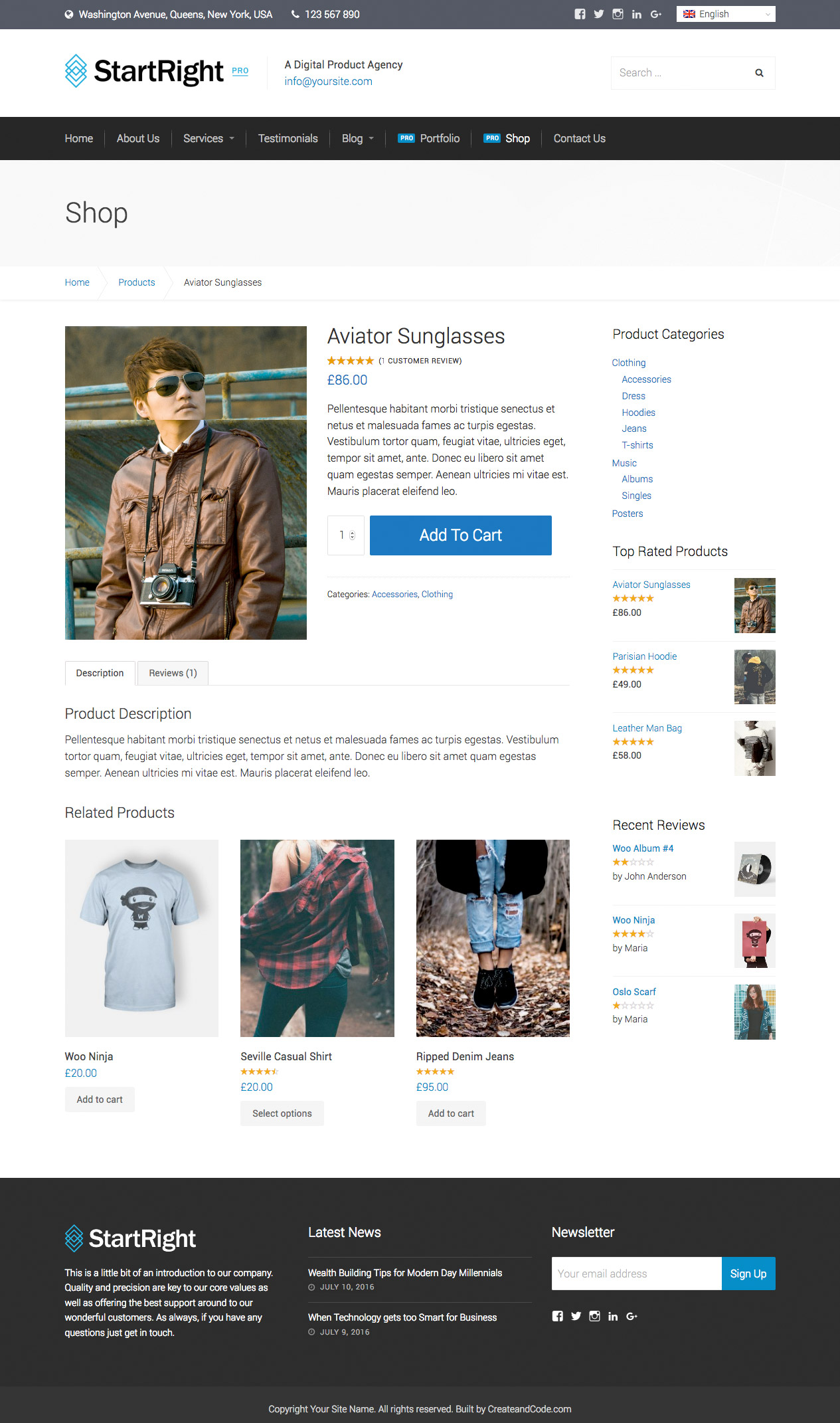 Additional theme options and layouts
StartRight Pro also provides additional useful theme options and blog templates for even more customization and control. You can also add a beautiful call to action button throughout the site to direct users to contact you. Our pro customers really love this feature as it makes it very simple for their customers to get in touch with them.

Get started the right way today with StartRight
Remember, StartRight is 100% GPL compliant and is completely free for any type of website. Download StartRight or View the StartRight Demo.
If you're need support and the extra pro features you can get StartRight Pro from as little as $59. Get StartRight Pro or View the StartRight Pro Demo.