If you're like most WordPress users, you love installing plugins that add cool new front-end features to your WordPress site. A new contact form? Sign me up. Social login? Yup, I'll take that!
Plugins that work entirely behind the scenes? Those aren't quite as sexy. But here's the thing: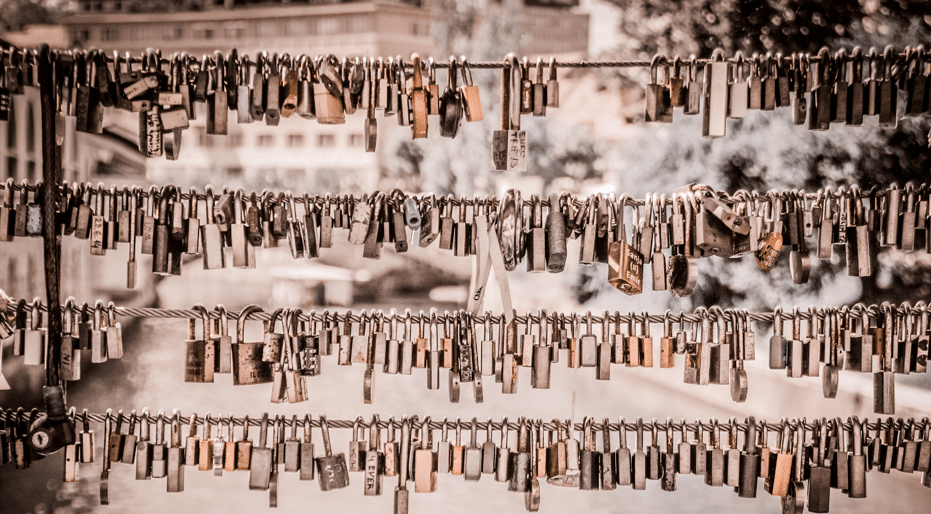 Oftentimes those backend, behind-the-scenes plugins are the most important. SEO, backups, and…security.
That third one is what this post is all about – the best WordPress security plugins to keep your awesome site safe from those nasty folks we know as hackers. Because even if you're (hopefully!) keeping your WordPress site updated, there are still plenty of potential backdoors for hackers to find. Choosing one of these security plugins will help to limit those…
What Are The Best WordPress Security Plugins?
While there are plenty of WordPress plugins that help you implement piecemeal security enhancements like two-factor authentication, disabling XML-RPC, and more…I'm not going to focus on those plugins for this list.
Instead, I'm going to focus on plugins which offer more of an all-in-one approach to security. That is, they offer things like security hardening, scanning, brute-force protection, and monitoring…all in one neat package.
Let's dig in…
1. Wordfence Security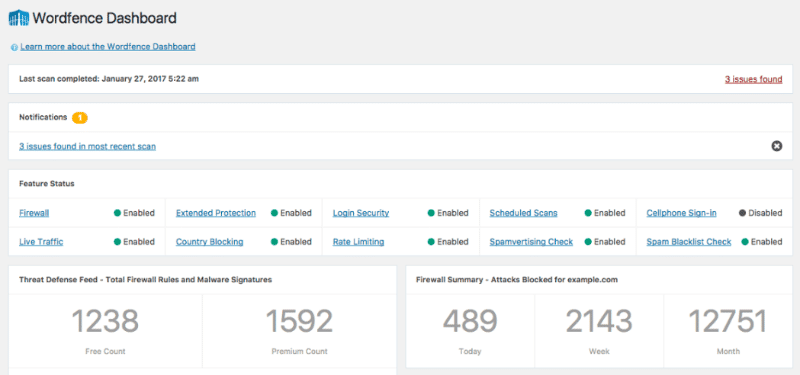 With its over 2 million active installs, Wordfence Security is one of the most popular WordPress security plugins out there. And guess what? It's also free and open source. That's a pretty big plus in my book.
So how does Wordfence Security protect your WordPress site?
First off, it sets up a firewall to help identify and block malicious traffic before it even reaches your site.
Then, it hardens your login security by giving you the option to add two-factor authentication and limit login attempts. Both of those help stop brute-force attacks in their tracks.
Just in case something does get through, Wordfence Security scans your site for known vulnerabilities or security threats. If it catches something, you have a chance to fix the problem before it gets worse.
All in all, if you're looking for a quality free option, you won't go wrong with Wordfence Security.
2. iThemes Security / iThemes Security Pro


iThemes Security offers two versions – a free one and more feature-rich Pro version.
In the free version, you can block malicious users, scan for malware, harden your login by moving it and enforcing strong passwords, and lots of other smaller security tweaks.
And there's also this really nifty Away Mode that lets you restrict access to your WordPress dashboard during certain hours (like when you're sleeping).
If you go Pro, you'll also get the ability to implement two-factor authentication, Google ReCAPTCHA, scheduled malware scanning, user action logging, password expiration, and more.
Essentially, iThemes Security makes your life a lot easier by doing two things:
Giving you important tools like malware scanning and file monitoring
Making lots of small security tweaks that you could make manually…but only if you put in the sweat equity.
Go to iThemes Security Free | Go to iThemes Security Pro
3. Sucuri Security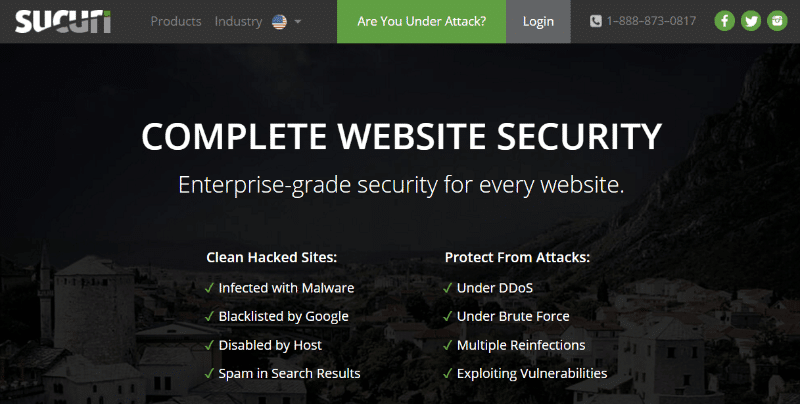 Sucuri has rightfully built a name for itself when it comes to security. Not just for WordPress, but for all types of websites.
Sucuri Security is the free WordPress plugin of their services. And while it doesn't focus quite as much on protecting your login from brute-force attacks like the previous two plugins, it does offer a bevy of scanning and monitoring features.
First off, Sucuri Security monitors all the activity on your site to help you flag suspicious situations. Beyond that, Sucuri Security also monitors your files to ensure their integrity (that is, to make sure they haven't been changed maliciously).
In the free version, you can also scan for malware. And if you're willing to crack open your wallet, you can add on the paid Sucuri CloudProxy website firewall to block a variety of website attacks.
4. VaultPress


You may know VaultPress primarily as the premium backup tool offered in Jetpack. But VaultPress actually goes beyond mere backups and also offers a number of security features.
So in addition to those easy backups and restores in case anything goes wrong, VaultPress will also scan your site every single day and alert you to any potential security issues. Then, you can easily address those issues directly from the VaultPress interface.
While it's not as comprehensive as the other security plugins, it is a good option if you're already interested in the other features of Jetpack's premium versions.
If you're willing to manually resolve security issues, you can use the $9 per month Jetpack Premium. If you want automatic issue resolution, you'll need to go with the $29 per month Jetpack Professional plan, though.
5. All In One WP Security & Firewall


True to its name, All In One WP Security & Firewall aims to be your…wait for it…all in one WordPress security solution.
As a result, it handles everything from minor issues like alerting you if you have a user account named "admin" to more heavy-duty features like scanning your site for malicious files.
All In One WP Security & Firewall's feature list is far too lengthy to list here. But here are the highlights:
Brute-force attack prevention by moving the login page, limiting login attempts, and CAPTCHAs
Scanning for file changes or suspicious information in your database
Comment spam protection
Firewall to block malicious traffic before it gets a chance to affect your site
Lots, lots more
Another nice thing about All In One WP Security & Firewall is that it includes a beginner-friendly Security Strength Meter that lets you quickly assess how secure your site is, even if you don't know all of the technical terminology.
By the way, did I mention that All In One WP Security & Firewall is 100% free? Yeah, that's pretty cool.
Go to All In One WP Security & Firewall
6. SecuPress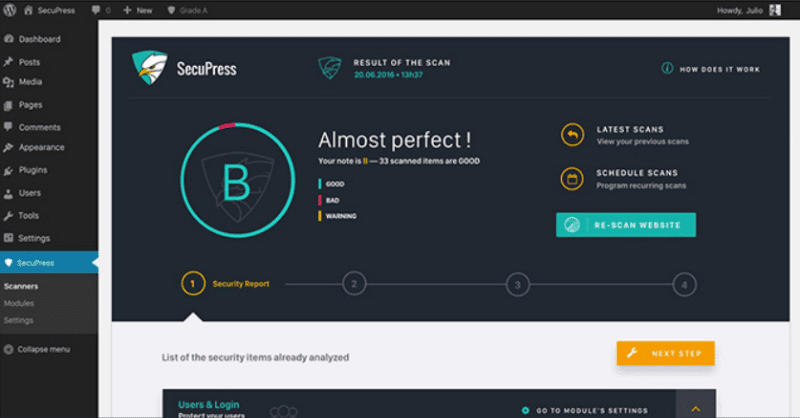 SecuPress is a freemium SaaS security plugin. What's that mean? If you go with the Pro version, it's a monthly charge, rather than a one-time fee. Naturally, that makes it…not a good fit for many casual WordPress users.
But if you're running a business on WordPress, SecuPress offers plenty of value to back up its $5.99 per month fee.
You'll get the standard security plugin features like:
Firewalls
Security scanning
Brute-force attack protection
Activity logging
But then you also get a bunch of premium features that not all of the other plugins offer:
Scheduling to run scans automatically
Vulnerable theme and plugin detection
Built-in backups
Security key protection
SecuPress' free version offers a good basic option. But if you want the unique features, you pretty much need to pony up the monthly fee for the Pro version.
Wrapping Things Up
Getting hacked sucks. I had it happen years ago and, while I thankfully had a backup, it was still a major pain to deal with (unless you have a WordPress customer service team to handle things).
So, be proactive in protecting your site from the bad guys. The best things you can do? Use strong passwords, quality hosting, and keep your WordPress site updated.
But beyond that, using a WordPress security plugin will give you even more peace of mind and help lock down your site via a number of methods that are time-consuming to handle manually.
All of the options on this list are quality, so you really won't go wrong. If you're a casual user, go with one of the free security plugins like Wordfence Security.
But if you're running a serious business, you might want to consider splurging on one of the premium options for even more protection.