If you've read any advice on building a successful website, I can almost guarantee that you've been told to "build an email list" at some point or another. At the risk of annoying you, I'm going to tell you one more time that building an email list is an amazing way to create an evergreen resource that isn't subject to the whims of Google.
But I only remind you of that because I'm about to review a WordPress plugin that gives you heaps of options to build an email list.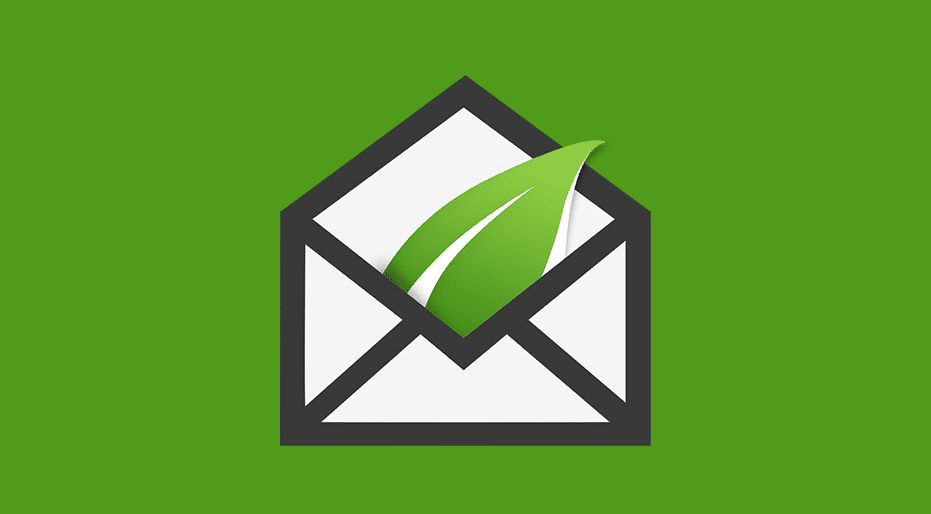 It's called Thrive Leads, and it's one of the products from the conversion-focused Thrive Themes team. The Thrive Themes team bills it as "the ultimate list building plugin for WordPress".
So is it?
Ultimate is always a tough phrase to justify…but I can say that Thrive Leads is absolutely packed with deep targeting and analytics features.
And in my Thrive Leads review, I'll give you a hands-on look at what all those features can do.
Thrive Leads Review: What All Does It Do?
Ok, so Thrive Leads is a list building plugin. But that's still pretty vague. What does it actually do to make it so "ultimate"?
First off, Thrive Leads helps you create a variety of email opt-in forms. While helpful (and the core functionality of any list building plugin), that's not really what makes Thrive Leads unique.
Thrive Leads true unique selling proposition is all the awesome targeting and optimization features that tie in with those various opt-in forms.
Here's some of what it can do:
A/B Testing – A/B testing is the tried and true method to optimize your site.
SmartLinks – ever had a website ask you to sign up to their list even though you already subscribed? It's annoying. SmartLinks helps you avoid that by letting you display different content or hide opt-ins for certain groups of users.
Detailed targeting – target by category, tag, individual post, and pretty much anything else (custom post types, URLs, page types..all good).
Helpful reporting – best of all, Thrive Leads puts all of these insights together into one reporting dashboard so that you can easily see how you're doing.
As for the opt-in form types, Thrive Leads currently offers 10 different options:
Popup lightbox
"Sticky" ribbon at top of screen
In-line opt-in forms
2-step opt-in forms
Slide-in forms
Opt-in widgets for your sidebar
Complete screen filler overlay
Email opt-in content locker
Scroll welcome mat
Multiple choice forms
What I like is that Thrive Leads includes both super aggressive methods and less intrusive options.
For example, if you don't care about potentially annoying your visitors, the screen overlay is about as aggressive as it gets. But for those who prefer a less intrusive approach, you can go with something like a widget, in-line form, or slide-in form.
Hands-on With Thrive Leads – Building Some Opt-ins
Enough theoretical talk – let's actually go hands-on with Thrive Leads. As with any other Thrive Themes product, you'll need to activate Thrive Leads with your license key before you can use it. Or, if you've already activated another Thrive Themes product, you can access Thrive Leads directly from your Thrive Dashboard tab.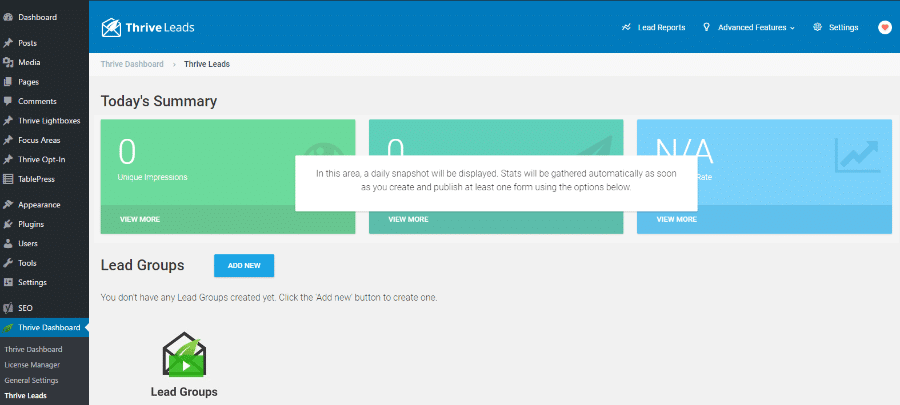 In addition to stats, you have a few different options for creating new opt-ins:
Lead Groups – these are forms that are automatically displayed based on targeting rules that you define.
Lead Shortcode – unlike Lead Groups, these are, unsurprisingly, shortcodes for forms that you can manually insert into your content.
2-Step Lightboxes, AKA ThriveBoxes – a shortcode to add a form that launches a lightbox window (hence the 2-step part).
Signup Segue – a niche feature that helps you quickly sign visitors up for webinars or other events.
Creating a Lead Group
For this review, I'm not going to dig into all four options. Instead, I'll show you how to create a new lead group because it's the most comprehensive look at how Thrive Themes functions.
After clicking the button. your first step is to just give it a name. Typically, this would be the lead magnet or promotion you're offering in exchange for signups: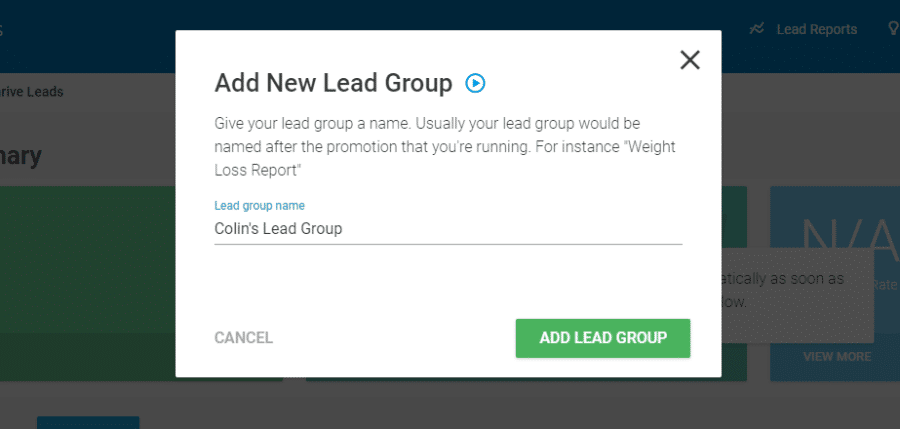 That creates your group, but you still need to create an opt-in form to associate with the lead group: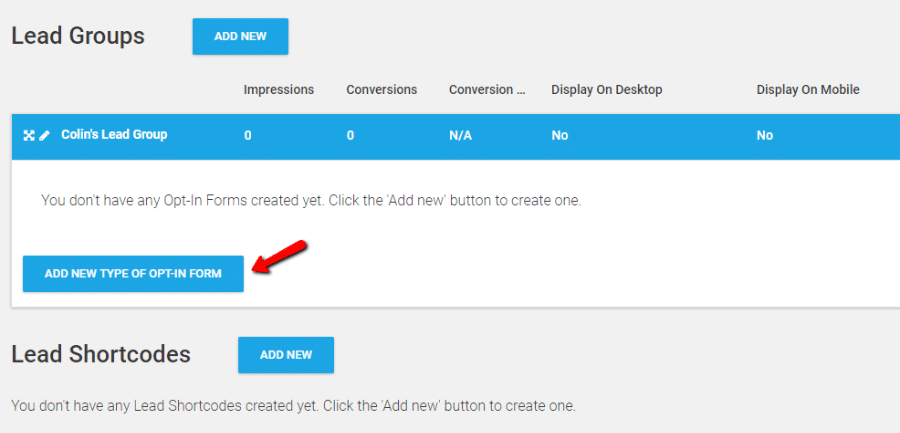 Clicking that opens up all the available form types that you can use with lead groups. To pick one, all you need to do is click: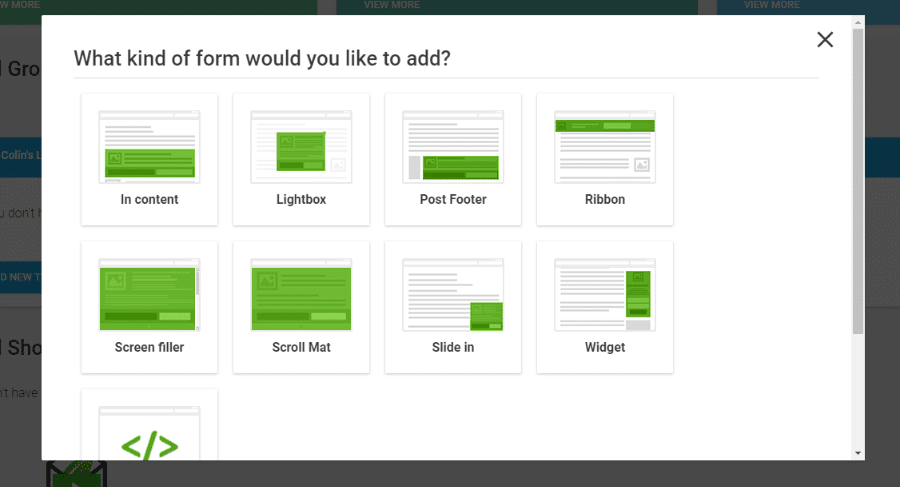 Let's create a nice Ribbon for this review.
Styling and Designing Your Opt-in Forms
Once you've chosen your opt-in form type, you need to actually add a form.
Note – while this multi-step process might seem a tad complicated, Thrive Leads actually guides you through each step, which makes the whole thing quite easy to follow:


After a few more naming steps, you can click the Edit design button to actually configure how your form looks.
You'll get a bunch of pre-made templates that you can choose from as your base: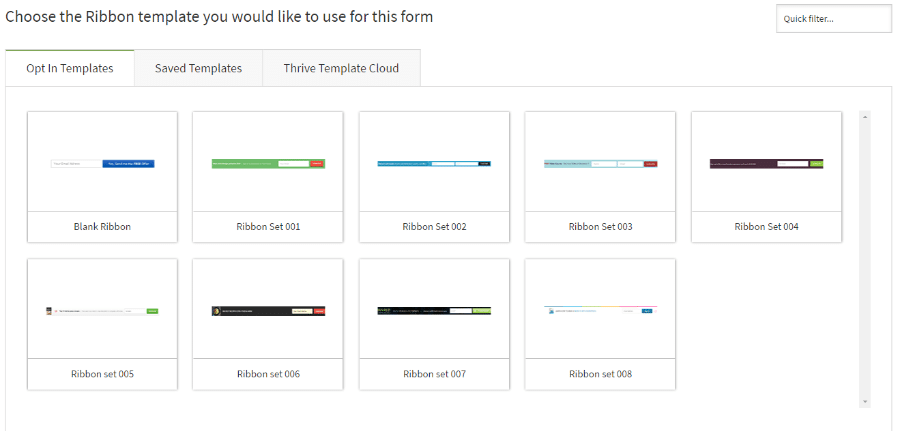 And when you choose one, you'll be taken to what is essentially the Thrive Content Builder interface. If you've ever used a page builder, you'll feel right at home as you further build out your opt-in form.
For example, to edit the text, you just click and type:


Thrive Content Builder is up there with Elementor as one of the best page builders around, so getting to use such a powerful tool to build your opt-ins is another nice feature of Thrive Leads.
I also want to draw your attention to the "states" options at the bottom. Here, you can create different versions of your ribbon based on a user's status. For example, you can create a completely different version to show to users who already subscribed to your mailing list: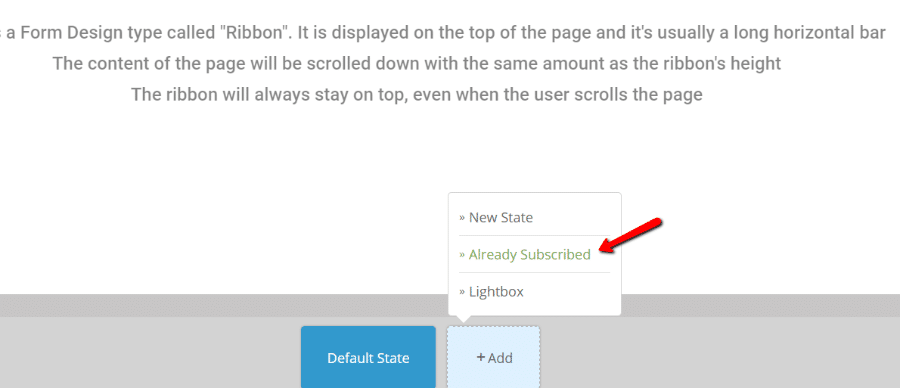 You can also create custom states to add neat multi-step forms.
And once you save your form design, you can also configure triggers and display frequency for your form.
For example, you could make your form display 10 seconds after a visitor lands on your page, but only one time for each 8 day period:


The detailed targeting is another one of the great things about Thrive Leads.
Running A/B Tests to Optimize Your Forms
If you create multiple forms for a specific form type, Thrive Leads will automatically give you the option to start an A/B test. You can even configure an automatic winner based on criteria that you select, which makes it easy to quickly tell which form is doing better: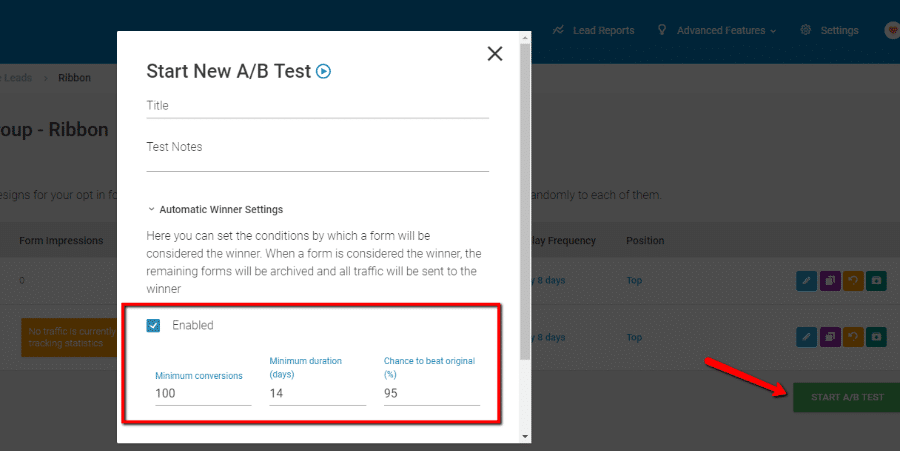 The statistical significance option is great because many people don't actually run split tests properly. Thrive Leads avoids that by doing the math for you to make sure your results are actually meaningful, not random chance.
Using Smart Links to Personalize Your Forms
I'm already 1,000 words in but I feel like I've barely scratched the surface of what the plugin can do. So let me hit you with a few more rapid-fire features before I give you my final thoughts on Thrive Leads.
You can access Smart Links at any time by clicking the Advanced Features. There, you can create a special link that does things like:
Hide forms
Show different forms
And you can also choose how long this behavior lasts.
This feature is great if you're, say, sending a blast to your email list. Given that they're on your email list…you probably don't want to show them email opt-in forms again. Smart Links lets you quickly avoid that: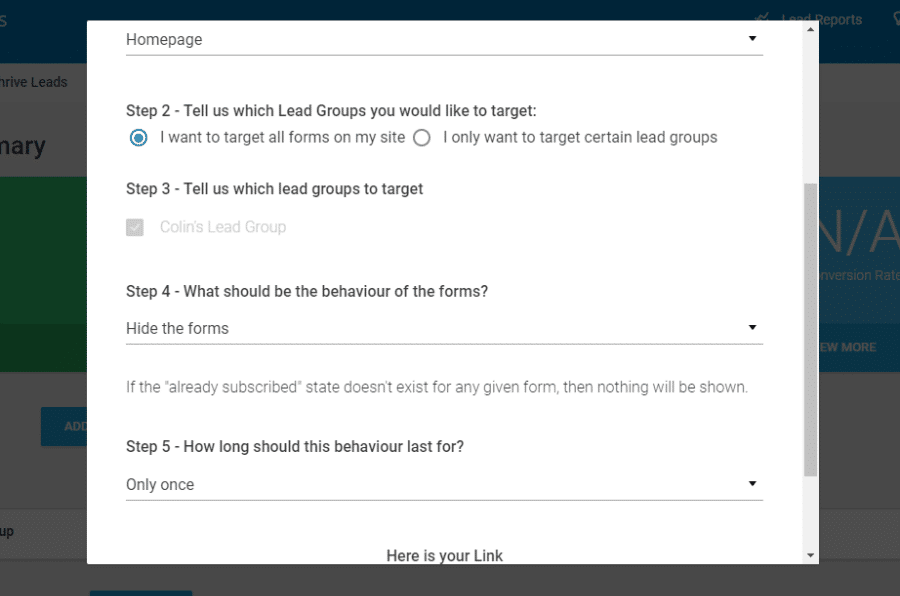 I know OptinMonster offers something similar with URL parameters. But as far as I know – you can only hide forms based on one global cookie setting, rather than individually for each link you create.
Incredibly Detailed Reporting for Conversions, List Growth, and More
Another thing I love about Thrive Leads is how detailed the reporting options are. While my test site doesn't have any data to showcase this live, you can at least get a look at just how many report options you have: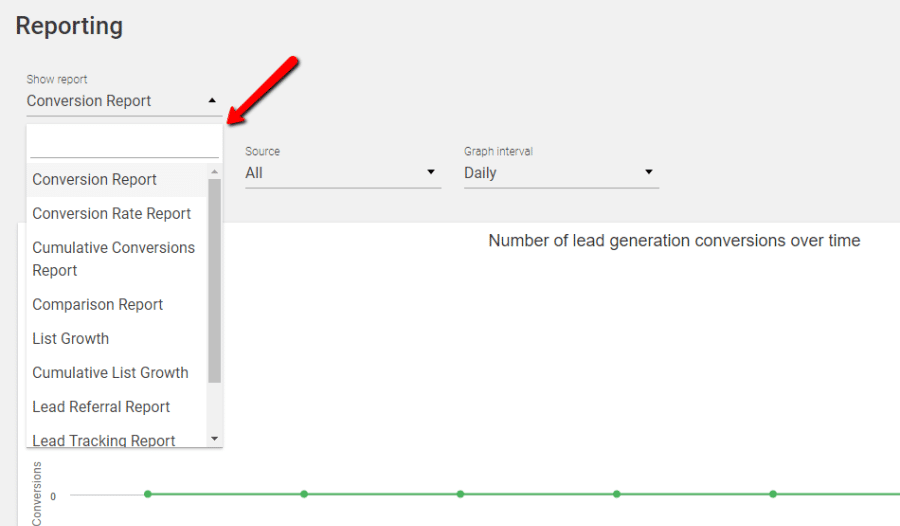 For all of these forms, you can see both your overall data, as well as how each individual form/lead group is performing.
Final Thoughts on Thrive Leads
Thrive Leads is not for everyone. There is such a thing as too much functionality. While I'm sitting here geeking out over all the cool features packed into this plugin, someone who just wants a basic list building widget to grow a simple newsletter is likely sitting at their desk with a headache.
If that's you – if you're the person who doesn't actually care about wringing every little bit of optimization out of your email marketing efforts – you can definitely go with a simpler plugin. If you just want a basic tool to grow a regular 'ole newsletter, check out something like Holler Box – it's awesome and simple.
But if you're a blogger or business owner who wants to go all in on email marketing and building a list, Thrive Leads is for you. It packs in so many advanced features that will actually get you better results.
I'm talking about things like:
Different states for email opt-ins
Easy A/B testing
Smart Links
Detailed reporting
If you put in the time to learn the tool, I don't know of any other dedicated list building plugin that offers the level of depth that Thrive Leads does.
Thrive Leads Pricing
You can purchase Thrive Leads in two different ways.
First off, you can buy it as a standalone plugin starting at $67 for a single-site license.
But you can also get it as part of the $19 per month Thrive Membership that gets you access to every single Thrive Themes product.
That means you get other powerful plugins like Thrive Content Builder, Thrive Ultimatum, as well as all of Thrive Themes' other themes and plugins.
I'm a Thrive Themes member (you can check out my portfolio site if you don't believe me) and can say with all honesty that the membership really is worth every penny.
If you're ready to get started, click here to purchase Thrive Leads.
Summary
Reviewer
Review Date
Reviewed Item
Author Rating