Wondering how well your favorite WordPress business is doing? I think we're all a little voyeuristic when it comes to behind-the-scenes information and revenue data.
But most of the time, we don't get to satisfy that itch because all those juicy details are private.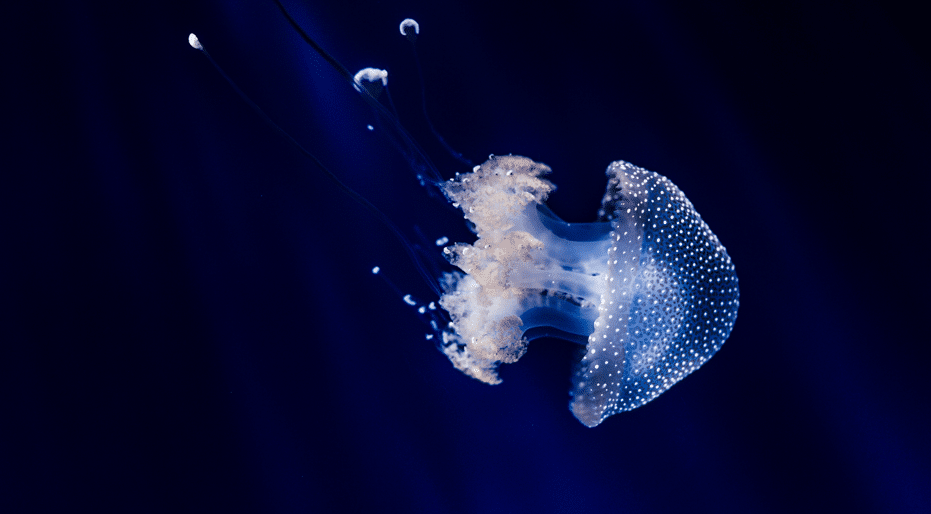 Some companies, though, have opted for the alternate route – transparency.
Such companies publish stats on their revenue, order numbers, and lots more. And if you're running a WordPress business, or just interested in the WordPress economy, these posts are a goldmine.
To help you find those companies, we've put together this list of 10+ WordPress companies that publish transparency/income reports. At least at the time of writing this post, all of these companies are still actively publishing transparency reports (though some only do so sporadically).
Let's jump right in…
1. Pippin's Plugins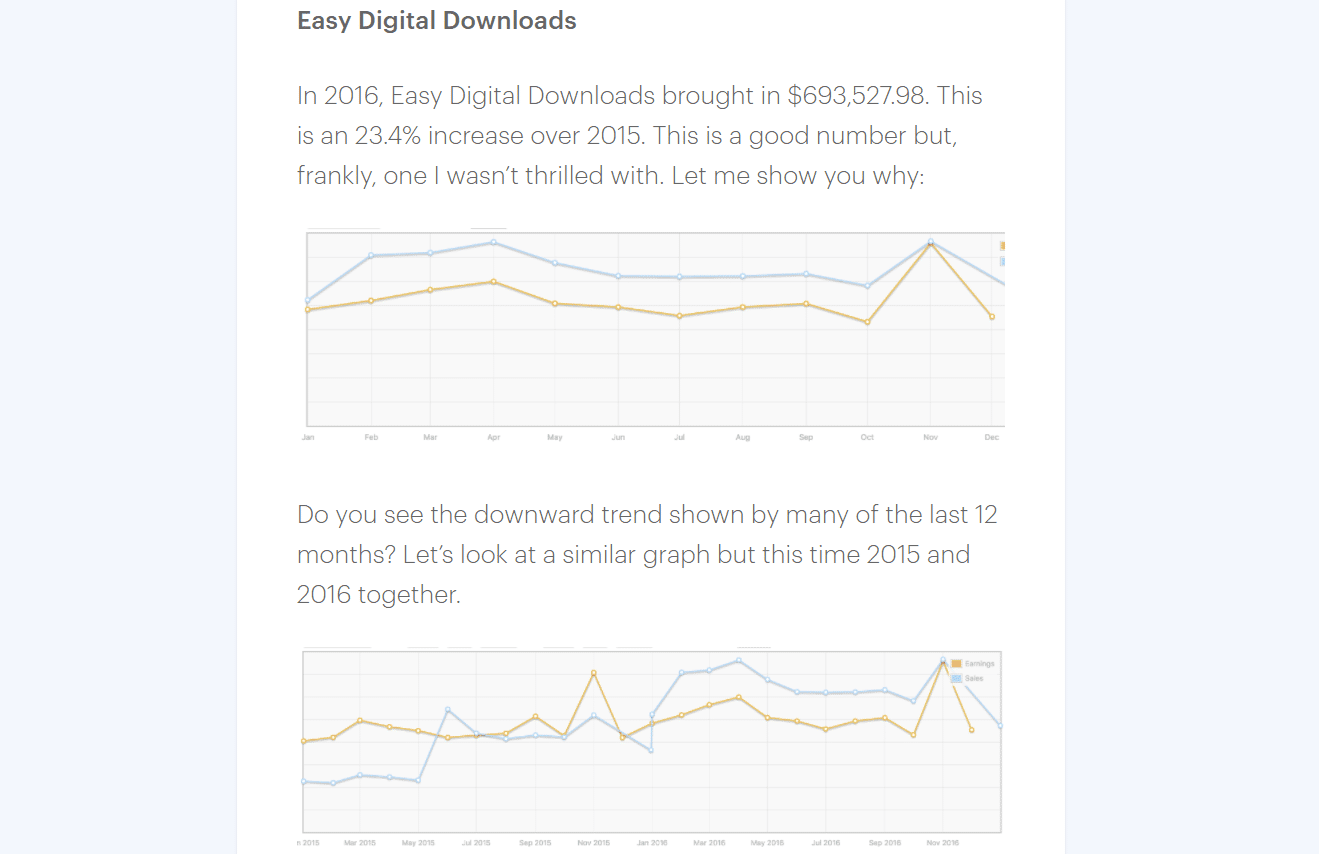 Pippin's Plugins is the company behind popular plugins like Easy Digital Downloads, Restrict Content Pro, and AffiliateWP.
Every year, Pippin publishes a lengthy "Year in Review" post that includes a detailed breakdown of revenue for each plugin, as well as where that revenue came from.
Beyond revenue, Pippin also shares:
Insights on the company and team
Personal thoughts
Support statistics
Goals for the next year
While this one only comes out once per year, it's especially detailed and gives a good look at the inner-workings of a major WordPress business with millions in annual revenue.
Frequency: Yearly
2. CodeinWP
CodeinWP and its sister sites ThemeIsle and Revive Social are, respectively, a:
PSD to WordPress conversion service
WordPress theme and plugin shop
Standalone WordPress product
Every month, Ionut, the CEO, publishes a detailed transparency report. These reports don't all deal with revenue – in fact, some don't even include revenue statistics.
But what they do offer is:
Thoughts on building a WordPress business, leadership, and teams
Data on the effectiveness of different pricing/business strategies
Revenue as it applies to some of those things
Ionut shares both the good and the bad, which gives an honest picture of how the business is doing.
Frequency: Monthly
3. Pixelgrade
Pixelgrade is a theme development shop with a number of truly gorgeous themes. They sell their products both through their own website (via a club) as well as Themeforest (for individual themes).
The latter is noteworthy because they made waves when they took advantage of author-driven pricing to sell their PILE theme for $225.
That duality is neat because their income reports let you see the breakdown of revenue between Envato, their own shop, and some other sources like WordPress.com and CreativeMarket.
In addition to publishing full revenue and expense numbers, Pixelgrade also shares thoughts on marketplace dynamics, pricing strategy, and plenty more.
As far as depth of content goes, this is definitely one of the best WordPress income reports you'll find.
Frequency: ~Twice per year
4. Barn2
Barn2 are a plugin shop specialising in building unique plugins which add features to WordPress and WooCommerce which aren't available elsewhere. For example, they built some of the best WooCommerce product table and WordPress document library plugins.
They started publishing an annual end of year review in 2019, and plan to do this every year. The transparency reports are written by Co-Founder Katie Keith, and cover:
The year in numbers – a fascinating snapshot of Barn's plugin sales, finances, support tickets and other metrics
Team changes
New plugins released
Community involvement
Goals for the next year
Katie offers honest reflections on the businesses' successes and challenges, making the reports a good read for WordPress professionals and product company owners.
Frequency: Yearly
5. Epic Plugins
Epic Plugins is the company behind Zero BS CRM, Epic Themes, and a variety of other plugins.
Since April 2016, they've been publishing detailed monthly transparency reports, including:
Revenue vs cash flow
Distributions
Forecasting
Traffic stats
And plenty more
The reports also include a bunch of graphs and visual representations so that you can quickly understand all of the data.
Overall, this one is a look at a WordPress business that's still fairly new and growing in comparison to some of the other businesses on this list.
Frequency: Monthly
6. Ultimate Member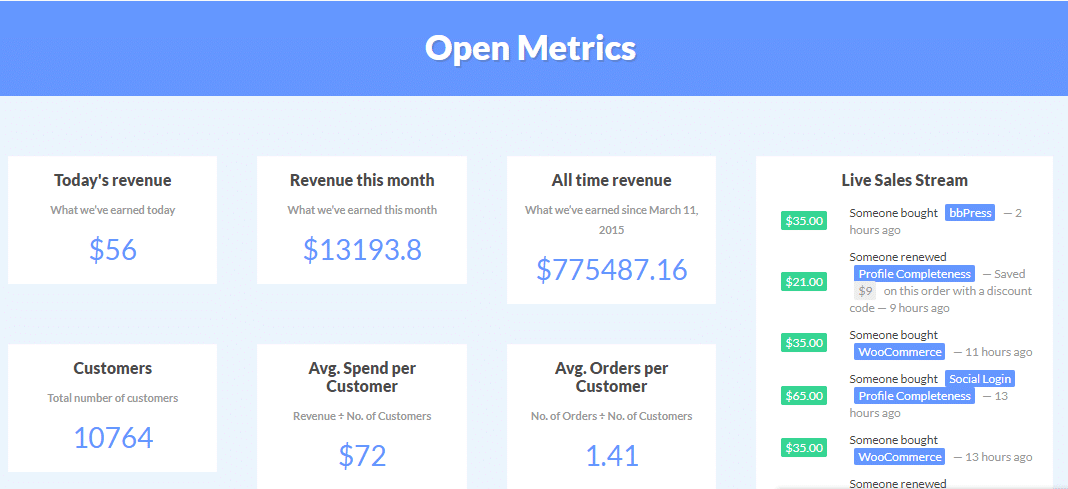 Ultimate Member doesn't publish a transparency report…instead, they just share all of their revenue metrics in real time.
Yup – you read that right. This one is super cool.
At Ultimate Member's Open Metrics page, you can view details on their revenue, orders, and more for:
The specific day that you visit on
The month that you visit in
All time
It doesn't get more open than this.
There's no analysis like many of the other businesses. But if you're just interested in an income report for a successful WordPress business, this one is interesting (and voyeuristically satisfying).
Frequency: Real-time
7. WeGlot
WeGlot is a translation plugin for WordPress that's quickly shot up the ranks in terms of popularity, as evidenced by their revenue.
As you can guess, we know this because WeGlot regularly publishes reports on their MRR (Monthly Recurring Revenue).
WeGlot has grown from €0 in December 2015 to €21,000 MRR as of May 2017.
They don't seem to publish on a specific schedule – but if you check the Story category on their blog, you can keep up with their latest income reports.
Frequency: No set schedule
8. Better Notifications for WP
Better Notifications for WP is a freemium plugin that helps improve the email notifications that WordPress sends to users.
Every quarter, they publish a transparency report detailing their income and expenditures. The introduction also includes updates and thoughts on business strategies.
This one is especially nice if you're selling a single plugin or running a WordPress business that isn't doing hundreds of thousands in yearly revenue.
Frequency: Quarterly
9. WP Rocket
WP Rocket is a popular premium cache plugin. In a world of quality free cache plugins, they've managed to carve out a healthy niche for themselves, as evidenced by their revenue numbers.
In 2015, they had an official transparency report running. That structured report seems to no longer be active, but they've still continued to share data in some blog posts.
For example, a recent post from July 2017 shared a variety of statistics, including the fact that WP Rocket is up to $3.5 million in total revenue.
Frequency: No set schedule
10. Metorik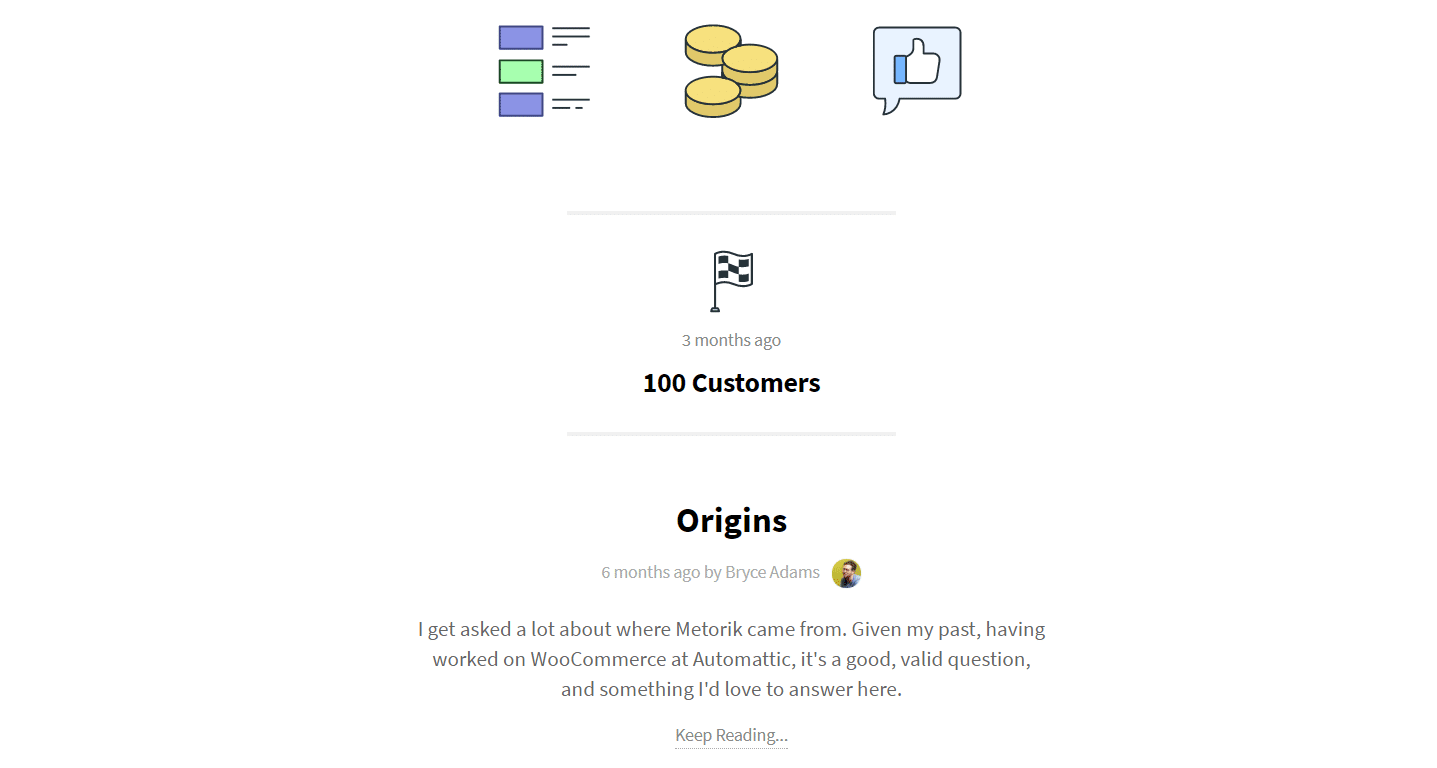 Metorik is a powerful analytics plugin for WooCommerce built by Bryce Adams, a former Automattic employee who worked on WooCommerce.
At the Metorik Behind the Scenes page, Bryce shares data and thoughts on building Metorik. Some posts are just milestone markers, while others go in-depth into Bryce's thoughts and strategies.
Frequency: No set schedule
11. WeDevs
WeDevs is the company behind WordPress plugins like Dokan Multivendor, WP Project Manager Pro, WP User Frontend Pro, weForms, and lots more.
They regularly publish transparency reports for their various products. While each report doesn't necessarily include revenue stats, you can still find plenty of other helpful information.
For example, they have a great recent post on customer happiness in which they dig into their help desk software to analyze how effective their support efforts were (complete with tons of data to back it up).
Frequency: No set schedule
12. Kooc Media / Oli Dale
Bonus time! You get an extra WordPress income report, courtesy of Oli Dale and Kooc Media.
Oli is the former owner of WP Lift (which he sold for $200,000+) and the current owner of ThemeFurnace and AlienWP.
At Kooc Media, he publishes sporadic income reports for his various businesses, as well as more detailed thoughts on his websites.
Frequency: No set schedule
Wrapping Things Up
And that finishes up our list of WordPress businesses that still actively post transparency/income reports.
Whether you're running a big business like Pippin's Plugins or something smaller like Better Notifications for WP, these transparency reports should help provide you both goals and insights into running a WordPress business.
Finally, if you know of a WordPress business that publishes transparency reports and didn't make the list, it would be awesome if you shared in the comments!