There are a lot of businesses out there in the world and people need a way to find them. You can use WordPress to build a site to help people do that…if you have the right tool.
GeoDirectory just might be that tool. It helps you create a local business directory using WordPress. You can list different places, divide them up into categories, and let people search for them on a handy map.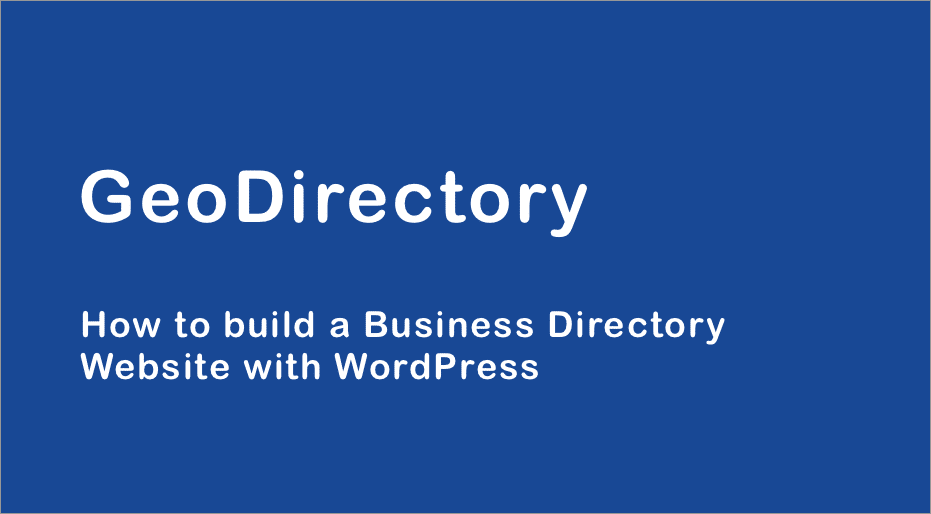 And in my GeoDirectory review, I'll show you how it works and help you decide whether it's the right tool to help you create a local business directory with WordPress.
Overall, it's remarkably easy to get started with for a plugin of its depth, and I'm a big fan of all the built-in SEO settings it includes to help your directory rank higher in the SERPs.
Let's dive in and take a closer look.
GeoDirectory Review: What The Plugin Does
GeoDirectory helps turn your WordPress site into a fully-featured business directory. Think Yelp or TripAdvisor, but built with WordPress.
Ok, you're probably not going to build the next TripAdvisor. But it's that type of site. And you might be able to use it to, say, build the TripAdvisor for your city. Or build the TripAdvisor for a certain niche (like the best beaches in your country).
Because it's a plugin, GeoDirectory works with any WordPress theme. And GeoDirectory also has a number of free and premium themes that you can use if you want something that works perfectly out of the box.
So how does the directory work?
You can add unlimited places in one or more locations (multiple locations requires an add-on). For each place, you can completely customize the fields to display all the important information. And you can also use categories and tags to make it easier for visitors to find relevant places.
You can even let business owners register to add their own place and, with a premium add-on, charge them for the privilege.
Everything shows up on a map, which makes for a user-friendly approach. And depending on the add-ons that you have, you can add some really detailed ways for visitors to search for places.
GeoDirectory Plugin Examples: Seeing Is Believing
If a picture is worth a thousand words, an entire website must be worth…well, more than that. I don't know the exact conversion rate for pictures to websites.
Basically, that big old feature list above kind of tells you what you can do. But seeing real-world sites built on the GeoDirectory plugin gives you a much better look.
Check these out for an idea of what it can do…

PopUpUp helps people find popup places, festivals, and events in cities across the world.

Lucky We Live Here is a directory for Hawaii locals and travelers. A good example of how you can use a directory site to go after a specific geographic niche.

Coast Radar is a guide to the best beaches and coastline in the UK.
Now that you have an idea of what types of sites you can build with GeoDirectory, let's go hands-on with the actual plugin.
Hands-on With GeoDirectory Plugin
For my GeoDirectory review, I'm using the free Supreme Directory theme. This theme is designed specifically to work with GeoDirectory and is listed at WordPress.org. But remember – you can use GeoDirectory with any theme.
Basic Housekeeping And Setup
GeoDirectory includes a good number of settings, even in the free version. But the nice thing is that you don't need to configure them all to have a working site. That is, you have choices if you want them, but you really only need to configure two things to make your directory work.
Those two things are:
Enter a Google Maps API Key (or use Open Street Maps instead)
Set the default location for your directory:

Once you do that, you've pretty much got a working local business directory. Here's what my site looks like (the only other thing I did was use the built-in dummy data tool to import some places):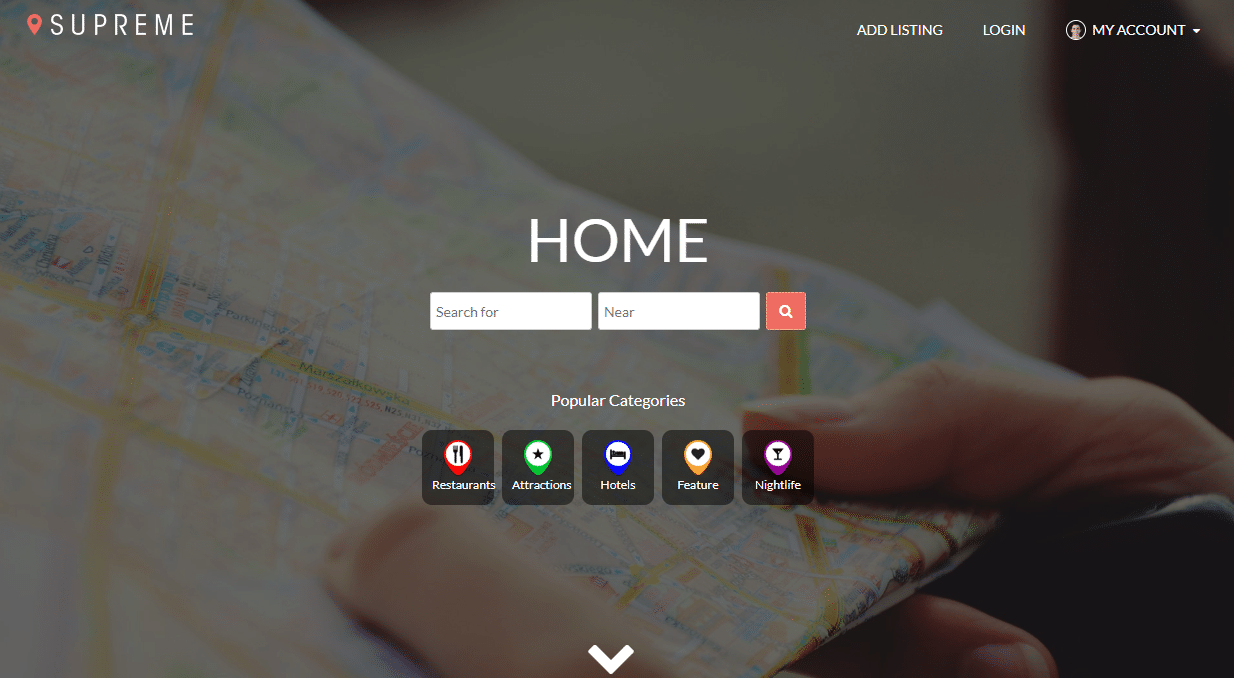 Creating A Place Category
To organize the different locations in your directory, you'll use Place Categories. For example, in the screenshot above you can see icons for 5 different categories (Restaurants, Attractions, etc.).
You have full control over your categories, so you can set things up however works best for your specific directory.
Creating a place category is pretty similar to a regular WordPress category, you just get some new options for:
Category top description (this displays at the top of the page if people are browsing by category).
Default listing image
Category icon
Schema Type – this is a super helpful option that lets you add proper structured data depending on what type of businesses fit in the category. If you're not familiar, structured data helps search engines like Google better understand the content on your site and can help you get rich results.

If you want, you can also create and use Place Tags for more narrow organization.
Add Individual Places – Backend Or Front-end
Once you've created some place categories, you'll be able to add new places in two different ways.
First, you can add new places directly from the backend:

But what's really helpful is that GeoDirectory includes a frontend place form that you or other registered users can use to add places:

This is great because it lets you allow the actual business owners to register and add their own locations. And it even includes a built-in front-end profile where owners can manage the places that they've added (you can see the My Account option in the screenshot above).
With the right add-on, you can even charge users to create a listing.
For your place listings, GeoDirectory includes a number of relevant fields by default. But if you don't like the defaults, you also have full control over the place fields in the plugin's settings:

This is another really helpful feature because it lets you perfectly tailor the information you collect/display, including adding your own custom fields.
For example, here are some of the options that you get when you add a new custom field – it's pretty deep:

You can even keep some fields private for admin use only to help you stay organized.
Digging Into The SEO Settings
Another thing I like about GeoDirectory is that it includes a bunch of built-in SEO settings – no need to try and make your SEO plugin work with GeoDirectory. This is important because SEO is going to be a major traffic driver for most local business directories.
In the Permalinks section, you can choose what information to include in a places slug, as well as the listing URL prefix:

And then in the Titles & Metas section, you can configure the title and meta description for all your places content, including a bunch of variables that are specific to your business directory:

I love the attention to detail in this one because it allows you to set up some really optimized search titles without needing to manually edit each place (this is especially important if you're letting users add their own places).
Why You'll Probably Want Some Premium GeoDirectory Add-ons
Up until now, everything that you've seen is available in the free version (because that's what I'm using on my test site). But if you're serious about building a directory site, you'll likely want some of the premium add-ons that the GeoDirectory team sells.
Here's why:
If you want to…
There are also a bunch of other add-ons for features like:
Events
Claim listings
Custom post types (lets you use multiple CPTs, instead of a single Placescustom post type)
BuddyPress integration
Marker cluster
MultiRatings and Reviews
ReCAPTCHA
Performance
Social importer (import places from Facebook or Yelp to save time)
AJAX duplicate alert
Custom Google Maps
The add-ons are either $19 or $39 each, depending on the specific add-on.
Or, you can purchase the Membership which gets you access to all add-ons and themes starting at $199 per year for use on unlimited sites.
Final Thoughts On GeoDirectory
While there are some popular directory themes, what I like about GeoDirectory is that it's a plugin, which means that you can use it with any theme you want and you're never locked in.
The free version gives you a good amount of power for creating a basic directory for a single location. But if you really want to unlock the full power of GeoDirectory, you'll likely need at least a few of the premium add-ons.
If you're interested, GeoDirectory includes a number of demos. Additionally, the free version is listed at WordPress.org, so you can play around with that. And all of GeoDirectory's premium add-ons come with a 30-day money back guarantee, so you're not risking anything by trying those, either!